---
Essex County's first wind farm (con't)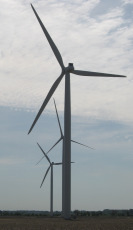 There are 24 towers – six in four groupings – in the area bordered by 4th Concession to the north, Roseborough Road and Erie Road to the east, Essex County Road 50 to the south and Essex Road 41 to the west.
It was completed in late May.
The 80 metre high towers are installed on private land and gravel service roads lead to the towers.
Each tower has turbine blades that are 41 metres long.
The company that built them is Toronto-based International Power Canada Inc., part of United Kingdom-based International Power PLC.
The company was among the first to receive approval under a program that preceded the provincial "Feed-in" tariff which subsidizes alternative energy firms in association with the new Green Energy Act.
Each turbine produces 1.65 megawatts for a total of 39.6 megawatts.
A cluster of six turbines produces enough power for 3000 homes, the entire farm 12,000.
The company will also be starting construction on a north shore wind farm later this year "with an eye to commissioning next summer," Dave Timm, the company's VP of strategic affairs, says.
The project near Pointe Aux Roches will have 27 turbines.
The company also has wind farm projects in Norfolk and Haldimand counties.
Timm said the Harrow project was in development for five years.
WindsorOntarioNews.com