Windsor Ontario News / Arts & Entertainment


Mr. Burns debuts 60th play season 
WindsorOntarioNews.com Sept. 11 2018

The University of Windsor Players are holding strong in their 60th year.

The new season, put on by students and faculty in the university's drama school, kicks off Sept. 20 with a character you might have heard of.

Mr. Burns.

Yes, that Mr. Burns, of Simpsons' fame.
Da Vinci's flying machine, bicycle replicas on display at Cranbrook
WindsorOntarioNews.com July 30 2018
It's not known whether any of Da Vinci's inventions, many of which were detailed engineering drawings, were ever built.

"Not that I'm aware of, he designed a plethora of devices of various sorts and in truth a great many of them were never built," says Cranbrook's curator of collections Cameron Wood.
Fresh from the Whisky a Go Go, London indie rockers playing B. R. Sunsplash
WindsorOntarioNews.com July 6 2018

You're in for a treat next weekend when up and coming indie rockers Rose Cora Perry & The Truth Untold play Belle River's Sunsplash, July 12 - 15.

The London-based threesome performs 6 pm Friday on the Lakeview Park Amphitheatre stage.

The band has had a quick trajectory, breaking into several American markets, performing at the huge National Association of Music Merchants (NAMM) trade shows, which are the equivalent of Canadian Music Week.
Reimagining DIA as a "town square"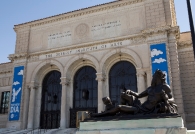 WindsorOntarioNews.com June 26 2018

The Detroit Institute of Arts is planning to create a physical connection to its neighbourhood, even become a "town square."

The idea is to create a design that "reimagines" the DIA's exterior campus, which fronts Woodward Ave. just north of downtown.

While the DIA edifice is prominent enough on Woodward, it still remains aloof from its community, according to DIA officials who are seeking to integrate the building into the surrounding areas.
Windsor film festival will feature more "pop up" screenings, add venue

WindsorOntarioNews.com May 2 2018

Look for more "pop up" film screenings as the Windsor International Film Festival rolls out programming for its WIFF 365 monthly film series.

Director Vincent Georgie says a first pop up was held in conjunction with this year's Oscars ceremony.

Three more are now scheduled – for late May, late June and in conjunction with Windsor Pride.

The titles of the films haven't been announced though there will be themes - obviously Canadian ones for Canada Day, and LBGTQ-inspired films for Pride.
Southern Ontario's two other film festivals, one getting underway today
WindsorOntarioNews.com October 26 2017
There's not only the Windsor International Film Festival getting underway over the coming week.
There are two other film festivals – in Sarnia and London - taking place around the same time.
Sarnia's Southwestern Ontario International Film Festival (SWIFF) runs Nov. 2 – 5 while London's Forest City Film Festival kicks off today and runs until Sunday.
Concert may be a first for Canada 
WindsorOntarioNews.com Sept. 26 2017
It's a rarity and perhaps hasn't been done anywhere else.
The Windsor Symphony Orchestra has teamed up with the Windsor Jewish Community Centre to put on a performance featuring the music of all Jewish composers.
The concert takes place 7.30 pm, Oct 3rd at the Jewish Community Centre on Ouellette Avenue.
Fundraiser concert celebrates Windsor's rich musical history
WindsorOntarioNews.com August 30 2017
Celebrate Windsor music and help build a rich musical legacy.
The Windsor Music Archives is hosting its second fundraiser to create a permanent home of Windsor music lore.
The event is called Reunions and takes place Sept. 29 at the Rondo, 63 Pitt St. E.
Of course, with a name like Reunions, you can expect some of the area's legacy talents to be on hand.
Detroit '67 riot commemorated at several walkable Motown exhibits
WindsorOntarioNews.com August 17 2017
The 50th anniversary of the Detroit riot sees major exhibitions regarding that event taking place across Detroit.
There are six such exhibits and all within walking distance.
Here's even an official Passport to tie them altogether.
One of the first to open was at the Detroit Historical Museum, located across from the Detroit Institute of Arts.
Construction starting this summer on Leamington's shiny new theatre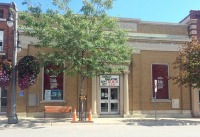 WindsorOntarioNews.com July 13 2017
Come this time next year the only independently-owned and operated theatre in Essex County outside of Windsor will have shiny new digs, complete with new box office, washrooms and retractable seating. 
Leamington's Bank Theatre will be starting renovations late this summer after acquiring a small building next to its current location at 10 Erie Street, which is a former bank building.
Luxury seats, "immersive" theatre but still no alcohol or gourmet food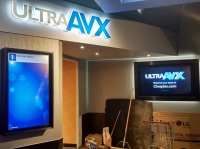 WindsorOntarioNews.com June 8 2017
Seven of Cineplex's 12 Devonshire Mall theatres are now equipped with "luxurious, reclining seats," the company says – fast-paced considering the original announcement for the upgrade was in early March.
But don't expect to be served food or liquor at your seats, like Cineplex does in its 17 VIP locations - the closest being in London – as well as buying alcohol as at other locations.
Glass, glass and even more glass
WindsorOntarioNews.com May 25 2017
Glass, glass and more glass.
In fact, it's possibly the foremost glass art gallery in America, and located in Detroit's suburban Royal Oak.
Habitat Galleries was started in 1971 and certainly is the oldest and largest glass art gallery in the US.
Currently it's also exhibiting the world's largest international glass exhibition – its 45th annual.
The exhibit features 100 artists from the United States, Canada, Germany, Italy, Australia, Slovakia, the Netherlands, and others.

Suburban museum shows work of famed Detroit rock poster artist 

WindsorOntarioNews.om April 17 2017
Gary Grimshaw, one of the most famous rock poster artists of the 1960s and 70s – and who hailed from Detroit – is the subject of an exhibit at the Lincoln Park Historical Society.
Lincoln Park is the downriver Detroit suburb where Grimshaw grew up, and he was a friend of those other famed Lincoln Park alumni, the musicians of the revolutionary – in music and politics – band, the MC 5.
Naturally, Grimshaw designed myriad posters for the band.
The exhibit, "Gary Grimshaw: The Master Artist's Studio," complements another about the MC 5, also held at the museum, which is located at the corner of Southfield Rd. and Fort St. 
Hip-hop meets the Renaissance
WindsorOntarioNews.com March 7 2017
Kehinde Wiley works on a big scale.
He's also one of the top African American artists working today.
And Windsorites have only to drive an hour south to the Toledo Museum of Art to see 60 of his paintings and sculptures.
The exhibit, called Kehinde Wiley: A New Republic, runs until May 14.
Michigan museum hosts acclaimed Chinese "Bird's Nest" stadium artist
WindsorOntarioNews.com February 2 2017
Just a few short driving hours way, Michigan has scored a coup by hosting an exhibit by one of the current art world's most influential figures, Chinese artist Ai Weiwei.
Meijer Gardens in Grand Rapids is hosting Natural State, the artist's first show of its kind at a botanical garden or sculpture park anywhere in the world.
From lunchboxes to lunchbox town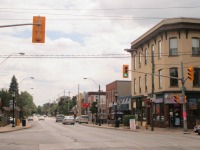 WindsorOntarioNews.com Dec 20 2016
Send in your lunch boxes.
The Art Galley of Windsor wants you to temporarily donate school and work lunchboxes for an exhibition exploring the humble, or not so humble, sandwich the food, and Sandwich the community.
It's all part of a two-year exhibit launching next spring that will look at the historic Windsor community in a way not explored before – through food.
Jewish centre, Mexican consulate team up for war memorial, film, tribute
WindsorOntarioNews.com October 20 2016
The Windsor Jewish Community and local Mexican consulate are teaming up to present a unique event, called War Stories.
This month the two will unveil a monument honoring local Jewish veterans during World wat II.
And they will show a film about an extraordinary event during that war, when a Mexican diplomat in France saved the lives of as many as 40,000 Jews.
Windsor artist's transgendered-themed quilt on display at Michigan's ArtPrize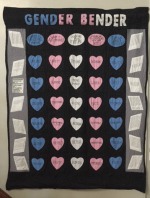 WindsorOntarioNews.com Sept. 28 2016
Andrea Cassidy's quilted artwork (picture left) at the 2016 Grand Rapids Michigan high profile ArtPrize exhibition goes to the heart of transgendered identity.
But unlike traditional artwork it seeks to involve the public, even asking them to participate in what they see in front of them.
"Play the game, touch the quilt, get involved," creator Andrea Cassidy says of the art piece, called Gender Bender.
New Muslim peace and harmony sculpture also designed for selfies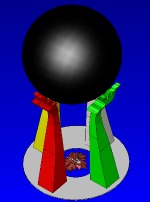 WindsorOntarioNews.com Sept. 6 2016
A local Muslim organization wants to donate a major public sculpture advocating peace and harmony that could end up on the city's riverfront.
It might also be a great place as a backdrop for selfies.
Called Love for All, Hatred for None, the sculpture is designed by Windsorite Sidra Tahir, a member of the Ahmadiyya Muslim community (group's logo above), and would be a gift to the city to celebrate the national organization's 50th anniversary in Canada.
"Precarious" downtowns subject of major local art exhibition next year 
WindsorOntarioNews.com July 25 2016
"Locational precarity?"
Or try this – "multiplicities."
Those are terms the Art Gallery of Windsor (AGW) is using to lure artists to contribute to its triennial contemporary art exhibition next year.
But some might want to grab a dictionary first.
"Precarity?"
Survey asks "arts lovers" how they consume events, media, facilities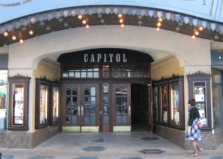 WindsorOntarioNews.com June 30 2016
The Windsor International Film Festival is conducting a survey about how "arts lovers" consumer the arts.
The 10 minute survey asks everything from how people learn about an event to whether they dine out before or after a performance.
Upcoming Kingsville summer festival combines fine art, fine wine and food
WindsorOntarioNews.com June 1 2016
There are art shows and there are outdoor wine and culinary events but a Kingsville art show this summer is combining all three.
It's the fourth annual Just ASK (Arts Society of Kingsville) Fine Arts & Fine Crafts Show & Sale that features not only art but wine, food and even music.
Magical Mystery Tour at Henry Ford
WindsorOntarioNews.com May 17 2016
Beatles fans or not – and there are probably few who aren't – might want to take in a new exhibit at Dearborn's The Henry Ford.
It traces the history of the Fab Four through highly experiential exhibits, including a replica Cavern Club and the actual last autograph ever signed by John Lennon. 
Click to read more
City's oldest film festival kicks off May 2 with film starring Christopher Plummer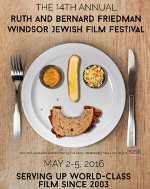 WindsorOntarioNews.com April 22 2016
The Windsor Jewish Film Festival – 14th edition – opens May 2 and runs until may 5 at Devonshire Cineplex theatres.
Festival spokesman Stuart Selby said attendance last year was more than 2000, showing the event is increasingly drawing people from beyond the Jewish community, which has about 1200 individuals.
"Obviously that's where it has to grow because the Jewish community is shrinking," the retired communications professor (University of Windsor) and Brooklyn native said.
First local youth "politically-influenced" mural project launching this Spring

WindsorOntarioNews.com March 30 2016
What's considered the first-ever politically-inspired youth mural project in Windsor will soon see the light of day at the Rose City Islamic Centre.
Prizes of $250, $500 and $1000 will be awarded.
Youth in this case means ages between 15 and 29.
The murals will adorn the Islamic Centre's community garden.