---
ARTS & ENTERTAINMENT
---
For The Tenors, performing at Caesars Windsor is a little like coming home
WindsorOntarioNews.com Nov 22 2023
The Tenors are coming back to town and just in time for Christmas with their new songs Miracle and Christmas Miracle along with classics like The Prayer, Nessun Dorma, Forever Young and Leonard Cohen's Hallelujah. They will blow (or should that be snow?) into the city for a concert Dec. 14 at Caesars Windsor. The group, formerly known as The Canadian Tenors, have played Windsor in the past with the city almost becoming a second home, especially at Christmas time. "They are one of the most played bands at Caesars over 15 years," says group spokesman Jeffrey Latimer. "They are a staple at Christmas. And the guys shot one of their PBS Christmas specials at Windsor, that aired all over America." The group recently added international recording artist Mark Masri and "the most celebrated new voice" from Italy in a generation, winner of the country's top Amici TV competition, Alberto Urso. They join Victor Micallef and Clifton Murray, who have been at the heart of the group for over a decade. And did we tell you they're all tenors? The group reimagines iconic hits and blends classical music, contemporary and classic rock and folk, and their own material of course. Their repertoire is in several languages including English, French, Spanish and Italian. Latimer says the audience can expect a fun-filled show. "Classic Christmas songs as well as really fun medleys, well-known songs they also each do a solo which is really wonderful and there is a lot of storytelling and humour." The concert runs two hours. The Tenors have shared the stage with a wide number of musical elite such as Justin Bieber, Paul Anka, Paul McCartney and Natalie Cole. Audiences love them; they often get several standing ovations a night.
---
 WIFF may be over but another film festival is just kicking off in Windsor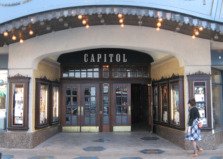 WindsorOntarioNews.com Nov 8 2023
It's now Windsor's fall film festival season. With the Windsor International Film Festival (WIFF) closing out 11 days Sunday night for its 19th season, the Media City international film festival kicks off its Windsor screenings this evening with a party at the Capitol Theatre. The festival runs until Nov. 11 and this is the first time it's schedule directly follows WIFF's. Media City has actually been around longer than WIFF – 26 years. It's largely an experimental or avant-garde fest and attracts a smaller niche audience. But by international standards it's an important event. This year some 60 cineastes and others will be attending from Europe, Asia and South America. Media City screens films in both Windsor and Detroit but is centred around Windsor's Capitol Theatre, as is WIFF. After the opening party tonight the festival will show a retrospective of Argentinian director Narcisa Hirsch's films. "Hirsch has spent seven decades as one of the foremost figures of the South American avant-garde," the festival, long headed by Oona Mosna, says. The screening features rare films "never before screened outside of Argentina." Some 70 films will be screened in the festival altogether. The festival is underwritten to the tune of more than $200,000 in provincial and federal funding. Media City's guide is 120 pages. A full festival pass is $30 CAD and single tickets are "pay what you like."

---
Two Quebec filmmakers capture top Windsor Intl Film Festival awards
WindsorOntarioNews.com Nov. 7 2023
Perhaps reflecting our current times, Irena's Vow won the 2023 LiUNA People's Choice Award at the recently finished Windsor International Film Festival (WIFF). (LiUNA stands for Laborers' International Union of North America, a longtime festival sponsor). Directed by Canadian Louise Archambault, and based on a play by Dan Gordon, the film is about a Polish nurse who aided Jewish people during the Holocaust. Ironically she hid them in the cellar of the very house where she was employed as a housekeeper by a Nazi officer. The movie was mainly shot in Lublin near the Ukrainian border. This is the second time Archambault has won a WIFF People's Choice Award, the first in 2013 for Gabrielle, about a young developmentally disabled woman who develops a romantic relationship with her choirmate. Archambault is also the first director to have two films nominated for another major WIFF award, its Best Canadian Film, for this movie and for One Summer. WIFF wrapped up 11 days of programming Sunday, marking its 19th year as the festival grows and grows. It had its largest offerings yet: 186 features and 38 shorts. The WIFF Prize in Canadian Film went to Ariane Louis-Seize's Humanist Vampire Seeking Consenting Suicidal Person. The comedy-drama is about a teen vampire who has moral qualms about attacking people for their blood. And the WIFF Spotlight Award went to Canadian director Philippe Falardeau.

---
New exhibits unveiled but no finish date yet for Motown Museum expansion
WindsorOntarioNews.com October 21, 2023
As the Temptations sang "Get Ready," it's time for the public to get ready for a couple of immersive exhibits in an expanded Detroit Motown Museum. Motown Museum CEO Robin Terry was teasing the media and fundraisers about the interactive exhibits, which will be included in the entirely new wing of the museum, a set of one-time family houses converted to studios, located on West Grand Boulevard in Detroit. When the building opens the exhibits will put visitors in "the room where it happened," Terry told an audience including members of the famed Four Tops and Temptations. One exhibit, The Motown Atmosphere, will take viewers behind the stage to the daily lives of Motown greats. Says The Detroit News, a "curated collection of images shows legends interacting with one another at Hitsville and in their daily lives, allowing fans to see their favorite Motown stars up close and hear their story." Hitsville USA is another name for Motown and the sign emblazons one of the historic buildings. The second exhibit, The Backstage Lounge, will allow visitors to search the music catalogue and see exclusive interviews with the stars, talking about the stories behind the songs. Terry's announcement was part of an update on fundraising for the museum's expansion, a sleek new building being constructed behind the existing houses – connected by a pedestrian mall - that will host new events and studio spaces, exhibits and expanded retail. Some $59 million has been raised towards the $65 million cost, which jumped from $55 million due to an increase in construction materials. No completion date has been set and Terry said progress has been slowed by environmental approvals. "Our original plan was to be under full construction on the final phase of the expansion this summer," she said. The expansion was announced in 2016 and will bring the museum from 10,000 to 50,000 sq. ft.

Image: Motown Museum

---
Several music festivals, CJAM radio, among Round II city arts funding 
WindsorOntarioNews.com October 9 2023
Several music festivals, among other groups, are slated to receive $59,000 funding from the second round of city arts grants. Requests amounted to almost $100,000. These are MusicFest Windsor for programs and audio engineering ($4000), Soul City and 4th Wall for artists fees and recording ($2500), the Windsor Choral Festival for artist fees and music scores ($2500), 4th Wall Music's Concert Series celebrating choral music ($2000), the Greater Windsor Concert Band Family Concert Series venue rental ($800). Meanwhile CJAM 99.1 FM, the University of Windsor's radio station, will get $1500 for artist fees for a 40th anniversary celebration event. Three theatre groups are earmarked for dollars. The Windsor Feminist Theatre for The Yellow Wallpaper, a book adaptation for a new play ($2500), The Riverfront Theater Co. funding for sign language interpreters for two plays ($1680), and Revolution Youth Theatre for artists fees ($1000). Ethnic groups received funding. The Black Historical Research Society will get $5000 for the Mary Ann Shadd Bicentennial Celebration, the Salam Project $4000, Gujarti Samaj of Windsor for Unision of Tunes celebrating art, music and food ($2500), Bhutanese association promoting Nepali arts for art, music and food events ($2500) and Luc Michaud's EP of French music ($2000). Other recipients: Jeff Denomme's Haunted Zoo Children's Book ($3750), Jennifer Willett's art & performance FE Meeting at Night ($3000), Windsor Dance's A Christmas Charol ($3000), Ken Amlin's feature film ($3000), Karl Jirgens Sandwich Town: A History book ($2600), Jill Moysiuk's live comedy show ($2575), Sarah Smitherman's book on Ojibway's flowering plants ($2445), Barry T. Brodie's Reframed for a visual, literary and performing arts event ($2400), Stephen Drouin Community Economics ($1000) and Anthony Cardillo Open Noise Showcase ($750).

---
Stratford moving out of comfort zone
WindsorOntarioNew.com Sept. 25 2023
The Stratford Festival is moving out of its comfort zone, and perhaps yours. The festival's 2024 theme is "A World Elsewhere," with 12 plays and more than 150 events through its Meighen Forum, featuring lectures or discussions. "What unites the plays for next season is a journey away from the known," says artistic director Antoni Cimolino (photo), the University of Windsor graduate. "A journey away from the comfortable towards something that – while it's an immense challenge – often brings us to a much better place." Three Shakespearean plays are on tap - Romeo and Juliet, Twelfth Night and Cymbeline. An early Victorian comedy London Assurance by Dion Boucicault and the Henrik Ibsen masterpiece Hedda Gabler will be staged. The festival will present the North American première of Wendy and Peter Pan, an adaptation of J.M. Barrie's classic book by Ella Hickson. US playwright Edward Albee's 21st century classic The Goat or Who is Sylvia? will also be under the lights. "As I put together this new season, I looked for works that speak to departing from the past, stories about people who strike out in new directions," Cimolino in a release. "I feel we are at a moment in society when we are genuinely ready to leave behind much of what was." Also on stage will be three world premieres:  Salesman in China by Leanna Brodie and Jovanni Sy; a new adaptation of Margaret Laurence's classic The Diviners by Vern Thiessen with Yvette Nolan, and Get That Hope by Andrea Scott.
---
Coming to Windsor, opera, without snobbery, like you've never seen it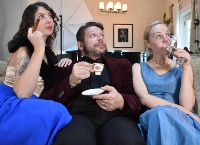 WindsorOntarioNews.com Sept. 11 2023
It's opera like you've never seen it before. And it's coming to Windsor this fall. Opera may be a great art form but it also comes with, well, attitudes like snobbery. Ruckus! On the Road, a Toronto-based company, is anything but. Cynthia Amsden, its spokeswoman, said the offbeat impresarios created the revue as the antithesis of everything people hate about opera – "it's expensive, you have to dress up, it's snobby, you can't drink, except during intermission, you can't talk, it's snobby, you can't get up and move around, and it's snobby." And, most of all, you don't have to know anything about opera to attend. "Come in blind! Opera should be accessible to everyone, and we make sure that this show requires no previous knowledge about the art form," says Amsden. You won't be sitting through a four hour opera in a foreign language with a complicated story. "We are here to give you a taste of everything. From gorgeous, heartbreaking Puccini and Verdi to comedic contemporary pieces (Country Singer meets Opera Star, anyone?) to - dare we say it - ABBA." In fact, it's a great intro to opera and "leads a lot of our new audiences to explore traditional operas afterwards." And forget being sedate. "Our audiences tend to hoot and holler! And we love it. This is not the kind of opera where you are afraid to cough, or unwrap a candy loudly, in fact, we have a strict no-shushing policy!" Amsden says. But even knowledgeable opera goers should like it. They "get a unique, new way to experience the music." What to expect? "Audiences can expect to see a whole range of opera bangers mixed with fun, comedic pieces, meant to keep you on your toes." There are four professional singers, a killer piano player, surprise guests, and an appearance by Windsor's own Abridged Opera Company. The revue takes place Nov. 17 at the Capitol Theatre.
Photo: Ruckus! On the Road
---
'Gentle Giant,' Allesandro Rotondi's latest album, now being recorded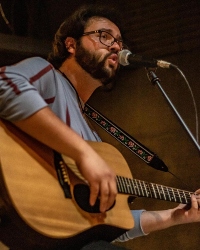 WindsorOntarioNews.com August 24, 2023
Allesandro Rotondi is young – well, 26 now – but he's accomplished a lot. The Windsor-born musician, who's a multi-instrumentalist, has been playing music since he was five. He grew up in a musical family, his dad Moe Rotondi, has had a Kiss tribute band, Destroyer, and played across Canada at venues like the CNE and Calgary Stampede. Allesandro is now recording his latest album, Gentle Giant, due out this year or early next and available on most streaming services. Rotondi's sound may be described as enchanting acoustic harmonies swathed in strings. As a kid he started out playing drums, subbing in his dad's band. Then moved to guitar which is his main instrument. "But I love to dabble in everything. I play piano. I love ukulele, harmonica," he says. "Basically, anything I can get my hands on I love to learn it to a playable degree." He studied jazz guitar at the University of Windsor. He went to teachers' college and now works as a substitute teacher. He would like to teach music someday. He performs weekends at events and private gatherings and otherwise spends time composing. His influences have been classic rock like The Beatles, Elton John and The Beach Boys, the last perhaps more influential in terms of the Rotondi's multilayered sound. "I always love the thought of orchestration and beautiful melodies – harmony especially - I used to have a lot of harmony with the group I was in Midnight Metro where we would do a lot of vocal stacking and things like that." Learning to play piano creates "these pretty wide washes of musical sound and colour." This is far from Rotondi's first recording – in 2019 he recorded Around You, and two original albums with Midnight Metro. One of his favourite songs is Constellation. In university he recorded a reimagined version of a Beach Boys song, which he presented to Brian Wilson at Caesars Windsor. And he's recorded two EP's. But he's hoping Gentle Giant, assisted with $1000 funding from a City of Windsor arts grant, "will be a more official launch, if that makes sense."
Photo: Jeff Sanson
---
Windsor trumpeter Russ Macklem's September release party at Phog
WindsorOntarioNews.com August 14 2023
Windsor trumpeter Russ Macklem would love to play more jazz live in Windsor but opportunities are few. So he spends most of his time playing at historic Detroit jazz clubs and has a residency at Motor City Wine in Detroit. While there are "quite a number" of people locally who play jazz, live gigs are very limited. "There used to be a lot more musicians who'd come over from Detroit," as well, Macklem, who teaches music sessionally at the University of Windsor, says. "It's sort of mostly evaporated." Consequently professional musicians have to go stateside. "Those of us that do exist here, you know, most of us have a work visa and work over in Detroit." Macklem has played at Phog Lounge and the Dominion House, however. Phog has a "perfect sounding room" for a quintet with "live and dead sound balance," perfect for a recording. But regular gigs aren't "really possible because you're not going to constantly gain the interest of people to come out every week." Macklem received $1000 to cut an album, The South Detroit Collective (aka Windsor), which will be out this fall, from the City of Windsor arts grants program. It will be original compositions. "It's all my music," he says. His influences? Seminal trumpeter Miles Davis is "one of my greatest." Another influence is Canadian Kenny Wheeler and another "who just left us," saxophonist Wayne Shorter. And then there are the "many greats" in Detroit, including the late Marcus Belgrave. (His son, "a phenom of his own," Kahil El'Zabar, a multi-instrumentalist, is on the album.) Macklem's jazz includes "other musical traditions." While "beauty is in the eye of the beholder," he chuckles, he makes music to be "pastoral and try to tell the story of my life." The album will have a release party two nights at Phog Lounge Sept. 21 and 22.
---
Diva Diana returning to Caesars Windsor with Musician Legacy Tour
WindsorOntarioNews.com July 27 2023
Diana Ross, one of the most acclaimed divas of our era, is coming to Caesars Windsor this September. Tickets are still available for the Sept. 8 performance. Ross last performed at The Colosseum in 2015 and a billboard with her image has adorned the casino for years, almost as if adopting the home grown (Detroit) talent as its own. Ross, of course was leader of Motown Records' premiere female vocal group The Supremes with such iconic hits as "You Can't Hurry Love," "Come See About Me," and "Baby Love." The Detroit girl, who grew up in the Brewster Projects less than five miles from downtown Windsor, will visit Windsor as part of her The Musician Legacy Tour 2023. The Revue features four backup singers and a 10-piece band. The 79-year-old, besides performing her standards, also has some new songs which have wowed crowds. These include "Tomorrow" from 2021's "Thank you" album, her first since 2006. She delivered the song "with infectious verve and energy," The San Diego Times-Union wrote. "Ross sounded thoroughly engaged with the song, whose release came seven decades after she made her recording debut with "I Want a Guy." "Guy" was her first single with The Supremes in 1961. Ross's latest album is the 25th of her career. In that concert the diva took the stage after a six minute film showing her rise from those very Brewster housing projects to maga stardom. Besides The Supremes she has performed with an array of talent such as Michael Jackson and Marvin Gaye. And true Supremes fans will look forward to likely singalongs! As for her performance in San Diego her "thin and wispy" voice "has retained much of its girlish lilt, while her personality and charisma enabled her to largely hold her own," the reviewer wrote. Last year Ross headlined the world's biggest music festival, Glastonbury, in England, with the festival's most viewed performance ever. The legend appears to still have it in her.

---
Jazz it up in Windsor's city parks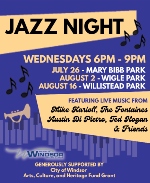 WindsorOntarioNews.com July 14 2023
A little jazz has come to Windsor parks this summer. The Jazz in the Parks series kicked off this past week in Lanspeary Park. But don't despair, there are still three more concerts before the summer blows out. And they're free. The next one is at Mary Bibb Park behind Mackenzie Hall July 26 from 6-9 pm featuring Mike Karloff and Friends. The next is Aug 2 at Wigle Park featuring The New Standard. And the third is Aug. 16 at Willistead Park with Austin DiPietro and Friends. The program received almost $5000 through city arts funding. The jazz series is rather novel in a town known for music but not especially live jazz. "It kind of brings it to the forefront," says producer Kristen Siapis, who's an independent artist and producer and otherwise oversees the front office for the University of Windsor Players. "There's different opportunities for people to perform in different places, and we've seen cover bands will play festivals or we have acoustic acts that will play Taloola (Café) or whatever but there really isn't a spot, like we don't have a jazz club. So this kind of promotes that style of music that we don't always see." Siapas has looked at the city's great park venues and figured they would be ideal for jazz just as they are for other live music. "It's just another way of enhancing the public spaces that we have," she said. "It's just such a beautiful accessible way to connect people with art. And it's funded by a (city grant). To me that's what the public dollars are for, that we're using this to bring art to people that might not necessarily have access to it." She said a pilot concert was done at Lanspeary last year and it really energized the community. "The beautiful thing that happened is that the music starts streaming out across the park and people come out of their houses, people who are walking by will come in and see what's going on, they'll come and listen to the music." 
---
First ever art show featuring work of Windsor's homeless population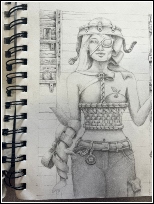 WindsorOntarioNews.com June 27 2023
A first of its kind art exhibition featuring work from the city's homeless population will be on display at Artspeak Gallery in mid to late August. The exhibition, running August 13 – 30, in the gallery affiliated with the local arts council, is being organized by Batool Yahya, an artist who herself has experienced homelessness. Yahya, who has "struggled with substance abuse and not having a permanent place to stay," began working with the city's homeless, particularly at the H4 (Homelessness and Housing Help Hub) in the former Windsor Water World building downtown. "I found that there was a lot of hidden talent among the homeless community," she said. She says homeless people are marginalized in a myriad ways including the public thinking they might not have creative talent "just because they're living a different life than we are." Some of the work is outstanding, including surrealism representative of Salvador Dali. "There's a lot of graffiti work which I think is very impressive and speaks to homelessness as an idea," Yahya said. One person uses art to depict inner voices or "demons." An example of the kind of work to be on display is exquisite pencil drawings (pictured). At least 10 artists are taking part and the works will be for sale.  "I'm just really excited to emphasize voices that are otherwise hidden," she says. For confidentiality  reasons the artists are unnamed. Yahya was awarded $1080 by the city arts fund to pay for exhibition rental space as well as art supplies. Artspoeak is located at 1942 Wyandotte St. E.
---
With prequel, Matt Bhanks' adds a new dimension to Master Defenders series 
WindsorOntarioNews.com June 12 2023
The many fans of Windsor sci-fi novelist Matt Bhanks no doubt will be happy to hear that the latest addition to the Master Defenders series will be a film prequel. Over the past decade Bhanks has written four Master Defenders books that have caught the imagination of a wide assortment of people – from adults to school children, even Hollywood actor Billy Dee Williams. The series has captivated readers with the story of a group of super heroes who join together to prevent worldwide catastrophe. The plot revolves around Pixaliemain, space rocks that could wreck plague-like havoc if humans come in contact. A group of dastardly villains, Pixalians from the planet Star-Pix, wants to unleash them. But the extraordinary defenders of the Alien Investigative Agency (AIA) must work against time to stop them. And there are lots of conflicts and intrigue along the way. Bhanks, also an entrepreneur, has sold the books far and wide and is well known at ComiCon conventions and often invited to speak before school groups. The film, called Master Defenders Altered Alliances (MDAA), is set five years before the first book, and focusses on several characters, played by well-known local actors Shane Nelson as Curtis Kareem and Boris Gatackic as Ian Hall. Brent Bondy and Kiarra McLellan also star. "We've already filmed quite a lot," Bhanks says. "I'm hoping that it (the film) will be available this year." Bhanks is blown-over by the talent in Windsor. "I've seen all kinds of amazing people who are just truly creative in what they do," he says. The film, shot by local cinematographer Walter Riggi, will have many references to the four books. "I know fans are going to love it when they see these people," Bhanks says. The film is produced by Bhanks's company MB Realms Entertainment.

---
Local group bringing to Windsor a play on an immigrant child's experience 
WindsorOntarioNews.com May 27 2023
Shō Studios s bringing renowned Canadian playwright Dennis Foon's play about the immigrant experience, New Canadian Kid, to Windsor. The Walkerville based arts organization has obtained a $5000 arts grant from the City of Windsor and is seeking additional funding for a play that will largely appeal to elementary students. Calling it a "great little play" Shō's president Lorraine Steele says she's in the process of getting local schools on board. "We think grade 4 is a good age" to view it, she says. "We're fundraising for that play so that we can offer it to the school children at a relatively low ticket cost." Foon (photo) was born in Detroit but has long made his home in British Columbia. He is the recipient of numerous global arts awards and has a specialty in writing stories of themes related to young people. He was co-founder of Vancouver's Green Thumb children's theatre. New Canadian Kid is considered one his most influential works and is about a young immigrant's experience. "It's a play that hopefully expands our empathy to other people," Steele said. "It's just as relevant today as it was when he wrote it maybe 25-30 years ago," she says. "To tell you the truth it's more relevant today particularly in cities like Windsor where we have newcomers all the time."
Photo: Dennisfoon.com
---
Song of the Nereid takes a novel approach to the subject of sexual abuse
WindsorOntarioNews.com May 10 2023
Song of the Nereid is the latest production by the Three Friends Productions film company and will start shooting this summer in the Windsor and Sarnia areas. The production recently received a $3000 City of Windsor arts grant. The film is co-directed by Maria Belenkova-Buford and Lori Zozzolotto, who also wrote the script. The third member of Three Friends is Christine Hann, and the women rotate roles on different film projects. The short film is expected to be shown as this fall's Windsor International Film Festival (WIFF) and filmmakers hope it will be screened at other fests around the world. The theme is a novel take on a dark topic – sexual abuse. Employing the myth of mermaids – an interpretation of the Little Mermaid ferry tale as a nereid is a kind of mermaid – the story follows the story of a beautiful nereid's kidnapping by an enamored man with god-like powers, thousands of miles away to where she's imprisoned. Trying to win her love he builds a salt water pool not knowing that salt water empowers a nereid. We won't give away the ending. But Zozzolotto, who honed her writing skills in one-act plays, says the theme is "entertaining and engaging and trying to discuss a tough topic in an interesting way." A key scene will be shot at Windsor's LaGuardia restaurant. When writing the film Zozzolotto says she discovered how much of a "phenomena" mermaids are, with numerous mermaid festivals around the world. "I had no idea people were so obsessed with mermaids," she says. Co-director Belenkova-Buford, treasurer at the Windsor area arts council and U of Windsor film production grad - who now has several short films under her belt since starting filmmaking only three years ago - says the topic is "serious" but dealt with in "an unusual way." Her favourite part of filmmaking is "the teamwork, how everything comes together when the team is working smoothly." The film's key role will be performed by Carol Ann Matus, an "up and coming actor" from the Toronto area. Anthony Zita, a recurring character in My Big Fat Greek Wedding, also stars. Rounding out the cast is Bernard Applewhaite.
---
The Broadway Bunch is closest you'll come in Windsor to the real thing

WindsorOnytarioNews.com April 26 2023
Get ready for Broadway-style music but also a Broadway style production in its fullest sense. It's unique musical theatre that has been playing in Windsor for the last several years and set to resume this September. Known as The Broadway Bunch, producer and performer Kaitlyn Karns says the production is one of the few theatrical productions in the area that pays performers "where people are getting paid professional union rates," both the musicians and the vocalists. "So that's our main mission, that people are paid fair artists' wages," she says. The production recently received a $3000 City of Windsor arts grant. Karns says the production started in 2016, takes place over two nights, and has evolved into different forms with The Broadway Bunch name and format taking hold over the last few years. Shows are at Meteor, a club upstairs across University Ave. from the Capitol Theatre downtown. There are six or seven performers altogether and a five piece band. But from year to year the performers often change. "We keep some people the same and we bring in new people and then we have a special guest," Karns says. She says this year's program is still in the planning stage. Public reaction has been overwhelmingly good. "We've sold out every show we've ever done," she says. Karns says the group is thinking of expanding into other locations and with other shows, such as one being perhaps "more family friendly." All three show producers are University of Windsor grads. "It's a passion project for us," she says. Other than being in performing arts Karns is executive director for outreach at the Arts Council – Windsor & Region and executive director of the Ford City BIA.

---
20th Jewish film festival Apr 24 - 27
WindsorOntarioNews.com April 11 2023
The Windsor Jewish Film Festival is back for its 20th season, running April 24 – 27 at Devonshire Mall. Ten films are on tap, ranging with themes about the Holocaust to modern Jewish life. Farewell Mr. Haffmann (photo) is set in Vichy France as Jewish residents are forced to identify themselves. Where Life Begins is a tale of an Orthodox family moving to rural Calabria and the freedom the family daughter experiences in her new surroundings. Hitler's Aunt is a story about life in German-occupied Poland when a rural citizen risks his family's life by hiding Jews. Barren is another tale of an Orthodox Jewish woman rebelling against the constraints of her "conservative" social structure by being forced to become a mother. Tango Shalom is a fun play on getting around Orthodox rules in a dance competition, all for the sake of saving the rabbi's school from bankruptcy. In Image of Victory, set in 1948 Palestine, Hassanin attempts to liberate farmers, his values tested as "both sides re-evaluate what they understand about war." The Replacement, set in Spain, is a police procedural about a strange murder of a police inspector the main character has replaced. Those Who Remained is a "lyrical story" through the eyes of a young girl about the healing process of surviving Holocaust victims. In Time to Say Goodbye, another comedy, set in contemporary Germany, a 12-year-old is humorously torn between the demands of his recently divorced Jewish parents. And in Four Winters, the "myth" of Jewish passivity during WW II is shattered through interviews with former partisan fighters.
---
"BioCurious" exhibit on nature links is at Windsor's downtown art museum
WindsorOntarioNews.com March 23 2023
Perhaps riffing on the gender identity "BiCurious" label a new art exhibit at Art Windsor Essex, formerly Art Gallery of Windsor, is called BioCurious. The 18 artists' works "compliment and expand on the themes established by our current exhibits around, our complicated relationships to our environment, the land and living bodies," the museum says in a release. They use "living matter to organically intertwine scientific and cultural knowledge to propose alternate understandings of living bodies and the land." For example, Windsor artist Catherine Hois's "Disruptive Body" (photo) "explores the body becoming a site where anxieties and traumas are materialized and negotiated." Gordie Howe International Bridge artist Sara Graham's work is also featured. Graham was chosen to provide art for one of the bridge building facades. Her "Cut-outs, Offcuts, and Cast-offs" looks at "ideas and issues of the contemporary city." Graham is interested in "connections and disconnections between the built environment and the landscape it occupies." Much of her work is inspired "through walking or using public transit." Walking allows "room to think while moving through a city, to notice, to wonder." Meanwhile, artist Richard Leong's "Hard Look Soft Gaze" reflects on how other artists – many in the museum's massive 4000 work collection – depict the natural landscape "and the place that they occupy in our lives and our collective imagination."
Photo: Art Windsor Essex
---
Stratford productions now online 
WindsorOntarioNews.com March 9 2023
Now you can savor the theatre productions of Stratford with a monthly $10 subscription. Stratford@Home features selected productions from the 2021 and 2022 seasons, acclaimed Shakespearean films and commentaries. The latest addition to the series begins this Sunday with Northern Tracks, a selection of songs by famous Canadian songwriters and sung by Stratford performers. The releases features songs of Leonard Cohen including Bird on a Wire, Suzanne and Anthem, Buffy Sainte-Marie's Until It's Time for You to Go and Universal Soldier, and Neil Young's Only Love Can Break Your Heart, Helpless and Harvest Moon. Other featured artists in the series are Oscar Peterson, Rufus Wainwright, Susan Aglukark, Joni Mitchell, k.d. lang and Gordon Lightfoot. Three Oscar Peterson songs are featured, ones that have never been recorded with lyrics. "Current and former members of the Stratford Festival's acting company reimagine the classics in new and exciting video performances captured in a variety of locations throughout the new Tom Patterson Theatre," says the performing arts company. New episodes will be released on the next eight Sundays.
---
Windsor getting own Caribana fest
WindsorOntarioNews.com February 25 2023
Windsor is getting its own Caribana festival. It will be called WIDAFEST (Windsor International Diaspora African Festival) and will run four days in late July. The setting will be the Riverfront Festival Plaza July 28 – 30. The event is being produce by Windsor-based Zalent Creatives Inc. A city report says the event "will capture the vibrancy and excitement through music, food and cultural experiences….to celebrate the richness of Windsor's Black history and culture." The event will include ticketed and free events. There will be local and regional food. Merchandise and arts vendors will host displays. And just like Toronto's famed Caribana parade Windsor will also see a similar one on Saturday July 29 along Riverside Dr. E. between Devonshire Rd. and Glengarry Ave., ending at the riverfront plaza. The parade will include floats, dancers, fashion displays and musical acts. Beyond the immediate festival plaza  there will be workshops highlighting the Black and African communities, focussed on business and social-economic topics, and take placing at various city locations. They'll feature local, regional, national and international speakers. The event will culminate in an awards ceremony recognizing the community's unsung heroes. 
Photo of Toronto Caribana: JulianPromos.com
---
Motown Musuem reopens Feb. 22 with exhibit about its classic Revue tour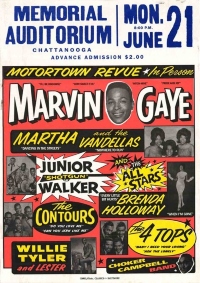 WindsorOntarioNews.com February 10 2023
While work continues on the Motown Museum's $55 million expansion the museum itself is finally re-opening after much of that work has now been completed. You'll be able to visit the famed home of Motown records – Hitsville USA – on West Grand Blvd. in Detroit beginning Feb. 22. On tap is the new exhibit The Motown Revue (exhibits change twice a year) which shows Motown on the road. The revue assembled artists ranging from Marvin Gaye to Junior Walker and the 4 Tops as they travelled by bus across the USA performing in venues large and small. "Sixty years ago, in October 1962, Motown's roster of young singers, musicians, and staff boarded a crowded bus that would carry them for the next three months as they performed more than fifty one-nighters in towns across the United States," the museum says. "In an era of racial division, the African American artists faced discrimination as they performed to integrated and segregated crowds in the North and South. Teenagers pressed their way to the venues, standing in lines that wrapped around buildings, anxiously waiting to see their musical idols." The revue became an annual event that saw the stars even travel to Europe. It was instrumental in introducing "new audiences" to the Motown Sound. Said Martha Reeves, "The plan behind the Motown Revue was to send all of the label's biggest recording stars and young hopefuls out on the road to promote our latest recordings, turn those recordings into hits, and return as 'stars.'" Meanwhile, at Hitsville USA you can also tour founder Berry Gordy's former apartment and the legendary Studio A, where so many of the great hits were recorded. And your tour group may even be divided in two to sing both sides of the Temptations' famous 'My Girl.' Once the expansion is complete the museum will boast a 50,000 square foot "world class entertainment and education tourist destination."
Photo: Motown Museum
---
Controversial painting draws crowds at Detroit museum's Van Gogh exhibit 
WindsorOntarioNews.com January 27 2023
Well, that's one way to get them to pay attention to a picture. For the past month the Detroit Institute of Arts (DIA) has been in the centre of a legal storm over one of the paintings in its blockbuster show Van Gogh in America, which closed Sunday. No doubt the international controversy also happily kicked-up attendance numbers for the exhibit of 74 paintings - media reports showed crowds swarming the art work - outstanding for any art museum, the artist having the name he has. The latest turn in the soap opera was yesterday when a federal appeals court ruled the DIA could keep the controversial painting until the tug of war ends between the museum and a Brazilian man who claims ownership of the multi million-dollar work called The Novel Reader (1888). Art dealer Gustavo Soter claims he lost track of the painting until he found out it was on display at the Detroit museum. Soter's lawsuit says he bought the painting in 2017 for $3.7 million but never took possession (the painting ia apparently worth more than $5 million now). Instead it was stored by a third party with whom he lost contact. The 6th U.S. Circuit Court of Appeals in Cincinnati upheld a lower court ruling that the DIA did not have to give up the painting because it was protected by a federal law granting immunity to foreign artwork on display in the United States, the Immunity from Seizure Act. "The DIA will fully comply with the order from the U.S. Court of Appeals regarding the custody of The Novel Reader and will be responding on January 30 to the plaintiff 's recent pleading," DIA spokeswoman Megan Hawthorne said. "The DIA will have no further comment prior to a ruling by the court." The exhibition opened in October and obviously ended with a bang.
---
Counselling available for audiences negatively affected by play content
WindsorOntarioNews.com December 20 2022
If you're attending a University of Windsor student play and are somehow negatively affected by its contents you can call up to four counselling services affiliated with the university. The Need to Talk? program is appended to the University Players schedule of upcoming plays such as 365 Days/365 Plays in February and Twelfth Night in March-April. It's uncertain whether the U Players are among the first Canadian or campus theatrical groups to post trigger warnings for counselling services for play content although more and more institutions and particularly universities have set up "safe spaces" for a variety of matters where people may be emotionally affected. Says the University Players website: "Often, theatre productions present content that may deeply affect some patrons. Please heed any warnings in our show descriptions. If you're feeling overwhelmed, in need of support, or just need to talk with someone, here are some great places to start." The counselling services include the Sexual Misconduct Response & Prevention Office on campus, the Windsor-Essex Community Crisis Line, the campus Peer Support Centre and Good2Talk. No one at the university responded to several requests for comment. Twelfth Night of course is the Shakespearean romantic comedy about a "shipwreck, mistaken identity, unrequited love, and fools who speak the truth." It's a confusing farcical love tale where "love triangles are resolved." The play is suitable for ages 10+, the Players say. Their other upcoming play is 365 Days/365 Plays by Suzan-Lori Parks, a US Pulitzer winning playwright. The play takes a "deep dive into the human condition, at turns hilarious, touching and gut-wrenching." It's recommended for ages 14+. More and more theatres appear to be adding "trigger warnings," a controversial area. Mark Shenton of The Critics' Circle says "You can't protect people from everything. It will ruin the theatre." But, said reviewer Brandon Lorimer, "People have always had concerns and sensitivities; it's just that our society is finally giving space for these opinions amongst the emotionally hardened."

---
Intriguing downtown "bio art" studio at the intersection of art and science 
WindsorOntarioNews.com Dec. 2 2022
Downtown denizens and passerby may have noticed an intriguing arts space on University Ave W., right across from the Capitol Theatre. It's the University of Windsor associated Incubator Art Lab, a unique "bio art" gallery and studio. The lab actually opened in September 2021. The School of Creative Arts affiliated space describes its design as having an "Art Nouveau decorative/biological marquee" and is "unique nationally and internationally." But getting anyone to talk about the studio and what bio art is proved next to impossible. WON.com put out several requests to the lab and associated parties with no response. Only one artist, listed on the website as being associated with the lab, Alana Bartol, said "I am no longer based in Ontario and I am not currently associated or working with the Incubator Lab on any projects." The lab director is an acclaimed bio artist named Jennifer Willett, on U Windsor's faculty. Again, from the website, the original lab, located elsewhere, was founded as far back as 2009 and is "at the intersection of art, science and ecology." It says the lab "functions both as an apparatus in which environmental conditions can be controlled towards the assisted growth of life, but also as a site that supports the development of new ideas and artistic practices." So, the lab seems to function at the intersection of science and art. Willett has taught at Montreal's Concordia University and Netherlands' University of Leiden. She has exhibited around the world including in Australia, the United States and Germany. Her installations include 'When Microbes Dream,' 'Gratitude Offering for the Organisms,' 'Calling all Untethered Organisms' and 'Baroque Biology.'
---
Another successful WIFF and some parking and security observations
WindsorOntarioNews.com Nov. 16 2022
The following is abridged from Ron Stang's Windsor Detroit Film blog:
Another great year at the Windsor International Film Festival (WIFF) and in the wake of two years closure due to Covid, more than 45,000 tickets sold – a new record. Here are some general observations not so much about the festival but about its downtown footprint. Why can't the city suspend parking meter enforcement during WIFF's 11 days? Arguably WIFF draws more people downtown than any other event except fireworks and parades and they last only one day. Yet blocks and blocks of streets remained empty of cars because filmgoers were reluctant to pay the parking meters. The two-hour meter maximums also inhibited use since most films verge on two hours or longer. The meters also charge a rather pricey $2 hourly fee. Sure enough, despite the few parked cars, a parking enforcement Commissionaires vehicle was seen tagging expired cars. Suspending parking enforcement would be a show of further support by the city and would benefit downtown retailers. Two, could not the block immediately in front of the main festival venue - the Capitol Theatre and WIFF ticket office - have been blocked off? The next block east where WIFF's entertainment tent was set up had been cordoned off. But regular traffic continued immediately in front of the theatre where filmgoers spilled out on to the street or crossed to walk to the Chrysler Theatre. Third, the surrounding neighbourhood could be more secure. Walking west along University Ave., especially at night, there were often sketchy individuals. A woman I spoke with was reluctant to park more than a block away from the Capitol Theatre for fear of her safety. And I in fact was attacked. Nothing serious, but an individual broke from a group of about a dozen people, some apparently drunk, and pretended to punch me out. There could be a better security or showing by police.
---
Stratford again buying major advertising in Michigan market


WindsorOntarioNews.com October 18 2022
Big full-page ads in The Detroit News last week were the latest in renewed mass advertising into the Michigan market – one of the most lucrative - for Ontario's Stratford Festival. And it just happens to coincide with the lifting of the compulsory use of the ArriveCAN app by the federal government at the end of September. "Welcome U.S. Visitors" proclaims the ad, adorned with fall colours, as the festival continues its post-Covid seven month run until October 30. "News: ArriveCan is no long required! Come visit us this October and enjoy picturesque Stratford in its autumn glory." It adds, "Bonus: Your dollar goes further in Canada!" Stratford spokeswoman Ann Swerdfager said the ads were a "mini-campaign, featuring a print and digital push" after a season-long buy of broadcast and digital advertising in Michigan. Stratford obviously took a huge hit with the border closed or traffic heavily limited during the Covid era but as border restrictions were lifted a considerable amount of that traffic actually came back. "In a typical, pre-pandemic year attendance is around 500,000, with about a quarter coming from the US. I don't have figures for this year yet," she said. "However, we've been very pleased to see large numbers of Americans returning to Stratford this season after the pandemic intermission, as border restrictions have been lifted." In pre-pandemic times as much as 25 per cent of the audience came from the US, with half from Michigan and 20 per cent from New York state. American visitors aren't just key to the theatre festival. "Our American visitors are vital to our success," Swerdfager said. "They tend to settle in for a number of days in Stratford during which they see many productions. We look forward to welcoming even more back next year and beyond." At one time the festival ran a chartered bus service from Michigan. Will it resume? "Not at this time, but if there is demand we would look at it again," she said. Stratford won't disclose the cost of the campaign. But Swerdfager said the print campaign was specifically launched "after the mandatory use of ArriveCAN was lifted." 
---
Let there be 'Light' - WIFF's opening film for first full festival since 2019
WindsorOntarioNews.com Sept. 20 2022
The Windsor International Film Festival kicks off its 11-day post Covid extravaganza this year with director Sam Mendes's Empire of Light starring Colin Firth and Olivia Colman. Set in 1980s Britain the film is a love story set against the economic and social background of the era. Appropriately, it's all about the movies, since the two main characters work in a local cinema; hence the name. The closing film, from France, is Hawa directed by Maïmouna Doucouré. This coming-of-age story about a precocious teen is about finding respite amidst personal upheaval. Other films announced so far are documentary Buffy Sainte-Marie: Carry It On about the famous Canadian native folksinger and Indigeneous activist, who rubbed shoulders with Bob Dylan and Joni Mitchell. Another is Triangle of Sadness, winner of Cannes Palme d'Or, a kind of love boat gone far awry and starring Woody Harrelson. It's described as a "troubling, gleefully misanthropic social satire." From Iran, Holy Spider is based on a true-life serial killer, a veteran of the Iran-Iraq War, who targeted prostitutes in his killing spree, and whose case is explored by an investigative journalist. Close, a France-Belgium co-production which won the Cannes' Grand Jury Prize, is a searing story about the pitfalls of teenage friendship. Finally, from South Korea, Broker explores the phenomenon of "baby boxes" – child trafficking – where babies are dropped off and cared for by others. Says WIFF executive director Vincent Georgie, "We are bringing some of the biggest films of 2022, and that is only the beginning." Opening night is Oct. 27 and the festival closes Nov. 6. The festival, the first in-person event since 2019 (the 15th edition), has been expanded by one day to 11 days.

---
Book on pro wrestling, film on town of Ojibway, awarded city arts grants


WindsorOntarioNews.com Sept. 15, 2022
A book on pro wrestling in Windsor, a film on Ojibway as a company town and a continuing art vending machine installation were among art projects receiving thousands of dollars in the second round of the city's annual arts grants. Jamie Greer got $2000 for a book called Killers, Butchers, Cry-Babies & Canadian Destroyers: The History of Pro Wrestling in Windsor, Ontario. Walter Sviatoslav Petrichyn obtained $1000 for a film called Ojibway, a feature length documentary about a local company town known as Ojibway. Kristina Bradt was awarded $2500 for her ongoing Tiny Art Vending Machine. The travelling vending machine features miniature art from local artists. A person pays $4 and can reach in and grab a piece of art often from lesser-known area artists. Filmmakers like Frank Varga received funding for a film Dolores Goes Downtown. Filmmakers Michael Grainger Harris received  a grant for a film about Windsor rock band Huron Lines, and Elliot Hale for a venture called Falling Through a Dream. Gavin Booth obtained funds for a dramatic short film called Sunset Junkies. A couple of ethnic groups – the Filipino community and Bangladesh-Canada Association – got grants for a festival and exhibition. A couple of Trans and LGBTQIA+ associations received grants. Other monies went to artists in dance, choral music and opera, music videos, theatre, music, poetry and visual arts. The five-member jury awarded 27 grants – 21 to individuals and six to organizations. No grant was higher than $5000. There were 47 applications. A pot of $59,000 was available. Since the launch of arts funding in 2014, 750 applications have been submitted to the city and 393 funded. $832,000 has been awarded altogether
---
Comedian Dave Merheje - probably not exactly Windsor's best ambassador?
WindsorOntarioNews.com Sept. 2, 2022
Let's assume it's all a joke as Dave Merheje's references to Windsor might not be the most flattering in the world. The comedian, who's won international fame and now makes Los Angeles his home, grew up in a Lebanese household, the child of immigrants, in the City of Roses. He'll be returning for a "Homecoming" performance Oct. 7 at the St. Clair Centre for the Arts, the college where he's an alumnus. "His multiple award-winning act has gained a loyal following across North America with his 'no fear' approach on stage and a comedy style best described as aggressive in-your-face funny," says a press release. According to St. Clair VP John Fairley, Merheje's "stories of growing up in Windsor have been a part of his shows." WON.com tried to reach the comedian for an interview but got no response. But a perusal of some of Merheje's routines online left some of the following impressions. On Windsor: In a 2019 Just for Laughs comedy festival performance and referencing how people across Canada widely hate Toronto, he says "There's rage. I understand that. I wasn't born there. I was born in Windsor. That's a shittier place. Do you understand that? It's a way shittier place. They shut down the Tim Horton's. Do you know how bad your town has to suck to shut down a Tim Horton's? 'What happened to the Tim Horton's?! No more double doubles.' Move, right now! You've gotta get out. There's trouble coming." And in a 2012 Absolute Comedy Club show: "I grew up in Windsor Ontario" (some Windsor audience members cheer) "Nice," he replies. Then, he says, "Windsor's a shithole (the Windsorites in the audience go "ahhhhh!") He retorts, "You know it is, calm down, they just shut down the Tim Horton's - relax. You know how fucked up your city has to be to shut down a Tim Horton's?" And here's Merheje on Windsor's relationship with Detroit: "If you live in Windsor (you) go to the ghetto in Detroit by accident...you take a weird exit, there'll be construction and you're fucked." And on his Lebanese background: "I grew up with Lebanese parents so its hard to, like, there's no emotion ….like my dad, you know, keeps it in here…..my mom's like too much, she cries like it's the Oscars." Merheje also riffs on his seven-year-old niece, who told him he wasn't a man because he couldn't afford to buy her something. "How about I take you to a bus stop and just leave you there and then you start a panic attack because you don't know what the bus route is? You want to play around like that? I pay rent. You understand that? (crowd applause) But this is why I don't want kids."