---
Windsor Ontario News / Comment
The virus panic that could have been
WindsorOntarioNews.com Sept. 17 2020
We're all tired of the more than six months of varying degrees of lockdown, and wanting, often frustratingly, to get back to our pre-pandemic normal lives. Yes, it continues to be hard to face government restrictions on everything from social gatherings to wearing masks, the curtailed travel, and the simple freedom to shop where we want and ultimately live as we desire. But imagine what could have been. When the pandemic took hold in March there was indeed reason to be extremely fearful. We had no idea what this new or "novel" virus was about and how it affected or infected people. The initial models of illness and death, which have flamed the panic and fear even to this day, were wildly off. The UK's Imperial College predicted Canada to have a minimum 50,000 to more than 320,000 deaths; tragic as it is, the current number is just below 9200. But just imagine. Had those models stood up, even fractionally, much worse could have happened. For example, supply lines - the essential glue that has held the country together over the last half year – could have broken down. Grocery stores could have been emptied. Other necessities – from gasoline to hydro to home heating fuel, could have been undermined by the loss of workers due to illness and death. Essential services like police and fire may have collapsed. Could you imagine a world if people didn't have access to basic food and necessities? There would have been food riots. With no police there would have been an escalation in crime and violence, aided by the loss of essential goods and services as people robbed each other in a battle of all against all. So, while our current lives may have an aura of dystopic science fiction and authoritarian control – mitigated by government support programs and home-based technological amusements to bide our shut-in time - it is nothing to an almost complete meltdown of society, something we can count our lucky stars did not happen.
Photo: Chapman University
Take action to protect our heritage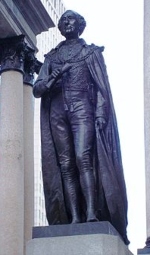 WindsorOntarioNews.com August 31 2020
It's time for civic authorities to take a preventive approach to guarding the historic symbols of this country. The beheading of the Sir John A. Macdonald statue – a stately partly-enclosed monument (left) in Montreal's most prominent downtown square – over the weekend by a small group (200) of protesters – while police stood by and did nothing, is a disgrace. Of course, it's not the first time Macdonald statues have been disfigured. Red paint has been thrown on them at Queen's Park and near Waterloo and in Kingston. The City of Victoria removed its statue from city hall grounds. All of a sudden, in the wake of Black Lives Matter protests in the United States and copycat ones in Canada, Canada's first prime minister and essentially founder of this country – the equivalent of America's George Washington – has astonishingly been denounced and vanquished. The charge: that he harbored anti-Indigenous sentiment which resulted in "genocide." Of course, that is one side of the story. The other is that he was a great unifier of political and regional factions to create one of the greatest countries – and democracies - in the world. Moreover, the 19th century was far different from today – to find perfection in a society that was far more discriminatory than today's would be an impossible standard of purification. And MacDonald was also surprisingly progressive in extending suffrage to some First Nations and women. It's bad enough that symbols that exist to unite the country are being vandalized – in the same way the Communist Chinese and the Taliban destroyed historical statuary to erase history and create their brave new worlds - but even worse that authorities do nothing. These statues – and others of historical importance that could be at risk – must now be protected physically, or with guards stationed 24-hours or by hi-tech surveillance. But all the security in the world won't work unless there is enforcement, as there clearly wasn't in Montreal. Bottom line: it's time to take action to prevent our history from being defaced and removed by self-appointed censorious and dictatorial mobs.
Photo: Wikipedia
Build streetcar Beacon, save the view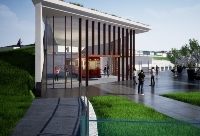 WindsorOntarioNews.com July 31 2020
There is ongoing vocal opposition to the city's ambitions west side riverfront Celestial Beacon – the third of five which will mark certain critical points or landmarks along the six kilometre riverfront park system. The Beacon will house one of the city's first streetcars, which is being restored, a part of Windsor's transportation heritage. While some of the complaints are typically age-old Windsor fuddy duddyism that is opposed to anything new and novel – and one knows the riverfront could use some pizzazz – there's one point the critics are correct on. That's that the project will obscure the riverfront view from street level. Mayor Drew Dilkens has a yen for perhaps overly ambitious projects like his proposed wide pedestrian tunnel connecting downtown to the riverfront, about which lately we've heard nothing, and the city's controversial Bright Lights Windsor Jackson Park Christmas lights fest, which has been installed and indeed has captured the public's imagination. But on the streetcar Celestial Beacon's sightline, Dilkens has been wrong. The mayor has suggested the streetcar pavilion won't impede the view from street level. But he didn't say it directly. On the city's project website, he states, "With the Peace Beacon at the foot of Ouellette Avenue, we've shown how our riverfront amenities can be improved without impacting our fantastic view." But a video and architectural rendering (above) of the streetcar Beacon – not the original Peace Beacon that he's talking about – clearly shows the opposite. It shows that about one fourth the Beacon's footprint – the roof over historical No. 351 streetcar – is in fact well above street level at Riverside Drive. Say it ain't so, Drew! So, build the beacon at the foot of Askin Ave. – which would have some parking, an attractive outdoor patio yet a rather drab restroom and concession building - but redesign the roof lines. And then (maybe more) people will be happy.
Image: City of Windsor
Authorities abandoned most vulnerable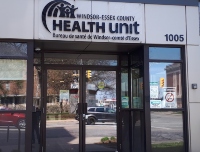 WindsorOntarioNews.com July 14 2020
The local response to the Covid-19 crisis, at least in part, mirrors the national and even international response. But we have another response that is uniquely our own. First, our public health officials, like those Canada-wide and in places like various American state governments, totally missed that cohort of the population most at risk - and indeed the death numbers prove it – for infection from the coronavirus. These are residents of long-term care homes. In Windsor-Essex, of the 68 people who have died from the virus, 49 have been in nursing homes. In Ontario, 63.5 per cent of deaths have been among long term care residents. In the United States more than one in four deaths have been nursing home patients. While public health officials daily have instructed and even hectored the general population about the importance of social distancing, washing hands and now wearing face masks – and the citizenry largely dutifully obeying – nowhere near the resources were put into fighting the vastly more critical situation of nursing home infections. Authorities can't plead ignorance about the novelty of the disease. That's because long term care deaths began escalating wildly well after emergency and lockdown measures took place in mid-March. While Windsor-Essex, like other jurisdictions, abdicated their responsibility to our elderly, this region also has been singular in neglecting another large group – migrant workers. Deaths have been few - so far only two – but case numbers have skyrocketed among foreign farm workers to more than 800. Again, this should have been predictable. It became evident within a couple of months of the virus outbreak that confined environments are petri dishes for infection. Yet no one did anything to prevent migrant worker outbreaks, their crowded bunkhouse living conditions well known. So, while authorities focused ad nauseum on the general population those most vulnerable were left abandoned.
Find solution to re-open Windsor-Essex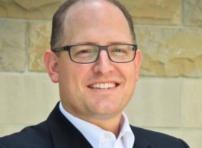 WindsorOntarioNews.com June 22 2020
Wow. That was fast. Looks like the big shots in the Big Smoke applied mucho pressure on the Doug Ford government to get the province's major metropolitan area, the GTA, open again. That's after only a week since the GTA and Peel Region – pretty much the same areas – along with Windsor-Essex, were forced to stay in Stage 1 lockdown under coronavirus emergency protocols. With bars and restaurants, malls, nail salons and barber shops open in regions just outside Toronto, Torontonians were jumping up and down asking why they – the world class city, after all – had to still resemble a sleepy village with virtually empty streets. But Windsor-Essex, that's a different story. Today the premier regretted Windsor-Essex will have the dubious distinction of being the only region in Ontario still locked in the first stage. And why? Because of the recent skyrocketing number of migrant worker Covid-19 cases and deaths. How long will we be locked down as cases continue to emerge and there are systemic problems with testing the migrant population? For various reasons these workers are not getting tested, whether they don't want to because they fear testing positive and losing their jobs or income or employers are putting pressure not to take tests. Regardless, everyone else in the community has to pay. And, with Mexico no longer suspending flights for more workers to travel to the region as the summer agricultural season progresses and harvest to come, can we expect more Covid-19 cases for whatever reason – poorly ventilated bunkhouses, cramped working conditions? Also, if the workers are isolating 14 days after arriving from Mexico, how exactly are they getting the virus? That question has not been answered. With harvest season stretching into early fall, Windsor-Essex could remain locked down two or three months more. There has to be a solution. The province could bifurcate the region with certain towns – sorry, Leamington and Kingsville – still on lockdown but the rest of the area reopens. Or as Windsor Mayor Drew Dilkens (photo) said, testing should be a condition of employment.
Photo: City of Windsor
Praise Detroit for suppressing violence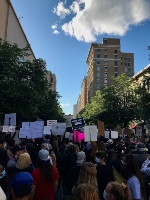 WindsorOntarioNews.com June 5 2020
The City of Detroit should be congratulated for generally keeping the lid on violence during the past week's demonstrations over the death by Minneapolis police of George Floyd, an incident of supreme police brutality that defies explanation. Unfortunately, genuine peaceful protests around the United States have been hijacked by agitators and domestic terrorists, with widespread vandalism including major structural fires, looting and physical altercations, with numerous scenes of assailants attacking storekeepers, bystanders and even shooting police. But such has not been the case in Detroit which may seem surprising given the city's historically high crime rates, social dislocation, and its notoriety of having previously been the epicenter of one of the worst urban riots in American history in 1967 when 43 people died over five days. But, in a true coming together – unlike most other major cities where demonstrations have devolved into rioting over the past week – Detroit police, the mayor's office and community activists including hometown rappers have teamed up to effectively keep the lid on tempers. Yes, there was some violence as debris was thrown at police last weekend and police returned fire with tear gas and rubber bullets. Dozens were arrested with more arrests Tuesday for breaking curfew. But the city could have seen much more widespread violence. Hopefully cool heads will continue to prevail and Detroiters will join together to continue peacefully protesting Floyd's horrific killing. But to cause destruction in an already socially and economically fragile city – one arguably that never really recovered from the 1967 riot - could undo the incremental work to build Detroit back up, the last thing the city needs.
Photo: Wikipedia
Let's hope the megahospital challenge is finally thrown out
WindsorOntarioNews.com May 19 2020
We can only hope Superior Court Justice Gregory Verbeem throws out Citizens for an Accountable Megahospital Planning Process (CAMPP)'s continuing efforts to thwart a new regional hospital as it seeks to appeal its earlier defeat at the Local Planning Appeals Tribunal. That body disagreed that a decision to locate the megahospital on the edge of the city violated zoning and the city's official plan. During the Covid-19 crisis it almost beggars belief that CAMPP would continue with its attempts to block a new hospital – now needed more than ever – and require an entirely new planning process to find, in their opinion, a better location. CAMPP is an urban and city-centric organization that takes offence that the new hospital will not be in Windsor's urban core, despite an exhaustive evaluation process, overseen by a fairness advisor, that ruled out almost 20 sites in favor of the one on County Rd. 42 just past (or, in another direction, across from) Windsor's airport, an area long zoned for urban development. That site, according to hospital planners, is accessible to 70 per cent of patients within 12 km (a 10 min drive) and at 60 acres has enough room for future growth. CAMPP's continued persistence is ironic given the Covid-19 crisis. It wants a new hospital in a dense area of the city when density might be a major contributing factor to contracting Covid-19. Yes, halting sprawl might make sense in certain circumstances and in certain cities. Windsor, unlike Toronto, is not one of them. Windsor is relatively compact and easy to move around in. Moreover, CAMPP displays its selfishness by not looking at the fact the hospital will be closer to the vast majority of its patients including more than 180,000 county residents, almost the same number as reside in Windsor. CAMPP's ongoing campaign might make better sense if it was protesting some other development – like a university campus, factory or shopping outlet. But it's particularly galling given that it's protesting an institution that will support health care for generations to come. The current pandemic only underlines that fact.
It's time for public sector employees to share the pain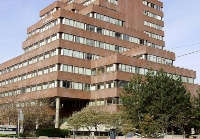 WindsorOntarioNews.com April 29 2020
By April 23, more than seven million people had applied to the federal government's Canada Emergency Response Benefit (CERB), which is paying $2000 a month for up to four months, as result of the massive unemployment, at least temporarily, due to business closures caused by Covid-19. The Canadian Federation of Independent Business (CFIB) suggests that one-third of businesses might end up closing because of the health pandemic. From auto plants to airlines, hotels to restaurants (800,000 jobs), transportation services to retailers, millions of people have been flung out of work, either to collect CERB or a wage top up from the newly announced Canada Emergency Wage Subside (CEWS) - which will pay employers to top up laid off staff's wages to 75 per cent for a maximum of 12 weeks – or regular unemployment insurance. Some may get nothing at all. And most have families, mortgages and debt. The Covid-19 epidemic has hit employers hard. But it has also hit the private sector disproportionately. Yes, some government workers – especially those at the municipal level – have been laid off. But wide flanks of provincial and federal government employees, to say nothing of those in Crown agencies or public education, continue to draw pay cheques. This also goes for politicians, who make far more than the average Canadian. We've heard a lot from a whole host of people, not least government leaders, about sacrifice and "we're all in this together." So, it behooves them, as well as the vast number of public servants, to help share the pain. There should be an immediate – and temporary - cut in these people's wages or salaries. It could be tailored to salary level and local cost of living. But cuts there must be – whether 10, 20, 30 per cent or more. This would not only show a sort of coming together for the greater good and in sympathy with people most hurt by the health disruption. But it could also help compensate for the massive deficits being created by government programs to aid the massively new unemployed.
Photo: Wikipedia
Let us now denounce these new coronavirus social personality types
WindsorOntarioNews.com April 17 2020
The Covid-19 crisis has revealed three types of odious social personalities. They are the Covidiots - people like March Spring Breakers who persisted in frolicking in close quarters on beaches, lunatics who want to showboat by taking videos of themselves licking store products and subway grab bars, or the woman who deliberately coughed on the Detroit bus driver who later died from the coronavirus. On the flip side there is the Social Scold. This is the person who is carrying out his own form of vigilante justice. You might be walking down the street and this self-styled cop in front of you turns around and shouts, "You're too close!" despite the fact you're 10 ft. or more away. Or the scold in the grocery store who shouts because you're not using the correct one-way aisle despite the fact there are no markings to do so. The third type of noxious personality is the Petty Tyrant. This description fits people who are public officials, such as health and bylaw enforcement officers and the police. There's the example of a City of Ottawa police officer fining a man $880 – ouch, when so many people have lost income – for walking his dog. Or of drones in the UK admonishing people from hiking in remote areas. Or tales of cops simply shouting at people not to talk to one another on the street or from one driveway to another, social distancing be damned. And, closer to home, the Town of Leamington's proposal – shot down, thankfully – of restricting seating inside automobiles to distances of two metres, a feat hard to imagine. While many people appear to have come together to support one another during the Covid-19 crisis this epidemic seems to have also brought out the nastiness in others.
Modern theories undermined by virus
WindsorOntarioNews.com March 27 2020
The COVID-19 crisis has exposed many modern political and social trends for making a population vulnerable. Let's go down the list. Urbanists, and WON.com counts itself among them, have long lauded the idea of density and vibrant city cores and downtown areas. Who wouldn't like to be a mini New York or Chicago? By the same token suburban areas, with more space and privacy and indeed natural exposure, have been disparaged. Yet residents in high density areas can be particularly vulnerable to contagion simply because they are packed closer together. This might be why New York leads the United States in an astounding number of coronavirus cases. Second, reusable products versus single use. Various coffee chains have now stopped accepting customers' reusable mugs in favor of often frowned upon disposable cups. The chains are concerned about germs on the reusables. The same argument might be made for reusable grocery bags. Honestly, in this panic, wouldn't most people prefer their groceries in fresh single use plastics? Public transit vs automobiles. Because of COVID-19, throughout North America, transit use has dropped precipitously because of fear of close personal contact on buses and subways. Yet the much-maligned automobile offers privacy and secluded protection from unhealthy strangers. Globalization and borders. In recent years there have been increasing calls for open borders in a one-world philosophy that sees human beings, regardless of nationalities, being free to roam the world at will. Yet with the coronavirus scare borders – even in legal non-border regions like Europe's Schengen zone – are going up again to protect nations' health. Finally, workers. Long taken for granted if not disrespected by professional and cultural elites, working class men and women such as nurses, cashiers, truck drivers, janitors, and utility employees have fast become the true heroes of this pandemic, keeping life-sustaining institutions, stores and supply lines running.
Teachers must get real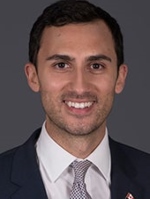 WindsorOntarioNews.com March 9 2020
The series of rotating strikes and work to rule by Ontario teachers has now cancelled a wonderful young people's music festival attended by 2,000 students that was revived only a couple of years ago. "There was no choice," the MusicFest Windsor organizer reportedly said. "It was going to be our biggest ever. It's sad." No kidding. It's also sad that students and their parents have been inconvienced in so many other ways over the last four months of job action including withdrawal on occasion of full day work. Even the John McGivney Children's Centre, which provides special needs kids services like post-traumatic care, speech and physiotherapy, has had to shut down several days. Of course, the teachers say their action is not to hurt kids but that ultimately students will benefit from their strikes. How does the government's insistence on a one per cent wage increase (less than inflation) hurt students? Ontario teachers have among the highest pay of any teachers in Canada and make an average $90,469, compared to the average Ontario wage of $62,700. Okay, perhaps disgruntled teachers might not be as cheerful in the classroom but professionals suck it up. Ontario's PC government came to office (a majority government) on a prime mandate to control spending after the previous government's horrendous money management. The teachers may be on firmer ground with their argument on class size. But will having one more student in high school classes collapse pedagogy as we know it? Talk to people of previous generations who lived happily with more than 30 students per class compared to a proposed 23 (down from an earlier 28). Wait until those kids get to university and college and are submerged in sometimes huge lecture halls. And it's amazing that teachers, who pride themselves on their modernity, would reject even partial e-learning, unless of course it's a threat to their jobs. After all, their students are phone and internet-addicted (as are teachers) and so much learning now takes place online; the unions sound like absolute Luddites.
Photo: Ont. Ed Minister Stephen Lecce
A pitiful helpless giant
WindsorOntarioNews.com Feb 16 2020
The rail and other blockades across the country over the past week and a half must be brought to an immediate halt. Anarchy has descended and peoples' livelihoods, health and the very functioning of Canada is in the balance. The blockades, in support of five hereditary elders of the Wet'suwet'en First Nation in British Columbia who opposed the already approved - and otherwise publically well- supported - Coastal Gaslink Pipeline, are illegal, and the police must respect court orders and move to clear the tracks and make necessary arrests. The protests are obviously undemocratic because they reject the decisions of numerous elected BC Indigenous band councils who have supported the pipeline and associated LNG terminal because it will bring thousands of jobs and prosperity to their communities. These Indigenous elders have not been democratically elected. But it's the response from authorities that's most troubling. Politicians have been sitting on their hands and passing the buck as to who is responsible to take action while mouthing platitudes, like Justin Trudeau, calling for "dialogue." What is there to dialogue? Do you dialogue with bank robbers? Meanwhile the police, with exception of RCMP in British Columbia, have been impotent and even embarrassing. Such was the case last week with two meek OPP officers at the Tyendinaga rail crossing near Belleville who brought protesters an offering of maple syrup! The thugs of course rejected this. Meanwhile, the nation-wide protest has sparked wider support from non-Indigeneous groups using this for numerous pet causes, such as ShutDownCanada and the Red Braid Alliance for Decolonial Socialism (a mouthful!) whose goal is to "abolish colonialism, imperialism, and capitalism." Politicians must start talking tough and police must so their jobs. Otherwise these kind of undemocratic protests can continue to paralyze the country over any kind of issue some group doesn't like. Finally, peaceful, good people of all stripes, must stand up against the bullies and mobs. The future of our livelihoods, health and very existence as a country is at stake.
Image: Wikipedia
Questions about new A'burg HS site
WindsorOntarioNews.com Jan 31 2020
There are several problems with the plans for the new combined General Amherst – Western high school in Amherstburg. They go beyond the most recent questions raised by town councillor Don McArthur over essential school infrastructure – an auto shop, extra gym, even lockers and bleachers - not initially included in the capital budget. The one-story school plan, unveiled this month, was applauded by town and board officials but there have been complaints about its lackluster design. The roughly $25 million building was approved three years ago. But its location is puzzling. It will take up 15 acres in the town's very busy Centennial Park. Town officials have praised the site as being "central" in the community but it's actually on the outskirts of the urban part of the town. By contrast, the present General Amherst is in the core of town, indeed the largest institution in the town's heart. Moreover, the town sold the school board the land for $2.4 million. The acreage eliminated a major recreation area within the town, used by thousands of kids – many younger than high school students - over the decades. These include a swimming pool, tennis court, running track and four baseball diamonds. Citing consultations, town council has said the public was more than okay with the approved location. But minor baseball and swimming officials have voiced frustration with alternative arrangements, which include having kids travel dozens of kilometers outside the town to parks in River Canard, McGregor and Malden Centre. The Libro Centre – the town's major arena and rec complex and ironically an original possible high school site – is the closest alternative but it is still located more than 3 km from the centre of the town. Kids who've for decades walked to Centennial Park will now have to seek alternative transportation along a dangerous highway. The other question is what will happen to the current, and arguably, beloved existing General Amherst. Three years have passed since the new school was approved and there is no further information about the building's, or site's, future. One could easily envision the new high school opening in the next few years and the old building remaining vacant - and for years to come - a huge black hole in what had been a dynamic part of the community.