---
COMMENT
---
No need for an armed camp at Council
WindsorOntarioNews.com June 1 2023
Gee whiz. A man falls down and lays on the floor of the Windsor City Council chambers, bizarrely, for 25 minutes and now Windsor city councillor Mark Mckenzie wants metal detectors to screen out alleged disruptive spectators. Oh yeah, jump on the bandwagon introduced locally by Essex County Council (see NEWS BACKGROUNDER May 27) and big brother cities - you can take that either way – like Toronto or Edmonton! Mckenzie says there has been a growing pattern of such uncivil behavior at public facilities and thinks it's time to clamp down. Please give some examples. What is with these politicians who at the first sign of any outburst by an alleged protester want to clamp down on proceedings? That's all we need. Civic council chambers, city hall offices, even public libraries, becoming armed camps with uniformed guards (already at council) and metal detectors. Get a grip. This is the first incident of its kind in – what? – decades at city council. Essex County Council in April had scores of people milling about in the hallway, which prompted its action. It would also be interesting to know whom these supposed security measures are designed to screen out. Are they protesters – like the landlord group wearing red shirts that showed up this week or county folks like the people who protested in the Freedom Convoy? Or would they be directed at protesters like those who were loud and disruptive at a York Catholic school board meeting when it passed a motion to not fly the Pride flag? Regardless of the cause – left, right or centre – making council chambers armed camps, based on small or trivial incidents, is not the way to go. We are not an authoritarian country, at least not yet. And it should take more than one absurd incident at city hall for a councillor like Mckenzie to start calling for a fortified enclave in what is really the taxpayers' home.
---
EV mania unrealistic and destabilizing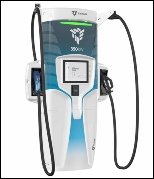 WindsorOntarioNews.com May 18 2023
Wow, a super duper "alternative charging corridor" between Michigan and Quebec City was just announced yesterday by the Canadian and US governments. Charging stations will be placed every 80k along busy I-94 stateside and Hwy 401 and 20 in Quebec. But the announcement doesn't tell us how many charging "points" will be at each installation. Right now there is a laughable 215 Canadian stations. "We know that more and more Canadians and Americans are switching from gas-powered vehicles to zero-emission," said Canadian Transport Minister Omar Alghabra. Oh really? Last year 1.7 million new vehicles were bought in Canada, only 80,000 were electric or hybrid. Canadians are not buying EVs because of cost and inconvenience including range anxiety which yesterday's announcement is supposed to address. Assuming the new chargers are Level 3's (photo) it will still take about 30 minutes to top up an empty battery. And you'll need a whole lot of them to accommodate these highways' busy traffic. And how long does it take to fill a car with gas? "Oh, well, another coffee at Tim's and I might be running late for that business appointment or medical procedure." As well, an EV's range averages 250 miles vs about that as minimum for gas-powered cars. Sure, technology will improve but it seems highly unrealistic for the government to think 60 per cent of all car sales will be EVs by 2030 let alone eliminate traditional car sales by 2035. This mania for EV cars is also de-stabilizing the auto industry. Canada may lose its Stellantis plants because of the now insane bidding wars for extraordinarily high government subsidies between the US and Canada. Already tens of thousands of workers have been laid off by the likes of Ford as it converts to EVs. And for what? Supposed anthropogenic climate change. Where Canada contributes 1.5 per cent of global emissions (the US 12.5). And do you really think humanity will be able to keep global emissions to under a two per cent increase (vs pre-industrial times) as per the Paris Accords? And where predictions of cataclysmic global warming have now been wrong numerous times and likely will be well into the future, as our economy and living standards ever plunge? There was also something in the 1700s known as the Dutch tulip mania.
---
Time for politicians to cool the wokery
WindsorOntarioNews.com May 4 2023
Politically correct cant and actions have now infiltrated virtually all aspects of mainstream political – and corporate – life. Witness "land acknowledgements" – statements that a meeting is taking place on historic indigenous lands – before council and committee meetings. And the all-encompassing slogan, "diversity, equity and inclusion." It's all part of what really is left wing political rhetoric or "wokery" that has now captured the public sphere and a lot of virtue posturing, signalling nothing. Sure, everybody believes in equality and human rights. But the word "equity" as defined by Critical Race Theory ideologues means believing that entire institutions are racist from the ground up, not individuals. That's a racist notion itself. Yes, everyone believes in a "diverse" world in that people of all ethnicities and races can partake in society together. Same with "inclusion." Who wouldn't want everyone to be included? But this phrase has become a political cliché, lip service rather than real action to improve life for everyone. Recently, Windsor Mayor Drew Dilkens – not know for his radical views – used the phrase in a welcoming address at a public event, indicating how "diverse and inclusive" Windsor is. And just the other week a group of male federal politicians including Transportation Minister Omar Alghabra paraded around a formal committee meeting in pink high heels, an old trope to make men get a taste of what life for a woman is like. The skit is a farce. First, how many women dress in pink heels let alone heels at all? The image is a sexist throwback. And, like land acknowledgements, the effort is designed to provoke guilt. Gullible and feeble-minded politicians shouldn't be taken in. If they want to promote equal rights – and they should – then eschewing cliches and vapid political posturing is the way to go.
Photo: Twitter screenshot
---
Outrage misplaced as Twitter only told the truth about how the CBC is funded
WindsorOntarioNews.com April 20 2023
It's amazing what people can get upset about – or some people. In the interest of transparency Twitter under Elon Musk has decided to label various news organizations by how they are affiliated with the government. In some cases this means indicating if they are publically funded (like the BBC where British residents pay an individual fee) or government funded, like Canada's own CBC, where almost 70 per cent of its funding comes from Parliamentary "appropriations" aka taxpayers. Everybody knew this from time immemorial. Critics of the CBC – from private broadcasters who saw unfair competition to political critics who saw an unholy alliance between what the network aired and Liberal Government policies – have long called for curtailing funding to the broadcaster if not its complete elimination. The CBC, and its supporters, must have huge inferiority complexes, because all it took was the social media site Twitter, which only a small minority of people use (but admittedly has outsized influence) deciding to label the network "70 per cent" government funded. When the CBC bristled and protested that funding vas less than 70 per cent (adverising, for example, makes up some of the rest), Elon Musk had some fun and changed the number to "69 per cent." Which, unfortunately for the CBC, actually is easier for people to remember. Ironically, sometimes it takes a foreign entity to show Canadians an inconvenient truth. Like Time magazine exposing Justin Trudeau's Blackface antics. And now it's San Francisco-based Twitter holding up a mirror to the CBC.
---
Offer incentives to curb panhandling
WindsorOntarioNews.com April 6 2023
A committee of city council has passed an aggressive panhandling bylaw, which now goes before the full council. It's an attempt to curb what many politicians and citizens see as an intimidating presence downtown by people, often homeless, who seek money from pedestrians or motorists. Yet it's hard to see what the bylaw, which is very similar to provincial legislation enforced by the police, would change. The vast majority – 95 per cent - of those charged in Windsor-Essex (mainly Windsor) did not pay fines over the past four years. Fines can be up to $500 for first offences and up to $1000 and or imprisonment for second. Ergo, how can the homeless pay fines? Councillor Fred Francis is behind the latest attempt to reinforce panhandling laws, which appear to exist in no or few other major Ontario cities. One of his concerns is panhandling in tourist areas. Lord knows downtown Windsor could use all the help it can get to make the area more pedestrian-friendly and encourage business activity. But this problem seems intractable. Having bylaw enforcement officers connect violators to social services and a further report on how the city might help poorer residents could dent the problem. The indigent can't be wholly locked up or removed because that would be a violation of Charter rights. How about taking an entirely different approach? Instead of confrontation work with them. Try incentives. Offer them work and status. They could be paid as part of a new "downtown street cleaning crew" – complete with snazzy T-shirts and caps – and some with education, included in the bylaw, could even become something of downtown ambassadors. Might be worth a try.
---
Windsor bearing brunt on refugee file
WindsorOntarioNews.com March 23 2023
Windsor and other cities like Niagara Falls are bearing the brunt of continued ineptness on the refugee file by the federal Liberal government. With hardly any warning over Christmas break – and exploiting the city's previous warm welcome to Syrian refugees several years ago - Justin Trudeau's government has dumped on Windsor upwards of 1100 migrants who crossed the controversial unofficial border at Roxham Rd. Quebec. Besides putting a great strain on city resources it has meant up to 500 hotel rooms are locked out for other travellers, a blow to the area's tourist industry and economy. Ottawa, just like on the policing costs borne by Windsor during the trucker protests a year ago, has not initially been forthcoming to fork over any payment to help with costs. Besides the feds' tawdry handling of this settlement crisis, which has been going on for literally years in the province of Quebec, the Liberals have a lot to answer for on this whole so-called refugee mess. For one, these "refugees" are supposed to remain in the United States, the "first safe country" they arrive in. But bizarrely this only applies if they arrive at "official" border crossings, where they are turned back. Not "unofficial" ones, which means basically anywhere else along the largely undefended US-Canada border. Hence Roxham Rd. in the middle of a forest just a few miles west of the official crossing. For various reasons – perhaps because of Canada's better social safety net and US politicians' recently sending some of the massive influx of people crossing illegally at their southern border - about 40,000 have crossed at Roxham Rd. But the Trudeau government never fixed this issue, and not only Quebec but now other Canadian cities have to serve these illegal crossers, courtesy the Canadian taxpayer. Windsor and other cities deserve better. But the source of the problem is government incompetence and lack of principle.
Photo: CTV
---
Michigan's response to mass killings vs ongoing Detroit homicides is strange
WindsorOntarioNews.com March 9 2023
It's interesting to follow the reaction in Michigan to two relatively recent mass shootings – that at Michigan State University (photo) last month in which three students were killed and five injured and at Oxford High School in exurban Detroit in December 2021 in which four students were killed and seven people injured. Mass shootings, a particular plague in America, are a scourge on the population, and it's more than proper to mourn for the innocent victims, condemn the assailants and find ways to prevent future occurrences. But the alarm and soul-searching by politicians, news media, the commentariat and many of the public, throws into relief the comparative disregard for an arguably much worse plague that has befallen a city like Detroit for several decades. That is the city's horrendous homicide numbers which has made it one of the most dangerous places in America. In 2021, the city had 309 murders compared to 324 the previous year. But in the more than three decades from 1987, when Detroit had an incredible 686 murders and having earned the title of "Murder City," the city's yearly homicides only went below 300 only five times, in 2014 (299), 2015 (295), 2017 (267), 2018 (261) and 2019 (273). That compares to all of Canada where between 1992 and 2021 the highest number of murders was 788 in 2021, the lowest 509 in 2013. Murders, shootings and other violent crime have long made Detroit one of America's most violent cities – in 2020, a 49.7 per cent (per 100,000 pop) murder rate compared to 6.5 per cent for the US average. Yet only when mass murders, terrible as they are, occur, does murder and gun violence become a hot button public policy issue in the Mitten State. The terrible toll of homicides that occur year after year - after bloody year - in Detroit, by comparison, are all but ignored. You have to ask why.
---
An affront to Canadian democracy
WindsorOntarioNews.com February 23 2023
It has come to this. An Ontario school trustee has been banned from even attending school board meetings because of what is now considered unacceptable views. Never mind that she is an elected official and for that reason alone should or must be in attendance. This ban threatens the very foundation of Canada's free and democratic electoral system. Durham school trustee Linda Stone's (photo) fault is that she raised questions about the board's policy on gender transitioning. She was not obnoxious or insulting she merely presented views – which probably the majority of reasonable people including her constituents – hold. She questioned board policy, which is probably the case for all boards across the province, of "affirming" a student's decision to transition without informing parents or guardians. "I was a little disturbed to see that you would keep things private with the student and not let parents know," Stone said. Those aren't harsh or condemning words and nor does it mean she's transphobic. Stone also suggested people who are not adults may want to "seek counselling" to determine if other influenced the decision. Apparently, she's also "antitrans" because she re-sent tweets of parents of student athletes elsewhere questioning competing against trans teens with supposedly male bodies. Whether you agree with these comments or not – a debate that appears to be growing worldwide as per controversies over author JK Rowling's views and the U of Pennsylvania swim team – these are not censorious. And in a separate matter, Stone has been denounced as "racist" for criticizing "critical race theory" – a very new and controversial reinterpretation of racism that no one had heard of a few years back. It alleges that all institutions are "systemically" or shot through with racism and not just some individuals having racist views. What the board has committed here is soft tyranny, some may even call it fascism. It must be opposed on free speech and Charter grounds and fought strenuously through the courts.
Photo: Durham District School Board
---
Police disciplinary hearing Orwellian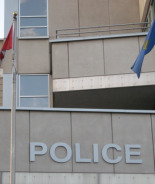 WindsorOntarioNews.com February 9 2023
Outrageous is the only way to describe a Windsor Police disciplinary hearing into the conduct of Const. Michael Brisco, charged with discreditable conduct for donating to last year's Freedom Convoy. Where to begin? There's no question this is a matter of freedom of speech under the Charter of Rights and Freedoms. What an officer – anyone – does in their spare time and privately is of no business to anyone unless it's a violation of the criminal law, which this most assuredly isn't. Second, the police service and prosecutor should be ashamed of themselves for bringing the charge because of the way the donation information was obtained. Now that was illegal – someone hacking into a charitable donation website to find the names of all the people who donated to the Convoy. The fact law enforcement would even look at such a tainted document is shameful. Not that it makes any difference but Brisco wasn't even an active member of the police service at the time having been suspended for not disclosing his Covid vaccination status. Brisco's lawyer shouldn't even be using defenses or rationalizations for giving to the protest, such as its peaceful nature and that some politicians posed with Convoy protesters in Ottawa. It obviously wasn't his intent to donate to a violent or illegal cause. The prosecution argues the protest was deemed illegal but not until after Brisco had made his $50 donation. Two other members of the Windsor Police Service have also been identified as giving to the Convoy in this Orwellian star chamber hearing. It would be interesting to reveal the names of everyone, in all professional ranks, including the prosecutor and Windsor Police Services Board members, who have donated to political causes in the past. But only Freedom Convoy donors, through an illicit leak, have so been identified.
---
One battle won, another to go
WindsorOntarioNews.com January 26 2023
Hurray for City Council for decisively (two opponents) supporting the plan by Capital Power to add two natural gas turbines to its Cadillac St. plant rather than build an electric battery storage system. The degree of support was surprising given that it also involved left wing councillors one would expect would be against any project burning fossil fuels. We wonder why. Maybe future economic development is better from the extra 100-magawatts the turbines would produce trumps tilting at fictitious and real windmills? Opposition came from climate change fanatics – those that think no level of fossil fuel burning is the good level, no matter how clean the source. Now, after that victory must come another one. The public and school trustees must take a united stand against the Greater Essex County District School Board's outrageous plans to rename many schools and their mascots because of perceived harms. Prince Edward and Queen Victoria school names despicable because of their relationship to "imperialism?" Does that mean Canada, once a British colony, should be cancelled? And wasn't the queen in power during the abolition of the slave trade, led by the British? This really is political wokeism run amok. Who are the people who write these things? Oh yes, and certain mascots should bite the dust like Vikings and Red Raiders because they "symbolize victory through brutality and violence." Oh please. Don't these tight-assed officials realize kids love the concept of Vikings and play with toy guns; for that matter don't they know that myriad aspects of our culture like the most popular movies Guardians of the Galaxy and Star Wars celebrate violence? Weren't they ever children? And, if they want to introduce Indigenous names in their stead (which seems to be the trendy thing) there's plenty of evidence of violence on the aboriginal front as well. Nobody's got a claim to absolute peace and niceness or vice versa. Probably because of the initial fury greeting the proposal – which would cost hundreds of thousands of dollars (who cares!) - the proposal has been tabled. But it will be back. The public must organize now a united front both at board meetings and if necessary public action like demonstrations or peaceful chains around schools to show their love for these cherished buildings and block these absurd changes.
---
Innovation needed on housing, health
WindsorOntarioNews.com December 15 2022
Almost on cue protests have sprung up across the province on two issues – the Ford government's decision to allow housing on the GTA Greenbelt, and any moves to solve the province's increasing hospital over capacity situation. Even in Windsor a group of protesters picketed any development of the Greenbelt, 300 km away. It shows that when real solutions are attempted for intractable problems the old guard is unwilling to break out of the stagnant mold. Housing on the Greenbelt would be built on land of little eco/agri viability, much adjacent to existing development. Moreover, the Ford government would introduce more acreage (9400 vs. 7400) than taken away. One valid criticism is the government is awarding their "developer friends;" Housing Minister Steve Clark has welcomed an investigation. Building on these narrow pieces of land adjacent to existing urban areas would see 50,000 new homes constructed. The province says that's needed to lessen the housing crisis and unaffordability. Moreover, a study by Demographia International Housing Affordability Index found that wherever there are land growth restrictions housing prices skyrocket. (Notice Windsor may have a safety valve when it acquired 2600 hectares from Tecumseh in 2002 for future development in Sandwich South.) Toronto already has the highest density of any city in North America. This isn't to say green spaces are unimportant but that they need to be rethought. Second, health care. While the government-funded Canadian health system is vital it shouldn't be fossilized. Innovations are needed to deliver services so patients don't wait innumerable hours in ERs or months for certain surgeries. One way to solve this could be to allow more private operators to run facilities but under the rubric of the provincial health system. Otherwise, without innovative solutions, just like high housing prices our medical system will simply get worse and worse.
---
Spurious reasons by the government for suspending our civil liberties
WindsorOntarioNews.com Nov. 30 2022
Canada's two most senior elected officials gave no credible reasons for invoking the Emergencies Act and suspending civil liberties last February. In the last two days of testimony before the Public Order Emergency Commission Deputy Prime Minister Chrystia Freeland (photo shows her being questioned by lawyer Brendan Miller) stated that the Emergencies Act was needed to get the economy moving. The blockades, especially at the Ambassador Bridge by truckers protesting vaccine mandates, were "putting investment in Canada at risk." She said a call with US President Joe Biden's national economic council director Brian Deese was a "seminal" moment when "we had to find a way to bring this to an end." Similarly, on a call with the heads of the Canadian banking system, two of them said the country's reputation was "at risk." One said Canada was being called "a joke" and "banana republic" by investors. Freeland told them the government was considering "all options" to end the protest. Then Prime Minister Justin Trudeau testified he was worried about what could have happened had the act not been declared. "What if someone had gotten hurt? What if a police officer had been put in a hospital?" Trudeau also cited "the weaponization of vehicles" and the presence of weapons in Alberta. But the Alberta and Windsor protests were already broken up. Under law the government can only declare a national emergency if there is an imminent threat, such as a terrorist plot, which can't be dealt with under existing resources. And police forces testified the act wasn't needed. So let's see. The act was declared because big business and the Americans wanted it - what about our national sovereignty? And because someone "could have" been injured - in which case it could be declared every day everywhere because someone is always at risk of bring hurt in unlawful situations? Spurious reasons indeed.
---
Toxicity in politics? Let's look at the wider context in Canada, United States
WindsorOntarioNews.com Nov. 16 2022
Tomorrow night's taped-in-Windsor panel on TVO about toxicity in politics will be interesting. The city was shocked by last month's assassination threat against Windsor Mayor Drew Dilkens. Panelists reportedly also referenced Freedom Convoy protests at the Ambassador Bridge and the Jan. 6 2021 storming of the US Capitol by pro-Trump demonstrators. And while current hearings in Ottawa over the Emergencies Act show a political and administrative state in fear of truck protesters in Ottawa and border regions, no real violence, with perhaps a few small skirmishes, took place. Yes, about a dozen people in a fringe group with guns were arrested in Alberta. In Ottawa almost 200 were arrested with charges from mischief and obstruction to assault of a police officer. In Windsor more than a couple of dozen were arrested in what was an otherwise peaceful but defiant (and to the rest of us costly and annoying) blockade. Sure, authorities had concerns. But let's not ignore the larger picture – and real threats and violence. During those same protests a counter-protester in Winnipeg rammed his car injuring several Freedom Convoy members. At the same time an entirely different protest took place in British Columbia where 20 people, some with axes, attacked security guards and smashed construction vehicles at a Coastal GasLink site (photo). And let's not forget the violence that has occurred over the last few years as demonstrators tore down Canadian historical statues including of the country's co-founder Sir John A. Macdonald. In the American context, what about the massive rioting that took place in the wake of the 2020 George Floyd murder, with some $2 billion in damages when property in multiple cities was looted and burned. Ongoing protests that year in Portland Oregon saw invaders enter a courthouse and burn records with ensuing weeks of fiery clashes with police. And in Minneapolis and Seattle entire police precincts were burned or forcibly abandoned and part of the city seized. The trucker protesters, with their honking, bouncy castles, barbecues and singing of the national anthem, were virtual innocents by comparison.
Photo: Coastal Gas Link
---
Enough nonsense on regional hospital
WindsorOntarioNews.com October 14 2022
If Mayor Drew Dilkens and Windsor Regional Hospital CEO David Musyj have evidence of city council election candidates running to undermine the new regional hospital they should show it. "The current municipal elections across Windsor and Essex present a risk," Musyj said. "Meaning there are some running for council and mayor that have publicly shown their support for CAMPP (Citizens for an Accountable Megahospital Planning Process) verbally and/ or in donations to their various appeals to the zoning process even though they were unsuccessful at every step." No doubt some of the candidates probably harbour ill feelings towards the controversial hospital location though this fight had dragged on so long - and opponents have lost legally time and time again - the issue has (or should have) become exhausted. The mayor is right, however, in wanting to draw out candidates on where they stand - just in case. This is Windsor, after all, where issues never seem to fully die out. "I want to make sure that at the end of the day, the public has the information they need to make their decision," he said. Regardless of where candidates stand - and even if they have the best of intentions - they should come together and support the new location and by implication the long and legal process that has resulted in the County 42 site. In other words, it's too late to turn back. The future of the region's health care depends on it and to undermine the hospital would be morally unconscionable. And by the way, why hasn't CAMPP fully paid its legal costs in losing the legal fight - more than $30,000 according to Musyj?
---
Questionable charges in Convoy case
WindsorOntarioNews.com Sept. 30 2022
There are several questions that should be asked about the Windsor Police Service charging two uniformed officers with discreditable conduct over donations to the Freedom Convoy truck protest last February. One officer donated $50 and the other $40. One officer's hearing will continue next month and the other's hasn't started. "By choosing to support an illegal blockade at our country's busiest border crossing, these members demonstrated a complete disregard for our city's economy and reputation as well as for the safety of their own colleagues who were dealing with the volatile situation," deputy chief Frank Providenti said. This follows an investigation by the service's professional standards branch. A three-week truck protest in Ottawa blocked several downtown streets but was otherwise non-violent, with charges of mischief, disobeying a court order and obstructing police. An almost one-week blockade on Huron Church Rd. shut down vital trade between Canada and the United States. First, how does Providenti know the officers were contributing to an "illegal" blockade? Fundraising for the truckers started long before the blockades actually took place. Second, the information divulging the officers' donations itself came from an illegally hacked charitable website. How then can the police bring charges against employees based on evidence obtained illegally? Besides the two officers, a police department civilian employee already has lost a day's pay whether that individual got a fair hearing or not. Otherwise, where do civil liberties come into play? These donations are examples of free speech whether the brass may like it or not.
---
Crime is one thing, vagrancy another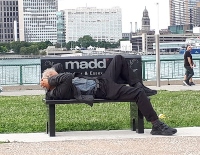 WindsorOntarioNews.com Sept. 16 2022
While Windsor police say downtown is safe, despite beefing up patrols to respond to recent incidents, many people may be skeptical about their personal safety when venturing into the core, especially at night. It's boring to talk about downtown issues because it's a discussion that never seems to end. If it's not vacant storefronts it's crime. If it's not parking meters or lack of parking it's trash-strewn streets. The city has thrown millions of dollars at downtown over the past decade from new street furniture to transit and recreation facilities. It likely will be spending much more with plans for a partly pedestrianized and cafe-lined Victoria Ave. and a reimagined University Avenue The university and college have certainly done their parts with creation of vibrant downtown campuses for at least for part of the year. And developers are building more and more multi-unit residences as they repurpose tired and empty buildings. But while crime is certainly an issue another may be vagrancy. Drive downtown just about any time of day and the city centre is full of disheveled individuals who seemingly walk around randomly, begging, pushing grocery carts or sleeping on benches. Downtown attracts these individuals, who may also have drug or mental health problems, more than any other neighbourhood. But when the public complains they are accused of being heartless. The city has no vagrancy bylaw and homeless advocates would be quick to decry one. Such laws "are profoundly prejudicial given how minority communities (such as Indigenous Peoples) are over-represented in homeless populations," argues one Canadian homeless advocacy organization, Homeless Hub. But until authorities do something not only about crime but about vagrancy - applying the law humanely and universally - downtown will remain unattractive and potentially threatening, whether in fact it is or not.
---
For pols, heckling comes with the job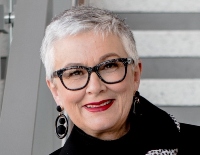 WindsorOntarioNews.com Sept. 2 2022
You know that politicians, and society, are getting pretty thin-skinned when it becomes a national controversy with denunciations from the highest offices of the land, after a protester in Grande Prairie, Alta., hurls some verbal insults at Canada's deputy prime minister. According to the Toronto Star the protester shouted profanities and called Chrystia Freeland a "traitor." An accompanying woman told her to leave Alberta – "you don't belong here." There's an RCMP investigation. While all details aren't known was Freeland physically accosted? No. But now panic is stalking the land among Canada's political class. As a result of the incident the Parti Quebecois leader in that province's election has been given a bulletproof jacket. Even locally, Leamington Mayor Hilda Macdonald (photo) cited the Freeland incident when several of her election signs were vandalized and stolen; police are investigating. Macdonald called it "a new low for common courtesy and civility." Of course, no one condones vandalism or threatening speech, which should be prosecuted. But these people are politicians, and heckling politicos is something that has taken place since time immemorial. Macdonald may think this is new but in every election there are incidents of sign stealing and defacing. And long before the Freeland incident, the mayor of Amherstburg had tires on vehicles in his driveway slashed in what was believed a targeted incident. And remember? One time Windsor mayor John Millson ended his political career after a bullet was fired into his house. As for impolite citizenry bordering on harassment there are memories of former Windsor Sandwich NDP MPP George Dadamo being mobbed outside the Caboto Club during the 1990 provincial election. More viciously, in the United States, there have been attacks on various elected representatives, such as Republicans Rand Paul in 2020 and Steve Scalise (shot at a baseball practice) in 2017. And, yes, there is the Gabrielle Gifford (Democrat) shooting in Tucson in 2011. All this is to say that political heckling, and at worse, intimidation and violence, is nothing new. And while violence should always be denounced and prosecuted, heckling – unless directly threatening – really comes with the job, whether the current crop of "snowflake" politicians like it or not.
Photo: Town of Leamington
---
For border, first 9/11 and now Covid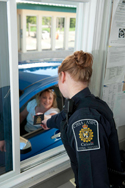 WindsorOntarioNews.com August 19 2022
First it was 9/11 and now it's Covid. Border communities are rightly crying the blues because of the dearth of US tourists crossing and spending money in our casinos, entertainment and wineries. The main culprit is the plague-filled ARRIVECan app, introduced by the feds in Fall 2020 to ensure border-crossers were properly vaxxed. The app remains one of the last of Covid restrictions and puts Canada in outlier status among nations as still having some of the most stringent protocols. The problem is that Americans either don't know about the app it or don't want the hassle of having to fill it out. Statistics Canada says US travellers were crossing at just more than half the levels in June compared to June 2019. Yet Ottawa apparently wants to maintain the app. A news release August 10 said the gov wants to "make improvements" so it is "faster and easier" to use. This includes saving time at airports by filling out a Customs declaration in advance of arrival, cutting time at a kiosk "by roughly a third" or by "hours." While still intrusive and questionable from a civil liberties POV the app presents an obstacle for people crossing by land. Mark Weber, president of the Customs and Immigration Union, said his officers are seeing "long delays" for travellers to clear customs because of app confusion. The government argues 90 per cent of land crossers use the app properly but that doesn't explain the low crossing numbers. All this is a far cry from just prior to Sept. 11, 2001 when Canada and the US were actually thinking of eliminating the hard border altogether. Instead the border ironically just got harder and harder. Post 9/11 many Americans were still of the urban myth it took hours to cross into Canada. And with the border closed 16 months due to Covid, reopened a year ago, with lingering Covid paranoia many more visitors may never enter Canada again.
Photo: CBSA
---
Administrative ineptitude led to costs
WindsorOntarioNews.com August 5 2022
Poor City of Windsor. The city's crying the blues because senior government levels aren't helping the city pay the costs of a massive police mobilization to remove trucker Freedom Convoy protesters who for a week last February blocked Huron Church Road. The city's on the hook for $5.3 million and has repeatedly made the request to Queen's Park and Ottawa, which suffered Freedom Convoy blockades of their own. Mayor Drew Dilkens says that's "completely wrong." Indeed, it wasn't just City of Windsor police who eventually moved on truckers. Other police services including the OPP took part. But anyone who followed this protest, which made international news because a small group of protesters effectively blocked Canada's most vital commercial border to the United States, the Ambassador Bridge, knew of the partial farce it actually was. Not that the protesters didn't have serious grievances. But those blocking Huron Church Road were the mildest of protesters, a coterie of trucks but also household paraphernalia like sofas strewn across the wintery street and turning the thoroughfare into a kind of outdoor living room, the rest of the world be damned. But that's the point. The protesters, including children, weren't in the least violent. It's the city's response which was abysmal. Why, pray tell, did it take a week and a court injunction, no less, to remove them, when more than $300 million a day in Canada-US trade was at stake. Dozens of officers could have done this instead of the hundreds, including armored vehicles, that eventually moved in – incurring the massive police bill. There is a real problem when government and law enforcement can't effectively act when they should act, a bureaucratic malaise of our time. Instead, what we saw here – and parallels the haplessness of law enforcement in Ottawa during that city's three-week blockade - is administrative ineptitude. There would have been no cost run up had authorities, humanely, removed the protesters on day one.
Photo: Kiliannews.com
---
Tamara Lich - political prisoner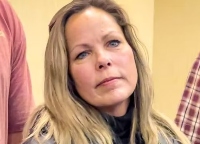 WindsorOntarioNews.com July 22 2022
Tamara Lich is a Canadian political prisoner. How else to describe the onerous jail conditions imposed on her by a supposed hair-splitting violation of her parole last month. Lich, of course, is the Metis woman from Medicine Hat, Alberta who was the leader of the Freedom Convoy truckers protest to Ottawa and several other communities including Windsor last winter. Lich was arrested during the three-week blockade of downtown Ottawa Feb. 17. She was charged with mischief, obstructing police and counselling others to commit mischief and intimidation for her role in the protest. She was held in jail five days and denied bail Feb. 22. Finally, on March 7 – three weeks later – she was granted bail. The conditions: stay off social media and leave Ontario. This she did. Then, a legal and human rights organization, the Canadian Centre for Constitutional Freedoms, awarded her its annual Freedom Award in June. Lich travelled to Toronto to accept it. Legal authorities weren't impressed; alarmed would be more like it. Yes, she crossed into Ontario but the court had dropped this parole condition. What really irked the Crown was a photo of her with a group of people including another Freedom Convoy leader, a violation of parole. According to Lich's lawyer, the highly respected Lawrence Greenspon, the photo took under three seconds, barely time to organize yet another convoy, another prohibition. Nevertheless, Ottawa police and the Crown immediately issued a Canada-wide warrant – something usually reserved for dangerous offenders – with a group of law enforcement officials flying out to Medicine Hat to arrest her. They flew her back to Ottawa where she has remained in jail ever since. There was a chance she could have been released earlier this month but, no, she remains to this day in a prison cell. Lich is peaceful, complied with police during both arrests, has never uttered a word of violence, and simply poses no threat. Unlike, of course, thousands of perps released on bail in Canada routinely. Whether you agreed with the Freedom Convoy blockades or not there's no other conclusion: Lich is considered a threat to the government and must be locked up. She therefore is a political prisoner.
---
Some bridge blockades are simply OK
WindsorOntarioNews.com July 8 2022
Lo and behold the Ambassador Bridge was recently blocked again. Wasn't the bridge supposedly secured, along with access roads, in wake of the near weeklong shut down by protesting truckers back in the darkest days of winter? Authorities eventually forced that small group of protesters off the road and the demonstrators were the subject of much public approbation, sometimes rightly so. Flash forward to late last month and another blockade. Only this protest wasn't opposed by the powers to be, they facilitated it! This included the bridge management, local police and even Canada Customs. Who were the protesters? They were Indigenous people. They stopped traffic for half an hour – all supported by the authorities – because they were demonstrating their ongoing lack border movement. This in wake of recent Covid-19 travel restrictions and before that in wake of 9/11 border tightening. The protesters have a point. Under the Jay Treaty they're supposed to have unlimited movement between the two countries as the original North American inhabitants. This is codified into law in the United States. But not so in Canada. Surprise surprise. Canada talks a good game on native issues but keeps dragging its feet. Witness the Trudeau government still hasn't fulfilled a 2015 election promise to provide pure drinking water on all native reserves. As of late May, 34 reserves still had water advisories. But that doesn't excuse authorities from treating Indigenous protesters differently from other groups like the truckers. This makes for two laws and is reflective of how authorities have treated protesters – often radicals - in wake of the Ipperwash Dudley George killing in the 1990s during a police standoff. In other words, no pressing of laws against anarchists like those in Caledonia near Hamilton who held hostage a housing estate for years. This is the same type of "hands off" approach taken by authorities at the Ambassador Bridge. While Indigenous people have legitimate grievances they or any other group should not be treated differently.
---
Institutions should stay out of politics
WindsorOntarioNews.com June 24 2022
You don't have to look very far to see the examples of the creeping politization of formerly non-political institutions. Perhaps it all started two years ago in the wake of George Floyd's death and the wide emergence of the Black Lives Matter movement. Hundreds of corporations, previously thought to be conservative or at least apolitical, signed on to the cause. They displayed black banners at the top of their websites endorsing what was essentially a special interest group that has been described as Marxist or Communist. This politicization has also entered the sports realm, with football fields adorned with "end racism" messages or similar logos on players' football helmets. The same is currently true for the gay pride movement. June is designated Pride Month. And until this year the celebration was mostly confined to within the gay community and its avowed supporters. But the event took a giant leap this year with a wider swath of the corporate community signing on. Such is the case of the Greater Essex County District School Board which is flying the flag at board offices and all its schools. Canadian banks and credit unions have also adopted the Pride rainbow colours for their logos and advertising. There is nothing wrong with supporting these causes though it's hard to support an organization that has a wider agenda of undermining our prosperous economic system. But institutions that used to be officially apolitical should remain that way. And their support is also one-sided, usually advancing leftist causes. Would the school board or banks fly flags that advocate for capitalism (ironically, in the banks case) or anti-abortion? Would they support any other special interest? Lining up on only one side of an issue they risk alienating as many people – and loyal customers – as supporters. Better to refrain altogether and keep to the apolitical stances they've long maintained.
---
Trudeau government stance could actually increase handgun crime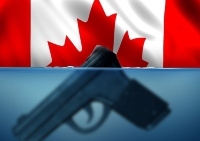 WindsorOntarioNews.com June 2 2022
The Trudeau government this week launched its latest batch of anti-gun measures. This in apparent response to the mass killing (not by a handgun) of school children in another country, Uvalde Texas. Though it was couched in Canadian terms with references to the inadvertent shooting deaths of two Canadian teens. The legislation will ban the sale and purchase, trading, donating or importing of handguns. Period. Even for sport shooters or collectors, who are already subject to massive pre-purchase review and who overwhelmingly don't commit gun crimes, likely only less than 20 a year, according to research by Simon Fraser University's Gary Mauser. Of 800 average murders a year less than 300 are committed by firearms and two-thirds by handguns. The kicker? Some 90 per cent are from illegal handguns, not the kind Trudeau plans to ban. But the real bizarre aspect to Trudeau's proposal is that it takes place while the government is kicking out penalties for those who actually commit handgun crimes. While sanctimoniously showing its concern for handgun deaths the same government last year announced the repeal of mandatory minimum sentences. These are one-to-five years for people who commit crimes with guns under categories like robbery with a firearm, using a firearm or imitation firearm in the commission of an offence, possession of a weapon obtained by the commission of an offence or even reckless discharge of a firearm. And, continuing the absurdity, the government this week said it will increase the maximum penalty from 10 to 14 years for illegally owning, acquiring or manufacturing a firearm. Hardly the offences compared to actually using one with criminal intent. Trudeau's stance is a phony show - cracking down on legal gun owners but letting those who actually commit handgun crimes off. Policies such as these could increase handgun crime, not reduce it.
---
Michigan's Gretchen Whitmer needs to be defeated at the polls in November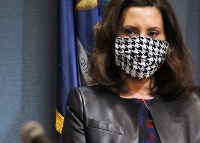 WindsorOntarioNews.com April 29 2022
Michigan's Democratic Governor Gretchen Whitmer must be defeated in this November 's gubernatorial election. Of course Canadians have no say in the election but it wouldn't hurt for the legions of people in Windsor-Essex who have relatives stateside or have dual citizenship themselves to argue or vote against Whitmer's re-election. Should she win it will be the Lansing born law graduate's third term. Michigan of course has a right to elect who it wants and who are Canadians to butt in? But when it comes to the Whitmer administration Canada has every right to lobby hard to see this governor with autocratic tendencies (overseeing one of the worst state Covid lockdowns including the sending of Covid infected patients into nursing homes) defeated and the Democrats turned from office. Why? No more a reason than the controversial Enbridge Line 5 pipeline. The Whitmer administration has pulled out all the stops to see this vital pipeline shut down. It irrationally fears there could be some sort of leak that would damage the Great Lakes ecosystem. Line 5, opened in 1953, has transported safely 540,000 barrels a day of crude oil and natural gas liquids from western Canada via Wisconsin to Sarnia with 4.5 miles of it under the supposedly sensitive Stairs of Mackinac. The pipeline carries 45 per cent of all petroleum refined in Ontario and Quebec including all of the jet fuel at Pearson International Airport. Should the pipeline close it's estimated 5000 refinery jobs in Sarnia alone would be lost. Michigan would also be a self-inflicted victim, with 55 per cent its propane derived from the pipeline. Line 5 also supplies Detroit Metropolitan Airport and refineries in Michigan and Ohio. Whitmer's action is all the more galling because Enbridge has proposed a tunnel under the Straits that would ensure even greater safety. But the administration is brooking no reconsideration, attached at the hip to radical environmental interests. The matter is now in court and even the uber environmentally conscious Justin Trudeau government has called for the line to remain open. Michiganders must vote this November to oust the Whitmer Democrats, and Canadians who have friends and family stateside must start talking to them about the harm that could occur not just to Canada, but to their own state, should Line 5 be closed.