---
Windsor Ontario News / Comment
Re-elect mayor Drew Dilkens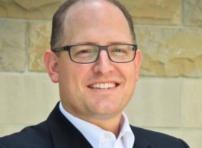 WindsorOntarioNews.com Sept. 26 2018
The municipal elections are still more than three weeks away. And there is still much time to add to candidates' platforms and debate the issues. But, short of some massive mistake or scandalous revelation by or about incumbent Windsor Mayor Drew Dilkens, there's no question he deserves to be re-elected. Dilkens has followed a middle of the road approach to good government. He has reduced the city's debt substantially from $104 million to $78 million following on the earlier initiative of his predecessor Eddie Francis, has launched major spending on needed infrastructure with a $644 million capital budget overt five years and almost $125 million including enhanced spending this year, has responded to the mainly east side flooding crises with stepped up efforts to rebuild Windsor's antiquated infrastructure to the tune of almost $90 million. He continues to fight for downtown re-development by backing efforts to put post-secondary institutions downtown including a law school and backs tax subsidization for new private investment, which appears to be working. There are a few quibbles. Perhaps he's too focused on sports tourism at the expense of the arts and his obsession with the Riverside tunnel project doesn't seem to make sense. His critics blast his aquatic centre overruns and closing the Pelissier St. parking garage's empty storefronts. To which one might reply: what was their solution for the decades-long undeveloped blocks that were the centre of downtown? And why, at the eleventh hour, shore up dilapidated retail spaces that had been unused for years and competed unfairly with the private sector? As for Dilkens's most credible opponent, Matt Marchand, Marchand is a nice guy. But his stumbling out of the gate declaring his candidacy and resultingly losing his job as head hire at the chamber of commerce should be telling for anyone concerned about personal judgement. As well, his coalition of (somewhat strange) bedfellows business and labor should raise caution. Would special interests have precedence over average people's concerns? Finally, as Dilkens has raised, Marchand is tainted by the Canderel development of the 1990s. As right-hand man to then mayor Mike Hurst, he was part of an administration that saw the wiping out of one of the oldest and most historic blocks in the city. Anyone concerned about urban renewal, infilling, and building a denser urban environment should take pause.
Sandwich Towne: let's see plans first
WindsorOntarioNews.com August 7 2018
Two proposed developments for Olde Sandwich Towne are being met with outright rejection, long before plans have been shown and a more rational analysis of what the developments could bring to the area, Windsor's most historic but economically stagnant and among least prosperous. In the first, a Toronto developer wants to build three buildings housing 340 students in the main intersection of Sandwich and Mill. Some properties including well-known local businesses like Wally's Baits and the Barrel House would apparently be saved though the developer now owns them. And developer Matt Zhao of UCRez Property Management vows to respect the historic nature of the neighbourhood. That might be doubtful given the sterile block-like multi-storey buildings being proposed. Zhao pointed to St. Catharines Lofts, which doesn't provide assurance; it has the look of gussied-up public housing. Moreover, his proposal boasts several stores on site, which Zhao says would bring a grocery and bank to the area. But the Lofts has onsite Subway, a coffee house and bakery, market and pizza outlets, which could take business away from a struggling commercial area. On the plus side, the development could provide an economic boost, with hundreds of students eating, drinking and shopping in a reborn Sandwich……The second project is the city's proposed redevelopment of a park-like private property at Mill and Russell streets, which is being expropriated from a Michigan owner, who recently had it for sale. Again, local community activists are dead set against, having not at all seen what the city is proposing. An always optimistic Mayor Dilkens says the redevelopment will be "far better" than the passive land that now exists. A big question is what the local port authority will do with its share, part of a proposed land swap. The mayor vows no industrial use but the port authority hasn't been the most open agency. But rather than jumping to conclusions, especially when projects have the potential to help transform and give a huge boost to a neighbourhood, let's see the exact plans.
Bridge groundbreaking really for show
WindsorOntarioNews.com July 19 2018
The "advance construction" groundbreaking that took place in Detroit on Tuesday had a cast of thousands, or at least seemed to. At least a few hundred people – mainly VIPs like politicians, bureaucrats, business reps, and dozens of media - showed up for the dirt-throwing exercise in the community of Delray, smack dab in the footprint where the Detroit Port of Entry for the new Gordie Howe International Bridge will be located. But the event was more for show than anything else, to prove to a skeptical Michigan population that the bridge is really getting built after all. How else to account for bigwigs like the Michigan governor, Canadian infrastructure minister and US Ambassador to Canada, being on scene, and therefore giving the appearance this was the launch of major bridge construction. In reality all it was was marking the start of early or preliminary works on the Detroit side. Work on the Detroit footprint, after all, has long lagged work on the Windsor side due to the much drawn out process of land acquisition. Now that virtually all the land has been acquired and most demolitions completed, advance construction work, such as geotechnical exploration and test piles, can begin. This kind of work was begun in Windsor years ago yet there was no grand ceremony. Rather than this groundbreaking event the real news this month was the announcement in Windsor July 5 naming the consortium that will build the bridge, Bridging North America. But that took place on the Canadian side, in a small meeting room, despite some VIP and media presence. It didn't lend itself to the kind of photo ops that an outside groundbreaking ceremony surrounded by major construction equipment did. So, let's keep things in perspective. The start of early construction on the Detroit side is to be applauded. But, as government officials have pointed out, major construction activity will only get underway in late September or early October, after financial close with the consortium takes place.
Dump cliches; how candidates could really transform Windsor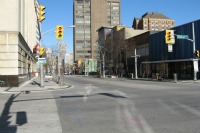 WindsorOntarioNews.com June 29 2018
What is it about Windsor that electoral candidates offer such insipid platforms? First, Matt Marchand, the former CEO of the chamber of commerce, made his grand announcement he's running for mayor by pretty much spouting every cliché in the book. He's "uniquely qualified" and can "bring people together." Then he dragged out such Windsor tropes as downtown redevelopment (how long have we been working on that?), spending on roads, sewers and soggy basements (despite already record spending). Then we have candidate for Ward 10, Jim Morrison, who wants spending on infrastructure, "safe walkable neighbourhoods" (how unsafe and unwalkable now?), cycling, R & D and economic development (over which the city has little control). Bold striking proposals these are not, despite, in his case, Marchand's slogan. Instead, WON.com offers proposals which could really help transform the city.
- Instead of continually pouring big money into a lacklustre downtown, put it into thriving neighborhood BIAs.
- Market Windsor as a tourist-transportation hub. Detroiters for years flocked here for train travel; not anymore. And it's often cheaper to fly out of Windsor airport than Detroit's Metro.
- Market Windsor generally; Americans love us but they hardly know our restaurants, parks, festivals, area wineries.
- Speaking of which, let's have wine-tasting bars from county wineries in the downtown, generating a whole new tourist market and synergies.
- Let the private sector transform downtown – we're already seeing evidence – by converting century old buildings into lofts, apartments and condos; and market the walkable downtown with its fantastic riverfront and scenic views not found anywhere else.
- Increase transit links to county municipalities to generate development, not just with conventional buses, but subsidized Uber (like Innisfil, Ont.), or small passenger vans.
- Let the BIAs become neighborhood hubs to support festivals, including street closings for rock, jazz, classical and fringe.
- Let's make our riverfront more fun, like creating an urban beach (see Toronto's Sugar Beach).
- Market Windsor not just to retirees but to millennials, with walkable streets, older neighborhoods, great existing downtown bones (empty buildings and all), and access to Detroit.
- Stop wasting money on little used bike infrastructure. Think unconventionally such as Paul Borrelli's (whom Morrison is running against and, no, this isn't a Borrelli endorsement) much maligned proposal to allow sidewalk riding, an idea being considered no less than by cities like Montreal and Saskatoon.
- To attract industry, promote the hell out of the new Herb Gray Parkway and coming Gordie Howe bridge. Windsor does little to advertise its incredible border location.
Captain Canada strikes again
WindsorOntarioNews.com June 18 2018
Justin Trudeau has announced that effective Canada Day, a slew of "countermeasures" – aka tariffs – are being imposed on American products. This is in retaliation for US President Donald Trump's levying of 25 per cent tariff on Canadian steel and 10 per cent on aluminum. There is a lot of anger, rightly or wrongly, among portions of the Canadian populace, over these US tariffs, generating a kind of heart pounding patriotism the country hasn't seen in, well…. People are saying they'll cancel US vacations or cross-border shopping in defiance of the dastardly Americans. But one wonders what kind of anger there will be once Trudeau's countermeasures take effect. Because, unlike US tariffs on steel and aluminum, which hardly affects any average Canadian, the Trudeau tariffs will definitely affect the average consumer and over a much greater variety of everyday products. For a detailed list go to https://www.fin.gc.ca/activty/consult/cacsap-cmpcaa-eng.asp. Here are some of them: yogurt, coffee, prepared meals, maple syrup, pizza and quiche, strawberry jam, orange juice, soya sauce, soups and broths, whiskies, hair lacquers, shaving products, insecticides, tableware and kitchenware, plywood, beer kegs, aluminum foil, many other household products made of aluminum, lawn mowers, washing machines, inflatable boats, sailboats, motor boats, mattresses, sleeping bags, ball point pens. (The government says there are comparable Canadian products.) It will be interesting to see the reaction once Canadians discover they're going to have to fork over 10 per cent extra for these products, as we've already seen with a local news story about a customer balking at paying extra for a new boat. This is a second example of the Trudeau government's incompetence in as many months. After it dropped the ball on Kinder Morgan's Trans Mountain pipeline expansion to the BC coast, now this. And, looking ahead, will they also screw up marijuana legalization? Legalization was supposed to take effect July 1, remember? But it's less than two weeks away and all we've heard is crickets, as a bill to make the illicit weed legal gets held up in the Senate.
Doug Ford's victory: fed-up electorate had no other choice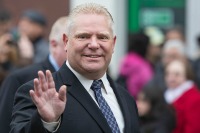 WindsorOntarioNews.com June 8 2018
The overwhelming victory by Doug Ford's Progressive Conservatives is proof that the Ontario electorate had absolutely had it with the provincial Liberals, 15 years in power. Despite previous attempts to govern – and essentially pulling defeat from the jaws of victory in two previous elections – Ford's Tories managed to win a landslide yesterday, even with considerable negative baggage (two new leaders after previous sex allegations felled one, a possible scandal regarding theft of ETR toll road membership lists, and even Ford apparently paying for party memberships). But what other choice did voters have? The Liberals had fully disgraced themselves with scandal after scandal, flagrantly electricity prices and sweetheart green energy contracts, and an outrageously blasé attitude to piling on more government debt. The NDP? If you thought the Liberals had no concern for spending the Dippers would have opened the floodgates ad infinitum (including dental and drug coverage) and no standing up to public sector unions (i.e., militant teachers). Admittedly Ford personally was not the most attractive candidate, though he's shoulders above his reprobate – and now deceased - brother, former Toronto mayor Rob Ford. He was inarticulate, bumptious, and cliché-filled ("we will bring change that works for the people", "change is coming and help is on the way"). His platform was virtually non-existent but gradually added to and there are no assurances even the Tories will tackle the debt. But he obviously resonated. The electorate hated increasing hydro rates and he vowed to lower them. He also said he would cut taxes. And he sympathized with the loss of 300,000 masnufacturing jobs and said in his victory speech the province is open for business again. Also, unlike the Liberals' Kathleen Wynne and NDP's Andrea Horwath, who seem like professional politicians, Ford comes across as a man of the people, and in this populist age that matters. For those afraid he'll act incompetently, remember that appearances can be deceiving. Furthermore, he'll have seasoned pros around him including some of those who challenged for the recent party leadership – names like Rod Phillips, Vic Fedeli, Lisa MacLeod, Christine Elliott, Caroline Mulroney.
Fire the pollsters: Yet again the polls (like in Donald Trump's 2016 victory and the UK's Brexit vote) got it wrong - big time. For weeks they had the NDP and Tories neck-and-neck, yet the final vote last night showed the PCs with 76 seats to the NDP's 39 (40.5% to 33.6% popular vote).
And locally: One local media outlet described Windsor Ward 3 councillor Rino Bortolin as personally "popular" though running for an unpopular party, the Liberals. Yes, as Bortolin reflected after the vote, he was up against an electorate hungry for change. But look at the numbers: he got only 5,762 votes, the Tory candidate 11,073 and NDP incumbent Lisa Gretzky 20,276. You'd think one of city council's highest profile politicians would have done better than that.
Cowardly "waxing" complaint against local hair removal spa
WindsorOntarioNews.com May 15 2018
What's galling about a human rights case brought against a Windsor hair removal spa isn't necessarily the charge – that a pre-op transgendered woman can't get access to "Brazilian wax" hair removal. It's the way the accuser has gone about it. In perfect contemporary anonymous allegation/often #Me Too accusation style, the complainant has been under anonymous cover from the start yet called out publicly a presumably successful Windsor business, Mad Wax on Walker Rd. That forced the business to do a counter offensive, demonstrating its human rights bonafides, by stating it doesn't discriminate against females or males, including on grounds of gender identity, but that overwhelmingly its business is female and therefore the reluctance of (female) staff to do Brazilian waxing on the physiological male genital area. One of the employees, a Muslim, would not do it for religious reasons. It will be interesting to see what the provincial human rights commission rules on the complaint, or if there will be a mediated outcome before a full hearing. WON.com thinks a cursory interpretation of the human rights code is the business would be faulted for not providing services based on "gender identity and gender expression," an official ground for complaint. "The Code prohibits discrimination and harassment against trans people in employment, services (including education, policing, health care, restaurants, shopping malls, etc.), housing, contracts and membership in vocational associations." Nevertheless, the complainant who brought the case – and a disparaging online video against the store – is an example of a coward hiding behind anonymity. Moreover, the complainant has threatened to create a "media circus," more reason for questioning her cowardliness. In today's world, individuals, businesses and organizations can be defamed quite publicly without the accuser going on the record or being held accountable for their complaints, whether it destroys a reputation or not. It's a Kafkaesque world that allows people to be called out or smeared when they have no way of knowing who their accuser is.
Not "natural" for cyclists to obey traffic safety signs?
WindsorOntarioNews.com May 1 2018
According to a report that went before the city's transportation and public safety committee, with proposals to hit city council in coming weeks, the key reason for bike accidents at the city's four most dangerous intersections (for bicyclists) is the fact cyclists ride on sidewalks. London's BT Engineering conducted audits and found that almost exclusively the accidents were caused when cyclists sailed through intersections after riding not on the road but the sidewalk. Short term remedies are to have cyclists dismount, and to prohibit certain turns, and in one case – for the Drouillard Rd. – Wyandotte St. intersection – take an alternative route altogether. Not surprisingly, the head of the local cycling committee wasn't impressed. Lori Newton reportedly called the recommendations "terribly disappointing, "utterly failing the cycling community," "not realistic" and "you're forcing people to behave in ways that aren't natural." That is the nub of the problem. In other words, cyclists simply don't obey laws and for whatever reason – bikes aren't considered real vehicles or cyclists' past scofflaw practices - that's just the way it is. Newton proposes more extensive measures like "bike boxes" so cyclists can gather before other traffic and then proceed, as well as painted green bike lanes, through intersections. She does acknowledge the sidewalk riding "epidemic" but says this is a function of lack of bike infrastructure. That's arguable. Look at numerous bike lanes elsewhere and cyclists still don't use them. If cyclists aren't going to obey the law and therefore endanger pedestrians and motorists – and not least themselves - they can surely abide by occasional signage asking them to dismount or not make turns.
Guess who really are exploited in the current college strike
WindsorOntarioNews.com November 10 2017
So, once again, students are the pawns or victims of a strike by teachers in Ontario. This time it's community college instructors – full and part time. Some 500,000 students have been shut out of class since Oct. 16 due to their strike. It's a shame when students are targeted by a group who wants to use them to fulfill their grievances. The union knew damn well that students would be adversely affected by their tactics. Now, with four weeks of the school year shot – and possibly five, after the results are known of a vote this month under the auspices of the Ontario Labour Relations Board on the employers' so-called final offer. Students are more than worried for their academic year and are starting to demand tuition refunds, as they rightly should. Colleges are scrambling to save at least this term, extending the academic schedule into the traditional month-long Christmas holiday. If, that is, the strike doesn't go much longer. The Ontario Public Service Employees Union (OPSEU) makes a big point of saying money is not the issue. So, what is? Something called "academic freedom." This means such things as instructors having control over their classroom teaching, intellectual property rights for any scholarly work, and freedom of expression to be critical of their own institutions and take part in similar "extramural" activities off campus. Which, on the face of it, doesn't seem very problematic, so why is management balking? For its part, the College Employer Council has offered 7.75 per cent wage increase over four years, raising the top salary to $115,378 by that time. Partial-load instructors (who teach between six and 12 hours a week) are offered a maximum rate of $154.26 an hour by 2020, as well as enhancement of hiring rights for partial-load staff. Again, nice work if you can get it, even for part timers. But let's be honest: what's really happening here is the exploitation of innocent students, who just want to get on with their young and optimistic lives.
Questionable new city projects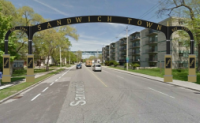 WindsorOntarioNews.com October 19 2017
There certainly is enough to be concerned about regarding a swath of recent city council spending. It's both the amounts of spending and the projects themselves. First, the decision to spend $303,000 to fund a new gateway arch (left) in Olde Sandwich Towne seems redundant, given the fact the city is still working to complete a gateway statue of historic figures Brock and Tecumseh in an $850,000 roundabout at the community's eastern edge and which is designed to serve the same purpose. The arch would be just down the street also on the eastern flank. Second, the decision to spend $657,000 to rehabilitate a 1918 city streetcar that was found locally in very bad condition. Sure, this is a fanciful project and could be a tourist attraction and serve as one of the city's riverfront "beacons." But it comes at a steep price. The city says the expenditures won't be extracted from taxpayers but from a dormant fund originally created to build a new downtown parking garage, no longer needed. Other monies from this $7.2 million pool seem more appropriately spent, such as $4.3 million for new playground equipment to bring parks up to current safety standards. Previously, other spending was earmarked for an elaborate $3 million Jackson Park Christmas lighting display, which met instant backlash after the devastating August floods, and has been scaled back at least for this year. The cost of the lighting display is questionable though WON.com believes Mayor Dilkens has the best interests of the city at heart in creating a joyous seasonal event. And don't forget the city had set aside $400,000 for the world juniors but didn't win them last year in a joint bid with London. By contrast to all this spending on projects that might have questionable impact, the proven highly successful Windsor International Film Festival, now in its 13th year and which last year sold some 20,000 tickets - making it the second biggest festival on the Toronto International Film Festival circuit – got only $3000 in city sponsorship.
Windsor - Detroit Amazon headquarters bid doesn't add up
WindsorOntarioNews.com Sept. 20 2017
This is a contrarian view, so don't get panicky or wax that WON.com is anti-Windsor/Detroit. It's simple reality. Municipal leaders in Detroit and Windsor are teaming up, like dozens of municipalities across North America, to win the second HQ for Amazon. The prize: $5 billion investment, 50,000 jobs over 20 years. But based on the criteria given by Amazon for an eligible city, Detroit, according to a New York Times analysis, didn't even make the first cut - a "stable business climate for growth." So what about the other criteria? Tech talent: skilled labour Windsor-Detroit has but not the right kind. We have traditional industrial labour, not high tech. Next: creative solutions for location/real estate (presumably incentives). Windsor isn't allowed to provide financial incentives under provincial law and has had a hard enough time attracting auto plants (Ford small engine, Volvo, Jaguar Land Rover); provincial/federal incentives are skimpy compared to the US. Amazon requires a strong university system. That we have, especially in Detroit-Ann Arbor though Windsor is under schooled. Proximity to an international airport? Detroit Metro is one of the best in the US. Windsor's "milk run" status, for these purposes, isn't. Urban amenities for millennials? Detroit-Ann Arbor have these or they're emerging, Windsor not so much. Mass transit? laughable. Quality of life? Yes, we've got cheap housing in abundance, but in Detroit it's far from being desired and in Windsor next to unavailable due to recent bidding wars. Recreation? Detroit's metroparks are great and we've got the river. But a big disincentive: the day-to-day complications of a border region in an age of terror. A clogged inefficient Customs system will hardly make crossing between Windsor and Detroit seamless. The one factor in Detroit's (and Windsor's?) court: the "sentimental" choice to improve a city long down on its luck. But even if Detroit is chosen, Windsor's negatives would seem to outweigh the plusses.
Graphic: Brookings.edu
Legal pot's effect on Windsor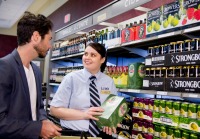 WindsorOntarioNerws.com Sept. 12 2017
The legalization of marijuana sales is fraught with a host of unanswered questions, especially for a border city such as Windsor. Yet we have heard virtually nothing from Windsor city hall or local political representatives about issues related to the legal sale of pot. A request by WON.com to the mayor's office was not responded to. The Association of Municipalities of Ontario has been similarly vague. A release last week said sales will have a "broad impact" on cities and towns. And president Lynn Dollin said the rollout "must begin with willing municipalities and a municipal voice on where the drug is sold to ensure community safety." Despite saying the sale will be through LCBO stand-alone stores (it will be interesting to see how they are branded or if they will have the dour LCBO moniker) the province has similarly been vague as to how many stores municipalities will get. (The first batch of 40 will open next July, then 80 a year later, followed by the remainder of 150 by 2020.) The province has not provided more details as to store allocation by population or store square footage except to say it would take "illegal market and regional dispersion" into consideration. Windsor is the 10th largest city in Ontario. Moreover, there are 26 communities with over 100,000 population. On a straight division basis that would initially mean less than two stores for each community but of course larger communities would likely get more. The expectation is the stores will be inundated with buyers once they open, though that could be an initial novelty. Online sales is a way around this, though many people may be discouraged because they won't want the post office or courier to know they're ordering marijuana. In Windsor there are unique issues. We'll not only have our local population to serve but people from Michigan. That will increase store traffic. And will Michiganders be subject to more severe US Customs interrogation upon returning stateside, thereby slowing an already choked border? As well, could the legal sale of marijuana result in more crime, including gun violence? All these are serious questions that should be answered by city authorities as soon as possible.
Correction: An earlier version of this editorial said 80 stores will open next July.
Understanding Windsor
WindsorOntarioNews.com August 28 2017
Ward 4 councillor Chris Holt is quoted as saying that people in Windsor are "obviously looking for, a more urban lifestyle." By this he means more infill housing in the centre of the city. But is that true? Windsor is not Toronto, New York, Chicago or even Detroit, where a burgeoning millennial middle class has scooped up thousands of new residential units in the city's core. Yes, that is a dream of a few local urbanists like Holt. But let's emphasize few. Every city has outliers and in this city urbanists such as Holt are in the vast minority. People in Windsor-Essex don't want to live downtown or in core neighbourhoods. Why else would Windsor and neighbouring Tecumseh, LaSalle and Lakeshore's seemingly endless residential growth (okay, sprawl) continue unabated? Why would the recent labelling of "snout houses" be immediately withdrawn by city planners when criticizing houses with large front-forward garages? And witness the immense growth in exurbia of housing surrounding golf courses, the bane of environmentalists. Moreover, as the region tries to attract more retirees those folks aren't moving downtown for an urban lifestyle despite our proximity to Detroit. Finally, why the lack of New Urbanism infill developments (commercial on first floor and residential above) especially downtown? Urbanists such as Holt would find lots of company in Toronto or Montreal. Not here. Windsor after all is an automotive centre and people like to drive. It's also likely the reason we've had no mass transit outside the city for decades. It's why vehicles like light trucks rule the day – just count the number of minivans and pickups on city and county roads; there aren't too many Fiat 500s, Mini Coopers or Priuses. Windsor is idiosyncratic in a number of ways: it votes liberal-left but is highly middle class and consumerist. This region since World War II has defined itself by its suburbanism, not urbanism. Unless there is a sea change – such as a massive influx of millennials to a high-tech development to rival the auto industry - this area will largely remain as it has for the last 50 years.
The wrong focus on Detroit's riot
WindsorOntarioNews.com July 18 2017
Interestingly enough, the 50th anniversary of the Detroit Riot comes on the exact same day of the week as July 23rd this year: Sunday. On early Sunday morning those five decades ago, a so-called Blind Pig (illegal bar) was busted by the cops. It was a mid-summer sultry night. Tensions escalated and a full-scale riot broke out, one that lasted five days and resulted in 43 deaths and almost 1200 injured, the largest US urban disturbance in more than 100 years. Over the past few months and continuing throughout the summer, Detroit's various cultural and media institutions have been noting the riot's (some call it a rebellion) significance. There have been interviews with survivors, films (including the upcoming Kathryn Bigelow Detroit, about a riot side incident). But mainly they have been time capsule treatments – what was it like being there at the time, what led up to it. There has been little in the way of, shall we say, post-riot analysis. And we've seen the aftermath. Some say Detroit never recovered from its riot. That white flight and urban decay which started with the building of the city's freeways and black migration in the 1950s, accelerated dramatically post-riot. As anyone with even a cursory knowledge of Detroit knows, the city in large part has become a giant urban wasteland, which of course it never was prior to 1967. For decades Detroit has been the poster child for destitution, poverty, alienation, crime, so much that it has come to represent a modern dystopia, as portrayed in many books and films. This all may be fascinating to a sociologist but it has hardly done the city well. Once a booming, dynamic industrial town (the "Arsenal of Democracy" which made the bulk of arms for WW II), with significant affluence and a well paid blue collar class, the city became bifurcated along economic, class and racial lines, the largest starkly segregated city in America. So, in all the reminiscences about Detroit 1967 – whether it's called a riot or a rebellion or whether filmmakers have great stories to tell or even personal anecdotes of where people were on that fateful July day – few have looked at the utter and long lasting destruction that riot caused. That should be the sober and serious focus of all these reflections.
Wynne's Liberals master manipulators
WindsorOntarioNews.com June 30 2017
Premier Kathleen Wynne is pulling out all the stops to get ready for next year's provincial election. And it just might work. The Ontario electorate, as was readily apparent by its decision to give what was a scandal-ridden minority government a majority in the last election (thanks to a public sector layoff threat by then PC leader Tim Hudak) – when so many pundits thought the unpopular Wynne Liberals would lose – is a sleepwalking collective giant oblivious to how they're being manipulated by their Queen's Park masters. We had the ORNGE, EHealth and gas plant scandals. But we also had the massive green energy program which transferred huge sums from consumers' pocketbooks – through ever higher electricity rates – to a handful of global corporations for long term contracts to build wind turbine and solar farms, this to pay the difference between wholesale energy and the contracted price. The premier's personal popularity last month was just 15 per cent. So, with a year to go before next June's scheduled election, Wynne and company had to start doing something. First, they decided to give the electorate a kick-back on electricity rates – using our own money! – which will see a short-term reduction followed by higher rates to compensate - $45 billion to save $24 billion. Then there's the shocking – even to the unions – announcement to offer a pre-contract wage increase to public sector workers: 7.5% over four years. There were also the labor code changes, another effort to head off union agitation, which has given the Liberals so much pain over the years. This included a 15 per cent minimum wage and changes to make it easier to unionize and stay unionized in face of employer challenges. Most recently, the Liberals found a populist cause - a ban on school closures, an issue that affects rural residents – prime Tory voters – particularly. Wynne is hoping such moves will keep the electorate's eyes off earlier scandals and the – who cares? - massive provincial debt, the highest sub-national debt in the world, a sum they doubled to more than $300 billion over 10 years. Massive interest payments could have gone to government services. This Liberal government is sly and manipulative. They pulled victory from the jaws of defeat in 2014 and they think they can do it again. And it's starting to work. Last month the party's popularity edged higher than the NDP's (28% to 23%; the Tories have 41%.) Don't be surprised if they pull out another win – minority or majority – from a nose-in-the-phone oblivious public.
Pelissier garage: give it up already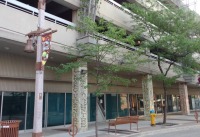 WindsorOntarioNews.com June 13 2017
The matter of the commercial retail spaces under the Pelissier Street parking garage is getting long in the tooth. The latest iteration in the saga is a GofFundMe campaign the Downtown Windsor Business Improvement Association (DWBIA) has launched to pay for a Freedom of Information request to cover $14,000 to have City of Windsor staff look through files and communications leading up to a controversial City Council decision last November. The decision nixed a last-ditch effort to lease out the 14,000 sq. ft. of space to an operator who would develop the largely moribund units for commercial purposes. The decision was admittedly abrupt given council had just put out an Expression of Interest (EOI) in August for a master tenant (after a previous somewhat different EOI resulted in two rejected proponents). We don't know the reason for the rejection because the proposal was private. But the DWBIA immediately cried foul and has demanded to know on what basis it was made. All well and good. But is the DWBIA kicking a dead horse? For one thing, what more can it find out about what is essentially a private matter? But in the larger scheme we're dealing with an issue that had become rather unsolvable. These eight units have long been overwhelming vacant or underutilized (three of eight units – and only one paying market rent – were occupied in 2015). And they've been unfairly marketed in competition with the street's private sector – which the DWBIA should take more cognizance of - which has had vacancy rates of 45% in 2012, 42% in 2014 and 31% in 2015. The garage units are an eyesore and rehabilitating them would cost $1.85 million. Converting to 42 for-pay parking spaces, as council in the end decided, would cost just $500,000 – and, sorry, we all know how much parking is needed downtown. DWBIA chair Larry Horwitz is appalled by this anti-urbanism decision, when cities across North America, he says, are moving in the direction of creating more people, not vehicle, spaces. But that isn't the issue. We'd all like to have more retail and pedestrians on the streets. It's a matter of enough is enough and of who is going to pay for a taxpayer-losing venture and unfair public to private competition.
Roundabout is right place for new Brock and Tecumseh memorial
WindsorOntarioNews.com May 9 2017
City council made the right move in approving a new historical monument honoring War of 1812 heroes General Isaac Brock and Shawnee Chief Tecumseh. The statue will be in the centre of a new roundabout where Sandwich St. forks into University Ave. and Riverside Dr. The location was championed by local ward councillor John Elliott. He was right on the mark. Elliott said the statue will be prominent and an ideal gateway to Sandwich Towne, an historically down on its luck community now undergoing something of a renaissance. The statue can only add to it. Those opposing the monument's location argued it would be more appropriate for it to be placed in the almost adjacent Patterson Park because it would be in a more bucolic setting and where people could walk up and visit, not surrounded by cars in a rather busy intersection. But, folks, this is called thinking outside the box. How many people visit monuments in passive parks? How many would even know it's there? By putting the monument in the middle of a traffic circle there's no question many more people will see it and take notice. That's what Elliott and other city councillors think. Not only would the statue serve as an official gateway to Olde Sandwich Towne it's placement would offer a more dramatic view. After all, there are a heck of a lot of people out there who think history is boring. Why? Because of the way it's presented. Putting a statue in a park is analogous to dry high school history texts. Moreover, the objections are ironic. After all, the man who came up with the idea, deceased former local school principal John Muir, wanted the statue in a roundabout, only down the street at Brock School, but that location proved awkward. City council's decision was correct for three reasons: the monument will enhance Sandwich Towne's recovery, it will give better prominence to a well-designed statue, and it will freshen the way we look at history. Brock and Tecumseh won't be obscured; they'll be out there for everyone to see.
OPSEU crashing beer & wine sales party
WindsorOntarioNews.com April 8 2017
If it's not Ontario's anachronistic liquor laws that have stifled consumers from joining the ranks of millions of other people across North America by being allowed to purchase beer and wine in grocery stores, it's the unions. Or one union in particular. Shoppers, like good children, were given the proverbial pat on the head by the Kathleen Wynne government a year and half ago when that government allowed beer to be sold in a minority of grocery stores. Then, in October, the government allowed the sale of Canadian and imported wine in 67 groceries. "Over the coming years," the province says, as many as 450 stores "could be authorized" to sell beer and cider, with as many as 300 selling wine. Meanwhile, the long-running wine boutiques, located adjacent to groceries, have also been permitted to move "inside the sales floor" and use grocery checkouts. They can also broaden their product selection but only in stores that already sell beer and cider. So, just when you began rejoicing for your newfound, if meager, freedoms, along comes another group to try to take them away. This is the government (LCBO) liquor store employees union. The union, OPSEU, is holding a strike vote April 24 and 25. Chief among the issues? The "creeping privatization" of beer and wine sales in grocery stores. Obviously, this is an attempt by the union to protect its own turf and members' jobs. But to hell with consumer choice and a freer market, right? This is just the latest example of why Ontario needs to rid itself permanently of it's near liquor sales monopoly and get rid of the LCBO. Privatization will not only lead to better consumer choice but end patronage to special interest groups, like the liquor employees' union.
Why bike lanes when they're not used?
WindsorOntarioNews.com March 20 2017
Representatives of the city's cycling community are complaining that money is being spent on paving road shoulders and not installing dedicated bike lanes. They're also upset the city is not doing more to create an official bike lane so cyclists can travel from south Windsor all the way downtown, which sees only a lane some of the way. But it begs the question: why spend millions on cycling infrastructure when cyclists don't use it? How many time shave we seen cyclists flagrantly use sidewalks on streets where bike lanes already exist? Moreover, the overwhelming use of sidewalks by cyclists, not just in Windsor but in cities with much more developed bike infrastructure, indicates cyclists are the one category of road users most egregious in their flaunting of the law. Of course, other than paying lip service to respecting the law and using proper bike etiquette (when was the last time you saw a cyclist use a hand signal?) the local bike committee or city council advisory committee has done nothing to educate cyclists. So the whining continues when the city doesn't spend more on bike infrastructure, or on the right kind of infrastructure (shared lanes versus official bike paths). But why spend the money if cyclists don't use it? Obviously, as Bike Windsor Essex executive director Lori Newton says, creating official lanes provides a greater level of protection and encourages cyclists to use city streets. But you and I – and she – knows the fragrant law-breaking will continue. In fact, so pervasive is unlawful behaviour that the city of Montreal is considering allowing cyclists to legally ride on sidewalks and come to "Idaho stops" at stop signs, meaning they can slow but otherwise breeze through. Doubtful they would even respect that. Perhaps the city of Windsor should tell cyclists: no more infrastructure unless we see more respect for laws. Or otherwise, as poor a choice as it is, legalize use of what already exists – sidewalks designed for pedestrians. They're de facto bike paths anyway. That way the city can save millions on future "bike infrastructure."
Hypocrisy on the print media front
WindsorOntarioNews.com February 22 2017
It's kind of rich that Canada's largest newspaper company, Postmedia Network, owner of The Windsor Star along with almost 20 other daily newspapers, numerous community newspapers and other media sites, to be looking encouragingly at receiving government funding to prop up a failing newspaper industry. This follows its 2017 first quarter report last month that showed while the company made $17.1 million its overall revenue fell 14.4 per cent. Print advertising dropped $31.1 million or 21.9 per cent and circulation revenue fell $6.1 million or nine per cent. Digital revenue hardly made up the difference, increasing only $1.2 million or 4.1 per cent and only accounting for 14.6 per cent of Postmedia's total revenue. However, Postmedia CEO Paul Godfrey told staff there may be light at the end of the tunnel for a corporation that has seen a severe decline in traditional print revenue, as have virtually all traditional newspapers, with the advent of the internet and the changing ways people consume news. That answer? The federal government recently indicated it may be open to providing some form of subsidies. Godfrey applauded Heritage Minister Mélanie Joly (above), who had said last month her government believes in the importance of journalism, as being "the first big ray of sunshine that I've heard that may help us to a more profitable future." Well, desperate times call for desperate measures. But it's a little ironic for Postmedia, formerly Canwest Global, to be salivating at the idea of receiving public support when so many of its editorials and columnists over the years have railed against exactly that for the Canadian Broadcasting Corporation. In fact, Canwest once called for the elimination of the CBC, with its papers editorializing the CBC be "broken up and sold" and to "let it die." Certainly, what's good for the broadcast goose is good for the print gander.
Don't take it out on the kids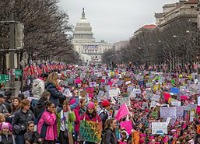 WindsorOntarioNews.com February 6 2017
The condemnation of former (temporarily suspected) Windsor Minor Hockey Association president Dean Lapierre is taking on a life of its own. Now we hear that Unifor Local 444 has pulled funding from the vast minor hockey organization that Lapierre represented, as if it's the kids and other adult members of this association's fault. There are 20 members of WMHA's board including seven women. Moreover there are 38 coaches and numerous teams. Other sponsors have indicated they might also pull funding after Lapierre's sexist and derogatory comments about women who participated in last month's Women's March on Washington. "Any of those CANADIAN women who wanted to protest the President of the USA and got turned around. Good u dumb bitches," he wrote on his Facebook page. It comes to light that Lapierre has also made other online remarks of a similar nature. He has been suspended by the association until the end of April and must take sensitivity training. No question Lapierre's remarks were out of line and the punishment just, if not an argument for greater punishment including a permanent ban. That he was in a position of authority only adds to the injury. Nevertheless, the union and other sponsors considering pulling funding should separate Lapierre's remarks from the organization as a whole. As well, the union, if it's so concerned about sexism, should re-evaluate the fact it holds numerous gatherings at the Giovanni Caboto Club, which has been called on the carpet for having no women on its board of directors but has a separate Women's Club. And as for Lapierre's remarks, abhorrent as they were, they are one person's vitriol against the hundreds if not thousands participating in the Women's March who were advised to or in fact used slogans just as abhorrent. These included, "My pussy bites, Bitches get stuff done, STFU Trump, Ready to #slay! (and three variations), Don't pee on me, This bitch bites." And, last but not least, we had performer Madonna's infamous remarks, "To our detractors that insist this march will never add up to anything….Fuck you. Fuck you.…Yes, I'm outraged. Yes, I have thought an awful lot about blowing up the White House….But I know that this won't change anything." Where was the condemnation over this vile drivel?
Build the French immersion school
WindsorOntarioNews.com January 12 2017
On one hand the Greater Essex County District School Board should be applauded for buying an old and rather nondescript property – how many people even knew it existed – and plan to totally redevelop it and bolster a core Windsor neighbourhood. On the other there are concerns about the board's removing all aspects of heritage architectural elements, though these seem few, subdued and in many cases in poor shape, according to a city report. We're talking about the former International Playing Card Company building on Mercer St. just south of Erie St. The board bought the property, which was formerly owned by the Vitale Produce family, who requested demolition of it for just such a sale as far back as last spring. The city kept deferring on designating the old one-story factory as a heritage building until January 9. In a bizarre set of moves, the school board completed the purchase just four days prior to the city council meeting. In other words, the board sprung it on the city. City councillors defiantly voted unanimously for designation anyway, stifling the board. The board wasn't deterred, with business superintendent Cathy Lynd confidently saying they could work something out. (The board could appeal but isn't.) The board needs the school for a new three-story French immersion building. Board officials have suggested they could incorporate various elements of the "art deco" factory into the new facade – the front entrance is the most striking feature - as it did with the renovated John Campbell School. Ward 3 councillor Rino Bortolin, who represents the area, was angered the board didn't try to set up "dual track" French immersion programs at two nearby older schools, fearing the new school will cannibalize those. The board hasn't adequately answered that but likely its decision was fueled by the fact those two buildings (as is the current WD Lowe French immersion school) are too expensive to renovate and not adequate for growing French immersion needs. Its strategy might be questionable but you have to give the board credit for wanting to redevelop an inner city site that could give new life to a property which has limited heritage value.
Time to stop the nonsense around bridge company's west end holdings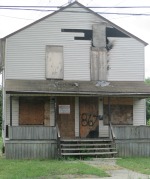 WindsorOntarioNews.com December 12 2016
Last week's Supreme Court of Canada ruling tossing a dispute between the Ambassador Bridge company and the City of Windsor back to a lower court as the proper forum to hear the case – and which now will likely be delayed again for about six months – should be a signal to all parties to sit down and negotiate this matter once and for all. The bridge company, of course, is blamed for letting dozens of houses on and around Indian Road in west end Windsor deteriorate. The city wants the company to keep them up to property standards. The only reason those houses are standing in the first place is because it was the City of Windsor which imposed a development freeze, first adopted in 2009 as a heritage measure to preserve Sandwich Towne, Windsor's oldest neighbourhood. Many people, however, saw the freeze as a not so subtle attempt to stop bridge development point-blank, which would see those houses demolished and create a vast open piece of land, slated ultimately for a new bridge plaza. The bridge company, whether you agree with it or not, bought up those properties fair and square on the open market and was stymied by the city from developing the site. Yet, in popular opinion, it's the company that gets 99 per cent of the blame for the condition of the properties. This court case has wound itself through the legal system for three years. It's getting ridiculous. It's time for the matter to be taken out of the courts and the city and company sit down and negotiate an agreement. The houses should rightly be torn down, the bridge given final approvals (admittedly required also from other levels of government) to build a badly-needed new span – redundancy is the name of the game even with a new planned government-backed Gordie Howe International Bridge – and the site developed.
Just who is preventing local Catholic high school students from learning?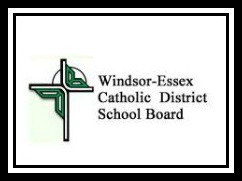 WindsorOntarioNews.com October 28 2016
To the list of outrageous actions in the annals of (local) strike history must be added the latest: the delaying tactics by UNIFOR support staff on strike against the Windsor-Essex Catholic District School Board (WECDSB). The biggest controversy since the strike began Oct. 17 has been the union, UNIFOR 2458's, blocking of teachers to enter schools to teach students. "We are appreciative of the impact a potential strike may have on students and parents," union president Bruce Dickie said before the strike began. No one, of course, wants to hurt the students, least of all the strikers, or so the rhetoric goes. And the students themselves have been protesting the work disruption, saying it's hurting their education, though it seems they blame administration more than the workers, which is always the case, reasons for which we'll let you decide. In any case, the pickets originally started delaying teachers crossing their picket line – which they have every legal right to do – by five minutes. That's not five minutes in its entirety but five minutes per car. No wonder it has taken literally hours for teachers to get to their desks and students have been socked away in cafeterias to almost noon time. The teachers' union, of course, is playing pious. Obviously, union president Brain Hogan says, his union must respect picket lines, and he took umbrage at the board attempting to suspend teachers, an obviously flatfooted action that blew up in the board's face. But, come on, everyone knows what's really going on here. Delay teachers from getting to classes means students learn less means more pressure put on the board to settle. Checkmate. The strikers (and teachers, who could work out a solution if they wanted) won't lift a finger to accommodate the teachers (and apparently some contractors), despite what they say about caring for students. But the real culprit here is a labour law that even allows this kind of egregious disruption to take place. (The board was in court today seeking an injunction limiting delays to 30 seconds.)
Downtown a non-starter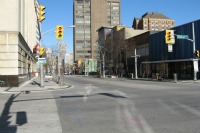 WindsorOntarioNews.com October 6 2016
Yet another meeting is being called to fact find how the city's downtown, or central core, can be reinvigorated or indeed saved. Now it's the Downtown Residents' Association's turn. Let's look at the facts about downtown Windsor and offer some observations. Over the past almost 20 years – even longer if you include the Civic Esplanade and ill-fated Holiday Inn and Steinberg's projects – attempts have been made to bolster downtown Windsor. Nothing or very little has been effective and the downtown continues to "hollow out." The massive casino was expected to generate spinoff business growth and pedestrian traffic. The decentralization of St. Clair College and University of Windsor – a work in progress - was also supposed to have done this. Nothing has happened. The streets are arguably emptier than ever. These have been civic minded publically-funded initiatives. But what about the private sector? Private developers and landlords haven't invested downtown because obviously there's no market. Windsor's compact downtown and riverfront would be ideal for infill upscale attached townhouse development. Yet, despite innumerable house builders in Windsor-Essex, none have taken a gamble on downtown. That's because the money follows where people want to live. And fortunately or unfortunately that's in the burbs. Look at the multiple and "sprawling" residential developments in Lakeshore, Tecumseh and LaSalle, or indeed suburban Windsor. "Urbanists" – of which there has been a growing and activist local community – don't like this. It would be interesting to find out where they live. There are some obvious truths about Windsor that downtown advocates, of which WON.com is one, don't want to see. One is that Windsor is a car-oriented community (we build them here). Second, despite being a working class town, that working class is paid very well and has middle class aspirations. Hence the move to new homes and shunning older properties where repairs and renovations are needed. Third, this area is very family-oriented. Parents don't want to bring their kids up in neighbourhoods that are perceived to be old, congested and dangerous. These are facts of life in Canada's "motor city" and umpteen discussions and forums – and indeed tens of millions of dollars in attempted development – won't do much to change them.
Shameful traffic law-violating parents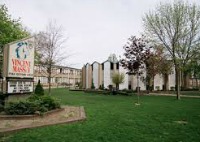 WindsorOntarioNews.com Sept. 22 2016
Information for Parents - Traffic Enforcement - Caution! There is no stopping on the south side of Liberty in front of the school. Stopping creates a safety hazard so Police have been issuing tickets. – Massey website
You know society has reached a certain state of entitlement and selfishness when parents line up at a school totally oblivious to the parking regulations around it. Such was the scene at a badly-needed crackdown at Vincent Massey Secondary School where parents had the audacity to angrily shout at bylaw enforcement officers handing out numerous tickets. This illegal parking – in clearly marked No Parking and No Stopping zones and even in front of residents' driveways, and double and triple street parking – has been going on for years. Why did it take until now for the city to finally crackdown? And of course this kind of flagrant disregard for traffic laws hasn't just been taking place at Massey. The city says the crackdown is just the start and many school areas will be targeted. In any case, now that the city is starting to enforce regulations it behooves parents - who stop at the school to leave off and pick up their children - to obey the law. Obviously they don't feel they have to, partly, presumably because they have been doing this for years and no one has said anything about it. This driving-the-kids business also raises other questions. Bad enough that parents of elementary school students routinely drop off and pick up their "little darlings" in front of schools, causing similar bottlenecks and parking violations. But why are parents providing this service to high school students, who should be old, mature, and physically capable enough to walk or take a bus on their own? It's simply another example of the helicopter parenting syndrome which extends now even to "kids" in their 20s, living at home with mom and dad (or one or the other) and always staying in touch through their cell phones. The city should have started this crackdown years ago. And to those entitled parents: for shame.
Provincial Tories show little opposition
WindsorOntarioNews.com Sept. 4 2016
Ontario's main opposition party better start getting its act together. It's amazing that the Progressive Conservatives continually shoot themselves in the foot. Whether, as in past election campaigns, it's on the matter of full funding for all religious schools (under leader John Tory) or eliminating 100,000 public service jobs (under leader Tim Hudak) the Tories seem to find the most improbable ways to alienate the public and lose elections. There was no excuse for Liberal Leader Kathleen Wynne to come storming back to power with a majority government in 2014, after the notorious scandals of $1 billion cancelled gas plants, and Ornge and e-Health financing messes, not to mention the massively subsidized payouts to alternative energy suppliers at average electricity users' expense. And of course there's the fact Ontario has the highest sub-sovereign debt of any jurisdiction in the world. And the ineptitude just keeps piling up and up, most recently the government spent $70 million developing a now defunct provincial pension plan with massive severances to the plan's top management - $2.8 million including over $825,000 to the CEO for just six month's work. Still, Tory leader Patrick Brown (photo above left), a bit of an enigma since elected party head just over a year ago, has shown no gumption in challenging the Liberals on this massive arrogance and incompetence. In fact, he continues the tradition of Tory leader bumbling, for example, continually reversing himself on challenging the Liberals' highly controversial sex-ed reforms. The fact his party won a breakthrough in Liberal fortress Toronto in last week's Scarborough-Rouge River byelection win of Raymond Cho, might have been more a reflection of ordinary voters' general anger at the Liberals rather than any leadership on Brown's part.
Sandwich: the next cool neighbourhood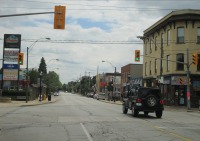 WindsorOntarioNews.com August 19 2016
The city's far west neighbourhood, Olde Sandwich Towne, is undergoing a revitalization. Yes, it's been somewhat slow but arguably it's starting to catch on. One need only look at the recently opened Post Cafe, the former heritage post office building at the corner of Sandwich and Mill streets. It's been transformed into a millennial-style cafe with a cool vibe. Look down Sandwich Street at the very modern infill for what used to be a derelict building, the soon to open Sandwich Brewing Company, the likes of which Sandwich has never seen. Then there's new management at the neighbourhood's only supermarket, Westside Foods, with a fuller inventory catering, among other things, to the area's ethnic population. Look for new exterior changes, too. Still pending is what to become of the now (thankfully) closed old and overcrowded Windsor Jail, which could be converted to a museum or for other community use. This neighbourhood, close to the University of Windsor, has attracted more pubs over the years, resulting in a funky, almost independent "Sandwich vs. the World" aura. Admittedly, there have long been attempts to rejuvenate the area, including the 1980s renovation of Mackenzie Hall and the Duff-Baby House as well as the commemorative Sandwich Windmill, the last buildings somewhat hidden as they are off the main drag. And the City of Windsor is now converting the Mill Street fire hall into its newest library branch. And finally, the 1970s-era shopping plaza surrounding the Post Cafe is nearing the end of major renovations, giving it at once a more contemporary and heritage look. Sandwich Towne, the city's oldest and most historic district, and held dear in the hearts by many, has long been a revitalization work in progress. Rebuilding and repopulating it may now be gaining critical mass, and the neighbourhood could become the next version of a hip, trendy, area such as Olde Walkerville. Here's predicting it will.
Flag project a bit over the top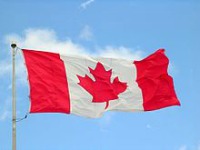 WindsorOntarioNews.com July 21 2016
The Great Canadian Flag project is one of those "who-can-say-no-to-it" proposals because of its patriotic value, appeal to nationhood, civic virtue and all that. Certainly Windsor City Council didn't say no when it voted unanimously last year to approve what will be a $355,000 (the amount has increased from $300,000 two years ago) project to sink a gigantic flagpole in Dieppe Gardens that will reach 150 ft. and carry a 60 by 30 ft. flag. "This will show who we are, what we stand for and how lucky we are," project chairman Peter Hrastovec said when the idea was first hatched in 2013. The location is significant for several reason. It crowns the waterfront linear parks at the foot of Ouellette Ave. in the riverfront's most patriotic area, Dieppe Gardens. It's in the direct centre of the city since it's at the foot of Ouellette, the city's central north - south street. And it's on the riverfront and will show people near and far but most likely Americans - since they can see the Windsor waterfront best - just how patriotic Canucks can be. Is this flag an example of fierce nationalism in the face of Americana across the way? That doesn't seem to be the idea, at least ostensibly. It's more likely simple – writ large - Canadian pride to offset an otherwise unidentified border. The project takes place in a wider context. Canadians have been known for their subdued or "understated" patriotism. But there seems to be less and less of that in recent years. Canadians at international sporting events often wave the flag vigorously and paint flags on their faces. Via Rail train cars display a large Canadian flag on every car; you won't find anything similar in the hugely patriotic United States. So the Great Canadian Flag Project might be considered part of this new wave of patriotism. WON.com doesn't support the project for a number of reasons. The flag will literally be a bit over the top. Why do we need such a massive flag to show patriotism? Aesthetically, it will dominate the Windsor skyline rather than let the skyline speak for itself. And third, it will take away the iconic view of, yes, the Detroit skyline from motorists descending the Ouellette Avenue overpass before entering downtown. That's a Windsor postcard image if ever there was one.
Should we care about outsider's views?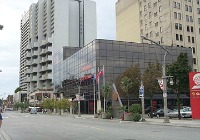 WindsorOntarioNews.com July 5 2016
James Howard Kunstler of upstate New York, a self-taught and/or appointed critic of urban sprawl – though he has wide authorship and has lectured in prestigious academe – castigated little old Windsor recently by calling it "amazingly ugly, it's like somebody came in and beat the city with an ugly stick." Ouch. But then he has described much of his home country as a "tragic landscape of highway strips, parking lots, housing tracts, mega-malls, junked cities, and ravaged countryside." At least we're in good company, eh? His comments have apparently freaked some local movers and shakers. But why should we be so concerned by Kunstler, who seems to take glee in provoking the status quo? Sure, his advocacy of New Urbanism, which recalls early 20th century brownstones with retail on the ground floor and cars out of common view (were cars, and horse and buggies before that, ever out of common view?), might be nice. But how realistic, especially in a city like Windsor, is it? Should we just tear up Tecumseh Rd., Walker Rd. and Howard Ave. - and the hundreds of businesses that line these strips - all conveniently reached by car, which local residents obviously prefer? Kunstler is an anti-fossil fuel advocate, preferring alternate energy and public transportation. Tell that to the well over 10,000 workers employed in Windsor's auto industry. In other words much of Kunstler's thesis is pie-in-the-sky. Have you visited a New Urbanism development lately? There's one in suburban Detroit's Shelby Township and others abound throughout the US. Nice in concept but unfortunately sterile and grossly underused. When you get right down to it, it might not matter so much what a city looks like (though Kunstler obviously missed our incredible riverfront, great neighborhoods, and economical real estate) but how effective it is in delivering what people need. With the exception of the densest part of the city - downtown – Windsor seems to be thriving indeed. How's that for New Urbanism irony?
The Great Cycling Pledge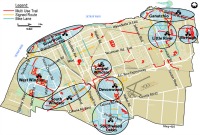 WindsorOntarioNews.com June 20 2016
We will now call this joint meeting of city and county council members to order. The topic: Creating more bicycle trails in Windsor and Essex County. Madam Chair: May I suggest that we create 100 new km of bicycle trails – some would be painted lines on the highway, others would be separated by bollards and others still would be off-road, not to be confused with sidewalks which, ahem, a great many cyclists already use. Councillor from Windsor: Doesn't that raise the question, and I'm not from the pro-car contingent, why spend a gazillion dollars on new bike trails when so many cyclists already use cement sidewalks that originally were designed for pedestrians? That way the city of Windsor might be able to go a ninth straight year without a tax increase. Madam chair: A very good point councillor, and one we will definitely submit to the budget committee. But, for sake of argument – and spending money – let's just say we will go ahead and build new trails, even though many of the cyclists won't probably be using them, preferring to ride on the sidewalk only a few feet away or on the pavement but on the opposite side of the street. Councillor from Essex County: Okay, madam chair, I know some people think me too much a fusspot about such things. But, I think, in the interest of natural justice, it should be said. And, really, it's not asking a lot. For each new kilometre of bike trail let's have a pledge from cyclists. One kilometre will equal 500 signatures. Cyclists will have to pledge that they will respect the rules of the road. This means riding on bike lanes and not sidewalks, signaling when they want to turn left or right and, yes, even being as nerdy as putting their left arm down and signaling they are stopping at a stop sign. Let's call the campaign: The Great Cycling Pledge.
Picture: City of Windsor official cycling trails map