---
BUILDINGS, HOMES & REAL ESTATE
---
Apts snapped up in no time for first major Aburg rental complex in decades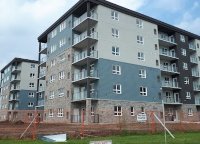 WindsorOntarioNews.com Sept. 20 2023
It's a testament to Amherstburg's aging population and underserviced rental market that apartments at Piroli Group Development's River's Edge apartments have almost leased out in no time. Construction began on the first 114 unit building on Front Rd. just north of the main town site in June of last year. Only months later more than half had been signed for. Today 92 per cent of apartments have been rented. "We had a really strong interest from the local community and units have rented exceptionally quickly, we're down to our last nine units which puts us at 92% rented," sales manager Danielle Grenier said. And this summer ground was broken on the second building, immediately north, "a near identical replica," Grenier said. Who are the renters? "Tenants are primarily retirees who are local to the area, or who are moving back to the area," she said. The first building opens Oct. 1 and the second is scheduled for Oct. 1 next year. Rents range from $1400 to $3100 depending on apartment size and views. "As you can expect units with river views garner higher rental prices," Grenier said. The development also dramatically changes the entrance to the town, located across the street from the Detroit River. It's also near to what at one time was the General Chemical plant. An environmental assessment was completed for a buffer between the two sites, the second now owned by Amherstburg Land Holdings; the plant has long been demolished and site cleaned up. For River's Edge tenants all utilities are included as well as washers and dryers and granite countertops. There's even a golf simulator room. The buildings are also across the road from the Amherstburg Yacht Club. Owner Rob Piroli told WON last year the investment adds a "much needed" niche to Amherstburg's housing stock. Grenier said the quick rentals show the town "needed additional rental units to serve its population."
---
Riverside Dr. residential tower would conform to next door Ford power plant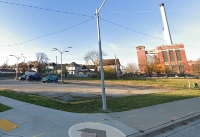 WindsorOntarioNews.com Sept. 5 2023
A 12-storey, 84-unit residential building would both fill a log vacant space (photo) on Riverside Dr. E. and represent a transition between industry on the west (the Ford power and East Windsor Cogeneration plants) and high rise residential to the east. The one-third acre site is an irregular shape between Belleview Ave. and Pratt Place. Called Riverside Horizons it's being developed by Wing On Li. Interestingly, the "design aesthetic," according to a report, is drawn from the Ford Powerhouse – red brick, fenestration (windows) and other architectural details. "The intent is to incorporate a similar brick style which is complimentary to The Ford Powerhouse, a neighbouring heritage building to the west," says the developer's consultant, Dillon. The tower would have 77 apartments and there would also be five two-storey townhomes on the ground floor along Riverside Dr. and two one-storey similar homes on Pratt Place, also complementing nearby existing houses. There would also be three floors of parking behind the townhomes with nine storeys of residences above. Driveways would be from Belleview and Pratt Place. Apartments would primarily face north and "limited" south facing windows and no balconies "which protects the privacy for adjacent" residential properties. The black "mullions" (window divisions) of the power plant will also be used. City planner Jim Abbs says the building helps create housing that is "in demand" and encourages a "pedestrian orientated cluster of residential, commercial and employment uses." The project still needs development committee and city council approval.
Photo: Google Street View
---
Detroit's Northland Mall being converted into a "city within a city"
WindsorOntarioNews.com August 17 2023
It was the first regional shopping center in the world when it opened in 1954. Northland Center in Southfield, one of Detroit's first suburbs on its northwest border, became a magnate for retail experts who flew in from all over the world to marvel as this new type of shopping complex. Developed by JL Hudson Co., which until that time had operated the third biggest department store in the world in downtown Detroit, it was a first attempt to corral the growing suburban shopper in post-war America. "There was really nothing like it, it was worldwide news when it opened," Detroit architect and author Bruce Kopytek said. The outdoor shopping center, anchored by Hudson's, was eventually enclosed into a mall and went bankrupt and became derelict, closing in 2015. Now the 160 acre site is being revitalized into Northland City Center, a "city within a city" that will feature 14 five-story apartment buildings and the conversion of the former three storey Hudson's building into an upscale "marketplace" featuring boutiques and food vendors. Kopytek, with Contour Companies - and author of a 550-page book on the history of Hudson's - is the project's lead architect. As many as 1500 apartments will be built and some 2500 people are expected to live in the village, with pocket parks, walking trails and a town square atmosphere with upscale restos and a multiplex cinema. Interestingly, the concept will return Northland to what was original architect Victor Gruen's "original vision back in place," Kopytek said. A boutique hotel may open on top of the signature red brick clad Hudson's building, which replaced the Norman Brick in the mammoth 25-storey downtown store. "The aesthetic goal is to make the (one time) shopping center area look very much like it did in 1954," Kopytek said. "The only thing we've toned down is anything that was not original to Gruen's vision," Kopytek said.
---
Two south Windsor projects add pizzazz
WindsorOntarioNews.com August 3 2023
Two interesting developments appear to be coming to Howard Avenue in south Windsor, one a striking four-storey mixed use building at the corner of Howard and Cabana, the other dozens of townhouse-style contemporary homes north off of Howard. Dior Homes is proposing the 18

-unit residential complex with a business office with 20 parking spaces. The southwest corner is surrounded by commercial, residential and institutional buildings including Roseland public school. Immediately across the street is Windsor Beauty Supply and diagonally across is a Rexall pharmacy. The lot has long been vacant. Businesses immediately south, including Nails & Co., will remain. City staff endorsed the project because it promotes "efficient use" of the space. And though residential buildings in the neighbourhood historically has been one or two storeys, this proposal is compatible with a four-storey mixed use being built just north on Howard. The project would "further promote a mix in housing types/options" in the area, says staff. Meanwhile, further north along Howard, on its west side, another project would see 14 buildings of two-storey adjoined housing at three addresses (10 with four units and three with eight) for a total of 64 homes. Vehicle access from one driveway off busy Howard, which raised no flags – "no anticipated traffic concerns" - would lead to the site. The proponent is Vitti Construction Ltd. The surrounding area is residential but the Cabana-Howard commercial intersection is south and Devonshire Mall and related commercial to the north. The city says the project supports "intensification and expands the range of dwelling types" in the area and "addresses the need for the city to provide 'missing middle' residential development." Senior planner Adam Szymczak said the city's development committee approved the project (as it did the Dior one) with a proviso during site plan review to "consider improving pedestrian connectivity within the development." City Council will ultimately approve.
Images: City of Windsor
---
Another Detroit rebirth: Michigan Central's once desolate Roosevelt Park
WindsorOntarioNews.com July 24 2023
Windsorites are familiar with the great hulking – and one time rotting - 18 storey building that greeted them as they cross the Ambassador Bridge into Detroit. The old Michigan Central Station, one of Detroit's most iconic example of "ruin porn," was purchased by Ford Motor Co. in 2018 and is about to reopen as a massive $90 million renovated automobility research hub. Immediately in front of it was another large equally underutilized space, Roosevelt Park. For decades motorists would drive-by, all but ignoring yet another empty and almost forbidding public area. Not anymore. The park has just undergone a $6 million makeover, transforming it from a passive no-man's-land to an activity hub. The City of Detroit, using federal funding, has rebuilt and enlarged the park from 9.5 to 13 acres, removing roads that crisscrossed and divided it and realigning one street around it. The park also links to the city's Southwest Trail, which in turn links to the city's 3.5 mile Riverwalk. The park now features an area for live musical events, a barbecue pit section, park and wall benches and swing benches. There are also "European-style" gardens. Jeff Klein, Detroit's deputy chief of landscape architecture, said the rebuild fits nicely into "the greater picture of what's going on up and down Michigan Avenue." This includes two new residential developments - The Corner on the site of the former Tiger Stadium, and the Perennial Apartments, now under construction. And a couple of blocks further east is the new upscale The Godfrey hotel, opening this summer. Roosevelt Park also helps stitch together the city's historic Corktown neighborhood to the east and Mexicantown to the west. "There's a ton of walkways and a lot of connectivity," Klein said. Besides horticultural gardens the city has planted numerous cherry trees. "I hope that we can create a cultural event at the park much like what you see in DC with their blossoms on the mall," he said.
Image: City of Detroit
---
City asked to fund retro sign evoking the historic image of Drouillard Road
WindsorOntarioNrews.com July 10 2023
What's the cost of a sign? More than $10,000 for a special type that will recreate a certain historic look for a new restaurant in Ford City aka Drouillard Rd. City of Windsor planning staff is recommending awarding half the cost of the retro "projecting wall sign" of the type that was commonly "supplied between 1920 to 1950," a report says. The four-by-four feet double-sided aluminum metal neon sign would be added to the new Sawyer's Craft Barbecue at the corner of Drouillard Rd. and Whelpton St. The applicant is well known designer and Ford City entrepreneur Shane Potvin and the money would come from the city's civic improvements grants programs. The city can cover 50 per cent of costs up to $30,000 for façade and storefront improvements. Potvin would also receive more than $3000 to assist in city applications for street encroachment and a "sign bylaw variance" or slightly larger than permitted sign ($2395) on the building's northwest side. Funding is not provided until all work is completed and inspected. City staff say the sign will also "help to draw interest to the intersection of Whelpton Street and Drouillard Rd. which is identified as a Neighbourhood Gateway area in the Ford City CIP (Community Improvement Plan)." Potvin would altogether receive just over $8600 in grants. A waiver is also recommended for 20 years for an ongoing encroachment fee amounting to $1860. "Owners are reluctant to pay for the installation of this type of sign," city staff say. (The sign encroaches 0.6 metres into the street's right-of-way.) Potvin, creative director of Potvin Design Co., is also chair of the Ford City BIA.
Image: City of Windsor
---
Two huge side-by-side central commercial sites up for sale
WindsorOntarioNews.com June 26 2023
It's not exactly a fire sale, instead just the opposite. Two very healthy blocks along Erie Street East are for sale in what is being considered rare property listings. One is 300 Erie St. E. where the "entire block" is for sale. That's 8.6 acres and almost 120,000 sq. ft. of industrial and commercial space. The seller locally is Re/Max Capital Diamond Realty partnered with Toronto's Ellington Real Estate to lure GTA buyers, who have been scooping up loads of commercial properties in Windsor over the last few years. The block offers leasing income of $933,000. Businesses include First Stop Services, document shredding company, Philip Fernandes Designs Inc., a home design firm, and the large Mental Health Connections (MHC) in a one-time Windsor Utilities building. Asking price: $13.9 million. The next big parcel for sale is right across the street to the east at 400 Erie St. This is a kind of half block, also handled by the same brokers. It's less than one acre with 25,000 sq. ft of industrial, office and restaurant with potential investment income almost $300,000 from nine leases. Businesses include law shop Colautti Landry and Bodega Wine Bar & Cellar. Asking: $2.76 million. Local broker Tammy Williams says 300 Erie is the biggest property's she sold. "Selling an entire block is pretty cool I think," she said. "I've never done anything like this in my real estate career." She says potential investors locally and in the GTA are kicking the tires.
Photo: Re/Max Capital Diamond Realty
---
Glassed-in French style cafe will bring Parisian elan to Ouellette Avenue
WindsorOntarioNews.com June 12 2023
A unique 100-year-old tudor style building on the edge of downtown Windsor is being converted in part to house a "European style" glassed-in café with a patio deck. The building at 691 Ouellette Ave. was likely originally a farmhouse, according to a city report, and used to house a law office but has been vacant several years. The proponent is a numbered company associated with realtor Rhys Trenhaile. The three-storey building is distinguished by steep gabled roofs, half-timbering, a part stucco façade, arched entryway and a bay window. The conversion will have residential and "live-work" spaces. Trenhaile says the café should be a new look for Windsor but is very common overseas – think of a Parisian boulevard café. He said the café would serve a number of purposes – take up the "massive dead space" in front of the building and serve as an entryway. It would also lead to a couple of artist studios which would create "synergy" with the café. "You can see a summer day with the big tree providing shade," he said. "Everybody's having a coffee, the artists can bring the artwork out." The conversion would also create foot traffic for neighbouring bars and restaurants including one of the city's most venerable restos next door. The building used to be home to one of Windsor's most prominent criminal defense lawyers, Andrew Bradie, who retired a few years ago. In summer the patio will have tables and chairs but in winter the space will provide "a walk" into the glassed-in café. Trenhaile said he wouldn't be opposed to alcohol being served in the evening with an earlier closing hour. Now he's in the process of obtaining a building permit, after which he thinks construction will be completed in six months. "It won't take us too long." He declined to give a reno dollar figure.
Image: Lassaline Planning Consultants Inc.
---
Condos proposed in part for longtime Ouellette Ave. executive building
WindsorOntarioNews.com June 29 2023
A developer is proposing to convert a longstanding executive-style office building to a combination of residences and business. The four-storey building at the corner of Ouellette Ave. and Shepherd St. used to house lawyer offices, including that of former Mayor Michael Hurst. The Ryan Michael Solcz Prof. Corp. wants to convert the early 1990s edifice to 10 condos on the top two floors, two commercial units on floors below – same as now - along with keeping more than 50 surface and underground parking spaces. The owner is an Ontario numbered company in care of Michael Cervi. City staff are recommending the change subject to a laundry list of conditions including to parking, accessibility and signage. The police have identified several "safety and security deficiencies" including more secure garage doors, shortening the time doors stay open to prevent "unauthorized individuals" gaining access and securing the east side along Dufferin Place which "exhibits signs of trespassing and loitering." A parking sign is "covered in graffiti" indicating "disorder that reduces feelings of safety." Moreover accessibility needs to be upgraded with at least two barrier free entrances including power doors and ramps.
Photo: Google Streetview
---
Aqua City inflatable waterpark would have been first in southwestern Ontario
WindsorOntarioNews.com May 12 2023
The Town of Essex recently turned thumbs down a proposal for a novel waterpark off Colchester Beach, the first of its kind in southwestern Ontario. By a vote of 5-2, on third reading, council sunk the plan because of resident concerns about parking, crowds and even the scenic view. Councillors who voted in favour said it often was a simple case of NIMBY among very local residents. The proposal by budding entrepreneur Samantha Tudorica, an accounting student at St. Clair College, for "Aqua City", would have seen a 100 by 100 sq. ft. inflatable island built between 100 and 150 feet offshore of Colchester Beach. (Photo shows a similar park elsewhere.) Customers would have swam out to the island, where there would have been a series of obstacle courses, swings, slides and trampolines. There would also have been a 10 by 10 sq. ft. pop-up tent on the shore where customers would pay, sign a waiver, and pick up their life jackets. Customers would have had to have been over five years of age and those five to 10 would have needed to be accompanied by an adult. About half the distance to the inflatable island would have been walkable. The town administration had approved the idea and there would have been no liability to the town, with Aqua City holding insurance. There would also have been no cost to Essex, and the town would have received 10 per cent of Aqua City's proceeds. Asked about safety, also a Council concern, Tudorica said, "we have highly certified staff, multiple lifeguards." The customer charge would have been $25 for an hour-and-a-half. Tudorica is now moving on and working with the town of Erieau on a similar idea. She said she has been "obsessed" with such an aquatic feature since travelling to one in Barrie a few years ago.
---
Two long vacant or underutilized properties slated for development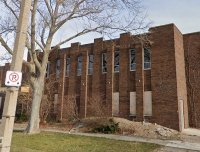 WindsorOntarioNews.com April 25 2023
Two major blocks of land, long underdeveloped or not developed at all, are being proposed for redevelopment. One is the dormant former C. G. DeSantis School (photo) and in later years the home of Canada South Science City. Redevelopment ideas for the late 1960s era two floor building have been kicked around for some time but have not come to fruition. At one time Westroy Assets Management had pitched the building for a new long term care facility. Now King Holdings, which owns Central Park Athletics at Grand Marais and Central Ave., wants to convert the 1.5-acre site, located on the near east side between downtown and Walkerville, for residential use, according to city planning documents. Meanwhile, on the far east side in Forest Glade, at the northwest corner of Forest Glade Dr. and Meadowbrook Lane, just east of Lauzon Pkwy. and next door to the Princess Auto store, a nine storey, 172-unit tower is being proposed for the almost three-acre site. The land, which prior to 2006 was used for agriculture, has since been a landscaped grass lot. The tower would front Forest Glade Drive with surface parking for 215 cars in the rear. City Council this week passed a zoning amendment to allow multi-storey residential use on the property. The applicant is Mike Sassine of FG Residences Inc.
Photo: Google Street View
---
I-696 bridge, an Herb Gray Parkway design influencer, getting a makeover
WindsorOntarioNews.com April 14 2023
When the $1.5 billion Herb Gray Parkway, (photo near left) built between 2011 and 2015, was being planned, a lot of concepts went into it – chief among them elongated tunnels which carry not just streets but nature trails and green spaces. One of the expressways cited as an influence was right across the river – Interstate 696 in suburban Detroit, the Walter Reuther. And three sets of bridges in particular. These are in Oak Park, originally designed some 40 years ago, and specifically widened to serve a religious community. Oak Park is the primary home of metro Detroit's Orthodox Jews. The highway running east and west north of 8 Mile Road bisects it. Religious law prevents operating motor vehicle on the Sabbath or holy days so transportation is by foot. But synagogues, schools, kosher food stories and other venues were scattered on both sides of the highway. So a decision was made to connect them by creating the Victoria Park Plaza (photo far left) overpass - 700 ft. wide. On top of the overpass are parkettes, a playground and parking lot. Now, as a result of drainage seeping between the overpass beams, the bridge will be entirely rebuilt in 2025 at a cost of $43 US million. Instead of box girders with just inches of separation allowing water to seep through and cause dangerous icicles to form in winter hanging from the tunnel roof, new slimmer I beams will be separated six feet apart, Aaron Mattis, MDOT bridge engineer says. "So, you're not going to see the phenomenon with the icicles forming," caused by the freeze-thaw cycle. There could be more amenities on top of the four feet soil overlay as well, such as sidewalks and a pavilion.
Photos: Google Satellite View and the Windsor Essex Mobility Group
---
Next step ahead for massive four tower, 640-unit Huron Church complex
WindsorOntarioNews.com March 24 2023
A massive residential complex that will fill in a long vacant field between University Shopping Centre and Assumption College high school would see four towers, one mixed-use building and possibly another two buildings. The initial four 10-storey buildings would create 640 rental apartments and eight commercial spaces. Vehicle access would be in two places from Huron Church Rd. and one from Tecumseh Rd. W. The developer is University Residential Land Corp., a company of London-based Westdell Development Corp., which has been buying up and developing existing and long dormant properties at the nexus of Huron Church Rd. and Tecumseh Rd W. This includes the existing Ambassador Shopping Centre and the new West Gate Shopping Centre immediately across the street where the new Giant Tiger store is located. News of the development was originally broken by Windsor Business newsmagazine. Westdell purchased the properties in 2020 with the aim of developing or enhancing the four intersection corners. Westdell also plans to open up University Shopping Centre to the small mall it used to be. City staff are recommending approval in a report going to the city's development committee in early April. The two buildings furthest from Huron Churh would be constructed first. Baird Architecture & Engineering says the buildings would be "weighted towards the middle of the site" to reduce shadowing adjacent properties and to create a common park. The two buildings closest to Huron Church would be set back 30 metres from the busy street to reduce sound for tenants. The buildings would also be oriented on an east-west axis to minimize sound and "focus views away from the road traffic."
Image: City of Windsor
---
EC Row Avenue closure for NextStar battery plant draws area business ire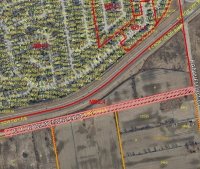 WindsorOntarioNews.com March 11 2023
The city's development committee is recommending the closure of most of EC Row Ave East because of the construction of the NextStar EV battery plant, despite pointed complaints from area businesses. The road portion leads from Anchor Dr. to Banwell Rd., about 900 metres, and is one of two ways accessing the Twin Oaks business park, immediately west of NextStar, the other being Lauzon Pkwy. on the west. The road bisects the plant's footprint, immediately south of the expressway (photo), on land "essential" for the plant's construction, says a city report. The plant, a blockbuster economic development for the city, would create 2500 jobs and put Windsor at the forefront of EV battery manufacturing in North America. The road would also interfere with a future interchange proposed for Banwell at EC Row Expressway. The road has been temporarily closed since last summer. The decision also ends Transit Windsor's Lauzon 10 bus service through the business park, which had a "low ridership." Jamieson Laboratories said the closure would "detour our trucks significantly" and increased accidents at Lauzon could disrupt just-in-time delivery. And there is "significant" traffic backups during peak hours turning from Lauzon Pkwy. Victory Reproductive Care said NextStar construction vehicles "barrel down the road at dangerous speeds" and the Lauzon exit is "very dangerous" partly due to a hill. Trillium Machine said there is also a "cluster" of rush hour traffic at the west intersection and called the service road closure "ridiculous." The city replied that the Lauzon intersection has less than one accident per month and there have never been blocked intersections and says it is considering extending nearby Twin Oaks Dr. with a new truck entrance. It also says its engineering department "has taken necessary steps" to limit construction truck speed and dirt.
Image: City of Windsor
---
City says it's well on the way to fulfilling province's homes request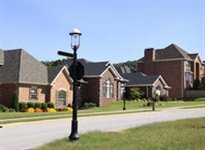 WindsorOntarioNews.com February 25 2023
The City of Windsor will indeed pledge to build 13,000 homes, as per the government of Ontario's request. Ontario housing minster Steve Clark has asked the city to set this target as part of the province's goal of creating 1.5 million new units in the next decade. The province has made the request to 29 "large and fast-growing" communities. No prob, says a city report. "Windsor is currently seeing a record increase in development and is working to process applications as efficiently as possible to help manage new growth and support the provincial goal of increasing housing," it says. "Homes" in this case is everything from traditional detached, semi-detached and townhouses to additional dwellings units (ADU's) like granny flats attached to a house or garage, as well as higher density multi-unit apartment buildings. The city says many of the province's suggested methods to encourage housing are "already in place" such as "expediting housing in priority areas, streamlining municipal approval processes, or promoting gentle intensification." One example is the city adding 1000 hectares for new housing in commercial areas "where it was not previously permitted." It also waived the requirement for parking for ADU's in older core areas. Including new buildings, adaptive re-use and upper storey conversions Windsor has already approved 457 units in downtown alone. There's also a development charge exemption for units in older core areas. The planning department now has a digital application process for building permits and site plan control which "benefits customers." There also is brownfield development – "potentially" 2104 units - and four Community Improvement Plan (CIP) tax incentives areas totallying 51 new units to date. And the new Sandwich South lands near the airoprt add 730 hectares for residential.
---
Tecumseh "Hamlet" plan would see massive residential, commercial
WindsorOntarioNews.com February 11 2023
One of the largest developments in Tecumseh's recent history is a mammoth residential and commercial lands proposal that takes advantage of both the new Next Star EV battery plant and the regional or "mega" hospital – both on Windsor's far east side - abutting Tecumseh - and both of which should be completed or under construction this decade. Called the Tecumseh Hamlet Settlement Area it would be bordered by County Rd. 22 (EC Row) on the north, Manning Rd. on the east, Banwell Rd. on the west and County Rd. 42 to the south. The lands are largely now farm fields with some natural heritage. The plan would integrate massive housing and retail with natural surroundings. A goal is to "deliver a complete, walkable and diverse community, comprising sustainable neighbourhoods through the provision of a wide variety of land uses and building types, supported and enhanced by quality private development and public spaces and amenities," the town says. Public meetings have already been held. Vista Academy secondary school already exists at the corner of County Rd. 42 and Banwell Rd. Expect a combination of high density (up to six storey) buildings, mid density (four storeys) and low density housing, with a sprinkle of retail. There would be a new connection to Manning Rd. and road connections to Lesperance Rd. and surrounding neighbourhoods. A hamlet town centre would have a commercial focus with civic spaces and parks. Initial development – a "secondary plan" - would be concentrated closer to Banwell Rd. The Next Star plant will be located immediately across Banwell Rd. at the southeast corner of Banwell and E.C. Row.
Image: Town of tecumseh
---
City acquiring the former Abars tavern site might displace other "priorities"
WindsorOntarioNews.com January 28 2023
If the city was to acquire the former Abars land, presumably for park purposes, it would have to buy four separate properties owned by two landowners and the cost would be more than the city has on hand for such purchases. The once legendary tavern was torn down in 2016. It sat at the foot of Lauzon Rd. at Rjverside Dr. Councillor Jo-Anne Gignac had sought city staff advice on how best to move forward on acquiring the property. The four properties are all now empty of buildings. Abars was the property furthest west. And next to it was former Edgewater Marine, and east of that several residential properties (photo). The Abars and two other properties are owned by Central McKinlay Intl. Ltd., a Brampton-based firm. The property to the east is owned by an Ontario numbered company. The report says the city can purchase private properties through "negotiated purchase" or expropriation "to provide parkland for the city." The city has established an approximate value for the site but is not disclosing it publically. Negotiation would be the preferred route but if expropriation takes place "significant" additional costs would also be incurred, also not disclosed. The city has a fund of only $575,000 and "no additional funding identified within the 10-year Capital Plan to address such acquisitions." Should the city want to acquire the property it would have to develop a "funding strategy." This in turn could displace "other capital budget priorities."
Photo: City of Windsor
---
District Detroit to transform Comerica, Fox Theatre and Little Caesars axis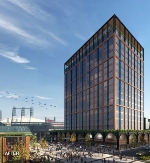 WindsorOntarioNews.com December 19 2022
It's called The District Detroit. And it would transform an area that many Canadians know well – the axis linking Comerica Park, the Fox Theatre and Little Caesars Arena. Olympia Development, the real estate arm of the Illitch organization, which owns the Detroit Tigers and Detroit Red Wings, as well as the Fox and several neighbouring buildings, wants to redevelop this site with several restored historic buildings and brand new ones. Together with developer Related Companies, they would create massive new office, retail, hotel and affordable housing over 10 properties. Six new buildings would be constructed including one on the parking lot between Comerica Park and Woodward Ave (image). Four buildings would be renovated. One new building is the Detroit Center for Innovation, a collaboration with the University of Michigan. The District would fuse office, residential and entertainment creating European style walkable city blocks teeming with restaurants, bars and retail. The Cass & Henry development alone would restore six properties on a single block. The Eddystone Building on Park Ave. just north of the Arena has already been completed. There would be a new office building immediately north of the Fox. And across I-75 a new hotel south of Little Caesars. Other "transformative" office buildings would be built in the immediate area on or off Woodward Ave. The first to be constructed would be 2200 Woodward on the Comerica site. But before work begins Olympia is seeking major tax incentives. Nevertheless, the organization says financial benefits will accrue with $1 billion to the State of Michigan, $700 million to the City of Detroit and $440 million to other taxing authorities. More than 5000 jobs and $500 million in wages would be generated annually. Community groups such as the Detroit People's Platform have questioned the incentives, saying that Illitch has been slow to develop earlier properties and will benefit hugely by keeping the bulk of the growing tax increases over the 35-year period. And Detroit News columnist Bankhole Thompson said the Arena, completed several years ago, received more than $300 million in tax subsidies, "a significant chunk when you consider all of the problems that project faced including not meeting its goal of making sure 51% of work done on site was by Detroiters."
Image: Olympia Development
---
Mary Lambros will redevelop her Walkerville properties on own terms
WindsorOntarioNews.com Dec. 5 2022
The woman who owns key property on Wyandotte Street East is biding her time on her own terms on what she plans to do with two of those key buildings. Mary Lambros, a well-known entrepreneur of several businesses including Integrity Group financial planning, owns several properties in the heart of the ever-growing Walkerville business district, one of Windsor's most flourishing. These are the Olde Walkerville Theatre, where she invested $1 million on renovations, the former Monarch Mattress building and adjacent parking lot - both across the street from the theatre - and next door to the theatre, the former NOLA's - A Taste of New Orleans, which closed at the end of a five-year lease Nov. 30. While the Olde Walkerville Theatre is back on track after the Covid shut down, the two storey Monarch building remains empty 12 years after Lambros bought it. "Everybody wants to know what's happening at the Monarch Building," Lambros said before departing on a six week trip to Australia. "It's not for public knowledge yet." Lambros at one time operated Lorelie's Bistro which, under different management, became NOLA'S (check out story in the next issue of Windsor Business newsmagazine). That venue is now empty while being cleaned up and readied for the next tenants. "Everything's on hold until Mary gets back," she said. Lambros operated Lorelei's for eight years until her husband, Andy, took ill and died. Meanwhile, Lambros is biding her time with the Monarch building where there is room for two retail outlets on the ground floor and lofts upstairs. "I haven't rented out the upstairs yet because I didn't want to deal with people in and out of the building at this point because I have enough to deal with." But she doesn't have to rent out any of those buildings if she doesn't want to. "I'm in a very good financial position to be able to sit on it for a year if I want to and I could flip it in two weeks if I wanted to."
Photo: Google Street View shows Monarch building on right, adjacent parking lot, Olde Walkerville Theatre and former NOLA's on left.
---
Basketball team status justifies more than $2400 loss per game, city says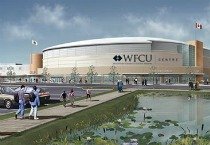 WindsorOntarioNews.com Nov. 21 2022
The Windsor Express basketball club is renewing its lease with the city from 2023-2025 at the WFCU Centre. The team has been playing there since the 2012-13 season. Average attendance has continued to increase despite two seasons when play was interrupted by the Covid pandemic. In 2012-13 attendance averaged just 644 but last year, in an abridged season, it was 1224. However, only 43 per cent of attendance paid, the rest had complimentary tickets – 9062 of 15,915. During the first season 77 per cent of tickets were paid. Paid tickets have decreased yearly, with the least number in 2018-19 at 31 per cent. The new three-year term will provide an option of another three years, should city council approve. The city charges $3500 to the Express per game which includes floor conversion, event staff and game day box office. The city derives a $1.05 ticket surcharge. The City has the right to request a change of up to two games per season for major events. The team has priority for scheduling playoff games subject to already scheduled events and Windsor Spitfires playoff hockey games. The city splits concession revenue 50 per cent with the team. In the 2021-2022 season the city lost a net $31,683.34 or $2,437.18 per game. Similar losses are projected over the next three years. The city would need to charge $7200 to recover all direct costs. While the city loses money it justifies the cost by the "benefits related to employment and recreational opportunities for the community that are associated with the team's operations." As well, "a professional level sports team enhances the sense of community experienced by the residents of Windsor, provides family-friendly opportunities and helps to attract people from Essex County and beyond to attend events at the WFCU Centre."
---
Farhi tower would be a blockbuster signature building for downtown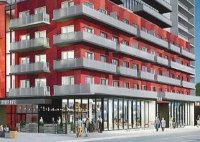 WindsorOntarioNews.com October 6 2022
A long vacant site in the heart of downtown would undergo a massive change that will add a signature tower to the Windsor waterfront. It's the latest plan by London-based Farhi Holdings for Windsor, among land investments met with some skepticism, including the media, when the developer sought to invest in the city over the past decade. The lot is at the southwest corner of Riverside Dr. W and Janette Ave. The 28-storey building would contain 166 residential units and 187 parking spaces in an underground garage. "The proposed height of 85.5 metres (280 ft.) for the residential development offers a higher density built form to accommodate growth in a strategic and desirable area of the City of Windsor," says a planning report. Artist renderings show a red coloured five-storey base topped by a glass tower. It would be one of two towers located on either side of Janette, where there currently are vacant lots. Immediately across the street is the Caron Ave. Pumping Station, to the west Dieppe Tower and the CBC building. To the east Waterpark Place Condominiums and then city properties like the Art Gallery of Windsor and Adventure Bay Family Water Park. "The requested Multiple Dwelling development promotes cost-effective development by redeveloping an under-utilized vacant site," a city report says. The tower is virtually within the city core, providing much needed residential space and adding to a downtown population that could easily walk to the downtown retail and entertaiment district. Says the city, "The proposed development will help to encourage a pedestrian orientated cluster of residential, commercial and employment uses." The zoning change, passed by the city's development committee, must now go before city council. Other Farhi Holdings include the massive redevelopement of former GM Trim Plant lands on Lauzon Rd. with 101-unit single family upscale homes, seven six-storey condo-style rental buildings and two commercial parcels of almost three acres available next to the WFCU Centre. Farhi also owns the 333 Riverside DR. W. - the Double Tree by Hilton tower - and 369 Riverside Dr. W, a remaining riverfront undeveloped 31,000 sq. ft. lot across Church St. from the Art Gallery of Windsor.
Image: City of Windsor
---
City gives more than $300K for former problem-plagued near eastside site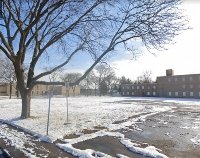 WindsorOntarioNews.com Sept. 23 2022
A residential complex is being planned for Windsor's underdeveloped near east side on what had been the home of a major "eyesore." But first the developer of the vacant lot at 669 Tuscarora St. has been notified he will be receiving public funding to carry out an environmental review and remediation, along with a tax break for several years on additional city taxes from the building's increased assessment. The almost one-acre site used to hold the City of Windsor's Social Services building, finally demolished in 2020. It's on the corner of Louis Ave. about one block south of Wyandotte St. "on the periphery" of downtown, says a city report. At one time the land contained a school and over a century ago residential homes. The developer, a numbered company, is owned by Rio Aiello of Dior Homes. He wants to construct a three-storey 27-unit residential building. He has already received site plan approval. The infill development qualifies for Community Improvement Plan (CIP) "brownfield" assistance because it is helping rehabilitate an older area and provide new housing. The property will receive a combination of environmental study grant, tax assistance and brownfield redevelopment grants for a total of just over $313,000. The former social services building was abandoned in 2005, and in years since became the site of voluminous graffiti, vagrancy, prostitution and drug use. Fed-up neighbours in 2017 organized a petition to have the city take action on it. But a city building department official said the city had no power to order demolition unless the structure was physically dangerous, which it wasn't.
Photo: Google Street View
---
Funds to add second floor apartments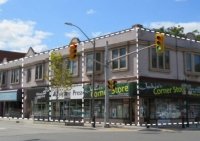 WindsorOntarioNews.com Sept. 8 2022
The city will offer funding so that more apartments can be created on top of local storefronts and other businesses. City council this week passed the change. It will provide a $2500 grant to property owners for every new residential unit up to $50,000 per property. This fits with the city's increase emphasis on resuscitating and injecting energy into older neighbourhoods as well as community "densification." As well, the city will provide a 100 per cent grant to pay for increased property taxes as a result of building improvements in local business districts. It's designed to "encourage the redevelopment of vacant or underutilized property." Finally, the city will expand the areas of business disticts under its so-called Main Streets initiative so that side streets, for example, are also eligible for incentives. The idea is to bolster areas that "would have a positive impact on supporting the Main Street and surrounding neighbourhood." The city already has $1.2 million allotted for grants. Up to now the city has allocated funds for "façade improvements." A minimum $3000 is for beautification like replacement of signage, lighting, awnings, cleaning and painting, removing security bars. And up to $30,000 for restoration (repointing, restoring original windows and doors, accessibility) and replacement of windows and doors lost or deteriorated beyond repair. The city matches 50 per cent of costs. Up to $60,000 can be given for a building with multiple storefronts. Repairs can also be for the side and rear of buildings that are "visible from an adjacent street, public right-of-way or park and as long as the storefront/facade facing the Main Street is improved at the same time."
Photo: City of Windsor