---
LOCAL TOURIST / TRANSPORTATION
---
Navigating the city's worst railway crossing may just get a little easier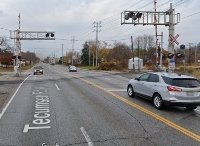 WindsorOntarioNews.com Nov 20 2023
Perhaps the city's most exasperating rail crossing is that of Tecumseh Rd. W. near Crawford Ave. But there's a solution, filed under "intelligent transportation system." City staff, responding to a question from Councillor Fabio Costante, says an advanced alert system, pegged at $80-$90,000, could solve the problem of eastbound motorists not knowing when a train is crossing busy Tecumseh Rd. on the city's near west side. That's because of the curve after Crawford. "Geometric design of the roadway to eastbound travellers from Crawford Avenue to Janette Avenue prevents drivers from having a clear line of sight to the grade crossings until well after they have cleared the Tecumseh Road and Crawford Avenue intersection," the report says. Both Canadian Pacific Railway (CPR) and Essex Terminal Railway (ETR) have numerous shunting there and can bring motor traffic "to a standstill." But a solution is at hand. Sensors can be placed at the crossing. When trains cross information can be relayed to a variable message board – "or a static sign with flasher" – to advise motorists a train is blocking the route and to select alterative routes. ETR has agreed in principle to the plan and the city is awaiting word from CPR. "Legal agreements may be needed in both instances." One positive safety feature is it would reduce motorists making U-turns "often conflicting with other traffic." But more trucks could detour north to Wyandotte St, an allowable truck route with return traffic to Tecumseh Rd. via Ouellette (during day time hours) and Howard Ave., therefore increasing truck traffic downtown.
Photo: Google Street View
---
No new Via trains "below Toronto"
WindsorOntarioNews.com Nov 5 2023
You'll still have to travel as far as Toronto if you want to ride on Via Rail Canada's new futuristic Siemens' trains. This despite a press release in September giving the impression the trains might be in service on the London route. The company announced an extra departure six days a week, both ways, between the Forest City and the Big Smoke, which began in late October. "The ongoing progressive introduction of VIA Rail's 32 new trainsets is already yielding positive results, as recent increases in equipment availability, coupled with intense recruitment and training efforts, are now allowing us to reintroduce these high-demand frequencies," Via president Mario Péloquin said. But a Via Rail customer rep said none of the new trainsets are in service "below Toronto." The company began introducing the trains last year to replace its decades-old equipment. Meanwhile the company has also announced a $25 million upgrade to the London station, "one of the busiest" in its network. Exterior and some hidden work like structural have been completed. Still to come are interior upgrades and passenger platforms that will make the station more accessible to people in wheelchairs. "The new platforms will meet the latest accessibility standards and new doors and paths giving full accessibility access into the building have already been upgraded," the company said.
---
New crosswalks, bike detection signals, part of $4 million spend
WindsorOntarioNews.com October 17 2023
The City of Windsor is working on a new concept for a "sustainable neighbourhood" in Sandwich South "where active transportation facilities and transit are key components." The goal is part of an update on the city's "active transportation" master plan, meaning routes and trails for pedestrians and cyclists and other forms of non-motorized personal transportation. Altogether Windsor has spent some $4 million since 2022. This includes a total of 20 km on painted bike lanes, multiuse and park trails and cycle tracks. In addition 29 sidewalk patios have been approved, 11 new traffic signals, "with bike detection." As well, eight new pedestrian crossovers have been installed on various streets. The city also extended its e-scooter and e-bike share with Bird Canada adding 100 e-bikes to its fleet of 450 e-scooters. A draft bike parking policy was created, some $1.5 million budgeted for trail and bus shelter maintenance. Transit Windsor saw an increase of two million riders - or 5.5 million – since 2019. "By continuing to encourage and support active transportation initiatives, the City can create a healthier, more liveable and sustainable place for its residents and for visitors," a report to Windsor's transportation committee says.
---
Fall adventure as close as 'Tilbilly'
WindsorOntarioNews.com October 4 2023
Want fall fun? There are plenty of ways to get into the autumn spirit through traditional day trips that combine family adventure with the great outdoors. These would be southwestern Ontario adventure farms. Like the Tilbilly Halloween Adventure Farm in Tilbury (photo), a 50-acre farm run by the Demers family. "We understand that many children have not had a chance to experience life on the farm," the family says. "We offer a unique touch that includes blend of farming and fun activities, that helps to have a greater appreciation for plants, living things, farming and the outdoors (providing) knowledge on self sustenance and where food actually comes from." The family has a corn maze, offers pumpkin picking, animal visits (chickens, goats, rabbits, ducks, cats), hayrides and a haunted house. Up near Sarnia there's Korny Korners Farm, owned by the Thurston family since the 19th century. They offer a farm market with "our very own farm fresh spray free, anti-biotic and hormone free beef and pork" and seasonal produce, the family says. Check out everything from a trike and tractor track to a straw mountain to petting animals - and new this year – a giant jumping pillow. There's also a hay ride to the pumpkin patch where visitors get their own free pumpkin. And up near London at Clovermead in Aylmer, families can find a bee train ride, barrel-of-fun ride and tractor ride. There are open food locations, a weekday fall fest and Saturday pumpkin festival. "There are bushels of family fun on our Adventure Farm!" Clovermead exclaims.
---
"Glamping" arrives in Essex County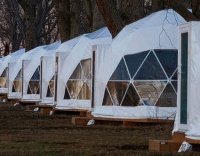 WindsorOntarioNews.com Sept. 21 2023
Lungovita means long life. And the owners of the Lungovita Beach Retreat in Oxley appear to be off and running on what could be many years of operating southwestern Ontario's first major rural "glamping" spa. The 16-acre property for years was Caboto Park, the campground for Windsor's Caboto Club. But the club sold the property and it was purchased for more than $2 million by a group including David Haas and Andrew Facca, both of whom have had long histories in the local spiritual and wellness fields. Facca produced the 2009 film Voyage to Betterment, which had a local run, and in the late 1990s opened the organic restaurant The Hip Rose which became the Treehouse Bar and Grill, currently run by David Haas and known as Treehouse. Haas says as Lungovita grows, the owners expect to turn it into a "wellness centre." Yoga is offered weekends as well as Thai Massage. Day passes are also available. The campground offers geodesic domes including electricity and heat. Bell tents can also be rented. The resort stays open year-round though tents are available only until Oct. 31. Haas calls the rural bucolic setting perfect for "getting back to nature" and there are hot tubs and cedar barrel saunas, bonfire pits and "meditation-seating" chairs and benches. There's also lakefront hammocks, kayaking, 50 Novelty Cruising Bikes – perfect for touring adjacent wine country. Guests must be at least 16 years of age. Facca, a world traveller who has spent time at spiritual retreats in places like Arizona and Sardinia, has said Lungovita is beyond simply a weekend getaway but a retreat that can include "spiritual healing." Haas said the fact the owners were able to buy such an ideal lakefront property in Essex County "was amazing...Caboto Park was a perfect spot to do what were doing because we had the proper zoning, and we had a lot of the infrastructure." Haas said that in the short time since it has been open the resort has been full about 80 per cent of the time, attracting locals but also guests from as far away as Toronto and Michigan.
Photo: Lungovita Beach Retreat
---
"Protected" intersection aims to keep pedestrians and cyclists safer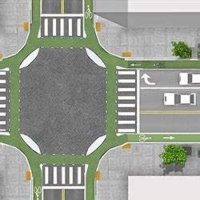 WindsorOntarioNews.com Sept. 7 2023
In Toronto, a "Dutch-style" intersection aims to make crossing for cars, cyclists and pedestrians a whole lot safer. The under-construction intersection near the University of Toronto at Bloor and St. George streets will see what is essentially a typical four way intersection expanded outwards with separate lanes for cyclist and motorists. Zebra-style crosswalks, like at present, will be extended out the most but further from the corner than traditional crosswalks and therefore shorter to cross. Between them and motor traffic will be cycling lanes. Right turning drivers will therefore have a better view of both cyclists and pedestrians. To the Dutch they're known as "protected" intersections. The Toronto intersection redo is especially poignant since a cyclist was killed there in 2018. According to the Toronto Star cities with these intersections report significantly lower accidents. A New York study found such intersections even safer than ones with dedicated bike signals and turn lanes. San Francisco reported almost 100 per cent of drivers turning at speeds at or below the speed limit. Eighty-five per cent of cyclists and 55 per cent of pedestrians felt safer. "One of the biggest determinants of road safety, particularly for vulnerable road users, is whether drivers can see them," Benjamin Wolfe, an assistant professor of psychology at the University of Toronto Mississauga and a director at the Applied Perception and Psychophysics Laboratory said. "So, building intersections such that drivers are more likely to see people using them is going to keep people safer." The design differs from typical North American intersections which are anto-centric.
---
New exhibits for Shedd Aquarium
WindsorOntarioNews.com August 24 2023
Chicago's renowned Shedd Aquarium has announced several major renovations as it gears up for its 100th anniversary in 2030. Chief among these is a 40-foot Caribbean Tunnel where visitors can walk "through" a warm saltwater environment and look at species such as blacktip reef sharks, goliath grouper fish and spotted eagle rays, considered a near-threatened species. Renos to the Amazon Rising gallery also will bring visitors closer to the amazing aquatic creatures. "We're providing this greater habitat space, but at the same time, designing it in a way that we're going to be able to bring those giant fish right up to the guest while feeding them and they can see these huge fish just gulping their food at the surface," Andrew Pulver, VP of animal care, said. Meanwhile the new Whalefall exhibit will display the environment that forms at the bottom of the seafloor when a whale dies. "We'll have this rib cage of a whale with food that we are providing for really cool big, giant crabs, and to be able to up close see how that process would happen in nature and connect the guests to the fact that this is a natural process," Pulver told the Chicago Tribune. The $500 million expansion of the aquarium, on Lake Michigan, will be one of the biggest ever for any Chicago museum. The whole focus is on "animals first," Pulver said. "For the animals, these changes are going to be fantastic. It really also helps the animal care team so they have the greater space to access and work with the animals, and then that allows us for greater flexibility in developing new care techniques."
---
Review: As a resort Collingwood just a little underwhelming
By Ron Stang, WON.com publisher
WindsorOntarioNews.com August 11 2023
Collingwood is a pleasant enough community nestled in the southeast corner of Georgian Bay. The resort town has long been associated with the Blue Mountains ski resorts. But that's in winter. In summer those numerous ski trails are vacant. But the Blue Mountains Resort Village, at their base, remains vibrant if not overly so. And that may be what ails Collingwood, only several kilometres to the east. The town's main street HurOntario is a fine display of classic Ontario Victorian era architecture, capped by its ringing bell tower. Unlike some other towns the storefronts are full with many curiosity and antique shops. The problem is lack of pedestrians – at least on our three-day mid-week visit – and amenities like bars and restos. HurOntario has some but they're hard to find. We had drinks and a quick bite at 1858 Caesar Bar, an innovative home grown cocktail lounge (they want to franchise) specializing in a vast array of Casears and Bloody Marys – they even sell their own elixirs. But it wasn't busy at dinner hour and only one resto up the street was. This is early August in a resort community and summer has not yet ended, though it seemed to have. The town touts its wide waterfront, topped by its famous grain elevator, a local motif. But there are absolutely no bars or restaurants that line it, a glaring omission (and we criticize Windsor for only having a couple of such places). Independent restos and mom-and-pops were largely nonexistent and we were forced to eat at the same chains you'd find in suburban Windsor. We soon discovered the apparent reason downtown is vacant - everyone heads to the faux Blue Mountains Resort Village, with every manner of restaurant, bar and coffee shop - a tourist paradise which visitors swarm to like bears to honey. Try finding a parking space during the day! To the west are the picturesque communities of Thornberry and Meaford. To the immediate east is famed honky tonk Wasaga Beach, a summer resort extraordinaire. Further north is Midland, a pleasant discovery with its cafes and park lined waterfront. About 45 minutes east is Barrie, a bustling city of 150,000 and a commuting town to Toronto. Its massive park lined waterfont is rimmed by condo towers and famed geyser-like fountain. But Collingwood itself is a little underwhelming.
---
GHIB construction update: more than 80 cables in place, two dozen buildings well underway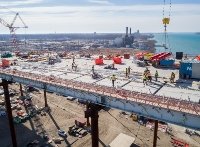 WindsorOntarioNews.com July 25 2023
The Gordie Howe International Bridge (GHIB) is indeed taking shape, so much so that it's starting to actually look like a bridge as its Canadian and American side decks start building out across the river. In fact, it seems as if both sides are constructed in synchronicity or at exactly the same time. How is this happening? "To achieve synchronicity of construction, Bridging North America (the private sector contractor consortium) has a dedicated bridge director responsible for overseeing construction of the Gordie Howe International Bridge on both sides of the border," GHIB communications director Tara Carson said. "The bridge director ensures teams on both sides of the project undertake activities as per the technical design and monitors progress ensuring teams are working collaboratively towards connecting the bridge deck in the middle over the Detroit River." As for the pace of construction the two bridge towers have now joined together at their apexes "and continue to climb as single pylons," Carson said. Both towers are now more than 200 metres (656 ft.) and will continue to rise to 220 metres (722 ft.) "Anchor boxes," the white cylindrical shapes you can see even some distance on the bridge deck, "continue to be installed," she said. The boxes anchor the white cables to the towers. Some 42 cables have now been installed on the Canadian aide and 40 on the US side, so pedants will point out a slight discrepancy! Otherwise construction continues with girder installation, steel erection and pre-cast panel placement. At the Canadian Port of Entry (POE), where Customs is located, construction on all 11 buildings is "well underway," Carson said. Customs' primary inspection lane construction is continuing along with work on the toll building and canopy. There are 13 buildings on the US side. On average there are 35 people working on the bridge decks every day, Carson said. They access the deck by walking up 200 flights of stairs or use a temporary elevator. The bridge is still scheduled for a late 2024 opening and when finished will be the longest cable-stayed bridge in North America.
Photo: GHIB project
---
Detroit to combine bus and train stations in "intermodal" terminal
WindsorOntarioNews.com July 11 2023
Detroit will no longer have separate bus and train stations. Instead these will be combined into an "intermodal" terminal north of downtown just off Woodward Ave. The terminal is still in the planning stages and a timeline shows completion by 2026. The project essentially expands the existing Amtrak train station south to a new bus terminal at Woodward and Baltimore St. The current Greyhound terminal just off the Lodge freeway west of downtown dates from the early 1990s and needs "major remodeling," says Michael Frezell of the Michigan Dept. of Transportation (MDOT), which owns it. "A new facility will allow for a combined station for Amtrak, local transit, and intercity bus, thus providing more connectivity between modes." The department is developing an RFP and initial public meetings are being held this month. No final dollar figure has been set but $10 million will come from a federal grant, the rest from the state. The terminal would be used by Greyhound, Indian Trails, Miller Transportation, and Barons Bus. The idea is to create a one-stop transportation hub for bus and train passengers, connecting intercity services to city buses and the Woodward Ave. QLINE streetcar, which runs south to downtown. The terminal would be about three miles from the central business district in what's known as the New Center neighbourhood, just beyond Wayne State University. Meanwhile the existing train station will get upgraded platforms and the new bus station would be connected to Amtrak by a tunnel under the tracks. Another goal of the terminal is to build "Transit-Oriented Development (TOD)" a real estate term to attract private investment to an area with easy transit links. Just south of New Center, which has been slow to see urban revitalization, is the burgeoning Midtown neighbourhood.
Image: MDOT
---
Unlike elsewhere local public has no fear of losing bus terminals
WindsorOntarioNews.com June 27 2023
Windsor and Detroit commuters can breathe a sign of relief that their transit terminals are publically-owned. Otherwise the terminals might be on the selling block because the private bus company that owns them wants to redevelop for more lucrative purposes. Such has been the case in American cities like Louisville and Cincinnati. And now the Chicago Greyhound terminal on the edge of the downtown Loop is threatened. Greyhound's owner, European-based Flixbus, has been selling off the terminals. Flixbus has been making rapid inroads into the North American bus market and now operates two trips daily between Windsor and Toronto but not from the downtown terminal. Despite those US cities' sizes there have been no alternative terminals and now buses depart curbside or at remote shopping plazas. In Cincinnati the "terminal" is now more than 10 miles from downtown. According to the Chicago Sun-Times "Greyhound lost ownership of 33 of its stations two years ago when the company was sold to Germany-based FlixBus. Greyhound's properties were sold separately last December to private equity group Twenty Lake Holdings, owned by Alden Global Capital, and the stations have been sold one by one." In Windsor the downtown terminal opened in 2007 through a Transit Windsor public-private partnership including then Greyhound Canada. Meanwhile in Detroit, the Greyhound terminal at Sixth and Howard streets just west of the Lodge Freeway and just outside of the downtown core in the Corktown neighbourhood, is owned by the Michigan Department of Transportation (MDOT). Transit Windsor director Tyson Cragg confirmed the city's "full" terminal ownership. An MDOT rep also said his department owns the facility as well as stations in Southfield and Pontiac.
Photo: Wikipedia
---
Detroit building a bus terminal out of an historic State Fair building
WindsorOntarioNews.com June 13 2023
Detroit is converting part of its historic former State Fairgrounds into a large transit terminal that will also likely see restaurant and retail and providing a measure of indoor comfort to thousands of bus riders who will use it daily. It replaces what was essentially a local bus stop at the corner of Woodward and 8 Mile Rd. - the city-suburban boundary – where many downtown buses terminate but also is enroute for suburban buses. It's called the State Fair Transit Center, with construction well underway and an April 2024 opening date. The building, the former Dairy Cattle Barn, has been partly gutted and is being refitted for retail, lounges, restrooms and a ticket office. That wasn't the original plan. But community reaction to a smaller more contemporary building called for preservation of the historic site. "Obviously a lot of Detroiters and people in the surrounding community remember going to the state fairgrounds – really fond memories," Detroit Building Dept. head Tyrone Clifton said. "So really and truly the community wanted some form of adaptive reuse, we don't want to lose all of our culture." But it will be more expensive - $31.5 million. The 52,000 sq. ft. building was constructed in 1926 and has steel columns and frames. Large windows will be punched out, interior spaces created. The "portico" – a kind of archway - of what used to be an equestrian coliseum next door, will be saved as a gateway. Six bus bays will be for Detroit Dept. of Transportation (DDOT) buses and two for Smart buses, the suburban line. Officials expect users to double at the hub, partly because bus access will be improved as well as connections to adjoining retail like that Gateway Shopping Plaza and Meijer store.
Photo: City of Detroit
---
Via Rail is introducing new "intuitive" reservation system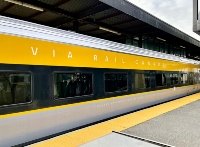 WindsorOntarioNews.com May 15 2023
Via Rail is introducing a new reservation system designed to put "more power in the hands" of customers, with an intuitive process that will make planning travel simpler, the Crown corporation stated in a yearly update this month. "Customers will also be able to better manage their trip from booking, to changing seats, to rebooking to another date," the Crown corporation said in a release. The system, being implemented this year, meshes with the introduction of the first modern fleet of trains in decades on the Windsor-Quebec City corridor. The coaches (photo) are now "the most accessible in the world." For example, for people who are sight-impaired there is now braille and embossed signage. Generally, the fleet has more comfortable seats and there are even recycling options. New train engines are cleaner and can be converted to diesel-electric dual mode. In addition, trains are higher tech and can "communicate directly with maintenance centres for real-time status updates, allowing for far more efficient maintenance." Via says its system is recovering nicely post-pandemic. The operator last year saw revenue jump almost $200 million or 170 per cent compared to 2021, when much of the country was still undergoing lockdowns. "In a year that began with significant disruptions due to the public health crisis, the corporation nonetheless recorded an increase in year over year ridership of 1.7 million passengers (118.4%)." That surge showed "the enduring relevance and popularity of passenger rail service," Françoise Bertrand, Via's board chair said. Despite the good news, the company was plagued with major problems over the Christmas holidays, when severe weather saw numerous trains fall behind schedule and some never making it to their destinations.
---
Explore many genres of Detroit music scene beyond Fox Theatre
WindsorOntarioNews.com April 30 2023
Detroit is known as the home for Motown. But musically it's so much more than that, and live music featuring several genres is more than alive and well in the Motor City. The Fox Theatre, of course, is where major national and international acts come in what is one of America's largest indoor showcases. But smaller clubs abound. Like Cliff Bell's in downtown Detroit, a club that traces its roots to the 1930s. Featuring mainly but not only jazz the club's known for its rich mahogany leather banquettes and vintage Steinway piano. Not too far away on Cass Ave. (now largely revived) is The Old Miami. Founded for Vietnam veterans it has long been a mainstay of live music inside and out. Just up Woodward Ave., in the rechristened Midtown district, is the Majestic Theatre, a complex with a large concert hall, upstairs club The Magic Stick – once a venue for such up and coming indie groups as The White Stripes – Garden Bowl (rock and roll themed bowling) and more. On Eight Mile Road and Livernois Ave., Baker's Keyboard Lounge is reputed to be the oldest jazz club in the world. This is the real deal, with intimate banquettes and a piano shaped bar (photo), and art deco vibe. PJ's Lager House in Corktown near the Ambassador Bridge hosts numerous local bands and is known to make a mean burger. The TV Lounge on Grand River Ave. is the home for techno music, with a rave-like atmosphere and dance parties nearly every night. Small's in Hamtramck is where you'll find any variety of local acts performing metal, electronic, blues and jazz. There are more clubs, of course, but these will surely whet your appetite.
---
More Ontario parks added to online vehicle permit reservation system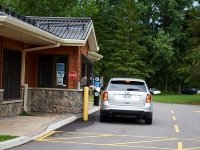 WindsorOntarioiNews.com April 17 2023
Ontario is adding more provincial parks to its two-year-old program of online advance ordering of vehicle permits. Twenty more parks have been added bringing to 57 the number where visitors can register up to five days in advance of arrival. "This expansion will help reduce overcrowding and provide visitors with greater certainty when planning park visits on busy days like weekends and holidays," the province says. This reduces time to buy the pass upon arrival, if in fact any are available at all during busy weekends and holidays. Permits can be purchased at reservations.ontarioparks.com. Park visits have "grown steadily" over the past decade, with more than 12 million visits in 2022. The reservation system includes regional parks close to us like Pinery, Rondeau and Port Burwell (starting May 12). For all other parks permits are available as usual upon arrival, first come first served. Booking ahead of time "guarantees" a visitor a space in the park and means check-in lines move faster. "Maybe you're not an early-bird, and you don't want to risk a park filling up by afternoon," the ministry says. "Maybe you just enjoy the confidence of making a plan and the modern convenience of booking online. For these reasons (and many more), more than 80% of visitors told us they liked being able to reserve their daily vehicle permit in advance." If you already have a seasonal daily permit you'll be able to use it with the online service at no additional cost. Otherwise accessing a park even with a seasonal permit is subject to capacity limits.
Photo: Ont. Ministry of Tourism
---
From one time zero to four - bus departures to TO starting this week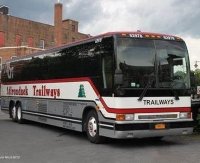 WindsorOntarioNews.com April 3 2023
From zero to four. That's the number of trips passengers in Windsor will be able to take most days beginning Wednesday by bus from here to Toronto and some points in between. During the pandemic Greyhound pulled out of Canada leaving the decades old route between here and Toronto vacated, a run that began and ended in Detroit. Then last year European-based Flixbus, expanding its network throughout North America, made an incursion into the southwestern Ontario market. It operates two trips a day to the Big Smoke. And last month Megabus.com, the deep discount carrier known for its blue double decker buses, will be arriving in Canada's motor city. It will replicate the old Greyhound route, beginning and ending in Detroit. But unlike other Megabus services those apparently big blue buses won't be part of the schedule. The service will actually be operated by New York State-based Adirondack Trailways. "We are pleased to be able to leverage our partnership with Trailways of New York to expand our service," Colin Emberson, VP Commercial for Megabus, said. "Offering cross-border service between Detroit and Toronto is a new and exciting opportunity for Megabus that will allow for several new travel options for our customers this spring." There will be stops in Chatham, London and Paris. Megabus has long served Toronto and Montreal and Detroit and other US cities. Schedules roughly replicate one another. For example, next Saturday, Megabus offers runs at 8.43 am and 4.12 pm, both for $59, which aren't the deep discounts the carrier used to be known for, sometimes $1. (It offers just one departure Sunday.) Flixbus offers departures at 9 am and 4.30 pm for $52.99 and $46.99. (It offers two departures Sunday at higher prices.)
---
Take a trip to Bay City and into Michigan rock and roll history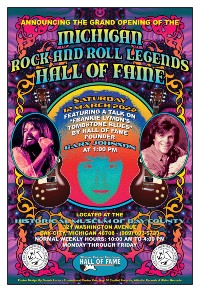 WindsorOntarioNews.com March 17 2023
For a fun filled trip into Michigan rock and roll nostalgia you need go no further than the Michigan Rock and Roll Legends Hall of Fame. Michigan's contribution to rock is legendary. From Bob Seger to Mitch Ryder, Alice Cooper to The Romantics, there must be something in the Mitten State that generate such great music. And that doesn't even include Detroit's indelible contribution with Motown. The Hall of Fame is located in Bay City. Bay City? The city may seem nondescript but it's the birthplace of Madonna and where Grand Funk Railroad was formed. And it's the site of the famed Schiell Recording Studio where ? and The Mysterians recorded 96 tears. The studio also recorded Cherry Slush and Meat Loaf's first rpm single. The Hall of Fame is on the second floor of the Historical Museum of Bay County at 321 Washington Ave. The grand opening took place just over a year ago. The man who put it all together is Gary "Dr. J" Johnson. A former teacher, he was creating a multimedia rock and roll history class. "While researching I was surprised that there wasn't already a rock hall for Michigan artists," he said. He started a website in 2004 after retiring. He supported it by teaching rock and roll history courses at Saginaw Valley State University. "I eventually installed an online voting system and it grew from there." In 2021, he was offered a permanent home at the historical museum. "And for the past two years I have been curating the exhibit." A total of 120 artists and individuals have been inducted. And 150 recordings have been honoured as "legendary" Michigan songs from Night Moves to Runaway, Band of Gold to Kick Out the Jams. "The response to the Hall of Fame has been one hundred percent positive," Dr. J. says. The Hall of Fame is open Monday – Friday 10:00 am to 4 pm.
---
Rebranding in local transit's future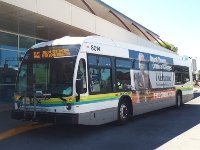 WindsorOntarioNews.com March 3 2023
Windsor is far ahead of the pack when it comes to rebounding transit ridership post-pandemic. The city's transit advisory committee says ridership has rebounded to 95 per cent of pre-pandemic levels. That compares to roughly 70 per cent for transit systems across the country, according to the Canadian Urban Transit Association (CUTA). Student ridership is a large part of it. "While other transit agencies in Ontario continue to struggle with ridership recovery due to the emergence of remote work, Windsor seems well-positioned to continue into 2023 with a strong recovery," the committee said in a report to city council. In other transit news:
- Look for a rebranding of the municipal bus company following a consultant's 2019 study. This would give it "a fresh identity and to recognize the increasingly regional nature of our services." The last rebranding took place in the late 1970s when the venerable S W & A (Sandwich, Windsor and Amgherstburg) Railway Co. became Transit Windsor.
- Following on that large growth in student services Transit Windsor last year introduced a SaintsPass, a tuition-based pass - $91.33 per semester and $274 for the academic year. It's a three-year agreement.
- Following the more than two years suspended serviced due to Covid the bus system returned to full city service Sept. 4. The tunnel bus returned Nov. 27. But the special events services to Detroit sporting events remain suspended. "When this service resumes, our riders will experience a more convenient process of booking and paying for the service."
- And the bus company "has finally joined the world of social media." Previously TW relied on Windsor's city website for service updates. "With our own social media accounts, we can provide timely updates on service changes, news, detours, road closures, etc. Social media has allowed the Transit team to communicate directly with our riders."
---
New Via Rail trains will feature wider seats, even privacy screens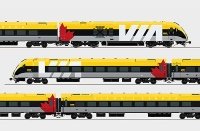 WindsorOntarioNews.com February 11 2023
Getting the right kind of new passenger equipment is essential for a rail corridor like that between Windsor and Quebec City, 435 kms with a highly varied climate. "A train might leave Windsor in the rain," Via Rail CEO Martin Landry says. "By Toronto it's freezing rain, Kingston you see the first flakes, Montreal you're getting good amounts and by Quebec it's a snowstorm." And it could be "wet or dry snow," he told Trains magazine in a cover story this month. That's the reason Via has had such a long testing program for its new passenger trains for the eastern corridor. The first Siemens trainset arrived a year ago. Via has ordered 32 five car trainsets and locomotives at a cost of almost $1 billion. The permanently coupled five cars will soon be ubiquitous on the corridor routes. They will be configured with two business class cars - business class being a higher-priced but popular ticket which Via tends to sell out of. Seats in both classes will be wider than in current trains and business class has a "privacy shield" to prevent passengers from reading what is on the passenger's laptop in the row ahead! The first trainset in commercial service was introduced unannounced in November. More deliveries will occur throughout 2025. Trains reports that Transport Canada will be hiring advisors to write a report due at the end of 2023 "proposing how service west of Toronto to Sarnia and Windsor might be improved." The magazine says that while Via, CN and Metrolinx have GTA rail planning well in hand, Via's "Southwest Ontario offerings are a poor stepchild to service east of Toronto, and the company should relish the opportunity to show it can change that." While much of Via's ridership has rebounded after the pandemic on routes like the cross-country Canadian and Maritimes' Ocean, "the biggest opportunity for expanded influence, however, is on the Windsor-Quebec corridor. Coupled with innovative promotion and pricing, Via now has the product, embodied in the new Siemens fleet, to begin turning heads in a meaningful way."
---
Competition is heating up in US intercity bus market out of Detroit
WindsorOntarioNews.com January 28 2023
More competition is coming to intercity bus travel out of Detroit. Gone are the days of just the old venerable Greyhound. Now European-based Flixbus has entered the Motown market as it has the southwestern Ontario one out of Windsor with the demise of Greyhound Canada during Covid. Flxibus offers trips to Ann Arbor, Chicago, Indianapolis and Madison and Milwaukee WI. A one-way trip to Chicago scheduled today costs $44.99. Bur fares can also vary by time of day. In addition to the upstart company's foray into the Midwest market long time discount carrier Megabus has decided to re-enter Michigan. Megabus advertises fares as low as $1 but prices can be as high as $88.99 to Indianapolis, for example. Megabus is offering connections to 13 cities stateside. Travel started Jan. 25. The return to Detroit follows an earlier pullout, again because of the Covid pandemic. "The continued expansion of our network to more than fifty cities throughout the central United States is an exciting opportunity for Megabus," Colin Emberson, vice president commercial for Megabus, stated in a company release. "We're pleased to be able to offer the customers in Indiana, Illinois, Michigan, Tennessee and Kentucky additional convenient and safe travel options; with connections to points beyond." The Magabus service is being provided in conjunction with Kentucky-based Miller Transportation. Megabus has further connections. Once in Chicago you can connect to 23 cities, in Indianapolis to 32 cities. "By working together with Megabus and selling our tickets on megabus.com, Miller Transportation can sell excess seating inventory and introduce our brand and convenient destinations to new customers across North America," Miller' s CEO John Miller, said in the release. As for legendary Greyhound it's still very much operating with five departures today for the Windy City prices varying from $47 to $107.
---
No transit to a principal Windsor transportation hub - on weekends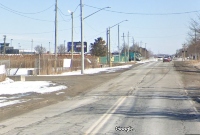 WindsorOntarioNews.com December 13 2022
As the city attempts to put more emphasis on public transportation and wean use of private vehicles, there are still surprising gaps in transit service. One of is the near rural-city connections and city-suburban neighbourhoods like west Windsor and Oldcastle. Another is simply connecting prime transportation hubs within the city itself. Such is the case with Windsor International Airport, branded by the airport code YQG as Your Quick Getaway and marketed as an expanding facility for domestic and international flights. But if you don't have a private vehicle or take a cab or Uber, on weekends you can be out of luck relying on Transit Windsor. The only bus route that serves the airport is the Walkerille 8, which only runs there weekdays. The closest weekend stop is at Walker and Division roads. From there, it's an 11/12-minute walk to the airport but along a busy corridor - County Rd. 42 - with no sidewalks (photo, terminal at far left)). Moreover, even during the week, Transit Windsor's southbound schedule (towards the airport) doesn't include YGQ as a main stop though its northbound schedule does. Tyson Cragg, TW's general manager, said "that (airport) area" is to be addressed in "Year 6" or 2026 of the city's Transit Master Plan. But he said it could come earlier. "We are, however, looking to extend service to the airport with the existing route sooner than that, perhaps the fall of 2023." Cragg said there is "not much public demand (at least not communicated to us) for service to the airport, but it is an important element of the intermodal transportation equation that we would like to address." In the master plan there is also mention of "Feasibility for a new future terminal at the Airport or Future Hospital (which) requires studying." An accompanying map shows service that would connect further east along County Rd. 42 to the new regional hospital. In fact, connecting the rest of the city by transit to the hospital is a key element in the hospital location criticized as too remote for many city residents. City airport manager Mark Galvin, deferred questions, including whether YQG has lobbied for extra service, to Transit Windsor.
Photo: Google Street View
---
In Guelph, a splendid arboretum, McRae House and covered bridge
WindsorOntarioNews.com Nov. 29 2022
"A World of Trees," also known as the Guelph Arboretum, is a hidden gem only three hours away from Windsor. Begun in 1970 on just over 400 acres the arboretum now has walking trails, meadows, forests, wetlands, wildlife and pollinator mature gardens. Perhaps best the arboretum is open year-round and has free admission. On the University of Guelph campus it's the home of more than 2000 types of woody plants with noteworthy collections of oaks, beeches, maples and conifers. The land is a "living laboratory" for students and researchers, offering dozens of workshops and public education programs. Its research element consists of the Rare Woody Plants of Ontario program. It archives, in living gene banks, representative specimens of rare and at-risk trees and shrubs of the province. And through its Elm Recovery Project the arboretum is breeding a genetically diverse, Ontario-sourced American Elm tree that can ward off <>Dutch Elm Disease. While in Guelph check out this college town's many offerings. These include quirky second-hand bookstores, cafes, superb restaurants and cultural venues. The Guelph Farmers Market, in operation 180 years, operates Saturdays. The Art Gallery of Guelph has regional and international art. There's an outdoor sculpture park with more than 35 sculptures, open even if the museum is closed. McCrae House is the birthplace of John McCrae, who wrote In Flanders Fields. The city is dominated by the Gothic-style Basilica of Our Lady Immaculate church. The Guelph Civic Museum is next door. And don't forget Guelph's iconic covered bridge, one of only two in the province.
Photo: University of Guelph
---
Shipping company, port authority, cited for inadequate fire response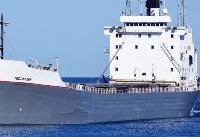 WindsorOntarioNews.com Nov. 15 2022
The federal Transportation Safety Board (TSB) has cited the local harbour authority and a shipping company for mismanagement of a fire aboard the bulk carrier Tecumseh (photo) in December 2019. An investigation "raises a Board safety concern regarding firefighting resources at some Canadian harbours and ports," said a Board release. On Dec. 15 that year a fire broke out in the boat's engine room while sailing in the Detroit River. The ship, owned by Lower Lakes Towing of Port Dover, is one of the firm's five self-unloading carriers. The Tecumseh had been sailing from Thunder Bay to Windsor with a shipment of canola when the fire occurred off Zug Island. The fire started from a failure of a flexible fuel hose assembly supplying fuel to the port (left) engine. The crew attempted to extinguish the fire with a fixed in place Carbon Dioxide fire suppression system. After three hours two crew members entered the engine room to check on the fire allowing fresh air to "most likely" re-ignite the fire. On Dec. 16 the ship sought Port of Windsor assistance. But onshore resources "were not trained in marine firefighting and therefore were not able to provide onboard assistance." This necessitated marine-trained firefighters who arrived two hours later. The lack of onshore resources contradicted a 1996 TSB recommendation that these be in place. This "could result in fires that endanger crews, the general public, property, and the environment." The TSB also cited the shipping company for "shortcomings" such as not having a "vessel-specific" fire training manual "and there was no emergency preparedness plan on board to guide the crew in the fire response actions." Nor did the company have adequate oversight to "ensure that the fuel hose assemblies on the main engines were of adequate integrity and remained in working condition." In the aftermath, the company did alter its response protocol, the TSB said.
Photo: randlog.com
---
You'll be 'iMazed' by the annual fabulous Thamesville corn maze
WindsorOntarioNews.com October 19 2022
For 22 years the Thamesville iMaze has been entertaining families as one of the most unique seasonal tourist attractions in southwestern Ontario. Run by Ingrid and Ken Dieleman every year there's a different theme in the 10 acre giant walkabout puzzle. This year it's "Canada's Beauty" featuring a corn sculpted field of Canadian icons like a maple leaf, moose, lighthouse, hockey and lacrosse sticks. In previous years there have been themes featuring astronaut Chris Hadfield - who visited - and another year Terry Fox. "Rick Mercer (of CBC fame) was in the field in 2008 and actually did an episode there in the field," Ingrid says. The Imaze is perhaps the most well executed of other Ontario tourist corn mazes, all part of growing niche. Ingrid says "agritourism", where the public comes and visits a farm (the Dielemans also have a pick your own pumpkin patch) has been slower to take off in Canada than in the United States. "It's starting to grow which is kind of fun," she says. "You see some different agritourism things going on, like yoga with the goats or yoga with llamas." For the iMaze the couple spend months every year coming up with the theme and design. "We always want our designs to revolve around Chatham-Kent or Ontario, Canada," she says. "So we're rather particular and we spend quite a bit of time throughout the winter just discussing what's going on historically, what's important in the particular year coming up, and from there what are things that would stand out, that would work well in a maize." The couple has become so old hat with doing this the actual execution is done relatively quickly. "I mean we laugh because it used to take our entire family to cut the maize, now I do it myself," Ingrid says. "I go in and count out all the rolls of corn and I mark with marking paint exactly where the paths have to be. So when everything is marked out in the fields I go in and I take out the corn and we have a little five ft. rototiller and then I rototill all the paths." It takes just under two weeks to complete. The iMmaze is open from early September and runs until Oct. 31. There's a food concession but the Dielemans encourage people to bring their own food and picnic. "Our big thing is we're all about play," Ingrid says. "We want to encourage people to play." The iMaze is located at 12768 Longwoods Road (Hwy. 2) in Thamesville.
Image: Thamseville Maize