---
LOCAL TOURIST / TRANSPORTATION
Airport concessions still closed but efforts continue to reopen them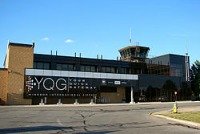 WindsorOntarioNews.com August 9 2022
Passengers flying out of Windsor Airport (branded for the airport's code YQG or "Your Quick Getaway") may still be disappointed that food and beverage concessions remain closed, more than two years after the pandemic forced the closure of the snack bar and lounge. But that's not because airport management hasn't been trying to get them re-started. The problem is finding an operator. Airport CEO Mark Galvin said an RFP went out "and we didn't get any bidders." The airport used to operate both concessions in-house but wants a new operating model. The RFP was well distributed. "We did get people who looked at the RFP but they just didn't decide to bid," Galvin said. Both concessions closed in March 2020 "a few days before the provincial mandate" and the airport itself was closed for passenger service for several months. Galvin said Windsor airport isn't the only airport affected but also larger ones like Pearson and US airports with some retail shops remaining closed. "In fact, when I was out at a CEO summit it was a topic that we all talked about, concessions and food service coming back," he said. He said with travel now rapidly gearing up as more people travel for the first time since the pandemic's start – and the return of long-distance flights like those by WestJet and Flair – the emphasis is getting the snack bar in the waiting lounge opened first. "I think there's a real appetite for grab and go," he said, especially for people boarding flights that will be in the air for a few hours rather than the under one hour service to Toronto. He said food operators are probably "waiting to see" what the third and fourth quarter passenger numbers are like before making commitments. What about partnering with a community organization like St. Clair College's culinary program? "That call's been made," Galvin said. He said YQG remains in "active discussions" with certain providers. "I don't want to say the names, but again you can't sort of turnkey and they're looking for certainty too." Meanwhile the airport has installed vending machines offering "more choices" of food than previously existed, Galvin said.
---
Now all BIAs are 'tourist destinations'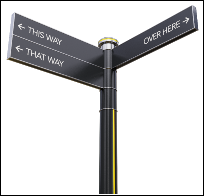 WindsorOntarioNews.com July 26 2022
Here's one way to beat line-ups at airports, lost luggage and high gas prices. And support local businesses to boot. Have a staycation and travel to local business improvement area, walk around, enjoy the sights, and perhaps drop a little cash on merchants, who're likely still struggling after the continuing cycles of Covid lockdowns and restrictions. As an additional boost, the City of Windsor just designated all nine city business improvement areas (BIAs) "tourist destinations." Up ntil now only two BIAs have had the designation - downtown and Via Italia or Erie Street. For the average driver the change means there will be far more "trail blazing" or "way finding" signs around the city – 90 in fact. This may sound a lot but according to a report, they won't "significantly contribute" to existing signs. The wayfindings will be located at strategic points directing the public to shops and restaurants. The city "will review the location and access routes and will determine the nature and extent of the signing required on the basis of using the nearest suitable Windsor streets," says the report. "Where considered advisable, such routes will by-pass heavily travelled streets or congested areas in order to make the best of the Windsor road system and to provide motorists with the best service possible." Only one route will be signed from any one direction. Sign formats will be determined by local BIAs, can be no more than two colours and must meet official specs. For example, "unless field conditions dictate otherwise," signs can't be more than 45cm x 45cm (17.7in x 17in). The city has to approve all signs. Local BIAs, and not the city, will pay for them.
Image: Merson Group
---
Three times a day Amherstburg to Windsor bus route begins in September
WindsorOntarioNews.com July 12 2022
The planned new bus route to Amherstburg, starting on a two-year pilot project sometime in September, will have three departures a day each way every day of the year including holidays. The line, dubbed the 605, will do a loop through Amherstburg's urban townsite and run along County Rd. 20 beside the Detroit River to the Hotel Dieu Grace Healthcare (former Western Hospital) transit terminal in west Windsor. The detailed route, from Hotel Dieu, and going south towards the town, will travel along Ojibway Parkway to Front Rd. in LaSalle. Arriving in Amherstburg it will also do a loop into the town's Kingsbridge subdivision just north of the urban townsite. Then it will rejoin Sandwich St. and head through the town with numerous stops as far south as Lowes Sideroad. It will turn around and head back north and then turn east on Simcoe St. to Fryer St., go north on Fryer, and turn west on Alma St. where it will rejoin Sandwich St. (County Rd. 20) and head back north to Windsor. According to a Transit Windsor document, the route will depart from Hotel Dieu Grace Healthcare at 6 am, 1.30 pm and 6 pm. Travel time is expected to take 45 minutes in each direction. Amherstburg town council voted unanimously this spring to try out the bus pilot beginning in the first year at $70.20 per hour excluding fuel or just over $156,000, which the town will wholly pay. Each fare will be credited to the town. The route will also have several transfer points – for example, with the LaSalle 25 route and the South Windsor 7 – with direct connection to St. Clair College – and transfers at Hotel Dieu Healthcare to the Transway 1C, Crosstown 2, Central 3 and again the South Windsor 7. This is the first time at least since the 1970s that regular bus service will connect Amherstburg and the city.
---
New tunnel vision at Niagara Falls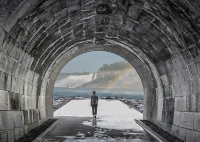 WindsorOntarioNews.com June 28 2022
Talk about tunnel vision. The Niagara Parks Commission July 1 opens the new tunnel experience, offering visitors a deep dive into the bowels of the former Niagara power station and spectacular lower view of the falls and Niagara River. This completes the "adaptive reuse" of the power station, says Niagara Parks. Last year the commission opened phase one, the restored generator hall with the "Currents" immersive sound and light show. Now visitors will be able to descend in a glass elevator to the tunnel level itself. During the 180 ft. descent they'll see many underground floors on the way to the historic tunnel. For more than a century the power station's spent waters flowed through the "engineering marvel" on their way back to the Niagara River. Now visitors can walk the 2,200 ft. tunnel that leads to the "exit portal" into the Niagara River. There they will be able to stand on a viewing platform which extends into the river and provides "never-before-seen panoramic" views of Niagara Falls and the lower Niagara Gorge. Niagara Parks chair April Jeffs called the opening an "incredible transformation" to create the "one-of-a-kind" visitor experience. The Niagara Parks Power Station was the first major power station on the Canadian side of the Niagara River, harnessing the energy of the famed Horseshoe Falls for more than 100 years.
Image: Niagara Parks
---
Toronto to Windsor in brisk 37 minutes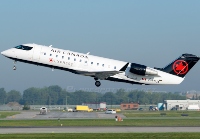 WindsorOntarioNews.com June 3 2022
It's almost as fast to fly from Toronto to Windsor as it is to get across parts of metropolitan Windsor by car. That's thanks to Air Canada Jazz/Express's introduction of the Mitsubishi CRJ200 jet on the regional service. A passenger reported a recent flight from the Big Smoke to Canada's auto capital took only 37 minutes – in air – or 55 minutes gate to gate from Toronto's Pearson International to Windsor's YQG (Your Quick Getaway) airport. The jets replaced the long-used turboprop Dash-8-300 aircraft, the backbone of so much of Air Canada's regional services over the last couple of decades. According to Air Canada spokesman Peter Fitzpatrick, Canada's largest airline began introducing the jets "on certain flights because Jazz has retired the Dash-8-300 aircraft that previously were used in this market." Regional services are operated by Air Canada Jazz, which can also have "Express" written on the fuselages. While the service is faster (the turboprops took almost an hour fly time or twice as long) there is no change in capacity. "The jets have the same seat count (50) as the turboprops they replaced, but they are faster, which customers like," Fitzpatrick said. But turboprop service hasn't been phased out entirely. The airline is continuing to use the even larger (78 seat) Dash-8-400 planes on the southwestern Ontario route. "We plan to continue operating a mix of CRJs and 78-seat Dash-8-400s to Windsor," he said. Both planes have a Canadian pedigree and are used around the world. The de Havilland aircraft were developed in Canada and first began flight in the early 1980s. The CRJs were developed by Montreal's Canadair in the 1990s. Both companies have now been subsumed under Canadian-based manufacturer Bombardier. The airline has 15 such jets in its fleet and 39 Dash-8-400s.
---
Making it easier to install "speed humps" on residential streets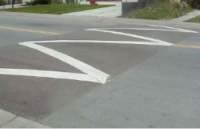 WindsorOntarioNews.com May 3 2022
The City of Windsor wants to make it easier for people in residential neighbourhoods to have the city install "speed humps" to slow down traffic. Residents could always request the humps but might wait long periods as the request would be combined with other traffic calming proposals. That could take "years to implement," says a city report. The measure is for streets that are "primarily residential" and not ones that would "pose risks for transit, trucks or emergency" vehicles. "Administration is proposing a new Local Roadways Speed Humps procedure that will provide for a more accelerated process to allow residents to make requests for speed humps if a majority of the residents on the subject block agree with the request," the report says. City emergency services suggested the speed hump design "should be smooth and the quantity of humps should be minimized as much possible." Those surveyed would include all residential and commercial properties "directly abutting" the street. A minimum of 50 per cent support is needed. If the threshold isn't met a new request would have to wait three years. The list of applications will be prioritized based on things like "warrant points" under current traffic calming procedures and "per cent" of resident support. Speed humps don't come cheap. Each one costs $7,000 and when signs and pavement markings are added it comes to $7,425. Add annual maintenance of $435. The city says there are currently four locations that could already be added to the new procedure that were already slated for some type of calming. These include blocks on Norman Road and Virginia and Partington Avenues.
Photo: City of Windsor
---
Via Rail does test run to Windsor of new look corridor service Venture train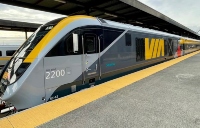 WindsorOntarioNews.com April 20 2022
Via Rail Canada ran a test train last week between Windsor and Montreal, with stops in between. The Crown corporation is testing its all new Siemens-manufactured "trainsets" – or integrated locomotives and passenger cars of a fixed number of coaches – before putting them into service later this year. There was no official announcement by Via Rail but Trains magazine, an industry publication, reported that Via did the runs over April 13-14. It was testing "track geometry" and passenger loading and unloading. The so-called Venture cars will likely be a welcome replacement for Via's decades-old passenger equipment on the Windsor-Quebec City corridor routes. According to Trains, "special train No. 649" stopped at Ontario stations starting in Ottawa, Brockville and Toronto. It went to the Toronto Maintenance Centre for an "emergency rescue test" where a GO Transit locomotive was used to "rescue" the train if it became incapacitated. It also practiced on the "wye" (a triangular junction), the tightest radius curve on Via's network and used to turn around trains. While the Venture "push-pull" trains – meaning a locomotive cab at each end – won't need a wye Via wanted to test the extent of the train's performance on tight curves. No. 649 then headed to Brantford, London and Windsor. It covered 550 miles on April 13. On April 14 it was tested on Via's slowest track in the Guelph subdivision. Said Trains, "The tour was not publicized in advance, but area photographers who learned of the move were out in force to see the Siemens equipment moving under its own power for the first time in Southern Ontario." Via has ordered a total of 32 trainsets costing $989 million, with full delivery by 2024.
Photo: Rail Fans
---
Not your imagination: Michigan does have some of America's worst roads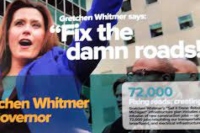 WindsorOntarioNews.com February 25 2022
It's not your imagination that Detroit freeways are pretty awful. And, for that matter, a lot of the outstate freeways and highways and byways as well. Governor Gretchen Whitmer after all campaigned for governor in 2018 on the platform "Fix the dman roads." In a survey by the Reason Foundation using US Department of Transportation statistics, Michigan was found to be 45th among 50 states in the quality of its "urban interstates." (One being best and 50 being worst). It also ranks last in this regard among the five Great Lakes states. The state also doesn't do well as far as the pavement condition of rural interstates, ranking 42nd and fourth among the Great Lakes states. Some 3.23 per cent of these roads are in poor condition, well above the national average of two per cent. It also costs more per mile in Michigan for general road maintenance – ranking 32nd nationally – at $93,000 per mile compared to the national average of $83,714. And the Mitten State also ranks 35th nationally in the cost to build state-owned bridges and highways and upgrade or repair existing infrastructure. It spends $53,099 per mile compared to an average $41,850. In other ways, Michigan ranks just so-so. For example, it costs less to make simple repairs like filling potholes or repairing guard rails in the Wolverine State - $13,849 per mile – compared to the national average of $14,570. But it still ranks way above neighbouring, and sometimes rival, Ohio, which shells out just $9672.
---
Travelling to Europe? Next year you'll need a special form for Schengen Area
WindsorOntarioNews.com February 3 2022
Covid rules excluded, traditionally travel to Europe has always been no different from travelling to the United States. All you need is to show your passport. But starting January 1 2023 you'll also have to apply online for a travel pass for any of the so-called 26 Schengen Area countries. These are countries where passports within Europe for Europeans are not required to travel from country to country. The pass is called ETIAS (European Travel Information and Authorization System). Some reports have called this a visa. But this is incorrect. The European Union stipulated ETIAS is not a visa but a lighter and more user-friendly system. Why the pass? In a word, security. "This will help identify persons who may pose an irregular migration or security risk before they arrive at the border and significantly enhance the security of the external borders," the EU says. First proposed in 2016, then President of the European Commission, Jean-Claude Juncker described ETIAS as a "way to know who is travelling to Europe before they even get here." There's little red tape and application is similar to the Canadian Electronic Travel Authorization (ETA) and the American Electronic System for Travel Authorization (ESTA). Travellers apply online and it take about 10 minutes to fill out. The cost is seven Euros. "The ETIAS will undergo a detailed security check of each applicant to determine whether they can be allowed to enter any Schengen Zone country," says the ETIAS website. Duration? The ETIAS "might be valid for three years or until the end of validity of the travel document registered during the application, whichever comes first." Whether you will get the shorter or longer time frame depends on the system's evaluation of your information and risk.
Image: Vector Stock
---
Amtrak service could revive Detroit and Windsor's historic train station sites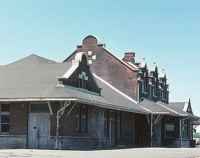 WindsorOntarioNews.com January 10 2022
Any revision of a Chicago to Toronto passenger train service, via Windsor, would presumably make use of the defunct Michigan Central Terminal in Detroit, the hulking and formerly ruined building near the Ambassador Bridge now being restored by the Ford Motor Co. The office tower will be the "centerpiece" of Ford's mobility innovation district and "mobility innovators" there are expected to develop, test, and launch "new solutions that solve urban transportation challenges," accord to Ford's real estate division. The campus includes new and revitalized buildings, a mobility testing platform and 1.2 million square feet of commercial space. And it presumably could include a redeveloped train station. The last Amtrak train to depart Michigan Central's tracks, adjacent to the tower, was in 1988. According to Amtrak's 2035 Vision document, released last Spring, renewing the Chicago-Toronto link would require extending the current Chicago-Detroit "Wolverine" train for a Toronto round trip "using a newly redeveloped Michigan Central Terminal." Last week Amtrak and Canadian Pacific Railway backed the CPR's acquisition of the Kansas City Southern RR, lauding CPR as an "excellent host" of Amtrak trains and its commitment to expand future Amtrak service. One of the new routes would be "passenger service through the Detroit River Tunnel between Michigan and Ontario to Windsor and Toronto (with connections to VIA Rail Canada)." But the 2035 Vision statement, an outline of Amtrak's proposal for a vast expansion of North American services, also says the Toronto-Detroit-Chicago corridor currently has "two disconnected passenger rail routes" and that "infrastructure, station, and routing challenges will need to be overcome; along with potential partnership opportunities exist with VIA Rail Canada." For one thing, the routes are very different. The CPR rail tunnel comes out on Windsor's near west side between Crawford and Caron avenues. The Via Rail station, which hosts trains heading to Toronto and which was rebuilt just a decade ago, is more than four kilometres to the east. There is no train station along the CPR tracks. The former one (pictured), which dated to 1911, saw its last passenger train in 1979, according to the Ontario Railway Stations blog. An arsonist burned the station to the ground in 1996. All that remains is the station platform.
---
Widened road poses safety concerns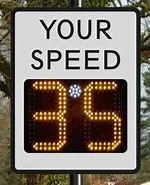 WindsorOntarioNews.com December 15 2021
The city's widening of Cabana Road also brought higher motorist speeds, and that has put school children at risk. Now there are four car and bike lanes. The speed limit is 50 km/h. But in the area of Roseland Public School "since the reconstruction speeds have been identified as high" says a city report going to council this month. In Sept. 2016 the average speed was 55 km/h and in January 2019 – when the matter was first raised – 61 km/h. During school crossing times 54 and 60 respectively. A basic school crossing and two crossing guards now exist. To improve safety the city explored a pedestrian crossover (with flashing overhead X signs) but the road is too wide and traffic volume too high. A pedestrian signal also wouldn't work due to not enough pedestrians. What's recommended are radar signs flashing motorists' speeds, yellow School Area signs, a Community Safety Zone "where public safety is a concern." And flexible bollards to separate car and bike lanes. Motorists have been parking in the bike lanes to drop off or pick up children "impeding their ability to see" the guards and creating generally unsafe conditions. The costs: $13,850 for two radar signs plus $500 annual maintenance, $3600 for two school area and community safety zone signs plus $300 maintenance. And almost $9500 for the bollards plus winter removal of just over $2200 and $4500 annually for maintenance and replacements due to inevitable damage. Total: just under $35,000. That compares to between $60,000 and $100,000 for the other two options. Also, Removal of the existing two crossing guards would save $6250 or half that if one removed.
---
Via Rail to unveil "train of tomorrow"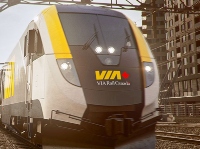 WindsorOntarioNew.com Nov 17 2021
The passenger train experience is about to get a lot different – and better. Via Rail will be introducing an entirely new fleet of trains on the Windsor – Quebec City corridor beginning late next year. The corridor carries the overwhelming number of Via's passengers – 97 per cent of its 427 trains over a 12,500-kilometre network. The new trains have a sleek look more reminiscent of rail travel in Europe than traditionally in Canada as per the accompanying photo. In a short video Via Rail shows a "train set" travelling with locomotive and built-in driving cab on the other end. These new "bi-directional" trains can operate in both directions without having to turn around saving time and operating costs. The colour scheme has also been changed with Via's signature logo but a scheme of yellow, black and beige. And there won't be just a few of the trains but almost three dozen train sets. "1 brand new train is nice. But 32 in the next few years is even better!" says Via in a public email. Via says it has been working on the new trains for four years. Besides the new look outside and in, the fleet will be cleaner with "state-of-the-art" diesel engines. They will also be built to last 30 years or 9,600,000 km. Via says passengers will experience a more comfortable ride, with wider seats and aisles and a "quiet zone." (On some railroads passengers in "quiet cars" must keep their voices to a minimum, cell phone use is prohibited and passengers must listen to electronic devices through headphones or ear buds). There will also be enhanced Wi-Fi with much lower overall noise. "The new fleet was designed to offer our passengers a more comfortable, accessible, sustainable and reliable travel experience, and we can't wait to share more," says Via. The trains are being built by Siemens Canada.
Photo: Via Rail
---
"Many complaints" about ArriveCAN
WindsorOntarioNews.com Nov 2 2021
By RON STANG, WON.com publisher
The ArriveCAN app is compulsory for Canadians and others entering Canada. The app asks for passport information and to upload photos of your vax certificates, as another preventative measure against Covid-19. The only problem is that it sometimes doesn't work. It worked fine for me when I tested it on my phone prior to leaving for Greece. But a couple of days before returning home – you can only fill it out within 72 hours of arrival back in Canada – it simply didn't work. I kept getting "sign-in failed" messages. I changed my password several times and it still didn't work. I tried four different wi-fi connections around Athens and it didn't work. I also submitted my problem to technical support but didn't get a response. Finally, I went to the Canadian embassy and a receptionist, who knew nothing about the app, eventually allowed me to use a desktop computer. This time, using the ArriveCAN website instead of the app, it worked and I could fill it out. I had been concerned I wouldn't be allowed to border my flight home. But all Air Canada demanded at check-in was proof of a negative PCR test. When I arrived at Pearson airport in Toronto I told the Customs' official about my problem. He said the app's questions could have been filled out upon arrival. I submitted this information to MP Chris Lewis's office. Lewis's office responded that it has received "many complaints" about the app and passed the complaint to the appropriate government department. Kelly Belanger, Director General, Information, Science and Technology Branch Canada Border Services Agency, replied that the dept. would investigate further if more information was provided. The official added that Canadian citizens, etc. who have not filled out the ArriveCAN app "will not be denied boarding of their flight." Additionally, "Although the Public Health Agency of Canada (PHAC) has made ArriveCAN digital mandatory, these cohorts of travellers can complete the ArriveCAN paper form upon entry but may be subject to public health measures enforced by PHAC." Said MP Chris Lewis, "The ArriveCan App has failed in its purpose to allow Canadians to efficiently enter their own country, causing stress and uncertainty for many travellers. The Trudeau government needs to ensure Canadians have a reliable and secure system to guarantee they can arrive home safely."
---
"Prohibitively expensive" PCR tests greet people who need one for travel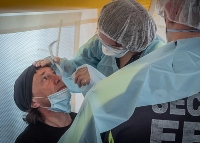 WindsorOntarioNews.com October 5 2021
Want to take that first post-Covid international vacation? It will cost you. Most countries, including the United States (so far, only if you're flying) require a PCR test prior to arrival. To get that test in Windsor you will have to shell out about $200 plus HST. That appears the going rate of clinics that offer PCR travel tests. There are five clinics in the Windsor area that offer the tests, posted on the Windsor-Essex County Health Unit website. These include Medical Laboratories of Windsor at $199 + HST. Audacia Biuoscience's tests also start at $199 and offers a test + certificate for $230 and a 'China Package" for $350 (includes other testing such as a venous blood draw). It's not just Windsor. CBC News reported earlier this year that tests can range from $160 to $1200 and doctors and experts warning that without regulation this could be an out-of-control industry. This contrasts dramatically to the free tests offered by public health in Windsor-Essex for people suspecting they have Covid symptoms. Testing sites include local hospitals and, again, the Medical Laboratories of Windsor. Another concern of experts is the lack of medical oversight in terms of the efficacy of the tests. The CBC quoted Dr. Anna Banerji, a physician and infectious disease specialist at the University of Toronto's Dalla Lana School of Public Health. "Who's doing the tests? What are the standards? How do we know that they're doing it at the same sensitivity and specificity as those done in provincial labs or hospital labs?" Anecdotally WON.com has heard of PCR test costing as little as $25 US in the United States and under $100 Can in Europe. WON.com also contacted Ambarish Chandra, Associate Professor of Economic Analysis and Policy at U of Toronto, who agreed that the tests are "prohibitively expensive." One of the Windsor test sites is at a pharmacy, another is an adjunct to a family physician's office. Another appears to have a wide variety of experience in travel vaccinations and testing. Chandra said this is an example of a "captive" marketplace. "It is in the interests of large medical organizations and testing facilities to ensure that cheap, rapid tests are not available to the general population as this would cut off a lucrative source of revenue."
Photo: Wikimedia
---
City to remove several traffic signals
WindsorOntarioNews.com Sept. 14 2021
To the, no doubt, applause of many motorists, the City of Windsor is planning to remove several traffic signals from various intersections – six in all. These include Brock at Sandwich St., Campbell Ave. at Grove, Aylmer at Chatham St, E., Kildare at Seneca, Lauzon Rd. at McHugh St. (Tim Hortons) and Banwell at Mulberry. The city reviewed traffic based on "resident or other related complaints," says a city report going to the city's transportation committee's September meeting. "Many signals…..fall well below the volume, pedestrian and other criteria for a new signal to be installed," the report says. It adds that it is "not clear, based on available data, why the signals at these intersections were installed originally. Many are very old and warrant criteria may have changed, expected developments may have not come to fruition, traffic patterns of drivers may have changed, they may have been installed for political reasons." Having signals where they're not warranted can create negative consequences. For example, "when signal phasing causes longer wait times, both drivers and pedestrians tend to become impatient and violate red lights, or drivers cut through neighbourhood streets to avoid the congestion or stopping at the signal." The former signal at Tecumseh Rd. E. and Joe St. Louis previously had an average of five collisions yearly. After 2017 there have been only two collisions. "Reverse" traffic warrants are used to determine whether a signal will be removed, measuring traffic volumes, pedestrians, lanes, and speeds - the same as if a signal was to be installed. The report notes reasons for removals. The signal at Aylmer Ave. and Chatham St. E., for example, has little traffic because the casino "is not generating the significant levels of traffic that were anticipated and with the opening of the west wing, most traffic goes west from there or north on Goyeau to Riverside Drive."
---
More visitors during lockdowns brought more litter, other abuse, to Point Pelee
WindsorOntarioNews.com August 24 3021
More people than ever used Canada's federal and provincial parks last year. As many as 13 million visited Ontario parks alone. The reason? Covid-19 lockdowns had people heading for the relatively safe great outdoors and away from cities. All well and good, say park officials. But with the additional visitor traffic came problems. These include more littering, people heading off-path, and other behaviour which threatened protected areas. While most people respect the parks "even a relatively small number of visitors who do not behave responsibly can cause significant challenges for parks and protected places," Parks Canada southwestern Ontario spokeswoman Elizabeth LeBlanc says. This occurred even in Canada's most southern park here in Essex County. "Many Parks Canada administered places, including Point Pelee National Park, had issues with littering, illegal parking, and speeding. Crowding on trails and in some popular destinations, like the west beaches at the park, was also an issue," she said. A new campaign, For the Love of Parks, appeals to the public to take a greater stewardship role when it comes to parks. Litter and garbage, for example, pose specific risks. "Garbage and waste not only impact other people's enjoyment of a place but pose a risk to wildlife," LeBlanc says. "Human food harms wildlife. We need the support of all visitors to ensure wildlife do not access human food, garbage or other natural attractants." Among measures parks staff hope the public will adopt include planning ahead by checking parks' websites to find what areas are open and "how to prepare" for a visit. Visitors should also bring their own "clean-trip kit, including hand sanitizer, garbage bags, masks when recommended by health authorities, as well as table cloths if you plan to use a picnic table."
Photo: Wikimedia
---
Goderich rebuilt in remarkable time after town was hit by 2011 tornado
WindsorOntarioNews.com July 30 2021
A modernistic stage (photo left) is symbolic of the new spirit that embraced Goderich after the devastating 2011 tornado. The stage replaced an obsolete gazebo on "The Square," the town's historic cetrepiece hosting the longtime courthouse. The old gazebo was "was terrible, the acoustics were bad, you couldn't see the performers," Mayor John Grace said. The new stage and canopy was made from a 1918 shipwreck's broken hull hung upside down over a performing arts stage, part of efforts by the town after the tornado to modernize and attract businesses and tourists. Goderich was dubbed "the prettiest town in Canada" by Queen Elizabeth. The tourist and business community on Lake Huron suffered a massive F3 tornado August 21, 2011, which caused widespread destruction. But to visit the almost 8,000 population community now you'd never know the event occurred. Sure, a few downtown business facades look new. But the business district leading from The Square to the waterfront and extensive beaches is vibrant and virtually unchanged. Astonishingly, most of the town was rebuilt in only a couple of years. Grace said the town didn't wallow in pity. Instead, it consulted an urban expert and seized the opportunity to rebuild with new ideas. This meant a reconfiguration of The Square as well as installing new infrastructure to allow businesses to flourish. As Grace put it, the town had "a chance to bring a new 21st century downtown to rural Ontario." Around the courthouse, sidewalks were widened, more public areas added for flea markets and concerts. A greater assortment of trees were planted. New utility lines also provide greater and safer power to businesses. "We were having fires every couple of years," Grace said. Facades had to be rebuilt because bricks got pushed in by the tornado. "Nobody noticed it until 8 or 9 months after the tornado and all of a sudden all the bricks are falling off these buildings," he said. They have now been rebricked. Meanwhile, Grace said the waterfront is splendid with a rebuilt shoreline and 1.8 km boardwalk. "We're putting in wi-fi down there," he said. "Yesterday I think we had over 800 vehicles down there."
Photo: Trip Advisor
---
100 Kellogg Lane, reimagined old cereal factory, pops London's Old East Village
WindsorOntarioNews.com June 28 2021
London's Old East Village, long a collection of restaurants, pubs, coffee houses and boutiques in an older part of the city, has now really popped with the addition of 100 Kellogg Lane. The massive former Kellogg's factory offers one of the most innovative recreation and entertainment facilities in Canada. The village is just a few blocks east of downtown and encompasses the Western Fair grounds and famers market. It's become a hip destination in recent years with almost 40 eateries along its historic streets. "It's really exciting to come and see," says Susan Judd of the Southwestern Ontario Tourism Corp. We found Korean, Thai and Ethiopian restaurants listed and four craft breweries. Ethnic bakeries, even a couple of distilleries line the streets. There are about the same number of shops and services like salons and yoga studios, from the Worlds Away "geek cave" comics store to Odyssey Records. And Neo Tokyo, specializing in Japanese animation, to the Mystic Bookshop selling witchcraft and occult books. But the new centrepiece has to be 100 Kellogg Lane, the massive, converted Kellogg's campus. It features The Factory, dubbed Canada's largest indoor adventure park. Spanning 170,000 sq. ft. it has the largest ropes course in the world – that's right, the world! There's zip lines, a huge arcade, and an ultimate warrior course. Check out Next Level Virtual Reality, again the largest in Canada with 24 HTCTM headsets and 22 gaming pods. Get lost and solve puzzles in the Mystery Escape Rooms. The Club House features more than 30 of the world's most iconic golf courses which you can play on simulators. The London Children's Museum is moving there this year and the Canadian Medical Hall of Fame is located there as well. The Powerhouse Brewery offers tours and tastings and Paradigm Spirits is coming soon. And for accommodation there's top of line Hard Rock Hotel. "It's really excellent to see such an investment being put into the east end of London," Judd said. "If people haven't been there, I think it would be a really great experience for them."
Photo: 100 Kellogg Lane
---
Ghostly downtowns punctuate otherwise beautiful Bruce scenery
WindsorOntarioNews.com June 4 2021
The one lingering memory of a short trip along the Lake Huron coast over to Georgian Bay is the ghostly appearance of all the otherwise vibrant and touristy small shoreline towns. Goderich, Kincardine, Tiverton, Port Elgin and Southampton had so few people and cars on their onetime bustling thoroughfares you could, well, proverbially shoot a cannon down the streets. Very sad. But such is life in locked down Ontario even during an otherwise great late spring weekend. Not that there weren't – some – people around. But they were down at the beaches. And beaches aplenty there are, most having seen major upgrades with boardwalks, themed lighting and other amenities over the past decade. The first surprise was Goderich. After a devastating tornado hit "Canada's prettiest town" in 2011 it now looks like there had never been a massive storm. Driving around Courthouse Park it was hard to see what buildings had ever been damaged. That's great of course and shows the remarkable effort that rebuilt the town in only a few short years. Meanwhile, it was interesting along the route to see all the references to "southwest" Ontario while, point of pride, the real southwest to people from Windsor-Essex is right here. But the longtime "Bluewater" (Lake Huron) designation is certainly apt. The other difference between there and here is the historic architecture. Red brick dominates the Windsor area. There, like in London, the brick is of a faded yellow because there is less iron in the clay soil. Most of these towns not only have nice beaches but great marinas and inlets or rivers, perfect for canoeing or kayaking. Driving east between Owen Sound and Meaford you come to the end of a plateau and a spectacular view of western Georgian Bay (photo). It's a short hop from here to the Blue Mountain ski resort and Collingwood. But Blue Mountain was shuttered tight. Sure, there were strollers. But every trendy upscale bar and restaurant was dark, and the hotels shut. Neighboring Collingwood has beautiful downtown Hurontario Street with blocks of interesting retail shops – alas, mostly closed. Collingwood increasingly looks like the GTA with Toronto-style subdivisions. Must be retirees taking in the great skiing and summer hiking. Even a local couldn't explain it. "It might be because people are moving here and working remotely because of Covid."
---
An unofficial Ontario-Quebec travel bubble among wider border closure
WindsorOntarioNews.com May 19 2021
Despite Quebec yesterday announcing an easing of Covid restrictions one thing that will still remain closed is the Ontario-Quebec border. While Premier François Legault said travel among regions in Quebec would again be allowed, because of higher Covid cases in other provinces and internationally, other border restrictions will remain in effect. That is, with one major exception. WON.com has learned that while non-essential travel is discouraged, the border between Ottawa and neighbouring Gatineau, across the Ottawa River, is open. Therefore, Ontarians and Quebecers can freely travel back and forth between the cities. Sgt. Benoit Richard of the Sûreté du Québec (Quebec provincial police) said the roadblocks between the provinces are "not stiff." Unlike Ontario, which has a hard roadblock on Hwy. 401, those entering Quebec won't face a traffic stop. But police may indeed randomly stop an Ontario vehicle if they see one and turn the driver back. Richard said when the border closed last month it was pandemonium between Ottawa and Gatineau, about the same distance as Windsor is from Detroit and served by five bridges. "We saw the first day it was closed in Gatineau and Ottawa it was hell during the first two hours," he told WON.com. "Like we had cars waiting for maybe an hour, an hour and a half, to get through to Ottawa and some of those people were working for the hospitals in Ottawa." So, if only for practical puropses, unofficially the two cities are in a bubble and people can move back and forth. These days there are fewer Covid restrictions on the Quebec side than in Ontario. Reported local Ottawa CTV, despite a stay-at-home order in Ontario, some Ottawa residents crossed to Gatineau to go shopping. One, Gideon Kamunga, visited Costco and Sports Experts. "We were at home for so long so it is nice to just get out and buy a (basketball) ball for example," he said. Another Ottawa resident Robert Lalonde said he wasn't surprised to see other Ontario shoppers. He said he was buying mostly food. "We could have gone to another store," he said. "We did buy some clothes." But while these cities are in an unofficial bubble if you're an Ontario resident don't expect to travel further afield, at least if your car has Ontario plates. Those Quebec provincial police, if they see you, are liable to just turn you around.
Image: Newslocker.com
---
Covid variant highway roadblocks but what about plane and train travel?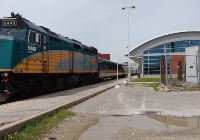 WindsorOntarioNews.com May 6 2021
As per many anomalies in rules during the pandemic, especially regarding travel, the closing of the border between Ontario and Quebec (and Manitoba) last month didn't mean it was closed entirely to everyone. Provincial police set up roadblocks along Hwy. 401 at Bainsville on April 19 checking on whether motorists have legitimate reason for crossing the interprvincial border. For example, if a person must work or attend an educational institution, they can still cross. Or if someone is travelling through Quebec to another province they can even stay overnight in Quebec along their journey. Rules are basically reciprocal for those entering Ontario. And if they're a provincial resident they of course are allowed entry. But if not travelling by car it gets fuzzy. Quebec allows exemption for "A person who is required to enter Québec or cross the border as part of an international trip or a trip to another province by bus, train, ferry, or plane." And, indeed, Air Canada and VIA Rail are still booking travel to the province whether passengers are going somewhere else or not. "VIA Rail will continue all scheduled services. Passengers are responsible to comply with provincial restrictions," the railway says on its website and links to the emergency travel legislation. Said VIA spokeswoman Claudia Labelle, "In this context, we remind our passengers that it is their responsibility to comply with current provincial restrictions. We remain in contact with provincial authorities and we will adapt our service according to the evolution of the situation." WON.com attempted to reach both Quebec and Ontario provincial police to ask if they were also checking non-highway travellers but didn't receive a response from either agency. [UPDATE May 7: QC provincial police spokesman Sgt. Benoit Richard said there are only random car checks and he advises train and plane passengers would have "the decency" to respect Covid regs.]
---
New in 2021: paved bike lanes between Amherstburg and Holiday Beach
WindsorOntarioNews.com April 21 2021
Look for a major new bicycle lane paving project coming this year to southwestern Essex County. The County of Essex will be paving the shoulders of County Rd. 20 from Front Rd. South in Amherstburg through to County Rd. 50. That's the old scenic drive that borders Lake Erie and has become increasingly popular in recent years as an agritourist route alongside wineries and fruit stands. From County Rd. 20 the shoulders of County Rd. 50 will also be paved as far as Holiday Beach Conservation Area. From there "they can use the road network within the conservation lands to access Lake Erie," Jerry Behl, the county's manager of transportation planning and development, says. This follows on a project last summer that saw both sides of Front Rd. S. paved, enabling seamless access to downtown Amherstburg. The new paving will add 8.6 km of paved lanes. Meanwhile, County Rd. 50 has bike lanes in places – such as through the village of Colchester – but still does not have connected lanes all the way through to Holiday Beach. No word on when that paving will take place. Other projects, part of CWATS (County Wide Active Transportation System) this year include three in Kingsville. One is a multi-use trail along County Rd. 45 between County Rd. 20 and County Rd. 34 for 1.5 km. Another is a two-kilometre paved shoulder on County Rd. 34 between Inman Sideroad and Rd. 29. And a third is 2.1 km. of paved shoulders along County Rd. 34 between Upcott and Inman roads. There are also two projects in Essex - 2.9 km of paved shoulders along Rd. 18 from Rd. 23 to McCormick and a connection a half kilometre connection along Rd. 18. In Lakeshore a feasibility study will be carried out to improve "active transportation" along Rd. 2 between Brighton and East Pike Creek roads "and in particular on the bridge crossing Pike Creek," (photo) Behl said. Why these projects? Behl said priority is given to areas with highest potential demand, have "critical gaps" in the trail network or align with county infrastructure projects. "The County tries to schedule CWATS route implementation with capital road improvements to achieve economies of scale and reduce cost," he said in an email. Total project costs are $1.6 million. The county alone absorbs rural costs. Urban projects are split 60-40 between the county and local municipality.
Photo: CWATS
---
New Lakeshore Holiday Inn a trifecta
WindsorOntarioNews.com April 1 2021
A new eastside hotel is a trifecta. The largest hotel between Chatham and Windsor, the first high rise on the east side, and the first new major hotel in Windsor in probably 20 years. The new Holiday Inn Express & Suites will open April 24 at 14 Amy Croft Dr. in Lakeshore, just off Manning Rd. It also marks the first of several similar hotel projects that the developer, David Petretta, will bring to southwestern Ontario. The area has been underserved by the hospitality industry, ironic given the booming housing, industrial and recreational opportunities in east Windsor, Lakeshore and Tecumseh. "I did a market study for it in east Windsor and the reality is, from downtown Windsor to Chatham, there wasn't a hotel," said Petretta, whose new hotel development company is the Petcon (for Petretta Construction) Hospitality group. The six-storey hotel will have 105 rooms. It won't be a full-service hotel like the Holiday Inn on Huron Church Rd. which has a restaurant and bar. But it will offer free breakfast and has two large meeting rooms. But the $20 million hotel is next door to numerous restaurants, bars and grocery. The building features the brand's new "blue design" with a contemporary esthetic. Advanced technology includes "unique" IHG Connect high speed internet, Petretta said. Petretta says the market is largely business travellers weekday and families weekends, especially sports related stays in proximity to the WFCU and Atlas Tube centres. Given the east side's housing, industrial and commercial boom, the tower's location is in "actually a really interesting mixed-use area now." Condo projects are also going up in the neighbourhood, in fact on the same former Tecumseh Golf land as the hotel. (See BUILDINGS, HOMES & REAL ESTATE). The project also allows Petretta to diversify his portfolio. Other of his buildings include TD Bank and The Keg downtown, Dolce Vita Retirement on Erie St. and Tregaskiss industrial.