---
LOCAL TOURIST / TRANSPORTATION
---
Via Rail is introducing new "intuitive" reservation system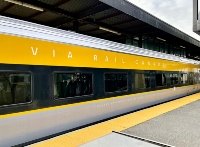 WindsorOntarioNews.com May 15 2023
Via Rail is introducing a new reservation system designed to put "more power in the hands" of customers, with an intuitive process that will make planning travel simpler, the Crown corporation stated in a yearly update this month. "Customers will also be able to better manage their trip from booking, to changing seats, to rebooking to another date," the Crown corporation said in a release. The system, being implemented this year, meshes with the introduction of the first modern fleet of trains in decades on the Windsor-Quebec City corridor. The coaches (photo) are now "the most accessible in the world." For example, for people who are sight-impaired there is now braille and embossed signage. Generally, the fleet has more comfortable seats and there are even recycling options. New train engines are cleaner and can be converted to diesel-electric dual mode. In addition, trains are higher tech and can "communicate directly with maintenance centres for real-time status updates, allowing for far more efficient maintenance." Via says its system is recovering nicely post-pandemic. The operator last year saw revenue jump almost $200 million or 170 per cent compared to 2021, when much of the country was still undergoing lockdowns. "In a year that began with significant disruptions due to the public health crisis, the corporation nonetheless recorded an increase in year over year ridership of 1.7 million passengers (118.4%)." That surge showed "the enduring relevance and popularity of passenger rail service," Françoise Bertrand, Via's board chair said. Despite the good news, the company was plagued with major problems over the Christmas holidays, when severe weather saw numerous trains fall behind schedule and some never making it to their destinations.
---
Explore many genres of Detroit music scene beyond Fox Theatre
WindsorOntarioNews.com April 30 2023
Detroit is known as the home for Motown. But musically it's so much more than that, and live music featuring several genres is more than alive and well in the Motor City. The Fox Theatre, of course, is where major national and international acts come in what is one of America's largest indoor showcases. But smaller clubs abound. Like Cliff Bell's in downtown Detroit, a club that traces its roots to the 1930s. Featuring mainly but not only jazz the club's known for its rich mahogany leather banquettes and vintage Steinway piano. Not too far away on Cass Ave. (now largely revived) is The Old Miami. Founded for Vietnam veterans it has long been a mainstay of live music inside and out. Just up Woodward Ave., in the rechristened Midtown district, is the Majestic Theatre, a complex with a large concert hall, upstairs club The Magic Stick – once a venue for such up and coming indie groups as The White Stripes – Garden Bowl (rock and roll themed bowling) and more. On Eight Mile Road and Livernois Ave., Baker's Keyboard Lounge is reputed to be the oldest jazz club in the world. This is the real deal, with intimate banquettes and a piano shaped bar (photo), and art deco vibe. PJ's Lager House in Corktown near the Ambassador Bridge hosts numerous local bands and is known to make a mean burger. The TV Lounge on Grand River Ave. is the home for techno music, with a rave-like atmosphere and dance parties nearly every night. Small's in Hamtramck is where you'll find any variety of local acts performing metal, electronic, blues and jazz. There are more clubs, of course, but these will surely whet your appetite.
---
More Ontario parks added to online vehicle permit reservation system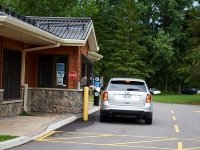 WindsorOntarioiNews.com April 17 2023
Ontario is adding more provincial parks to its two-year-old program of online advance ordering of vehicle permits. Twenty more parks have been added bringing to 57 the number where visitors can register up to five days in advance of arrival. "This expansion will help reduce overcrowding and provide visitors with greater certainty when planning park visits on busy days like weekends and holidays," the province says. This reduces time to buy the pass upon arrival, if in fact any are available at all during busy weekends and holidays. Permits can be purchased at reservations.ontarioparks.com. Park visits have "grown steadily" over the past decade, with more than 12 million visits in 2022. The reservation system includes regional parks close to us like Pinery, Rondeau and Port Burwell (starting May 12). For all other parks permits are available as usual upon arrival, first come first served. Booking ahead of time "guarantees" a visitor a space in the park and means check-in lines move faster. "Maybe you're not an early-bird, and you don't want to risk a park filling up by afternoon," the ministry says. "Maybe you just enjoy the confidence of making a plan and the modern convenience of booking online. For these reasons (and many more), more than 80% of visitors told us they liked being able to reserve their daily vehicle permit in advance." If you already have a seasonal daily permit you'll be able to use it with the online service at no additional cost. Otherwise accessing a park even with a seasonal permit is subject to capacity limits.
Photo: Ont. Ministry of Tourism
---
From one time zero to four - bus departures to TO starting this week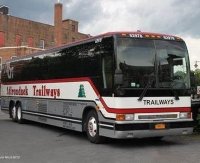 WindsorOntarioNews.com April 3 2023
From zero to four. That's the number of trips passengers in Windsor will be able to take most days beginning Wednesday by bus from here to Toronto and some points in between. During the pandemic Greyhound pulled out of Canada leaving the decades old route between here and Toronto vacated, a run that began and ended in Detroit. Then last year European-based Flixbus, expanding its network throughout North America, made an incursion into the southwestern Ontario market. It operates two trips a day to the Big Smoke. And last month Megabus.com, the deep discount carrier known for its blue double decker buses, will be arriving in Canada's motor city. It will replicate the old Greyhound route, beginning and ending in Detroit. But unlike other Megabus services those apparently big blue buses won't be part of the schedule. The service will actually be operated by New York State-based Adirondack Trailways. "We are pleased to be able to leverage our partnership with Trailways of New York to expand our service," Colin Emberson, VP Commercial for Megabus, said. "Offering cross-border service between Detroit and Toronto is a new and exciting opportunity for Megabus that will allow for several new travel options for our customers this spring." There will be stops in Chatham, London and Paris. Megabus has long served Toronto and Montreal and Detroit and other US cities. Schedules roughly replicate one another. For example, next Saturday, Megabus offers runs at 8.43 am and 4.12 pm, both for $59, which aren't the deep discounts the carrier used to be known for, sometimes $1. (It offers just one departure Sunday.) Flixbus offers departures at 9 am and 4.30 pm for $52.99 and $46.99. (It offers two departures Sunday at higher prices.)
---
Take a trip to Bay City and into Michigan rock and roll history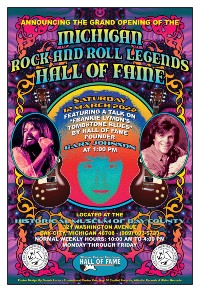 WindsorOntarioNews.com March 17 2023
For a fun filled trip into Michigan rock and roll nostalgia you need go no further than the Michigan Rock and Roll Legends Hall of Fame. Michigan's contribution to rock is legendary. From Bob Seger to Mitch Ryder, Alice Cooper to The Romantics, there must be something in the Mitten State that generate such great music. And that doesn't even include Detroit's indelible contribution with Motown. The Hall of Fame is located in Bay City. Bay City? The city may seem nondescript but it's the birthplace of Madonna and where Grand Funk Railroad was formed. And it's the site of the famed Schiell Recording Studio where ? and The Mysterians recorded 96 tears. The studio also recorded Cherry Slush and Meat Loaf's first rpm single. The Hall of Fame is on the second floor of the Historical Museum of Bay County at 321 Washington Ave. The grand opening took place just over a year ago. The man who put it all together is Gary "Dr. J" Johnson. A former teacher, he was creating a multimedia rock and roll history class. "While researching I was surprised that there wasn't already a rock hall for Michigan artists," he said. He started a website in 2004 after retiring. He supported it by teaching rock and roll history courses at Saginaw Valley State University. "I eventually installed an online voting system and it grew from there." In 2021, he was offered a permanent home at the historical museum. "And for the past two years I have been curating the exhibit." A total of 120 artists and individuals have been inducted. And 150 recordings have been honoured as "legendary" Michigan songs from Night Moves to Runaway, Band of Gold to Kick Out the Jams. "The response to the Hall of Fame has been one hundred percent positive," Dr. J. says. The Hall of Fame is open Monday – Friday 10:00 am to 4 pm.
---
Rebranding in local transit's future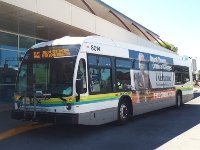 WindsorOntarioNews.com March 3 2023
Windsor is far ahead of the pack when it comes to rebounding transit ridership post-pandemic. The city's transit advisory committee says ridership has rebounded to 95 per cent of pre-pandemic levels. That compares to roughly 70 per cent for transit systems across the country, according to the Canadian Urban Transit Association (CUTA). Student ridership is a large part of it. "While other transit agencies in Ontario continue to struggle with ridership recovery due to the emergence of remote work, Windsor seems well-positioned to continue into 2023 with a strong recovery," the committee said in a report to city council. In other transit news:
- Look for a rebranding of the municipal bus company following a consultant's 2019 study. This would give it "a fresh identity and to recognize the increasingly regional nature of our services." The last rebranding took place in the late 1970s when the venerable S W & A (Sandwich, Windsor and Amgherstburg) Railway Co. became Transit Windsor.
- Following on that large growth in student services Transit Windsor last year introduced a SaintsPass, a tuition-based pass - $91.33 per semester and $274 for the academic year. It's a three-year agreement.
- Following the more than two years suspended serviced due to Covid the bus system returned to full city service Sept. 4. The tunnel bus returned Nov. 27. But the special events services to Detroit sporting events remain suspended. "When this service resumes, our riders will experience a more convenient process of booking and paying for the service."
- And the bus company "has finally joined the world of social media." Previously TW relied on Windsor's city website for service updates. "With our own social media accounts, we can provide timely updates on service changes, news, detours, road closures, etc. Social media has allowed the Transit team to communicate directly with our riders."
---
New Via Rail trains will feature wider seats, even privacy screens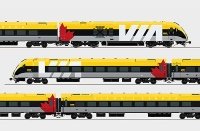 WindsorOntarioNews.com February 11 2023
Getting the right kind of new passenger equipment is essential for a rail corridor like that between Windsor and Quebec City, 435 kms with a highly varied climate. "A train might leave Windsor in the rain," Via Rail CEO Martin Landry says. "By Toronto it's freezing rain, Kingston you see the first flakes, Montreal you're getting good amounts and by Quebec it's a snowstorm." And it could be "wet or dry snow," he told Trains magazine in a cover story this month. That's the reason Via has had such a long testing program for its new passenger trains for the eastern corridor. The first Siemens trainset arrived a year ago. Via has ordered 32 five car trainsets and locomotives at a cost of almost $1 billion. The permanently coupled five cars will soon be ubiquitous on the corridor routes. They will be configured with two business class cars - business class being a higher-priced but popular ticket which Via tends to sell out of. Seats in both classes will be wider than in current trains and business class has a "privacy shield" to prevent passengers from reading what is on the passenger's laptop in the row ahead! The first trainset in commercial service was introduced unannounced in November. More deliveries will occur throughout 2025. Trains reports that Transport Canada will be hiring advisors to write a report due at the end of 2023 "proposing how service west of Toronto to Sarnia and Windsor might be improved." The magazine says that while Via, CN and Metrolinx have GTA rail planning well in hand, Via's "Southwest Ontario offerings are a poor stepchild to service east of Toronto, and the company should relish the opportunity to show it can change that." While much of Via's ridership has rebounded after the pandemic on routes like the cross-country Canadian and Maritimes' Ocean, "the biggest opportunity for expanded influence, however, is on the Windsor-Quebec corridor. Coupled with innovative promotion and pricing, Via now has the product, embodied in the new Siemens fleet, to begin turning heads in a meaningful way."
---
Competition is heating up in US intercity bus market out of Detroit
WindsorOntarioNews.com January 28 2023
More competition is coming to intercity bus travel out of Detroit. Gone are the days of just the old venerable Greyhound. Now European-based Flixbus has entered the Motown market as it has the southwestern Ontario one out of Windsor with the demise of Greyhound Canada during Covid. Flxibus offers trips to Ann Arbor, Chicago, Indianapolis and Madison and Milwaukee WI. A one-way trip to Chicago scheduled today costs $44.99. Bur fares can also vary by time of day. In addition to the upstart company's foray into the Midwest market long time discount carrier Megabus has decided to re-enter Michigan. Megabus advertises fares as low as $1 but prices can be as high as $88.99 to Indianapolis, for example. Megabus is offering connections to 13 cities stateside. Travel started Jan. 25. The return to Detroit follows an earlier pullout, again because of the Covid pandemic. "The continued expansion of our network to more than fifty cities throughout the central United States is an exciting opportunity for Megabus," Colin Emberson, vice president commercial for Megabus, stated in a company release. "We're pleased to be able to offer the customers in Indiana, Illinois, Michigan, Tennessee and Kentucky additional convenient and safe travel options; with connections to points beyond." The Magabus service is being provided in conjunction with Kentucky-based Miller Transportation. Megabus has further connections. Once in Chicago you can connect to 23 cities, in Indianapolis to 32 cities. "By working together with Megabus and selling our tickets on megabus.com, Miller Transportation can sell excess seating inventory and introduce our brand and convenient destinations to new customers across North America," Miller' s CEO John Miller, said in the release. As for legendary Greyhound it's still very much operating with five departures today for the Windy City prices varying from $47 to $107.
---
No transit to a principal Windsor transportation hub - on weekends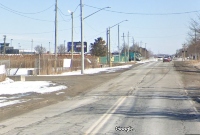 WindsorOntarioNews.com December 13 2022
As the city attempts to put more emphasis on public transportation and wean use of private vehicles, there are still surprising gaps in transit service. One of is the near rural-city connections and city-suburban neighbourhoods like west Windsor and Oldcastle. Another is simply connecting prime transportation hubs within the city itself. Such is the case with Windsor International Airport, branded by the airport code YQG as Your Quick Getaway and marketed as an expanding facility for domestic and international flights. But if you don't have a private vehicle or take a cab or Uber, on weekends you can be out of luck relying on Transit Windsor. The only bus route that serves the airport is the Walkerille 8, which only runs there weekdays. The closest weekend stop is at Walker and Division roads. From there, it's an 11/12-minute walk to the airport but along a busy corridor - County Rd. 42 - with no sidewalks (photo, terminal at far left)). Moreover, even during the week, Transit Windsor's southbound schedule (towards the airport) doesn't include YGQ as a main stop though its northbound schedule does. Tyson Cragg, TW's general manager, said "that (airport) area" is to be addressed in "Year 6" or 2026 of the city's Transit Master Plan. But he said it could come earlier. "We are, however, looking to extend service to the airport with the existing route sooner than that, perhaps the fall of 2023." Cragg said there is "not much public demand (at least not communicated to us) for service to the airport, but it is an important element of the intermodal transportation equation that we would like to address." In the master plan there is also mention of "Feasibility for a new future terminal at the Airport or Future Hospital (which) requires studying." An accompanying map shows service that would connect further east along County Rd. 42 to the new regional hospital. In fact, connecting the rest of the city by transit to the hospital is a key element in the hospital location criticized as too remote for many city residents. City airport manager Mark Galvin, deferred questions, including whether YQG has lobbied for extra service, to Transit Windsor.
Photo: Google Street View
---
In Guelph, a splendid arboretum, McRae House and covered bridge
WindsorOntarioNews.com Nov. 29 2022
"A World of Trees," also known as the Guelph Arboretum, is a hidden gem only three hours away from Windsor. Begun in 1970 on just over 400 acres the arboretum now has walking trails, meadows, forests, wetlands, wildlife and pollinator mature gardens. Perhaps best the arboretum is open year-round and has free admission. On the University of Guelph campus it's the home of more than 2000 types of woody plants with noteworthy collections of oaks, beeches, maples and conifers. The land is a "living laboratory" for students and researchers, offering dozens of workshops and public education programs. Its research element consists of the Rare Woody Plants of Ontario program. It archives, in living gene banks, representative specimens of rare and at-risk trees and shrubs of the province. And through its Elm Recovery Project the arboretum is breeding a genetically diverse, Ontario-sourced American Elm tree that can ward off <>Dutch Elm Disease. While in Guelph check out this college town's many offerings. These include quirky second-hand bookstores, cafes, superb restaurants and cultural venues. The Guelph Farmers Market, in operation 180 years, operates Saturdays. The Art Gallery of Guelph has regional and international art. There's an outdoor sculpture park with more than 35 sculptures, open even if the museum is closed. McCrae House is the birthplace of John McCrae, who wrote In Flanders Fields. The city is dominated by the Gothic-style Basilica of Our Lady Immaculate church. The Guelph Civic Museum is next door. And don't forget Guelph's iconic covered bridge, one of only two in the province.
Photo: University of Guelph
---
Shipping company, port authority, cited for inadequate fire response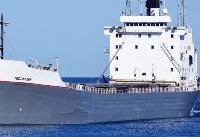 WindsorOntarioNews.com Nov. 15 2022
The federal Transportation Safety Board (TSB) has cited the local harbour authority and a shipping company for mismanagement of a fire aboard the bulk carrier Tecumseh (photo) in December 2019. An investigation "raises a Board safety concern regarding firefighting resources at some Canadian harbours and ports," said a Board release. On Dec. 15 that year a fire broke out in the boat's engine room while sailing in the Detroit River. The ship, owned by Lower Lakes Towing of Port Dover, is one of the firm's five self-unloading carriers. The Tecumseh had been sailing from Thunder Bay to Windsor with a shipment of canola when the fire occurred off Zug Island. The fire started from a failure of a flexible fuel hose assembly supplying fuel to the port (left) engine. The crew attempted to extinguish the fire with a fixed in place Carbon Dioxide fire suppression system. After three hours two crew members entered the engine room to check on the fire allowing fresh air to "most likely" re-ignite the fire. On Dec. 16 the ship sought Port of Windsor assistance. But onshore resources "were not trained in marine firefighting and therefore were not able to provide onboard assistance." This necessitated marine-trained firefighters who arrived two hours later. The lack of onshore resources contradicted a 1996 TSB recommendation that these be in place. This "could result in fires that endanger crews, the general public, property, and the environment." The TSB also cited the shipping company for "shortcomings" such as not having a "vessel-specific" fire training manual "and there was no emergency preparedness plan on board to guide the crew in the fire response actions." Nor did the company have adequate oversight to "ensure that the fuel hose assemblies on the main engines were of adequate integrity and remained in working condition." In the aftermath, the company did alter its response protocol, the TSB said.
Photo: randlog.com
---
You'll be 'iMazed' by the annual fabulous Thamesville corn maze
WindsorOntarioNews.com October 19 2022
For 22 years the Thamesville iMaze has been entertaining families as one of the most unique seasonal tourist attractions in southwestern Ontario. Run by Ingrid and Ken Dieleman every year there's a different theme in the 10 acre giant walkabout puzzle. This year it's "Canada's Beauty" featuring a corn sculpted field of Canadian icons like a maple leaf, moose, lighthouse, hockey and lacrosse sticks. In previous years there have been themes featuring astronaut Chris Hadfield - who visited - and another year Terry Fox. "Rick Mercer (of CBC fame) was in the field in 2008 and actually did an episode there in the field," Ingrid says. The Imaze is perhaps the most well executed of other Ontario tourist corn mazes, all part of growing niche. Ingrid says "agritourism", where the public comes and visits a farm (the Dielemans also have a pick your own pumpkin patch) has been slower to take off in Canada than in the United States. "It's starting to grow which is kind of fun," she says. "You see some different agritourism things going on, like yoga with the goats or yoga with llamas." For the iMaze the couple spend months every year coming up with the theme and design. "We always want our designs to revolve around Chatham-Kent or Ontario, Canada," she says. "So we're rather particular and we spend quite a bit of time throughout the winter just discussing what's going on historically, what's important in the particular year coming up, and from there what are things that would stand out, that would work well in a maize." The couple has become so old hat with doing this the actual execution is done relatively quickly. "I mean we laugh because it used to take our entire family to cut the maize, now I do it myself," Ingrid says. "I go in and count out all the rolls of corn and I mark with marking paint exactly where the paths have to be. So when everything is marked out in the fields I go in and I take out the corn and we have a little five ft. rototiller and then I rototill all the paths." It takes just under two weeks to complete. The iMmaze is open from early September and runs until Oct. 31. There's a food concession but the Dielemans encourage people to bring their own food and picnic. "Our big thing is we're all about play," Ingrid says. "We want to encourage people to play." The iMaze is located at 12768 Longwoods Road (Hwy. 2) in Thamesville.
Image: Thamseville Maize
---
City wants to come to the rescue for parking-besieged students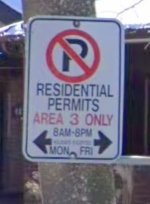 WindsorOntarioNews.com October 4 2022
Parking for university and college students may be getting a little bit easier thanks to a plan by the city to eliminate sometimes annoying residential parking permits in the west end. At the same time the city will promote the use of two large underutilized parking lots - one on Brock St. and the other in the city centre at Howard Ave. and Erie St. The first is within walking distance of the St. Dennis Centre and close to two bus routes leading downtown, where both the university and St. Clair College have satellite campuses. And, says the city, the city's electric scooter provider, Bird Canada, "could be approached" to set up drop-off stations at the lots. The fee for Brock St. would be $50 plus HST per month and the Howard-Erie lot $65. Transit also has routes that pass by the city centre lot and there are adjacent bike lanes. Meanwhile parking spaces could be freed up in the west end along Piche St., where permit parking is underutilized, the same with parts of Indian Rd. And in the 3100 block of Wyandotte St. W., removal of No Parking restrictions from the street's south side, where the city says really aren't necessary, would free up more spaces. Another street from which residential permits could be removed is Union St. between California and Partington. A survey of residents only got 13 per cent response so city staff has recommended removal. The decision goes to City Council this month.
---
Some people simply refuse to fly out of Windsor's YQG airport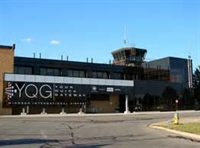 WindsorOntarioNews.com Sept 20 2022
Despite its best marketing efforts, including using Windsor airport's code as an iconic stand-in for city identification, it seems many people simply refuse to use the airport. Anecdotally WON.com has encountered people who would prefer to drive, take the train or get a ride to Toronto's Pearson airport rather than fly out of – or to – Windsor. But even professional travel planners have issues with YQG. (YQG has been dubbed Your Quick Getaway.) Al Valente, owner of Valente Travel, said he "purposely" does not fly out of Windsor because he can't depend on flights not being cancelled. "It's pretty sad to say because I love to support Windsor and the airport but we have to be honest with our clients and just say it's unreliable," he said. Almost inevitably Valente will prepare travel packages with flights originating out of Pearson, for example, instead of Windsor. "We have to do what's best for our client," he said. The problem with cancelled or delayed flights long predates Covid and recent flight problems occurring just about everywhere. With Windsor being a spoke in Toronto's hub "you're going to get the regional flights cut before you get the lucrative flights cut," he said. He says people flying overseas are in risk of missing their connecting flight. "And you can't do it for business travel because you've got to be at a meeting for 9 am," Valente added. "That 7 am flight if it gets cancelled you've missed your meeting." Meanwhile, Maria Voros of Complete Travel said she was heading to Europe but flying out of Detroit. "Why? Because I don't want this happening to me," she said. "Half of the time they don't go, they cancel the flight." If a client insists on flying out of Windsor she'll try to book an earlier departure so there's lots of time in Toronto between flights. "If it's reliable I would sell (YQG) more," she said. Windsor airport CEO Mark Galvin said he has flown out of Windsor numerous times and really hasn't had much problem. "You know, delays don't stick in my head." He said recent flight disruptions have been in the massive run up of travel post-Covid. "I wasn't here pre-Covid, I started in January 2020, so I really haven't had a normal year." He said he sees the flight boards every day. There have been few problems with direct flights such as to Calgary or Montreal and Halifax or Porter's flights to Toronto Island Airport. "It's very fluid, you have a day where everything is totally on time, even a flight's 10 mins early, and then the next day you might have two or three delays."
---
Deep discount, yes, but not quite the deep deep airline discount
WindsorOntarioNews.com Sept. 6 2022
Booking a seat on a deep discount airline can take you through a labyrinth of questions and options which can end up costing you much more than the advertised price. Flair Airlines recently began service between Windsor and Montreal and Halifax. WON.com tried a booking. First, there are only certain days you can travel. We wanted Halifax on Sept. 20 but the closest flight was Sept. 19. On the pop-up calendar it said the cost that day was $79. But when you begin booking the flight it shows "prices from $29.00." That takes you to the next page which gives you three "bundles" – Bare (no checked baggage), Basic - "recommended" - and Big. Basic allows one personal item (ie., a purse), one on-board carry on (a small suitcase) and one checked bag for $55.71. We choose that. Next comes seat selection. There are five categories from standard $11.30, "recommended" $16.95, extra legroom $28.25, first row and emergency exit both $39.55. We choose "recommended." The next page is "Travelflex perks." This gives one-time "unlimited" flight changes and no fees but you'd have to pay any difference in price. The smaller print says changes can be made "once." Hmmm. We choose it for $10.50/person. If you want priority boarding - "Don't wait in line, get on the plane first. Want to get settled onboard first and make sure you secure space for your carry-on bag?" - that's an additional $10. Finally, you can check-in online for free. But woe to anyone checking-in at the airport. Says Flair, "It costs time and resources to check in at the airport, which means it'll cost you $25. Or if you want to go the old school way, we do offer pre-paying your airport check-in fee for a lower cost! ($15). The choice is yours!" We choose online booking. So altogether our fare has now jumped to $124.26. That's still overwhelmingly cheaper than conventional airlines. Air Canada's cheapest fare that date was $566 and Porter Airlines $530 and they can also have extra charges. But it's not quite the super discount you might have originally expected.
---
Uncle Tom's Cabin historic site name changed because of "negative connotation"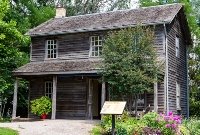 WindsorOntarioNews.com August 22 2022
The Uncle Tom's Cabin Historic Site in Kent County has changed its name because of the "negative connotation" associated with the name. The new name reflects the settlement's actual founder, the Josiah Henson Museum of African-Canadian History. "The new name reclaims the legacy of Josiah Henson, renowned 19th-century abolitionist, Underground Railroad conductor and preacher," Eno Antai, spokesman for the site, said. The museum, about 20 km east of Wallaceburg, highlights Henson's accomplishments. Henson founded the Dawn Settlement and established the British American Institute where the free Black population and recently settled slaves could gain an education and learn trades. The property was part of the Underground Railroad which saw slaves escape from the United States into Canada. Henson was himself a former slave, escaping from Maryland and Kentucky. He was a strong proponent of education and self-reliance. At the settlement residents farmed and worked in local gristmills and sawmills. Henson became known as "Uncle Tom" as a result of Harriet Beecher Stowe's 1852 anti-slavery novel, Uncle Tom's Cabin. Stowe partly based the story on him.. The book unintentionally inspired many negative stereotypes about Blacks including the namesake "Uncle Tom," which became associated with an extremely subservient Black person. The named change was announced at this past month's Emancipation Day ceremony. Is the change simply another reflection of current political correctness? Patrice Dutil, Senior Fellow of the Macdonald-Laurier Institute and Professor of Politics and Public Administration at Toronto Metropolitan (formery Ryerson) University, says no. "I've been fighting wrong-minded historical revisionism for many years," he said. "Historical invocations must always have as a key purpose the remembrance of what is most dignified. Josiah Henson was a brave man, a Black American who sought refuge in Canada to seek a better life. The moniker of 'Uncle Tom' made him recognizable because he inspired a story, but that is not who he was."
Photo: Ontario Heritage Trust
---
Airport concessions still closed but efforts continue to reopen them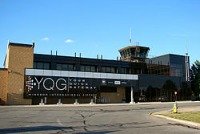 WindsorOntarioNews.com August 9 2022
Passengers flying out of Windsor Airport (branded for the airport's code YQG or "Your Quick Getaway") may still be disappointed that food and beverage concessions remain closed, more than two years after the pandemic forced the closure of the snack bar and lounge. But that's not because airport management hasn't been trying to get them re-started. The problem is finding an operator. Airport CEO Mark Galvin said an RFP went out "and we didn't get any bidders." The airport used to operate both concessions in-house but wants a new operating model. The RFP was well distributed. "We did get people who looked at the RFP but they just didn't decide to bid," Galvin said. Both concessions closed in March 2020 "a few days before the provincial mandate" and the airport itself was closed for passenger service for several months. Galvin said Windsor airport isn't the only airport affected but also larger ones like Pearson and US airports with some retail shops remaining closed. "In fact, when I was out at a CEO summit it was a topic that we all talked about, concessions and food service coming back," he said. He said with travel now rapidly gearing up as more people travel for the first time since the pandemic's start – and the return of long-distance flights like those by WestJet and Flair – the emphasis is getting the snack bar in the waiting lounge opened first. "I think there's a real appetite for grab and go," he said, especially for people boarding flights that will be in the air for a few hours rather than the under one hour service to Toronto. He said food operators are probably "waiting to see" what the third and fourth quarter passenger numbers are like before making commitments. What about partnering with a community organization like St. Clair College's culinary program? "That call's been made," Galvin said. He said YQG remains in "active discussions" with certain providers. "I don't want to say the names, but again you can't sort of turnkey and they're looking for certainty too." Meanwhile the airport has installed vending machines offering "more choices" of food than previously existed, Galvin said.
---
Now all BIAs are 'tourist destinations'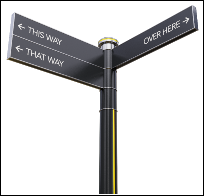 WindsorOntarioNews.com July 26 2022
Here's one way to beat line-ups at airports, lost luggage and high gas prices. And support local businesses to boot. Have a staycation and travel to local business improvement area, walk around, enjoy the sights, and perhaps drop a little cash on merchants, who're likely still struggling after the continuing cycles of Covid lockdowns and restrictions. As an additional boost, the City of Windsor just designated all nine city business improvement areas (BIAs) "tourist destinations." Up ntil now only two BIAs have had the designation - downtown and Via Italia or Erie Street. For the average driver the change means there will be far more "trail blazing" or "way finding" signs around the city – 90 in fact. This may sound a lot but according to a report, they won't "significantly contribute" to existing signs. The wayfindings will be located at strategic points directing the public to shops and restaurants. The city "will review the location and access routes and will determine the nature and extent of the signing required on the basis of using the nearest suitable Windsor streets," says the report. "Where considered advisable, such routes will by-pass heavily travelled streets or congested areas in order to make the best of the Windsor road system and to provide motorists with the best service possible." Only one route will be signed from any one direction. Sign formats will be determined by local BIAs, can be no more than two colours and must meet official specs. For example, "unless field conditions dictate otherwise," signs can't be more than 45cm x 45cm (17.7in x 17in). The city has to approve all signs. Local BIAs, and not the city, will pay for them.
Image: Merson Group
---
Three times a day Amherstburg to Windsor bus route begins in September
WindsorOntarioNews.com July 12 2022
The planned new bus route to Amherstburg, starting on a two-year pilot project sometime in September, will have three departures a day each way every day of the year including holidays. The line, dubbed the 605, will do a loop through Amherstburg's urban townsite and run along County Rd. 20 beside the Detroit River to the Hotel Dieu Grace Healthcare (former Western Hospital) transit terminal in west Windsor. The detailed route, from Hotel Dieu, and going south towards the town, will travel along Ojibway Parkway to Front Rd. in LaSalle. Arriving in Amherstburg it will also do a loop into the town's Kingsbridge subdivision just north of the urban townsite. Then it will rejoin Sandwich St. and head through the town with numerous stops as far south as Lowes Sideroad. It will turn around and head back north and then turn east on Simcoe St. to Fryer St., go north on Fryer, and turn west on Alma St. where it will rejoin Sandwich St. (County Rd. 20) and head back north to Windsor. According to a Transit Windsor document, the route will depart from Hotel Dieu Grace Healthcare at 6 am, 1.30 pm and 6 pm. Travel time is expected to take 45 minutes in each direction. Amherstburg town council voted unanimously this spring to try out the bus pilot beginning in the first year at $70.20 per hour excluding fuel or just over $156,000, which the town will wholly pay. Each fare will be credited to the town. The route will also have several transfer points – for example, with the LaSalle 25 route and the South Windsor 7 – with direct connection to St. Clair College – and transfers at Hotel Dieu Healthcare to the Transway 1C, Crosstown 2, Central 3 and again the South Windsor 7. This is the first time at least since the 1970s that regular bus service will connect Amherstburg and the city.
---
New tunnel vision at Niagara Falls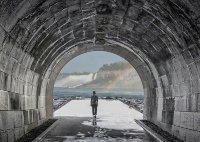 WindsorOntarioNews.com June 28 2022
Talk about tunnel vision. The Niagara Parks Commission July 1 opens the new tunnel experience, offering visitors a deep dive into the bowels of the former Niagara power station and spectacular lower view of the falls and Niagara River. This completes the "adaptive reuse" of the power station, says Niagara Parks. Last year the commission opened phase one, the restored generator hall with the "Currents" immersive sound and light show. Now visitors will be able to descend in a glass elevator to the tunnel level itself. During the 180 ft. descent they'll see many underground floors on the way to the historic tunnel. For more than a century the power station's spent waters flowed through the "engineering marvel" on their way back to the Niagara River. Now visitors can walk the 2,200 ft. tunnel that leads to the "exit portal" into the Niagara River. There they will be able to stand on a viewing platform which extends into the river and provides "never-before-seen panoramic" views of Niagara Falls and the lower Niagara Gorge. Niagara Parks chair April Jeffs called the opening an "incredible transformation" to create the "one-of-a-kind" visitor experience. The Niagara Parks Power Station was the first major power station on the Canadian side of the Niagara River, harnessing the energy of the famed Horseshoe Falls for more than 100 years.
Image: Niagara Parks
---
Toronto to Windsor in brisk 37 minutes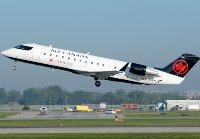 WindsorOntarioNews.com June 3 2022
It's almost as fast to fly from Toronto to Windsor as it is to get across parts of metropolitan Windsor by car. That's thanks to Air Canada Jazz/Express's introduction of the Mitsubishi CRJ200 jet on the regional service. A passenger reported a recent flight from the Big Smoke to Canada's auto capital took only 37 minutes – in air – or 55 minutes gate to gate from Toronto's Pearson International to Windsor's YQG (Your Quick Getaway) airport. The jets replaced the long-used turboprop Dash-8-300 aircraft, the backbone of so much of Air Canada's regional services over the last couple of decades. According to Air Canada spokesman Peter Fitzpatrick, Canada's largest airline began introducing the jets "on certain flights because Jazz has retired the Dash-8-300 aircraft that previously were used in this market." Regional services are operated by Air Canada Jazz, which can also have "Express" written on the fuselages. While the service is faster (the turboprops took almost an hour fly time or twice as long) there is no change in capacity. "The jets have the same seat count (50) as the turboprops they replaced, but they are faster, which customers like," Fitzpatrick said. But turboprop service hasn't been phased out entirely. The airline is continuing to use the even larger (78 seat) Dash-8-400 planes on the southwestern Ontario route. "We plan to continue operating a mix of CRJs and 78-seat Dash-8-400s to Windsor," he said. Both planes have a Canadian pedigree and are used around the world. The de Havilland aircraft were developed in Canada and first began flight in the early 1980s. The CRJs were developed by Montreal's Canadair in the 1990s. Both companies have now been subsumed under Canadian-based manufacturer Bombardier. The airline has 15 such jets in its fleet and 39 Dash-8-400s.
---
Making it easier to install "speed humps" on residential streets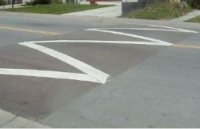 WindsorOntarioNews.com May 3 2022
The City of Windsor wants to make it easier for people in residential neighbourhoods to have the city install "speed humps" to slow down traffic. Residents could always request the humps but might wait long periods as the request would be combined with other traffic calming proposals. That could take "years to implement," says a city report. The measure is for streets that are "primarily residential" and not ones that would "pose risks for transit, trucks or emergency" vehicles. "Administration is proposing a new Local Roadways Speed Humps procedure that will provide for a more accelerated process to allow residents to make requests for speed humps if a majority of the residents on the subject block agree with the request," the report says. City emergency services suggested the speed hump design "should be smooth and the quantity of humps should be minimized as much possible." Those surveyed would include all residential and commercial properties "directly abutting" the street. A minimum of 50 per cent support is needed. If the threshold isn't met a new request would have to wait three years. The list of applications will be prioritized based on things like "warrant points" under current traffic calming procedures and "per cent" of resident support. Speed humps don't come cheap. Each one costs $7,000 and when signs and pavement markings are added it comes to $7,425. Add annual maintenance of $435. The city says there are currently four locations that could already be added to the new procedure that were already slated for some type of calming. These include blocks on Norman Road and Virginia and Partington Avenues.
Photo: City of Windsor
---
Via Rail does test run to Windsor of new look corridor service Venture train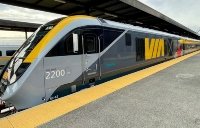 WindsorOntarioNews.com April 20 2022
Via Rail Canada ran a test train last week between Windsor and Montreal, with stops in between. The Crown corporation is testing its all new Siemens-manufactured "trainsets" – or integrated locomotives and passenger cars of a fixed number of coaches – before putting them into service later this year. There was no official announcement by Via Rail but Trains magazine, an industry publication, reported that Via did the runs over April 13-14. It was testing "track geometry" and passenger loading and unloading. The so-called Venture cars will likely be a welcome replacement for Via's decades-old passenger equipment on the Windsor-Quebec City corridor routes. According to Trains, "special train No. 649" stopped at Ontario stations starting in Ottawa, Brockville and Toronto. It went to the Toronto Maintenance Centre for an "emergency rescue test" where a GO Transit locomotive was used to "rescue" the train if it became incapacitated. It also practiced on the "wye" (a triangular junction), the tightest radius curve on Via's network and used to turn around trains. While the Venture "push-pull" trains – meaning a locomotive cab at each end – won't need a wye Via wanted to test the extent of the train's performance on tight curves. No. 649 then headed to Brantford, London and Windsor. It covered 550 miles on April 13. On April 14 it was tested on Via's slowest track in the Guelph subdivision. Said Trains, "The tour was not publicized in advance, but area photographers who learned of the move were out in force to see the Siemens equipment moving under its own power for the first time in Southern Ontario." Via has ordered a total of 32 trainsets costing $989 million, with full delivery by 2024.
Photo: Rail Fans
---
Not your imagination: Michigan does have some of America's worst roads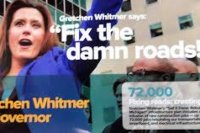 WindsorOntarioNews.com February 25 2022
It's not your imagination that Detroit freeways are pretty awful. And, for that matter, a lot of the outstate freeways and highways and byways as well. Governor Gretchen Whitmer after all campaigned for governor in 2018 on the platform "Fix the dman roads." In a survey by the Reason Foundation using US Department of Transportation statistics, Michigan was found to be 45th among 50 states in the quality of its "urban interstates." (One being best and 50 being worst). It also ranks last in this regard among the five Great Lakes states. The state also doesn't do well as far as the pavement condition of rural interstates, ranking 42nd and fourth among the Great Lakes states. Some 3.23 per cent of these roads are in poor condition, well above the national average of two per cent. It also costs more per mile in Michigan for general road maintenance – ranking 32nd nationally – at $93,000 per mile compared to the national average of $83,714. And the Mitten State also ranks 35th nationally in the cost to build state-owned bridges and highways and upgrade or repair existing infrastructure. It spends $53,099 per mile compared to an average $41,850. In other ways, Michigan ranks just so-so. For example, it costs less to make simple repairs like filling potholes or repairing guard rails in the Wolverine State - $13,849 per mile – compared to the national average of $14,570. But it still ranks way above neighbouring, and sometimes rival, Ohio, which shells out just $9672.