---
NEWS BACKGROUNDER
---
Bridge Authority has joined increasingly controversial ESG movement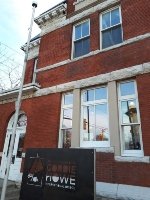 WindsorOntarioNews.com Sept. 29 2023
The Windsor Detroit Bridge Authority (WDBA), the Crown corporation overseeing the construction and future operation of the Gorgie Howe International Bridge, has signed on to the increasingly popular and also somewhat controversial corporate Environmental, Social and Governance (ESG) set of guidelines. This, says the WDBA in a statement, is a "testament to the team's commitment to sustainability and corporate responsibility." The authority says it had essentially been operating within the guidelines or "four anchors" of ESG all along. These are commitments "to steward a healthy environment, enhance the local community, create a thriving corporate culture and ensure responsible corporate conduct." By formally signing on to an ESG plan the corporation now has a "roadmap for the organization to actively support the creation of a thriving and sustainable future for employees, bridge users and the communities where we operate throughout the project's life cycle." Thee include concepts like "Diversity, Equity, Inclusion and Accessibility", "Being Bolder on Climate Action" and "Moving Faster on a Path to (Indigenous) Reconciliation," aligned with federal and UN goals. But the program has been controversial as corporations put their "social consciousness" above traditional corporate goals. It's been described as a "woke wish list" or "virtue signaller's charter." A company that has more non-white or female board members, or conducts racial equity audits, can gain a higher score with some investors like private equity funds and qualify for more investment, regardless of economic performance or return on investment, which is traditionally what investors have looked at. Free market think tank The Committee To Unleash Prosperity said shareholders were "foregoing billions of dollars in shareholder returns" to comply with ESG goals. And investment firms themselves are increasingly skeptical. BlackRock CEO Larry Fink announced he'd no longer use term ESG. And RBC Capital Markets found 56% of sustainable-fund debuts have re-labeled the products "thematic" rather than ESG.
---
Foundation grades local accessibility
WindsorOntarioNews.com Sept. 14 2023
Four local businesses met the Rick Hansen Foundation standards for accessibility. These are Family Services Windsor-Essex, KOODOO at Devonshire Mall and Telus at both Devonshire and Tecumseh malls. A fifth undisclosed organization was surveyed and didn't meet criteria. The Foundation does voluntary audits to determine if public buildings meet accessibility standards for the disabled. "It is essential that we understand who people with disabilities really are if we are going to develop meaningful access in our communities," Foundation CEO Doramy Ehling says. Having accessible buildings is more than important when you realize that disabled people make up "the largest minority group" and there are 2.6 million of them in the province. "This was the thinking behind the decision of organizations in Windsor to participate as one of 16 Ontario municipalities in an accessibility rating of key public spaces," Ehling said. While the Accessibility for Ontarians with Disabilities Act (AODA) has helped create a level playing field" it is "not enough" on its own. "Participating organizations recognized that there was a gap between code minimum and the real needs of the community of people with disabilities, and that the only practical way of addressing that gap was the RHF Accessibility Certification program." Koodoo came out on top was an 82 per cent rating, followed by Telus at 81 per cent at the same mall. Telus at Tecumseh Mall had a 69 per cent rating. Family Services, at 1770 Langlois Ave., scored 68 per cent. Factors audited included parking, building entrances, corridors, reception and waiting areas.
---
Alleys a write-off unless you want increased costs and annoyed residents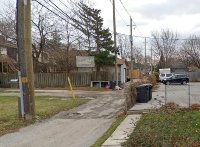 WindsorOntarioNews.com August 30 2023
Yes, alleys might be unsightly, inconsistent, and even vary from block to block. But cleaning them up "might lead to unfavorable responses from residents who are directly impacted both in terms of the physical task of cleaning up the alley and the potential imposition of fine(s)." So says a city council information report which recommends no action but presents scenarios for improving these city-wide back lanes. The city has 147 km of both paved and unpaved alleys. Most of the paved alleys are "deficient" and only seven of 79 "adequate." Alleys are maintained on an "as-needed" basis and the city doesn't "reconstruct" them. Gravel alleys are regraded twice annually. Grass alleys are the responsibility of abutting property owners. The city spends $200,000 on annual maintenance on paved ones and $75,000 on gravel alleys. "Due to their limited public visibility and relatively low usage, alleys often receive minimal attention and fewer resources allocated towards them," the report says. In one scenario, administration says the city could increase paved alley maintenance to as much as $600,000 a year. Greater enforcement of existing bylaws over garbage containers and residents' responsibility for maintenance could be stepped up. But this will result in increased costs and "possible negative public relations." The city doesn't remove snow from alleys but could at, again, increased costs, as much as $1.6 million. Special equipment for the narrow lanes would be required.
Photo: Google Street View
---
You can fight a city parking ticket, but...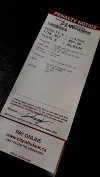 WindsorOntarioNews.com August 6 2023
It is possible to fight a City of Windsor parking ticket. Just don't be overzealous – in a good way – about it. A Michigan woman paid for parking at the Dieppe Gardens municipal parking lot, the kind where you pay into a machine and a ticket emerges, which you're supposed to put on your windshield showing when the time is up. Not being familiar with the setup she paid and pocketed the ticket instead. Sure enough, upon returning to the car a couple of hours later there was a ticket. While the motorist was miffed, the $27.50 fine was paid online within a couple of days. That was the mistake. It turns out had the fine not been paid it likely could have been successfully fought. Replying to a mailed appeal (the appeal form available on the city's website) a Parking Enforcement Office staffer left a voice mail message. The clerk stated: "Unfortunately we don't do refunds and once the ticket is paid it's considered done and dealt with and there's no dispute option." However, the clerk said that for "peace of mind" she would shred the paperwork "so that there's no record of that number anywhere in our office." The clerk added that had the ticket not been paid "it could have been looked into further." What's that saying about no good deed goes unpunished?
---
No more petitions for four-way stops
WindsorOntarioNews.com July 21 2023
Say goodbye to neighbourhood petitions calling for four-way stops. City staff are recommending an updated "warrant" policy based on new provincial guidelines which include several new criteria for the intersections while saying four-ways can provide a false sense of security. Stats that don't fit the criteria can result in "reduced effectiveness of other traffic control devices, result in overall poor stop sign compliance, create a false sense of security for pedestrians, increase the number of rear-end and fixed object collisions, increase instances of mid-block speeding, delay emergency vehicle response times and increase noise and air pollution," a report to the city's transportation committee says. Incorporating "petitions or school zones" is "not recommended" because "other effective tools and practices are available to deal with speeding or pedestrian safety." The new policy should be seen in the context of a wide variety of new methods to reduce motorists' speed such as traffic bumps, lane narrowing, speed feedback signs and traffic circles. The guidelines say four-way stops should only be considered in a handful of cases, such as where traffic signals are needed but can't be installed immediately or where there are a high rate of collisions and other less restrictive measures haven't worked. The guidelines say they should be used for roads with speed limits of more than 60 km/h, on most bus or truck routes or as a "means of deterring the movement of through traffic in a residential area." A four-way would be justified on a major road if, among other things, total vehicle volume on all intersection approaches exceeds 500 vehicles per hour for each of any eight hours of the day. And for minor roads, 350 vehicles for the highest hour recorded.
---
Despite staff shortages, parking enforcement took in $1.25M last year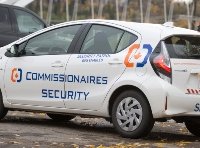 WindsorOntarioNews.com July 7 2023
Parking enforcement brought in $1.25 million last year after seeing a drop of $630,000 in 2021 due to the Covid-19 pandemic. In 2020 the city only made almost $165,000, also due to Covid. But in 2019 it drew $943,000 and in 2018, $1.26 million. City administration says these revenues "are an important non-taxation component" of the city's operating budget. City Council is being asked to extend a contract with the Canadian Corps of Commissionaires, which took over parking services from the city in 2010. But there have been problems with fulfilling parking enforcement, which motorists just may be happy about. There has been high staff turnover, resulting in "numerous unattended shifts." This has resulted in some areas of the city being "unenforced" and "in some circumstances unsafe to vehicular and pedestrian traffic." The result is increasing officers' beats "dramatically" over a wider geographic area, "concentrating on higher travelled areas to enforce safety related infractions." Nevertheless, city staff say they are "satisfied" with the contractor, noting cost savings "compared to previous models." And should a new contractor be chosen there would be higher costs associated with new equipment and staff training. Service would decrease and complaints from the public would increase because of officers' initial errors. "It is likely the level of service would take in excess of one year to reach current service levels, as a new contractor would need to become familiar with the nuances of enforcement within the City of Windsor." And last but not least, city revenues would also decline. The Commissionaires say they'll pass on the four per cent rate increase to give officers more money - $20.92 from $19.50 or more than a seven per cent raise.
---
Recent public meeting bans have "fundamental" differences - lawyer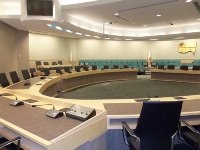 WindsorOntarioNews.com June 23 2023
While recent decisions by local public bodies to ban the public from in-person meetings may have similarities in threats to free speech their contexts are very different, a Windsor lawyer says. Daniel Ableser, an advocate for government accountability, says recent decisions by the Greater Essex County District School Board (GECDSB) and Essex County Council (photo) have "fundamental differences." The school board June 14 issued a notice that in-person meetings have "indefinitely" been suspended to allow business to take place in a "safe and secure" setting in the wake of parent opposition to board policy to prevent parents from knowing about children's gender identity. Essex County Council also suspended an in-person special meeting to discuss a new Official Plan after a crowd of hundreds gathered in the council chamber and lobby in what municipal officials said was an intimidating manner. The meeting was resumed weeks later but virtually. "County Council was faced with an entirely unpredictable event where 500 people showed up to a planning meeting," Ableser said in comments to WON.com and in a Facebook post. "The school board has had a few people with undesirable views show up from time to time." Moreover, "they did not have some unprecedented audience size emergency they had to respond to. The school board has had MUCH larger audiences in the past and been able to manage. This Board of Trustees simple doesn't appear to prioritize openness as a governing principle." And now County Council has resumed regular in-person meetings while the board has not. County Council "immediately prioritized returning to regular order." Finally, Ableser thinks the board's action may be a pretext to "suspend a trustee while having no audience present to object. This may be a first step in a bigger attempt to remove people whose views are undesirable to the political majority." Trustee Linda Qin has locked heads with board officials, complaining of lack of transparency regarding what she says are controversial student books.
---
Yes, Windsor has "narrow" streets
WindsorOntarioNews.com June 8 2023
Did you know Windsor has narrow streets? These are defined as being less than four metres (13.1 ft.) in width. The city identified just a couple but they are interesting. One is Penang Lane, which doglegs 200 metres from Tecumseh Rd. E. north to the Via Rail tracks, and lines up with the Ganatchio Trail/Little River Extension on the other side. The other is Homedale Blvd. It runs south from Wyandotte St. E. to Raymond Ave. But beyond there it broadens. Penang resembles nothing much more than a back lane or alley. There is a No Exit sign at Tecumseh Rd. "Penang Lane cannot be upgraded to current City standards as it has both right-of-way and space constraints," city engineering staff say in a council report. Homedale (photo) is another matter. While also measuring 3.7 metres wide for a total of 672 metres over two blocks, the street "could be upgraded" to city standards. However, as the road is in "very good" condition it will be "quite some time" before it is widened. And strangely enough, despite its narrow width, two-way traffic is permitted. Believe it or not, this is not abnormal. "In the case of low speed, low volume local streets, the Geometric Design Guide for Canadian Roads allows for a single lane to serve both directions of traffic. In these cases, drivers turn out at driveways or other gaps in the parking lane to allow opposing vehicles to pass." But despite this perceived inconvenience widening may not be a panacea. Widening could result in "increased traffic." Another option would be to convert to one-way traffic north-bound only" (no explanation why that direction). If residents wanted a change they could likely reguest using criteria like Traffic Calming (i.e., speed bumps) with as many as 60 per cent of at least 50 per cent responses favoring it.
Photo: Google Street View
---
County joins the big leagues with use of public screening devices if "necessary"
WindsorOntarioNews.com May 27 2023
Edmonton did it in 2016. And Toronto introduced them in 2020. And now Essex County Council is joining those big leagues by introducing metal detectors. The move comes in light of what was described as a rowdy and intimidating meeting in April that saw hundreds of people mill about the lobby outside a county council meeting to discuss updating the municipality's official plan. The meeting was called to an abrupt end by Warden Hilda MacDonald minutes after starting. A crowd showed up en masse concerned the plan contained provisions for "15-minute cities" which presumably would limit their mobility. There were no such specific references. (See NEWS BASCKGROUNDER April 11 2023 and COMMENT May 10) In the aftermath council passed several policies. They're to "promote respectful and safe interactions" between the public and municipal officials, "promote respectful and orderly behaviour" at meetings and generally "balance the rights" between the two groups. According to county spokesman Don McArthur, wo is also an Amherstburg town councillor, a new provision, the Visitor Policy, "allows for the use of metal screening devices should the County deem it necessary." Adds McArthur, "The policies are meant to provide a mechanism to deal with those who refuse to act appropriately, with what is and what is not appropriate being spelled out in the policies." Brian Lambie, spokesman for the Association of Municipalities of Ontario, said he couldn't indicate how many other municipalities use detectors as these would be matters discussed independently and not taken up with the provincial organization.
---
Board has only banned one book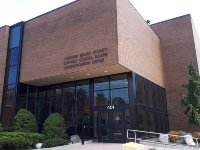 WindsorOntario News.com May 11 2023
The Greater Essex County District School Board (GECDSB) has banned only one book, a sex ed manual called It's Perfectly Normal. "The information I have received from the Superintendent is that we have removed one book so far from our libraries: It's Perfectly Normal," spokesman Scott Scantlebury said. The illustrated book's full title is It's Perfectly Normal: Changing Bodies, Growing Up, Sex, and Sexual Health is written by US educator Robie Harris and has had several editions since first being published in 1994. According to Wikipedia the book has won "multiple accolades and appraisal for its accurate information and its normalization of body changes and human sexuality." But it also has been one of the most controversial books "because of its graphic images that some consider inappropriate for the targeted age range." The author has written several other books, many of which have appeared on the American Library Association's Most Challenged Books list. While earlier editions discussed common questions related to families, sexuality and reproduction the latest edition includes "sexual identity" topics like gender. The school board released the information to WON.com in the wake of a school board controversy over another book, Push, cited by Trustee Linda Qin, for using the "n" word. The novel by Sapphire was made into the movie Precious. Qin also raised a question about a ruling against a motion to fly a Christian flag at schools. The board's policy allows specifically the national and provincial flags and "the local municipality or other special purpose flag." That flag should "align with the board's values, support the principles and expectations of the board's Safe School Policy, equity and Indigenous Education Protocol and is consistent with the Ontario Human Rights Code and is not directly connected with any political or religious group or cause."
---
Vroom, vroom. S National residents indifferent to short cut & high speeds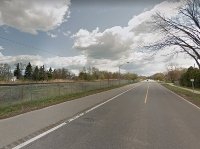 WindsorOntarioNews.com April 25 2023
It was a good idea – maybe. The city tried to bring traffic calming measures to one of Windsor's famed high-speed thoroughfares. But the proposals just didn't fly with residents of the near eastside neighbourhood. Ironically, more people outside the area were in favour of slowing vehicles down. The strip is the notorious South National St., a long time shortcut between Pillette Rd. and Jefferson Blvd. It runs along the south side of the CNR track, now used by Via Rail, for about a dozen blocks. In fact, a couple of city councillors - Gary Kaschak and Renaldo Agostino - wanted to determine the feasibility of traffic calming on the street along with a cyclist crossing at Balfour Blvd. and pedestrian crossover at Westminster Blvd. The street was actually earmarked for traffic calming a few years ago. Most traffic travels well over the speed limit at almost 70 km/h – "a high degree of speeding," says the report to City Council - and almost 12,000 vehicles use it each day. Almost 40 per cent use it as a short cut. And there have been 17 collisions over five years, most at South National and Jefferson turning left. A median would have been constructed to prevent this. But a mailout to all residents failed miserably, with only 19 out of 156 returned and 26 per cent (five out of 19) agreeing. More people outside the area – 45 per cent – supported the concept. Planners say some aspects could still be incorporated as standalones. These would be the pedestrian crossover, the cyclist uncontrolled crossover (part of the future Reginald St. bikeway) and physical separators between the north side multi-use trail and car lanes.
Photo: Google Street View
---
Report may have been the source of controversial "15-minute city" concept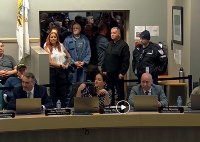 WindsorOntarioNews.com April 11 2023
A special meeting of Essex County Council April 5 was interrupted by loud protesters, forcing its postponement to find a "bigger venue" to accommodate more of the public, county Warden Hilda MacDonald said. The disruption apparently occurred after protesters (photo) swarmed the lobby amidst concerns that the county was embarking on a "15-minute city" plan. This is where all neighbourhood services including work, education and shopping, be located within a 15-minute walk or bicycle ride, reducing auto dependency and promoting healthy living and urban "sustainability." MacDonald, who banged the gavel several times to try to quell the loud voices, insisted the meeting had "nothing to do" with the concept - "you can trust me on that." Where protesters got the idea from is unclear. But there are hints of the concept, which may have been interpreted or misinterpreted as such, in a background report, One Land, One Climate, One Future, Together. Among points raised were to "identify targets for intensification and redevelopment within all or any of the lower-tier municipalities, including minimum targets that should be met before expansion of the boundaries of settlement areas is permitted." Neighbourhoods should be "mixed use, compact, pedestrian-oriented neighbourhoods and city and town centres designed for people, are the building blocks of healthy, active and vibrant communities. Parks, schools, places of worship, compact pedestrian-scaled shopping and entertainment districts and employment opportunities situated closer to where people live, should be easily accessible by foot, bicycle, transit and the automobile.....Shorter block lengths, a finer grain of block sizes, sidewalks, trails, bikeways and five-minute walking distances to neighbourhood activity centres and to transit stops should be provided to encourage healthy active lifestyles, to reduce energy use and to provide greater independence for those who cannot or chose not to drive automobiles." This latter statement, in fact, was written as far back as 2006 in the county's Healthy People, Healthy Places document.
---
Windsor's Lancaster bomber's UK heritage base is site of controversy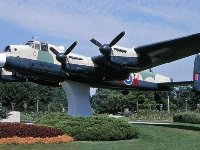 WindsorOntarioNews.com March 27 2023
While the Windsor Lancaster bomber undergoes the final touches of a massive restoration a controversy is brewing in the country which was the original home of Lancasters, the United Kingdom. British authorities have proposed that the Royal Air Force Scampton air base be converted into an immigrant detention centre which would house up to 1500 asylum seekers, an issue with which Windsor is also currently dealing. There is considerable opposition to the proposal, not on anti-immigrant grounds, but to preserve a long-cherished site that played an instrumental role in the Second World War. Scampton also played a role in the famous "Dambusters Raid" of 1943 which saw 19 of the planes drop "bouncing bombs" to destroy three German dams. The planes would fly below anti-aircraft fire allowing the barrel-type explosives to skip across water and hit the side of the dams, destroying three and damaging a third on the Ruhr River. While the raid was a success eight aircraft never returned. But while Scampton is being proposed for immigrant settlement, there is also a plan to turn the base into a business innovation and hospitality hub, part of Britain's "levelling-up" strategy to increase economic development in the country's poorer regions. "If the decision goes ahead, it will be a historical tragedy, as well as an economic one — the revamp of the site would have provided thousands of jobs," the Daily Mail newspaper says. One historian calls the base "the embodiment of Britain's aviation past." Meanwhile, restoration of Windsor's Lancaster, built in Canada and which never saw war service, is predicted to be completed by spring of next year. The plane was removed from its Jackson Park pedestal in 2005 because of concerns about weather damage. The Canadian Aviation Museum at Windsor airport is completing the restoration.
---
Downtown merchants may stave off vandals with European-style security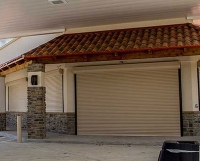 WindsorOntarioNews.com March 13 2023
It's unconventional, at least for a Canadian city. And some may argue it isn't particularly pretty. But a way downtown storeowners may prevent future break-ins, or at least smashed plate glass windows – costing hundreds of dollars in repairs and additional insurance premiums - is to adopt a technique long used in Europe: security shutters or blinds. Walk through virtually any European city, small or large, after dark, and many of the thriving daytime stores – from humdrum haberdasheries to elite boutiques, even restos and cafes - have steel blinds tightly pulled down over their storefronts. It may be a forbidding look though par for the course across Europe, but perhaps not as unsightly as the heavily gated or grated look of inner city storefronts that abound in US cities like in our neighbour Detroit. One company, U.S.-based Rollac, distributes the ShopGuard Shutter. Its sales literature says ShopGuard "is a commercial security shutter that is designed to protect your business from unwanted visitors." It features a single wall design "that rolls compact for minimum installation space while providing commercial strength for protection." The shutters can be "easily installed" either on the inside or outside of a commercial building. The shutters have advantages in addition to protecting against vandalism including from noise and UV. Don't like the solid blind look? The company also makes blinds with open grids, aesthetically more pleasing than US inner city heavily gated looks. And, once installed, storekeepers could put a positive spin on them – "Hey, we're bringing a little bit of Europe to the city core!"
Photo: Rollac
---
Star plant closure's wider implications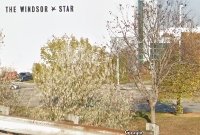 WindsorOntarioNews.com February 27 2023
It's not just the loss of 75 jobs at The Windsor Star printing plant next month that could result from the closure of the last physical presence of what's being called the city's longtime "heritage" newspaper. (The Star's downtown newsroom closed last year.) It's matters like the plant being a regional print facility and its role in being a charity sponsor as well as the possible loss of the newspaper's decades-old archives. Unifor, the union representing Star plant workers, has asked support from city council to save the Star's decades' worth of archives. "Please protest that the history of those archives be moved to a City of Windsor public outlet such as our library," it says in a letter. "This history of Windsor through our journalists/photographers/printers/engravers does not belong to (publisher) Postmedia but to our community." The union points out the plant has also printed regional newspapers like the Sarnia Observer and the Chatham Daily News but won't anymore. "Postmedia will continue to decimate printed product throughout our communities." And Unifor notes the venerable Goodfellows Christmas charity newspaper will now be without a sponsor. "Windsor Star printed the Goodfellows newspaper as a community service which has now turned into more Postmedia profit." The Star's plant closure will see the more than 100-year-old local newspaper now printed in Toronto with advertising inserts completed in London. The finished newspaper will then be trucked back to Windsor.
Photo: Google Street View
---
Expect major transit route changes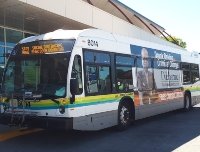 WindsorOntarioNews.com February 14 2023
Get ready for some big changes this year if a Transit Windsor route overhaul is approved. Routes will be streamlined, and new ones created in proposals going before the city's transportation committee this month, which in turn would have to be approved by city council. Routes that for generations have been designated like the Transway 1C and Crosstown 2 will be no more. While keeping much of their actual physical routes, they'll be re-designated by a series of three digit numbers from "primary routes" in the 100s to "secondary routes" in the 200s and so on. There will be six categories of routes ending in the 600s, the last being "regional" services to places like Amherstburg. Transit Windsor says this will "make navigation easier for passengers." Generally, those routes running east-west will have even numbers and those north-south odd numbers. The Transway 1C, the most travelled route, will become Route 110. It will run between the east and west end terminals but will no longer loop through suburban neighbourhoods, which will be served by new "local routes" with 300 category numbers. "As a main route (primary route) with a frequency of 10 minutes, a residential neighbourhood such as Forest Glade is over serviced, given that other neighbourhood feeder routes run on 30 – 60-minute frequencies," the report says. The Crosstown 2 will become Route 100 and part of the route on the east side will be served by a new local 300 numbered route. "Ridership drops off substantially east of Lauzon Rd. (average weekday boardings per hour of 1.25, well below industry minimums; only 3% of ridership on the route travels east of Lauzon Road)," the report says. The Dominion 5 will become Route 115 running from downtown to St. Clair College. The Lauzon 10 will be eliminated due to it being "inefficient and meandering" with "very low" ridership. It will also be replaced by local 300 numbered services. The Tunnel Bus will have service cut from 30 to 60 minutes because it is also "low ridership" – average boardings of 11.1 per service hour in 2019.
---
Lauzon Pkwy to get multi-use trail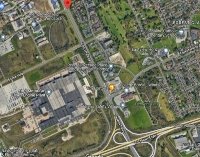 WindsorOntarioNews.com January 30 2023
The city is rebuilding its main north-south, east side artery that funnels traffic from Riverside and Forest Glade to EC Row Expressway. Reconstruction of Lauzon Parkway will begin some time later this year – the city hasn't put a start date pending award of tender – but has a firm completion date of Oct. 31. Construction will take place between Cantelon Dr. and Forest Glade Dr. beginning in in spring. The work has been slated for at least a few years. The six-lane roadway's concrete structure has "significantly deteriorated due to the heavy volumes of traffic and the annual freeze-thaw cycles," says the city. Besides removing and replacing the existing pavement engineers will add an open grade drainage layer "to improve the structure and lessen the effects of the freeze thaw cycle." This is common on many streets such as on Huron Church Rd. and uses larger sub-surface aggregate to facilitate water drainage, contracts coordinator Charles Hartford says. Both the roadways and sidewalks will be demolished and reconstructed. In addition, there will be a new asphalt multi-use trail. Also look for new streetlights. The city is requesting a noise bylaw exemption to carry out the work 24/7. Businesses along the roadway will be accessible throughout the project.
Image: Google Maps
---
Swimmers' safety is the main focus of the city's Sandpoint Beach redesign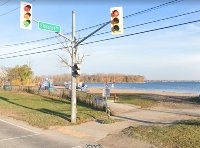 WindsorOntarioNews.com December 22 2022
Windsor's only municipal beach is slated for a makeover. Sandpoint Beach would finally get a "master plan" for an array of long needed improvements. While the beach has always been a hot spot for the public during the summer it has also been notorious for several drownings because of the steep Lake St. Clair drop offs and the strong currents and undertows, and swimmers themselves irresponsibly not remaining inside buoy- marked boundaries. That danger exists on the beach's extreme west side. The Plan's "primary purpose" therefore would be to improve safety. But there are other considerations such as preventing erosion and flooding. What's known as Sandpoint Beach is actually three side-by-side areas - Sandpoint Beach to the west, and Ganatchio Park and Stop 26 Beach to the east. The master plan would include a new shore wall of steel sheet piles with a safety railing to prevent swimming access at the deep end and would enhance fish habitat. The beach itself would be moved further east "away from deep water and/or strong currents." A neighbouring rock "promontory" sticking into the lake would be constructed to protect against erosion and "dissipate wave energy." Other goals are to eliminate water access within 250 metres of the deep water. But anglers would instead have access to this deep water via a pile-supported fishing pier. And the Stop-26 Beach on the east side would have its kayak launch upgraded, separated by the promontory or rock pier. The latest public information meeting was held in late November and public feedback ended Dec. 6. The next step is completing an environmental assessment. Provided all "outstanding issues are resolved" the Plan will be finalized and sent for approval.
Photo: Google Street View
---
Stereotypes aside, city project spending generates major surpluses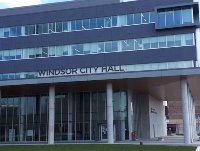 WindsorOntarioNews.com Dec. 8 2022
Contrary to stereotypes of irresponsible government spending, and indeed real examples of overspending and waste by governments everywhere, the City of Windsor has done pretty well keeping spending on target on a myriad of projects over the past couple of years. With $1.6 billion allocated to 602 ongoing capital projects, 568 of them are on budget, 19 have surpluses and 15 have deficits. The information is contained in a "capital variance" report prepared for city council. In fact, budget surpluses far outweigh project deficits. The surpluses total just over $7 million, ten times the figure for budget deficits at just over $700,000. City staff caution the figures are estimates based on "currently known information" and could change "should other unforeseen circumstances occur which result in additional cost or savings." For example, this year's Can_Am Games had a $300,000 surpluses due to better than anticipated sponsorship revenue. The Arch Gateway to Sandwich Street project had a $2500 surplus. The Memorial at Vimy East of Marentette saw a $57,000 surplus. 2020 and 2019 city wide road rehabilitation both resulted in $1.5 million surpluses. But the Mic Mac Bleacher restoration incurred a $90,000 deficit due to higher than anticipated costs for bleachers and a backstop.
---
Former Windsor Star reporter at centre of Ottawa Nazi flag-waving allegation
WindsorOntarioNews.com Nov. 24 2022
A former Windsor Star reporter is at the centre of a controversy arising from deliberations at the Public Order Emergency Commission in Ottawa. The commission is investigating the justification of the federal government for suspending civil liberties under the Emergencies Act during the Freedom Convoy truckers protest in Ottawa and elsewhere including Windsor last winter. Protesters' lawyer Brendan Miller this week identified Brian Fox as the person who paraded with a Nazi flag in Ottawa amidst protesters at or near Parliament Hill. Fox's identity was based on distant pictures of the flag-bearer's face, mostly covered by shadows, and an "untested" affidavit of a man who "purported to have recognized Fox from Miller's photos after having spoken to the flagman in January," according to Postmedia. The lawyer wanted Fox and his employer Enterprise Canada to testify but was denied. Miller said at Monday's hearing that Enterprise Canada executive Brian Fox was the Nazi flag-bearing person at Freedom Convoy protests around Jan. 29 in photos widely distributed through social media. But, calling the lawyer's request a "fishing expedition" and "purely speculative," Commissioner Paul Rouleau denied it and others. Rouleau stated the theory is that Enterprise Canada "carried out such conduct at the direction of the prime minister, his staff or both." Meanwhile, Enterprise Canada has vehemently rejected Miller's claims. On its website, the firm called the lawyer's statements "entirely unsubstantiated and deeply offensive." It added they were "absurd and despicable" and said Fox was not in Ottawa but in Toronto at the time of the alleged incident. "Mr. Fox and everyone at Enterprise Canada stands firmly against the hatred represented by the symbol Mr. Miller referenced and strives for our workplace to be an inclusive and accepting environment for everyone." Fox's bio on the same website says, "Brian's career began as a Windsor Star journalist and has taken him to the Queen's Park Press Gallery as well as senior branding and marketing roles supporting the finance and tech sectors." Enterprise Canada describes itself as "an agency at the intersection of public affairs + traditional advertising. We focus on ideas that help you find currency in a world defined by social movements, political upheaval, and digital disruption."
Photo: Enterprise Canada
---
LaSalle warehouse figures in case worthy of "Agatha Christie woodunit."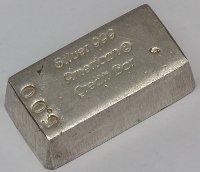 WindsorOntarioNews.com Nov 10 2022
A LaSalle warehouse has figured in a story of international intrigue about a large quantity of vanished precious metals. In what was described as a plot worthy of an "Agatha Christie woodunit," $10 million in silver ingots was taken from a Montreal rail yard and driven to a warehouse outside of Windsor in LaSalle. A National Post story reported that in January 2020 a Quebec trucking company received an email with a secret code of instructions about what to do with the shipment. "The email had all the necessary information — the weight of the cargo, the correct container number and the secret code — so the silver was driven out of CN'S Montreal rail lot and to a Lasalle, Ont., warehouse," the newspaper said. The warehouse is not identified. "And then it vanished — all roughly 18,000 kilograms of it." Federal Judge Kevin R. Aalto, overseeing a lawsuit related to the disappearance, said the case "has all the elements of an Agatha Christie whodunit." Reported the newspaper, "the email was likely fraudulent. Thieves had allegedly gained access to the secret code and other details and changed the delivery location, pulling off a remarkable international heist." In the intervening years only "token amounts" of the metal have been found across North America. "It's a tale of international intrigue, and somewhere, a modern-day Auric Goldfinger is sitting on some 20 tonnes of silver." Judge Aalto said the intriguing elements were the stolen cargo, various suspects, an unknown perpetrator and "a trucking company that was given the pickup code with instructions to deliver the cargo to a location unknown to any of the parties." The shipment, which originated in Korea, was only intended for a stopover in Canada on its way to New York. Said the judge, "Four days after in arrived in Montreal, Oriental Cartage, a trucking company based in Laval, Que., received a pickup email. It contained the "correct container number, pickup code, and weight of the Cargo." The silver was then driven to LaSalle, where it last saw the light of day.
---
Ottawa mayor said his city had 'more difficult' blockade than did Windsor
WindsorOntarioNews.com October 18 2022
The City of Windsor came up several times today in testimony before the federal commission examining whether the use of the Emergencies Act was justified last winter to clear truck Covid rules protesters in Ottawa. Commision counsel Natalia Rodriguez referenced how it appeared ending the blockade at the Ambassador Bridge in Windsor took priority over ending the three week truck blockade in downtown Ottawa last February. "Yes, and that's in fact what happened," that city's mayor Jim Watson (photo) said. The counsel read a letter to Windsor protesters about how, before meeting provincial authorities to seek a resolution, they would have to leave the protest site and denounce "all unlawful activity and encourage a period of quiet." Added Rodriguez, "The Solicitor General is offering that the province will meet with the group of protesters in Windsor if they leave the protest site immediately and denounce all activity." She then asks the mayor if he's aware the province "ever offered to meet with the protesters in Ottawa." Answered Watson: "I'm not aware of any such request....That was never an option that was presented to me or anyone in my office." Watson added, "I can't give you the exact date but eventually the OPP came on board (after the resolution in) Windsor and (got) to Ottawa as quickly as possible." Later in his testimony the mayor again mentioned how the blockades at the border in Windsor and at Coutts, Alta. were wrapped up relatively quickly – where there were economic impacts because of the border – but similarly the capital city also suffered economically. He said the protesters "and occupiers were significantly larger in Ottawa (than) in Coutts or in Windsor, so I think we had a much more difficult situation."
Photo: City of Ottawa
---
Fogolar lands slated for major five building condo redevelopment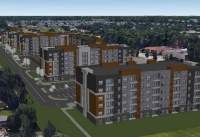 WindsorOntarioNews.com Sept. 27 2022
Wonder what ever happened to those soccer fields, long owned by the Fogolar Furlan Club but sold off as the club decided to downsize a couple of years ago? The almost 10-acre site is now proposed for redevelopment as a massive condo complex. HD Development Group, which is already developing Trinity Gate Condominiums at Walker Rd. and Ducharme St., is the builder. This new development at 1850 North Service Rd. would see five six storey condo towers along the narrow swath of land (472 ft. frontage by 1336 ft. depth) with 387 units and 491 parking spaces. To the immediate east is Byng Rd. with single family homes. Immediately west is the existing Fogolar property as well as the Chartwell Oak Park Terrace retirement home. While all the buildings will be six stories some will contain more units than others, varying from two with 58, two with 64 and one with 143. Altogether the buildings' footprint would take up 21.5 per cent of the land. The project was lauded by city planners as a successful "infill" development. Proponent HD states it would be "positive" and "compatible" with the neighbourhood. Buildings will face laterally east-west with balconies on the north and south sides therefore not facing residents on Byng. The "medium profile" buildings will be located at the "furthest points on the west of the property to provide for substantial distance separation" from residences, the developer's report says. The remaining property will be park-like with "extensive grassed area, trees and landscaping, 4 outdoor pavilions, 3 outdoor pickleball courts, and proposed walking paths," landscaping and benches surrounding a storm water pond designed to create a gathering place. An open house was held in May. More than 100 nearby property owners were notified and 33 attended. There will also be another public meeting. City staff have recommended approval, saying the development provides "a housing type that creates a diverse neighbourhood, creates an environmentally sustainable development by redeveloping a serviced vacant parcel…..and provides housing that is in demand."
Image: HD Development
---
Revitalized park to celebrate 20th anniversary of Japanese donation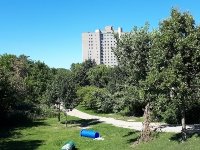 WindsorOntarioNews.com Sept. 13 2022
It's perhaps one of Windsor's lesser known or appreciated parks. But it is one with a unique setting and history and with likely loads of future potential. Gateway Park, located at 1271 Riverside Dr. W., is undergoing a $700,000 revitalization to be completed by year's end. The park has two sections – Riverside Dr. to University Ave. and University Ave. to Wyandotte St. The park is actually located on land owned by the Canadian Pacific Railway. Last November the city reached agreement with a railway subsidiary, Detroit River Tunnel Co. to operate the park on a 99-year lease. The park is literally above the 2.6 km railway tunnel linking Windsor and Detroit. Besides having a distinctive natural flavour for a very urban setting near downtown the park is known for its row of Japanese cherry blossoms located at its centre. These were donated in 2002 by the Consulate-General of Japan's Sakura Project as a symbol of international friendship. The trees are among a group of diverse plants and trees surrounding what up to now has been a narrow footpath within the 50-70 metre wide park. City engineer Wadah Al-Yassiri says this thoroughfare will be "enhanced and developed to be an asphalt trail three metres wide" and be made wheelchair accessible with ramps. Al-Yassiri noted the "very good" coordination between the city, CPR, the city's accessibility committee and biodiversity office. The contactor is Valente and Golder/WSP is consulting on design and geotechnical work. When done, it will mark the 20th anniversary of the Sakura donation. "We are still on time and target," Al-Yassiri says.