---
NEWS BACKGROUNDER
---
Gallows humour "most egregious" of Bondy's harrassment - report
WindsorOntarioNews.com July 23 2021
Essex town councillor Sherry Bondy posted a controversial "gallows" cartoon on Twitter March 30, which has since been deleted. But it was attached to town Integrity Commissioner Robert Swayze's report to council this month. The cartoon shows a hooded figure carrying a lightbulb to the gallows. Standing around are a mass of people with heads as candles. Tweets Bondy, "I am not sure who the original artist is of this illustration but it's very impactful." Swayze cited the cartoon as being the "most egregious" example of her breaking the town's Code of Conduct by harassing ELK Energy – the town's electrical power supplier – and municipal staff. As such he recommended she be docked 30 days pay and council agreed. She was also warned that if the harassment continues, she could receive a 90-day penalty. Swayze was investigating a complaint, launched by Mayor Larry Snively, that Bondy, who represents the Harrow area, "publicly and continuously" harassed staff "by posting negative comments about them on social media and recording a video in front of the company's premises." In public statements Bondy denied the cartoon was meant to harass staff and said it depicted her as victim. She also called her criticism of staff legitimate because of problems plaguing the town's power supply. Said Swayze, "she attempted to assert that the drawing was not intended to portray an ELK staff member which I found to be absurd, given her long history of criticizing ELK staff." Swayze said Bondy had a "long history of aggressively criticizing the staff" back to when she was an ELK board member before 2019. She was advised by letter in November that year that she was in "breach of her legal duties and obligations." In response, she resigned "and continued publicly harassing staff." Other than the cartoon, the exact nature of the harassment, such as the language Bondy used, isn't mentioned in the report. Swayze said her treatment of staff affected their "morale." Also, "There appears to have been a reduction in the response to recruitment advertising as a result." And public complaints to ELK have "substantially" increased since she "started stirring up the community." Swayze affirmed Bondy's right to criticize staff but in private such as at closed council meetings. Indeed, the Code specifically states council members treat staff "appropriately and without abuse, bullying or intimidation, and to ensure that the work environment is free from discrimination and harassment." Swayze concluded Bondy's behaviour was political. "I suspect that she believes her public diatribes against staff will get her votes."
---
City Hall's financial strengths are also its weaknesses - analysis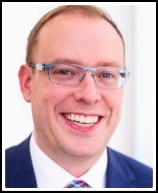 WindsorOntarioNews.com July 8 2021
Jason Reynar, the City of Windsor's new Chief Administrative Officer (CAO), (photo) has told City Council that some of the city's longstanding financial plusses are also its weaknesses. For example, a "disciplined financial culture, including strong internal controls, cost containment and budget monitoring" and the "pay as you go" financing model – which the city has used to build major facilities like the WFCU Centre – "helped create healthy base budget funding." But Reynar noted that a Strengths, Weaknesses, Opportunities and Threats (SWOT) analysis found the "relentless focus on limiting spending" such as zero property tax increases, has caused "erosion of property tax base, as well as a somewhat monocular vision that may inadvertently or inappropriately disregard other relevant strategic factors in decision-making." He suggests a "triple bottom line" approach including economic, environmental and social factors "to ensure that one lens does not dominate." The report also noted that the city's debt avoidance strategy along with "pay as you go" may "limit future consideration of creative financing options." And the "heavy take-up" on the city's much-lauded Community Improvement Plan (CIP) tax incentives for new developments, such as reinvestments in dormant office towers and depressed neighbourhoods, "erodes future general property tax revenue." However, besides looking for more investment opportunities and better internal "performance metrics" one new source of revenue could be "modest, planned tax levy increases to allow for re-investment in services, programs and infrastructure." Finally, it notes that future threats to city finances could be the impact of various lawsuits against the city. And that "insurance costs are increasing exponentially."
Photo: City of Windsor
---
100 years later, iconic General Amherst HS name may be no more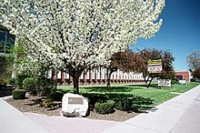 WindsorOntarioNews.com June 24 2021
Amherstburg's new high school is expected to open in fall 2022, exactly 100 years from when the town's original high school, General Amherst, opened its doors in 1922. But the iconic name General Amherst may be no more once the school opens as not just General Amherst but the town's other school, Western Secondary - located 15 km north of urban Amherstburg - consolidate into the new $24.3 million building in the urban town's Centennial Park. Since February the Greater Essex County District School Board has held an online survey asking the public to choose a name for the school. The reason for seeking an entirely new name is simply because "it is not only a new building, but an entirely new school community" that will take up premises at the school, Greater Essex County District School Board (GECDSB) spokesman Scott Scantlebury said. A school naming committee will make the final decision. Actually, the criteria for the naming process is elaborate and many layered. There are 15 committee members representing both schools. The process includes forums, focus groups, social media, a public meeting and two committee public meetings. At the first meeting the committee will choose between two and 10 names and those that "meet the threshold of the board naming criteria" will go to a community survey along with schools' staff and student feedback. The second meeting will shortlist at least two names, presented at a general public board meeting, where the final decision will be made. Naming criteria includes geography, culture, traditions, "local historical events or persons of local importance" and "representations of diversity." General Amherst, like the town, is named after General Jeffery Amherst, commander of the British forces during the Seven Years War and first Governor General of the territories that became Canada. Other schools have been renamed over the decades. These include Amherstburg Public School originally Richmond St. School and Essex Public School replacing Maplewood and Sun Parlor Jr. schools. There have been name changes such as Centennial Secondary School becoming Holy Names after the school was transferred to the Catholic board. In terms of renaming combined schools, Scantlebury gave examples of Westview Freedom Academy (Century SS amalgamated with Forster SS when Forster was closed), Dr. David Suzuki PS (combination of Princess Anne and Concord in a new building) and West Gate PS (amalgamation of Dr. Taylor and Benson public schools).
Photo: Wikipedia
---
City hotline nabs Ont Works abuser and gets property mess complaints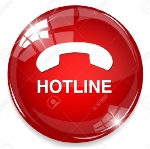 WindsorOntarioNews.com June 8 2021
A person illegally collecting Ontario Works was disqualified and the case sent to Windsor police after an anonymous complaint was sent to the city's Concerned Citizen/Concerned Employee Hotline, which accepts tips related to frauds, waste, and/or abuse of city assets. There were 20 complaints in the last quarter of 2020 and the first quarter of 2021 sent to the hotline, managed by PriceWaterhouse Coopers. All were resolved. Three of the complaints concerned Covid. One was a concern of working too closely to another person indoors without proper ventilation. A second was a snitch on a gathering violating Covid restrictions "and the police department's handling of the situation." The third was generally related to Covid "guidelines and restrictions." Other cases were complaints about private properties. One was that a person was making "changes to his house without a permit." Another "related to a carport tent in a residential areas." Another to "different items on one property (extension to the house, house being run down, unsafe conditions, garbage visible on the property)." Still another that an apartment building was "dilapidated and falling apart." There were also neutral or positive inquiries. Someone wanted to "bring scenarios of American Civil War involving Windsor/Detroit refugees to the attention of the City of Windsor." Another wanted to thank Mayor Drew Dilkens "for setting up an emergency shelter at the aquatic centre" (for homeless during Covid-19). Other complaints were related to more mundane matters like garbage pickup and trash along the EC Row Expressway. There were calls about matters over which the city had no control. To make a complaint call 519-254-9357 or email to city.of.windsor.concerned.citizen.hotline@pwc.com. Callers are protected under the Freedom of Information and Protection of Privacy Act as well as the City's Concerned Employee Policy.
---
Calls for re-opening border coming overwhelmingly from US politicians
WindsorOntarioNews.com May 21 2021
When it comes to re-opening the international border Canada and the United States seem very far apart. Over the past month there have been increasing calls for the international border, closed to non-essential traffic since March 2020 due to Covid restrictions, to re-open in some way. But the calls, at least from politicians, have almost entirely come from the US side. Brian Higgins, (photo) the Congressman representing Buffalo and Niagara Falls, has been leading the charge. As far back as last August he helmed a bipartisan letter signed by 29 members of Congress calling on the US and Canadian governments to begin to develop a framework for a phased reopening. He also called for wider exemptions for family members, businesspeople and residents to attend to personal property. Then last month, Higgins, who also co-chairs the Canada-US Inter-Parliamentary Group of both countries, called for expansion of Amtrak rail service between Western New York state and Toronto. And this month he asked the US Homeland Security Secretary to "expand the definition of essential traveller to allow families to reunite." Canada already allows such exemptions but Higgins wants the US to do the same. Also this month, given the CDC's dropping of the mask mandate, Higgins believes he has more ammunition for a safer border reopening. He called on President Joe Biden to "directly engage" Prime Minister Justin Trudeau to widen the definition of essential travellers by the end of May and fully reopen by early July. He said the CDC decision "underscores the minimal risk Americans will pose to Canadians when crossing the border to visit family and property." Not just Higgins but US Senate Majority Leader Chuck Schumer, also a Democrat, called for re-opening the border. "It is time to take the first steps towards reopening the northern border to non-essential travel," Schumer said, calling for a "staged and steady" plan that would be "based on science, data and common sense." From the Canadian side there has been little if any pick-up at least publicly. Trudeau and the US this week extended the non-essential border travel closure again until June 21. What Trudeau has said is that 75 per cent of Canadians need to at least get their first vaccine dose before the border can re-open. And Ontario Premier Doug Ford as recently as yesterday again called for tighter border controls. But a wrinkle. US Homeland Security yesterday tweeted: "We're working closely with Canada & Mexico to safely ease restrictions as conditions improve."
---
City owed more than $46 mil in fines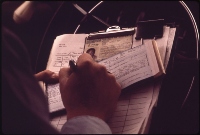 WindsorOntarioNews.com May 11 2021
The City of Windsor is owed more than $46 million in fines dating back more than a decade. That amounts to almost 72,000 separate violations. But, a city report says, this "is not just a Windsor issue, it's a province wide concern." In many cases these are from businesses no longer operating, individuals who can no longer be traced or are deceased, and out of country residents. The report says that for older fines "all reasonable measures" have been made to collect them. Next year the city will look to adopt a "write off policy" for the outstanding amounts. But, says the report, this would be done for "accounting purposes only." It does "not absolve" the offender from paying the fines. Debts to the Crown are "owed in perpetuity and are never forgiven." The fines are for minor provincial offences which the city has administered for the past 20 years. Altogether the city took in more than $47 million. Last year the city took in $244,155 distributed almost equally between the city and county based on assessment. The amount was a "significant decrease" – 9.7 per cent less – compared to 2019. There were just over 24,000 charges or about 2000 tickets issued monthly. For non-payment the city exerts "considerable efforts" through execution of writs, municipal tax roll, garnishment of wages, third party collections and through Service Ontario such as driver's licence renewal. Municipalities were compensated by the province for lost revenue from fines last year from Covid relief funding. Provincial offences include those under the Highway Traffic Act, the Compulsory Automobile Insurance Act, the Liquor License Act and the Trespass to Property Act.
Photo: Wikimedia -Yoichi R. Okamoto
---
Regulating pot odours tricky
WindsorOntarioNews.com April 27 2021
Want to regulate cannabis odours? Maybe wait for a court decision first. That was the answer the city's legal department gave to a question by Ward 8 councillor Gary Kaschak. He cites a "burgeoning community problem" with "substantial odours" permeating neighbourhoods because some residents grow their own pot, as federally regulated for medical and personal amounts. Those with medical licences can grow "hundreds of plants…leading to significant odour issues." But an odour bylaw "presents certain challenges." Such law could be violating federal legislation. Four other Ontario municipalities have such laws. One, Leamington's, which applies to larger grow facilities and not a lone person, is being challenged in court. Kingsville's bylaw covers all growers but has only had complaints about industrial ones. Pelham has an "odour unit" trained to use a "Nasal Rangers" that cost $5000 each but it targets industrial growers only. Hamilton's bylaw, though "very broad," is targeted at large producers. In Windsor, there have been 10 complaints about odour and all "relate to the same property." That location has Health Canada approval. Health Canada has indicated a "need for retooling" regulations given 43,000 people have licences which can average as many as 200 indoor and outdoor plants. Says the city's lawyer, "Striking the correct balance will be difficult and the ability to enforce such a by-law against residential growers is questionable." It recommends waiting Health Canada's public consultation or for the court's decision, to be heard this fall, of Leamington's by-law, and "any guidance" that comes from it.
Photo: By A7nubis - Own work, CC BY-SA 3.0, https://commons.wikimedia.org/w/index.php?curid=2986103
---
Local protest leaders decry lockdown

WindsorOntarioNews.com April 8 2021
A leader of a group of local businesses that have been protesting Covid restrictions questions just how good lockdowns are when Toronto's Covid numbers keep rising despite being severely locked down since mid-November. "Toronto's been on lockdown for how long now?" asked Filip Rocca, owner of Mezzo Ristorante. "And it still remains the hottest spot in Canada and we're saying lockdowns work?" He and businesswoman Kim Spirou were among protesters last month in front of the Windsor Essex County Health Unit. Rocca says he was crushed by the provincial order last week that eliminated indoor dining after Windsor-Essex had been in a modified red zone allowing 50 per cent indoor dining. Rocca says regions with low rates of Covid are paying for the high rates in the GTA. "If things were the opposite and Toronto had low numbers and Windsor had high numbers, what do you think would happen? They would be staying open, and we would be shutting down." Overnight he lost "95 per cent" of his business which had been attracting full tables at 50 per cent capacity. Now there is not even patio service, only take-out and delivery, Meanwhile, Kim Spirou, who runs an event planning and fundraising business as well as owner of Salon Brush, said the shutdowns "haven't really done anything to address the root cause of the spread which is not small business." She called the restrictions "very arbitrary" particularly when small businesses have excelled at protecting health. "The science and the data have clearly indicated that Covid spread, even in this third wave, is not attributed to restaurants, salons, personal care services, and gyms," Spirou said. "There's less than 2 per cent of spread that can be traced to a restaurant or bar, .4 per cent of spread is traced to a gym. In Windsor we've had zero cases of a hair salon associated with a Covid case – that's zero." Every lock down she's had to lay off four people. She was locked down mid-December to Mid-February and then last weekend again. This despite big box stores were "teeming" with customers Easter weekend. Asked about increased provincial funding to compensate for closures, Spirou scoffed "I have way more expenses than that, I haven't been able to make income, I can't pay my mortgage, sorry, it's just not enough." And she doesn't want "a handout." Both Spirou and Rocca are monitoring the situation and said no immediate future protests are planned.
---
Say goodbye to errant truck yards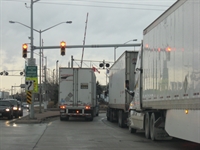 WindsorOntarioNews.com March 25 2021
The City of Windsor this spring will be revamping its planning regulations to counter the proliferation of rogue truck storage yards. Over the past decade more and more of these unlicenced yards have popped-up, sometimes is grass fields but many in abandoned industrial sites which still have tarmac and fences around them. Most are in industrial areas but still don't conform to a myriad planning regulations. These include noise, dust, not having proper curb cuts or paving, awkward and dangerous access on to busy thoroughfares and proximity to residential neighbourhoods. The city undertook a massive "blitz" of these yards two years ago and found 26 illegal ones. These ranged from parcels with less than a dozen vehicles to those with upwards of 100. "There's absolutely no paving, no fencing, nothing. Some of them didn't even have a curb cut so they were just driving off the property on to the street," Windsor senior planner Adam Szymczak said. Then city has brought charges against the landowners and three have gone to court. First offence fines can range from suspended sentences to $50,000, Rob Vani, the city's manager of inspections, said. Traditionally city rules meant trucks could only park on properties where there was an affiliated building like an office or terminal. But given the proliferation of these newer yards it is planning to change zoning criteria to allow them. In the future "they can have a simple yard so long as meets site plan control standards," he said. New measures will require yards to have proper setbacks, street access, berms and lighting. Neighbours had complained of noise such as back up beepers "at all hours of the night" and refrigeration units running 24/7, Szymczak said. Why the growth of such yards? The city points to two reasons. Our border location means a natural stop before progressing on to the US or vice versa. And increasingly stringent work rules mean drivers can only work so long before they have to stop for the night. "Windsor became kind of a natural stop," Szymczak said.
---
City Hall buys mainly local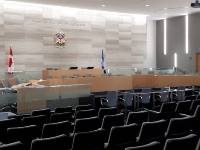 WindsorOntarioNews.com March 4 2021
Always buying local might be a good idea but it also can be illegal. Such is the conclusion of a report to City Council (right). Replying to a question from councillor Kieran McKenzie, in major procurements the practice would be discriminatory and violate the city's own purchasing bylaw, provincial policies and international trade agreements, the report says. It would also violate the Discriminatory Business Practices Act along with the Canadian Free Trade Agreement, Canadian European Trade Agreement and United States-Mexico-Canada Agreement. "All of these trade agreements include requirements to allow generally unimpeded access to markets above a certain dollar threshold," the report says. The city's purchasing policy also reflects the provincial Supply Chain Code of Ethics. Purchasing "must be open and accountable…..contracting and purchasing activities must be fair, transparent and conducted with a view to obtaining the best value for public money." However, there are still many opportunities for purchasing local and the city's track record shows that it mostly does. "In scenarios where local criteria are necessary, the City has the right to demand local service," says the report. An example is a local construction company available on short notice or having local knowledge of a specific work site. Also, for purchases at lower dollar amounts without formal procurement local vendors can and are mostly chosen, often simply because of an "inherent cost advantage." So, over the past two years 66 per cent of contacts over $25,000 went to city or county vendors. That "doesn't account" for smaller purchases "which more frequently tend to be local."
---
Newspapers' blank front page campaign met mainly with scowls
WindsorOntarioNews.com February 11 2021
A campaign by News Media Canada to generate public support for Canada's newspapers seemed to generate more antagonism than agreement, if online comments from readers is any indication. The campaign saw scores of front pages of Canadian newspapers go blank last Thursday. "It represents a very real phenomenon — local headlines and local newspapers are disappearing across Canada," Postmedia senior VP Lucinda Chodan of Postmedia wrote in an accompanying article. (The Windsor Star is a member of Postmedia, Canada's largest media chain.) The campaign urges readers to contact their MP to have government force tech giants Facebook and Google to pay for news they take from those companies and distribute without paying. The platforms also "drain off" 80 per cent of all digital advertising, Chodan wrote. But most readers who left comments were having none of it. "Gee, and I thought the blank page was reporting today's breaking news instead of old news!" the lead off comment in the Star said. The next was supportive. "They are profiting from the lion's share of advertising as our local journalists and advertisers lose their jobs." That was challenged by someone who said that the tech platform articles obviously link back to the publications themselves which are "benefiting." Said another: "If news created by Canadian media outlets is protected by Canadian copyright laws, how are Google, Facebook and others allowed to use it without consequences?" Another pointed to traditional media's apparent hypocrisy: "These groups are only doing was Postmedia did to the small local papers. A taste of their own medicine and bad for us." Another berated Postmedia for diluting the Star's content over the years. "Post News chose to make local cuts and centralize content creation. Our newspaper is a shadow of its former self…" Meanwhile, at Postmedia's flagship National Post, the overwhelming number of of 50 comments blasted the campaign or traditional media. "Absolute rubbish! There's plenty of local news — it's not in print it's online." Or, "What did you do with your share of the $650 million (already granted to newspapers by Ottawa)?...And: "When was the last time you saw anyone under 40 reading a real newspaper? The traditional newspaper has died." Among the few supportive comments: "those who work to get and print this news need to eat and pay the rent. Simply demanding more or better news coverage does not achieve that. Forcing internet news businesses to pay for what they use is only fair."
---
Windsor doesn't use controversial Dominion Voting Systems machines
WindsorOntarioNews.com January 28 2021
The City of Windsor does not use the controversial electronic – and Canadian-founded – Dominion Voting Systems to tally votes in its municipal elections. "We currently use Election Systems & Software for our election equipment needs," Terri Knight Lepain, Manager of Records & Elections for the city, said. Dominion has been at the centre of controversy as its machines were used in numerous US states, including Michigan, in the recent presidential election. Former president Donald Trump's legal team has assailed the system for being biased and helping toss the election for Democrat Joe Biden. Dominion has now launched a $1.3 billion lawsuit against Trump lawyer Rudy Giuliani for his "disinformation" charges against Dominion. The company, co-based in Denver, was founded in Toronto two decades ago. It's not the first time Dominion has been the target of controversy. It was used in 51 municipalities in the 2018 Ontario municipal elections, especially for online voting, in which there was a technical bandwidth foul-up. "The affected municipalities extended voting times to compensate for the glitch," says Wikipedia. The Province of Ontario was the first province to use Dominion, created by people in the University of Toronto engineering department. The company also has offices in a building on Spadina Ave. in Toronto's Chinatown. Select Ontario municipalities first used Dominion in the 2006 election. There were also problems with the machines in the 2014 New Brunswick provincial election. "There were some problems with the reporting of tabulator counts after the election," says Wikipedia. In the June Ontario 2018, Elections Ontario used Dominion machines at 50 percent of polling stations. Dominion also provides the systems for Canada's major political party leadership elections, such as those for the federal Liberals and Tories and provincial PCs. Locally, there were delays in electronic voting during the 2014 municipal election in several county communities. But at that time the voting system used was Toronto-based Scytl.
---
Windsor seeks pro-EV stance to attract major investment, jobs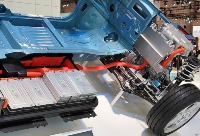 WindsorOntarioNews.com January 13 2021
A City of Windsor pro-electric vehicle (EV) strategy would dovetail with its plans to attract more economic investment to the city. In a report to city council, city administration says Windsor is "uniquely positioned to benefit" from "the shift" to EVs from cars with internal combustion engines. "Besides benefitting from reducing GHG emissions, increased demand in electric vehicles could potentially lead to more investment locally, thus benefiting our region." The city is already experiencing such growth. Windsor is now home to electric vehicle R & D by both Fiat Chrysler Automobiles (FCA) and Ford Motor. For example, the FCA Pacifica Hybrid – one of only two EVs made in Canada – is built here. As well, recent union contract settlements with the two auto giants "call for substantial investment" in EVs and battery development. Ford will invest $1.5 billion to bring EV production to Oakville "and a new engine derivative to Windsor." And FCA is committing between $1.3 and $1.5 billion by 2024. In addition to the Pacifica a second vehicle platform will build plug-in hybrids and/or full EVs. The report says to further such investment and create more jobs, Windsor could set an example by expanding incentives for EV car use. There are still only a handful of such users here (see front page story – 'City to expand public EV charging stations'). Besides increasing its own plug-in stations at public parking lots, the city is exploring ways to increase private plug-in sites. The city can use existing Bylaw 8600 to require new major industrial and commercial developers to include charging infrastructure on private properties. Expanding the city's own hybrid and EV fleets also helps to "increase visibility" of EVs and set an example for others. The report says the city could also help increase awareness of EVs. This through coordinating local public (such as Windsor Utilities) and private related businesses to create "information and awareness campaigns." The city could also offer "parking incentives" for EV owners.
Photo: Wikipedia
---
Assumption U scored big by hosting event with retiring aboriginal senator
WindsorOntarioNews.com December 2 2020
Windsor's Assumption University's timing couldn't have been better given that Murray Sinclair had only last week announced his retirement from Canada's Senate. Assumption, affiliated with the University of Windsor, hosted a virtual lecture by the famed Indian rights activist and chair of the Residential Schools Truth and Reconciliation Commission Tuesday night. Sinclair, 69, the first aboriginal judge in Manitoba and only the second in Canada, announced he would retire to write a book and mentor young people. In his lecture, viewed by an array of the public but high-level university officials across Canada, the Manitoban told of how his early career as a lawyer was thwarted by first-hand racism. In one case, he was mistakenly lectured in court by a judge who thought he was an accused not a lawyer. In another, he went to visit a client in jail. "The guard mistakenly grabbed by arm" and wanted to throw him in a cell. The topic of the lecture was whether it's possible for natives and Christians to reconcile, given centuries of racism and the church's involvement in the now defunct Residential Schools, where Indian children were taken to assimilate into white society. He too was "one of its victims." Sinclair said it wasn't the church's teachings – quality and love for others – that was at fault but the church leadership that gave white explorers and racist policies legitimacy. "The Doctrine of (European) Discovery was a very Christian principle," he said. "It was perpetrated by the Pope, initially, and was used in order to authorize the authority of various nations – the Christian nations as they were called – to claim land around the world from Indigenous people." Sinclair himself was brought up Catholic and told the audience that most faiths are in agreement on basic tenets like truth and love. He recalled a conversation with a priest, who told him Indians "believe in too many gods." He agreed, saying Indians talk to the Earth, the trees, animals - "you have to understand that one God has put his spirit in all of us, in all of creation."
Photo: Senate of Canada
---
Regulating payday loans not so simple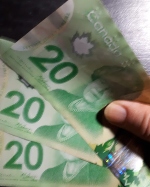 WindsorOntarioNews.com November 3 2020
The City of Windsor has 17 payday loan businesses but any regulation of new ones to specific neighbourhoods would still keep the original 17 "grandfathered" in their current locations. That's according to a city staff report going to city council in response to a Council Question last year by Ward 3 councillor Rino Bortolin. Bortolin's downtown ward has five such establishments, the most in the city. The next highest – four – is in Ward 8 on the far east side. The report from the city solicitor's office said that payday loan offices, which provide short term loans for high fees, are located in neighbourhoods with "high levels of low income." Other cities have regulated PLEs (payday loan establishments) such as one or two per ward to a maximum cap and distance them from gaming establishments, group homes or schools. Municipalities cannot ban them outright. Under the city's current zoning PLEs are allowed to locate the same as any other commercial business. One option is to cluster in one area and therefore limit negative impacts to others. Or "spread them evenly" throughout city so as to distribute impact. The Payday Loan Association says the "working poor" are the primary users of PLEs. The current annual percentage rate of a payday loan in Ontario is 390 per cent. A federal survey found that 90 per cent of users said using PLEs was the "fastest or most convenient option." 35 per cent said they did not have a regular bank account. The city report points to studies that associate use of PLEs with "a cycle of stress and household debt." And that PLEs "strategically target the most vulnerable" without good credit or traditional bank access. The report suggests one solution is the city team with conventional financial institutions like banks and credit unions to work with low income people and provide "alternative lending options."
Does the reduction in health unit live updates reflect drop in Covid-19 cases?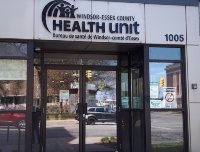 WindsorOntarioNews.com October 15 2020
Is a decision by health authorities to reduce live Covid-19 updates from daily to three times a week a reflection of a reduced number of local virus cases or simply health staff fatigue or both? Local Medical Officer of Health Dr. Wajid Ahmed and/or CEO Theresa Marentette have hosted the daily updates for months. But this week the schedule was reduced. Over the past couple of months Windsor-Essex have had a markedly reduced number of cases. Since September 1 when there were three new casss, until Oct. 13, when there were two, there has been an average of 4.44 new Covid-19 cases per day. Even in August cases were low. This compared to earlier in the summer when cases were well in the double digits, sparked largely by the migrant labor population. On June 28 – the highest single day count since the pandemic began – there were 119 cases. Asked if declining caseload or burnout may be factors, WON.com got this response from the health unit. "Wechu.org is updated every day and we issue email updates about case counts, statistics, and more to the media and our subscribers every day, including this past Thanksgiving holiday. We continue to respond to media questions on Tuesdays and Thursdays and often on weekends. We have committed to bringing back weekday broadcasts on YouTube Live if the need arises. At this time, we've decided to broadcast on Mondays, Wednesdays, and Fridays."
Cross-border snail mail? Blame it mostly on international security checks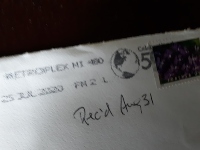 WindsorOntarioNews.com Sept. 17 2020
Ever wonder why cross-border mail delivery takes as long as it does? Anecdotally mail this summer from as close as Detroit to the Windsor area took about one month. That was for four pieces of mail, sent at different times in July, August and September. These were regular letters, not large envelopes or packages. The delays are not just caused by Covid-19 logistics interruptions. Long wait times for US-Canada mail, in the age of the internet and lightning fast private delivery services, though expensive, have been a fact of life for years. So WON.com contacted both Canada Post and the United States Postal Service (USPS) to ask why mail delivery takes so long. Canada Post said a lot has to do with border security, just like when people physically cross the border, "Mail being delivered to the U.S. from Canada must first be processed by United States Customs and Border Protection and similarly mail destined to Canada from the U.S. must first pass through Canada Border Services Agency (CBSA) before being handed over to Canada Post for processing," the statement said. "We work closely with CBSA - they are located within our three main processing facilities - Toronto, Montreal and Vancouver." For its part the USPS is blaming recent "temporary" delays squarely on the pandemic. At Covid's peak "we saw delays internationally," the agency said. However, "international transport is beginning to return to near normal conditions."
City ready to convert less used transit routes to On Demand or Microtransit
WindsorOntarioNews.com August 19 2020
Transit Windsor would be ready to convert existing routes to so-called "on demand" or "microtransit," should that be a condition of receiving more emergency Covid-19 funding from the province. The province announced last week it and Ottawa will provide $666 million to help cash-strapped transit agencies which have seen precipitous declines in transit use and therefore huge revenue losses. Many, like Transit Windsor, have not been charging customers for using buses during the pandemic. The Toronto Star reported the province will issue a second – bigger - round of funds in 2021 with Queen's Park and the feds offering $1.33 billion. However, to access such funding municipalities will be required to "review the lowest performing bus routes and consider whether they may be better serviced by microtransit," said Ontario Transportation Minister Caroline Mulroney in a letter to Toronto Mayor John Tory. Microtransit or on demand transit may feature smaller vehicles like vans with no fixed routes but respond to customers' ad hoc travel demands. "Microtransit, or more commonly known as on demand transit are becoming household terms in public transit," Transit Windsor general manager Pat Delmore said. "Many cities are looking to this type of service to provide direct service in lower demand but still needed areas for public transit." Or, as in the case of Innisfil, Ontario, which has a pilot project with Uber that forms part of the municipality's transit system. In fact, Transit Windsor has already acknowledged a future role for on demand transit. Said Delmore, "Transit Windsor's Transit Master Plan that was approved by City Council last fall, identified on demand as an option for a few locations in our city. Some were for current low ridership areas while others were a solution for currently unserviced areas." The official added that "This is a solution we would be looking to implement."
Photo: Innisfil Transit
For migrant workers, huge difference in wages here compared to back home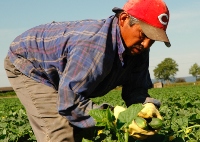 WindsorOntarioNews.com July 25 2020
(During the Covid-19 crisis there have been skyrocketing rates of infections among Essex County migrant farm workers. As of today 1025 of 2156 (48%) positive cases in Windsor-Essex are among migrant laborers. Authorities are dismayed with the outbreak and the lack of testing in the agricultural sector with various explanations offered, including that migrants may fear testing positive and losing jobs and sent back home (though they have been told that won't happen). Migrant workers make substantial income here compared to Mexico. WON.com has broken down the figures to get an idea of the difference in pay.)
Most of the hundreds of migrant workers who toil in Essex County are here under the Seasonal Agricultural Workers Program which allows employment for up to eight months. Under the program workers must be paid the going provincial minimum wage which is $14/hr. Salaries are based on a 40 hour work week and if workers work more hours – sometimes as many as 10-15 hours/day and six or even seven days/week they are still paid for 40 hours. There is no overtime pay. "So when we say that workers are working anywhere from 50 to 70 hours a week this is legal. And it's all about meeting the needs of production," said Chris Ramsaroop, a worker advocate at Justice for Migrant Workers. So, 40 hours a week @ $14 per hour is $560/week salary. Multiple that by 32 weeks (8 months) and it's $17,920. Compare that to the average Mexican wage. According to WageIndicator.org the average daily wage for a general labourer in Mexico is 123.22 pesos or $7.42 Can. The average monthly wage is 3,201.26 pesos or $192.87 Can. Obviously making $140 per day in Canada is vastly higher than what the laborer would make back home. Of course, according to the federal government employment contract (available online), there are wage deductions, but these still must seem miniscule in the great scheme of things. The migrant worker has to pay $5.45 per "work" day for various government deductions and this includes half their airfare from home to Canada, a maximum of $463.00. They also pay "utility costs" which go towards housing at $2.33/day. (There could be other housing costs, according to Justice for Migrant Workers.) If an employer provides meals workers can be charged up to $10 a day. But if you added all these deductions they amount to $17.78/day. Add in miscellaneous costs like protective equipment and uniforms, transportation from farm to town and deductions could, say, total $20.00/day. So, if you deducted $20 per day based on a 6-day week that's $120.00 and over 8 months ($120 @ 32 weeks) is $3840. Subtract $3840 from $17,920 gross wages leaves $14,080. Or $1760 per month. That compares to the equivalent monthly Mexican wage, in Canadian dollars, of just under $200.
Photo: mscollege.ca
Marina now will really float their boats
WindsorOntarioNews.com June 19 2020
The city's rebuilt Lakeview Park Marina should be ready for the multitude of eager boaters by the end of July. The popular marina, with a waiting list, has been rebuilt and expanded as a floating dock. The more than $5 million project was interrupted this spring for five weeks because the project wasn't deemed essential construction under provincial Covid-19 protocols. But work resumed over a month ago and the dock system itself – actually a series of "string" and "finger" piers – looks almost finished. Crews will be installing infrastructure like electrical, water and wi fi over the next month. The docks had to be rebuilt because the almost 40-year-old former marina on the city's far east side was a fixed structure and getting flooded by rising water levels. It was closed to boaters in May of last year. Higher water "had started to pop all the deck boards and all our electrical and water was all under water and the ESA (Electrical Safety Authority) basically shut us down," City of Windsor project manager Pier DeSimone said. The new docks were fabricated as "modules" at Kingston-area manufacturer Kehoe Marine Construction, then transported to Windsor, deposited into the water and floated to attach to other segments. The modules are warp around wooden decks concealing ballast tubes to float the structures (photo). A diver performed underwater tasks with hydraulic saws and torches. "That's probably the most difficult part of the work," DeSimone said. "As you can imagine it's not perfectly clear down there and he's working with power equipment while still in communication with the boat on land and the (boat) crew."
Photo: City of Windsor
Fraser Institute, UW professor on Canada's post Covid-19 future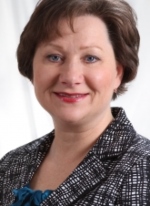 WindsorOntarioNews.com May 29 2020
This week senior fellows at the Vancouver-based Fraser Institute released their views on how Canada's experience with Covid-19 and the recession it has triggered may change the country and its economic future. One of those fellows is Lydia Miljan, who is also Associate Professor of Political Science at the University of Windsor. WON.com reached out to her and here's what she wrote.
It appears that every day we hear of some new announcement of government giving Canadian's financial relief for the economic fallout of the pandemic. Currently the federal debt is approaching $1 trillion. As much as the income stability at the start of the crisis was needed, make no mistake, it was not a gift from government. Remember that it was government that delayed on restricting travel from hotspots and not being proactive on contact tracing. As a result, the country and the economy has been shut down. The income relief is not free money. At best it should be considered a loan. At worst, it will be repayable in the form of increased taxes and/or cuts to programs. The question is how long it will take future generations to payoff this generosity.
Photo: Fraser Institute
Walker Power's owners royally peeved at city's historical recommendation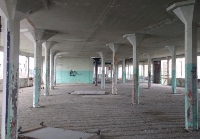 WindsorOntarioNews.com May 15 2020
The people who took a more than a century old historic industrial ruin on Windsor's east side and converted it into a sparkling new hi tech building that preserves its original architectural elements have taken major exception to a City of Windsor recommendation to have their so-called Walker Power Building receive official historical designation. The owners are Aleo Associates Inc. and Ducharme Weber LLP. Designation would put strict limits on how the owners – and those after them - can alter the building after completion, expected later this year. At a heritage committee meeting this week, city officials were taken aback by the owners' opposition to designation. The officials believed designation would in fact honor the massive restoration. But the owners were offended because they would now be constrained in making any future alterations, especially given how much equity – more than $10 million - and good faith they'd put into restoring, sometimes arduously, the complex. There were several specific points their lawyer Kathleen Montello made in a letter to the committee. First, the owners' ire was sparked because they were originally told the city "would not ask for heritage designation" if construction "generally complied with the original architectural aspects of the building." Second, a "conservation easement" (giving the city certain powers) has already been agreed to over perhaps the building's most significant historical element, a revealed old railway turntable. To be sure, the owners "commitment to the preservation of the artifact of archaeological significance has been unwavering." Third, the city's timing. Montello says the owners were "caught totally off-guard (by the designation recommendation) long after the plans for the complete renovation of the building had been implemented and construction was nearing completion." Montello called the city's action "truly alarming" particularly "after having been induced to proceed with the assurances given by officers of the city that no designation would be sought, an enormous outlay of capital is now in jeopardy." The heritage committee voted unanimously for the designation. The matter now goes before city council.
More social distancing pedestrian space? Montreal suburb has a solution
WindsorOntarioNews.com April 27 2020
We don't usually think of Windsor as a pedestrian-oriented city. But city councillors have raised questions about the fact a combination of nicer weather, people having been cooped up in their homes from the Covid-19 lockdown, and the decline of motorized traffic due to said lockdown, might require a little more sidewalk elbow room in the coming weeks ahead. One suggestion is to open a street lane so pedestrians can easily walk by one another without having to awkwardly jump out into car lanes to social distance from another human being. A prime street candidate would be picturesque Riverside Drive. But the city might also want to take a page out of Montreal's playbook for dealing with pedestrians during the pandemic. Arguably Montreal is a denser city with much more pedestrian traffic. Nevertheless, one idea could find application in the City of Roses. The borough of Côte-des-Neiges Notre-Dame-de-Grâce this month created a kind of pedestrian spill over lane in its heavily pedestrianized business districts. These "pedestrian corridors" allows passersby to remain two metres apart from others, even from people waiting in line to enter a store. The green and white bollard type posts were installed only partly into a traffic lane (photo above). According to the borough's website these "boundary markers" are set up three metres away from the sidewalk. The lanes are reserved strictly for pedestrians. Cyclists and motor vehicles cannot enter. One drawback - the lanes have removed certain bus stops. But, in Windsor, public transit is currently not running. (UPDATE Apr 28: The city has announced Transit Windsor will resume operations next week.)
Transit shutdown - clear as mud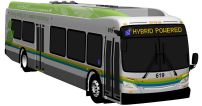 WindsorOntarioNews.com March 31 2020
Sure, there are many reasons Windsor Mayor Drew Dilkens shut down transit services this week. Bus crowding and constant touching of surfaces like hold bars and stop wires, and drivers' fears for their health, were some of them. But another, according to the mayor, was the transit union's obstinance in cooperating with cleaning the buses. The mayor had wanted to recall laid off non-transit city staff who'd temporarily lost their jobs due to the coronavirus outbreak and bring them in to do intensive midday bus cleaning for "enhanced sanitation." Dilkens said the union balked and wanted the work for itself at overtime pay and by hiring new staff. The union, in a statement on the weekend, disagreed. It said the union's "skilled trades" were "willing to take a pay cut to help in cleaning buses." It goes on, "Our members never questioned what we had to do, they were willing to do whatever it would take to make it work." Also, "This Union Executive even on their own accord cleaned and sanitized every facility at Transit Windsor on their days off and without pay. This was done without question when management refused to step up and do their jobs to protect all of the employees." The union blames the mayor for using the pandemic as a "cost saving tool." The union added buses have "never been cleaner and have continually been sanitized over and over again." The union castigates Dilkens for various shortcomings (lack of hand sanitizers, masks and wipes for transit staff) and attacks two managers who "continually undermined the efforts that have been organized to help with the efforts to keep everyone safe." But it gave no direct response to the mayor's reference about wanting overtime pay and hiring additional workers.
Windsor hardly Canada's auto capital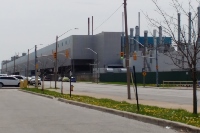 WindsorOntarioNews.com March 2 2020
It might not be the best time to announce a new auto-related brand for the City of Windsor, such as that we are the nation's auto capital, given Fiat Chrysler's news last week that it is cutting Windsor Assembly's third shift with a loss of 1500 jobs. But it's questionable whether the moniker had fit the City of Windsor anyway. The WindsorEssex Economic Development Corp. has been in the process of planning the new auto branding. Spokeswoman Lina Williams said the corporation will likely make an announcement later in the month. She said that "although there has been mention of this in the media, we are working towards finalizing/formalizing the initiative and we should be in a position to discuss in a couple of weeks." However, declaring itself the auto capital flies in the face of auto production stats even as they have existed up to now. The move also comes after GM ceased car assembly in Oshawa last year. At one time there had been something of a back and forth between Oshawa and Windsor as to which city was really the country's leading automaker. However, according to auto analyst Dennis Desrosiers, Windsor is mistaken if it thinks it's the top producer of four-wheel vehicles. "I hate to disappoint my friends in Windsor but they haven't been anywhere near the top producers of vehicles for quite some time," he said. In fact, "it is NOT Oshawa that is the issue" as other Ontario cities produce more. Statistics show that in 2018, Alliston, with three Honda assembly and parts plants, led in production with 407,764, followed by Woodstock (home of Toyota) with 353,374. Windsor was third with 287,854. Eight other cities also manufacture vehicles including Oakville, Brampton and Ingersoll. Added Desrosiers, "Be careful in that Cambridge is being re-tooled so is abnormally low... Windsor historically is either third or fourth." Did Oshawa ever name itself Canada's auto capital? "The City of Oshawa's moniker has been 'Prepare to be Amazed' for a number of years now," city spokesman Brett Murphy said. "I believe a slogan existed several years ago with regards to the automotive industry. From what I understand, Oshawa had a previous slogan of 'the city that motivates Canada.' And despite GM's assembly closure the company still remains invested in Oshawa and the city has an auto presence going forward. It "has evolved to reflect applied research, development and innovation," Murphy said. Besides GM's $170 million investment in stamping and sub-assembly that will maintain over 300 jobs with plans to grow, "investments are being made throughout the community that will make Oshawa a leader in autonomous vehicle testing and innovation," he said. "Oshawa also remains the location of GM's national headquarters as well the Oshawa Canadian Technical Centre, employing 700."
Prominent No Smoking No Vaping signs are popping up everywhere
WindsorOntarioNews.com Feb. 18 2020
The signs are showing up everywhere in Windsor and Essex County and they're distinctive. Not only do they warn against smoking but they tell the public that vaping in certain public areas is also illegal. The signs are also noticeable because of their size. The signs come from the Ministry of Health and have been distributed over the past year by the Windsor Essex County Health Unit. The signs not only say "No Smoking" but "No Vaping (e-cigarettes)" and they're 15 cm high by 20 cm wide. There are also smaller individual No Smoking and No Vaping signs. The new signage refers to the province's revised Smoke Free Ontario Act which took effect in the fall of 2018. The act, for the first time, included vaping as a prohibited ground. Local health promotion specialist Ashley Kirby said the health unit has been taking applications online for the signs as well as distributing them by its tobacco enforcement officers. More than 700 businesses have posted the signs and they appear prominently in stores, restaurants and workplaces, often on restroom doors. The anti-smoking law was updated to reflect the new federal cannabis legislation that also took effect in late 2018. Kirby says there's been "no resl reluctance" from organizations (including non-profits like social clubs) to post the signs. "Usually we do pro-active enforcement" meaning they will courteously ask businesses to post, she said. But "if we know that we've offered signage multiple times (and organizations don't post) that's when the fine would start to come into place."