---
RESTAURANTS
---
Vito eyes eastside catering warehouse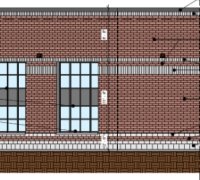 WindsorOntarioNews.com Nov 29 2023
Vito's Pizzeria owner Vito Maggio is looking to build a catering warehouse in Ford City on St. Luke Rd. just north of Wyandotte St. E. Vito Maggio Holdings Inc. owns the now vacant property that at one time had four homes on it, demolished 10 years ago. The 134,000 sq. m. warehouse "will be used to support the applicant's other businesses. Primarily, the building will be used to store equipment and materials for a local catering company," a city planning report says. The building would also be "compatible" (artist rendition above) with other residential properties along the street and will use "higher quality durable materials." That's consistent with what is desired for community revitalization by a Community Improvement Plan (CIP) grant program for which Maggio has also applied. The program puts a freeze on current property taxes for 10 years while the assessed value of the property increases. The property's current value is $6000 and the future assessed value is estimated at $140,000. The grant would be $4,789 or $47,890 over 10 years. That's based on the different between the current tax paid ($248.25) and estimated annual future tax of $5037.66. The location is at the end of St. Luke Rd. at a turn before the railway tracks.
Image: City of Windsor
---
Most Canucks dissatisfied dining out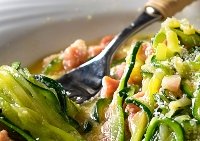 WindsorOntarioNews.com Nov 13 2023
If you've been less than thrilled about your restaurant dining experience lately you're not alone. Only a mere 30 per cent of Canucks were either "very satisfied or satisfied" about dining out over the past year. In other words, they weren't getting value for money or were dissatisfied "based on the money they spent," according to Dalhousie University's agri-food analytics lab. Restaurants have been struggling since the pandemic and trying to cut costs. That's perhaps understandable but diners still see – or don't – what's on their plates, and they're not happy. Almost 70 per cent "observed that portion sizes at restaurants have notably decreased compared to a year ago," the survey found. Diners in Quebec were most satisfied at 40 per cent while those in Saskatchewan were least – 17.3 per cent. Meanwhile, people are changing what they order when dining out or cutting back on dining altogether to avoid high prices. "80.1% of respondents acknowledging that higher menu prices have influenced their dining-out choices. An additional 8.0% reported that they no longer dine out at all." And a significant 88.3% of Canadians say "they're dining out less due to higher overall food prices compared to a year ago." More than 80 per cent "have become notably more selective" in choosing where to dine while some 77 per cent "now predominantly opt" for more affordable dining. Discounts, rebates, and loyalty programs are increasingly popular - 76.2% of us preferring them.
---
Traditional steak and seafood in Windsor? They've got you covered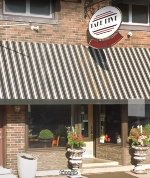 WindsorOntarioNews.com October 30 2023
Yes, the restaurant world is awash these days in an almost infinite variety of ethnic and fusion cuisine. And it's all a good thing. But sometimes you just want to go and have a great traditional style dinner of steak and seafood. And one of the best places to do that in Windsor is Take Five Bistro. Now in its 12th year the 60-seat resto on Erie St. E. is run by Cody Northgrave and Paul Sauve. For those with a long memory the building at one time housed Aldo Goldberg's and then a short-lived bistro. Take Five specializes solely in dinner and features signature steaks like filet mignon, ribeye and New York, in a couple of sizes or cut to order. There's also racks of lamb and thick cut pork chops. Seafood includes lobster, crab cakes, salmon and calamari. Northgrave said when the partners took it over the resto space – "dark and gloomy" but in an intriguing old world way – was perfect for a steak place, especially more than a decade ago when the city's dining offerings were more limited. With its wainscoting and tin ceiling, the room has that "New York or Chicago vibe," Northgrave said. The owners also wanted a different cuisine to stand out on Italian-centric Erie Street. The original clientele was professional class heavy with lots of doctors, lawyers and executives. That has morphed somewhat into families, a lot of people on dates - including marriage proposals - and special occasions; the resto has a sizable private back room. The owners experimented with live music when they first started but ironically that drove customers away. "So unfortunately, we stopped doing the entertainment and just focussed on the food," Northgrave said. Competition? There is The Keg. And the now defunct City Grill "was our kind of competition for a bit there." The restaurant has now earned its creds so much so that Caesar Windsor's Neros Steakhouse often sends it overflow customers. Besides a regular dinner menu Take Five offers prix fixe for those who want the elegance but spend a bit less.
Photo: Google Street View
---
Central Texas style BBQ with a twist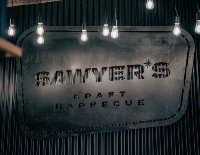 WindsorOntarioNews.com October 13 2023
Sawyer's Craft Barbecue puts its own unique spin on barbecue while keeping to a core tradition. Opened since Canada Day weekend and occupying the spot at 1000 Drouillard Rd., formerly of The Grand Cantina which has moved to Walkerville. You might call it "craft" because of the deliberate care and curation that goes into its dishes. Run by a group of owners with experience in the resto industry – Richard Bayley, for instance, used to run The Butcher's Table catering – the foursome for two years brought their Central Texas style BBQ to the Downtown Windsor Farmers' Market, which proved hugely popular. Cantina's move opened the Ford City space "and we decided to take that leap," by opening a full restaurant with patio, Bayley says. What's Central Texas? Think large cuts such as brisket simply seasoned with condiments like Kosher salt and coarse ground black pepper, smoked slowly at low temperatures over flavoured wood fire. Bayley says the owners "wanted to pay homage" to that authentic tradition, so find brisket, ribs, house made jalapeno cheese sausage, and creative twists like Brisket Fried Rice, even Brisket Hummus. All foods are prepared in house including ranch dressing, potato salad, pickles, and rubs. Mammoth hamburgers are also on the bill. All beers and cider on tap are local as per the "craft" name. The resto also, well, crafts its own cocktails. Diners have been flocking. Online comments: "Wonderful authentic BBQ restaurant sorely needed in Windsor!" "Visited Sawyers last night and the food was phenomenal." Even a complaint about Canadian prices wouldn't deter: "I will certainly be back though." Sawyer's teams with The Pastry Place & Bake Shop for desserts. The restaurant seats 40 indoors, caters, and will be offering a pickup/delivery option in the near future.
---
The 'Thompson' twins in city & county
WindsorOntarioNews.com Sept. 25 2023
The Thompson House is one of those Windsor delights you may have never heard of. Tucked away on the city's east side in Olde Riverside the handsome green and red "English style" building has the look and feel of, well, a genuine English pub! "We're here to offer a good old British vibe right in the heart of Windsor. But more than that, we want to put the 'house' back in public house." And it seems the owners have done that along with their companion Thompson Manor Streak & Seafood restaurant in Kingsville. It may be surprising that the Thompson House was "constructed from scratch" eight years ago, because it has such a storied look to it. Previously a gas station was located at the Wyandotte St. E. address (at the corner of Thompson Blvd!). "We worked with an interior designer and woodworker to make sure the vibe of historic England became etched into its walls," the pub says on its website. (Several attempts to reach management were unsuccessful.) The pub has nine imported and specialty pints on draft as well as a long array of premium and domestic pints. And, yes, there's wine and lots of cocktails. As befits an English public house you can expect some traditional English food classics - and rarities in Windsor - like Bangers and Mash, Cottage Pie, Chicken Pot Pie and of course Fish and Chips. There's live music Thursday – Saturday. Now, over to Kingsville. What used to be the charming Annabelle's Tea Room and Restaurant on Main St. E. is now Thompson Manor Steak & Seafood. The upscale menu is extensive, from Malpeque Oysters to Bouillabaisse, to Flounder to Lobster Pasta, lamb and, well, steaks. The county's leading dining community's reputation continues intact.
Photo: Google Street View
---
This restaurant hits the sweet 'Spot'
WindsorOntarioNews.com Sept. 11 2023
It's kind of like dying and going to dessert heaven. But you didn't die, this is actually real and it exists right here in Windsor. It's the fantastical over-the-top dessert heaven called D Spot. Opened in March in the new plaza at the corner of Tecumseh and Huron Church roads the franchise offers more sweet items than you could probably ever imagine. From more than a dozen cakes to incredible waffle combinations (strawberry and banana with Nutella anyone?) to S'more Twists. And on the ice cream front there are crepes, Belgium creations, pancakes with virtually every imaginable sweet topping like cookie dough and strawberry and cream cheese, Skillet Cookies with munchy butter toffee or white chocolate. It's not all sweets believe it or not. You can also drop in for burgers or poutine. When D Spot creator Samir Desai of Scarborough thought up the concept almost a decade ago he noticed there weren't many good restos open late that offered sweets, perfect for after a night on the town. Hence one group of desserts called Chocolate. The Windsor store seats 45 and franchise owner Darsh Patel moved from Brampton to open it. He says the concept is more than family friendly, with a colourful interior, a space – or "spot" - designed "to enjoy with family and friends, get relaxed, kind of like that." There are so many incredible desserts you might just get a sugar high from looking at the menu! And there are loads of creative names like My Crepe Ate Your Brownie, Sweet Destruction and Cookielicious. Hidden Gem (chocolate lava cake wrapped in…) has been a crowd pleaser as has Enlighten Me (cake loaded with lotus cookie butter crumble…). Patel's fave? Croffles, sort of like waffles, but... There's even vegan ice cream. And if you just want a refreshing drink there are smoothies galore, milkskakes, hot chocolate, teas and coffee. This might be your most fun night out yet.
---
Upcharge - that singular resto word
WindsorOntarioNews.com August 30 2023
A word that seems unique to the restaurant industry of late is an "upcharge." A dictionary definition calls it "a charge or payment that is additional to the usual or basic price; a surcharge: ie., "a gluten-free crust option is available for a small upcharge on all pizzas." More and more restaurants are adding upcharges to the menu. They could be everything from sauce toppings and garnishes to as basic as bread and water - yes! But the charges may catch diners by surprise because of their sudden proliferation and the fact many didn't exist before. Why the variety of these add-ons? Some blame the pandemic, and for good reason. "Let's not forget the pandemic put many restaurants out of business," the industry website Mashed says. The charges can go by different names: supply chain surcharge, a kitchen appreciation fee or even a fuel surcharge. By mid-2022 almost 40 per cent of US restaurants were adding the charges; it's likely considerably higher now. Another reason for them has been increased charges to merchants for credit card transaction fees. And let's not forget basic inflation, which is affecting restaurants as much as the average consumer if not more. "Skyrocketing food costs are making it hard for restaurants — who already run on slim margins — to remain profitable amid a challenging business environment," says Reveal. Some restos have been creative about the charges, introducing new menu items or offering customized creative dishes for small extra fees. "With some strategic pricing, guests could end up opting to spend a bit more to get more food while, behind the scenes, the upcharge is favorable to your food cost ratios." There are other rationales. "If you're still able to get an ingredient that your culinary team thinks could be made optional or it's still readily available but just at a higher cost, considering making it an upcharge add on as well," the website advises restaurateurs.
---
Finally, a full-fledged pancake and breakfast house comes to Windsor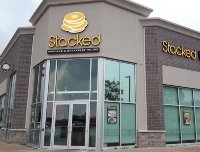 WindsorOntarioNews.com August 14 2023
Stacked Pancake and Breakfast House is growing like topsy, with 50 locations mainly throughout southern Ontario and 30 more opening by the end of the year. The outlet on Windsor's east side at Lauzon Pkwy. and Enterprise Way opened just a few months ago and another (by a different franchisee) is planned for Amherstburg this fall (see sidebar). A decent full-fledged breakfast place is something the area has long needed, especially with the continual closures of longtime favourite mom-and-pops. Eastside franchisee Paresh Desai said that's certainly the reason Stacked came into this market. Head office in Barrie did its research and found a huge gap in local breakfast offerings. The restaurant is open 7 am – 2 pm and serves only breakfast and lunch with an all-day breakfast. Conversely, "if somebody wants lunch item in the 7:00 in the morning, we serve them," he said. The resto seats 100 and is open seven days. The breakfast menu is extraordinary and blows most others including those of chains away, offering virtually every niche breakfast dish you can imagine - from pancakes and waffles to omelets, eggs benedicts, wraps, hashes and traditional bacon and eggs. And some are over the top like Apple Cheesecake Pancakes, Choconana Vanilla French Toast and Banana Double Berry Waffle. The are 16 different types of pancakes alone. Our order of Apple Cheesecake Pancakes certainly was a shot of sugar and then some, but delicious and - the true test - the pancakes themselves met the fluffiness test. The side order of ham was generous. Lunch specials aren't to sniff at either, from well stacked and innovative burgers to soups and salads. Our experience (at the Wasaga Beach outlet) was that the restaurant interior's booths had wooden seats and a few tables with decor depicting Fifties products or local history. Service was efficient and the food fresh. Desai says the restaurant offers a homey family atmosphere.
---
In inflationary times, Turkish food may hit your pocketbook just about right
WindsorOntarioNews.com July 25 2023
You might want to saunter on down to Windsor's only Turkish restaurant just for these scrumptious dishes alone. Pide is famous Turkish flat bread that is served almost like a boat with the ingredients poured into it. You can get it stuffed with cheese and egg, cheese and Turkish sausage, meat or meat and egg. It's traditional Turkish street food but guaranteed delicious and filling. Or there's Lahmacun, Turkish pizza without the cheese. It's a thin crust topped with spicy ground meat. Both dishes are on offer at Maison Istanbul at 600 Wyandotte St. E., the four-year-old family run restaurant helmed by Hassan Yildirim. The restaurant, open for lunch and dinner (noon – 11 pm; not-licensed) has an attractive façade and seats more than 80 people, serving up Turkish and, yes, some Canadian food as well. Sally, one of the restaurant's staff, says the customer base is "very mixed" with people coming from outside the city including Detroit. Other popular Middle Eastern dishes are donairs (like shawarmas) and kebab sandwiches. A "trio donair", for example, comes with beef, chicken and adana (lamb). But, hey, this is Canada, so poutine is on the menu too. There's the regular kind as well as chicken and beef poutine. There's also chicken wings. Sally says the Turkish Pide and Lahmacun dishes are served larger than what you'd typically find at Turkish restaurants. So for less than $10 – keep that in mind during these days of inflation - you can get yourself quite a meal. Meanwhile, the restaurant's kebab dishes can be split among several people, another economical way to dine. Sally says the restaurant keeps busy and attracts both good size lunch and dinner crowds. What is Canadian diners' first time reaction to Pide and Lahmacun? "They love it, they say they have never tried food like this before and it's really good," she says. What's the secret to Turkish cuisine? Spices, Sally says. But not the hot kind. "I would say different flavours and a lot of spices but it's not (hot) spicy." The other secret is the delicious flat bread, especially when made in-house, "and here we make fresh bread."
---
Windsor's Elissa Stannard, one of McDonald's Outstanding Managers
WindsorOntarioNews.com July 10 2023
Congratulate Elissa Stannard as one of a rare number of Canadian McDonald's restaurants managers who have been awarded Outstanding Manager of the Year. Elisa, manager of the McDonald's on Wyandotte St. E. near Pillette, has worked her way up through the company since starting 29 years ago. "It was definitely not my intention, it was a part time job that I had during high school and I had several different jobs during the same time frame and I just always stuck with McDonalds," she says. The reasons have a lot to do with the combination of supportive skill development and the family atmosphere within a McDonald's. "The people, the way that I was treated, valued, my opinion was valued, it was another family," she says. "I worked at different places, retail, it never was the same feeling as it was when you worked at McDonald's." That training included hands-on learning of all facets of both food preparation and the business side of running a busy fast-food restaurant with hundreds of customers daily. "You're thoroughly trained on every single aspect of things – machinery, how to talk to people, how to assemble orders," she says. Jason Trussell, McDonald's Franchisee, says Elissa "shines" as a team leader, ensuring "excellent quality, service, and cleanliness in her restaurants." The award only goes to five per cent of managers among the more than 1400 McDonald's restaurants in Canada. Winners were scored on sales, client satisfaction, employee training, coordination of local marketing programs. Elissa says it's a testament to the company that many, like her, have stayed on and become senior employees. "When I look at my colleagues I probably have the shortest years of service within my colleagues at my level," she says. It's also a kind of democratic bottom-up and not top-down managerial system. About 90 per cent of members begin there careers as crew.
Photo: McDonald's
---
The Grand Cantina moving into growing Distillery district restaurant cluster
WindsorOntarioNews.com June 29 2023
The Grand Cantina is moving into what is becoming a restaurant row on Wyandotte St. E. The five year old Mexican fusion style restaurant will leave its Drouillard Rd. digs in August and relocate to the corner of Wyandotte and Devonshire Rd. into what used to be two storefronts, now totally renovated as part of developer Rosati Group's purchase of several buildings in what has become known as the Walkerville Distillery Square District. The move means all of owner F & B Hospitality Group's four restos will be within a few blocks of one another. This includes F & B Walkerville - the original restaurant opened seven years ago - neighbouring Funky Chow Kitchen, opened during the pandemic and Taloola Café. Co-owner Rosemary Woods says the main reason for the move is that it allows the popular restaurant to double its capacity. "Drouillard Road was awesome, we absolutely loved it there," she said. "We were really sad to leave that spot. But we filled up, there were only 40 seats inside." The closeness of all four restaurants also provides Group synergy and logistics. For example, if one resto is falling short on some ingredients another may be able to fill the gap. Woods says the new space will have the same "cantina vibe" as the former but with some modifications and upgrades, as well as a larger bar. "We're known for our margaritas," she says, but they would like to expand their cocktail line. F & B's cuisine generally might be described as fusion. "We don't call ourselves Mexican," Woods says of Grand Cantina, because there are aspects of other cultures. Same with Funky Chow Kitchen which has Chinese, Japanese and Filipino influences. The Group bought Taloola Café when Woods, a customer, learned the previous owner was retiring to Portugal. "We didn't want to see it go," she says. Woods runs the F & B Hospitality Group with business partner John Alvarez.
Image: F & B Hospitality Group
---
Pop-up expands Kona's W'ville footprint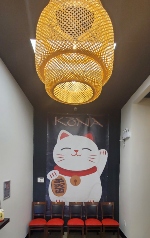 WindsorOntarioNews.com June 15 2023
Kona Sushi, with four locations in Windsor-Essex, has temporarily set up shop at 2090 Brant St. in Olde Walkerville. But the "pop-up" location dazzles with exterior colour and design and opens up what is otherwise a sleepy street one block north of bustling Wyandotte St., in, actually, a footprint twice as large. The reason for the move, which could last until the end of the year, is landlord Rosati Group's renovation of Kona's former home at 1801 Wyandotte, four blocks away. Rosati is overhauling the entire two storey 100-year-old building, which used to house The Twisted Apron (since moved to another Rosati renovated building at 1968 Wyandotte E.), as the developer renews many buildings in the renamed Walkerville Distillery Square District. Ironically, the temporary space is at least twice the size of the original. "It's a lot more space for us than we're used to but good," co-owner Joaquim Lourenco says. They moved a month ago and Lourenco was impressed. "We had shelving, outlets, lighting, it was all kind of set up for us." There's more dining, a bigger kitchen and bar. Outside the building has a distinct black, gold and red façade with Kona's iconic "K." The building had been empty and at one time was a Canadian Legion. Lourenco says the pop-up is a bit of out of the way but that could be good. For one thing it opens up the sleepy street. For another it allows more parking and easier food pick-ups. "People, they just happened to be walking by and then 'Oh wow, I didn't know that Kona Sushi was there," he said. "So, we're definitely relying on those customers who already know us well and the return customers to make sure business still stays good." Once renos are completed at Wyandotte, Kona expects to move back into its corner location and will sit side by side with The GOAT Tap and Eatery in the former Twisted Apron space. Kona has three other locations in LaSalle, Tecumseh and Lakeshore.
Photo: Kona Sushi
---
From Nico Ristorante to Nico Taverna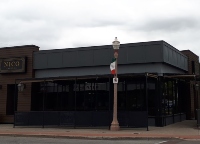 WindsorOntarioNews.com June 2 2023
Remember Nico Ristorante? Lots of people do. In fact, Nico had carved out a niche for itself as a rather chic restaurant among the wave of Italian restaurants that opened on Erie St. (Via Italia) in the late 1990s and early 2000s. Owner Nick Politi had been at that corner of Erie and Elsmere earlier than that under a different name. His history on the street actually goes back to, with his cousin, taking over Il Gabbiano. But in 1997 Nick moved out on his own and the 48 seat – amazing it had that many seats! – cozy restaurant was the perfect space for intimate dates or dinner with prized guests. Politi was there 20 years before up and moving, in 2018, down the street to the former Brigantino's, corner of Howard and Erie. Nick says he wanted a bigger space – "we were turning away a lot of people especially on weekends" – a bar and a wood-fired oven. Now there's 100 seats inside and 35 on the patio. You might not even recognize the corner the building has been remade so much with a sleek and contemporary brown, black and gold finish. Inside it's "mid-century modern" with a 1950s-era blue on the bar stools and surrounding Edison lights. Politi put $800,000 into the renos. The new oven allows for more grilled meats, fish and a separate pizza oven allows him to sell "pizze" for the first time. Politi says he likes to and play classic French, Italian and American films silently in the background, something diners kind of get a kick out of. He also plays vinyl records. The name change? "I didn't want it to be intimidating," Nick says. "I don't want people to worry that it's too pricey or high end." As well, he wanted to pay homage to the once Grand Tavern which used to be on the site. In fact the tavern is where his parking lot is now. "I thought that would be kind of cool."
---
You'll have to drive almost three hours to eat at one of top 100 restaurants
WindsorOntarioNews.com May 17 2023
You'll have to drive 283 km – that's almost three hours – to dine at the closest resto to make Canada's 100 best restaurants for 2023. That's Langdon Hall (photo), in Cambridge which comes in at Number 7. "Seasonal regional cooking doesn't get much closer to the source than this," the judges say. "Many of the restaurant's ingredients are procured from the kitchen gardens and surrounding Carolinian forest. Chef Jason Bangerter's terroir-driven cuisine isn't dogmatic, though, and wild Coho salmon is happy to partner with a pistou sauce and simple summer vegetables, gently poached and served warm. Classically rooted cooking transforms even the humblest vegetables into items of desire, aptly demonstrated by a tasting menu available for vegetarians or vegans. Sauces and soups are always beautifully judged." The next closest is Restaurant Pearl Morissette in Jordan Stn., 351 km away or three and a half hours, depending on traffic. It came in at Number 5. "As it enters its sixth year, the subtly renamed Restaurant Pearl Morissette continues to educe and hone the very essence of elevated dining in Niagara wine country. Ontario-reared chefs Daniel Hadida and Eric Robertson bring their experiences in Paris and rural Belgium, respectively, to their evolved country kitchen. The barn space is agrarian-meets-contemporary-Scandi, the dining room's floor-to-ceiling windows providing a bucolic panorama of the surrounding vineyards, gardens and peach orchard." All the other Ontario restos making the list are in Toronto (heavily dominating) or in Ottawa. Judges consisted of "informed culinary enthusiasts," food writers and critics, chefs, restaurateurs and other food service professionals. Their number is proportional to the provincial population. Judging was based on "the complete dining experience" – service, decor, depth of wine cellar "and above all else" food quality. And post-pandemic, "takeout was thankfully dropped from the list of judging considerations."
Photo: 100 Best Restaurants 2023
---
Windsor cafe celebrates art and artists
WindsorOntarioNews.com April 28 2023
If you were to combine a Mexican-themed café, an artists' space and neighbourhood community centre you'd get one of Windsor's most unique venues – Café Amor & Art at 1464 Ottawa St. Opened during the pandemic in July 2020 the café, known for its wonderful coffee pastries and sandwiches, has become perhaps the best-known arts café in the city. Artists come to hang out and talk, the vibe reminiscent of the famed arts cafes of Paris in the early 20th century, home to Picasso and others. "We are a very unique café," owner and namesake Amor Hernandez, says. While coffee is the mainstay, the restaurant abounds in Mexican themes, from pastries to crockery. Hernandez is originally from Mexico and has long appreciated art and is a writer of short stories herself. But she always wanted a relaxed open space that combines art gallery with an environment to simply sit and talk, art-discussion or not. "We support the local artists," she says. "If artists want to have an art display or bring in pottery or jewelry, whatever is local, we allow that person to come to the café and to sell it here." There's no charge or commission. Fully booked this year Hernandez is now taking reservations to book display space for next year. But central to the cafe is the coffees - the motto is "stressed, blessed and coffee obsessed." The café is open every day except Monday. www.cafeamor.ca
Photo: Cafe Amor & Art
---
Just Falafel moves into Toasty's spot DT
WindsorOntarioNews.com April 14 2023
Almost a year after the much-loved former Toasty's space at 357 Ouellette Ave. (see Dec. 12 sidebar) closed, the site has a new occupant and another unique concept. Just like sisters Stephanie and Vanessa Clark served unique grilled sandwiches so too is Sass Ammar serving up falafels and falafels only, a whole variety of them. He opened Just Falafel earlier this month. He previously owned Shawarma Express at Dougall and Tecumseh which he closed last year. The space will continue to be indoor seating or take out, with a specialty in vegan falafels – eight types. A few are called Naked, Supreme, Avocado, Mexican and Pasta. He even serves falafel without pita, coning in a cup like French fries. With Naked Falafel there's lettuce, pickles, tomatoes, cabbage, parsley, falafel and sauce. "The beauty of it is there's no pita," Ammar said. "And the beauty of the falafel is we just make it while people wait. I don't make the falafel ahead of time." The avocado sandwich obviously comes with avocado and the Supreme Sandwich comes with crispy fries. So far the most popular items have been the Naked and Supreme Falafels. Why the move further downtown and not to another part of the city? "It's basically the banks, the City of Windsor, all the business people, all the lawyers offices downtown…..and it's something nobody has." He says carving a unique menu niche should be a bonus, in this case fresh fast Mideast food and concentrating on one product with several twists. "If you don't make something special nobody's going to pick you up." Ammar also serves soft and fruit drinks, smoothies, protein shakes, coffee and for dessert ice cream. Look for a Facebook page and website soon. Hours are 11 – 7 this month and next month Mon - Fri 11 – 8, Sat 12 – 3 am and Sunday closed.
Photo: Ward 3 Coun. Renaldo Agostino
---
In Windsor area, local pizza chains uniquely dominate over national ones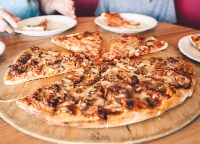 WindsorOntarioNews.com March 30 2023
We all know Windsor pizza is unique but the city and area also is different from other parts of Ontario, and Canada, because of its unique – and highly popular – local pizza chains. Other cities are dominated by big chains like Pizza Pizza, Domino's and Boston Pizza. Yes, we have a few of those outlets. But they pale in significance to the popularity of local pizza chains, with several outlets scattered throughout Windsor and Essex County, and tend to be the go to place for local pizza lovers. These include Naples, Capri, Armando's, Antonino's, Bull's Eye. "Windsor's pride in its one-of-a-kind pie has shaped the city's pizza landscape," The Food Network says. "Rather than big international franchises, Windsor is dominated by independently owned pizzerias and local mini-chains." Sham Ilishya, an Armando's franchisee, says there is a local pizza culture that doesn't exist anywhere else, and which favours local over national chains. "With this many local chains in particular they have the market share compared to Domino's and Little Caesars." Antonino's Original Pizza owner Joe Ciaravino says locals prefer the quality of the product and when you have the best pizza anywhere people are going to gravitate to the real thing. "We have very low penetration and I'll argue the lowest penetration in the country for national chains," he said. "We are one of the few areas where national chains close or downsize outlets and it's because the competition by the local pizza operators is frankly so good." While the chains keep expanding – Armando's and Antonino's both recently opened new outlets – they are the macro version of Windsor pizza culture. There are numerous standalone pizzerias which serve-up the same distinctive pies – with trademark flour and cornmeal dough, sweet and spicy sauce, canned mushrooms, shredded pepperoni, and a crust not too think or thin - and just as popular. Think Sam's, Arcata, Sarducci's and Golden Crust. They could probably easily expand and be just as popular.
---
Pizza chain "here to stay" at site of previous LaSalle resto turnovers
WindsorOntarioNews.com March 16 2023
Armando's, one of the area's long time venerable pizza chains, has opened a new location at a corner that has been high in visibility but also in turnover of previous restaurants. But with the signature Armando's brand "this one's here to stay," franchise owner Sham Ilishya says. The restaurant had been home to Roma's Pizza and J.J. Roma's Restaurant in a newish building on Front Rd. at the corner of Reaume Rd. just by Turkey Creek, effectively marking the entrance or exit, to LaSalle's traditional business district. Ironically, Armando's relocated there from the town's newer business district along Malden Rd. because Ilishya said the Front Rd. location has "better exposure." Ilishya, who has been with Armando's seven years and also owns the Essex franchise, closed the long time Malden Rd. location, which now sits empty and is up for sale. Asked why he thought previous restos didn't survive in the Front Rd. space, Ilishya said it's name recognition. "To be honest with you I think it's just the branding that helps the most. It's really the brand and the quality of food." Armando's has 10 locations in Windsor and Essex County. Ilishya also likes the fact the new site has ample dining space. The Malden location closed dining pre-Covid. "We just thought we'd do better without it but that's what people want," he said. The Front Rd. building has room for 68 seats. While the pizzeria opened Feb. 9 the inside dining starts in a couple of weeks. This brings to three the number of pizzerias along the still busy commuter route between Amherstburg and Windsor, dovetailing on to Ojibway Parkway. And it should give a boost to the old business district which has struggled in recent years against the newer Malden Rd. town centre. Another boost is the Town of LsSalle's Small Coast Waterfront Experience, a grouping of parks and recreation facilities along the Detroit River with the $6.5 million Event Centre on Front Rd. recently completed.
---
High profile DT resto still not open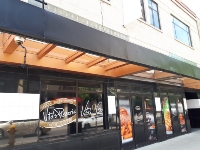 WindsorOntarioNews.com March 2 2023
While there has been a lot of news lately about new restaurants opening on downtown's one time but depleted dining thoroughfare, Chatham Street, one major city centre address touted for a reborn restaurant remains glaringly closed. It's the former City Grill and one time Birks building at the corner of Park St. W. and Ouellette Ave. Vito's Pizzeria had installed signs – "Vito's Pizzeria on Ouellette" and Vito's To Go – Italian and BBQ Takeout" - in the building's windows last summer, seemingly on the verge of opening a prime downtown location. The front façade had also been altered with a contemporary overhang. But nothing has happened since. Vito's has long been a highly popular gourmet restaurant in Walkerville and it therefore made sense to parlay the brand into the downtown core at a high-profile location. Owner Vito Maggio purchased the building back in 2021 from City Grill Holdings for $1.26 million. The City Grill was an upscale dine-in steak, seafood and pasta restaurant headed by Matthew Komsa. In 2017 he converted into an event destination for corporate groups and receptions. Komsa ended up closing that but said at the time finances were not an issue. And more recently there was anticipation that Vito's would finally breathe new life into the one-time high profile dining spot. WON.com tried to contact Maggio for an update but has not heard back.
---
Is 'swicy' on the restaurant menu?
WindsorOntarioNews.com February 15 2023
Is swichy food on the menu? It's a new restaurant taste that combines sweet and spicy. And forget about something just being spicy hot; diners increasingly want flavour. For example, Sachili is a brand that pumps up chili's flavour rather than heat. It's one of several dining trends to look for in 2023, according to Restaurants Canada. And, despite inflation, as more diners filter back to restaurants post-pandemic they want new experiences. Restaurants aren't just serving up taste but transcending it "to engage other senses." Expect more physical atmosphere, such as unique ways to eat certain foods. Or theatrics, like dining in the dark or musical-food pairing. There will be more non-alcoholic drinks on the menu or at least mocktails as trends show more young people eschewing alcohol and with tighter Health Canada warnings. Brands are "taking the stigmas away" by creating delicious non-alcoholic drinks. And, yes, sometimes reading a menu is like reading a book. By offering so much to choose from it's hard for diners to select. So restaurateurs are condensing menus, which also works for them because ingredients due to inflation have become so expensive. "Condensing menus help restaurants speed up and simplify their delivery and take-out processes and lessen pressure in the kitchen when there is a shortage of cooks to hire," the association says. Diners still haven't returned in their frequency pre-Covid. Some restaurants are adapting by finding alternative revenue sources, like pop up stalls at fairs and markets. One company, Too Good to Go, even provides restaurants a way to sell food not sold in-house.
---
Major upgrade to Ford City German club
WindsorOntarioNews.com January 30 2023
Windsor's only authentic Germany biergarten and banquet hall is undertaking a big makeover to enhance its curb appeal. The Heimat Windsor Banquet Centre is applying for city grant and tax incentives for the substantial upgrade to its otherwise nondescript two-storey exterior, a 1950s era block building which up to now has had simple window awnings. Instead the makeover provides more Bavarian flourishes with themed signage on the Drouillard Rd. and south facdes – facing its patio – and new lighting above three-dimensional lettering and a board sign. The demolished block windows result in a more open look. And there will be Bavarian themed flower boxes and shutters. Heimat has been a mainstay for Oktobertfest and Carrousel of the Nations Bavarian Village festivities, with a 125-seat patio and 150 seat banquet hall. There's also a 35 seat Bierkeller for smaller groups to watch sports or for private parties. The club's name? "'Heimat' means a place you feel at home," the business' web site says. "All of our special events are centered around keeping tradition alive and giving the German community a place to enjoy some events like back home." After the demise of the Teutonia Club in central Windsor several years ago it's the only remaining German club in the city. The city says the building's improvements will also continue to enhance the Ford City neighbourhood, and its "vibrant main street" Drouillard Rd. being its commercial spine. City funding comes under the Community Investment Program (CIP), instrumental in helping revive older inner city neighbourhoods. The club would receive just over $31,000 in grants while the owners invest almost $114,000, a grant-to-investment ratio of $3.65.
Photo: City of Windsor
---
New entrants gear up for major University Ave. redevelopments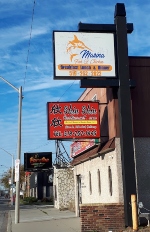 WindsorOntarioNews.com December 9 2022
The latest in a string of restaurants at two locations – a sort of minor restaurant row – have opened in the 900 block of Wyandotte St. W. Both are run by experienced restaurateurs and have operated or still operate restaurants in the city. And both expect to get in on the ground floor of a couple of major developments slated for the area. One is the complete revamp of the wide-lane and underused University Ave W. with a city plan for beautifying the street. The second is the immense block long property across the street, the former Grace Hospital site, which is to be redeveloped into the Global Village, a 500-student residential complex affiliated with Windsor's two post-secondary institutions. Mohammed Rayyan is owner of Marina Fish and Chicken, which opened at the long time location of Skippy's and more recently Rise n' Shine. Marina was on Wyandotte St. E. for 12 years but Rayyan wanted a higher profile. Since opening in March Rayyan says he's trying to get the word out the resto has moved. "Not a lot of people know that," adding he will up his social media profile. Business is stronger for dinner than lunch. The restaurant lauds its grilled chicken and fish with African seasonings from Congo where one of Rayyan's associates used to live. "No one in Windsor does fish like our fish." It also carries on the tradition of Canadian and now Arab breakfests along with a full menu. Meanwhile, a couple of doors down on the corner, Paratha Junction opened in September. The location has seen a variety of restos but most people will know it as the former Sushi Jade. Co-Owner Saloni Harish also owns the Dhes Swaad restaurant at 21 Chatham, St. E. specializing in Indian "street food." But the new eatery is "the first paratha place in Windsor." Paratha is different from Naan bread. It's made with whole wheat flour and grilled and then stuffed with food, unlike Naan, a flatbread eaten alongside food. Harish had been looking for a location for a year until she found this site which she called a "hot spot" because it's on a student route and because of the upcoming housing complex. "What we want is just people passing by and see the food and they just crave the food." Meanwhile, in between is long time Shin Shin Chinese restaurant, no doubt patiently waiting for street's next evolution.
---
Tim Hortons in the UK aims for an "aspirational" experience - yes, really!
WindsorOntarioNews.com Nov 25 2022
Tim Hortons is going upscale. Not in Canada but in London England, where one of what will be a number of stores exude an upscale laid back vibe more conducive to the Gen Z laptop and latte set than the chain's Canadian traditional blue collar "double-double" customers. The Toronto Star reports that Tim's UK brand is positioned as an aspirational brand, one that provides "functional and emotional positivity," says Kevin Hydes of Tims UK. Really! Yes, the Great White North does figure into the concept but as "aspirational" as a "place of great natural beauty and vastness." But not just because of fir trees and snow. Many of Gen Z's most appealing characters in popular culture are people like Justin Bieber, Drake, Ryan Gosling and Ryan Reynolds - all Canucks. "Canadians have grown up with Tim Hortons - it's a very everyday occasion," Hydes said. "In the UK, it's much more of a treat for consumers. We're pitching ourselves against brands such as Starbucks in terms of beverage quality and value for money." UK Tims' stores are roomier, have a combination of tables and living room furniture like sofas and cushioned chairs. But you'll also have to pay more. A box of 10 Timbits costs $6.77 vs. $3.38 back home. A medium Ice Capp runs $6.46 vs. $3.72 in Toronto - a 74 per cent increase. And that's done purposely. London is a more expensive city. But those prices are set purposely high. "It's always a lot easier for a new restauarnt coming in," Hydes said. "To start slightly higher and then do special offers." And Johnny and Mary Canuck will have to travel across the pond for these menu items: chocolate hazelnut and Oreo pancakes, cookie doigh doughnut and smoky maple burger.
---
New Italian bistro-cafe owner hopes to be a part of downtown resto revival
WindsorOntarioNews.com Nov 11 2022
A Toronto transplant has taken over a long dormant – but prime - corner downtown and touts a revival of downtown Windsor's "glory days." Jason Serratore, originally from London but who has spent the last decade in the GTA as a manager at the Symposium string of cafes, saw the opportunity downtown to open an authentic light Italian eatery, Serratore Bistro-Café. "I just fell in love with downtown Windsor," he said. "It's gorgeous down here and actually has a lot of potential. And I've heard a lot of stories about this block around here – Chatham Street with the old Steakhouse, the glory days that everybody keeps talking about - and I think there's a real opportunity to have that come back." The cafe at 98 University Ave W. is on the northeast corner of Pelissier that many years ago was Light Bar nightclub. The cuisine is a natural for Serratore. "The concept is something near and dear to my heart," he said. "It's coffee and espresso and I'm Italian so paninis just kind of went with it." The 40-seat space (expect a patio next summer) has a casual vibe and the menu breaks down into anti-pasti, panini with nine sandwiches on home-made focaccia. There's also a range of charcuterie with meats and cheeses directly from Italy. And coffees, cold beverages and pastries – his specialty is the chocolate brioche – makes up the balance. Serratore held his grand opening Thursday but the café opened on the same day as the Windsor International Film Festival (WIFF), offering filmgoers a brand new place to eat and hang out, kitty-corner from the Capitol Theatre. "So we had some success with that and I got to know a lot of the WIFF people," he said.
Photo: Serratore Bistro-Café