---
RESTAURANTS
---
Comment: Ontario's war on restos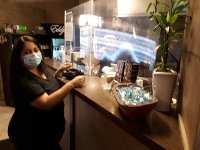 WindsorOntarioNews.com October 13, 2021
The Ford government has much explaining to do. That's in light of its Covid announcement last Friday allowing full capacity at theatres and stadiums for the fully vaxxed. But there was no mention of easing restrictions on restaurants, the hardest hit sector during the entire pandemic. That restriction is two metres physical distancing from other tables. Adding insult to injury no government ministers were on a conference call yesterday organized by the province to discuss the changes. The industry thought Minister Lisa MacLeod would be on the call. (Her office organized it.) Even worse, a government official, Carlo Oliviero, asked those participating not to speak to the media. Fat chance. The restaurant industry has been extremely patient throughout the pandemic with government policies, even though there is little evidence to show that Covid spreads in the restaurant and retail sectors (certainly not among big boxes which were open throughout). Many have gone out of business or have been hanging by the skin of their teeth. And overwhelmingly they have complied with every government restriction. Industry organization Restaurants Canada issued a tepid response to last week's announcement, saying it was "extremely disappointed." It says it has never received data showing why restaurants are harmful. "It is beyond comprehension that 20,000 people can cram into an arena, scream, and closely congregate without masks, while restaurants must adhere to strict distancing regulations which severely restrict the number of customers that can be served," it said. One wonders why the industry hasn't been more vociferous or launched lawsuits. But now, if the government doesn't act quickly to amend last week's decision, some restaurateurs are talking civil disobedience. Just what is it that the Ford government has against the restaurant sector?
---
From vitriol to happy diners, restos greet first day of vax passport regime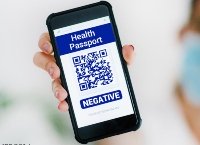 WindsorOntarioNews.com Sept. 22 2021
From vitriolic threats to smooth sailing, local restaurants on the first day of Ontario's new vax passport regime had different customer reactions. One owner said she had received calls calling her a "bootlicking Nazi" and a "commie bitch." She said a lot of callers have been asking if her restaurant will enforce the passport, ordered by the provincial government. "It hasn't been fun," she said. The owner, who spoke anonymously, said staff have been stressed and she even considered "closing down during the passport time." But having opened, business so far has been great. "I will tell you today, the customers were amazing, nobody had a problem, people were happy." She said there have even been waits. "I do feel like a lot of customers let us know they were nervous to go out, they've haven't been out in a year but they're out today." The one hiccup? Some patrons thought the passport phone app was up and running. That only begins Oct. 22. Vax certificates and personal IDs are currently required. Filip Rocca, co-owner of Mezzo, said he'd had "no problems at all." He said he's getting a "tonne of reservations" for the weekend though admitted business is down overall. By how much? "We just don't know at the moment." Rocca said he's heard other restaurants are getting hate calls. Uzair Sharif, owner of Smokies BBQ, said he has not received any negative feedback but "we've told our employees to be careful." A supervisor of an east side Asian restaurant said he's received some negative responses and had to turn one man away. "They just don't like it and it's sometimes hard for us, especially explaining it to them." Trevor Loop, owner of the Banded Goose Brewing Co. and Jack's Gastropub, said with almost 80 per cent of the population fully vaccinated, "I think our customers understand the situation and certainly understand these aren't our rules." He said staff have been designated to ask customers proof of vaccination but this isn't much different from how the restos have been operating throughout the pandemic. "We have to seat all guests because guests aren't allowed into any facility and certainly can't take their masks off without having a chair, without being seated at a table," Loop said. "So really, it's going to be the same as it has been. The only thing is we have to require proof of double vaccination upon entering. Those who don't have it obviously we're welcoming to our patio area weather-permitting."
---
Local Brian Bates is Mcdonald's 2021 Outstanding Manager of the Year
WindsorOntarioNews.com Sept. 8 2021
Mcdonald's Canada's 2021 Outstanding Manager of the Year goes to Windsor's Brian Bates, who runs the chain's Walker Road location. The award recognizes top performing managers and like many others in this elite category, Bates started off as a regular crew member, first on the drive-thru line in 2011. He's since worked at seven locations. "Brian has excelled in delivering great quality service and cleanliness to our guests at our Walker Road location while also having a strong focus on taking care of our people," Jason Trussell, the outlet's Windsor franchise owner-operator says in a news release. "Brian's passion and commitment shine through every day and I am extremely proud to see Brian receive this award for his outstanding results." Bates himself tipped his hat to his fellow colleagues. "This award is a reflection of the hard work and dedication of my outstanding crew and I am grateful to work with and lead each and every day," he said. Every year the chain looks for managers whose dedication and hard work embody Mcdonald's desire for top service. According to the chain, Bates's "passionate management style" also saw his outlet get through some of the restaurant's "most challenging times" due to the Covid pandemic. Bates has aspirations to become a Mcdonald's Operations Consultant and wants to get more involved in training and development. He's already received "top marks" for training classes but this is his first recognition as Manager of the Year. Not incidentally Bates has finally defined what Mickie D's portly purple mascot Grimace is all about. According to the Toronto Sun by way of CBC News, Bates says Grimace may be a fun and pal to Ronald Mcdonald but is a "tastebud nonetheless." He says Grimace's purpose in life is to demonstrate that the fast-food restaurant chain's food is tasty indeed. (see also NOTED & FILED).
---
More Taters Please aims for 95 stores
WindsorOntarioNews.com August 16 2021
More Taters Pleas is expanding with a second store, taking over the former KFC location on Tecumseh Rd. E. at Bernard Rd. This is just the first of what owner Chris Bernauer projects will be 95 stores, the vast majority franchises, as he expands through southern Ontario and perhaps beyond. Why 95? That's the year his daughter, Emily, was born. Emily died in a car accident in Amherstburg in 2014. She died driving home after staffing the Sobeys booth at the now defunct Shores of Erie International Wine Festival. Everything about More Taters Please is a tribute to Emily. The store name reflects her last text to Chris: "Taters?" There are 18 sauces because she was 18 at time of her death. Bernauer created the restaurant to turn her death "into life basically." Bernauer had no background in restaurants when he created the concept in 2017, opening in the Ferrari Plaza on Walker Rd. The store name reflects lots of menu items with imaginative variations of potatoes - from Loaded Taters like Nacho Fries and Triple Cheesy Bacon Fries to six different types of baked potatoes. For example, the Steak'n Bake has baked potato, gravy, cheddar cheese, steak, honey mustard sauce, fried onions, mixed peppers, "delight sauce" and scallions. About half the store's menu are potato dishes. The other half are a myriad poutines, wraps, chicken, wings and salad bowls. Bernauer said the menu reflects today's family tastes. "Twenty-five years go everyone wanted a burger and fries, today everybody wants something different." For now, the family will manage the first five stores alone, ensuring they're successful before selling them off. Bernauer says he already has had at least 50 inquiries from people asking to be franchisees. "They love the concept," he said. "It's not like a complicated operation, it's very quick simple and great food."
Photo: More Taters Please
---
Resto adds second patio across alley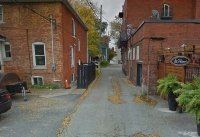 WindsorOntarioNews.com July 30 2021
The city has given its blessing for an unorthodox plan for a second patio by a Walkerville restaurant to accommodate outdoor diners. The decision was made despite a recommendation from planning staff not to allow it. The applicant was Vito Maggio, owner of Vito's Pizzeria, to allow a temporary patio across an alleyway from his existing Wyandotte St. E. resto's outdoor patio. The applicant asked for the second patio to provide adequate "social distancing" during the Covid pandemic, according to a city report. The area, though, is behind 642 Windermere, which Vito Maggio Holdings Inc. owns and uses as an office around the corner from the restaurant. However, said city staff, the "parking pad" (left area of photo) abuts east-west and north-south alleys. It's also located on the "periphery of an established residential neighbourhood." Planning staff had qualms about the "safety and security" of the area. Adjacent alleys provide vehicle access, parking, loading and refuse facilities for businesses along Wyandotte Street. They also provide access to garage and parking for residences east of Windermere and west of Chilver. "Having customers and staff cross the alley increases the potential for conflict between motor vehicles and customers and staff," the report said. Staff also called this "a form of commercial creep" into a residential area. Other patios approved during the pandemic have been located within mixed use and commercial corridors. Maggio's lawyer Jeffrey Nanson in a letter stated Vito's had been using the area "creatively" to expand outdoor seating but received an Order to Comply, necessitating the application. He noted that under the Reopening Ontario Act the objective is "one of extending and easing access" to patios. As well, the "intent" is to spur the economy by creating jobs. Nanson pointed to municipalities like Tecumseh and Toronto where restaurants "are encouraged to provide patios wherever feasible." And the City of Windsor itself has indicated a desire "to help small businesses and restaurants" including "extending patios."
Photo: City of Windsor
---
Tim Hortons led corporate 2020 sales drop while Popeyes picked up the pace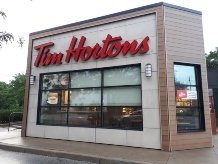 WindsorOntarioNews.com July 7 2021
Tim Hortons led the sales decline in 2020 for Canadian-based Restaurant Brands International (RBI) due to Covid-19. The corporate giant is also owner of Burger King and Popeyes Louisiana Kitchen. Tims' sales were off 15.7 per cent or $308 million, Burger King saw a 7.9 per cent drop. But Popeyes sales were up 13.8 per cent. That compared to pre-pandemic 2019 when RBI's sales were "driven" by an increase of $47 million at Tims, according to the corporation's annual report. RBI told shareholders the company has eliminated the vast majority of artificial ingredients in products. "At Burger King in the U.S., the Whopper sandwich and 90% of the permanent food menu are now free of colors, flavors, and preservatives from artificial sources," the report says. At Tims, freshly cracked eggs were introduced and the chain removed artificial colors, flavors and preservatives from the English muffin and biscuit. At Popeyes "we are working to do the same with our fried chicken offerings…..by the end of 2022." As well, RBI will eliminate this year "antibiotics important to human medicine" from chickens. Despite expanding online ordering, in-store kiosks and mobile apps "such deployment also means that we are collecting and responsible for additional personal information about our customers," the report says. Government privacy officials are "investigating the use of certain geolocation data for TH mobile app users." As well, RBI has been "served with several purported class action lawsuits in Canada alleging we violated mobile app users' privacy rights." Toronto HQ's 65,000 sq. ft. but Miami (US HQ) has 150,000 sq. ft. RBI was created by the merger of Tim Hortons and Miami-based Burger Kng in 2014. The firm has two Canadian manufacturing plants. Throughout the pandemic "substantially all" North American restaurants remained open. Relief packages were offered to "eligible franchisees." RBI is one of the world's largest quick service restaurant businesses with approximately $31 billion in system-wide sales and approximately 27,000 restaurants in more than 100 countries as of December 31.
---
Ontario's largest employer goes begging for well-paying jobs
WindsorOntarioNews.com June 16 2021
It's ironic that when people think about getting a well-paying job or even a career they tend not to think of Ontario's largest employer – the food processing industry. Which, after the auto industry, is the second biggest contributor to the Gross Domestic Product (GDP). Ontario, as well, also has North America's third most important food sector. But the industry, which is made up of a variety of companies including well known local names like Bonduelle, Dainty Rice and Highbury Canco, is trying to change that. It has launched its CareersNOW! portal to acquaint people with the types of jobs and opportunities available across a swath of businesses, from fruit and vegetable to meat, cheese, beverages, pasta and sweets. Chris Conroy, CEO of Food and Beverage Ontario, said the Ontario industry will be short 25,000 jobs in the next few years. The problem is that the industry, large and important as it is – and surely otherwise top of mind in southwestern Ontario – is under the radar when people think of careers. Or it has an image problem. "I think awareness is a good part of it," Conroy said. Food processing may conjure minimum wage or seasonal jobs. But there are many that are year-round and pay well above the minimum wage with the average being $21.76 an hour. Plus, there are skilled trades – repairing machinery – and administrative jobs. "People just aren't aware that the opportunity's there," Conroy says. And, while four high schools have programs specializing in training for the sector as well as community colleges like Conestoga and the University of Guelph, a benefit is that people can enter the industry unskilled and train on the job. Such as becoming a butcher. "That's the preferred way to do it in the industry," Conway said. In another ironic twist, those jobs might not be there if people don't apply. Conroy says employers look at "potentially automating some of these roles if you can't get people in them." Food and Beverage Ontario's portal will soon become a clearing house for connecting applicants directly with dozens of companies. Meanwhile, people can get introduced to the industry and its benefits by going to www.foodandbeverageontario.ca/careersnow
---
Mexicantown waiting for Canadians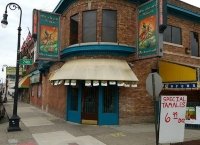 WindsorOntarioNews.com June 1 2021
Southwestern Detroit's Mexicantown Restaurant was a favourite of Canadians. As many as fifty per cent of owner Bob DiMattia's clientele were Canadians, mainly crossing the bridge for dinner time meals in what had been a well-worn Canadian tradition of frequenting his and other area Mexican style restos. DiMattia saw lunchtime customers as well. All that of course ended when discretionary cross border traffic was frozen in March 2020. "Oh absolutely," DiMattia says about the heavy impact of the loss of Canadians. The restaurant is one of at least half a dozen such restaurants on Bagley Street alone, just on the other side of the Ambassador Bridge. Michigan restaurants have slowly been emerging from Covid restrictions and compared to Ontario, have been reopening to more and more indoor and outdoor customers. (During the pandemic the state's restaurants saw 159 days of full closure and 16 months of various restrictions.) DiMattia said Canadians would come to the restaurant for its Monday Canadian dollar at par meals. "We were very known for our Canadian customers," he said. "So, when the bridge shut down for non-essential workers, we got hit pretty hard." DiMattia fondly remembers days when both of his restaurant's floors – the restaurant seats 400 – were bustling. The upstairs bar, where people would wait for tables, would be packed with customers nursing their margaritas. And while his restaurant recently has been open for indoor dining at 50 per cent capacity (all state restrictions will be removed July 1) DiMattia has limited his guests to 100 with the second floor and patio closed. The owner admits it has been difficult finding staff; he normally employs 40. "But I think in the next two weeks we'll start seeing them come back." DiMattia said he still gets the odd Canadian customer. DiMattia, who is married to a Canadian, well knows the dilemma Canadians have had getting vaccines and hence in part the continued border shutdown. But, he said, "I'm hoping especially with the states opening up your side kind of catches up."
---
Windsor Tea Emporium is expanding with its second shop on Walker Road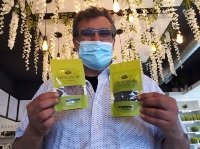 WindsorOntarioNews.com May 16 2021
The Windsor Tea Emporium, a unique tearoom, bakery and casual eats venue in central Windsor, will be opening its new satellite store in June. It will be called the Windsor Cake Emporium at 3244 Walker Rd., to take advantage of the business' expanding bakery side. The tea emporium has actually been in business since 2012 selling at first retail. Then a couple of years ago it moved to a takeout site on Ottawa St. But last summer Serge Carvalho and his wife Mary Christine Smith – the woman behind the business - moved across the street to a larger indoor sit-down space. Serge admits it was "risky" during the pandemic, but they had the outdoor patio last summer before the series of lockdowns began in the new year. "We thought at that time the pandemic would ease up," he said. Still, the venue is airy and inviting. Customers can walk in and order from an attractive bar. On one wall is a custom packaged assortment of teas. The counter includes in-house cupcakes. Coffee and specialty drinks are on tap. And you can order sandwiches and salads, even tea-infused gelatos. The combo of small meals and beverage is "kind of our little niche," Serge said. One of the most popular drinks is Matcha tea from Japan known for its health benefits. But the business orders in bulk from brokers worldwide and tastes and packages its more than 100 teas. The décor, designed by Serge, is also attractive. A combination of Edison lights and wisteria hang from the ceiling and one corner has a green wall. Serge calls it "an outdoor garden theme." Serge says the lockdowns have been tough. Yes, he said, they are open. "But when you tell your population to stay home you can stay open all you want but if nobody's coming out." Meanwhile with the expanding bakery component the owners are prepping the Walker location mainly as a takeout. Expect a focus on beverages and baked goods like bagels and croissants. "We want to have a morning crowd for coffee," he said. The soft opening is June 4th.
---
Just another lunchtime at Leamington's - defiant - Family Kitchen restaurant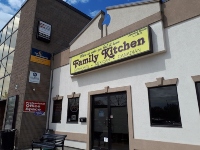 WindsorOntarioNews.com April 30 2021
A bright sunny noontime in Leamington on Erie St. just north of the Highbury Canco plant. And at the Family Kitchen restaurant, it's just a regular lunchtime. People, many regulars, have come in for their midday meals. The restaurant, reflective of its diverse ethic and religious town community, serves Canadian, Mennonite (including Glums Wrenikje – a perogie dish and Kieljke – a pasta) and Mexican foods. But since early April the restaurant – the only one in southwestern Ontario and one of the very few anywhere in Canada – has defied the latest government shutdown which has been extended to May 20. It's open for indoor dining rather than just curbside pickup or delivery. Owner Kristy Leathem (who declined an interview) has said she had no choice but to continue to open to secure an income. The atmosphere Friday felt almost pre-pandemic with many tables full of families and workers enjoying their meals, kibbitzing the staff. WON.com's order, appropriately enough, was a quesadilla which came with refined beans and rice. Guys at nearby tables were talking politics, quite knowledgeable about Covid issues and beyond. One joked about Coca Cola's criticism of Georgia's controversial new voting law calling the product "Woke Coke." A sign at the front of the restaurant, also posted online, lists Leatham's reasons for staying open. "Before you judge….This is how I solely support my 3 children to put food on the table and a roof over their heads." Her monthly expenses come to over $11,000 not including food and payroll. She employs as many as 16. There have been a couple of public rallies to support the restaurant. Other than having her liquor licence suspended April 17, "for reasons of public interest and safety," the restaurant apparently has suffered little or no harassment. WON.com spoke to several of the diners outside the eatery. Dave praised Leathem for defying the lockdown. "It's about time people started standing up. We have a God given right to be free I thought in this country but apparently it seems that other people don't think so." Another man said he wanted to dine in at a restaurant when virtually no other options existed. "I have co concern about (the defiance), I find the lockdown to be a little overreaching." Another said the health threat was overblown. "I've studied the human body, I know what our immune system is capable of doing." Another person called the pandemic a "SCAMdemic. People are losing their businesses and losing more than just having to be worried about Covid."
---
Lockdowns gut punch to area restos
WindsorOntarioNews.com April 14 2021
Filip Rocca, owner of Mezzo Ristorante on Via Italia, attended last week's defiant opening of Leamington's Family Kitchen restaurant, even after the province ordered closure of indoor dining as the latest bid to stem an increase in provincial Covid cases. This despite cases in Windsor-Essex (including variants) being relatively low (today's increase is 31 of Ontario's 3542). "I was going to go there for lunch with a friend but obviously we couldn't get in because there was a crazy amount of people," he said. He estimated 300-400 people crowded in front of the restaurant. "I didn't expect that many people to be honest with you," he said. But he and an associate, after keeping their distance, decided to leave after 15 minutes. Rocca was crestfallen after the latest provincial lockdown taking effect Easter weekend, after Windsor-Essex restaurants had just been permitted to allow 50 per cent capacity indoor dining two weekends earlier. He said he was "absolutely" able to fill the restaurant continually, so customers obviously are supporting the restaurant while acknowledging health protocols. Meanwhile, India Paradise's Harish Gudavalli also said that on weekends he had been filling the resto at 50 per cent capacity. And during the week "we'd get most of them (tables) filled at one point in time." He says his Ottawa St. restaurant is "breaking even" but "forget about profit." He's had to cut five staff or call in on an as-needed basis. He said indoor dining makes a big difference compared to pick-up and delivery. "The whole point is if you have people coming in for dining everyone wins. The servers get tips. And most people they tend to order a little more." Marco Maggio, manager of his company's four restaurants including Vito's Pizzeria and Factory House, has managed to keep all chefs on duty despite many layoffs among the 160 staff. Of the three Covid lockdowns "this one I think stings the most." That's because spring was coming on. "I just thought we would be able to do some outdoor dining which would have been at least nice enough to keep people working," he said. Trevor Loop, owner of Jack's GastroPub in Kingsville, called the lockdown "hypocrisy" because of "two sets of rules" between restaurants and small businesses and larger retail. "We are doing our best to pivot, stay safe, try to keep as many of our staff in a position to try to make a living and keep moving forward," Loop said.
(WON.com was declined an interview with Family Kitchen owner Kirsty Leathem, citing previous unfair coverage by other media outlets.)
Photo: Wikimedia
---
Social causes, "geofencing" on restaurants' menus for 2021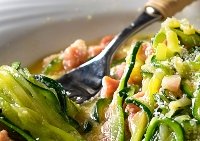 WindsorOntarioNews.com March 26 2021
Restaurants and social action don't seem to go together. But a US-based food service consultancy is predicting more Canadian restaurants will take "stronger stands" this year on causes from the environment to local charities. "Although social and environmental progress paused when the pandemic hit, the degree to which these calls to action have become louder and more urgent means we'll see operators double down on efforts over the coming year," Technomic says in its 2021 Canadian outlook. It says restaurateurs will pay greater heed to the climate "by menuing more plant-based substitutes, marketing carbon footprint levels of items and restaurants, and supporting suppliers who implement environmentally friendly practices." And expect local eateries to pay a far greater role in their communities, such as donations "to fight food insecurity and support minority organizations." They will also make more efforts to hire and promote minorities. Look for "inclusive tipping" to ensure all employees are getting fairly paid. Meanwhile, the continuing pandemic will see owners moving to an "off-premise" model. So smaller dining rooms but more walk-up ordering windows and multiple drive-thru lanes, dedicated curbside and instore pickup and grab-and-go stations. There will be expansion of mobile ordering, more home delivery and offsite "ghost kitchens" to better fulfill delivery and take out. Restos will also make use of "geofencing." That's the use of GPS or RFID to create a virtual geographic boundary and enable very focused marketing. Eateries could offer specials for those in certain neighbourhoods or target those attending a nearby event.
Photo: Technomic
---
Chatham - the origin of pineapple pizza
WindsorOntarioNews.com March 4 2021
Who knew that pineapple on pizza all started at a family-owned restaurant way back in 1962 in Chatham, Ontario? But Sam Panopoulos, a newly arrived immigrant from Greece, opened the Satellite Family Restaurant - Chatham's oldest - at 145 King St W. downtown. According to legend, Sam had a passion for experimenting with different ethic flavors, in particular the sweet, sour and savory flavors of Asia. He decided to add sweet – in this case, pineapple – to savory, or the rest of the pizza. And, presto! A new taste sensation was born. And now featured on pizza menus worldwide. But a type of pizza, after all, subject to much controversy. Is pineapple ever appropriate on pizza?. A few years ago the president of Iceland even wanted to ban the topping. The Satellite's website says: "In 1962 the original owner of The Satellite invented Hawaiian Pizza. Today the restaurant remains family owned, and the Hawaiian Pizza, along with other favourites remain on the menu. Stop in today and eat at a place proud to be a part of Canadian & Chatham History." Normally Hawaiian pizza goes by the name "Angry Hawaiian." But Windsor's Riviera Pizza and Spaghetti House recently renamed the pie the Angry Chatham, part of its new lineup of gourmet pizzas. Co-owner Renee Mazza, whose family hails from Chatham, said they renamed it "because that's where the Hawaiian pizza came from!" So no one's actually angry at Chatham. "I'm from Chatham, my whole family's from Chatham," Mazza said. Mazza says she personally likes pineapple on pizza. "I don't eat it all the time, but I like it as one of the varieties." Mazza says some customers question it while other embrace it. "People are pretty wide open now," she said. Asked if she thinks the Angry Chatham name will catch on, she said, "We'll see, right? We'll see."
Photo: Riviera
---
Pandemic, ironically, breathed new life into downtown Windsor last summer
WindsorOntarioNews.com February 19 2021
Ironically, the Covid-19 pandemic enlivened downtown and created an entirely new dimension, something lacking in the pre-Covid era. That's the consensus of downtown bar and restaurant owners who responded to a survey by the Downtown Windsor BIA about the City of Windsor's pilot project last year allowing so-called "parklets" and "curbside" patios to alleviate concerns about Covid-19 spread from indoor dining. That's on top of the fact that without the new style patios, some businesses may not have stayed alive at all. "The sidewalk cafe and road closures are the only reason I haven't had to shut down my business," said the owner of Lefty's on the O on Ouellette Ave. If not for the patio, "it would had been another empty store front in downtown Windsor," said the owners of Panache on Pitt St. "We are forever grateful" to the city with hopes of repeating "every year," said La Guardia, also on Pitt. The parklets and curbside patios added a distinct new vibe, pandemic or no pandemic. "It has been so nice to offer residents what they enjoy in other cities," said management of Sidebar on Pelissier. "I've noticed the parklets have helped clean downtown up a little bit, with all the eyes around, I've seen less drug use, and users around. Also, I've noticed it has enticed older people, who haven't been downtown in years come see what it's like." "People are saying that the City of Windsor downtown is coming alive, and feel that downtown is new and different. Almost European," said Villains Bistro also on Pelissier. "I haven't seen the downtown fill up like that in years!" said Eastwood's Grill and Lounge on Riverside Dr. Fourteen businesses participated in the program with thousands of dollars waived so businesses could get set up and running at a time when Covid-based losses were soaring. Normally there would be a $212 city permit, an annual fee of $2.00 p/sf and $1000 indemnity fee. Altogether these amounted to $26,450.50 revenue loss to the city. Of the 14, nine chose a parklet, built on the parking space in front of the bar/resto. Five chose the curbside style, with the patio flush with the business and a built public walkway detouring pedestrians around. City Council will consider approving the program for a second year from May 1 to Nov. 1.
Photo: La Guardia
---
Single use plastic ban couldn't come at a worse time, says restaurant industry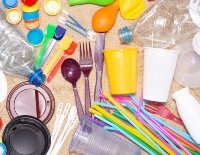 WindsorOntarioNews.com February 4 2021
A ban on single use plastics couldn't come at a worse time, says industry lobby group Restaurants Canada. Ottawa announced last fall it wants to ban stir sticks, plastic cutlery, six pack rings, packaging made from polystyrene and plastic bags. Environment Minister Jonathan Wilkinson made the announcement in October. A government paper says while plastic "plays an important part" in everyday life "3 million tonnes of plastics were discarded as waste in Canada in 2016, and only 9% was recycled." In December Restaurants Canada published its response. It says eliminating plastic items by the end of 2021 would be an extreme economic burden for an industry already reeling from reduced sales and closures due to Covid-19 restrictions. The trade group says that while the industry has "demonstrated a willingness to adapt" to a "zero plastic waste" strategy, the fact restaurants have had to pivot to take out/delivery "in an effort to survive" has made this problematic. Moreover, plastic items have gained popularity expressly because of Covid health protocols. "This pandemic has demonstrated the role single-use items play in the health and well-being of Canadians." The group says five of the six proposed banned items are used in the industry "including straws, cutlery, stir sticks, food service ware made from problematic plastics and plastic checkout bags." Some restaurants have tried alternatives such as wood and bamboo utensils but have "found challenges." In the case of wood, splintering and changing food's "taste profile." And bamboo "may only serve to increase the overall environmental footprint as compared to plastics." Restaurants Canada says the cost of the new initiatives would be "cost-prohibitive." Restaurants already operate on a "razon thin" 4.2 per cent margin. Some environmentally alternative products may represent a 150 per cent cost increase. "Under current circumstances, the foodservice industry cannot bear additional costs that may impede their very ability to keep their doors open," the paper says.
---
Michigan, Ontario, study in contrasts on opening indoor restaurant dining
WindsorOntarioNews.com January 14 2021
[UPDATE JAN 26: Michigan Gov. Gretchen Whitmer has announced that restaurants can reopen indoor dining Feb. 1 with 25 percent capacity and a 10 p.m. closing.]
While Ontario began a second state of emergency today to fight the coronavirus – and restaurants locally continue to be closed from a previous lockdown for indoor dining – Michigan, with 2964 new Covid cases yesterday, is considering re-opening dining indoors. Ontario actually had less cases yesterday - 2903. It's obviously all relative and Michigan's state government and industry officials seem to almost be breathing a sigh of relief that the pandemic in the state is actually lessening. Michigan, one of the hardest hit states for Covid over the past 10 months, had 4992 new cases Jan. 4 and on its peak Nov. 28, 8080 new cases. The state government this week said it now has a "working plan" to reopen indoor dining as early as Feb. 1 but there are no guarantees. Michigan restaurants have been closed longer than in any other state and it remains the only state prohibiting indoor dining, says Justin Winslow, president and CEO of the Michigan Restaurant & Lodging Association. He says there are more than 100,000 laid off restaurant and bar workers. But the state government wants to wait for numbers to come down even more before making a decision to re-open, according to The Detroit News. "Now is not the time to let down our guard," Robert Gordon, director of the Department of Health and Human Services said Wednesday. "Our actions on Feb. 1 will depend on what happens with the pandemic between now and then." But Senate Majority Leader Mike Shirkey, a Republican, said by setting the Feb. 1 plan, Governor Gretchen Whitmer (pictured) has realized "she cannot sustain this continued abuse of families and their livelihoods."
---
Former Sandwich bike shop will house bakery and breakfast style eateries
WindsorOntarioNews.com December 18 2020
The former Courtesy Bicycles shop on Sandwich Street in west Windsor is being converted to a couple of new eateries with a finishing date of mid-winter. Courtesy closed in 2017 and the ground floor commercial space has been empty ever since. There were also two apartments upstairs, also undergoing major renovations. The work is being done by Lester Group of Windsor. Architect Settimo Vilardi of Archon Architect said the two first floor units will be a coffee shop-bakery concept on one side and a breakfast restaurant on the other. The property owner is the same person who is converting a property on Drouillard Rd. into a resto (see Nov. 30 story below). Vilardi said renovations will cost about $500,000. So far renovations are taking place on the structural and exterior elements, which will have a "neo-heritage" look, Vilardi said. Like the Droullard Rd. building the owner is "certainly interested in these buildings with some heritage character," the architect said. And many of the "original elements" such as window and door frames and archways, interior and exterior brick, clay-brick chimney and "heavy timber" ceiling are being kept. But unlike the Drouillard location renovating this property requires adherence to City of Windsor heritage guidelines because the entire Sandwich neighbourhood is under a so-called Community Improvement Plan (CIP) designation. "I think (the owner) has been very very good about working with the city in order to maintain" heritage elements, Vilardi added. Similar to the Drouillard building there will also be heritage style window frames along the building's Sandwich St. face. Vilardi is unsure if commercial tenancies for the two units have been finalized. The actual interior "fit out" or design has yet to be done and that work would accommodate needs of the tenants.
---
New eatery could create restaurant row in Ford City aka Drouillard Road area
WindsorOntarioNews.com November 30 2020
Pending a city approval, a third eatery will be opening close to two others on Drouillard Rd. likely nest spring. The property owner is seeking a "variance" so that seven parking spaces don't have to be included on the compact corner site but could be on the street in the business district. There are few details on the actual restaurant cuisine or name, but physically the property would incorporate an existing "parkette" already themed by Drouillard Rd. streetscaping a few years ago. In fact, there are two buildings that will be joined together – one at 1093 Drouillard and the other at 2778 Richmond to make a L-shaped space with a patio occupying where the parkette is now located. The patio will incorporate a short wall and logo that already exist illustrating Ford City, the local business improvement area's name. "The owners wanted to retain as much of it as possible," Settimo Valardi, architect with Archon Architects said. The resto, which could have a barbecue theme, will join newer businesses like The Grand Cantina and the Pressure Drop boutique café and bar up the block, creating something of a restaurant row between Whelpton and Richmond streets, about three blocks south of Wyandotte St. E. Valardi said the resto's design would capitalize on the area's "industrial setting." Facing Drouillard Rd. it would feature large factory style windows and gooseneck light fixtures. Facing Richmond there would be dark recessed panels. Plans are still early and "the interior layout is really just conceptual at this point," the architect said. Capacity would be about 40. There would also be a reclaimed brick look and brick features similar to what already exists along the street. Ford City – aka Drouillard Rd. – has been experiencing something of a renaissance with young entrepreneurs moving in, capitalizing on its working-class industrial roots with new eateries and artisanal businesses.
Image: Archon Architects
---
Twigg's new design pops from ashes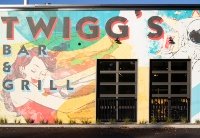 WindsorOntarioNews.com November 3 2020
A from-the-ground rebuild of Twigg's Bar & Grill at 1207 County Rd. 22 in Emeryville (between Puce and Belle River) is a far cry from the former establishment, which saw a devastating fire a year ago September. Previously it had a rather conventional look. Now the design pops and is colorful with a very contemporary urban feel, a rather rare look for an Essex County restaurant. No cause for the fire of the almost 12-year-old resto was ever found, owner Melissa Popkey-Skene said. She used insurance money and raised funds to rebuild. The design, with lots of glass and a colourful mural, was created by Windsor's Architectural Design Associates (ADA) and the Lester Group, the contractor. "But Lester played a big role in helping with the design," Popkey-Skene said. The resto-bar's interior too, while continuing to have a "homey" feel, features contemporary design elements. For example, a round blue bar with upholstered tan seats. "I wanted something that was going to stand out compared to everything else that's around," she said. "You know, everybody's kind of following the same suit going with barn boards and bricks and things like that." Twigg's reopened Oct. 16. The design, intentional or not, well suits the current dining and public health environment. Gone is the outside patio and now, so to speak, is a virtually year-round indoor patio. "In the winter time it's completely closed in and then in the summer time it's indoors but we have three garage doors and a patio door that opens up so you get the feel of being outside," Popkey-Skene said. The restaurant is still running its "Covid menu" but is renowned for its Twigg's Burger, nachos, sandwiches and salads. What's with the name? It's Popkey-Skene mom's nickname. She was very skinny and in her era the model Twiggy was household. "So everyone called her Twigg and when it came down to me picking a name for the restaurant I was kind of put on the spot and didn't know what to name it and I wanted something catchy – just a one worded name – so I came up with Twigg's," Popkey-Skene said.
The romance continues as The Cook's Shop celebrates its 40th anniversary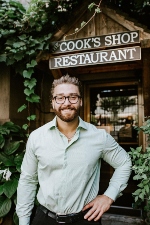 WindsorOntarioNews.com October 14 2020
The new owner of Windsor's venerable The Cook's Shop – now celebrating its 40th anniversary - had barely taken the reins of perhaps the city's premiere restaurant when Covid-19 shut him down. Spencer Dawson move from Hamilton to Windsor after purchasing the Ouellette Ave. favorite – the resto for romantic dates and special family and business occasions – last year. With a background in the Niagara wine industry Dawson always wanted to own his own restaurant and family members locally told him the eatery was for sale. Founder and long-time owner Lino Catroppa had wanted to sell to the right person and found him in Dawson. Fine dining is one thing but the resto's dark alcoves and intimate candlelit tables may make it the number one spot for decades of engagement pitches. It was this type of specialness that prevented The Cook's Shop from "pivoting" like so many other restaurants did this spring and summer. "I did not want to jeopardize our reputation as a fine dining restaurant by doing takeout," Dawson said. "It's all about the customer experience when you dine at The Cook's Shop, and without the ability to dine indoors, our customers wouldn't have gotten the full experience that we create for them." So, the resto took the opportunity to tweak some of the menu. This included changing to fresh pasta noodles and adding fresh steamed PEI mussels in various sauces. "Our house tomato sauce has since been changed as well, and is actually my Nonna's recipe," Dawson said. "All the tomato sauce, as well as our Bolognese, and minestrone are actually all family recipes that have been passed down." Soups have been switched out, Tuscan style chicken breast added, as have Australian Lamb rack, fresh Rainbow trout and Atlantic Salmon. Meanwhile silverware, dinner plates, glassware "have all been updated to show our guests that we are committed to giving them the best experience." Fortunately, social distancing protocols under Covid has really not harmed the dining experience because of the resto's interior layout. "We have lost only three tables," Dawson said. "We have also built a number of partitions that allow our guests to feel comfortable and safe when dining with us."
Photo: The Cook's Shop
Resto reaches far into the county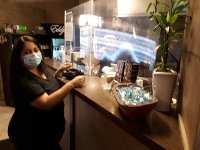 WindsorOntarioNews.com Sept. 30 2020
Keeping the product fresh and reaching out to the community have been two mainstays of Eddy's Mediterranean Bistro during the pandemic. Eddy's opened its first restaurant across from Catholic Central High School (photo) back in 2014. It opened its second – and larger – space at Tecumseh Towne Centre across from Home Hardware in 2018. Original owner Eddy Hammoud joined Dr. David Mady as partners in it. Being techno savvy with new online ordering has also helped sustain sales during an earlier total inside lockdown. "We had to get back up on our feet and discover ways of how we could improve business," Hammoud said. They increased the delivery area for orders over $40 to 21 km., putting towns like Essex and Amherstburg within reach. Both restaurants continued with pick up and deliveries and then in Stage 3 reopening with in-store dining. "Unfortunately, our Windsor location didn't have a patio so business slowed down a lot at that location," Hammoud said. The newer location can accommodate up to 50 people outside on weekdays and up to 90 on weekends (90 inside). Eddy's has built a reputation on fresh food. "We season our meat we don't marinate it so it's healthier," he said. "We cook it fresh to order, we don't have the rotisserie spindle machines, we cook the meat fresh to each order so it's always hot, it's not meat that has been sitting out for a couple of days." Eddy's has also been integrally involved in fundraisers and special meal deliveries to front line workers. And he was part of the committee that raised more than $60,000 for victims of the Beirut explosion this summer. Top menu sellers are platters. "It's a good price, has a lot of variety, a tonne of food," he said. To keep afloat, the owners took advantage of the federal rent support program. Confident in their menu and loyal clientele and having survived some of the worst ravages of the recession, Hammoud isn't daunted by the coming fall and winter season. "I don't know what's going to happen during these upcoming months, but I think we'll be in good hands," he said.
Restaurant aims to serve the most "forward" Indigenous cuisine in Canada
WindsorOntarioNews.com Sept. 3 2020
Essex County will soon be home to the largest indigenous fusion cuisine restaurant in Canada. Renovations are underway at the Happy Snapper in Leamington that will see the eatery transformed - with a new name – come spring. It's all part of an economic development plan by Caldwell First Nation after an historic land settlement. "We believe that every First Nation at least owes its members opportunities – the opportunity to succeed," acting chief Robyn Perkins said. The Happy Snapper served typical bar food. But the band council saw a chance to lead the way in traditional indigenous cuisine. So when the new Free Fires restaurant opens for Leamington's Festival of Birds next spring expect something entirely different, and an experience on the cutting edge for Canadian dining. As a first step the band council brought in acclaimed chef Bill Alexander (see sidebar), who grew up in Alberta, trained at Cordon Bleu in Ottawa, and has worked around the world. His specialty is indigenous cooking but with a modernist twist. The idea is to "tell the story" of native food, especially the Caldwell's, Alexander said. "You will see traditional ingredients and inspiration coming from the cooking methods being used," he said. Fusion isn't a mélange of ethnic cuisines but indigenous past and present. "We're going to put a modern-day spin on our food," Alexander said. "I always say, Instagram ready, so it presents really nice and it would translate into an indigenous version of something you would have seen on another (contemporary) menu." Take Beef carpaccio, for example. Free Fires will serve venison and bison versions. Many of these "very modern and forward thinking" plates will be gluten free and vegetarian/vegan friendly. "There are going to be elements of the menu that will be really creative," the chef said. Besides regular items expect more adventurous dishes, served in "chef rooms" where parties can sample wild game charcuterie and even more arcane animal parts. There will be cheese made from nuts. There will be dishes like braised bison short rib and fried bread. "Once you've actually had fried bread it's very difficult to go back to any other bread," Alexander said. Free Fires will be kid friendly. Instead of French fries expect something like sweet potato mash – which Alexander's daughter loves - and chicken fingers topped with smoked maple or birch syrup. Or fried bread pizza pockets. The overall goal, the chef said, is to establish the most forward such restaurant in Canada and "the largest indigenous culinary team."
Photo: Caldwell First Nation
Restaurateur embraces the new normal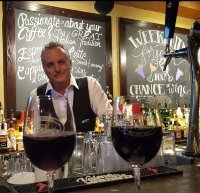 WindsorOntarioNews.com August 7 2020
One of Windsor's best-known restaurateurs not only did a rapid pivot during the Covid-19 crisis but he actually embraced the new normal. Ironically just as the pandemic was getting underway in early spring Vito Maggio sealed the deal on his fourth resto. This is the Factory House on Tecumseh Rd. E. It's a more family-oriented spot once run by now deceased Bill Kobrosli. What partly attracted, besides being a "turnkey" well run op, was nostalgia for the old Hi-Ho chain, which was at the site and "as a young lad I used to go there quite a bit." It comes on top of his third and still newish Ortona 1864 Cafe & Panino right beside his nine-year-owned O'Maggio's Kildare House on Wyandotte St. E. They're both basically a block away from the original Vito's Pizzeria, one of the first artisan independent pizzerias and a hit when opened during Walkerville's early renaissance 11 year ago. But, Maggio said, none of the restaurants closed during the Covid crisis. "Hard work, you'll be okay, that's what it's all about, right? You have to get back on the program and say, hey look it, it's a big change in everybodys life." Obviously, he was always indoor service-oriented but quickly turned to take out meals with special deal packages. "I had to convert it real quick and there was a lot of thinking to get back on it, it was a big challenge." He now also offers lots of patio-dining during our great summer weather. Maggio owns, as opposed to rents, all four restaurant properties. "I wouldn't want any landlords right now," he says. But mortgages? "What you have to do you have to just get up a little bit earlier in the morning." While Vito's Pizzeria is famed for its artisan pizzas and overall Italian, the pub grub Kildare House is especially renowned its fish and chips. And Ortona – which Maggio owns with Giovanni Cassano – specializes in artisan sandwiches and small plates. His staff numbers more than 85.
Photo: Vito Maggio
Pandemic skews how pizzas are sold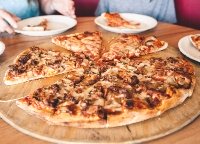 WindsorOntarioNews.com July 17 2020
It may seem like the lockdowns during the pandemic would have been perfect for take our and delivery food like pizza. But it's a little more complicated than that. For example, large group orders were actually down and might just be starting to pick up. Catering, lunch sales and party sales "just fell off the map," Kevin Kalaydjian, owner of Capri Pizzeria with 10 locations, said. "The business to business lunches they were done whereas before it was a big part of our business," he added. King Size pizza sales halted. Pre-pandemic, "a tool and die shop, we'd send them two king size pizzas for the guys on lunch, somebody retiring from Chryslers we used to send 10 pizzas." Not now. Joe Ciaravino, president of Antonino's Original Pizza Inc., also said "We're not selling as many king size pizzas as we used to." He said pre-Covid "people would order multiple king sizes of 32 pieces. With the closure in March and April with a lot of factories our catering orders went down for those large size pizzas." Meanwhile night-time sales for smaller pizzas to homes were better. And Kalaydian said sales varied by location, with operators in small towns, for example, doing well. "Depends on the operator too, if you're a good operator in a small town you really capitalized." Why? "There's less choice to begin with (in a small town)." As the province reopened over the past month larger pizza orders have started to pick up. "The tickets are not just large pizzas anymore, now there's a king size with some salad for 10 people," Kalaydjian said. Ciaravino changed the business model to all pre-paid pizzas, even if people drive up they still order from the car. He's hired runners to take the pizza to drivers. Kalaydjian says service is tailored to "whatever the customer is comfortable with" which includes delivery to cars or pick up in store. Some Capri stores are doing only pre-ordering by credit card and some "collecting cash." But Antonino's new pre-order model for contactless payment has incurred costs. Whereas before one-third sales were by credit card virtually all are now, and over the phone. That means he has to pay higher credit card fess – usually by half a per cent – because card companies are worried about fraud when people don't personally swipe or tap.
Photo: VisitWindsorEssex.com