---
Windsor Ontario News / Restaurants
The Bourbon Tap and Grill, central Windsor
WindsorOntarioNews.com May 11, 2017
We have found our favourite place for "comfort food" mac and cheese! We thought the ultimate had been found (though we weren't all that impressed) at Clarkston Michigan's much touted Union Workshop's version of the dish, so featured on Food Network's Diners. But it hasn't got anything on the same dish at Windsor's The Bourbon Tap and Grill (1199 Ottawa St., 519-255-1199; www.bourbonwindsor.com). But first a little about what used to be the Italian Per Bacco Ristorante, now converted into a wide-open bar, with handsome patio, and uniquely featuring 53 – count 'em, 53 - different bourbons. Now into its third year The Bourbon, with live music evenings, has brought more needed night life to Ottawa Street. The restaurant-bar is airy with lots of touches of dark wood as befits a place where the major drink is one that comes from casks. Indeed, there are cask motifs and a giant semi-circular sculpture above the floor by the bar made out of cask planks. And of course, there are the obligatory New Orleans Bourbon Street touches, like a street sign and painting. More notable are the giant black and white photos of the 1930s Prohibition era, one showing people carrying "We Want Beer" picket signs. The spacious patio also has stylish outdoor furniture including a comfortable corner sofa. Pizzas, courtesy of a wood burning oven, seem to be the food here – there are 13 available. Burgers also, such as, of course, the Bourbon Burger, which includes the house Bourbon BBQ sauce. Speaking of that sauce – and getting back to our mac and cheese dish, this was listed as an appetizer at $11.99. But it was really a dinner, served in an elongated boat piping hot from the oven. The dish has enough to fill a very hungry stomach. But what seems unique is the macaroni infused with pulled pork. And there is the dreamy sweet Bourbon BBQ sauce. Whether you drink bourbon or not, The Bourbon is worth a visit just for this dish alone, and we'll be making a point of coming back for more.
Yami Noodle & Rice, central Windsor
WindsorOntarioNews.com April 20 2017
Yami Noodle & Rice (1459 Ottawa St., 519-915-6341; on facebook) is a welcome addition to Ottawa Street. Since 2015 the restaurant, owned by Eric Kim, has been serving up Korean food and sushi. But that changed last December when the menu was overhauled and pretty much all the food, except for just a few sushi dishes, is now Korean. Korean cuisine is still new to Windsor so it's not surprising that many of Yami's customers are uninitiated to its fine art. First, Korean meals differ from Chinese in that there is much less oil used. Server Ji Hyun calls the food "very healthy. We use a lot of broth and veggies and fermented vegetables." Virtually every dish comes with veggies. Rice is also a big player. And there are the subtle flavours like the restaurant's home made teriyaki sauce. The menu is broken into starters like miso soup, creamy yam soup and crab spring rolls, gyoza (dumplings) pan fried or steamed, and home made kimchi (fermented cabbage). The main dishes are hardy and stick-to-the-ribs kind of food, such as the Topokki - spicy stick rice cake with Korean chili sauce and fish cake. Soups abound, defined by the ubiquitous wheat floor noodle, Udon. They come with pork, chicken, pan fried beef, shrimp and vegetable tempura. Our meal was one of the restaurant's most popular, New Donkatsu ($10.95), featuring deep fried pork over hot vegetables with teriyaki sauce. It was served piping hot on an oval skillet, itself set on a matching oval wood tray. The dish had a dozen equally sliced pieces of pork in a golden crust, cooked just right, on a bed of sticky rice and vegetables. At the end of a busy work day the meal proved perfectly filling. Another popular dish is the, yes, Korean hamburger! It's called a Bulgogi Burger, bulgogi meaning a combination of thinly-sliced marinated meats. The meat and mozzarella - with veggies of course – overflows the Kaiser bun. Served with fries and pop the meal comes to $12.95. Ji Hyun said some diners are not used to the Kimchi, a Korean side dish staple. But many will probably come around, the more they're exposed to this great Asian food choice. The restaurant, by the way, has an airy interior, with beige and brown accents, and is licenced, serving Asian beers hot sake.
Tommy's Bar-B-Q, central Windsor
WindsorOntarioNews.com March 30 2017
For the uninitiated, Tommy's Bar-B-Q (999 Erie St. E, 519-254-1111; www.tommysbarbq.com) is the reincarnation, by a different generation, of the old Tunnel Bar B-Q downtown on Park St. opposite the Detroit-Windsor tunnel, which closed in 2014. That restaurant, of course, for decades, was one of the city's signature eating places, and attracted a good number of locals as well as tourists from Detroit. Its delicious slide-off-the-bone ribs were classic. And its cakes and pies renown. Tommy's tries to recreate that atmosphere. The restaurant's decor is great, with dark tones, wooden tables and booths, a compact attractive bar, and throwback motifs to the original Tunnel Bar B-Q, including framed pictures of Tunnel founders Harry and Helen Racovitis. The wait staff was friendly and accommodating. We asked for a half-strip of ribs, presented cut so as easier to eat. Served with the famed crinkle cut fries, coleslaw and a bun, the order, price-wise, came out to $17.95. The pork was juicy enough, but fatty and chewy. Two chefs who worked at the original Tunnel are now employed here and the restaurant uses some of the original Tunnel kitchen equipment, so it was hard to figure out why the ribs weren't quite as tender as how we remembered. Meanwhile, the generous portion of fries? Unfortunately, bland. Ditto for the smallish bread roll. There were three meat sauces on the table – hot (the original), molasses, and sweet - all were good depending on your pleasure. As for the restaurant menu in general, Tommy's focuses heavily on ribs and chicken but also offers fish and chips, shrimp, poutine, and even pulled pork bruschetta. And the glass display case full of dessert cakes (we didn't try any), made right there on the premises, looked as delicious and delightful as at the original Tunnel.
Mazal Tov Kosher Cuisine, central Windsor

WindsorOntarioNews.com March 9 2017
Mazal Tov Kosher Cuisine restaurant (1653 Ouellette Ave., 519-252-0221; www.mazaltovkoshercuisine.com) has been in existence almost 20 years. On our visit on a mid-week night the large airy restaurant, its tables set with linen, had one group of seniors dining together, two 70-something couples at another table, a young couple of a third, and a construction worker stopping by for take-out brisket. Most of the diners were not Jewish which is often indicative of the clientele, says the owner, Mazal. (The restaurant is a play on her name.) Mazal Tov has an extensive middle-of-the-road, though not bland, menu. You'll find something to please most tastes. The dinner menu has several varieties of chicken from Teriyaki to Stir Fry. There's also Sweet & Sour Meatballs, Rib Steak, Grilled Salmon, Veggie Pasta, even a Veggie Burger. All meals are served with rice or potatoes and sautéed vegetables. Appetizers veer towards the Mediterranean with a same-name salad, Borekas (llightly layered dough filled with spinach and potatoes), Hummus and Bruschetta. There's also Egg Rolls and Garlic Bread. Desserts are cakes, Baklava and a daily special. For beverages, there are several choices of fruit juice. The restaurant isn't licensed. Our order was cabbage rolls served with roasted potatoes and vegetables. The cabbage rolls were huge and covered with a sweet, almost barbecue-tasting, tomato sauce. The serving was plentiful but bread would have been nice to sop things up. The meal, without dessert or drink - just water - came to $15.95. Mazal prepares many of the meals herself along with a kitchen staff, dining there is almost like dining in her house. The restaurant does not take credit or debit cards. "I take cheque, cash or next time," Mazal says.
The Twisted Apron, Olde Walkerville

WindsorOntarioNews.com February 16 2017
One of Olde Walkerville's mainstays, and one of its largest restaurants, keeps serving up "twists" on your favourite comfort food. That's why it's called The Twisted Apron (1833 Wyandotte St. E., 519-256-2665; www.thetwistedapron.com). But this isn't just one restaurant – it's three, three, three venues in one! There's the restaurant proper under the above name, then there's Bar West – that would be a regular bar to kick back and drink – and then The Chef Next Door, a space for private dining, cooking classes and cocktail parties. The restaurant has grown rapidly over its six years. It started as a café serving coffee, tea and small baked goods. A dinner and alcohol list were added, a wall taken down and booths were installed. Now the restaurant hums with about 100 seats. But let's get back to the original name. "Twisted" has all to do with the way food is prepared. According to manager Lisa Cusmanic, the restaurant's owner Kate Robinson wanted to take comfort foods – "things that you grew up with, whether it be by your grandmother, mother or whoever was the best cook in your house" – and have her chefs put "a twist" on them. The Twisted Burger is Ontario free-range beef, brie cheese, truffle aioli, crispy fried onions, lettuce, tomato, brioche bun. The Beef Dip is roast beef, horseradish aioli, sauteed onions, baguette, au jus. And the Truffled Grilled Cheese is aged white cheddar, brie, caramelized onion jam, brioche. You get the idea. There are several salads including a Grain Bowl featuring mixed grains, roasted mushrooms, summer squash, red onion, crispy chickpeas, baby kale, cider vinaigrette. The restaurant is noted for its full breakfast line, served until 5 pm. There are two daily homemade soups, and specials like Philly Cheesesteak served in a bread bowl with provolone cheese, which WON.com ordered. It was good and hardy but we'd have liked it a little more flavorful. Cusmanic said the clientele, like the restaurant's décor featuring nifty chandeliers and even stuffed animal heads, is eclectic. That includes neighborhood regulars, law school students, and people who just like to dine out and have The Twisted Apron as one of their mainstays. Also different is the resto's wine on tap and cold brewed (not iced) coffee, a Windsor area product. And the restaurant does take out. "We have environmentally friendly takeout boxes," Cusmanic said.
Tropical Hut Philippine Cuisine
WindsorOntarioNews.com January 25 2017
The Topical Hut (618 Goyeau St., 519-915-9602; on facebook) Philippine Cuisine restaurant started as a take-out restaurant in 2003 at Ottawa St. and Kildare Rd. After some time owner Leny Inting closed it for health reasons and, later, seeing the potential for a wider market, reopened in 2013 as a full sit down restaurant downtown in what used to be a small office building at the corner of Wyandotte St. across from the Windsor-Detroit tunnel. While attracting Windsorites the restaurant has a sizable American clientele. During our visit, one couple from Michigan – unfamiliar with our credit card PIN machines! – was paying as we sat down. The owner was also prepping for a party of a couple of dozen people coming over from the US. "I have lots of American customers just across the border, who come to eat here when they want to relax," Inting said. Why such interest by US customers? "There are a few (Filipino) restaurants in the Detroit area but they are just basically take out - there are just one or two tables - but really not a dining room like mine," she says. The Philippine islands' cuisine is a melange of influences, from China, Malaysia, India in the subcontinent, as well as from colonizers like Spain and Italy. Our dish this night was Menudo - pork stew combined with vegetables and spices ($9.99), which seemed more Indian than anything else, with its heap of meat and few vegetables – the prefect protein stick-to-your-ribs dish for a winter night. Inting said another popular dish is Chicken Adobo - chicken thighs cooked in vinegar, soy sauce and spices ($7.99). Philippine cuisine is big on pork and some of the pork dishes are quite exotic, like Sisig - chopped boiled and grilled pork ears and belly, cooked with chicken liver and spices ($11.99). Otherwise you'll find variations on noodle dishes like Palabok - noodles mixed with ground pork and seafood sauce, topped with smoked fish, pork rind, boiled eggs and roasted garlic ($8.99). Some dishes seem quite Western, like Bistik - lemon flavored beef strips topped with onion rings. And there are grilled back ribs and chicken wings. Inting, already enjoying a strong clientele based on word of mouth, still wants to get the word out about this largely unknown, at least to most locals, cuisine. "I'm trying to introduce our food to non-Filipinos," she says.
Toast, near east side
WindsorOntarioNews.com January 4 2017
Toast Breakfast & Lunch (653 Erie St. E., 519-915-1023), five months old, occupies the space formerly of the long time La Casalinga. The decorative front door vines and even the wine bottles still affix the walls. Toast is one of a growing number of breakfast and lunch places, serving all day breakfasts for a city that can't get enough of the traditional morning meal. On a Wednesday at 11 am the resto was more than half-filled. Despite 7 am - 3 pm daily hours most diners show up for breakfast, not lunch, said a waitress. It's no wonder why. Despite the city's appetite for basic bacon and eggs this restaurant makes a point of serving fancier items, like smores waffles, fruit crapes and cinnamon crunch French toast. There are breakfast skillets, with food still simmering in iron skillets. The Western at $8.99, for example, had a couple of eggs (your choice the style) atop a mixture of diced ham, onion, peppers, laced with melted cheese and house potatoes. It was probably enough for two people. The menu also has 10 omelettes including chicken and turkey. One of the most popular dishes is the California Benedict with avocado, bacon and tomato. The Western was tasty though it could have used a few less potatoes. The accompanying plate of whole wheat toast was the plainest type of bread. Meanwhile, if anyone's interested, the lunch menu features a vast array of salads from Greek to Toscado (served with salsa, guac and sour cream) and lemon herb salmon. There are sandwiches, burgers (including one with avocado, bacon and bleu cheese), Ciabatta sandwiches, wraps and even sandwich pitas. The family – including the wait staff - who owns and operates Toast, obviously have thought out a menu that offers the traditional breakfast for the non-adventurous but kicks it up several times for those who like to experiment and indulge. Bravo.
Michigan Diner, Tecumseh Road East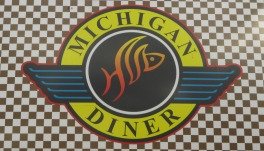 WindsorOntarioNews.com December 1 2016
This can be a bit confusing as there are three Michigan Diners, two owned by the same owner (Tecumseh Rd. E. and Howard Ave.) and a separate one on Manning Rd. in Tecumseh. This review is about the Michigan Diner located on Tecumseh Rd. E. in Windsor (7435 Tecumseh Rd. E., 519-944-5111; www.michigandinerwindsor.com) If Cheers was a place where everybody knew you name this throwback to a diner of an earlier era is a place where everyone, in friendly fashion, might want to know it. The staff are extremely friendly and so are the customers. It's about as down-homey as you can get in Windsor. In fact, it seems odd not to talk to your fellow diners. "He (Trump) has no idea how to run a country," says Lyndsy, an opinionated regular who is about to dig into her halibut fish and chips at the next table. Then there are the waitresses, folks like Sarah and Sonja. "If it's a complaint it's Sarah, if it's a compliment it's Sonja," jokes Sonja. Both waitresses good-naturedly check on how the customer is doing. As you'd expect by the name, the Michigan Diner is all about local nostalgia. There are big photographs on the walls of places like the old Hi Ho fast food drive-in chain, the Skyway outdoor theatre, the Volcano pizzeria. The decorations are definitely of Canada's motor city, with a large automobile grill sticking out from the wall. The busiest time of the day is between 3 and 6 pm. That's when the seniors' discounted menu is served. "And they get a lot of food," says Sonja. "People come every day, you really get attached to them." Meanwhile the restaurant's favorites are broasted chicken, stuffed sandwiches and especially the Blue Plates, everything from cheddar bacon dogs to Mom's meatloaf. There's also ribs, seafood and salads. (The restaurant is not licenced.) Our order was the triple decker turkey club, with all ingredients fresh, the accompanying cole slaw not creamy but with not too much vinegar either, just fresh and light. Dine at this restaurant a few times and you'll get to know everybody pretty quickly – customers and staff.
Billys Taphouse, Essex
WindsorOntarioNews October 27, 2016
Billys Taphouse (305 Talbot St. N., 519-776-7094; www.billystaphouse.com) is a reason to drive out of your way and visit the county seat of Essex. Of course, if you live in Essex you already know the charms of this eatery. Besides its ambience, it distinguishes itself by being one of the best restaurants in Windsor-Essex to give a huge shout out to locally-sourced food and beverages. A major makeover last January saw completely new finishes featuring a dark interior, with tall deep-cushioned booths, and a long bar stocked smartly with Essex County wines. Meanwhile the interior design is what could be called contemporary cool: open ceiling duct work, a huge chalkboard listing tap beers, and Edison style lightbulbs hanging from the ceiling. For locavores, the menu is a treat. Produce is sourced from Kingsville's Northern Seedlings, buns from Leamington's Lakeshore Bakery. Other suppliers are 4D Butcher (North Ridge), Belwood Farm (Amherstburg), Bradley Farm (Cottam), Ewe Dell Farm (Woodslee) and Essex's own Schinkel Butcher. The restaurant even has its own produce garden. In general, you'll find on the menu scrumptious salads like the Apple Spinach, with caramelized apples, baby spinach, grilled chicken breast, dried cranberries, goat cheese, bacon, black sesame seeds, and apple cider dressing ($15). There's also a Charcuterie Board with local butchers' cured meats, cheeses, roasted peppers, candied pecans, quartered egg, toasted baguettes, and honey Dijon dressing ($25). There are several gourmet burgers. And on the main menu there's Iron Pot Pie with pulled turkey breast, carrot, peas, corn, sage gravy, herb puff pastry, and garden salad ($15). There's Bangers & Mash Pot Pie with sausage, mushrooms, onion, beef gravy, and garden salad ($15). We ordered the Taphouse Chicken Sandwich with caramelized apples, bacon, grilled chicken breast, Swiss, spinach, and barbeque chipotle dressing ($14). The food was sweetly delicious though the chicken was somewhat dry and since this was a sandwich we expected it to be served on multigrain bread – like other dishes there - not white hamburger buns. But this is a minor criticism given the restaurant's overall appealing menu and great vibes.
Smoke & Spice Southern Barbecue, east side
WindsorOntarioNews.com October 6 2016
We'd long wanted to set foot in Smoke & Spice Southern Barbecue (7470 Tecumseh Rd. E., 519-252-4999; www.smokenspice.com) and missed the opportunity when it was located on Ottawa Street (now home of one of Mamo Burger Bar's two locations, owned by the same folks). But it moved to its current location, the former spacious Montana's BBQ & Bar on Windsor's far east side, five years ago. Wow, does time fly! People have raved about the resto's southern style cooking, directly learned by owner and chef Ryan Odette during a culinary career in the southern US. And he and wife, Tina Odette, also toured BBQ eateries across Tennessee, learning the fine art of slow-cooked meat. They've obviously been able to pull it off (literally) and for several years now. On our visit, our menu choices were the Peckin' Pig – pulled pork served with one smoked chicken breast ($16.95), and the Pulled Pork Sundae – pulled pork, BBQ beans, coleslaw and the Original (house made) sauce, with cornbread ($10.95). First, the cornbread was wonderful – light, slightly moist, almost cake-like. The chicken breast, often dry in other restaurants, was moist and tasty. Overall the Peckin' Pig dish provided a generous serving. The Sundae was smaller, as advertised, with the coleslaw mimicking the "ice cream" on top. Meanwhile, also on the table, there were four accompanying house sauces – also sold separately in bottles to take home – with our favourites being the Original sauce and Memphis Sweet sauce. The restaurant serves a lot of what you'd expect at a down home BBQ joint – ribs, wings, southern fried fish, smokehouse chili, sweet potato fries, mac & cheese, and collard greens. But the owners are savvy enough to give a nod to today's eating culture. So you'll even find several gluten-reduced main and side dishes, and even vegetarian plates like fried pickle spears and goat cheese salad. Y'all come back now!
Sundried Tomato, downtown
WindsorOntarioNews.com Sept. 15 2016
Sundried Tomato Bistro Italian Cookhouse (122 Chatham St. W., 519-258-2000; on Facebook) almost stands as a last survivor among what used to be downtown's restaurant row. Closed across the street are the Chatham Street Grill (formerly L'Auberge de la Bastille) and the Beer Market (formerly Cadillac Jack's) and down the block The Pour House Pub (formerly Ye Olde Steak House), among others. Sundried Tomato, owned by Kim Vangeloff, used to be The Pitt for Pasta. It's a spacious venue with exposed brick and contemporary ambience giving a nod to Windsor's past, with large photographs of local streets in their heydays and iconic old buildings. Booths line one wall, open tables – including those for groups – line the middle and opposite side. There's a Cheers-like bar at the front. On this weekday late afternoon, a crowd of 20 American tourists, in Windsor for a wedding, had just left after a meal. Out of towners – often from nearby hotels - make up a large portion of the restaurant's customers, the friendly waitress said. Sundried Tomato offers lunch (most sandwiches are $9 and basic pasta dishes run below $10) and dinner options, with the latter having pastas for prices mostly in the high teens. Tonight's lasagna special was priced at $16.95. It came straight in its boat dish piping hot from the oven. Unlike most restaurants, where the lasagna tends to be very meaty and oily, Sundried Tomato's lasagna had a very fresh tomato taste. The sauce is made from scratch with fresh tomatoes. Also, the accompanying Caesar salad was noticeably different from most restaurant Caesars in that the leaves were chopped finely, big tough spiny lettuce leaves being a pet peeve of ours. Otherwise the menu features chicken, veal, seafood, steaks and chef's choices such as Veal & Mushroom, Famous Chicken – breaded chicken topped with roasted peppers, mushrooms, sundried tomatoes in white cream sauce with melted mozzarella cheese – and Walnut Chicken.
Panache, downtown
WindsorOntarioNews.com August 26 2016
Panache Ultra Lounge (53 Pitt St E., 519-962-5233; www.panachewindsor.com) has been in existence six years, a little swath of hip elegance in the city's deep core. The vibe of this smallish resto and bar is black and white lux, from the filigreed wallpaper to the classic large chandeliers and deep cushioned black seated booths. Panache serves food until 11 pm but as evening rolls on quickly turns into a bar with scheduled DJ-inspired music. (Panache's hours are 4 pm – 2 am, seven days.) The decor includes framed prints of icons of a familiar sort – Audrey Hepburn, Marilyn Monroe. The music – edgy AAA – this day was slightly loud for a quiet late afternoon. The food menu's emphasis is on steak such as NY Steak 12oz pan seared garlic butter basted, Petit Filet 6oz Angus prime hand cut steak and Filet 8oz Angus prime hand cut steak. Otherwise you'll find a cross-section of the kind of meals that epitomizes the upscale trendy - Spinach and Mushroom Chicken (roasted chicken breast, spinach, mushrooms, green onions, pecans, and mozzarella cheese) or Grilled Browned Butter Honey Garlic Salmon (fresh baked, finished with a browned butter). There's a large selection of similar styled appetizers - Buffalo Shrimp, Sweet Chicken Strips, Chicken Satay, Brie Cheese, Chorizo Flat Bread. The sandwiches are mainly upscale burgers. And, yes, there are attractive scrumptious salads. What's the most popular dish? The friendly server says one of them is the Steak sandwich ($15). Okay, we'll bite. Surprisingly the sandwich is served on a square wood cutting board. Accustomed to traditional tavern steak sandwiches – open on half a roll - it was surprising to see this steak is fully covered in a soft bun and cut in half. The meat is slathered in mozzarella cheese, sautéed mushrooms, onions, and BBQ sauce. The server said the difference between this steak sandwich and others was the use of tenderized steak so it wouldn't pull as you chew. Well, it was still in parts chewy but was otherwise sweet and delicious. The pre-packaged - and pre-seasoned - stringy fries were surprisingly tasty. On the board there was also a small paper cup filled with ketchup. But the board was noticeable for its emptiness. There should have been something else - slaw or marinated vegetables – to have rounded out the meal.
Jack's Gastropub, Kingsville
WindsorOntarioNews.com August 4 2016
Jack's Gastropub (31 Division St S., 519-733-6900; www.jacksgastropub.com) must be one of the most pleasant places to eat on a balmy sunny summer afternoon. The former old red brick house that dates from the 19th century has an outdoor patio off the main entrance as well as a wrap around verandah with dining tables. The interior is also attractive with a distinctive pub feel, and was cool and refreshingly breezy on yet another sweltering day of this hot hot summer. It's astonishing that Jack's has been around since 1989 though located at the Division Road address since 2001. We had high expectations of this restaurant because of word-of-mouth. And, from the look of most of the lunch meals – heavy on the burgers and Jack's signature slaw – the dishes looked unique and delicious. But our order of Pinot Grigio called for fish so we settled for middle-of-the-road perch and chips. The server could have been faster and she admittedly apologized. The water and lemon wedge was served in a small mason jar. This is supposed to be quaint but, really, it's kind of hard to drink out of this type of drinkware. The white wine list – though admirably locally-sourced – had only six listings and because of this small number only three wines were dry. A six-ounce glass of Pinot Grigio cost $7.50, a 10 oz. glass 12.50 - that's rather pricey. The "panko encrusted" perch had a tough crust. The accompanying Jack's Slaw was essentially red cabbage, bits of carrot and vinegar but was still sweet and generally tasty. The "caper-chili aioli" was the tartar sauce. The "fresh cut Bradley fries" were not particularly special. Otherwise, in terms of services, the restaurant had only one (unisex) restroom on the main floor though it was clean and well-appointed.
Oxley Estate Winery, Harrow
WindsorOntarioNews.com July 14 2016
There's no greater evidence that Essex County's wine industry is maturing than seeing the wineries' increasing dining offerings. Whereas before the industry primarily featured small buildings and tasting rooms more local vineyards now are offering substantial culinary additions. Such is the case with Oxley Estate Winery (533 County Road 50, www.oxleyestatewinery.com). The winery, which opened in 2010, offers both a lunch and dinner menu and features the delightful Wine Garden, accessed through The Barn, a 1920s-era barn converted into a clean and bright sales and tasting room, dining room, kitchen and lounge. On a sultry summer day the lunch crowd filled about half the garden, a patio covered with tent awnings. The surrounding elements – including natural foliage, a trellis framed by old barn beams and a wood burning fireplace with bricks from the Jack Miner Bird Sanctuary, makes for a great place to while away an hour or two. The lunch menu, updated weekly with meals by "Chef Aaron," featured nine dishes. These included the Sticky Pickled Duck Wings, The Barn Burger with red onion jam (a popular dish), a Jack Lettuce Wrap brisket including pickled apples, and a Charcuterie Plate. The Quiche with Mixed Greens was sold out. We opted for the Lake Erie Yellow Perch ($19). It was pretty standard fare - yellow lake perch with panko coating, tartar sauce, house coleslaw, and hand cut frites – and we weren't expecting much different given only so much can apparently be done with this dish. So long as it was good. And it generally was. The fish was fresh, the fries thin and cooked properly, the tartar had a noticeable dill taste. The wines? There were only two reds and four whites, a bit disappointing, but that, alas, is the winery's products. (There was also a nice selection of beers and cocktails.) The 2015 Chardonnay, advertised for its citrus taste, had such fruity quality one wondered if another wine had been poured by mistake. No, said the server, this indeed was the Chardonnay; he knew because he poured it himself. The winery not only offers lunch and dinner but hosts events and features live music Sundays.
Taste of India Tandoori Restaurant, near west side
WindsorOntarioNews.com June 23 2016
Indian food has got to be one of the best cuisines. It combines a combination of sweet and savory flavours with heartiness and healthiness – tons of meat protein and valued veggies like tomatoes and lentils and often swathed in yogurt and tantalizing spices. Even eating a lot of it isn't prone to bring on diet guilt complexes. Which brings us to one of Windsor's best known Indian eateries, the taste of India Tandoori Restaurant (1457 University Ave. W., 519-253-1414). The restaurant moved a couple of years ago from its long time (20 year) fixture at Wyandotte and Goyeau. Owners Mokees and Fatema Ahmed decided it wasn't worth staying at that busy intersection because, well, parking had become just too difficult. The city had also closed one of its nearby parking lots, adding insult to injury. So the couple sold that building and bought a former Chinese restaurant on the more serene – with lots of ease of access and parking – University Avenue West. (Critics of University Avenue as an urban planning abomination take note.) "Business is excellent, I'm very happy here," Mokees said on a quiet late afternoon. The restaurant touts its tandoor clay oven and also boasts of a lunch buffet ($9.99) that features two chicken dishes, three vegetable dishes, a couple of appetizers, rice, nan bread, dessert and, alas, a Canadian salad. Our dinner order was a nice spicy Vindaloo lamb curry (14.95) with extra chili, tomatoes puree and spices. We did opt for two carbs (naughty naughty, but good!) rice and fresh oven warmed nan. (Dishes come with either nan or rice.) No surprise, the Vindaloo was dreamy. The taste of India is spacious with seating on both sides of a divider. It has dark brown colours and some wall art but one wishes its interior had a bit of an aesthetic upgrade; the space is a little too basic functional. The piped-in music was what might be called middle of the road Indian. But what's essential is the cuisine and Taste of India is still delivering the goods.
The Bistro At The River, downtown Windsor
WindsorOntarioNews.com June 2 2016
The Bistro at the River was one of the best things the City of Windsor could have approved for the waterfront. Yes, we all know how wonderful the city's continual "linear" park system is and of course have long applauded municipal leaders over the decades for creating this unique city view and public place. But, as we also know, that park system was, shall we say, a tad sterile. How about providing some other people-type activities – of the consumable food and beverage kind? So Bistro at the River was born almost a decade ago. We'd been to the resto under the former operator but not the newest one. On a hot June mid-afternoon several patio tables had patrons but no one was in the restaurant itself. Won.com chose the inside not only to get out of the heat but to get a closer view of the restaurant's staff working and overall operation. Unfortunately, none of the entrees or pastas were available prior to 5 pm. So we settled on two seemingly unique appetizers – the Eggplant Tower ($9) – "Golden fried eggplant, basil, bocconcini, roasted red peppers, baby spinach & honey balsamic dressing" and the Grilled Baked Shrimp & Cheese ($12) – "Shrimp sautéed in garlic butter, cilantro and herbs baked with mozzarella and garlic toast." The service was polite and relatively fast. Both dishes came at once and their presentations – especially the eggplant – were nice. The problem was the eggplant itself. For a dish that looked so scrumptious – and otherwise was – the eggplant was, well, eggplant – one of the blandest foods this side of mushrooms. The kitchen could have spiced this up or otherwise infused something tasty in the moribund slabs. As for the Grilled Baked Shrimp & Cheese, it was overpriced. The shrimps were of the smaller grocery discount packaged variety. The "artisan" (as the server described it) sliced toasted bread was great but there was way too much sauce for even the four large pieces to sop up. Bigger shrimp and some other food item, with perhaps less sauce (though it was delicious) could have improved the dish. Otherwise the restaurant's ambience – including skylight – was fine and these culinary criticisms certainly don't mean to detract from the overall venue, which is a great location and deserves continual patronage.
Snackbar-B-Q, downtown Windsor
WindsorOntarioNews.com May 16 2016
On a street that is in transition the opening several months ago of Snackbar-B-Q brings a certain stability to a downtown block and says "we're here to stay." After all, the Kilt and Fiddle Irish Pub across the street has closed, and what was supposed to be a spanking new health centre beside it remains vacant. Snackbar-B-Q is associated with well-known restaurateur Mark Boscariol, who for at least two decades has been perhaps the leading figure in innovative restaurant concepts in Windsor. There was Chanoso's and Oishii, of course, and there's now The Willistead. Here in the deep downtown the Snackbar-B-Q fills a niche by being both bar and restaurant – it seems neither one or the other, eschewing stereotypes. The indoor space is long with counter seating around the front windows, then some tables, then a bar, followed by tables in the back. The atmosphere has a definitive hip vibe. It's also highly personal if the man behind the counter is any indication. Paul, the bartender and server, called a hearty hello and suggested sitting anywhere though, he added, the most interesting people were at the bar (on this quiet early evening the only people there were at the bar). Among them were a couple of lawyers from around the corner in Windsor's court district. This joint is most definitely a barbecue. But, hey, this is 2016, folks, which means inclusivity. So vegetarians – you are welcome! Chef Jim Renaud serves up fare like Smashed Avacado Toast , Buffalo Cauliflower Wings (creamy slaw, buffalo style hot sauce and blue cheese crumbles) and Friend Green Tomatoes. A fellow diner was delightfully swooning over the tomatoes' taste. Our order was Pulled Pork, enticed in part by the creamy buttermilk slaw and smoked white cheddar. Glazed Brussel Sprouts with Smoked Bacon was a side. The sprouts, interestingly, were smashed up, not served whole. The Pulled Pork was advertised as two-handed but the actual serving size was a bit disappointingly small though the food tasty enough. The Snackbar-B-Q is the kind of place to keep coming back to, to try out intriguing offerings, like the Porknado Burger and Pauly D's (fresh ground Canadian angus, pulled pork, American cheddar, kc sauce, peppered bacon and crushed pork rinds). The "Smoker" serves Smoked Tofu, St. Louis Ribs and Smoked Petite Beef Tenderloin. There are 10 Ontario crafter beers on tap and the resto sources area wines.
Dolan, downtown Windsor
WindsorOntarioNews.com April 22 2016
Among Windsor's many and varied culinary delights it was doubly surprising to see that the city has an authentic Uyghur restaurant. Uyghurs (WEE-gurs) are form northwestern China, are Muslim, and share borders with counties like Russia, Mongolia and Afghanistan. The cuisine shares a few similarities with Chinese cooking but there are many differences. So we thought we'd certainly give it a try. Dolan (named for an ancient Uyghur village) Handmade Uyghur Cuisine (225 Wyandotte St. W., #103, 519-997-9850; on Facebook) is located downstairs in the Bhullar Plaza. There are just 12 dishes on the menu and all looked sumptuous from the poster in the outside window. Surprisingly, for Asian cuisine, the restaurant even featured a meat pie, and it also serves naan bread. Other dishes, such as Lahman, Cold Noodle, and dumplings, looked Chinese. But the cooking is Halal. The restaurant is big on serving kabobs and a table with two young Asians at it was served a platter of what looked delectable spiced skewered meat. Our first choice for dinner was Polov, rice with carrots and lamb or beef. But the restaurant was out of that. Asked what one of the most popular dishes was, we were told Big Plate Spicy Chicken. It looked yummy. So, okay. Son and mother (Adil Hamit and Guli Abliz), staffing the restaurant, were warm and friendly. The dish came with an appetizer of delicious cole slaw – not too vinegary not too creamy and decidedly different, especially compared to a lot of the stuff served in typical Canadian restaurants. Then the entrée arrived. It looked good. Enjoy, Guli, said. The dish was a potpourri of home made flat narrow noodles, red chili peppers and cut boiled potatoes. Said the Toronto Star, of all papers, in a review of the restaurant two years ago, the dish swims in a "dark pool of soy-flavoured broth with hints of star anise, brown cardamom and cinnamon. There is a goodly amount of garlic and ginger." Here we see "the Western" influences in Uyghur cooking – i.e., boiled potatoes. We started eating. The dish was fine as it went. Then we started biting into the chicken. These were small nubs of chicken, perhaps 20 or 30 pieces, but all had bones inside of them. There was hardly any meat, especially after removing the skin on some pieces. After about 10 attempts to eat these chicken cubes – including spitting out numerous bones - it was time to give up. The meal was tasting worse and worse. Why, for heaven's sake, could the restaurant not have used boneless chicken? Then, the bill, an incredible $21!
Kabobgy, various locations
WindsorOntarioNews.com April 6 2016
First there was one Kabobgy, tucked away in the Tecumseh Green Valley Plaza Shopping Centre, which opened about six years ago. Then, all of a sudden, or so it seems, there were two others – much larger ones with more upscale flair – on Malden Road in LaSalle and on Tecumseh Rd. E. in Windsor. What's going on here? Kabobgy is a locally-based chain, run by three brothers, and seems to have struck a sweet spot, or maybe that should be grilled spot, with a growing number of customers. We visited the original location, at first thinking that was the only one that existed, until we wised-up and found that this restaurant must be the fastest-growing chain in town. Every time you look around there's another one. Nevertheless on a quiet dinner-time Thursday evening there were only a couple of tables filled in this pleasing brown-and-beige decor eatery, which is a lot larger inside than seems from the outside doorway. For decor, there is nice abstract modern art on the wall of stylized cutlery. As for service, the staff was polite and helpful. Asked what was one the most popular items on the popular menu we were told Shish Tawook – marinated tender chicken breast grilled on a skewer. (In fact the restaurant is named for skewered food). This is a nice combo plate with meat, grilled vegetables, rice and salad. But since we weren't especially into eating greens this night we opted for an alternative - hummus and pita. That arrived first and was very fresh, including the pita wrapped in plastic bag. But only one piece of pita? It was hardly enough to sop up all the hummus. Then the grilled chicken arrived. The chicken was extremely tender and there were many pieces of it. But where were the vegetables? There certainly could have been a lot more, especially given the meal was priced at $15.99. Otherwise, the restaurant is licenced. It has fairly large selection of appetizers, a few vegetarian meals and several mixed trays for larger groups. Kabobgy also specializes in express lunches for the busy daytime work crowd, a nice touch. Kabobgy also seems to have a strong takeout business, judging from the traffic on this particular night.
Lux Diner, Tecumseh
WindsorOntarioNews.com March 18 2016
Lux Diner (33 Amy Croft Dr., 519-735-8001; no website or Facebook page) in the Saint Clair Shores Shopping Centre used to be known as Famous Joe's Diner. An ownership change two year ago saw owners of The Walker Grill acquire the property. The look and feel seems much the same with some updated décor tweaks. The sign as you enter humourously admonishes you, much like the Monty Python song, to look on the bright side of life and certainly not with a frown. The restaurant is sizable and there's a patio in summer. And just like Famous Joe's the atmosphere might be described as Down Home Friendly, filled with families, retirees and couples dining out while the kids are at basketball practice. Of course this being Windsor there are also international dishes – i.e., Greek - thrown into the mix. These include a Greek Chicken Dinner, Greek Veggie Burger and Greek Salad. The restaurant also has a seniors' menu. The selection otherwise is contemporary and varied, from ribs to seafood, sandwiches, salads and wraps. The waitress said Lux Diner is also known for its half-pound burgers that come with one side, all priced under $10. Another favourite is the extended breakfast lasting until 3 pm. It features reasonably priced large skillet meals for under $10 and some imaginatively prepared pancakes such as Pecan Caramel and Chocolate Chip. One of the most popular dinner dishes is the stick-to-your-ribs Meatloaf. Served-up in under five minutes by friendly staff each slice was about four inches by one inch, topped with a generous amount of gravy. The side of red skin mashed potatoes was delicious and served with a small bowl of gravy. The meat was tender. The only disappointment was the cole slaw - we like ours creamy. The restaurant makes a big point of advertising its Broasted Chicken, which is often a take out favourite, especially with 10, 15 and 20-piece family dinners served with choice of potatoes, salad and coleslaw. The 20-piece goes for $47.99.
Simply Thai, east side Windsor
WindsorOntarioNews.com March 7 2016
Simply Thai (13300 Tecumseh Road East, 519-979-4800; www.simplythaitecumseh.com) has been a fixture in Tecumseh for almost eight years. Located in the Green Valley Plaza this bright contemporary looking restaurant with beige and brown hues and Asian motifs, has large round paper lantern lights hanging from the ceiling. There are booths along the side and tables in the middle, and the restaurant can handle a sizable number of customers. It's licensed and has a bar. During our visit diners were serenaded over the loudspeaker by a female's voice singing Asian music. Simply Thai seems to go out of its way to be customer friendly. Among its large stir fry menu is a separate menu for kids from which they can create their own stir fries. As well, kids get to eat free Thursdays after 3. "Hey mom, we want more!" The menu is colorful, detailed, and has lots of pictures so you can see what you're getting beforehand. It's also health friendly with allergy warnings for dishes containing shellfish, fish sauce, nuts, and has dishes that are gluten-free. Washrooms are large and ideal for people in wheelchairs. And on the way out the door there's a paper pad where you can peel off a comment sheet and drop it into the adjoining box. That seems a first! Every night there are different dinner specials. Tuesdays, for example, stir fries are 15 per cent off. There's also a huge assortment of ingredients to create your own meals. But we chose from the menu – the stir fry named Cashew Nuts which included onions, carrots, water chestnuts, red peppers, baby corn, and roasted cashews in a sweet & nutty sauce. The meal was served piping hot but with a smallish mound of rice. We ordered the dish very spicy and it lived up to billing, bringing – the true test - tears to the eyes. The sauce was deliciously sweet without being syrupy. But the beef wasn't all that tender and the carrots were hard and could have been cut smaller. Overall the meal was tasty without being, well, spectacular. A notable menu item is an appetizer plate called the THAI-riffic-platter, containing two spring rolls and served with a side of two summer rolls, two Thai Plum Chicken Satays, two Creamy Peanut Golden Shrimps, four Sweet Soy Spicy Wings (1/2 lb. worth), and Cucumber Salad. You might also check out the Mango Salad and Lettuce Wraps. And of course there are the usual Noodle and Curry dishes.
Saigon House, west side Windsor
WindsorOntarioNews.com February 16 2016
Wyandotte Street West has always been a magnet for Asian restaurants. But even here the mix continues to evolve with openings and closings but the area staying true to its Far Eastern routes. In 2014 another new entry opened, the Saigon House (2169 Wyandotte St. W., 519-977-8988; on Facebook) and what a welcome addition. Especially at night the restaurant on the south side of the street emanates a bright and cheery presence, an island of light with a contemporary edge. The space used to be Big Dick's Tap & Eatery, which closed several years ago and was empty before Saigon House owner Hung Ly moved down from Brampton to renovate and bring his combination Vietnamese – Thai cuisine to town. He also operates a restaurant in Brampton by the same name. But Toronto, he'll tell you, is nothing but 'work work." That's because the GTA is so expensive. "So if you buy a house in Toronto you just have to work – the husband and wife have to work," apparently day in day out. Ugh. His brother, a realtor, spotted the Windsor space. Hung Ly realized it was two minutes from the university, Windsor prices were miniscule comparted to TO's, so he jumped to move here. He's now in the process of buying the space, which he renovated in bright colours with a dark wood floor and brown and beige accents. The otherwise contemporary spareness gives a bit of a hip vibe, perfect for the young university crowd. The bright light on a dreary night offers a welcoming ambience. Hung Ly says he invested substantially in turning what had been the dark dingy space, around. "It was so bad in here that I cannot use anything. That's why this space was empty because nobody wanted to put any money into it," he says. Ok, now the menu. Vietnamese and Thai food are "almost the same" he says, and incorporate sweet, spicy and sour tastes. He himself was born in Vietnam. The restaurant has 18 Thai dishes as well as Vietnamese Pho soup and Bun or vermicelli bowls - combo plates of various foods with substantial noodles - and Com or rice dishes stuffed with meats and vegetables. Then most popular? Pad Thai of course. But also Ho Fun (flat rice noodles stirred with vegetables in gravy), and Pho House Special Noodle Soup with rare beef, well done flank, chicken and beef ball. Last but not least, our dish, Tango Mango, which consists of a lightly breaded fresh mango, onions, cucumber and bell pepper sautéed with Thai citrus mango sauce, along with chicken, chicken and shrimp or just shrimp. We chose chicken and shrimp. The food is served attractively awashed in a thick almost syrupy sweet sauce, a bit too sweet for our liking but maybe that's the way it's supposed to be. The food itself was very fresh. The shrimp, gratefully, was de-shelled. Saigon House holds 76 diners, is open seven days a week, and also serves fruit shakes and bubble tea. The music was blasting a bit too loud for our liking but maybe that's the way it's supposed to be, student crowd and all.
The Orient, east side Windsor
WindsorOntarioNews.com February 1 2016
You might know this as the former Taco Bell. Well, some of you of a certain age. Because the long time fast foodery (that's a word) closed and moved down the street. And then possibly a Spanish restaurant (our memory is vague) may have taken up residence. But for the last nine years this has been home to The Orient Chinese Cuisine restaurant (5150 Tecumseh Rd. E., 519-945-6688; on Facebook). On the coldest night so far this winter the small restaurant was quiet, with only one table filled with a couple of gal pals out for the evening. The restaurant itself is nicely furnished, neat and clean, with minimalist and tasteful decor. The arched brick windows are the holdover from fast food days but otherwise those trappings have been nicely eviscerated. The owner wasn't in; wisely he was on a two-month vacay in Hong Kong to celebrate the Chinese New Year. The lone waitress complained about how slow business is in January and February (though weekends are busier) and how the price of ingredients is skyrocketing, thanks to the plunging loonie. "Everything is double right now," she said, citing $8/lb. for beef. We ordered Szechuan Diced Chicken with Cashew Nuts with steamed rice on the side, and jasmine tea. The meal arrived in under five minutes – the meat in a bowl – which was a first. It was a nice size serving but the temperature could have been hotter. This was a spicy dish (the menu nicely has little red chili symbols to denote spicy dishes), flavourful without being too sweet, and subtle spiciness on the finish. The only real drawback? The chicken was a bit stringy. The restaurant has the typical wide variety of Chinese menu items – soups, noodle dishes, chop suey. But it pleasantly has a large number of vegetarian meals that look delicious – spicy garlic bean curd, sauteed three kinds of mushrooms with mixed vegetables, even vegetarian hot and sour soup. The restaurant is not licensed. One woman at the next table, who enjoys The Orient, lives nearby and often orders home delivery. She says service is extremely fast – "sometimes 20 minutes fast. Don't make plans to do anything else," she laughs.
Sweet Chili, west side Windsor
WindsorOntarioNews.com January 8 2016
This is the archetypical hole in the wall no frills restaurant that serves up the most delicious of foods. It's Sweet Chili (2180 Wyandotte St W., 519-253-7749). The restaurant only has a handful of tables and is operated by a couple of guys. Tonight it's Borhan Basher, a friend of the owner, Shaed Amhed, on duty serving up the meals. "I'm his friend, sometimes I help him (the owner)," Basher says. "I just come once and awhile to help him, that's it." If this is casual help all restaurants should clone Basher and hire him. We ordered the lamb curry. Ready in five minutes it was served in a white oblong deep dish on a plate with a huge mound of basmati rice. We ordered spicy. The curry wasn't just spicy but absolutely piping hot from the oven. And, wow, was it delicious – immensely favourable with every forkful down the gullet. The way you eat this, or the way we did, was to take the delicious curry and cover some of the rice with it. Blend the curry into the rice and start shovelling it back. There were also four wedges of nicely fried naan bread (ordered extra). The lamb was boneless. It was the perfect meal on a cold winter night. The only criticism is that the rice mound was just a little bit too big for the amount of curry, which itself was substantial. The restaurant's most popular dishes? Anything with chicken – chicken biryani, butter chicken, chicken tikka masala. Basher shrugs his shoulders when asked what's with the chicken. "Most people like the chicken," he says unassumingly, likely because it fits well with Western tastes. As well, the dishes are not too spicy. "Butter chicken it's like sweet and sour taste, it's not that much spice also. So they like it." The restaurant does a 50/50 eat-in take-out business. It's not licenced but with the quality of this food, who cares? What does the resto's name man? Basher says it's more for marketing than anything else. "It sounds good," he smiles. In this case image and substance meet up in scrumptious, plentiful and flavourful food.
Pho Maxin, downtown Windsor
WindsorOntarioNews.com December 16 2015
Pho Maxim Vietnamese Noodle House (567 Pelissier St., 226-674-0810; www.phomaxim.com) is the answer for any long time Windsorites wondering whatever went into the space long occupied by the city's perhaps once premier Chinese eatery, House of Lee. Of course the 20-something waitress behind the cash had no idea what we were talking about when we mentioned the 50-year-old Lee but there you go. Still, that was a bit strange, House of Lee closed only a couple of years ago though it seems like a decade. In any case the space has morphed into a Vietnamese noodle house, one of many that have sprouted around the city in recent years so there must be a large appetite for this type of food. Pho, of course, is served plentiful and is a hardy, nourishing dish. But it has to be good to differentiate it from what someone might make at home. That's what we were seeking. We wanted a full soup and not a lot of broth and eventually settled not for Pho but something similar, Dac Biet, a label that means it's a speciality. In this restaurant it's also one of several heart healthy dishes. So we ordered Braised Beef Stew ($8.99). The meal was super sized just like Pho. It was also served piping hot and was perfect for someone on a diet, with essential protein (big chunks of beef) and vegetables (carrots, onions, peas, shallots). However, there were a couple of problems. First was the size of the chunks. The carrots were too large and should have been cut smaller. Same with some of the beef. Everything was fresh, though. But there somehow could have been more flavour in the broth and a little bit of spiciness would have helped. Disappointingly, there was no sweet, such as a fortune or almond cookie, at meal's end. The restaurant menu also generally features a wide array of Pho as well as Vermicelli, Curry, Rice and Egg Noodles, and even dry dishes like several Pad Thai. The Spring Rolls looked excellently prepared and delicious, and there are nice combo plates. Those who have fond memories of House of Lee may be a bit disappointed by the comparatively basic look of the new eatery though Lee's interior was probably from a more elegant if bygone era
The Squirrel Cage, downtown Windsor
WindsorOntarioNews.com November 23 2015
The new good news is that The Squirrel Cage (1 Maiden Lane West, 519-252-2243; www.thesquirrelcage.ca) might be offering a limited brunch during weekdays. Now, it's scrumptious full brunch, which features everything from Eggs Benny to thick French Toast dipped in pancake batter and topped with Bailey's whipped cream and blueberry compote, to weekly quiche and Croque Monsieur (a ham and Swiss sandwich dipped in an egg mixture and grilled "to a delicious golden brown gooey goodness") is available only until 3 pm Saturdays and Sundays. The restaurant, owned by Toronto transplants John Ansell and Steven Thompson, is now three and a half years old and is a refreshing casual presence on the city's restaurant scene. Maiden Lane between Ouellette and Pelissier has always been a great site for intriguing boutiques and restos. Now, this two level restaurant is unique with a comfortable lounge by the door, with several stairs leading to a mezzanine type eating area. "Our first instinct was that multilevel was a deterrent but in hindsight it's a positive," Ansell says. "People really like the different level aspect." The atmosphere is causal with local original art on the walls and great jazz playing in the background. The restaurant is licenced. Besides brunch The Squirrel Cage specializes in Paninis and salads, with seven of the former on tap. Our choice was - when in Windsor - "The Windsor" with Grilled Chicken, Mozzarella, Tomato, Onion and Aioli. It was served promptly, with salad tossed in vinaigrette on the side, the ingredients fresh and distinctively tasting, unlike some Paninis with fillings having a texture like they were glued together. There's also daily soups and in the morning fresh baked goods. How did Ansell and Thompson discover Windsor? "Steve's mom lives here," Ansell said. "So we would come down on weekends and visit." They had some real estate background and naturally began checking out local open houses. "My draw dropped at how far your dollar went in this neck of the woods." So they moved to Windsor and are fulfilling their dream of always wanting to run a restaurant. What's with the whimsical offbeat name? Nothing special, Ansell says. "We just didn't want it to sound pretentious, and to be memorable and something unique," as well as a conversation starter, which it is. "So it does the trick."
Akkad Restaurant, near east side
WindsorOntarioNews.com October 18 2015
Akkad Restaurant appears to be the only restaurant in Windsor that has the name Iraqi attached to it so what became a curiosity turned into a visit at this "Iraqi & Mid-Eastern Cuisine" eatery at 960 Wyandotte St. E. (519-256-7288; on Facebook with the picture of the grilled meat). Iraqi food shares some of the characteristics of other Middle Eastern cuisine. There's Shawarma, Fatoush and Falafel plates. But the country's eating tradition is strong on grilled meats - especially kabobs - but with a wider and more subtle variety of seasonings that bring out the flavours of the food. Akkad's namesake is one of the world's oldest civilizations in Mesopotamia - present day Iraq. The restaurant has been in existence three years. Wally Alshimari and his dad Ali run the place, which sees a constant coming and going of customers, on a daily basis. But Wally's sister Khilood is the owner. The family immigrated to Canada from Iraq in 1996 and lived in Calgary before moving to southwestern Ontario, largely to be closer to family in Michigan and because, well, Windsor is "just closer to everything," Alshimari says. On the menu you'll find several salads including the Akkad - with chick peas, lettuce, tomatoes, cucumbers, lemon and olive oil. Appetizers include the Jajeek (yogurt and cucumber), and spinach and meat pie plates, five per. But meat and particularly kabobs are central to Iraqi dining so Akkad prepares a wide variety of such dishes as well as marinated meats known as tekka and tawook. The Meat Lovers dish, for example, has two beef kabobs, beef tekka and beef shawarma. White rice tends to be flavoured with raisins. "Back home most of us eat the rice usually with rains or almonds or some noodles," Alshimari said. The lentil soup alone is a reason to make Akkad a destination. This is very fresh creamy soup, which makes you think it's so nourishing you could live on it for the rest of your days. It's so delicious - and comes with a lemon wedge - you'll be tempted to ask the server to bring you a larger bowl; it'd be worth the price. Alshimari says most customers are not Iraqi and the restaurant does a booming take out business. He was on the phone taking a weekly order from doctors at a local hospital. Alshimari admitted the restaurant's Iraqi name gets attention. "A lot of our customers come in for that reason," he said.
Cheapo Fillippo's, south Windsor
WindsorOntarioNews.com Sept. 24 2015
First of all, get it out of your head that Cheapo Fillippo's Eats & Drinks (5275 Walker Rd., 519-737-7011; on Facebook) is a Mexican restaurant. The name may sound like one, and it has certainly been mistaken as such. But it's not, as co-owner Virginia Houtteman will gladly tell you. Rather, the name - which changed in 2000 from her family's long running Sandwich South restaurant which opened in 1989 - is a play on Virginia's husband's name Philippe, French for Philip. "Cheap Phil," get it? Virginia said she recently had a customer tell her she was afraid she'd get salsa on her eggs. "Now she comes in all the time." Rather the south Windsor restaurant, smack in the middle of the industrial belt of tool and die firms and small manufacturers clustered on Windsor's south side, serves up breakfasts and lunches, and draws its clientele largely from the thousands of people who work in the area. "We're known for our burgers," she says, and if you go to their Facebook page you can see why. The towering Dagwood Burger is just that, six ounce of local lean ground beef topped with cheddar cheese, onion rings, BBQ sauce, bacon, lettuce and tomato. There are also plenty of deli sandwiches, wraps and specialty sandwiches like the Philly Melt Steak Sandwich and the Grilled Vegetable and Chicken Panini. For breakfast the restaurant lauds its Eggs Benedict and has a variety of other morning items. "We make everything from scratch. Our soups are very well received," Houtteman says. "The healthy people love our salads because they're huge salad bowls." About 3 pm the restaurant tends to convert to an after work bar for drinks and lunch foods. It closes at 6.30 pm weekdays. In our case, the dinner ordered was, ironically, the Mexi Wrap, which was generously filled with salsa, bacon, fresh crisp greens, cheddar and mozzarella, though we would have preferred a little less salsa. Overall the restaurant has a clean slightly upscale look, even though the prices are reasonable and the service more than friendly. It seats 75 inside with 23 on the three-season patio. And there's more than enough parking.
Mamo Burger, near east side
WindsorOntarioNews.com Sept. 8 2015
Mamo Burger Bar (1515 Ottawa St., 519-973-1234; www.mamoburgerbar.com) is another in what has become a small complement of great burger joints in Canada's unofficial - okay real - motor city. Gourmet is the thing and natural, local, and chemical-free is de rigueur, and this local two-store chain (the other is in Tecumseh) serves such burgers up rather gloriously. First of all Mamo orders its meat from Essex County's Butcher of Kingsville. This is dry aged beef with no steroids, hormones or antibiotics, and is ground in-house daily. The freshness is obvious from the first bite. Mamo makes a point of saying your order might take a little longer than usual. It makes one wonder because it seemed the order took 10 minutes longer than you'd usually wait for just burger and fries. According to Mamo's website: "Your burgers may feel like they take longer to get than you're used to, and frankly, they should! You order it, then we start cooking it. Every burger starts raw and fresh, never frozen." Once arrived the burger is stacked higher than a conventional burger. The menu's 16 burgers on offer come with two patties. It's what's piled on top that makes each highly individual. All, frankly, sounds delicious and highly tempting. The most popular is The Big Popper with fried goat cheese, roasted jalapeños, Thornloe hot pepper colby, house bacon and smoked jalapeño aioli. It's a little spicy. WON.com ordered the Smokin' Shroomage. It was topped with smoked Portobello mushrooms, Swiss cheese, caramelized onions and roasted garlic mayo. The burger oozed flavour, not just from the meat but from the glorious onions, the tender mushrooms adding heft, all surrounded by dripping - but controllable - mayo. It took a while to wolf this thing down, so no worries you'll be finished before you want to be. For someone famished after a hard day's work (or hardly working) this meal exactly hit the spot. The side of garlic fries, however, was on the small size and not too garlicky but the fact the fries were hand cut was nice. Mamo Burger also offers salads which look like substantial alternatives to the burgers. The decor (over two rooms) is kind of hip and contemporary with an interesting wall-ceiling cluster of slatted wood. There's also a full bar with several beers on tap. Some might find the $14 price for a burger and one side high but at least on this hungry night it seemed worth it.