---
FOOD & RETAIL
---
Chrysler's new customer: upper income college-educated millennial women
WindsorOntarioNews.com January 5 2022
Chrysler wants to appeal to a new type of consumer. Put away the traditional concept of "family" or positioning products as "luxury" or as "people mover" vehicles. That's according to the division's new CEO Christine Feuell (photo), appointed last September. Chrysler created and has long dominated the minivan segment, Windsor's main bread and butter industry. Speaking to The Detroit News Feuell says she wants to "evolve" the Chrysler brand "beyond just the family positioning." But the concept of family itself is evolving. "We think that the way particularly younger cohorts define family — it's not just the people or the family that they were born into," she says. "But it's the group of people that they have evolved to become close to, their tribe, their community, so to speak. And they do move in groups together, and we want to make sure that we're providing a vehicle that enables that mobility." The CEO made her comments in light of the automaker's major push this week into the electric vehicle market. Parent company Stellantis is investing $35 billion into electrification and software by 2024. And Chrysler just unveiled the all-electric concept SUV, the Airflow. Feuell wants to "redefine" the market including for electrified large sedans to replace the Chrysler 300. The new focus is on a "college-educated millennial woman who is active in her urban or suburban community and cares about the environment," the News says. "Her income at $100,000 a year is higher than today's typical Chrysler buyer." Referencing the newer Pacific PHEV ",we found a much younger audience aligning to our target persona: millennial female, higher income and also higher multicultural mix," Feuell says. Comments auto analyst Sam Fiorani, "Re-establishing Chrysler as a brand in a crowded market will be tough; however, an electrified model could be the step up that Chrysler needs to make a splash."
Photo: Stellantis
---
Cottam church celebrates 75th year of serving turkeys for US Thanksgiving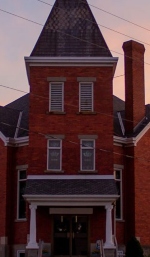 WindsorOntarioNews.com Nov 11 2021
It's Cottam United Church's 75th year of celebrating American Thanksgiving with freshly cooked turkey dinners. Due to Covid meals will be served by drive-up only, similar to last year. Altogether 1200 meals are prepared and you should pre-order through the church website or calling 519-839-4266. Meals can be picked up between 2.30 and 7 pm. Each meal consists of sliced turkey, mashed potatoes, peas, stuffing, gravy, squash and a piece of either apple, blueberry or cherry pie – your choice. "It's a big meal," says turkey committee chair Rick Meyer. North Kingsville firefighters will be on hand to direct traffic and keep vehicles from crowding County Rd. 34. The cost is $20 and money goes to civic beautification projects like benches. "They're about $1500 a pop," Meyer says. As many as 125 people take part over several days preparing for the big day and the church always sells out of meals. The operation is pretty efficient. You drive up and give your name or order number, staff will be expecting you, and runners (mostly youth) will go into the church, grab your already packed orders and bring them out to the car in under two minutes. Volunteers prepare the dinner in 15-minute intervals so the meals are fresh. So if you order at 4 pm those meals are being prepared at 3.45. Orders are limited to 75 dinners per 15-minute interval. The church orders 1400-pounds of turkey or about 50 turkeys with about half cooked by Colosanti's and the Woodslee community hall - "we thank them," says Rick. Local business also supports by doing things like providing bags. Meals are in recyclable containers keeping them piping hot and no need to warm up when you get home. Unfortunately, not too many Americans partake anymore largely because of dwindling visitors ever since 9/11 and now the Covid border closures. But there still may be a couple dozen. "We get some who are here because they have cottages which is why we did it in the first place," Rick says.
Photo: Cottam United Church
---
Fraudulent calls say you're a criminal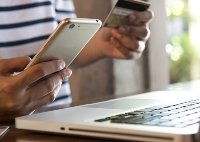 WindsorOntarioNews.com October 19 2021
It's enough to make you feel you're a criminal. But you're not. Scammers are calling personal phone numbers and ominously informing people they're being investigated for illegal activity by Canada Customs. An official sounding female voice says: "The reason behind this call is that Canada Border Services Agency (CBSA) has seized a parcel under your name which was shipped through Canada Post using your identity. The parcel contains illegal components. There is an arrest warrant already issued under your name. To talk to an officer from Canada Border Services Agency please press '1' and hold the line." When put on hold the caller hears the standard "you're call is very important to us and you'll be transferred to the next available agent." A live person comes on saying, "Canada Border Services Agency, how may I help you?" When asked where the agent is located he hung up. The calls came from Chatham. The real CBSA says there has been an ongoing problem with fraudulent calls. "The Canada Border Services Agency (CBSA) is aware there have been recent cases of individuals posing fraudulently as CBSA officials using email, text messages and telephone calls," spokeswoman Jacqueline Callin says. "We can tell you that these calls are fraudulent and that the CBSA will never call asking for an individual's personal information or to issue a warrant." Some of the information is so authentic as to post "display numbers and employee names that falsely appear to be from the CBSA," Callin says. "Emails may contain CBSA logos, email addresses or employee names and titles to mislead the public." If you receive such a call report it to the Canadian Anti-Fraud Centre at 1-888-495-8501 or online.
Photo: Canadian Anti-Fraud Centre
---
Windsor Regional again taken to task for Met's Tim Hortons outlet losses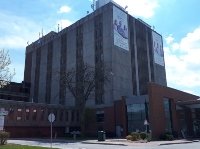 WindsorOntarioNews.com Sept. 29 2021
SecondStreet.org has again taken Windsor Regional Hospital to task for losing money at its Tim Hortons Met campus outlet. "Q: Who could lose $1.7 million running a Tim Hortons? A: The government," the website says in a new post. SecondStreet.org, which investigates how government spending affects the public, says its latest research shows WRH losing $1.7 million from 2010-1019 at the Met campus Tim's kiosk. Back in 2012 the hospital first made headlines for losing $265,000 through the franchise. Then, staff were being paid $26 per hour including benefits. The hospital now will not disclose wage information. "Ultimately, the losses at the Windsor Hospital's Tim Hortons take dollars away from departments at the hospital that actually provide services to patients," SecondStreet.org says. "According to the Canadian Institute for Health Information, the cost for the average knee or hip surgery works out to $10,500. Divide that into $1.7 million and it looks like the Windsor hospital could have helped provided an extra 160 surgeries or so – reducing patient suffering at the same time." The earlier 2012 Postmedia article "served as inspiration" for SecondStreet.org's 2020 investigation of losses at hospital food services - food served to the public not free food served to patients - across the country. It found more than $12 million in losses over two years alone including $74,775 at WRH. Hospital CEO David Musyj has dismissed the report, as had a hospital spokesman to WON.com in an earlier comment request. Musyj said the two Tim's outlets should be looked at together. "In his mind, the fact that one of his Tim Hortons franchises lost money wasn't important as the other one it operated, 4 km away (at Ouellette campus), turned a slightly larger profit," SecondStreet.org says. "But if you had two Tim Hortons franchises — a profitable one and one that lost money — wouldn't you shut down the latter so that you ended up with higher overall profits? It's probably safe to assume that most people would say, 'Yes.'"
---
New website lists businesses that believe in freedom of medical choice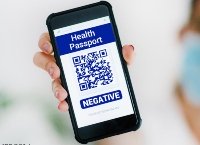 WindsorOntarioNews.com Sept. 15 2021
Many Windsor area business have signed on to a new national website where businesses let consumers know they make no judgement on the Covid vaccine debate. "NoPass List supports all Canadians who believe in freedom of choice and don't believe in discrimination or segregation based on medical choice," the website nopasslist.ca states. Area businesses such as Mindful Body Nutrition and Thomson Baking Co. in Windsor, Wheatley's Lonestar Exteriors and Stoney Creek's Lindsay's Landscaping, have added their names to the site. As of today, 1185 businesses across Canada have signed on to the website, which only started Sept. 5. The website - and the businesses which have signed-up – "don't believe that you should be discriminated against based on medical choices," says website spokeswoman Brea Osler. Nor does it necessarily mean those businesses won't enforce any provincial vaccine passports, as some provinces including Ontario, are introducing. "There have been businesses that have signed up who have openly said that they're not going to implement the vaccine passports," Osler said. "But it's not true for every single business on there as they haven't come out and made those statements yet." Osler said the site was created by a group of friends, not business owners but consumers, living north of Toronto in East Gwillimbury. "I'm not actually a business owner, I am a consumer and I do feel very strongly on this topic," she said. Osler said the site is useful for consumers who may have similar philosophical positions and might like to support businesses that have the same. As Osler said, "People want to know what businesses follow these values and what businesses they can support." Once vax passports are implemented, could the website publish a list of those retailers that will refuse to enforce them? "It's something that we're still discussing. At this time it's really hard to make that call just yet," Osler said. The website not only provides photos, logos and descriptions of listed businesses but maps so consumers can easily find them.
---
Those disappearing floor arrows
WindsorOntarioNews.com August 19 2021
Directional arrows are coming off supermarket floors or at least some of them. The arrows, along with stickers indicating social distancing protocols at check-out counters, became an early feature of pandemic measures in spring 2020. But as Canadians get vaccinated in large numbers, stores are starting to remove the floor markers, which sometimes were sources of friction between shoppers. "At the very onset of the pandemic, we immediately introduced several health and safety measures to help keep our teammates and our customers safe," Sobeys public relations told WON.com. Among the measures were the "one way aisles" (which the arrows served as guidance), plexiglass cashier shields and cancelling product sampling. Sobeys, whose store chain banners include discounter FreshCo, isn't specifically removing the markers en masse. Said its PR dept., "The 'one-way aisles' and floor markers are currently still being used in the majority our stores. However, as these markers are subject to general wear and tear from floor cleaning and sanitization efforts, we will not be replacing them." Sobeys said it will continue to "evaluate" health and safety measures, including floor markers, as provincial requirements evolve. Meanwhile, at Loblaw, whose banners include No Frills, Zehrs, Real Canadian Superstore and Shoppers Drug Mart, a similar policy is in place. "In stores where arrows are present in the aisles, they will remain until they are worn and must be removed," the chain said in response to a comment request. However, "We can confirm that at this point we have no plans to remove the plexiglass shields from our stores in Windsor." Representatives for Walmart and the Canadian Federation of Independent Grocers did not respond.
Image: Floortapestore.com
---
"Chain of custody" may be way to dent catalytic converter thefts
WindsorOntarioNews.com August 5 2021
The theft of a catalytic converted from the van of a local charity is only the latest theft – and a higher profile one - of thousands of thefts each year across the province and Canada of the highly-valued pollution control devices. And it's a plague the scrap industry and government are having a hard time coming to terms with. "It's a problem all over." John Bruner of Coreline Auto Parts in Mississauga told WON.com. Thieves "crawl underneath a Prius to get $1400 US for the converter." He said there is no "chain of custody" in Ontario to identify the source of stolen parts. Steve Fletcher, executive director of the London-based Ontario Automotive Recyclers Association (OARA), said his members don't buy "loose cats" from the public or businesses. "We are in the used parts business and technically a cat separated from a vehicle is no longer considered a part, it is conserved scrap metal," he said. "We acquire our cats by processing end-of-life vehicles." The Canadian Association of Recycling Industries (CARI) has a metal theft alert program. "Our industry suffers from more material theft than any other," its website says. CARI works with law enforcement to combat theft and report suspected items at www.ScrapTheftAlert.com. Alberta appears the province most advanced in tackling the problem. Ken Sorensen, executive director of the Alberta Automotive Recyclers and Dismantlers Association, said if dealers buy cats "as an auto recycler you have to record certain information" such as a driver's license from the seller. Sorensen said he knows of one new car dealership where vehicles had their converters poached. "Because pick-up trucks are brand new and so high off the ground they're easy to slide under and with these battery powered cut saws the one dealership lost 12 – they were all lined-up in a row." Cat converters can fetch more than $2000 but more often in the mid-hundreds. "It all depends on what unit it is," Sorensen says.
Photo: TechWiki
---
Masks off but plexiglass may stay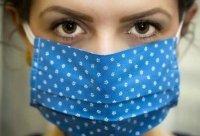 WindsorOntarioNews.com July 9 2021
Face masks might disappear before check-out plexiglass shields in supermarkets as vaccination rates go up and Covid-19 cases come down, suggests an industry publication. Already in the United States major retailers like Aldi, Costco, Publix and Target have removed mask mandates. In Canada, with lagged vaccinations though increasingly catching up or starting to surpass, one epidemiologist said he wouldn't be surprised if stores could go "fully open" as early as September. However, Raywat Deonandan of the University of Ottawa told Canadian Grocer, there still could be capacity limitations. Of course all this depends on the easing by provincial governments of safety protocols, with some provinces moving quicker to dispense with them than others. But Deonandan said expect plexiglass shields at check out to stay up at least for the time being. This could be simply to ensure customers of an ongoing level of safety but also may reflect the enormous cost retailers spent on installing them early last year. He also suggests that grocers will continue to provide more wrapped and bagged produce and baked items, for example, into the future. But Sylvain Charlebois of Dalhousie University said continued "deep cleaning" of stores is unnecessary. "We have a better understanding of the risks," he says. "And the illusion created by staff cleaning everything won't change the risks consumers are exposed to." Meanwhile, as society edges out of the pandemic retailers face a new concern: allowing customers into stores mask free. In the US Costco won't demand proof of vaccinations but ask members' "responsible and respectful co-operation." Others worry that their staff may become "vaccine police" and endure more abuse from some in the public after their enforcement of mask rules over the past year.
---
Walking a ghostly Devonshire Mall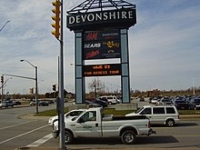 WindsorOntarioNewsw.com June 24 2021
By Ron Stang/WON.com publisher
It was a sad, bizarre sight walking through a lonely cavernous Devonshire Mall in what normally would be prime time shopping hours late on a Saturday morning. Only a few people, and a janitor picking up litter, could be seen walking through the, for decades, once bustling mall. With provincial Covid-19 restrictions allowing only 15 per cent occupancy most stores were darkened with their according glass doors locked. A few, like Lululemon, were lit but closed and a couple of employees could be seen inside. According to the mall's website while these stores were closed – brands like Aldo, Roots and Sephora - did provide curbside pickup. Even the mall floor kiosks, which used to sell products like cellphone cases, had tarps draped over them. Perhaps most depressing was seeing a forlorn Dollarama, the peoples' store! According to mall management, "select" stories, such as smart phone shops and eyeglass vendors, could open and were oases of retail, almost like pre-pandemic times. They're considered "essential." Also, "street facing" stores like Old Navy and Indigo, were open. There were about 20 people in line for Old Navy and a few for Indigo with staff ensuring entrance only when the same number of shoppers had left. Since on principle I don't wait in line, despite being told it would "only be a second," I turned around and went back to my car. While a few people walked the mall, official mall walking, of the exercise kind, is suspended. And wheelchairs and electric scooters were unavailable. The province today announced the move into Step 2 of the so-called Roadmap to Reopen June 30, a few days prior to when Step 2 was thought to take place. That's due to lower Covid case counts and high vaccination rates. But "non-essential" retail will only be increased to 25 per cent capacity. The lineups, at least for exterior "street facing" retailers, will likely continue.
Photo: Wikipedia
---
Windsor-based fitness program breaks aging stereotypes worldwide
WindsorOntarioNews.com June 8 2021
Sixty-five isn't what it used to be. And it's time the media, institutions and the public stop treating older people as "vulnerable" and "at risk." So says Windsor-based fitness company owner Emily Johnson. She owns StrongerU Senior Fitness. Its aim is to work with seniors organizations and train instructors to promote better physical activity for aging people. Providing better fitness breaks the myth that older people have to be inactive. "We refuse to accept that," Johnson says. The idea is to "smash ageist stereotypes and change perceptions." Johnson says weight gain, loss of mobility and chronic illness aren't necessarily related to aging. "Inactivity is the real culprit," pointing to centenarians running marathons and 90-somethings doing CrossFit. Johnson has a wide background. Besides being founder and creative director of StrongerU Senior Fitness, she appears regularly on CityTV's Breakfast Television and has been feature in AARP, Authority and Impact magazines as well as Livestrong.com. Johnson graduated from UWindsor's human kinetics in 2014 and moved to Calgary but returned home last year. She developed the seniors' instructors' course – which provides initial certificate instruction plus ongoing education - because she saw the "widespread opportunities" to improve senior fitness and get older adults moving again. Her course offers instruction in cardio, strength, stretch and circuit. Graduates now work across Canada, the US, as far away as Australia and New Zealand. Visit www.strongeruseniorfitness.com.
Photo: Emily Johnson
---
More murals coming to brighten Windsor's business districts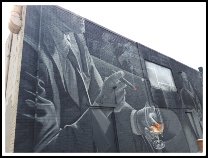 WindsorOntarioNews.com May 26 2021
More murals are coming to city business districts. The Sandwich BIA is refurbishing one that shows the area's historic French roots. "The BIA is restoring it as the years have not been kind to it," BIA coordinator Marty Ann Cuderman said. "It should be reinstalled later this spring or early summer. Of course, we will have it coated to address any graffiti." Recently the Sandwich area was hit by two attacks of vandalism. In March, a plaque honoring Canada's first two Black journalists - Mary and Henry Bibb - was stolen. And in May, two of 16 side by side African-Canadian mural panels in Paterson Park – were vandalized. One was that of Howard Watkins, one of Canada's first Black detectives, which was marred with blue paint. Another area of the panels had the words "Hi Gramma" scrawled on it. Meanwhile in Ford City, two more murals are schedule in addition to the three dozen that already adorn the east side neighbourhood, the biggest mural cluster anywhere in Windsor. "We do not have anything concrete yet as to the themes," BIA coordinator Bridget Scheuerman said. "We will be sending out a request for artists." And on Ottawa Street, one mural on the side of the Bourbon Tap & Grill (photo) was completed this spring by well-known local muralist David Derkatz (DERKZ) (see ARTS & ENTERTAINMENT). "It was commissioned by the owner of the Bourbon," Ottawa St. BIA president Ettore Bonato said. It's a Prohibition speakeasy scene. And a second mural, also by DERKZ, is being done specifically for the BIA and is called "Hands." It is being painted at the Legal Focus law office. It's a collage of human hands in different positions showing the give and take of human nature. Said Bonato, "He (DERKZ) has a way of approaching the artwork he produces by breaking it up into sections, then using colour to configure placement of different parts of his artwork, then filling in the gaps he created to have a beautiful, completed mural everyone can enjoy."
---
City ends vacant property rebates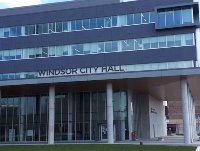 WindsorOntarioNews.com May 7 2021
The city has eliminated a commercial property tax rebate program that saw tax reductions for vacant properties. A report to council cited much less demand for the program as economic conditions improved over the past decade. But the major factors were the province pulling funding for its share (education tax) of rebates, new municipal development incentives and favorable provincial assessment reductions in response to claims by property owners. "This decline can be attributed to improvement in general economic conditions," the report says. This was prior to Covid, which has placed many businesses under duress due to emergency closure laws. But the city points to a phalanx of 11 short term programs specifically tailored to Covid relief. Otherwise, the decline in applications had dropped precipitously since 2009, from 516 that year with $3.1 million in rebate value approved, to 251 and $1.1 million in 2019. Overall in 2019 the city approved 251 applications for $1.14 million in property tax relief. Specifically in Windsor's nine Business Improvement Areas (BIAs) in 2019 almost $178,000 was returned as rebates. This was for 58 applications out of a total of 833 properties. Most of the rebates went to property owners in the downtown BIA (for 29 of 304 properties for $139,000) followed by nine of 93 properties in Erie St (Via Italia) for $11,520. The BIA which had the least applications – for just one of 78 properties – was Ford City, and the amount was only $129. Said the report, "there are very few applications received when compared to the overall number of properties within the designated areas as the majority are occupied."
---
Big box sales finally limited but goal is overall equal playing field - CFIB
WindsorOntarioNews.com April 23 2021
The recent decision by the Ford government to have retailers tape off non-essential areas of big boxes – and other stores like Dollarama – is finally acknowledgement that the small retail sector has been unfairly harmed during the pandemic. Up to now smaller retailers have incessantly complained of the double standard. "We viewed it that the third time around (the latest lockdown) they finally recognized the imbalance that they were creating in favor of the bigger guys and helped level the playing field to a point," Ryan Mallough (photo), Ontario director of the Canadian Federation of Independent Business (CFIB), said. While small stores weren't allowed to open for business or with restrictions, shoppers could easily wander into a Wal-Mart or Costco and purchase housewares, toys or electronics to their hearts' content. "So, if the government is deciding that we have to shut things down we like this approach in that at the very least it maintains fairness." But his organization's position isn't one or the other. "Ultimately what we'd really like to see is all stores being open to be able to sell all goods – again with capacity limitations, by appointment, or whatever it takes to keep people safe," he said. Despite seemingly an unfair approach Mallough thinks the reason the government targeted small business was because it wanted to limit, "the number of places that you can go in the hopes that you won't wind up going out anywhere." As well, there was the perception that because of their small footprints smaller businesses have more frequent traffic. "Not because cases or spread are necessarily happening there but because 'we want to communicate to you the public this is how serious it is.' " Nevertheless, Mallough said, small retailers have felt themselves the scapegoat. "They've been used to set the example to the public as opposed to shut down for direct health and safety reasons." He said that the CFIB has been trying to encourage government "to think of something that isn't a blanket lockdown." He said an example is businesses in northern Ontario "in a region that's doing pretty well case wise being beholden to the same rules as Toronto." Or businesses like retail or hair salons that have not seen the same outbreaks as warehouses "yet they're the ones being shut down." Methods to level the playing field would be rapid testing or service by appointment. "We're looking for something that allows some trickle of economic activity to keep these businesses going while we're still in the heart of the pandemic period."
Photo: CFIB
---
All those tinted vehicle windows? Most of them are probably illegal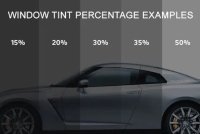 WindsorOntarioNews.com April 9 2021
Windsor-Essex may be the Sun Parlour of Canada but that's not likely why so many local drivers have their vehicle windows so heavily tinted. Under Section 73 of the Motor Vehicle Act drivers can't have their windshield or front row windows tinted in a way "that substantially obscures the interior of the motor vehicle" when viewed from outside. A 2017 law did allow a maximum 30 per cent tint on front row windows and no restrictions on backside or rear windows. Yet a Toronto lawyer and well know road safety expert says drivers violate these standards all the time likely because of lack of police enforcement. Patrick Brown of McLeish Orlando law firm says he "continuously" sees vehicles with illegally tinted windows. "I see them in Toronto all the time." But drivers get away with it due to lack of enforcement. "It really isn't something that they (police) enforce." Brown said people tint their windows not to keep the sun out – there are inexpensive visors for that - but because they simply don't want to be seen. "This is so people can't look into their cars and see what they're doing whether it's police or other people," he said. And it has "huge" implications. For example, distracted driving and cell phone use. Police have to see drivers to lay charges. "I think some people actually get the tinting so that they can obscure themselves from what they're doing inside the car like using their phone, like eating, like doing all kinds of distracted stuff that's going to hurt someone." Sure, the lawyer allowed, some people might tint their windows because "it's esthetically good looking." But tinted windows are also a danger to pedestrians and cyclists. Brown, who has led the province's most comprehensive coroner's review into pedestrian and cyclist deaths, said people need to make eye contact with drivers. "If you're coming up from behind on a bike, you want to take a pretty good look to make sure they're not going to door you. You get to a crossing area, yeah, you want that eye contact with pedestrians so that everybody understands what each is going to do." The lawyer doesn't understand why retailers still offer tinted window services. "I'm surprised they sell it at all," he said. But the bottom line is that it's "another layer of safety that's been removed. That's why it's illegal."
---
This unique Walkerville hair salon keeps, well, bouncing to new heights
WindsorOntarioNews.com March 19 2021
"That name Bounce refers to a positive hair experience – 'Get Bouncy,' " says Jannessa Couture, owner of Bounce Hair Boutique. Bounce might also be a good metaphor for the salon itself, which keeps, well, bouncing to new heights in only a few short years. Bounce recently opened on the second floor of 1645 Wyandotte St. E. (above Envy Boutique) in Old Walkerville's thriving and fashionable business district. It's just a block away from its previous location next to Vito's Pizzeria. It was located four years there. But the boutique started nearby on Windermere Rd. five years ago in a 200 sq. ft., cubbyhole. With the recent move it has 2700 sq. ft. "It's absolutely perfect," Couture says. "And the light! There's windows everywhere. And natural light is so immensely essential for hair." Hard to believe, but the key reason for the boutique's success is that it was the only local one specializing in curly hair. "I was the only one in southwestern Ontario that had that as a specific specialty," Couture says. "So it's special advance training. Curly hair styling that comes out of hair school is really very basic." As a result, she gets customers from all over, some four thousand clients and with the recent Covid business lockdowns, no doubt like other boutiques, has had hundreds on the waiting list. "On top of that we're an inclusive salon so we do all kinds of hair, every level of hair – all levels of curliness I guess you could say," Couture says. In its five-year history it has drawn clientele from throughout southwestern Ontario, even as far away as Michigan, Illinois and Ohio. Couture calls it the "curl spectrum, from wavy to very super curly." Traditionally, she says, hair salons have taken a "straightening" approach to cutting hair while at Bounce "we celebrate and enhance natural curly hair." Curly is starting to become mainstream. "Something that is sought after is a stylist who celebrates and understands natural texture and curls," Couture says. But Bounce got in on the ground floor and grew - or should that be, sprung? - the trend, literally, in Windsor.
---
'No and low' beer sales fueled in part by the 'Sober Curious' movement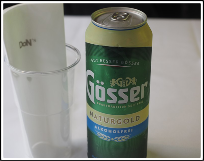 WindsorOntarioNews.com February 24 2021
Forget the bland taste of non-alcoholic beers of old. New brewing methods mean "no and low" alcoholic beers are tasting almost exactly like alcohol brands. The consumer trend of buying non-alcoholic beers is "definitely growing," said Rick Dalmazzi, Executive Director of the Canadian Craft Brewers Association. "There are more brands appearing every day," he told WON.com. The "first wave" of de-alcoholization featured blander tasting beers. That was because of old technology. "It was just heat the beer to a certain temperature until you burn off the alcohol," Dalmazzi, a former Tecumseh resident, said. "The problem is you burn off other molecules that contribute to the flavour." A newer process uses Reverse Osmosis (RO), where "undesirable solids" – in this case alcohol molecules - are removed from the liquid. But it's "very expensive," Dalmazzi said. The newer, more common, and cheaper, way is the modifying the fermentation process. "With the RO process you actually made the beer as you would typically and then you modified it after it was finished," he said. "The latest process that's being experimented with – and is getting better and better – is you actually tweak the fermentation while the beer is in the fermenter." It slows the conversion of the sugar. "When you introduce the yeast, it converts the sugar to alcohol and CO2. And so through some cool chemistry you can retard the attenuation or the fermentation to get less alcohol but keep all the other good things that happen in the fermenter." This means beers can have taste very similar to regular Lager, IPA or Stout. Canadian Grocer magazine reported Euromonitor International found non-and low-alcoholic beer grossed US$124.5 million in Canada in 2019. The sales driven largely by younger demographics, skew somewhat female and include the Sober Curious movement with month-long sobriety challenges like Sober October and Dry January. Dalmazzi said whatever the reason, including health, he doesn't think "no and low" will cut into traditional beer sales. He said the beer can be a substitute for alcoholic beer when people don't want to consume alcohol like during a business lunch. Canadian Grocer quotes a Molson's rep who said 75 per cent of those who bought non-alcoholic also bought alcoholic. "I think the role for low alcohol beer specifically is more of a replacement for soft drinks," Dalmazzi said.
Photo: Wikipedia
For the 'real' eco-conscious shopper
WindsorOntarioNews.com February 1 2021
For those people so concerned about the environment even conventional recycling won't do they can now order groceries in reusable containers and have those same containers used over and over again. You'd be correct to think it's just like the old-fashioned returnable beer and soft drink bottles. Starting today Loblaws and a company called Loop have teamed to offer a website where you can order products in refillable containers. You can order ice cream, sauces, snacks and pet food. Name brands include Kraft Heinz, Nature's Path, Nestlé, Häagen-Dazs and Hershey Canada. There's also a selection of Loblaw's President's Choice products. It works this way: You sign-up and order groceries from the online Loop store. Groceries are shipped by FedEx to your home in special Loop tote bags. After you've finished with the product containers you put them back in the tote and schedule a free FedEx pickup or drop at a participating FedEx office. As opposed to typical plastic or cardboard store packaging this packaging is "reimagined," says Loop. "You're not only reducing your environmental impact, but also experiencing familiar products in a completely new way." The packaging has been built to be used over and over. "Each container must be made of durable material that is resilient enough to be reused for at least ten use cycles, including a full journey through production, shipping, use, and cleaning," the company says. Once returned they are "cleaned at the highest standards while using as little water and energy as possible." When you order you also place a fully refundable deposit on the product, paid back when returned. Individual products include Heinz Ketchup (3.29+.50 deposit), Häagen-Dazs Vanilla Ice Cream ($6.29 +$5 deposit) President's Choice Lemonade (3.49 + .50 deposit), International Harvest Go Maple Ginger Cashews ($17.95 + 5.14 deposit). It's all of course about cutting back on waste, even the kind you put in your blue box. "The fact is that there's too much plastic waste in our environment," says Loblaw Executive Chairman Galen Weston, Executive Chairman, in a release. Customers can order through www.loopstore.ca and maboutiqueloop.ca
Photo: Loop
---
Grocery shelf guide and app offers more nutrition, dietary, product info
WindsorOntarioNews.com January 19 2021
Metro grocery has introduced a food guide to help customers determine what products best suit their health and well-being needs. 'My Health My Choices' divides 9000 products into 50 categories such as gluten-free, vegan, keto-friendly, kosher, organic and lactose-free. A product's benefits are found right on shelf with green labels. As well, a Metro smart phone app allows customers to scan a bar code for more information. There's also nutrition information, recipes, and links to all products in the category. Information may be relatively unique to the products, for example wanting to find information on fair trade coffee and chocolate. The Metro chain, which has 950 food stores in Ontario and Quebec (HQ Montreal) including the Food Basics discount chain, used "unique methodology" to come up with the guide, according to a company release. These include Canada's Food Guide, information published by regulatory bodies like Health Canada, and the standards for different dietary lifestyles. "With this program, we're giving our customers the opportunity to choose foods that meet their own definition of wellness," Mike Thomson, Vice President Grocery Merchandising, says. The company says it's the only chain with such a guide. "When you consider that 51% of Canadian adults regularly seek information on the quality, suitability and healthiness of the products they consume, a program such as this one is particularly important," says Linda Montpetit, nutritionist and long-time collaborator with Metro. "Information on product packaging are not always easy for consumers to interpret. This program combines the information on the labels with the hidden qualities of the products. This will greatly simplify people's shopping experience and help them make informed decisions."
Image: Metro
---
Local Holiday Gift Guide triples in size
WindsorOntarioNews.com November 24 2020
Anyone looking for a way to buy local and support hard hit area businesses this year of the big P should look no further than the second annual Windsor Essex Holiday Gift Guide, delivered via Canada Post. The glossy 24-page guide – a big increase from eight pages last year - features the products of largely small and unique area shops. In fact, more than 175 participants are included. There are also links to city business districts and community shopping around Essex County. And check out the thumbnail portraits of local artisans making products you'll find nowhere else. "During Covid-19 it's been more important than ever to keep our dollars local," Gord Orr, CEO of Tourism Windsor Essex Pelee Island, which prints the guide, says in a letter. "That means ordering direct from local artisans and makers, buying locally grown produce or buying in person at stores." You'll find everything from nifty men's wallets to charcuterie boards, hand painted mugs to originsl acrylic paintings, cool adult slippers to pocket shawls. And you can find a variety of gifts from a couple of artisan markets – The Local Maker and the Urban Art Market. Area wineries are represented as well as craft breweries and the region's distilleries – large and small. You can also explore online at yqgholidays.ca. While online you can enter the 40 Days of Giveaways contest. Every day until Dec. 18 a gift from the Guide will be awarded. Orr told WON.com 35,000 copies of the Guide have been mailed and 5000 are available through retail partners and sponsors. Retailers featured didn't pay for placement. "Some did provide us in-kind giving for contest gifting." he said. The tourist agency footed most of the bill with assistance from the chamber of commerce and associated business groups.
City eyes biggest electrical vehicle fleet purchase yet at $250,000
WindsorOntarioNews.com November 4 2020
City Council is being asked to approve its first large quantity of electric vehicles at a cost of almost $250,000. The vehicles would replace one conventional minivan "and provide for five additional vehicles" for the city's building department, a report to council says. The department currently has one electric vehicle (EV) but "has expressed an interest in utilizing fully electric vehicles wherever possible." The car model is the Chevrolet Bolt and would be purchased from LaSalle's Reaume Chevrolet, the only dealer that submitted a bid. The vehicles each qualify for a $5000 government rebate. The report urges against any delay as the city could lose the rebate. The Bolt is a five-door all-electric subcompact. The vehicle complies with the city's "climate change mitigation" goals, which the city uses as guidelines for future vehicle purchases. "As vehicles are replaced, consideration is given to fuel-efficient vehicles," the report says. "The integration of electric vehicles in the city fleet will have a positive impact on decreasing the total projected emissions and reducing the total cost of fuel," it says. The city's fleet manager Angela Marazita told WON.com the city already has three Bolts "but this will be the first purchase of a larger quantity." She said that "purchasing electric vehicles is considered if operationally and economically feasible." Marazita said besides creating zero emissions the vehicles have reduced maintenance and obviously eliminate future fuel purchases. EV charging stations are already located at city fleet facilities. By comparison, the price of a conventional Chrysler Pacifica minivan starts at $33,246 or a total of $199,476 for six vehicles pre-tax and prior to any possible fleet discounts. The city building department responds to property standards complaints and undertakes building inspections.
Mercato Fresh plans more groceries in both Windsor and Essex County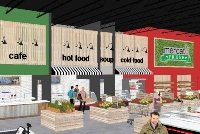 WindsorOntarioNews.com October 15 2020
Mercato Fresh expects to roll out a couple of "European style" groceries in Windsor next year, after successfully opening its first market in Chatham in February. The brainchild of former Toscana restaurant owner Jonathan Reaume and M.R. Meat Market's Marc Romualdi these will be the first of several city and county locations including in LaSalle and Kingsville. The market offers a boutique like atmosphere with fresh foods along one side, almost like little storefronts, stalls or kiosks like in a market, with fresh grocery in the middle of the store. Reaume, a long-time restaurateur who's Toscana also had resto ops on Boblo Island, the Art Gallery of Windsor and Windsor Club, gradually closed those sites and then the full south Windsor restaurant in August. Reaume and Romualdi chose Chatham (in a part of the former Target store across from Union Gas headquarters on Keil Drive) for its first Mercato Fresh because the city was "underserved," Reaume said. "We have a huge prepared foods department which is my background. We have a bakery that scratch bakes cakes of all kinds. It has every department. We have dairy, deli, fresh meat, produce. We brought Teddy from Tiki Sushi in Windsor to do the sushi here so we have fresh sushi every day." At time of writing the Windsor locations hadn't been nailed down but one will be on the east side. Reaume said the grocery is designed to appeal to all shoppers. He said besides the unique fresh side counters the store has a "European feel" with broad sightlines. "None of the shelving is above five feet, you can see everything in the store, you can see everyone in the store – all the departments are very clearly marked overhead, and it's a fun store to navigate."
Photo: Rosati Group
Covid-19 insolvencies DOWN big time
WindsorOntarioNews.com Sept. 22 2020
Despite varying degrees of busines lockdowns over the past six months the number of people and businesses experiencing severe financing problems hasn't materialized. That's according to a couple of area insolvency trustees. In fact, said Kathy Liberty (photo) of MNP Ltd., there has been a decrease in people and companies getting into financial trouble. "We actually saw a downturn in the number of insolvencies during May, June, July – well, May and June, we really saw a dramatic downturn," she said, The federal Superintendent of Bankruptcy's stats showed that Ontario insolvencies were down 36.3 per cent in July compared to the same month a year earlier. The reason? Likely the array of government and private support, from personal CERB deposits to retail rent relief to banks deferring mortgages. "As well the average spending of Ontarians changed dramatically because restaurants were closed, theatres were closed, malls were closed," Liberty said. "So, the ability to spend their money was not there." But the opposite started occurring in August and increased in September as aid programs began winding down, people went back to work and creditors started to demand loan repayments. "August the phone calls started, people expressing interest in what's available to help them," Liberty said. "September the phone calls have increased even a bit more." The jury is out on whether tomorrow's federal Thorne Speech will have more relief though the government has announced programs like the $2000 monthly CERB will be merged with a less generous EI program. Trustee Stephen Funtig said it's still "too early" to see an upsurge in people and companies experiencing financial trouble. But he expects that could happen later this year if major aid programs wind down or run out. "There's only so long that you can keep on getting people some relief and then what happens when they take away that program," he asked. "I think a lot of those things (insolvencies, bankruptcies) will happen."
Photo: MNP Ltd.