---
Windsor Ontario News / Food & Retail
Mercato Fresh plans more groceries in both Windsor and Essex County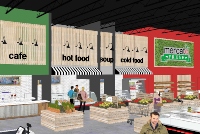 WindsorOntarioNews.com October 15 2020
Mercato Fresh expects to roll out a couple of "European style" groceries in Windsor next year, after successfully opening its first market in Chatham in February. The brainchild of former Toscana restaurant owner Jonathan Reaume and M.R. Meat Market's Marc Romualdi these will be the first of several city and county locations including in LaSalle and Kingsville. The market offers a boutique like atmosphere with fresh foods along one side, almost like little storefronts, stalls or kiosks like in a market, with fresh grocery in the middle of the store. Reaume, a long-time restaurateur who's Toscana also had resto ops on Boblo Island, the Art Gallery of Windsor and Windsor Club, gradually closed those sites and then the full south Windsor restaurant in August. Reaume and Romualdi chose Chatham (in a part of the former Target store across from Union Gas headquarters on Keil Drive) for its first Mercato Fresh because the city was "underserved," Reaume said. "We have a huge prepared foods department which is my background. We have a bakery that scratch bakes cakes of all kinds. It has every department. We have dairy, deli, fresh meat, produce. We brought Teddy from Tiki Sushi in Windsor to do the sushi here so we have fresh sushi every day." At time of writing the Windsor locations hadn't been nailed down but one will be on the east side. Reaume said the grocery is designed to appeal to all shoppers. He said besides the unique fresh side counters the store has a "European feel" with broad sightlines. "None of the shelving is above five feet, you can see everything in the store, you can see everyone in the store – all the departments are very clearly marked overhead, and it's a fun store to navigate."
Photo: Rosati Group
Covid-19 insolvencies DOWN big time
WindsorOntarioNews.com Sept. 22 2020
Despite varying degrees of busines lockdowns over the past six months the number of people and businesses experiencing severe financing problems hasn't materialized. That's according to a couple of area insolvency trustees. In fact, said Kathy Liberty (photo) of MNP Ltd., there has been a decrease in people and companies getting into financial trouble. "We actually saw a downturn in the number of insolvencies during May, June, July – well, May and June, we really saw a dramatic downturn," she said, The federal Superintendent of Bankruptcy's stats showed that Ontario insolvencies were down 36.3 per cent in July compared to the same month a year earlier. The reason? Likely the array of government and private support, from personal CERB deposits to retail rent relief to banks deferring mortgages. "As well the average spending of Ontarians changed dramatically because restaurants were closed, theatres were closed, malls were closed," Liberty said. "So, the ability to spend their money was not there." But the opposite started occurring in August and increased in September as aid programs began winding down, people went back to work and creditors started to demand loan repayments. "August the phone calls started, people expressing interest in what's available to help them," Liberty said. "September the phone calls have increased even a bit more." The jury is out on whether tomorrow's federal Thorne Speech will have more relief though the government has announced programs like the $2000 monthly CERB will be merged with a less generous EI program. Trustee Stephen Funtig said it's still "too early" to see an upsurge in people and companies experiencing financial trouble. But he expects that could happen later this year if major aid programs wind down or run out. "There's only so long that you can keep on getting people some relief and then what happens when they take away that program," he asked. "I think a lot of those things (insolvencies, bankruptcies) will happen."
Photo: MNP Ltd.
RETAIL BRIEFS: New app a boost for disabled drivers, Two Men and a Truck now here, and Harvey's makes a burger even more beautiful
WindsorOntarioNews.com Sept. 3. 2020
Driving just hot a bit easier for people with disabilities. B'nai Brith Canada today announced a new app that will ease their worries if they have to fill up with gas but are physically compromised from getting out of the car and using the pump. The "fuelService" app was developed with Shell Canada. Participating Shell stations will provide an attendant to fill up the car for them. "The app will provide a whole new level of freedom for disabled drivers, and promises to be a major gain for accessibility in Canada, Canada's leading Jewish advocacy group says. The app was developed by B'nai Brith member Eddie Rice. Rice contracted polio at a young age and was personally affected as a disabled driver. He's also head of the Canadian Coalition for Mobility Challenged Drivers. Ontario's disability legislation had no provision for full service for disabled drivers.
Photo: Eddie Rice (right) with former Ontario lieutenant-governor David Onley (Canadian Jewish News)
Windsor finally has a Two Men and a Truck franchise. Nigerian immigrant Nicolas Udumukwu arrived in Canada last year after a background in banking and was looking for meaningful business opportunity. After investigating the company, and with friends who had franchises in western Canada, he and wife Rhoda (left) signed up for the franchise. "After being unable to open their franchise earlier this year because of the Covid-19 pandemic, Nicolas and Rhoda Udumukwu are now open to serve consumer and business customers requiring moving and packing services in Windsor and Essex County," company president John Prittie. The franchise is at 2825 Lauzon Parkway, Unit 202, Windsor, ON. N8T 3H5. Phone 519.419.5756; twomenwindsor.ca.



Like other businessesHarvey's hamburgers is giving back to Covid-19 first responders. HaRVey's RV Tour comes to Windsor tomorrow at University Plaza, 2700 Tecumseh Rd. W., 12 – 3 pm. Harvey's is taking its hamburgers and hockey sticks - for physical distancing - on the road and giving away 50,000 free "Thanks" burgers.
---
A classic bookstore grows in the 'burg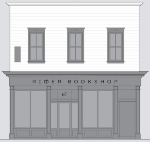 WindsorOntarioNews.com August 5 2020
The region's first new independent bookstore – or bookstore of any kind - will soon be opening in the heart of downtown Amherstburg. And the owner is none other than part Toronto transplant – but originally an Essex County kid – Richard Peddie, former president and CEO of Maple Lead Sports and Entertainment. Peddie and wife Colleen built a second house on Boblo Island some years ago and Peddie has become a major civic contributor to the 'burg. He's president of the Amherstburg Community Foundation, a philanthropic organization which funds local charities. Now he and Colleen are on their latest local venture. It's called the River Bookshop at 67 Richmond St. in the former River Town Times newspaper building. The store may be a business but the owners see it as also a contribution to the town's social fabric. "Our River Bookshop wishes to make Amherstburg even better to live and visit by creating a shop that is grounded in our community but open to the world. River Bookshop will be a community hub, a 'Third Place' where people gather and will feel comfortable spending time," the website says. But not any bookshop. The exterior and interior will be rich in architectural details with a definitive historic look harkening back to bookstores of old. They label it "Victorian new and now" in the 1885 corner building. Three high-powered Toronto design and marketing firms are involved. The lead is Lebel & Boulaine architects, which seeks clients "who want to actively engage their built environment and create a cultural experience of space, community and purpose." One Method created the logo and a wall mural along the store's Ramsay St. side. It also "came up with a fun idea for the first floor. You have to visit the bookshop to find it." Finally, ModelCtzn, had the idea for a "very unique event space" on the second floor. It's "something that simply doesn't exist in Essex County today...But two clues: F. Scott Fitzgerald and rum runners." We'll bite: a legal speakeasy?
Image: RiverBookshop,com
BIAs report business as usual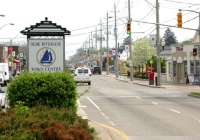 WindsorOntarioNews.com June 18 2020
With Windsor-Essex being one of three Ontario regions still locked in Phase One of provincial re-openings in the wake of coronavirus lockdowns – and many small businesses shut tight or operations curtailed dramatically for three months – how much damage might be strewn across the local retail landscape? WON.com wanted to find out if any local mom and pop shops have gone out of business for lack of revenue, cash flow or not being able to pay rent. We contacted several neighborhood business improvement associations and heard back from four. Bridget Scheuerman, coordinator of the Olde Riverside, Pillette Villages and Ford City BIAs, said she would "not comment on any bankruptcies, permanent closings as I do not feel that is the purpose of the BIA." Instead, she said, the purpose is to assist businesses "through beautification and marketing." That said, Scheuerman said businesses "have fared well and are starting to reopen" pending provincial guidelines. "At this point I am not aware of any permanent closings." She added that Olde Riverside has undertaken an "aggressive marketing program" throughout COVID. Meanwhile, Debi Croucher, executive director of the downtown BIA, took a definitive upbeat tone. "What's open downtown during COVID-19? More than what's closed, that's for sure," Croucher said. She said "so many of our members have been able to adapt to the pandemic and have continued to offer services throughout." These include some of Windsor's best-known businesses like The Coffee Exchange, Rogue's Gallery Comics and Basil Court Thai Restaurant. And retailers like Behind the Wood and Whiskeyjack Boutique have maintained business through curbside pickup and delivery. "Other downtown services like mechanics, pharmacies, lawyers and accountants have remained open for the duration of the pandemic," Croucher said.
Photo: City of Windsor
Corner stores even more convenient during pandemic
WindsorOntarioNews.com May 26 2020
Convenience stores have stepped up their niche market by being even more convenient during Covid. So says Dave Bryan, CEO of the Ontario Convenience Stores Association. "We're finding more and more customers are actually more comfortable coming to a smaller footprint like a convenience store to pick up their daily needs, not their major grocery items," he said. "So, we're seeing a higher traffic count." Convenience stores also offer products groceries and some pharmacies don't, such as lottery tickets and cigarettes. Corner and family run small stores sell 76 per cent of lottery tickets and those sales were up 15 per cent last month, Bryan said. As well, with First Nations reserves voluntarily closed, convenience stores are selling "99 per cent" of smokes. "Our in-store tobacco business is up anywhere from 20 to 30 per cent, which brings in more traffic and incremental sales," Bryan says. "As long as the government can figure out to keep the reserves from selling cheap cigarettes the convenience sector will be strong and viable going forward." (It's illegal to sell federally native-allocated cigarettes with official peach colored stamps to non-natives.) One part of the sector is down, however. Stores that have gas pumps have seen gas sales down 30 to 40 per cent because fewer are driving, Bryan said. But for those buying gas they're encouraged to pay at the pump. As for social distancing, the small scale of corner stores hasn't posed a problem. "We're very fortunate because we don't usually have more than two people in a store at a time, they come and go and speed of service means they're there for less than five minutes," Bryan said. But owners still ask customers to stand six feet apart, there are plexiglass shields, and debit/credit cards are encouraged. As for purchasing PPE some additional expenses have been incurred by stores. But the bottom line is that's "been offset by an increase in sales." Despite the sector's buoyancy, however, some stores still struggle with rent. The association has also commenced a Buy Local campaign (photo above).
Social distancing and pot sales – marriage made in haven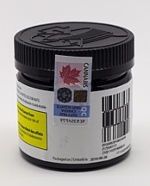 WindsorOntarioNews.com May 11 2020
Ever since social distancing regulations have been implemented due to Covid-19, provincial cannabis retailers have seen a massive increase in sales. That's according to the Ontario Cannabis Store (OCS) as well as the 55 private retailers scattered around the province. Before March 9, when the rules took effect, online sales were between 2500 and 3500 a day. That increased to 6000, 10,000 and topped 13,000 at peak the first week of April, which coincides with the start of the dramatic rise of Covid-19 infections in the province in early April. Pot sales peaked about April 4 but infections continued to increase reaching a peak about mid-April. And just like such large digital retailers as Amazon and Walmart, the OCS has added staff to its warehouse and is dramatically expanding courier shipping. "At OCS's third-party distribution centre, this has meant staffing up and at the same time introducing new work practices to protect workers in light of Covid-19," OCS said in a release. Free shipping was also launched "to help make OCS.ca more accessible than ever; this matches similar offerings from the illegal market." OCS also launched direct-to-door courier service, which now covers 63 per cent of consumers. "Capacity of this courier service has grown from 400 orders a day to almost 5,000, with efforts underway to expand further." Canada Post has been making deliveries since marijuana was first legalized in autumn 2018. Meanwhile the OCS has lowered prices in response to "consumer feedback" on more than 240 products. "A recent offering by Pure Sunfarms of a 28gram Indica blend for $4.20 a gram is evidence that legal does not mean high cost," the OCS says. "Consumers are choosing this product and reviewing it very positively."
Photo: Wikipedia
Retailers: make social distancing rules obvious
WindsorOntarioNews.com April 20 2020
By Ron Stang
A peaceful outing to my local big box retailer turned into a bit of schizoid experience. On a Tuesday evening when the store was virtually empty, I sauntered in, mask on face, to pick up a few non-perishable items such as printer ink and banker boxes. But why not get a couple of grocery items? As mentioned, there were few people in the store, the staff I saw were friendly. With pop music on the speakers one could be forgiven thinking there was no coronavirus crisis. So, I took my cart and wandered down a grocery aisle. A dude wearing a mask that had the look of Darth Vader, began shouting at me. Taken unaware, I didn't understand what he was saying. He shouted again, saying I was getting too close (I was well beyond two metres) and somehow walking the wrong way. Then I clued-in: "Oh these are one-way aisles!?" Another shriek from Darth Vader, "Yessss!" Well, excuse me, but there were no arrows on the floor indicating that. I told the dude, but he simply kept admonishing. I sauntered on and found a store clerk – who wasn't practicing social distancing and wasn't wearing a mask - to ask where the frozen fruit was located. He said the next aisle. So, this time, I turned around and followed the supposedly correct direction of the - unmarked - aisle. I then turned up the next aisle, which did have arrow markings on the floor. But the Darth Vader dude was ahead of me - well beyond six feet (two metres) away. When I reached into the freezer, he yelled again that I was getting too close. Apparently, my crime was that I wasn't standing within a set of red lines on the floor, which I'd never taken notice of. Apparently, with the lines, one customer is to stay within one set of lines until the customer ahead moves from their set of lines. Ok, fine. But there were no obvious store explanations stating that. And no other customers were paying attention to them. So, a word to retailers: please make your Covid-19 social distancing rules obvious, if only in part to lessen ridiculous scolding from self-styled social vigilantes.
Tim's stops serving fake meat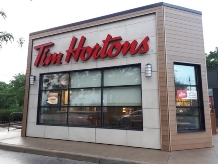 WindsorOntarioNews.com Jan 29 2020
So much for fake meat. Tim Hortons has killed off the product after a nine month experiment. A visitor to an east side Tim Hortons this week, seeking a Beyond Meat breakfast sandwich, was told the chain is no longer selling the product. The product, along with other meatless meat versions at different fast food chains, was hailed with much fanfare when announced last June. "Canadians are hungry to try our breakfast sandwiches made with Beyond Meat's 100% plant based sausage patty," Mike Hancock, Chief Operations Officer, said. "We've listened to our guests and are excited to be able to offer three delicious breakfast sandwiches that vegans, vegetarians, flexitarians and meat lovers can feel good about." The meatless concept has been praised by groups outside the restaurant industry, including vegetarians and environmentalists, for using plant-based sources instead of animals and putting less stress on the environment. Animal rights activists had named Beyond Meat company of the year. But Tim Hortons this week said the sandwiches had been introduced as a limited time offer. "We may offer Beyond Meat again in the future," the chain said. The Washington Examiner said this is the latest blow to the much touted Beyond Meat enterprise. The Los Angeles company, whose slogan is "The Future of Protein", has seen its stocks plunge 50 per cent since its peak last summer when the product was widely praised as the future of meat. It lost another four per cent Tuesday. According to the Examiner, Burger King has also had trouble selling its substitue meat burger, made by Impossible Foods, a Beyond Meat competitor. Only 20 such burgers were sold in a day, one franchise owner bemoaned.