---
Windsor Ontario News / Food & Retail
Tim's stops serving fake meat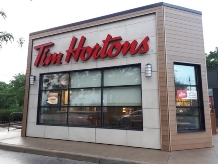 WindsorOntarioNews.com Jan 29 2020
So much for fake meat. Tim Hortons has killed off the product after a nine month experiment. A visitor to an east side Tim Hortons this week, seeking a Beyond Meat breakfast sandwich, was told the chain is no longer selling the product. The product, along with other meatless meat versions at different fast food chains, was hailed with much fanfare when announced last June. "Canadians are hungry to try our breakfast sandwiches made with Beyond Meat's 100% plant based sausage patty," Mike Hancock, Chief Operations Officer, said. "We've listened to our guests and are excited to be able to offer three delicious breakfast sandwiches that vegans, vegetarians, flexitarians and meat lovers can feel good about." The meatless concept has been praised by groups outside the restaurant industry, including vegetarians and environmentalists, for using plant-based sources instead of animals and putting less stress on the environment. Animal rights activists had named Beyond Meat company of the year. But Tim Hortons this week said the sandwiches had been introduced as a limited time offer. "We may offer Beyond Meat again in the future," the chain said. The Washington Examiner said this is the latest blow to the much touted Beyond Meat enterprise. The Los Angeles company, whose slogan is "The Future of Protein", has seen its stocks plunge 50 per cent since its peak last summer when the product was widely praised as the future of meat. It lost another four per cent Tuesday. According to the Examiner, Burger King has also had trouble selling its substitue meat burger, made by Impossible Foods, a Beyond Meat competitor. Only 20 such burgers were sold in a day, one franchise owner bemoaned.
---
No bricks and mortar pot stores, no worry, OCS says

WindsorOntarioNews.com August 21 2018
When marijuana is legalized for recreational use Oct. 17 many marijuana consumers may be disappointed to find that the one bricks and mortar store once slated for Windsor won't exist.
That's because the new Progressive Conservative Government of Rob Ford has changed the business model for cannabis sales.

Click to read more
New Cascades casino will focus on gambling - and families
WindsorOntarioNews.com July 13 2018
The owners of the new Cascades casino going into Chatham are defining themselves different from traditional casino operators, and that means putting as much emphasis on family entertainment as on gambling.
British-Columbia based Gateway Casinos & Entertainment aims to create a "fulsome" entertainment experience, Gateway spokesman Rob Mitchell says.
"Gaming is vital to our business but not exclusive to it."

Click to read more
After six year absence Columbia Sportswear is back in town
WindsorOntarioNews.com May 7 2018
After a several year absence Columbia Sportswear Company has returned to the Windsor market, and in a bigger way.
The outdoors sportwear firm that had long occupied premises next to the Ambassador Plaza on Windsor's Huron Church Road has re-opened in LaSalle.
The outlet closed six years ago but has now moved into the Windsor Crossing Premium Outlets mall off Hwy. 3.