---
FOOD & RETAIL
---
Mammoth bakery you've never heard of
WindsorOntarioNews.com Sept. 27 2023
This is a bakery you've probably never heard of. Yet it's the largest bakery in Canada – its parent the largest in the world – and has been baking bread and cakes in Canada through its predecessors, for 112 years. It's Bimbo Canada. So many of those baked goods you see on grocery shelves - sold under a variety of brands – are produce by just one industrial bakery, Bimbo Canada part of international Grupo Bimbo. The bakery makes and distributes more than 1000 products over 19 brands. These include Dempster's, Stonemill, Vachon, Little Bites and Takis. The company has 17 bakeries, 12 sales centres and 185 depots. Parent Grupo boasts 215 bakeries in 34 counties across the Americas, Europe, Asia and Africa. The Mexican-based company employs 134,000 people and produces more than 100 brands and 13,000 products. Other of its brands include Entenmann's, Nutella and Sara Lee. Bimbo Canada is based in Etobicoke and has 4300 staff. This weekend the company held the eight edition of the Bimbo Global Race with 120,000 runners in 24 cities in 17 countries. Almost 3000 runners came to Toronto's Ashbridges Bay Park, sponsored by Dempster's. The event resulted in 2.8 million slices of bread – 56,000 in Canada - being donated to food banks around the world. About that name? It's a combo of Bambi and Dumbo, the cartoon characters, favourites of one of the company founder's daughters.
---
Crickets could be in your future diet
WindsorOntarioNews.com Sept. 13 2023
Crickets, anyone? The Canadian Taxpayers Federation (CTF) has found that the federal government has given hundreds of thousands of dollars in grants to companies researching using insects – including the beloved cricket – in future food menus. The feds have offered more than $9 million to various companies, though the largest amount - $8.5 million – to the Aspire Food Group Ltd., which greets website browsers with "A world transformed by insect technology," through the government's agriculture innovative program. A demonstration facility would be built just up the road in London to produce cricket food for humans, pets, biomedical and agrochemical markets. Crickets are particularly high in protein. Most of this production would go into pet food. But the company says a surprising number of humans have tried eating insects. "Research indicates that one in five Americans have tried crickets and more than half of adults can be persuaded to consume them in their diet, a trend that continues to increase as more consumers seek healthier and environmentally superior proteins." Other companies that got funding are Montreal-based Naak, which makes cricket protein energy bars. There appears no limit on how insect ingredients can be used. And move over Beyond Meat. "The next project is the development of a range of products cooked with cricket powder, such as steaks, sausages and falafels," says the National Research Council. Meanwhile, Manitoba's Prairie Cricket Farms – which makes roast cricket snacks and cricket protein sprinkled on your cereal - received $78,000. And Calgary's Gaia Protein was given $160,000 "to achieve commercialization of insect protein production."
---
East side BIAs want Open Streets too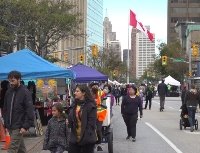 WindsorOntarioNews.com August 30 2023
The city's popular Open Streets could be expanded eastward beginning next year. If approved the route would encompass Olde Riverside, Pillette Village, Ford City, Ottawa and the Erie Street Business Improvement Areas (BIAs). Subsequent years would see the route alternate between the present westerly one and the new east one. Open Streets began as a pilot in 2016 and joins with numerous other cities where certain main thoroughfares for one day are blocked to cars and open to pedestrian and "active transportation" like bicycles and scooters. It currently runs from the Sandwich BIA through downtown, Wyandotte, Walkerville and Ford City (Drouillard Rd.) Hundreds of businesses, organizations and street performers take part in the festive event. Earlier this year eastside city councillor Joanne Gignac brought a petition on behalf of the Olde Riverside Town Centre and Pillette Village BIAs that the route be expanded eastward into their neighbourhoods. Others BIAs to be included would be Erie and Ottawa streets. "By offering a new route, it will allow administration to engage BIAs in the eastern area of the city," a city staff report says. The east side route would take place in even years and the west side route in odd years. "The request to move the route would contain no new safety risks," it says. However, "there is a significant risk that expanding the footprint would require additional resources in terms of staff and budget, which are not available. By simply moving the route while keeping the overall distance the same, there should be no additional financial or human resource requirements." Open Streets costs the city just over $60,000 for marketing, police, barricades and sanitation. This year's event will be held Sept. 17.
Photo: YouTube
---
New Costco Business Center will be for retail - and household - customers
WindsorOntarioNews.com August 15 2023
The first Costco Building Center in Michigan is expected to open in Southfield this fall. The Business Center differs from a regular Costco Wholesale in that it's more geared to commercial customers. "Whether you run a restaurant, office building, or a busy household, you'll enjoy the convenience of purchasing all your grocery items," at the new concept store, Costco's website says. (The closest Canadian store is in Scarborough.) The 160,000 sq. ft. store is going up on what was the site of Northland mall, the remainder of which is being converted to a multi-use residential commercial complex known as Northland City Center. "It carries about three-fourths of the merchandise that a regular Costco would, but it wouldn't have, let's say, a typical meat department or something like that," Northland architect Bruce Kopytek of Contour Companies says. "Everything in there is geared more to the operation of businesses. And they do an awful lot of deliveries. Anybody with a Costco membership can go there and shop. But if you have an additional Costco business membership, you can get better pricing." Costco calls the store "a different kind of Costco … with unique differences designed to fit the needs of your business." Some 70 per cent of products aren't available at typical Costco's. Unlike conventional Costco's there are no bakeries or pharmacies. There is also next day delivery. According to architect Kopytek the building's look will pay homage to the original J. L. Hudson store on site with its red brick cladding. The original Hudson building itself is being preserved as a retail and food "marketplace." Surrounding it - where parking for 8000 cars used to be – will be a series of low rise apartment buildings, creating a "city within a city."
Photo: Costco
---
Green Shield launches first of kind free medicines for underserviced population
WindsorOntarioNews.com July 31 2023
Windsor-founded Green Shield Canada is taking another step in its longtime commitment to provide care to underserviced communities with its new Essential Medicines Program. Under a pilot project developed with the Windsor Essex Community Health Centre and a similar centre in Niagara, Green Shield will offer medicines free of charge to people who cannot afford them. "From single parents working multiple jobs to keep their family afloat to widowed early retirees who no longer have dependent coverage, there is a notable percentage of the population who do not qualify for the provincial or territorial prescription drug benefits plan and whose employer may not offer a private drug plan," said Ned Pojskic, Vice President of Pharmacy Benefits Management at GreenShield. "This means that a subset of Canadians often must choose between paying for their prescription medication or meeting their basic needs, leading to an overall reduced quality of life." 97 per cent of Canadians have some form of coverage – either private or government - for medicines, but one million don't. For Green Shield this is a natural progression for the non-profit, founded in 1957 by Windsor pharmacist Bill Wilkinson. He started Green Shield as a not-for-profit "social enterprise" to provide "better health for all." The company believes "access to essential medicines is a fundamental human right," it says in a release. Green Shield is a "payer-provider," offering insurance and paying benefits, and providing services such as mental health and pharmacy. The goal, says the company, is to provide access to care, remove administrative barriers and "improve health outcomes."
---
For Andy Ru, this jig is definitely up
WindsorOntarioNews.com July 14 2023
Andy Ru, the enthusiastic owner of ReNu Kitchen Resurfacing - "Why Buy New when you Can Reface" – has come up with an invention for DIYers and small contractors everywhere. It's a jig designed to help the Saturday carpenter install small doors, such as kitchen cabinets and pantries. Someone who's tried to grapple with a door while installing a hinge will know how awkward it is. "You know how you use one hand to hold the door and try to put the hinge in and screw it in and the door's heavy and never lines up to the bottom of the cabinet?" he says. The jig, which Ru has been working on for the past few years, solves the problem. The bottom of the door – for doors maximum 15 pounds and 7/8 ft. high – are inserted into the jig to hold it steady and upright while being attached. Ru hardly thinks the invention will put him out of business since his team does an abundance of kitchen resurfacings – each as many as 40 cabinets at a time. "Why would I put myself out of business?" he asks. But Ru thinks of the design – priced at $49.95 – as giving back to the community. After all, he's the man who for years handed out 500 turkeys at Christmastime until his sources dried up. "The purpose of this is not about making money," he says, noting he couldn't sell it for less than the asking price because of development costs. The jig is designed for doors inserted into both framed (with, say, a wooden border) or unframed, cabinets. Contractors, including his own firm, can benefit. "I notice that my teams are struggling to install cabinet doors to line up with the bottom of the cabinets. Sometimes they will need a second person (third hand) and sometimes use a piece of wood with a clamp to hold the doors, which takes up a lot of time and inconsistency." Well, Andy, the jig is now definitely up.
---
Two Detroit malls undergoing changes
WindsorOntarioNews.com June 30 2023
Windsorites accustomed to going to Detroit area malls may be in for some surprises - good and maybe not so. On the positive side, Oakland Mall at I-75 and 14 Mile is adding more dining and "experience" options. Coco Town is an immersive chocolate sensory experience, a limited attraction extended through mid-July. Hobby Lobby opened in January. And expect an Asian-inspired fluffy pancake resto, a new Seaviche Tacos and Bowls and Detroit 75 Kitchen in the former Sears Auto Center. Oakland, under a new upbeat owner, may also redevelop part of the sprawling property along the east and west sides for parks and housing. The mall dates from 1968. Meanwhile further northeast Lakeside Mall on M-59 in Sterling Heights will eventually be turned, in part, into a mixed-use development. Mall owner Lionheart Capital said demolition of part of the complex could begin at the end of next year. Most of the 110-acre site would be torn down but major retailers such as Macy's and JCPenney would stay. More than 2800 apartments – with 750 seniors units - 150,000 sq. ft. of new retail and restaurants, 60,000 sq. ft. of offices and a 120-room hotel would round out the redevelopment. The mall opened in 1976. Malls in Detroit like elsewhere in the US are being rethought in light of a massive shift to online shopping and other trends. "There's been de-malling that has happened over the years that's been successful," retail analyst Robert Mihelich told The Detroit News. "Whereby they either have taken out the larger anchor and put in some smaller-box users, then turn it into more of a larger power center with outlets. That seems to be a trend that's worked." In other cases, like what's proposed for Lakeside, a mixed-use residential and office park has worked. "They'll actually take the mall down and now repurpose the property for alternate uses, i.e., residential and/or even as far as turning it over to home headquarters for larger corporations."
---
Best kept secret: online newspapers, mags, movies, free thru your library
WindsorOntarioNews.com June 16 2023
Libraries offer a wealth of online resource material including books, newspapers and magazines you'd pay a small fortune for if you bought them individually or by subscription. For some it's a best kept secret. Others are making the best of these numerous resources. One site along, PressReader, offers hundreds of newspapers and magazines from around the world – including The Windsor Star, Toronto Star and National Post – customers pluck downs dollars for daily or hundreds of dollars a year to otherwise read. There are magazines like Zoomer, Rolling Stone, Newsweek, Forbes, The Hockey News. And numerous overseas papers from the UK and beyond. Another site is Hoopla, which has all kinds of books, magazines and videos. "Our library lends a number of digital formats, including eBooks, comics and magazines, downloadable audiobooks, streaming films and television series," Essex County Chief Librarian Adam Craig says. The library still mostly checks out physical materials but e-circ has been "steady" at 200-240,000 items yearly. Other sites are Libby, Kanopy, which partners with PBS, Sesame Street and The Criterion Collection. Music? Check out Freegal with nine million songs. Craig says "two big barriers" remain. "Lots of people are still unaware that there is a whole world of electronic resources available to them through their local library." Second, the "digital divide" with some people still "intimidated" from exploring online or, in some geographic areas, still lacking decent internet. "As a general rule, libraries try to support our patrons in getting started with eBooks, but it can still be a struggle for some."
---
A humble car may still be expensive
WindsorOntarioNews.com June 2 2023
Getting a good deal on a car may not be as easy as you might first think. Take the Honda Civic (photo), Canada's best-selling car for almost a quarter century. It may look humble, good on gas and therefore good for the wallet. But, according to the Équité Association, it's also the most stolen car in Canada. That "can push up insurance prices on what might otherwise be an affordable car." Fuel charges must also be considered. Purchasing a hybrid or EV can "drastically" bring costs down, says RatesDotCa, which surveys insurance rates. "It's important to do your research when buying a car," Daniel Ivans, the agency's insurance expert, says. "Some of the risk factors that affect insurance premiums are based on the make and model of the vehicle in addition to a consumer's driving history. For example, how likely the vehicle is to be stolen, how easy the car parts are to replace, and the overall value of the vehicle." RatesDotCa ranks cars according to the most and least affordable to insure. For gas-powered, the most expensive was the 2022 Lamborghini Aventador LP 780 Ultimate 2DR AWD with annual fuel costing $3,118 and insurance $379.08/month. The least expensive was the 2021 Jeep Gladiator Sport 4DR 4WD, at $168.50/month and fuel at $1,550. The most expensive hybrid vehicle was the 2023 Hyundai Sonata Ultimate Hybrid 4DR - $251.92/month and $625 for fuel. The least expensive for insurance was the 2023 Ford Maverick XLT Hybrid SuperCrew 2WD - $161.50/month and fuel priced at $800. For EVs, the priciest was the 2023 Tesla Model X Plaid 4dr - $291.50/month and est. charging cost $345. The most economical was the 2018 Kia Soul EV 5dr - $171.25/month and charging only $290.
---
Local auto insurance rates up 17%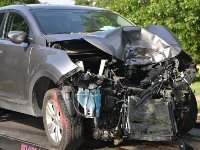 WindsorOntarioNews.com May 17 2023
Motorists in Windsor and much of Essex County are paying 17 per cent more in auto insurance this year. RATESDOTCA reports that the average premium in the Rose City is now $1743. That's an increase $252 over the last quarter of 2021, a year and a half ago. That's five per cent more than the provincial average which happens to be one dollar more - $1744. The data is reported in RATESDOTCA's Auto Insuramap, an online tool that measures average premiums in postal codes across the province. County municipalities like Amherstburg, Comber, LaSalle, Pelee Island and Essex also saw an increase of 17%, with average premiums now $1,616, or $233 more than Q4 2021. The company says the rise is due to "pre-pandemic driving habits", telltale inflation, and post-pandemic lingering supply chain problems. Those factors have forced auto insurers to apply for the substantial increases from the provincially-controlled Financial Services Regulatory Authority (FSRA). "Insurance companies are still catching up," says Daniel Ivans, RATESDOTCA's insurance expert. "Just because they were allowed to increase doesn't mean it's enough to take care of their losses from the last few years. There's some fine-tuning to come." Brampton has the highest rates at $2707 (up 37 per cent) and York region in the GTA dominated with 11 municipalities. Toronto's average is $2235. Hawkesbury Ontario east of Ottawa had a rate of $1307 and a residential street in Sarnia had $1481. Want to live some place with cheaper rates? RATESDOTCA says you'll find them in towns with populations of 10,000 or less.
---
We still like real meat but ...
WindsorOntarioNews.com May 3 2023
We still like eating meat. That's the more than obvious conclusion from a survey asking Canadians if they prefer meat proteins to their plant counterparts. 49.2 per cent opted for animal proteins, only 12.3 chose plant proteins and 28.1 chose mixed. And for those who choose plant-based proteins the motivating factors are health (30.7 per cent) and environmental benefits (12.1); personal preference only counted for 12.6 per cent. Meanwhile, 33.8 per cent said plant-based foods taste good while 39.8 per cent said they offer nutritional value. But price and availability remain barriers. Only 22.3 per cent said plant proteins are affordable and 49 per cent said they can be hard to find at grocers. Provincially, when asked if they'd consumed a plant-based meat alterative in the past 12 months Ontarians were second highest at 34 per cent and Manitoba lowest at 22 per cent. Survey sponsor Dr. Sylvain Charlebois of Dalhousie University's Agri-Food Analytics Lab, said the numbers actually show that those who prefer plant-based products are "much higher than expected." But the market remains "a work in progress" with price the biggest hurdle. It appears more people are willing to buy meat alternatives if conditions are right. Almost 40 per cent would buy in the next six months. While only 29.0 percent of respondents would buy plant-based alternatives if made more sustainably, 48.2 percent of respondents believe the quality of plant-based alternatives is improving. "The fact that almost half of Canadians believe plant-based products are improving is interesting", said Janet Music, Research Associate at the Agri-Food Analytics Lab at Dalhousie University. "Canadians are clearly engaged and will continue to seek alternatives."
---
Bakery's move to Erie St. was "a whole different world" for the better
WindsorOntarioNews.com April 19 2023
Moving just a quarter mile from Wyandotte St. to Erie St. E. was the "best move" Faisal Nizam has ever made in his 15-year-old Windsor Middle Eastern pastry business. The company, which had two locations on Wyandotte East over the years, upped and moved into a vacant but newish building at 460 Erie St. at the corner of Highland Ave. last July. It's been like day and night, Nizam says. On Wyandotte, it was increasingly difficult to do business because of the number of homeless people and robberies. "I was having a lot of break-ins, it was just chaos," he says. "It's getting worse and worse and the city is not doing anything about it." But on Erie St., home of Via Italia and Windsor's legendary Italian business district, it's a "whole different world." Nizam says the neighbourhood is kept much cleaner – "better than the whole city of Windsor." Moving there "is probably the best move I ever made in my life," he says. The spanking new store is spacious with counters full of colourful pastries. Open seven days a week 10 am – 8 pm the bakery also has seating for 24 and Nizam hopes to have an outdoor patio this summer. And with a new neighbourhhod comes more and newer clientele. "I've built an Italian clientele," he says. "They love my store." Nizam sells pastries from lots of cultures. Did you know different countries have different types of baklava? Nizam has them. He serves Lebanese and Canadian ice cream. "We make espressos and cappuccinos." Nizam commutes daily from his home in Dearborn, where dad Ali opened the family business, same name, back in the early 1990s. Most pastries are made in Dearborn but some in Windsor. Nizam expects to purchase the store after he gets his Canadian permanent residency likely next winter. Meanwhile he personally undertook massive renos to the building's interior – at a "pretty penny" – based on the fact he'll eventually own the property.
---
Amazon Fresh coming to Mich? Maybe
WindsorOntarioNews.com April 4 2023
There's Amazon, Amazon Prime and coming presumably soon to Michigan, Amazon Fresh, Amazon's entry into the grocery market. Amazon introduced the bricks and mortar store concept in August 2020 and there are now multiple stores in various US states. The closest are in Illinois and Pennsylvania. Besides offering a range of grocery items typically found in other supermarkets but with low prices and "regional favourites", Amazon has upped the game by eliminating check outs through its app. Customers put groceries in the cart, use a QR code, shop and exit through the Amazon Dash Cart (photo) lane that automatically completes payment. As well they can do shopping more efficiently through Alexa or the Dash Cart. A customer can just ask where the hot sauce is, for example, and be directed to the correct shelf. The Detroit News this week found that while Amazon has built or converted several buildings in southeast Michigan that will house Amazon Fresh they remain unopened nor even publically signed. "Despite all the plans, the hype and the active construction sites, it's a secret when any of the Amazon Fresh stores slated for Metro Detroit actually will open," the newspaper says. "And the retail giant isn't saying." Part of the reason is that Amazon may be retooling the concept because of initial lackluster response. "They were OK stores, but they were not compelling enough to urge the consumer to change their shopping patterns," Lou Scudere, principal for Riverbend Retail Consulting, said. David Bishop with Brick Meets Click, said the company's problems, "reflect an adage that it excels at bits but stumbles with atoms, highlighting the differences when selling digitally online compared to physically instore." Confirmed or presumed Detroit area locations include Dearborn, Madison Heights, St. Clair Shores and Rochester Hills.
Photo: Amazon
---
Apparel for your inner Detroiter
WindsorOntarioNews.com March 22 2023
Windsor-Essex County residents have long loved to wear Michigan branded clothing, especially the blue and maize of the University of Michigan. And our partiality to Detroit may mean we're also interested in sartorial wear that touts the Motor City. Over the years there have been several product lines such as Pure Detroit and Made in Detroit. Now there's Born in Detroit, which seems to have had the greatest merchandising success. And, perhaps speaking to Windsorites' hearts, the brand's co-owners say, "You do not need to be born in Detroit to be a proud "Detroiter", and you can wear Born in Detroit and showcase to the world how much this city means to you." Born in Detroit merchandise, from T-shirts to cross body bags to ball caps, has announced that their apparel line is now available at an additional 22 Meijer locations throughout metro Detroit, making it even easier for a Canuck to pick up Detroit-themed clothing when across the river shopping, attending sports or visiting with friends or family. The brand started in 2202 by two sets of brothers, "with the mission of showcasing the pride of Detroiters near and far, and to establish a brand partner to champion the city and surrounding communities." The brothers "have a fierce gritty work ethic that overflows with pride for all things Detroit." Born in Detroit was created "to honor that pride that Detroit is more than a city, it is that feeling of pride, hard work and perseverance."
---
Car insurance lowest after 35 years driving, and then it goes up again
WindsorOntarioNews.com March 7 2023
Windsor didn't make the list although we have traditionally been known for our high auto premiums. But Kitchener, the next closest city, did, and the yearly insurance premium there is $2478. Yet that pales in comparison to Alberta cities where drivers in Calgary pay $3,182 and Edmonton $3,150. And drivers in Halifax, perhaps surprisingly, pay the third highest in the country, $2,490. Hellosafe, a website that compares insurance rates, didn't provide answers as to why the differences for data released last October. Ontario's median price was $2,299. The provinces with the lowest medians were Manitoba ($1,373) and Saskatchewan ($1,249). (Quebec wasn't included in the survey.) The lower rates were in provinces with public insurance systems (versus private). The lowest premium of any profiled driver was $383 – a female driver in The Pas Manitoba, 51 years old, employed and licensed for 35 years. The highest was $6,828 for a male driver in St. John's, Nfld., 18 years old, student with stage 2 learning permit. That's 4.8 times more "than 25 years licensed drivers." The average for a stage 2 driver is $3,662 while one with 35 years is $768 for the same coverage. The survey analyzed drivers commuting 20 km or less per day and driving 30,000 km or less per year, have no accident record or recent major conviction or claim. As well, male drivers pay 4.1 per cent more in premiums than female drivers. One other thing: until 35 years the more drivers are licensed the less they pay. But after 35 years premiums start to grow again "because of drivers getting older."
---
Pasta the ugly duckling of nutrition? Not so, says industry association
WindsorOntarioNew.com February 21 2023
Take it with a spoonful of salt, or olive oil – you know, when you're cooking the stuff. But an industry association says pasta is a lot better for you than current myths would suggest. "Despite the bad rap it's given, pasta is full of nutritional value," Itala Pasta (the Canadian Pasta Manufacturing Assoc.) says. Citing nutritionists "In fact, it is one of the building blocks of a healthy diet." And, during soaring inflation, it's "wallet-friendly." The association debunks some myths. Eating pasta will make me gain weight – Pasta is not fattening; one cup contains less than 200 calories with only about one gram of fat. "Pasta is a wholesome, low sodium food that can fit right in with your weight loss plan." Pasta alone has no nutritional value – "Quite the opposite." Pasta is a great source of carbohydrates, iron, several B vitamins and fibre. Gluten-free pasta is healthier – Some may eat gluten-free pasta due to an intolerance or disease. "But this doesn't mean you have to follow suit. If you don't need to, there is no real benefit from eating gluten-free pasta." Pasta contains GMO wheat – GMOs come from genetic modification process. But pasta is made straight from wheat and "there is no genetically modified wheat in Canada." Pasta will give you a sugar crash – Unlike other grains pasta has no added fat or sugar and therefore a low glycemic index, "meaning you won't get that post-meal crash."
---
First downtown offices, now Windsor Star printing plant being closed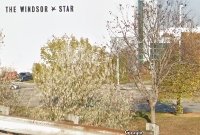 WindsorOntarioNews.com January 31 2023
First The Windsor Star eliminated its once much heralded new downtown offices. But there was still the suburban printing plant, appropriately enough, at 3000 Starway Ave., off Temple Dr. between Walker Rd. and Central Ave. Now parent Postmedia is eliminating that. Star union Unifor says the closure will result in the loss of more than 75 jobs. The Star will be printed in the GTA with copies shipped to Windsor. A union news conference is set for this morning. The decision comes at the same time that Torstar Corp., which prints the Toronto Star, announced the shift to printing two dailies and almost 50 community newspapers to Transcontinental Inc. It will close its remaining printing plant. The Star itself is printed by Transcontinental. In Windsor the Starway plant was built in the 1990s after the Star stopped printing its editions at its legendary downtown building at 167 Ferry St., remade into a downtown campus for the University of Windsor. The Star with much fanfare announced its move to the former Palace theatres on Ouellette in a bid to show commitment to downtown Windsor's revival. But the Star closed the offices during Covid and staff work from home. "Toronto-based Postmedia has chosen to move more than 75 jobs out of Windsor to save a few bucks, regardless of the hardship it will create for so many families, and the economic blow to the community. We urge them to reconsider and look at options to keep the jobs in Windsor," CWA Canada President Martin O'Hanlon said. According to Unifor while printing will take place in Toronto, inserts will be processed in London. Julie Kotsis, Unifor Media Council Chair and a Star reporter, noted the Star's community roots go back 135 years. "This is a huge loss for the affected workers and their families, to the community who will access far less local news and to democracy," she said. Affected job titles include building maintenance, crew leader, electrician, engraver, load dock helper, millwright, press operator and press operator apprentice. But the union expects more job cuts to come – this time in editorial. According to The Globe and Mail Postmedia has told staff 11 per cent of its 650 editorial staffers would be let go.
Photo: Google Street View
---
Yes, they're open. Shanfields-Meyers a legendary survivor of DT core retail
WindsorOntarioNews.com December 12 2022
One of downtown's oldest retailers, Shanfields-Meyers, remains open for in-person sales but up to 90 per cent of its business has gone online. Owner Joan Shanfield attributes its survival to the fact the venerable jewellery, flatware and china store, with its legendary tens of thousands of items of inventory, owns the building. That's as opposed to other downtown retailers that have come and gone because they have leased their spaces and couldn't sustain sales to pay the rent. "It's a big warehouse," she says of the actual five interconnected buildings, noting that the space remains viable because staff are mainly "packing and shipping" in response to online or phone orders, within it. The business, open 85 years, altered its hours several years ago from Monday to Friday 9 am – 6 pm to Monday to Thursday 10 am – 5 pm. Signs on the door direct passersby how to order when the store is closed. "We've never closed," Shanfield said. "We've been open the whole time, it's just now we have limited hours because most of our business is packing and shipping. And whatever we need to pack and ship we can do that within four days." Shanfield said the reduced hours reflect the fact the "whole world has changed - when we first opened everything was off the street." When her grandparents ran the store it was open every day. "They had 100 employees that they had on call. They had probably 50 or 60 employees in the store at any one time, 10 employees for each building." Shanfields has always had a unique niche known far beyond Windsor offering highly discounted prices on name merchandise from around the world because of its volume purchasing power.
---
Enbridge applying for rate hike on top of quarterly market adjustments
WindsorOntarioNews.com Nov. 28 2022
Enbridge Gas Inc. is applying to the Ontario Energy Board (OEB) for a rate increase which would see household annual gas bills in the former "Union South" area - SW Ont up to the GTA - by $91 or eight per cent annually and $1320 for businesses. The increase would take effect January 2024. Enbridge spokeswoman Andrea Stass called this "rebasing" increase "fair and reasonable" to recover distribution, transmission and storage. However, the standard quarterly rate adjustments "to reflect changes in market price" would still take place. The application comes in wake of recent quarterly adjustments of five - 10 per cent on Oct. 1 and 18-23 per cent in July. Some homeowners will likely be paying $500 more this year. Stass says the application is aimed at "delivering value" to customers through affordability, reliability, reducing environmental impact and simplification and harmonization of rates and services. Stass says the integration of former Union Gas and Enbridge in 2019 delivered "significant benefits" to consumers. "Combined with productivity savings, customers will benefit from more than $120 million in sustained annual savings," she said. The application also "includes prudent long-term capital investment plans to ensure continued safe, reliable, cost-effective operations while also minimizing environmental impacts." Of those, it includes the first Energy Transition Plan to balance conventional gas with long term goals to include "low- and zero-carbon energy such as RNG (biogas - organic matter decomposition) and hydrogen.
---
Two Frankenmuth Mich. matriarchs die within three days of each other
WindsorOntarioNews.com Nov. 14 2022
Two Frankenmuth matriarchs have died within days of each other. Irene Bronner, the businesswoman behind "the world's largest Christmas store," Bronner's, died last month at the age of 95. She was married to Wally Bronner who founded Bronner's Christmas Wonderland in 1945. The store's footprint is 27 acres. It sells more than 6,000 styles of ornaments, half of the glass ornaments being Bronner's exclusive designs. The store is open 361 days a year. Bronner served on the company's board of directors but prior to that was a public school teacher. Three days after her death Judy Zehnder Keller, who founded and was president of the nearby Bavarian Inn Lodge, died at age 77 in the Michigan town. She began working in the family restaurant, the Bavarian Inn, in 1960. She then founded the Bavarian Inn Lodge in 1986, which eventually became one of Michigan's largest indoor water park hotels. Keller also owned the Frankenmuth Cheese Haus. She graduated from Frankenmuth High School in 1963 and obtained a degree in hotel and restaurant management from Michigan State University. Keller was described as a "long time entrepreneur, community leader, women's advocate, working mother, wife and grandmother." She often said she "fries chicken and makes beds for a living." Frankenmuth has long been one of Canadians most popular Michigan destinations, not least during the Christmas season like now.
---
Winery route puts business on map
WindsorOntarioNews.com October 14 2022
A gift shop and ice cream parlour has popped up along the county's wine route, an example of how businesses other than wineries are benefitting from the increasingly busy tourist trail in the Harrow and Essex areas. It's Priscilla's Presents, at 1195 Iler Rd., between County Roads 50 and 20 and immediately south of Cooper's Hawk winery. The business began in 2017 in the town of Harrow itself but then moved in 2020 to the present location, part of a family farm and a barn converted into the store and ice cream parlor. "It was a barn and then we added to the barn," says owner Tracey Cipkar. "It's been in my husband's family for years." The store seeks to be a "destination" for customers wanting an old-fashioned retail experience. "We're into nostalgia and to promote family times and memories," she says. "When I was growing up my family used to go to small towns. And when you bought something it was always family memories - not just what you bought, it was the whole experience." The store sells general merchandise. "We have baby items, women's fashions, we have items for men, a lot of gift items, jewelry, bath – a little bit of everything." All merchandise is new though the owner is thinking of creating a vintage section. For the moment she's making a point of selling items that usually can't be found elsewhere. "If I find out a store has an item I tend to not buy it, I want to be different." The Here's the Scoop Ice Cream Parlour adds another dimension. It also goes back to nostalgia, when Cipkar's dad took her out Sundays for ice cream. It operates April till October. What about the Priscilla name? That's the name of Cipkar's niece who died in 2014. "I always wanted to open a store with her – I'd worked with the school board for 25 years – and then she passed away and you know what, life's too short, so I named the store," she said. "And 'presents' means you can buy gifts at the store but it also means her presence to me." Far from being more isolated than when the business was in downtown Harrow, Priscilla's Presents attracts more customers on the rural Iler Rd., with agricultural fields surrounding. "I'm busier than I was in town because that's the winery route," Cipkar said. "I get a lot of tourism which I never would have got if I were in town." And being "a minute's drive" of Cooper's Hawk winery the two businesses do cross promotions.
---
Finally, a song for Thanksgiving
WindsorOntarioNews.com Sept. 28 2022
You know what's missing from Thanksgiving? A Thanksgiving song. Not anymore. Canadian jazz crooner Alex Bird has recorded one just in time for the crisp fall holiday. "The Sweetest Moments" – with an accompanying video – shows off the best of the fall season and holiday gatherings. "A really good holiday tune puts you right in the mood," says Bird, wo earned his first Juno in 2022. "It's been a long time coming, we've all been missing something," says the lyrics. "It happens every fall, the sweetest moments of them all." Bird teamed up with the Turkey Farmers of Canada to produce the song that celebrates Thanksgiving, this year on October 10. "When we set out to write a Thanksgiving song, we thought about the sounds, the sights, the smells, the faces, the turkey and really tried to encapsulate that in a tune," Bird says. The song is also featured in a 30-second ad which began airing this week. "We're thankful for the opportunity to support incredible Canadian talent and hope the song becomes a Thanksgiving classic," Darren Ference, chair of the Turkey Farmers of Canada says. Bird is a crooner in the traditional sense with a soft swinging voice. A full-length video on the making of the song is also available on YouTube: 'Think Turkey Presents The Sweetest Moments.'
---
Post office getting into loan business
WindsorOntarioNews.com Sept. 14 2022
Canada Post is extending to Ontario its new MyMoney Loan service. The post office teamed with TD Bank first in Nova Scotia for a pilot project and is now extending the service to Ontario. But while the bank-type service might strike consumers as odd that a post office is offering it, Canada Post says it has long provided financial services such as MoneyGram, money orders and prepaid reloadable cards. The post office appears to be making the new service as user-friendly as possible. Customers can use an online calculator to determine their exact financial needs with loans starting at $1000. The post office says these "flexible" loans "can help with" items like debt consolidation, emergency home or car repairs "or other sudden life events." And when a customer enters a post office building staff can help them apply either online or through a toll-free number. Meanwhile the TD bank "will support customers through the application, decisioning and funding process, and customers will have access to customer support including financial literacy resources and online banking." Besides the TD bank the post office's longtime employee union, the Canadian Union of Postal Workers (CUPW) is on board having its members aid customers. While relatively new to this country post offices around the world have long offered an array of financial services. And there has been a campaign to increase what's known as "postal banking." According to the Universal Postal Union, this makes post offices the "second largest contributor to financial inclusion worldwide," immediately behind commercial banks. "Financial inclusion" means expanding banking services to people who have otherwise been excluded such as immigrants. In some countries, the ways the service works is either the post office rents space to third-party operators or retails under its own banking license.
---
More than $1 million to partially replace the city's hi tech devices
WindsorOntarioNews.com August 30 2022
The City of Windsor must have one of the largest computer accounts in the region. It has 2071 computing devices, according to a report. The city replaces its laptops every 3.9 years. Desktops stay around longer at 4.25 years and monitors have a lifespan of 5.5 years. Last year the city replaced 122 desktops, 141 laptops and 123 monitors. The 263 desktops and laptops represent 13 per cent of the city's inventory. On average, 19 per cent of the inventory is replaced yearly. But there was less replacement last year "due to the pandemic and the shortage of available equipment." The city provides networking to more than 70 facilities. Meanwhile, the city's servers and storage equipment provide applications and services to some 2,100 computer users within its offices and shops. This is in addition to web services provided residents such as the city's website, tax enquiries, online payments, registrations, licensing, poll locators and property inquiries. "Server and storage virtualization have allowed the City to make more efficient use of hardware," the report says. The city has 232 servers with 190 being virtual. In 2002 the city switched from leasing equipment to a pay-as-you-go plan as it did for other assets like vehicles and radios. How much did last year's replacements cost? Just slightly over $1 million. If you think this is too quick a replacement rate think again. The report says these "low replacement rates" are a "good indication" the switch from leasing has paid off.