Windsor Ontario News is Windsor and Essex County's online newspaper
Follow WindsorOntarioNews.com on
AC flights expected to resume Sept. 8 at Windsor airport
WindsorOntarioNews.com August 13 2020
The first commercial flight in and out of Windsor airport should commence September 8. This after the airport has been closed since early April as airlines cancelled flights due to the coronavirus pandemic which saw travel – especially public transportation – almost eliminated. "We are praying to see our first commercial flight start back up on Sept. 8," airport operations manager Steve Tuffin said. "Air Canada says they're going to come back here Sept. 8 one flight per day." City officials had lobbied for flights by the two main airlines serving the airport – Air Canada and Porter – to return to the airport more quickly but that did not take place. But there had been an expectation that Sept. 8 would be the time Air Canada would resume flights. While the airport has been dormant for more than four months Tuffin said it has allowed maintenance staff do get work done more expeditiously. "Since we don't have to close runways to do it we were able to stay out there much longer until the job was completely done. So jobs that would normally take us three or four weeks to do we were able to do within a week," he said. That included repainting lines and number on runways and things like fixing ceiling cracks. Tuffin said the arrival of one flight daily "is a start. "We haven't had one here since April 1, it was the most cruel April 1st joke ever," he said. (See also LOCAL TOURIST: YQG won't have to extend runways for safety reasons)
Photo: Wikimedia
WE Charity involvement in local school boards has been limited
WindsorOntarioNews.com August 5 2020
Outside some field trips and participatory activities that's the extent of WE Charity involvement in local school boards. That compares to considerable involvement in other boards in Ontario. "Other than some of our students going on field trips to attend WE Day events, we have no formal relationship with the charity," Windsor-Essex Catholic District School Board spokesman Stephen Fields said. "We have had some schools participate in regional events over the years," said the Greater Essex County District School Board's Scott Scantlebury. Ontario's education minister last week said the government is dropping a longstanding association with the scandal ridden WE Charity, implicated in a conflict of interest controversy with Canadian Prime Minister Justin Trudeau. But while the province has ended its relationship, multiple Ontario school boards have not. "The Ministry of Education's relationship with WE is ending. I am encouraging school boards across the province to halt all contracts and investigate existing contracts," Education Minister Stephen Lecce told the Toronto Sun. The minister can't order the boards to quit their WE Charity relationships but he can encourage them to do so. The Sun reported the Toronto district board is now reviewing its association with the charity. WE Charity, which promotes humanitarianism and international development among young people, including trips to Third World countries to rebuild communities, also has an extensive domestic program in Canadian schools. It in fact has relationships with more than 7000 schools – 3200 in Ontario. Its involvement ranges from mental health counselling to curriculum development. It created a student guide Take Action: A Guide to Active Citizenship. Says its website, this "offered hands-on leadership workshops in schools, professional development training programs for educators, and celebrated and recognized the service actions of young people at WE Day events."
Long lines, frustration, greet re-opening of Service Ontario office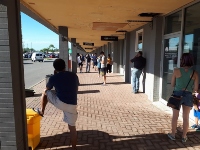 WindsorOntarioNews.com July 21 2020
And you thought it was frustrating normally trying to get license stickers renewed. After Service Ontario offices re-opened July 13 lines continue to remain long at the Windsor Dorwin Plaza location, with people waiting as long as two hours to get in. On Monday morning by 8.30 there were about 100 people in line - socially distancing – waiting for the office to open at 9 am. Some had been there two or three times before and given up because of the waits. Randy Carroll said it was his fourth time and "each time was an hour" but he got there earlier Monday so "hopefully I'm going to get in." Sam Eaton of Amherstburg said his local town office, plus ones in Harrow and Essex - privately owned – remain closed. "I've been here since they've been back open probably three times trying to get in," he said. "One time I waited three hours in line and then the next time I ended up getting in in about four hours and now I'm back here hopefully waiting (won't be) that long." It was the third time Ryan Massad, recently arrived from Montreal as a new Windsor resident, has had to wait. "The first time we were told we couldn't be here in the first couple of days of getting to the province. Then we came to the line a little bit later and it was just too far back in the line and then we decided to come a little bit earlier today," he said. Dave Brunelle of Windsor said he arrived at 7 am - two hours early – "to make sure" he gets in. He's a tow truck driveer on call 24 hours so "when I come here for 7 I've only slept for like a half hour to an hour then I've got to go back to work by 9." Wanda Borre of Harrow waited two and a half hours Friday but "unfortunately" had to leave before she got in because of a sore back. She was among the first 10 people Monday in line. "I came this morning between quarter after 7 and 7.20 and just been waiting. And so I'm glad there's only about five or six people ahead of me today." Harry Malhi, spokesman for Service Ontario, reminded that the "vast majority" of visits to Service Ontario physically are unnecessary right now. "They are either available online or have had their validation period extended," he said. This validation period has been extended for health cards, drivers licenses and licence plate stickers, among others. Additionally, more than 40 of the most common transactions are available online," he said. As for certain offices being closed, these "privately run businesses and may have chosen to temporarily close or reduce hours in order to ensure they comply with health and safety obligations to staff and customers."
Windsor law firm launches class action against Bell Mobility
WindsorOntarioNews.com July 3 2020
A Windsor law firm has launched a class action lawsuit against Bell Mobility over how it handled customer information for advertising purposes. Sutts Sasso Strosberg along with Charney Lawyers of Toronto are representing as many as five million Bell Mobility and Virgin Mobile customers in the $750 million suit against the cell phone operator, owned by BCE, the country's second largest telecom. The class action refers to practices by the companies related to obtaining personal browsing information and using that to sell to third parties to launch targeted ads without sufficiently obtaining customers' permission. This took place under the so-called Relevant Ads Program (RAP) between November 2013 and April 2015 and affects current and former Bell customers. "The information included web sites accessed from mobile devices and the corresponding customers' postal code, gender, age range, credit status and payment patterns," Sutts Strosberg says. In the court statement of claim it's alleged customers "were not given the option to properly consent to the use of their information for the program and the defendant did not adequately disclose the nature of the information they were using for the RAP." For example, customers would have had to opt out rather than opt in. So questionable was the practice that the Privacy Commissioner of Canada investigated and issued a report stating the company had violated the Personal Information Protection and Electronic Documents Act, or Canada's privacy law. Following the report's release Bell ended the RAP and said it would delete "all existing customer profiles related to the program. Furthermore, Bell has said that if it launches a similar program in the future, it would do so using express opt-in consent." But the legal action seeks to appoint an expert "to oversee and confirm the destruction of the personal information." Sutts's lawyer David Robins told WON.com, "This class action is important to deter the use of consumers' personal information without their informed consent and to hold companies, such as Bell Mobility, accountable for any breach of privacy and resulting inappropriate use of personal information." [UPDATE July 6: Nathan Gibson of Bell responds: "This notice is a only a procedural step in this type of class action, and no judgement has taken place. In fact, we agreed with the Privacy Commissioner's findings and the Relevant Advertising Program proposed in 2013 was never launched and no customer information was ever collected."]
Photo: Sutts Strosberg
Up to $750,000/6 months for violating C-19 self-quarantines
WindsorOntarioNews.com June 24 2020
Canadians who don't self-quarantine after arriving back in the country could face fines as high as $750,000 and or up to six months in jail. Further, if a person coming back into Canada "causes a risk of imminent death or serious bodily harm" to another person while "willfully or recklessly" disregarding regulations they could face a fine of up to $1 million or up to three years imprisonment or both. The penalties are spelled out under the federal Quarantine Act. Canadians or permanent residents are among the few groups still allowed into the country while the border is closed for non-essential travel. When they arrive they are asked by Customs if they feel ill and are told to "isolate for 14 days if you have symptoms of COVID-19 or quarantine (self-isolate) for 14 days if you do not have symptoms," according to federal protocols. It's unclear if any travellers have been charged or fined under the act and WON.com is still awaiting for a response from Health Canada. But a lawyer with the Justice Centre for Constitutional Freedoms, which has been fighting numerous government edicts on constitutional or human rights grounds during the Covid-19 crisis, called the penalties "draconian." Lisa Bildy said the provisions could be challenged as a violation of Section 12 of the Charter of Rights and Freedoms, protecting against cruel and unusual punishment. "There also seems to be little distinction between what the government describes as 'isolating' and 'quarantining,' Bildy said. "One applies when you show symptoms, and one when you have no symptoms. Both require you to stay in your home and not leave for 14 days, but if you have symptoms you're also expected to stay away from others in the household." Bildy added that as more is learned about the disease, "including the fact that it has a much lower fatality rate than previously feared," her centre hopes the government "would reassess the need to keep asymptomatic people in mandatory quarantine for 14 days." [UPDATE June 30: See Health Canada's response in NEWS BACKGROUNDER.]
Canucks expected to take part in 'TRUMPtilla' down Detroit River
WindsorOntarioNews.com June 12 2020
Windsorites are expected to take part in a flotilla honoring US President Donald Trump Saturday, according to organizers of the event, the first of its kind in Michigan and perhaps outside of Florida. The "TRUMPtilla" gets underway in Anchor Bay near New Baltimore, Michigan. 1000 boats and 5000 people are expected to take part, said Matt Seely of the Michigan Conservative Coalition. The boats will proceed down the river almost 40 miles (65 km) to the Ambassador Bridge. There will also be a land convoy simultaneously along the American lake shore to downtown Detroit. Seely said the event has attracted the attention of Canadians who indicated they would join from the Windsor Yacht Club. He said Canadians responded to the event's Facebook page. "Someone said, 'Yeah, can we join from Windsor Yacht Club?' And there was a dialogue about that." But Seely said he has "no idea who the people are." WON.com also could not reach any would-be participants. Windsor Yacht Club Commodore George McMahon said he didn't know anything about the event or Canadian participation in it. "That's the first I've heard about it," he said. But McMahon said he would check and call back "if it's true or not." Whether Canadians participate or not the flotilla should be highly visible from the Windsor shore. That's because the boaters, festooned with Trump flags and honking and playing music, will have to use the east side of Belle Isle because some boats are too large to pass under the Belle Isle bridge. The flotilla will be supported by police marine patrols and stay in US waters. Seely said the event is simply to celebrate the president's 74th birthday which coincides with US Flag Day. While Trump's birthday is actually Sunday the flotilla will be held Saturday. Seely said boats will be joining the procession perhaps from as many as 27 marinas along the way. Seely said the event is not a response to the recent rioting and social turmoil across the US in the wake of Minneapolis resident George Floyd's death by police but simply to celebrate the president and the beginning of summer. "It's just basically a reason for people to get out on the water to and begin their summer during a very very sad moment in history for everybody (Covid-19)," he said. "We've all been locked up in our homes for a long time in Michigan and we thought it would just be a great thing to get out on the water and celebrate the president's birthday.
Covid-19 test? Almost a breeze
By Ron Stang, Publisher, WindsorOntarioNews.com June 5 2020
Another beautiful morning, just right for a Covid-19 test. I'm about 35 minutes early before the 10 am start of what's scheduled to be a 10 am – 4 pm community testing, conducted by the Windsor Essex County Health Unit (WECHU). Already there are two lines of vehicles, perhaps 20 cars in each line, ahead of me. A young man, dressed casually, wearing a mask, first walks up besides the cars and greets motorists while handing out small pocket size cards which remind of Covid-19 symptoms and how to contact the health unit if experiencing any. There's also an online address to check your results in 5-7 days. If the test is positive, I will be phoned. About 10 minutes later a woman, more professional medically dressed in PPE, walks up to the car with a clipboard. "Have you been experiencing any symptoms?" she asks. "Absolutely not," I reply. Then she asks for my OHIP health card. I hold it up and she writes the down the number as well as my address from my driver's license and asks for my phone number. I ask if she's from the health unit. "I'm a medical student," she says. There's some volunteer medical students just taking the information down and the rest are all health unit nurses or paramedics." She tells me that when I pull up further a nurse or EMS paramedic will perform a nasopharyngeal swab. That's for a sample of secretions from the uppermost part of the throat behind the nose. I then advance a couple of car lengths. Two staff are taking swabs from both me and the person in the car ahead of me as well as from people in cars in the adjacent lane. I'm met by a very congenial woman, a nurse-practitioner, who holds a long swab. She first tries to obtain a sample from my right nostril. The swab apparently can't go up far enough so she tries my left nostril and the swab is successful. It only took a matter of seconds. The procedure has been described as uncomfortable but I was expecting it to be more uncomfortable than it was. I ask about this. The tester tells me it depends on the person, their physiology and how tight the nasal passage might be. She then politely tells me the test is all done. "You're good to go, have a nice day!" The whole process, from arrival to finish, took almost exactly an hour. Community or "random" testing will obtain results from as many as 2400 city and county residents…..Why is the health unit doing the tests? It says testing "provides better quality data for analysis, planning and intervention." Given that testing every person at one point in time isn't possible, "a random sample of our community will provide the WECHU with enough information to make predictions and identify potential trends."
More than 2300 surgeries delayed during Covid-19 crisis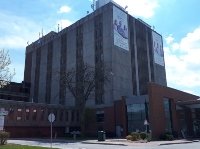 WindsorOntarioNews.com May 28 2020
More than 2300 surgeries now have to be rescheduled at local hospitals because elective surgeries had been cancelled during the Covid-19 crisis. Windsor Regional Hospital announced March 18 that "non-urgent" services were to "pause" so the hospital could reorient to treat Covid-19 patients. The hospital took the action following a ministry of health directive. The procedures include elective surgeries and diagnostic scans. The hospital yesterday announced surgeries would resume June 1 but with a methodical ramping-up balancing surgeries with monitoring new Covid-19 cases and overall patient health. "This will take time - the most urgent ones hopefully soon," spokesman Steve Erwin said. "Clinical teams and surgeons will determine priority." As of today, there were 950 confirmed Covid cases in Windsor-Essex and 63 deaths. There were 16 hospitalized and one person in ICU. Meanwhile the Covid crisis "did have an impact" on visits to the emergency room, Erwin said. In March 2019 there were 293 visits but this March there were 199 visits - a 32 per cent drop. In April 2019 there were 294 visits but this April, 154 visits - a 48 per cent drop. The hospital today implored people to come for ER visits. Both regionally and nationwide, the public has been reluctant to attend any hospital for fear of contracting coronavirus. But in a statement the WRH stresses emergencies are safe environments including having enhanced cleaning and staff wearing PPE. "There are too many cases where patients have come to the ED much later than they should have; people who may have had a stroke or heart attack," said Dr. David Ng, Emergency Department physician and Erie St. Clair lead for Emergency Services. "If you are very ill or have an emergency health issue, please seek care at the ED and don't wait." Erie Shores Health Care in Leamington also put out a similar statement.
Several condo-style buildings could be coming to downtown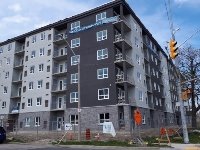 WindsorOntarioNews.com May 22 2020
Downtown Windsor could be on the edge of a long-awaited residential boom which could dramatically change the dynamics of the city's core. Developer Rob Piroli, close to completing his $45 million 152-unit West Bridge Place condo-style apartments at Crawford and Wyandotte, is actively looking at new sites in the central part of the city for future major multi-unit condo style residences. Planners and downtown observers have long said that lack of residential development is the missing piece for significant downtown revitalization as more residents will spur retail and hospitality growth. Piroli's company, Piroli Group Developments, took a risk in developing an almost two decades old 3.5 acre empty lot and began construction in June 2019 of West Bridge Place. He expects 60 per cent rentals by move-in date in August. Piroli's previous condo-style apartments have been two six-storey towers, Seacliff Heights, in Leamington. Piroli relied on the city's rollout of development tax incentives to get the Windsor project going. "I think the City of Windsor is doing a great job with its redevelopment program in the downtown core," he told WON.com. Piroli said he'd be "looking" at another core location but not until he's at least rented West Bridge Place to 60-70 percent. He said rentals are moving faster than expected from a demographic mainly defined as retired baby boomers with good pensions who don't want the hassles of condo ownership but like condo amenities. He said so successful has West Bridge Place been that "we're looking to invest again in Windsor and possibly for more than one more probably maybe even three or four (buildings)." West Bridge Place is six stories and future buildings could likely be the same. "That was a big parcel, (it's) not easy to find three and a half acre parcels in the downtown core. But there are other parcels. You know, if it's a couple acres then maybe we can get a hundred units on it, so it might be … smaller but still a good size," he said. Besides high-income pensioners Piroli is targeting foreign students who tend to have larger incomes. "I think it's going to be a decent mix," he said of pensioners and higher income students. Meanwhile, Piroli is embarking on two 121-unit condo style buildings in Chatham.
25 hospitalizations, 4 in ICU as Covid-19 flattens since April 15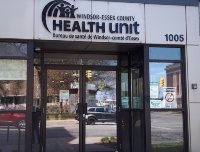 WindsorOntarioNews.com May 13 2020
For almost a month, with the exception of three dates, all new daily Covid-19 cases have been under 20, suggesting a major flattening of coronavirus infections in Windsor and Essex County. As of today, there have been a total of 745 confirmed Covid-19 cases in Windsor and Essex County since March 20. Twenty-five people are shown as hospitalized and an additional four patients in intensive care. That's according to Windsor Essex County Health Unit statistics. The "status" of cases shows that of the others who have contracted the virus, 212 are self-isolating, 300 have been resolved (recovered), 142 are unknown (still pending an investigation and/or data that is not known about a case) and 62 have died. Overnight 13 new cases were reported which continues a flattening of cases since April 15 when there were 59 cases, the most for any single day since stats began being compiled March 20, when there was only one - the first - case. Since April 15 only three days have shown cases of 20 or higher (April 20 – 20; April 21 – 24; May 11 – 21). In terms of demographics, the most cases – 148 – have been among people aged 80 years and over, the next highest – 125 – among people aged 20 to 29 years, and the third highest – 115 – among people aged 50 to 59.
Park and street bench use? It depends on the municipality
WindsorOntarioNews.com May 5 2020
During the pandemic shutdown, municipalities have variously both closed parks and rec facilities and encouraged people to get outdoors and use amenities like trails. But what are their rules regarding street and park benches, which might be necessary for people – often elderly – to use to rest? There are different rules or guidelines for different municipalities. In Windsor, sitting on benches is not banned. "We have encouraged people to get out and exercise, while keeping proper social distancing, as it is good for one's health," Chief Administrative Officer (CAO) Onorio Colucci says. "Therefore, we think that if somebody needs to use benches during their walks, that is acceptable and low risk." He said the city "would only enforce" social distancing if people using the benches weren't practicing that. The same is true for Tecumseh and Lasalle. "Walking and taking in fresh air and the beauty of spring is important to maintaining physical and mental health," Tecumseh CAO Margaret Misek-Evans says. "Should people need to sit and rest whilst on their walk, they may access a bench for that purpose," That's providing the bench isn't used for gathering and that people practice distancing. "Under these use provisions, the town would not see this as a contravention of the Provincial Order." Amherstburg has a different interpretation. An official did not respond to requests for comment. But the town's benches have clearly attached to them signs saying "Closed." The signs don't make specific reference to benches but the message is clear. Rather, they say, "By Provincial Order under the Emergency Management & Civil Protection Act All Outdoor Recreational Amenities Are Closed" – and lists items like play structures and gazebos/structures - as part of a "Covid-19 Safety Warning." In Essex, town trails and sidewalks are open but benches have signs "recommending" not to use, said CAO Chris Nepszy. That's because of difficulty in social distancing nor are benches able to be cleaned. "Although not part of the provincial order we moved in this direction as a best practice to ensure the virus is not passed by touching a public surface that is not disinfected." And Leamington CAO Peter Neufeld said using benches is prevented because "the province is more concerned about the touching of the bench." Neufeld said there is no ban as such but "we don't want people sitting on them either." There are no signs. "If one of my bylaw officers saw (people seated) they would be asked to continue moving along." The Town of Kingsville also did not respond. The City of Ottawa in a wide-ranging FAQ says the reasons it closed benches was because they can attract more than one person and can be contaminated as they're not cleaned. "This means the Covid-19 virus can present on any surface – metal, wood or plastic. In fact, the virus can live on surfaces for not just hours, but days. This includes park benches, play equipment and picnic tables."
Closure of five Essex County weeklies came as shock - editor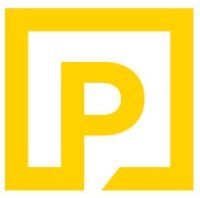 WindsorOntarioNews.com April 30 2020
The announced closure this week of five community newspapers in Essex County took one of those paper's editors completely off guard. Nelson Santos, editor of the Kingsville Reporter, said the Tuesday announcement by corporate owner Postmedia "came out pretty quickly" and was "a surprise" to him, having been at the paper 29 years and operating the paper pretty consistently until the Covid-19 crisis. The closure will see four office staff and three writers also lose work. Santos received a letter from the owner Tuesday, and news broke later that day about the shutdowns. Postmedia's five weeklies here joins two others in central and eastern Ontario that will close though maintain a web presence. Postmedia also is closing weeklies in Manitoba. Santos said that since Covid-19 advertising had been down, losing the equivalent of two revenue pages, which directly influenced the corporation's decision. "The affected publications are not financially sustainable and these closures will be permanent," wrote president and CEO Andrew MacLeod to staff. "The impact to advertising revenues, both print and digital has been very significant." The publications, which will see their last issues next week, beside the Reporter, are Tilbury Times, Lasalle Post, Lakeshore News, and Tecumseh Shoreline Week. Postmedia's decision comes more than a month after a major Atlantic Canada publisher, Saltwire Network, shuttered 35 weeklies but only temporarily. Santos couldn't put a figure on the local paper's losses. "I can't speak to the numbers specifically it's not my department in terms of numbers like dollars. That's controlled by our sales reps and a manager out of Windsor." Santos, who has been editor 20 years and mayor of Kingsville 17 years, said Postmedia has owned the Reporter eight years. The Windsor Star is also a Postmedia newspaper but not part of the same group, Windsor Essex County Publishing. There are other publications in the area that could take up the news slack. Santos said one, The Southpoint Sun, "over the last year have been certainly expanding their coverage area to include parts of Kingsville in their news." (UPDATE May 1: A spokeswoman for Postmedia did not respond to a request for comment.)
No nursing homes have upped pay during Covid-19 -- union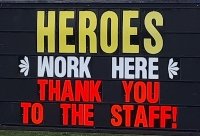 WindsorOntarioNews.com April 22 2020
Despite Ontario long term care homes being at the epicentre of the Covid-19 epidemic, none of the people who run the homes have agreed to pay workers additional wages. It's of a piece for the industry generally, according to the union that represents 2500 of such Ontario workers. "We haven't had any long-term care owner who has done a compensation increase yet," said United Food and Commercial Workers (UFCW) Union spokesman Tim Deelstra. He said the union has been talking "for a number of years" for more compensation with the provincial government and employers for "a significant increase" in wages "because workers there are substantially underpaid." While the UFCW has advocated for a $2 an hour increase for members in the grocery and food processing sectors during the health crisis – and has largely succeeded – the amount of increase for nursing home staff would be "much larger." Deelstra said many of these people work part time and are "paid not far off the minimum wage." The union request has been reinforced during Covid-19 – at a time when nursing home residents' testing positive and deaths have skyrocketed – but "we haven't had much traction," Deelstra said. Almost half the deaths have taken place in such homes. However, Deelstra said the province has indicated it's working with the feds "for some kind of top up" in pay. No details yet except it would apply to people making less than $2500 per month. The union has also called for universal testing for staff and residents "which has really started happening basically as of today." As for new government orders for employees to work only in one home or another these orders "are not universal," Deelstra said. A temp agency can still send workers "from home to home to home." Other workers have had "an economic impact" with no compensation or an order of increased hours. This differs from British Columbia which had nursing home staff become government employees for six months and work full time and with pay increased. WON.com has asked the Ontario Long Term Care Association, which represents owners, for comment.
Are local parliamentarians donating April salary increases?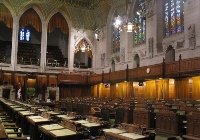 WindsorOntarioNews.com April 7 2020
In the midst of the hardships borne by hundreds of thousands of Canadians who have lost employment due to the coronavirus outbreak, WON.com thought it would contact Windsor area Members of Parliament to find out whether they would follow their party leaders' examples and donate an April 1 pay increase to charity. We heard back from two of them. The MPs had a 2.1 per cent salary increase (pre-scheduled) which will increase their base pay to $182,656. So, the two per cent increase amounts to $3,750. Liberal Prime Minister Justin Trudeau is donating his increase to non-profit organizations in his riding. Conservative Opposition Leader Andrew Sheer is donating his increase to a charity in his Regina riding supporting people affected by COVID-19. And NDP Leader Jagmeet Singh is increasing donations he normally makes to local organizations. Now, how are Windsor-Essex MPs donating their increases? Essex Conservative MP Chris Lewis: "As always I will give back to my community. I always have. At this time, more than ever, it is vital that we come together and donate, as we are able, to the many organizations across Essex. Rest assured, as in the past and on many fronts, I remain focused on making donations to those most in need. I encourage others to do the same." Windsor-Tecumseh Liberal MP Irek Kusmierczyk, also Parliamentary Secretary to the Minister of Employment, Workforce Development and Diversity Inclusion, through assistant Manvir Shokar: "Irek donated his entire pay increase to the Hotel Dieu Grace Hospital Foundation, the Windsor Regional Hospital Foundation, the Downtown Mission and the United Way/Centraide Windsor-Essex County." Longest serving area MP (first elected in 2002) the NDP's Brian Masse of Windsor West, did not respond, despite two emails and a follow up phone call. Salaries paid to MPs increase on April 1 each year, a figure based on the average increase negotiated by major bargaining units in the private sector.
Photo: Wikipedia
Michigan governor Whitmer wants more Canadian nurses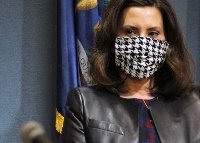 WindsorOntarioNews.com April 1 2020
While the area's medical officer of health and local federal politicians have been lobbying for even tighter border restrictions Michigan's governor Gretchen Whitmer this week signed an executive order which would ease recruitment of more Canadian nurses to work in the severely coronavirus-afflicted state. The order would also ease registration for certified nurse aides and grant renewal of some lapsed health care licenses. All to bolster much-needed medical staff to attend the climbing ranks of the besieged state's coronavirus patients. Up to now Wayne County, which surrounds the City of Detroit, has had the fourth highest number of COVID-19 deaths in the US. As of today, Michigan's COVID-19 cases jumped more than 1700 over the previous day to a total of 9334 and there have been 337 deaths, an addition of 78 over the day before. Hundreds of Canadian health workers cross the bridge and tunnel daily to work in Detroit hospitals. They're considered an essential service and therefore have been allowed to cross. That's despite the border officially being closed as of March 21 to regular traffic to prevent spread of the highly contagious disease. Meanwhile, as of today, there have been 92 Windsor-area cases and the region recorded its first death, a man in his 80s who had recently travelled to Michigan and had underlying health conditions. Medical Officer of Health Dr. Wajid Ahmed said 70 per cent of all area COVID-19 cases are people who have traveled and one-third are health-care workers who are employed in Michigan.
Despite listings, Cineplex's theatres definitely not open
WindsorOntarioNews.com March 24 2020
People who have been huddling in their homes over the past several days to protect their health due to the coronavirus outbreak may have been a little surprised to see that a couple of Windsor movie theatres were still open. As of today, The Windsor Star was still advertising showtimes at Cineplex's Devonshire and Silver City cinemas. This despite the City of Windsor declaring a state of emergency last Friday which effectively shut down Devonshire Mall, where one of the Cineplex theatres is located. Businesses at stand alone "pads" were unaffected by the closures. That could have meant that Silver City, as a stand-alone complex in a south Windsor big box retail site, remained open. But, no, that theatre, as part of the nationwide Cineplex chain, was also closed by the theatre chain March 16. The next day the province imposed a state of emergency and banned operation of public facilities such as theatres, cinemas and concert venues, as well as bars and restaurants. But today in The Windsor Star's entertainment section the movies at those theatres were still being advertised, along with their weekly showtimes for Friday March 20 through Thursday March 26. Cineplex's director of exhibition marketing Avery Ironside was stunned when told of the still running ads. "Our theatres are indeed currently closed due to the coronavirus situation, and no advertising should be running." He suggested the ads kept being placed due to "an automatic feed" that "didn't stop" and they will be "pulled ASAP." On March 16 Cineplex announced the temporary cinema closures through to April 2 when re-openings will be "reassessed." This announcement reflected the rapidly evolving pandemic crisis. Just four days earlier the chain said it was keeping theatres open but "taking all appropriate measures to ensure our venues are safe and that we have existing plans and training protocols in place to ensure they stay that way." This included enhanced cleaning and asking patrons not feeling well to refrain from visiting the cinemas.
As many as 50 to join 150 at airport maintenance hangar
WindsorOntarioNews.com March 5 2020
The City of Windsor-owned maintenance hangar at Windsor airport will likely see substantial employment growth over the next year. This comes as the US-based company that does aircraft maintenance there, AAR Aircraft Services, expects to see major new work at its main Canadian maintenance facility in Trois-Rivières, Quebec after completion of Air Canada's merger with charter airline Transat, A. T. The work will be so substantial an overflow amount will come to Windsor, said AAR officials. Brian Loomer, AAR's regional VP and GM, told WON.com, "without doubt it will definitely have a positive impact on Windsor." He said as many as 50 additional full-time jobs would be added to the almost 150 full-timers currently at the hangar, which the city built for $23 million and now leases to AAR. AAR took over maintenance from former tenant Premier Aviation more than two years ago. Air Canada last month announced the new maintenance contract which would see AAR undertake maintenance, repair and overhaul (MRO) airframe work on Air Canada and Transat aircraft. Currently AAR in Windsor does maintenance on Air Canada and Republic Airways aircraft's Airbus and Embraer models. The 144,000 sq. ft. hangar is big enough to fit four Airbus A320s and a couple of smaller Embraer aircraft inside "very comfortably," Loomer said. He added business at the facility has steadily been increasing. AAR recruits staff from Transport Canada-accredited colleges. Saint Clair College in Windsor does not have such accreditation. AAR employs three trades all called Aircraft Maintenance Engineers with designations M for Mechanic, S for Structures and E for Avionics (electronics). The work is mostly heavy maintenance as aircraft go through their life cycles but also lighter modifications. Staff work two shifts seven days a week.
Photo: AAR Aircraft Services
Air Canada to eliminate its Windsor to Montreal flight
WindsorOntarioNews.com Feb. 27 2020
Air Canada is axing its direct Windsor to Montreal flight effective June 30. The airline published notices today in both Windsor and Montreal daily newspapers advising of the cancellation. The year round service was operated by Air Canada Express Carrier Jazz Aviation LP. Air Canada media relations said the cancellation was simply because the flight lacked sufficient traffic. "Air Canada cancelled this route due to low demand," the office said in response to a WON.com query. "In fact, passengers prefer our Windsor-Toronto route. We offer customers several flights a day and passengers also have more connection options via Toronto hub." The flight will not affect Windsor airport personnel. "The suspension of this flight did not result in any job losses," the airline's office said. "Airport employees continue to work the Windsor-Toronto flight. But airplane crew will operate out of other centres with the airline saying "they will be redeployed on other itineraries." The flight was served by Dash H turbo prop and small jet aircraft. Lina Williams, spokeswoman for the Windsor Essex Economic Development Corp., said "we don't want to see the reduction of service in the region" and redirected questions to Windsor airport. The flight typically leaves at 11 am and arrives in Montreal at 12.40 pm. The return flight to Windsor is in mid afternoon.
[For more on this story go to the LOCAL TOURIST page]
Company applies for demo permit to construct controversial Kingsville complex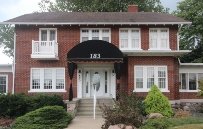 WindsorOntarioNews.com Feb. 13 2020
The developer of a planned controversial residential complex in Kingsville has applied for a demolition permit for 183 Main Street East, an older home that has generated significant community interest by citizens who want to save it. Kingsville council just this week voted unanimously to keep the house on its heritage interest list, not as a designated or registered heritage property as certain media misreported. This means the developer is still free to demolish the property subject to council moving to designate, which would require "scoring" the house for its heritage value and a subsequent council vote. It has 60 days to do this. "We're confused by the heritage committee's recommendation to leave the home on the interest list," Christian LeFave, president of Brotto Family Holdings, told WON.com. "If the home has the historical significance in which they have indicated, the heritage committee should be scoring the home and recommending to council that the home be placed on the designated heritage list therefore designating the home as an historical home." Meanwhile, responding to community concerns about such issues as the height and historical design of the two apartment buildings, the company will be back before the town's planning advisory committee in March with several tweaks to the original design. The buildings will be four floors instead of six and have a "Victorian Style" that replaces a modern look. One concern sparking the overall controversy was that the existing 183 Main St. E. home is similar in style to adjacent 171 Main St. E. which has heritage designation and is known as the Bon Jasperson house. But a heritage impact report prepared for the company found that "most of the designated elements of the Bon Jasperson Home are interior elements and that proposed development and home are separated by approximately 60 ft." More than 2,000 residents have signed a petition against the zoning change to allow the apartments. LeFave said the heritage committee report to council this week was "just words" about the existing house's significance. "They've never scored the house, they didn't even provide … substantiated any of their comment." He thinks the committee didn't score "because they feel possibly that it may not meet the requirement." Kingsville Mayor Nelson Santos said this week's council vote was "simply to maintain the integrity of our process and procedure" for historically significant properties. He said the demolition request now provides "an opportunity" for the town to decide whether to score the house and possibly designate. Should that happen LeFave said he will appeal to the Local Planning Appeal Tribunal. "We are confident in our position and in our proposal and we will continue to move it forward by any means necessary."
Photo: comfree.com