Windsor Ontario News is Windsor and Essex County's online newspaper
Follow WindsorOntarioNews.com on
Mich gov wants more Can nurses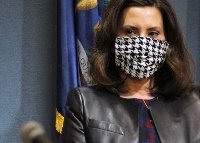 WindsorOntarioNews.com April 1 2020
While the area's medical officer of health and local federal politicians have been lobbying for even tighter border restrictions Michigan's governor Gretchen Whitmer this week signed an executive order which would ease recruitment of more Canadian nurses to work in the severely coronavirus-afflicted state. The order would also ease registration for certified nurse aides and grant renewal of some lapsed health care licenses. All to bolster much-needed medical staff to attend the climbing ranks of the besieged state's coronavirus patients. Up to now Wayne County, which surrounds the City of Detroit, has had the fourth highest number of COVID-19 deaths in the US. As of today, Michigan's COVID-19 cases jumped more than 1700 over the previous day to a total of 9334 and there have been 337 deaths, an addition of 78 over the day before. Hundreds of Canadian health workers cross the bridge and tunnel daily to work in Detroit hospitals. They're considered an essential service and therefore have been allowed to cross. That's despite the border officially being closed as of March 21 to regular traffic to prevent spread of the highly contagious disease. Meanwhile, as of today, there have been 92 Windsor-area cases and the region recorded its first death, a man in his 80s who had recently travelled to Michigan and had underlying health conditions. Medical Officer of Health Dr. Wajid Ahmed said 70 per cent of all area COVID-19 cases are people who have traveled and one-third are health-care workers who are employed in Michigan.
Despite movie listings, Cineplex's Windsor theatres definitely not open
WindsorOntarioNews.com March 24 2020
People who have been huddling in their homes over the past several days to protect their health due to the coronavirus outbreak may have been a little surprised to see that a couple of Windsor movie theatres were still open. As of today, The Windsor Star was still advertising showtimes at Cineplex's Devonshire and Silver City cinemas. This despite the City of Windsor declaring a state of emergency last Friday which effectively shut down Devonshire Mall, where one of the Cineplex theatres is located. Businesses at stand alone "pads" were unaffected by the closures. That could have meant that Silver City, as a stand-alone complex in a south Windsor big box retail site, remained open. But, no, that theatre, as part of the nationwide Cineplex chain, was also closed by the theatre chain March 16. The next day the province imposed a state of emergency and banned operation of public facilities such as theatres, cinemas and concert venues, as well as bars and restaurants. But today in The Windsor Star's entertainment section the movies at those theatres were still being advertised, along with their weekly showtimes for Friday March 20 through Thursday March 26. Cineplex's director of exhibition marketing Avery Ironside was stunned when told of the still running ads. "Our theatres are indeed currently closed due to the coronavirus situation, and no advertising should be running." He suggested the ads kept being placed due to "an automatic feed" that "didn't stop" and they will be "pulled ASAP." On March 16 Cineplex announced the temporary cinema closures through to April 2 when re-openings will be "reassessed." This announcement reflected the rapidly evolving pandemic crisis. Just four days earlier the chain said it was keeping theatres open but "taking all appropriate measures to ensure our venues are safe and that we have existing plans and training protocols in place to ensure they stay that way." This included enhanced cleaning and asking patrons not feeling well to refrain from visiting the cinemas.
As many as 50 new staff to join 150 at city's airport maintenance hangar
WindsorOntarioNews.com March 5 2020
The City of Windsor-owned maintenance hangar at Windsor airport will likely see substantial employment growth over the next year. This comes as the US-based company that does aircraft maintenance there, AAR Aircraft Services, expects to see major new work at its main Canadian maintenance facility in Trois-Rivières, Quebec after completion of Air Canada's merger with charter airline Transat, A. T. The work will be so substantial an overflow amount will come to Windsor, said AAR officials. Brian Loomer, AAR's regional VP and GM, told WON.com, "without doubt it will definitely have a positive impact on Windsor." He said as many as 50 additional full-time jobs would be added to the almost 150 full-timers currently at the hangar, which the city built for $23 million and now leases to AAR. AAR took over maintenance from former tenant Premier Aviation more than two years ago. Air Canada last month announced the new maintenance contract which would see AAR undertake maintenance, repair and overhaul (MRO) airframe work on Air Canada and Transat aircraft. Currently AAR in Windsor does maintenance on Air Canada and Republic Airways aircraft's Airbus and Embraer models. The 144,000 sq. ft. hangar is big enough to fit four Airbus A320s and a couple of smaller Embraer aircraft inside "very comfortably," Loomer said. He added business at the facility has steadily been increasing. AAR recruits staff from Transport Canada-accredited colleges. Saint Clair College in Windsor does not have such accreditation. AAR employs three trades all called Aircraft Maintenance Engineers with designations M for Mechanic, S for Structures and E for Avionics (electronics). The work is mostly heavy maintenance as aircraft go through their life cycles but also lighter modifications. Staff work two shifts seven days a week.
Photo: AAR Aircraft Services
Air Canada axes Windsor-Mtl flight
WindsorOntarioNews.com Feb. 27 2020
Air Canada is axing its direct Windsor to Montreal flight effective June 30. The airline published notices today in both Windsor and Montreal daily newspapers advising of the cancellation. The year round service was operated by Air Canada Express Carrier Jazz Aviation LP. Air Canada media relations said the cancellation was simply because the flight lacked sufficient traffic. "Air Canada cancelled this route due to low demand," the office said in response to a WON.com query. "In fact, passengers prefer our Windsor-Toronto route. We offer customers several flights a day and passengers also have more connection options via Toronto hub." The flight will not affect Windsor airport personnel. "The suspension of this flight did not result in any job losses," the airline's office said. "Airport employees continue to work the Windsor-Toronto flight. But airplane crew will operate out of other centres with the airline saying "they will be redeployed on other itineraries." The flight was served by Dash H turbo prop and small jet aircraft. Lina Williams, spokeswoman for the Windsor Essex Economic Development Corp., said "we don't want to see the reduction of service in the region" and redirected questions to Windsor airport. The flight typically leaves at 11 am and arrives in Montreal at 12.40 pm. The return flight to Windsor is in mid afternoon.
[For more on this story go to the LOCAL TOURIST page]
Company applies for demolition permit to construct controversial Kingsville apartment complex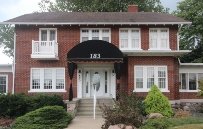 WindsorOntarioNews.com Feb. 13 2020
The developer of a planned controversial residential complex in Kingsville has applied for a demolition permit for 183 Main Street East, an older home that has generated significant community interest by citizens who want to save it. Kingsville council just this week voted unanimously to keep the house on its heritage interest list, not as a designated or registered heritage property as certain media misreported. This means the developer is still free to demolish the property subject to council moving to designate, which would require "scoring" the house for its heritage value and a subsequent council vote. It has 60 days to do this. "We're confused by the heritage committee's recommendation to leave the home on the interest list," Christian LeFave, president of Brotto Family Holdings, told WON.com. "If the home has the historical significance in which they have indicated, the heritage committee should be scoring the home and recommending to council that the home be placed on the designated heritage list therefore designating the home as an historical home." Meanwhile, responding to community concerns about such issues as the height and historical design of the two apartment buildings, the company will be back before the town's planning advisory committee in March with several tweaks to the original design. The buildings will be four floors instead of six and have a "Victorian Style" that replaces a modern look. One concern sparking the overall controversy was that the existing 183 Main St. E. home is similar in style to adjacent 171 Main St. E. which has heritage designation and is known as the Bon Jasperson house. But a heritage impact report prepared for the company found that "most of the designated elements of the Bon Jasperson Home are interior elements and that proposed development and home are separated by approximately 60 ft." More than 2,000 residents have signed a petition against the zoning change to allow the apartments. LeFave said the heritage committee report to council this week was "just words" about the existing house's significance. "They've never scored the house, they didn't even provide … substantiated any of their comment." He thinks the committee didn't score "because they feel possibly that it may not meet the requirement." Kingsville Mayor Nelson Santos said this week's council vote was "simply to maintain the integrity of our process and procedure" for historically significant properties. He said the demolition request now provides "an opportunity" for the town to decide whether to score the house and possibly designate. Should that happen LeFave said he will appeal to the Local Planning Appeal Tribunal. "We are confident in our position and in our proposal and we will continue to move it forward by any means necessary."
Photo: comfree.com ____________________________________________________________________
Windsor Ontario News is back!
Windsor Ontario News is back. After signing-off in November 2018 and taking a well-deserved hiatus – with some thought of closing down the news site entirely due to other commitments – the online newspaper, which specializes in stories or angles to stories much of the rest of the media doesn't do or hasn't taken – has returned. As the days go by WON.com will gradually be revived. There is still much content posted from its previous incarnation. Much of this will be removed and some will be kept if only to link the revived site to its prior life. (Previous stories are separated from current ones by a dividing line.) In any case, WON.com is back. Watch for fresh stories as the days unfold. And follow the site on Twitter and Facebook. – Ron Stang, publisher, Jan 31 2020
_____________________________________________________________________
Canadian input into remake of major Michigan battlefield
WindsorOntarioNews.com Sept. 12 2018
A multimillion-dollar remake of a US historic site across the Detroit River just south of Amherstburg will have Canadian input, and many more Canadian artifacts.
The 10-year expansion of the River Raisin National Battlefield – considered the greatest battle of the War of 1812 – is aimed to increase the site's profile to the level of the Civil War battlefield, Gettysburg.
Windsor has a new retail entranceway - Division Road
WindsorOntarioNews.com July 26 2018
Windsor's Division Road is evolving into a new major retail entranceway.
And it leads to the city's traditional hub of retail, Devonshire Mall.
Several years ago, Rock Developments created Windsor Commons on Sydney Avenue immediately south of Devonshire.
And now the company's latest development is the Shoppes at Union Square, immediately south of Windsor Commons on Division Rd. but tied together through common entrances sand parking lots.
Lawsuits, Customs booths, winner & losers from Gordie Howe bridge announcement
WindsorOntarioNews.com July 9 2018
You know who the group is that was chosen to build the new Gordie Howe International Bridge.
But here are several interesting facts about the new bridge, construction of which is expected to – finally – get underway in early fall.
• The preferred proponent, Bridging North America, seemed to have the best creds for the project, which will be the longest cable-stayed bridge in North America. That's because various companies in the consortium are currently building Montreal's new Champlain Bridge, two bridges in New York State, the Toronto Eglinton Crosstown LRT and a new Montreal rapid transit system. They've also completed work on the eastern span of the San Francisco-Oakland bridge, damaged in an earthquake.
Denied Pelissier garage, fitness studio rebounds spectacularly
WindsorOntarioNews.com May 22 2018
Luis Mendez has bounced back – big time.
The owner of True Fitness, the man who originally wanted to open a fitness studio in what was former retail space in the Pelissier Street parking garage, is doing quite fine – and in a new downtown location – thank you very much.
Mendez had sought to move into the garage space, which was long vacant and which the City of Windsor over the past year finally closed to convert back to its original parking use.
Andy Warhol exhibit coming to Windsor June thru September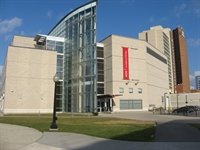 WindsorOntarioNews.com May 14 2018
For the first time Windsor will play host to almost 30 pieces of art by famed pop artist Andy Warhol.
The exhibition runs June 2 – Sept. 30 at the Art Gallery of Windsor.
Art gallery curator Jaclyn Meloche travelled to The Andy Warhol Museum in Pittsburgh to obtain the art, which will be shown at the AGW and no other museums outside of their Pittsburgh home base.
Jewish film festival to expand
WindsorOntarioNews.com May 1 2018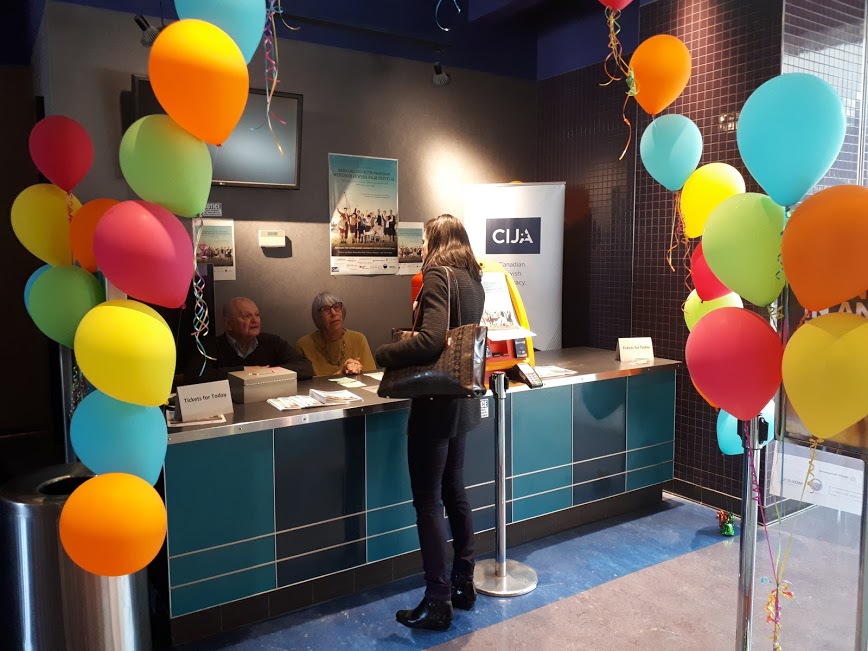 The Windsor Jewish Film Festival will be expanding into the educational realm though details at the moment remain slim.
"Stay turned," Windsor Jewish Community Centre executive director Jay Katz said towards the end of last week's film festival, which drew increased numbers and an increasingly diverse audience.
"We've received some funding for educational programming," Katz said.