Windsor Ontario News is Windsor and Essex County's online newspaper
Follow WindsorOntarioNews.com on
Company applies for demolition permit to construct controversial Kingsville apartment complex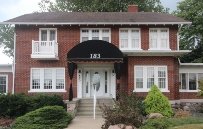 WindsorOntarioNews.com Feb. 13 2020
The developer of a planned controversial residential complex in Kingsville has applied for a demolition permit for 183 Main Street East, an older home that has generated significant community interest by citizens who want to save it. Kingsville council just this week voted unanimously to keep the house on its heritage interest list, not as a designated or registered heritage property as certain media misreported. This means the developer is still free to demolish the property subject to council moving to designate, which would require "scoring" the house for its heritage value and a subsequent council vote. It has 60 days to do this. "We're confused by the heritage committee's recommendation to leave the home on the interest list," Christian LeFave, president of Brotto Family Holdings, told WON.com. "If the home has the historical significance in which they have indicated, the heritage committee should be scoring the home and recommending to council that the home be placed on the designated heritage list therefore designating the home as an historical home." Meanwhile, responding to community concerns about such issues as the height and historical design of the two apartment buildings, the company will be back before the town's planning advisory committee in March with several tweaks to the original design. The buildings will be four floors instead of six and have a "Victorian Style" that replaces a modern look. One concern sparking the overall controversy was that the existing 183 Main St. E. home is similar in style to adjacent 171 Main St. E. which has heritage designation and is known as the Bon Jasperson house. But a heritage impact report prepared for the company found that "most of the designated elements of the Bon Jasperson Home are interior elements and that proposed development and home are separated by approximately 60 ft." More than 2,000 residents have signed a petition against the zoning change to allow the apartments. LeFave said the heritage committee report to council this week was "just words" about the existing house's significance. "They've never scored the house, they didn't even provide … substantiated any of their comment." He thinks the committee didn't score "because they feel possibly that it may not meet the requirement." Kingsville Mayor Nelson Santos said this week's council vote was "simply to maintain the integrity of our process and procedure" for historically significant properties. He said the demolition request now provides "an opportunity" for the town to decide whether to score the house and possibly designate. Should that happen LeFave said he will appeal to the Local Planning Appeal Tribunal. "We are confident in our position and in our proposal and we will continue to move it forward by any means necessary."
Photo: comfree.com ____________________________________________________________________
Windsor Ontario News is back!
Windsor Ontario News is back. After signing-off in November 2018 and taking a well-deserved hiatus – with some thought of closing down the news site entirely due to other commitments – the online newspaper, which specializes in stories or angles to stories much of the rest of the media doesn't do or hasn't taken – has returned. As the days go by WON.com will gradually be revived. There is still much content posted from its previous incarnation. Much of this will be removed and some will be kept if only to link the revived site to its prior life. (Previous stories are separated from current ones by a dividing line.) In any case, WON.com is back. Watch for fresh stories as the days unfold. And follow the site on Twitter and Facebook. – Ron Stang, publisher, Jan 31 2020
_____________________________________________________________________
Canadian input into remake of major Michigan battlefield
WindsorOntarioNews.com Sept. 12 2018
A multimillion-dollar remake of a US historic site across the Detroit River just south of Amherstburg will have Canadian input, and many more Canadian artifacts.
The 10-year expansion of the River Raisin National Battlefield – considered the greatest battle of the War of 1812 – is aimed to increase the site's profile to the level of the Civil War battlefield, Gettysburg.
Windsor has a new retail entranceway - Division Road
WindsorOntarioNews.com July 26 2018
Windsor's Division Road is evolving into a new major retail entranceway.
And it leads to the city's traditional hub of retail, Devonshire Mall.
Several years ago, Rock Developments created Windsor Commons on Sydney Avenue immediately south of Devonshire.
And now the company's latest development is the Shoppes at Union Square, immediately south of Windsor Commons on Division Rd. but tied together through common entrances sand parking lots.
Lawsuits, Customs booths, winner & losers from Gordie Howe bridge announcement
WindsorOntarioNews.com July 9 2018
You know who the group is that was chosen to build the new Gordie Howe International Bridge.
But here are several interesting facts about the new bridge, construction of which is expected to – finally – get underway in early fall.
• The preferred proponent, Bridging North America, seemed to have the best creds for the project, which will be the longest cable-stayed bridge in North America. That's because various companies in the consortium are currently building Montreal's new Champlain Bridge, two bridges in New York State, the Toronto Eglinton Crosstown LRT and a new Montreal rapid transit system. They've also completed work on the eastern span of the San Francisco-Oakland bridge, damaged in an earthquake.
Denied Pelissier garage, fitness studio rebounds spectacularly
WindsorOntarioNews.com May 22 2018
Luis Mendez has bounced back – big time.
The owner of True Fitness, the man who originally wanted to open a fitness studio in what was former retail space in the Pelissier Street parking garage, is doing quite fine – and in a new downtown location – thank you very much.
Mendez had sought to move into the garage space, which was long vacant and which the City of Windsor over the past year finally closed to convert back to its original parking use.
Andy Warhol exhibit coming to Windsor June thru September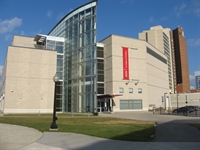 WindsorOntarioNews.com May 14 2018
For the first time Windsor will play host to almost 30 pieces of art by famed pop artist Andy Warhol.
The exhibition runs June 2 – Sept. 30 at the Art Gallery of Windsor.
Art gallery curator Jaclyn Meloche travelled to The Andy Warhol Museum in Pittsburgh to obtain the art, which will be shown at the AGW and no other museums outside of their Pittsburgh home base.
Jewish film festival to expand
WindsorOntarioNews.com May 1 2018
The Windsor Jewish Film Festival will be expanding into the educational realm though details at the moment remain slim.
"Stay turned," Windsor Jewish Community Centre executive director Jay Katz said towards the end of last week's film festival, which drew increased numbers and an increasingly diverse audience.
"We've received some funding for educational programming," Katz said.