Windsor Ontario News is Windsor and Essex County's online newspaper
__________________________________________________________________
Follow WindsorOntarioNews.com on
__________________________________________________________________
Canada still top exporter of trash to Michigan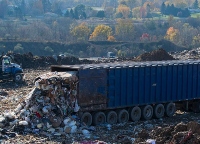 WindsorOntarioNews.com January 10 2022
Toronto may have stopped sending its trash to Michigan landfills more than a decade ago. But Canada is still – by far - the largest source of imported waste to the Wolverine state. "The largest source of waste imports to Michigan continues to be from Canada, with total reported imports to landfills of 9,053,889 cubic yards," says a Michigan environment department report dated last February. That's down five per cent from the year previously. Canadian waste makes up 17.2 per cent of all trash that went to Michigan landfills. "Trucking waste from Canada and neighboring states to Michigan is attractive due to the state's relatively low cost for disposal and excess landfill capacity," the department's Jill Greenberg said. "The state's surcharge – the per-ton amount charged by the state to dispose of trash in Michigan facilities is 36 cents per ton, compared to the Great Lakes states average of $4 per ton." While state environmentalists have railed against out of state trash for years, there is no law against accepting it. Quite the contrary. "The state is obligated to accept out-of-state waste," Greenberg says. "The U.S. Supreme Court ruled in 1982 that states could not prohibit landfills from accepting out-of-state waste." Actually, Canadian waste has increased, despite Toronto's pull out at the end of 2010. In 2020, Canada exported just over 9 million cubic yards (just over 3 million tons). In 2011 it exported 6.9 million cubic yards. The import from other states last year was 3.25 million cubic yards. By far, most Canadian waste goes to dumps in Macomb County (5 million), then Wayne County (3.59 million), St. Clair County (305,196), Presque Isle County (39,480) and Chippewa County (38,983). Of Canadian waste, 8.27 million is of municipal and commercial origin, 164,000 is "general" and 610,000 is construction and demolition. Canadian imported trash figures in a fight between residents in Riverview Michigan as Riverview authorities want to expand their landfill – nicknamed "Mt. Trashmore" - into a neighbouring municipal golf course. About 12 per cent of the landfill's waste in 2020 came from Canada. Local Riverview and Wayne County authorities didn't respond to several requests for comment.
Photo: Waste360 ______________________________________________________________________
West side wildlife overpass: city prefers $15.3 million to $32.6 million construction cost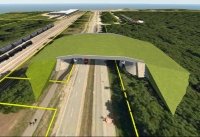 WindsorOntarioNews.com December 17 2021
A special crossing for area wildlife and species-at-risk in West Windsor could cost as much as $15.3 million if it just crosses the four lane Ojibway Parkway. But if it also crossed the neighbouring and parallel Essex Terminal Railway (ETR) it could cost an additional $17.3 million. The idea behind the crossing is "to begin to re-establish an ecological connection between Black Oak Heritage Park and Ojibway Park," says a report to city council. The report says the "preferred solution," at least at present, is to just construct the crossing over the 50-metre wide Parkway in the area just south of Broadway St. "This solution provides the most advantages with the least number of impacts," it says. Some 20,000 vehicles per day use the Parkway. The city says that while the ETR is also a "barrier to connectivity" it doesn't have the same impact as the Parkway. "The highest mortality is on Ojibway Parkway so achieving a crossing over this corridor would greatly minimize the impact to wildlife." The ETR switching yard is 38 metres wide and the railway also owns a 90-metre wide parcel along the ETR's west side. This also is a delicate provincially significant wetland (PSW) and "poses many challenges" for any construction. The report says that "not only would additional studies and monitoring be required to understand this barrier and its potential solution(s) but that this portion would provide limited improvement to the (animal) mortality rate." Moreover, "the additional costs of purchasing the private land parcel and crossing over the ETR would more than double the construction cost." And any overpass over the railway would "have to have a higher clearance" than a road crossing "thereby extending the structure further into the PSW lands." But the land between the Parkway and railway "provides open prairie and savannah habitat and will accommodate the variety of wildlife anticipated."
Image: City of Windsor
______________________________________________________________________
Devonshire Mall transformed with brighter halls, myriad new and expanded stores
WindsorOntarioNews.com Nov 19 2021
Anyone who wants to get an idea of just how much things have changed at Devonshire Mall should check out the new Turbo Espresso Bar. Located at a central location the 3,000 sq. ft. bar sells not just espresso but a bewildering array of coffees. "We have as many different types of coffee in the world you can ever think of," says owner Renaldo Agostino. What's more is it's licensed. This is Turbo's second location, the other being downtown. Agostino is a well known bar and nightclub owner including of Revival and the Boom Boom Room. Agostino jumped at the chance to open a bar at the mall. "We are the first one of its kind," he said. The design by locally based Glos Associates has as a sign of shimmering bright colours and a sleek contemporary interior. Agostino admits he had to "jump a lot of hurdles but we got it done." The bar is indicative of the new look bright and reconfigured mall which seems to have emerged into Devonshire Mall 2.0 following a $70 million overhaul and 18 months of the Covid pandemic. "Windsor is lucky enough to have a mall that's been evolving and continues to evolve," Agostino says. Meanwhile, another new retailer and home grown is Corp4Life, which sells designer gear with military motifs. Former Canadian Forces member Nicholas Stroesser, who did a tour in Afghanistan, had been selling the novel items at a mall kiosk then opened a full store. "It's a patriotic brand that I created back in 2015 just as a way for Canadians to kind of have some pride in their country," he says. "Obviously it's military inspired but we wouldn't exist if it wasn't for just regular everyday people buying our stuff." This is not military surplus and violates no military copyright. "I crossed all my T's and dotted all my I's, I made sure to stay on the good side of everybody," Stroesser said. Ten per cent of sales go to veterans' charities. Has business been good? "Good enough that we can open two stores" the other in London. Meanwhile, those who haven't been in the mall well, since, before the pandemic, will likely be amazed by the transformation - the new stores, the reconfigured and enlargements of existing ones, such as Origins: Global Village and the relocation of stores like Roots. Also, what used to be a hall kiosk is now a full store: Hickory Farms. La Vie en Rose is moving from the back hall to the front hall. The transformation is capped by perhaps the most elaborate and classiest Yule display yet, outside Hudson's Bay Co. where Santa's chair is located, as per the photo above.
______________________________________________________________________
Veteran developer, with $500 mil in Windsor-Essex projects, has never been busier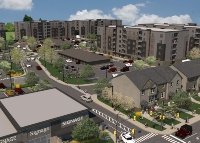 WindsorOntarioNews.com October 31 2021
Veteran local developer Peter Valente has never been busier with five major projects in Windsor-Essex totalling up to $500 million. It's a sign of just how buoyant the housing market has become and how it's not just single-family homes in demand but major high-rise complexes, the likes seldom seen in this area. Valente said that prior to Covid the housing market had been "very robust." But since the pandemic it was like the market "threw gasoline on the fire." His five projects are Gateway Tower costing $25 million, Beachside $200 million, Creekside LaSalle $80 million, Essex Town Centre $100 million and Kingsville Commons $60 million. Beachside in Lakeshore (pictured), being built in part on the old Tecumseh Golf range, features five 58-unit condo buildings, 22 brownstones and a Holiday Inn Express (built by Petretta Construction) and two commercial buildings. Units are both rental and condos. Some are occupied with overall completion in two to three years. Kingsville Commons, next to the high school, hasn't started yet and Valente is deciding whether to launch sales this fall or next spring. There will be two, six storey buildings, 116 units in total. One building features rentals the other ownership. "It's a beautiful location," Valente says. Local empty nesters and retirees from elsewhere are the "target market," he says. Kingsville is attractive because of its vibrant main street with upscale restos, location by Lake Erie and area wineries. Creekside LaSalle, under construction, will see 178 units over three buildings with a focus on retirement rentals. Construction has begun on the first building, right in the town centre next to Zehrs, and the others should be completed by 2024. Essex Town Centre will feature 135 town houses, 90 of which have been sold, located on the north side of Hwy. 3, behind McDonald's, Tim Hortons and Canadian Tire. Valente is targetting the Toronto East Indian population, many in trucking, as more truck terminals open in the area. Valente has also stipulated he wants to make sure people buy to live there not to invest and flip. "They're more committed" to the community, he says. The neighbourhood should be completed in two years. Gateway Tower is a 100 unit building on Tecumseh Rd. E. at Southfield Dr. in Tecumseh. It will partly be affordable housing with federal financing. "We're starting to install drywall" with occupancy next year, Valente says. All these projects are underway despite the construction and supply delays brought on by the pandemic. And there is incredible demand. "The market's hot but we can't build them fact enough, that's the problem," he says.
Image: Valente Homes
______________________________________________________________________
Travellers administer their own PCR tests
WindsorOntarioNews.com October 12 2021
The public has likely come to expect that PCR tests for Covid are carried out by trained professionals, who apply swabs up people's nasal passages. That may be true for tests administered by local health units and hospitals. But it's not the case for travellers undergoing random tests at land borders after entering Canada. These random tests, generated by computer to eliminate bias, order travellers at the Ambassador Bridge or Windsor-Detroit tunnel to detour to a temporary testing facility downtown. That facility is in the city-owned Caron Ave. parking lot at the western end of Chatham and Pitt streets. There, medical staff present travellers with kits to self-administer nasal swabs. These random tests are ordered even though a traveller has already shown a negative Covid result from a PCR test stateside within 72 hours. The random tests are an easing from obligatory tests all travellers had to undergo until a few months ago. "A border testing surveillance program represents a shift away from requiring arrival testing for all travellers arriving in Canada towards a focus on tracking COVID-19 activity and identifying new variants," Public Health Agency of Canada spokesman Alexander Beattie told WON.com. Beattie says travellers subjected to random tests can either do the test themselves on site or at "their final destination," in both cases under eyes of a "trained professional." The reason for the self-administered tests is because not all of the 100-plus border crossings have "specimen collection" facilities. At the sites themselves "Canadian Red Cross staff observe the traveller as they self-swab," Beattie said. The land border tests are different than random tests at airports. Said Beattie, "Currently, in Ontario, only at airports do trained professionals administer swabbing." Beattie didn't indicate how often people are diverted from Canada Customs for random testing. He only said this "surveillance program will ensure that the Government of Canada continues to meet its responsibility for protecting the health of Canadians while minimizing burden on individual travellers and bolstering program sustainability." Failure to comply could result in fines and a 14-day quarantine. ______________________________________________________________________
An "on-demand" transit bus could be - literally - just around the corner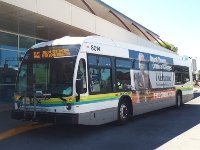 WindsorOntarioNews.com Sept. 23 2021
On-demand transit could be the next big thing in how to get around the city and nearby county. A report by Dillon Consulting recommends various models for the off-the-grid service, which is essentially a cross between grabbing a taxi and taking the bus. On-demand, which is in operation in other Ontario communities, is designed to fill the gaps in transit use. "The key advantage to On Demand is that transit services are offered to lower-demand or under-serviced areas in a flexible, responsive, efficient manner," a Transit Windsor report says. Rather than board a bus at a fixed bus stop a customer can have the vehicle pick them up at an individual address. "Point-to-point" service could be provided on evenings and weekends, for "lower demand neighbourhoods" and in "surrounding rural areas." While personalized service might seem an extravagant cost Transit Windsor says it in fact can "reduce operating costs for the transit agency while offering a high level of service when needed in these areas." Customers could use a phone app or "call in" to request a pick-up. There are three on-demand models. Origin-to-hub provides service from the "nearest fixed route stop" to a "major hub/terminal and fixed route service." Another is origin-to-destination, typically used where there is no fixed route service at all, taking passengers from "any origin with any destination in the service area." A third is flex-route where service is provided on fixed or existing routes but upon passenger request the driver can "'flex' off the route to pre-designated areas to pick up or drop off a passenger." Eligible service areas include Sandwich South, West Windsor, Oldcastle, East Windsor, Devonshire Heights and Walker Farm Industrial Area. On-demand vehicles could be conventional 40 ft. buses, smaller vehicles like augmenting Handi-Transit buses and contracted taxi and ridesharing cars. However, Transit Windsor's contract with its unionized drivers currently prohibits contracting to third parties.
__________________________________________________________________
Mail-in "special" election ballot allows voters simply to write-in candidate's name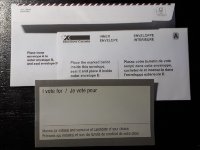 WindsorOntarioNews.com Sept. 10 2021
The write-in ballot is often thought of a way for electors to, well, "write in" whomever they want on an election ballot rather than simply voting for the official candidates named on a list. But for electors who don't want to vote at the polls during this federal election the mail-io ballot sent by Elections Canada is exactly that: a write-in or "special" ballot with no candidate names on it. As shown in the accompanying photo the ballot for mail-in electors is completely blank and voters are asked to write-in "names (or initials) and surname of candidate of your choice." This of course differs from ballots at in-person polling stations which list the candidates running in a riding with voters marking an "x" beside the preferred name and party. So why are mail-in voters treated differently? "That's very simple," Rejean Grenier, Elections Canada spokesman, says. It's because of the additional timeline for mailing and the fact candidates are not initially officially listed. "Basically, what it is, is you can use that ballot anytime from day one after the drop of the writ." But there's isn't a list of candidates at first. "On the first day of the election we don't have the list of candidates," he said. This year the writ was dropped August 15 but candidates didn't have to officially file papers until August 30, 21 days before the election date Sept. 20. "And we have 48 hours to confirm or deny them, so basically you're talking about the second day of September," Grenier said. After that Elections Canada prints the names on the ballots. Grenier said mail-in ballots are more popular this year due to Covid but in the past were mainly used by Canadians living abroad. Mailing them to someone in Europe and then having the ballots mailed back to Canada took some time and therefore there wasn't enough time to wait for the printed name ballots, so the blank or write-in ballot was used. (See also sidebar on mail-in ballots requested locally.)
__________________________________________________________________
The infamous 'Windsor Hum' was the inspiration for newly published novel
WindsorOntarioNews.com August 24 2021
The once mysterious Windsor Hum, which disturbed many Windsorites and people in LaSalle, Tecumseh and environs over almost a decade, is the inspiration for a newly published book by Canadian author Jordan Tannahill. The book, titled The Listeners, was published in England this year where the Ottawa-born Tannahill now lives. It was the source of an imaginative marketing campaign to stir reader interest. The novel is about how a middle aged school teacher, Claire, begins hearing a mysterious, untraceable hum, in the middle of the night. Her life begins unravelling. She thinks she's the only one who hears the noise. (The book is being published this month in Canada.) Claire's health suffers as she develops migraines and nose bleeds. She becomes alienated from friends and family. She eventually finds others who also hear the hum, and they start a support group. But does this descend into a cult or are they a group of paranoid conspiracy theorists? These are among the questions Tannahill plays with in the book. "The Listeners is an electrifying novel that treads the thresholds of faith, conspiracy and mania. Compelling and exhilarating, it forces us to consider how strongly we hold on to what we perceive, and the way different views can tear a family apart," publisher HarperCollins says. The PR campaign posted notices on telephone polls with the slogan Can You Hear The Hum? Passersby were urged to call a phone number to hear alleged symptoms, with some winning a book. But the source of the story is the infamous Windsor Hum. "The first time I became aware of The Hum as a global phenomenon was about seven or eight years ago, when I stumbled upon an online article about the Windsor Hum," Tannahill told WON.com in a written statement. "The hum, which in some cases rattled people's windows and induced symptoms including migraines, insomnia, and nosebleeds, was later traced to a blast furnace in a steel factory on Detroit's Zug Island. I was intrigued by how only certain people could hear the hum, sometimes only a single person in a family, but how it could drive some of those people to abandon." In fact, after US Steel ceased its Zug Island operations last year the hum, which some reported as much a physical sensation as audio, seemingly ended. But for almost a decade the Windsor Hum made for intriguing ongoing local headlines and lore, garnered international news coverage, and even resulted in a federal investigation.
__________________________________________________________________
Museum's gender-neutral washrooms among the first public ones in the city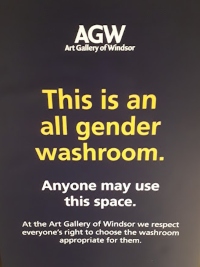 WindsorOmtarioNews.com August 13 2021
The Art Gallery of Windsor may be the first local institution widely open to the public to provide gender-neutral washrooms. The museum re-opened this week after being closed for most of the Covid-19 pandemic. The gender-neutral concept is being adapted by many museums in Canada and the United States. Toronto's Royal Ontario Museum opened theirs as long ago as 2016. The AGW's new director Jennifer Matotek said the museum used Trillium Foundation money for 2SLGBTQI+ community programs. "But now that we're able to reopen we want to make sure that the people that we've been welcoming to our digital programs feel just as welcome in the gallery when they visit." Matotek, who came from the Dunlop Art Gallery in Regina and took over the AGW directorship in April last year, didn't know if the AGW was the first local institution to have all gender washrooms. "I know increasingly with new buildings they're able to do family washrooms and all gender restrooms," she said. "This is just our way of making sure that people know that everyone is welcome to use the restroom." In fact, the University of Windsor also has all gender facilities. At the AGW a sign at the men's and women's washrooms also says, "This is an all-gender washroom. Anyone may use this space … we respect everyone's right to choose the washroom appropriate for them." The signs are directly under others that identify them as Women's or Men's washrooms. On the women's and men's signs it says "everyone who identifies as a woman/man and/or trans' person may use this space." Museums may have taken a lead role in providing gender neutral washrooms. A 2016 publication by the American Alliance of Museums urged museums to adopt such facilities to counter the "overt and subtle signals they might send about the categories in which they place visitors, potentially signaling who is welcome and not welcome." At the Detroit Institute of Arts there is an all-gender restroom on the first floor. Meanwhile, there are no plans to convert washrooms in other city owned buildings to gender-neutral. Noting the AGW is a tenant of the city, Tom Graziano, the city's senior manager of facilities said, "The city is not pursuing a similar initiative for the (Chimczuk) Museum on the first floor of that building, nor any other facilities at this time,"
__________________________________________________________________
880 Ouellette: another downtown office tower slated for residential conversion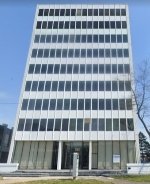 WindsorOntarioNews.com July 29 2021
Yet another former office tower is being converted for residential purposes downtown. This is 880 Ouellette, a sleek nine storey 1960s era building immediately south of the former Windsor Public Library main branch. The building has been unoccupied for some time. The city has approved rezoning and GTA-based owner Hensey Khan says as soon as he receives a building permit construction will begin. Occupancy will follow "within one year." The conversion will join other longtime towers like the Canada Building and Security Building in switching from offices to residential in a wider trend in the city core of commercial to residential conversions. And it's obviously a solution to long dormant buildings that have plagued central Windsor for years. Khan, through his Trent Lakes Developments Inc. and subsidiary Bay 20, purchased the tower two years ago and said the purchase and renos would cost in the "millions." Khan originally purchased 880 Ouellette to continue its use as an office complex. "But then when we spoke to the local councillors we were told what sort of housing shortage there is and based on that we went ahead and changed our plan," he said. Khan anticipates putting commercial space such as a "nice trendy coffee shop" on the main floor and the eight floors above would be residential. He's targetting a younger university crowd and people "who want to live close to the waterfront" as tenants with prices to be "median" for the city. "We're providing a beautiful party hall in the basement as well as a gym," he said. Khan's planner, in a separate report, indicated the city has a 1.8 to 2 per cent rental vacancy rate and the conversion will be a "viable economic driver for downtown Windsor." There is limited parking on site but an agreement was reached with the city taking into consideration the building's tenant market of many non-car users. "We are targeting an audience that will not be relying on parking," Khan said. "Even though we have less parking spots it will really not affect our development." For example, there will be substantial bike parking spaces and storage, perhaps a first for a major Windsor complex. While he did not receive city tax incentives Khan said he is considering them for future projects. "That will encourage us to bring more investment of this sort to the city."
Photo: Google Street View
__________________________________________________________________
City to host Diabetes clothing donation bins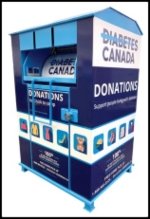 WindsorOntarioNews.com July 9 2021
The City of Windsor is hooking up with Diabetes Canada to collect used clothing as part of a study to see how much "textiles" are diverted form the municipal landfill. In doing this the city is joining several other Ontario municipalities and York University, which is carrying out the study. There will initially be five bins with Diabetes Canada and City of Windsor logos located on municipal properties like community centres, arenas and libraries. The sites still have to be determined. Diabetes Canada has long had a relationship with second-hand goods retailer Value Village, where gently used clothing is sent and resold, sales from which fund Diabetes research and programs such as the D-Camp for kids. While it might seem the public makes great use of donation bins Diabetes Canada says 85 per cent of all "textile waste" ends up in landfills. Locating the bins at higher profile municipal facilities will create "a convenient way to donate clothing." Anne Marie Albidone, the city's environmental services manager, said the beauty of this program is that the amount of diversion can be measured. She called it a "win win" both for the charity and the city as the city constantly seeks new ways to divert waste for recycling purposes from its long term landfill. "We often talk about trying to extend the life of our landfill," she said. "We have a healthy life left on the landfill but surprisingly that can go by pretty quickly." While the city's agreement is with Diabetes Canada Albidone said it doesn't preclude other charities - "if there are charities that could provide us with the same type of data" - from getting involved. Diabetes Canada would handle distribution, collection and bin and grounds maintenance.
__________________________________________________________________
Sculpture to honour CKLW's Rosalie Trombley, "the Girl with the Golden Ears"
WindsorOntarioNews.com June 25 2021
One of Windsor's most famous women, Rosalie Trombley, will be honoured with a sculpture. Trombley was the legendary music director of famed CKLW The Big 8, a giant of the AM pop airwaves in the 1960s and 70s. Trombley was personally responsible for boosting the careers of several seminal musical artists of the period. These included Alice Cooper, Elton John, The Poppy Family, The MC5, Ted Nugent and Earth, Wind and Fire. She would be the first to play their records at The Big 8, a highly influential station with a 50,000-watt transmitter heard over a wide cross section of Ontario and the Midwest US. Once played here other radio stations in North America and the world copied, rocketing the careers of these artists. Michigan rocker Bob Seeger even wrote a song for her, 'Rosalie.' She became known as "the Girl with the Golden Ears". Windsor sculptor Donna Jean Mayne received $2000 from Windsor's 2021 arts grants for preparatory work on a "sculptural tribute" to Trombley. Mayne is also creator of the soon to be unveiled sculpture of Mary Ann Shadd, a Black abolitionist and first woman editor of a Canadian newspaper, installed at the University of Windsor's downtown campus, the old home of The Windsor Star. For Mayne, the Trombley sculpture, called The Golden Ear, furthers her portfolio of portraying famed local women "to rebalance the playing field because women have done so much to contribute" to the area. Besides the Shadd sculpture Mayne is known for her Gift of Water series, mythological type figures. Her work has included educational and sports heroes. Born in Windsor she grew up listening to The Big 8. "Absolutely, that's what we listened to every morning getting ready for school," she says. "That was 'the' station to listen to." She has spoken with Trombley who has endorsed the project. Mayne envisions a life size sculpture of Trombley leaning against The Big 8's famous logo of a monolithic form. "I have her leaning on it and leaving an impression on it so her influence is shown by the impression she's made." The sculpture could also be interactive with viewers scanning something on it that would take them to a sound bite or artist's website. Mayne is currently doing preparatory drawings and a bust and is seeking funds for the commission, perhaps engaging some of the artists whose careers Trombley made.
Image: Donna Jean Mayne
__________________________________________________________________
WIFF riverfront drive-in movie theatre expands and becomes an annual tradition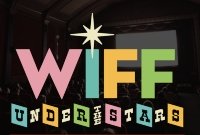 WindsorOntarioNews.com June 11 2021
WIFF Under The Stars, the Windsor International Film Festival's bow to Covid restrictions last year as a way of showing movies in a socially-distanced way, will become an annual event, "Covid or no Covid," festival director Vincent Georgie says. And expect an expansion in this year's program slated for August, from two and a half weeks to a full three weeks. The drive-in, along the riverfront at the city's Festival Plaza, proved a hugely popular event, with almost 100 per cent sell outs and about 7000 people attending. "I want to ballpark it at a solid five more days." Georgie said of the expanded length. WIFF had to pivot last year because Covid restrictions – and the lack of new films in the pipeline – made it impossible to hold the normal annual 10-day festival in the fall. The drive-in was perfect since people could watch movies safely from their cars. "Drive-in was clearly super popular," he said. "People love it." Films were shown not only at night but during the day for families. "Because we invested in doing an LED wall we're able to do daytime screenings," Georgie, who also is the fest's chief programmer, said. "So that really hit the nail on the head for families." He said he's already getting requests from sponsors and community partners of booking entire screenings for things like "staff appreciation." WIFF organizers noticed something different. The market for the drive-in was substantially different for the regular festival, which shows many more foreign and independent films. The drive-in screened popular mass market films from years past. Georgie said about three-quarters of attendees had never gone to the main festival. He said the film selection was in part mandated by technical matters. Foreign films require subtitles and they couldn't be viewed easily from parked cars. And more serious films, like about sex abuse in the Catholic Church (earlier screened at the fest) were downers when "sitting in a car on the Detroit River on a Saturday night." The plaza holds 87 vehicles. The bottom line is WIFF Under The Stars is here to stay, even when the regular festival resumes. "It's very clear to us how much people love drive- in," Georgie said. This week WIFF announced the cancellation – for a second year – of the main festival. Georgie blamed this on the long timeline for booking films and the film world, production-wide, still reeling from the fallout of Covid-19. But he said a "pop-up" type weekend event of a few films later in the year may still be possible. (See WON Arts and Entertainment for more)
Image: WIFF
__________________________________________________________________
Downtown market could go year round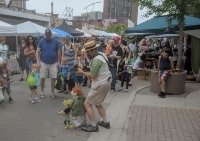 WindsorOntarioNews.com May 28 2021
The Downtown Windsor BIA is exploring the idea of creating a year-round farmer's market. Now in its sixth season the highly popular market draws the public to Pelissier Street Saturdays from 8 am – 1 pm and runs through December. The year-round proposal is in the very early stages. This spring city council added $40,900 to support development of a farmers' market "incubator." Additional money has come from the feds. "This project is a work in progress," BIA executive director Debi Croucher said. "It differs from the seasonal market in that, if we can get it established, it would be a year-round farmers' market incubator. Funding was awarded through the Investment Readiness Program for initial schematic designs and design development along with investors prospectus and marketing/vendor recruitment plan." A year-round market could take several formats. In Ontario, there are several that operate year-round such as St. Lawrence in Toronto, Byward in Ottawa, North Bay and Peterborough. Many markets operate outdoors during the warm weather and move indoors during winter. Croucher said it's "too premature" to discuss future plans right now." But Catherine Clark, executive director of Farmers' Markets Ontario, which has 180 member markets including Windsor's, said markets in North Bay and Peterborough take up winter residence in malls. Clark said the product mix in those markets also differs depending on the season. During shoulder and winter seasons there could be more stored goods like jams and pickles. Or there could be more emphasis on artisans and arts and crafts. Or there could be more re-sellers, vendors who buy fruits and vegetables from another region or country though "there is a produce regulation that all products have to be identified (by) origin." Clark said the Windsor study will help "understand the growing season of their own market and the producers that are available within their catchment area." But, she said, "it's all good news because that market has progressed to be a very good market."
Photo: Downtown Windsor BIA
__________________________________________________________________
Forcing Transit Windsor passengers to wear masks is not a human rights issue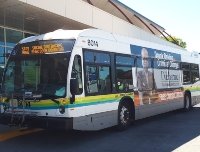 WindsorOntarioNews.com May 11 2021
Transit Windsor drivers will still be permitted to refuse passengers who do not wear masks to protect against Covid-19. The Canada Industrial Relations Board (CIRB) refused to accept Transit Windsor management's argument that refusing such service violated human rights law because the passenger might have a medical condition. The issue arose after two incidents earlier this year where drivers refused work for fear of contracting the disease. Said a city occupational health report, "there was a potential human rights violation present for refusing service to a person with a disability who was not able to wear a face mask or covering." An investigator initially concluded there waa a "serious threat" to drivers. This despite the fact there are provincial exemptions for medical reasons. As well, plexiglass, with small slits for air, almost entirely shields drivers providing "some protection." Nevertheless, the investigator noted that "if a COVID-19 positive passenger should enter the bus and ride the bus for more than 15 minutes without a face mask, the bus operator would be considered a close contact for tracing purposes." And she said that even if the passenger's health was compromised by a mask "the employee has a right to be protected from dangers in the workplace." A protocol was also put in place for how drivers should handle unmasked passengers. The CIRB upheld the initial investigator's decision. It said it was "not convinced that the specific harm to the employer of facing potential complaints regarding the denial of a service in very limited circumstances outweighs the employees' right to a workplace that mitigates all risks related to a known and existing hazard."
__________________________________________________________________
UWindsor law building will see the light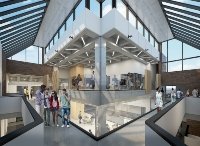 WindsorOntarioNews.com April 27 2021
University of Windsor's law building is undergoing a $35 million renovation that will open up its notorious dark interiors to light, light and more light. Brick surrounding an existing skylight is being torn out to allow more natural light in. As well, myriad interior walls which segregated offices, classrooms and departments are being torn down and opened-up with transparent glass walls and windows. And, for the first time, the "signature" Moot Court – where students simulate trials – will have two large windows looking north and west, according to architect Duncan Higgins of Toronto's Diamond Schmitt. Work began in December and will conclude in early 2023. Students will be using other campus buildings in the meantime. The school celebrated its 50th anniversary in 2020. The building is a well-regarded example of "Brutalist" style architecture, with heavy concrete and brick, almost bunker like, very emblematic of the late 1960s. And it has been loved by students, who along with faculty and staff, were extensively consulted on the project. "Many of the students really loved the building," Higgins said. Inside, a former top level HVAC room is being converted into student offices including for the law journal. Altogether 6500 sq. ft. has been freed up as space is better utilized. Higgins said the various classrooms, offices and the library had been walled off from one another with a dark commons which was the "heart" of the building. Opening up the roof will allow more light to penetrate "deeper," he said. People will now be able to look into the library, classrooms and offices. As well, new lighter-coloured finishes will allow the light to "bounce," illuminating former dark corners. Besides new windows at the existing western entrance which will include a new garden, there will be a northern portal with a copper canopy, making a "reference" to nearby Assumption church. The building's exterior remains largely untouched, respecting the original iconic design. "We wanted to make architectural interventions to the building which did not reduce or remove any of the character," the architect said. The "Windsor Blend" brick also "has held up beautifully," he said.
Photo: Diamond Schmitt
__________________________________________________________________
First new residential tower in four decades slated for the heart of downtown Windsor
WindsorOntarioNews.com April 11 2021
Windsor's downtown will likely have its first new residential tower in more than four decades when a 17-storey building at 600 Ouellette is completed in the next three to four years. The tower will encompass the current Shoppers Drug Mart at the corner of Ouellette and Wyandotte and the parking area behind the pharmacy and include more retail as well as five levels of parking. Twelve additional stories will be devoted to condos. The last time such a residential tower was built was in 1979 when the 31-storey Victoria Park Place – the city's tallest building - was completed. Other major downtown towers are the two Caesars Windsor hotel towers at 27 and 21 storeys and Best Western Plus at 21 storeys. One Riverside Drive, which houses Stellantis Canada (former FCA) is 14 storeys. The 600 Ouellette tower will feature 119 residential units. It's being developed by Javed Ali, a Mississauga realtor and principal with the Inspiration Group of Companies. The project is going through city hall's site plan approval process. "I'm not sure when it's going to begin because we were just supposed to be getting the site plan approval hopefully this month or coming month, so then we have to go through the building permit drawings and then submit for the building permit so it's going to take a few years," Ali said. Ali has some knowledge of the city's real estate market having lived here for a year in 2000. "I think there is a huge demand actually for the units as the Windsor market is growing quite a bit," he said. The overall project is estimated to cost $35-$40 million. Ali said residential unit prices haven't been set yet pending his company's financial plan. Units would go on sale prior to completion. Ali said construction would take 24 to 30 months. The tower will be a further shot in the arm along with smaller multi-unit buildings or conversions in and around downtown, hopefully fueling both a residential and commercial core renaissance.
__________________________________________________________________
Province to complete Hwy. 3 widening; Hwy. 401 Tilbury to London will expand to six-lanes with a concrete median barrier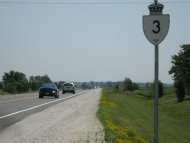 WindsorOntarioNews.com March 26 2021
Highway 3, the accident-prone highway between Windsor and Leamington, will finally have its twinning completed between the Town of Essex and Leamington, as a result of a provincial budget announcement this week. The province committed $21 billion over 10 years to several projects including three major ones – Hwy.3, Hwy. 401 between Tilbury and London and a section of Hwy. 400. MTO spokesman Michael O'Morrow said Hwy. 3 "is a priority for this government." Work will begin widening the highway, scene of numerous crashes and fatalities over the years on the busy commuter route, from two lanes to four from Essex to Leamington. That section from Essex to Windsor is already four lanes. "We remain committed to improving road safety and making life easier for families and businesses by delivering on transportation projects in every corner of the province," O'Morrow told WON.com. Construction has already begun on the first contract through the Town of Essex awarded to Windsor's Coco Paving. The ministry is "currently completing preliminary design work for the second contract," to widen Highway 3 from Essex Rd. 23 easterly to east of Essex Rd. 34 at Leamington, the official said. Finally, an additional contract to resurface six kilometres of Hwy. 3 from Essex Rd. 34 to Hwy. 77 in Leamington was also awarded to Coco. Work will begin this spring. Meanwhile, motorists will eventually be able to drive essentially all the way to Toronto on a six-lane Hwy. 401. The province announced the widening between Tilbury and London. From London east Hwy. 401 is already six lanes. And Hwy. 401 was widened to six lanes in Essex County to connect to the new Gordie Howe International Bridge over the past decade. O'Morrow said work will also see a new storm sewer drainage system and a long-awaited concrete median barrier. Activists have lobbied intensively for such a barrier in the wake of disastrous accidents in the corridor dubbed "carnage alley." The first contract to widen 11 km of the 401 from Essex Rd. 42 to Merlin Rd. in Chatham-Kent is currently under construction with completion likely Fall 2022. "We have installed a high-tension median cable barrier between Tilbury in Chatham-Kent and Highway 4 in London to reduce the potential for median crossover collisions until this section of Highway 401 is widened and a concrete median barrier is installed," O'Morrow said.
________________________________________________________________--
Utility pays penalty after uniquely self-reporting disconnection notice error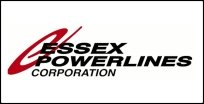 WindsorOntarioNews.com March 17 2021
Essex Power Lines (EPL), which supplies power to several county municipalities, has been penalized $18,000 and will pay $4,750 to help low-income customers as a result of a disconnection notice error. Between August 1 and Sept. 17 last year the company sent 2,349 notices to customers. It disconnected 95 of those customers, 69 of whom were charged a reconnection fee. The company violated the Ontario Energy Board's Distribution System Code (DSC) which requires a minimum of 14 days notice prior to disconnection. But the notices were based on an "incorrect calculation" of the earliest disconnection date "and, as a result, these customers were not given proper notice," says the OEB in a release. Moreover, of the 2,349 notices 1,364 provided the incorrect payment amount by including water and sewer arrears. "The OEB does not allow distributors to disconnect a customer's electricity service for non-payment of charges that do not relate to electricity." In the decision, the OEB said that the 69 customers who had service reconnected paid $73.45 to reconnect. Last September EPL voluntarily reported these infractions to the OEB. Since then it has "completed an internal review and taken corrective measures" to address the "root cause" of what happened, says the OEB. It has also reconnected the disconnected customers and suspended further disconnections. The 95 customers will also receive a $100 credit on their next bill. ELP is also paying a penalty of $18,000 to the OEB even though this was a "voluntary compliance" agreement. And it will contribute $4750 to the Low-Energy Assistance Program (LEAP) which aids low-income customers and is administered by the Housing Information Services and Unemployed Help Centre. EPL general manager Joe Barile said the error was that EPL did not provide "an additional five days notice to be added to the 14 (days) notice in order to account for the mailing of the notice." He said "numerous" other utilities including local EnWin and ELK have faced penalties "for the identical underlying reasons." But Barile said EPL is "the only LDC (Local Distribution Company) to date to self-report the issues it discovered" to the OEB. Indeed, that was acknowledged by the regulator. "We commend Essex Powerlines for coming forward in reporting their non-compliance," Brian Hewson, Vice-President, Consumer Protection & Industry Performance, said. EPL provides power to Amherstburg, LaSalle, Leamington and Tecumseh.
__________________________________________________________________
City to exceed "carbon budget" by 2025
WindsorOntarioiNews.com March 2 2021
Windsor is in place to exceed its "carbon budget" by 2025 given current projections for greenhouse gas emissions, a report to the Windsor Essex County Environment Committee says. Cities around the world have adopted the so-called carbon budgets in keeping with commitments to the 2016 Paris Agreement on limiting global temperatures to 1.5 degrees Celsius above pre-industrial levels or from 1870. Otherwise, society is on course to experience a "climate breakdown," with serious implications for the world's weather, according to the report. Karina Richters, the city's supervisor of environmental sustainability and climate change, told the committee that Windsor must reduce its carbon emissions to 3.2 tonnes per person by 2030 and to net zero by 2050. The city's current emissions are 9 tonnes per capita. "Therefore, we have ten years to get from 9 tonnes down to 3.2 tonnes," she said. But apparently the picture is more dire. Under "current forecasted project lines" the city "will exceed our 2030 carbon budget by 2025 ….. and our 2050 carbon budget by 2029." The brief report is contained in the committee's minutes, which is on City Council's next agenda. The data is based on the fact that since 1870, global anthropogenic emissions have totaled about 2100 Gigatonnes. To adhere to the 1.5C maximum the total can only be 2500 gigatonnes "leaving 400 Gtonnes as a global carbon budget." Richters pointed to what the City of Edmonton, considered a Canadian model, is doing to reduce emissions. It plans "bold initiatives that look at electrification of all transit within the next ten years." Yuill Herbert of Sustainability Solutions Group, which is advising that city, said other Canadian cities "must follow Edmonton's lead and adopt a city plan with a carbon budget." Writing last September in Canada's National Observer, he said, "Investments in climate-friendly infrastructure, including public transit and green space, and low-carbon industries, such as green construction and renewable energy, can create tens of thousands of jobs." The Windsor committee's minutes do not include recommendations but committee members asked for regular updates. Meanwhile Edmonton "envisions" 15-minute communities where residents "can reach all their basic needs" in a 15-minute walk or bike ride, that "climate" be considered in planning and the city's plan "will create a policy framework" to support low-carbon measures. Windsor already subjects planning and policy issues to a climate change analysis among impacts such as those on traffic, police and fire.
__________________________________________________________________
Windsor-Essex would face impact if Enbridge Line 5 closes – MacKenzie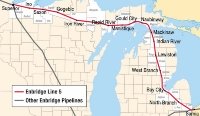 WindsorOntarioNews.com February 16 2021
A coalition is coming together to fight the closure of Line 5, which would have significant impact on energy supplies in southwestern Ontario including Windsor-Essex. "The Windsor-Essex region will be impacted," Stephen MacKenzie, CEO of WindsorEssex Economic Development Corp., told WON.com. "It is a critical piece of North American energy infrastructure that benefits both Canada and the U.S," he said. "We can't afford to have our regional fuel supply at risk." An example is the region's high value agricultural industry. "Our agriculture sector relies on Line 5 for propane to fuel grain drying, to power irrigation systems, and for HVAC systems to maintain perishable crops and to maintain livestock facilities," MacKenzie said. The State of Michigan is seeking to end the easement for the 65-year-old line on the Straits of Michigan (about 4.5 miles long and under the MacKinac Bridge linking Lake Superior and Lake Huron) because of environmental concerns. The line is run by Canadian firm Enbridge. The line supplies 53 per cent of Ontario's crude oil as well as Sarnia's massive petrochemical complex. Products include gasoline, diesel and jet fuel. The line also supplies oil and propane to Michigan – 65 per cent of propane to heat Northern Peninsula homes - and other states. The state accuses Enbridge of not maintaining the line despite there having been no leaks from it. "Most importantly, Enbridge has imposed on the people of Michigan an unacceptable risk of a catastrophic oil spill in the Great Lakes that could devastate our economy and way of life," Gov. Gretchen Whitmer said. Enbridge is defying the order, which would take effect in May. It told Whitmer the order "ignores scientific evidence and is based on inaccurate and outdated information." It is also going forward with a court challenge. "Enbridge is challenging the notice in Federal Court," Enbridge spokesman Ryan Duffy told WON.com. Meanwhile, Enbridge plans to build a tunnel under the Straits for an entirely new pipeline. Whitmer's office did not respond to requests for comment as to whether it supports the tunnel. Some permits have already been received. "We are prepared to invest more than $500 million into the State of Michigan's economy to ensure a secure supply of energy in the region, while reducing environmental risks to the Straits to virtually zero," Duffy said. Said WEEDC's MacKenzie, "We would definitely support an enhanced project that would further protect the environment while supporting the strength of our economies." The campaign to support Line 5 has dozens of powerful backers in the public and private sectors and placed a full-page ad in the Jan. 30 edition of The Globe and Mail.
__________________________________________________________________
Even with vaccine, don't expect mask-wearing and social distancing to disappear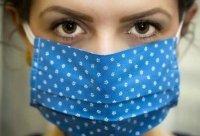 WindsorOntarioNews.com January 27 2021
Even once a significant amount of the population has received two doses of the Coronavirus vaccine, you probably won't be able to resume your pre-Covid life for some time. Experts say that mask-wearing and social distancing, for example, will have to continue until it's known how well a vaccinated population prevents continued spread of the disease. Vaccines continue to be rolled out and Prime Minister Justin Trudeau has said that all Canadians who want to be vaccinated will be by September. But public health measures will likely continue. "It is still not known if the Covid-19 vaccines are effective at stopping non-symptomatic Covid-19 infections," Alison Thompson, Associate Professor of Pharmaceutical Services, Dalla Lana School of Public Health, University of Toronto, told WON.com. "This was not studied in the clinical trials, which only looked at whether they reduce symptom severity and death. Intra-muscular administration of vaccines for respiratory illnesses are not terribly effective at eradicating the virus in the nasal passages." Thompson said until more is known following both injections, "people really do need to observe all the hand, cough, sneeze hygiene, masking and social distancing. People need both shots to get the maximum immunity possible, but even then they could still transmit the virus unknowingly." Thompson said the vaccines should be regarded not "as a virus containment strategy" but "as an intervention aimed at the individual patient." Charles Weijer, a bioethicist at Western University, said, "Unfortunately, I don't think we will be taking off our masks anytime soon." Weijer said scientists don't know if vaccines "prevent asymptomatic infection" though future study "will give us the answer." Currie Soulliere, with Questioning Covid in Windsor-Essex, a group that has been protesting mask wearing and other Covid public health measures, said mandating continued mask wearing even after vaccinations just continues to move the goal posts. "At first they were saying, 'Oh well this is until we get a vaccine and once we have a vaccine we can go back to normal," she said. Currie, aware of the asymptomatic spread argument, said these provisions are "nebulous because they're not explaining the exact science." But she said people are so conditioned by the "oppressive" protocols they probably will still comply. "If we're still expected to obey all these mandates it was a trick the whole time and it makes it very clear that this is pure authoritarian control." Soulliere said more people may rebel but she doesn't think there would be mass opposition until there is something akin to economic collapse because of all the forced business closures. "Then people will be like 'Oh I'm really angry now and I'm not going to obey anymore because I have nothing left.'"
_________________________________________________________________
City to expand public EV charging stations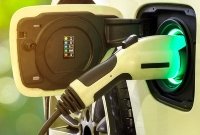 WindsorOntarioNews.com January 13 2021
The City of Windsor is expanding the number of electric vehicle (EV) plug-in charging stations at city-owned sites. In a report to city council city administration says new locations will be the Pelissier Street parking garage (4 connections), the WFCU Centre (4), Capri Pizzeria Recreation Complex (2), Dieppe Gardens (2), Via Italia public parking (2), Riverfront Festival Plaza (2), Walkerville public parking (2), City Hall Square (2) and Mic Mac Park (2). Also, a station will be located at the new Assumption Park Celestial Beacon site housing the antique former city streetcar number 251, part of a one-time electric transportation fleet more than a century old. That's symbolic because Windsor was the first city in Canada to run an electric streetcar. There is currently only one city-owned plug-in station at the Windsor International Aquatic and Training Centre. Funding for the new stations will be from the federal Zero Emission Vehicle Infrastructure Program (ZEVIP). Just like the current station the new ones will be free for public use with "the option to charge for use later," a report says. In June 2019, there were 125 battery electric vehicles and 254 plug-in hybrid vehicles registered in the city. Besides these 10 stations the city has identified 15 additional sites "and continues to monitor potential grant funding." The city also has seven charging stations on its own properties such as at fleet yards. It's awaiting a federal grant to install an additional 10 dual-port (or 20 stations) for its own vehicle fleet.
__________________________________________________________________
Four local public officials overseeing Covid restrictions earn more than $1 million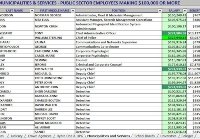 WindsorOntarioNews.com December 22 2020
Ontario enters a province-wide lockdown Dec. 26, one Windsor-Essex and some other major provincial urban areas are already in. This will or has forced the closure or partial shutdown of innumerable businesses, resulting in tens of thousands of lost jobs, layoffs and declining income for a sector of the economy that has been the hardest hit by ensuing cycles of government-ordered restrictions and closures since the Covid-19 pandemic hit last winter. While the private sector has been ravaged those making the decisions to regulate or lockdown the economy – politicians and government bureaucrats as well as highly paid government employees – continue to receive handsome salaries and in most cases long-term job security. WON.com looked at some of the top high-profile lawmakers and provincial and regional bureaucrats' pay rates, as disclosed in the 2019 Sunshine List, which reveals salaries of all provincial employees making more than $100,000 a year. Let's start at the top. Premier Doug Ford's salary is $208,974. Dr. David Williams, Ontario's Chief Medical Officer of Health, is paid $413,776. Dr. Barbara Yaffe, Assistant Chief Medical Officer of Health, earns $241,180. The Ministry of Health and Long Term Care has 860 staff paid over $100,000 for a total of $102,184,532.00. Moving to the local level, the Mayor of Windsor, Drew Dilkens, is paid $198,559. The Chief Medical Officer of Health, Dr. Wajid Ahmed, is paid $271,878. The health unit's Chief Executive Officer Theresa Marentette earns $202,353.89. Twenty-one Windsor Essex County Health Unit employees made more than $100,000 last year for a total of $2,727,961.02. Meanwhile, David Musyj, Windsor Regional Hospital's CEO - and who for some time has been the top local public sector earner – was paid $418,119.55. Altogether, 323 WRH employees were paid more than $100,000, for a total of $37,634,569.97. __________________________________________________________________
Bridge rebuts city's anti-Hazmat stance
WindsorOntarioNews.com December 10 2020
The City of Windsor including the Windsor fire department have been steadfast - for years – in their opposition to the Ambassador Bridge increasing the types of hazardous goods allowed to be transported across the bridge. The latest objections took place this fall with council (see sidebar) endorsing a Detroit City Council draft resolution based on a "false premise" and later withdrawn, the bridge company says. And there were also statements by Windsor's Chief Fire Prevention Officer John Lee. The bridge is seeking approval from the State of Michigan to add to hazmat categories – flammable liquids and corrosives – to those already allowed on the bridge (see sidebar). Its proposal has wide backing from Michigan political figures who see it as less risky than the goods being transported on public highways from Sarnia-Port Huron's Blue Water Bridge. Over the past 10 years there have been 29 incidents where Hazmat has been spilled onto I-94 after leaving that bridge. Lee had told AM800 News last month that despite three pipe risers on the bridge where water can be pumped these don't provide "full coverage" nor is water flow "permanent." He said there is also no chemical spill containment system. And emergency crews "wouldn't know what the chemical is" hampering mitigation and evacuation measures. But bridge spokeswoman Esther Jentzen, in a letter to AM800, rebutted these statements. She said Lee himself had acknowledged in a letter July 8 2020 the risers are located "in close proximity" to a fire hydrant "with gate access to the river." She said "full coverage" is in fact possible as water can be brought to the bridge's midpoint, where it would meet Detroit Fire Dept. coverage. The bridge has also submitted detailed plans for containment. As for not knowing the nature of chemicals spilled – "that is not true," Jantzen wrote. The proposal would include prior communication between the hazmat hauler and bridge command center. As well, the nature of the chemical must be included on vehicle placards. There would also be an escort vehicle accompanying the hazmat. WON.com reached out to Windsor Fire's John Lee for comment but did not receive a response.
__________________________________________________________________
Francophone community redeveloping dormant downtown building as hub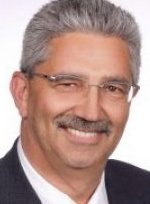 WindsorOntarioNews.com November 27 2020
Downtown Windsor will get a boost when the region's main French community organization moves into a vacant building just south of Wyandotte Street. The Carrefour Communautaire Francohone (CCF) (Francophone Community Hub) expects to start occupying the former Downtown Windsor Accelerator building at 720 Ouellette next month, with further move-ins taking place in 2021. That will bring at least 50 employees into the one-time Classic Bingo hall at the corner of Ouellette and Tuscarora. "It's hard to really put a number on it in terms of quantifying what impact it will have downtown," Directeur General Didier Marotte (photo) says. But the programming, including a youth centre, immigrant resettlement programs and affiliated francophone groups "certainly will bring in hundreds of people on a yearly basis," he said. The building had been vacant since the Accelerator moved to new figs on Howard Ave. three years ago. The $400,000 in renovations (carried out by Tci Titan Contracting with architect Passa Associates Architects) will see major building upgrades plus the creation of new offices and meeting areas as well as a gym for youth. The Accelerator had only occupied part of the building, the Carrefour and another francophone group are taking all of it. Marotte said funding is coming from the federal immigration ministry and the Ontario Trillium Foundation as well as the organization's own reserve fund. The Carrefour up to now has been located on Walker Rd. with a youth immigrant orientation centre at Church St. and Tecumseh Rd. W. It left its home on Forest Glade Dr. in the Place Concorde building (now Collège Boréal) several years ago. For the new site there will also be a new entranceway and some exterior cosmetic changes with black, gray and green colours. "The building was neglected and needed some serious upgrading – heating and cooling and a new roof," Marotte says. The rear parking lot was also repaved. The Carrefour currently operates out of two locations and Marotte said the non-profit "decided it would be best" to relocate to the larger site downtown. The substantial building, besides attracting hundreds of people to downtown, will now be "clean and modern looking," he said.
Photo: CCF
Think tank questions local hospital's operation of Tim Hortons outlets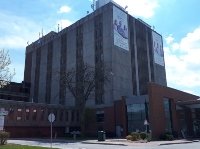 WindsorOntarioNews.com November 9 2020
A public policy research organization says Windsor Regional Hospital (WRH) should close one of its Tim Hortons outlets and keep the other., In articles in the Financial Post and Toronto Sun SecondStreet.org president Colin Craig said that in the 2017-18 and 2018-19 fiscal years the hospital lost $74,775 at its Met campus (photo) outlet and made $111,508 at its Ouellette campus outlet - "which begs the question: why not cut your losses and shut down the one that's losing money?" The study was part of a vast Freedom of Information (FOI) request examining how hospitals across Canada run food services. The organization says it found "dozens of facilities that lost money — more than $12 million in losses over a two-year period." It says the money could have been better spent on medical services. "For perspective, $12 million is roughly equivalent to the cost of providing MRI scans to an NHL arena full of people," said Craig. He noted, however, that WRH made "some progress" from a previous examination. The organization concludes there are two reasons for hospital food service underperformance. One is "overly generous" government wage structures, the other that governments are involved in "countless services" and "they cannot devote the time and energy needed to be experts in each area." WRH pays $16.45 hourly to its Tim Hortons employees, spokesman Steve Erwin told WON.com. According to Indeed.com Tim Hortons general employee pay "ranges from approximately $12.25 per hour for Junior Baker to $22.29 per hour for Food and Beverage Manager." But in a letter to the Toronto Sun in response to Craig's article, WRH CEO David Musyj called the think tank's research "faulty" leading to "inaccurate statements likely meant to fulfil a specific ideological objective or agenda." (SecondStreet.org says its mission is "telling the stories of Canadians from all walks of life and how they're affected – for better or worse – by government decisions.") In fact, Musyj said, the combined WRH Tims' outlets earned a net profit of $13,571 in 2017-18 and $23,162 in 2018-19. Musyj also said the hospital makes a "small profit" from outsourcing other food services. These are Subway, Daily Grill and Armandos which had a combined two year profit of $90,432, according to the FOI document.
CSIS warning local firm against "threats" from "foreign actors"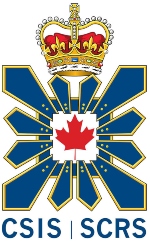 WindsorOntarioNews.com October 27 2020
Companies manufacturing products to respond to the Covid-19 crisis, including in Windsor-Essex, have been advised to be on the lookout for "threats" by "foreign actors" and others who would undermine Canadian industrial sovereignty. A bulletin from the Canadian Security Intelligence Service (CSIS) has alerted at least one local manufacturer of the many concerns that their business may be the target of spying and intellectual theft. Follow up visits from CSIS staff have even cautioned that companies keep a low profile and ensure their premises are secure. "They came down and visited us," said the businessman who has answered RFQ (Request for Quotations) for federal PPE (personal protective equipment) contracts. "They basically said keep your facility closed, monitor everything, if anything seems odd or anything, contact us." This includes even "to watch garbage (and) people going through it." The written advisory, in the form of a pamphlet, uses terms like "foreign actors," "state actors" and "espionage" that may make companies vulnerable. It warns "some foreign actors may seek to advance their own interests at Canada's expense." CSIS, Canada's spy agency, breaks down the risk into four categories – imports and exports, licences, investments, and knowledge. "Threat actors may try all four gates," it says. "But only need one to cause harm." Under Investments it warns that companies "developing vaccines and new technologies or those holding significant amounts of health data, are at elevated risk." Under Knowledge it says that Covid-19 only increases the risk by "threat actors" of illegally obtaining "proprietary knowledge and sensitive data." And it implores business to report concerns. Said the local businessman, who wished not to be identified, "They basically warned us about any sort of intellectual property that we have with the equipment to keep it real quiet." CSIS did not respond to a request for comment.
Proposal for the Ambassador Bridge to carry Hazmat again raises its head
WindsorOntarioNews.com October 16 2020
A group of Michigan politicians is pressing the state governor to allow hazardous goods to be transported across the Ambassador bridge. Wayne County Sherriff Benny Napoleon, in an opinion piece in The Detroit News, says he and "other elected officials" have written Gov. Gretchen Whitmer "to reverse the current ban on certain hazardous, yet necessary, materials like gasoline crossing the Ambassador Bridge." Their argument is that it's safer for the wider Detroit population. Thousands of trucks every year drive through "densely populated neighborhoods" en route to Sarnia-Port Huron's Blue Water Bridge, where Hazmat is allowed, says Napoleon. But since 2011 there have been 29 accidents involving such trucks on the "unnecessary 50-mile route." Napoleon says "the math is pretty simple: the more time and miles these materials travel on Michigan roads, the higher the risk of an accident." He says even Michigan's transportation department concluded in a "comprehensive study" in 2012 that certain non-radioactive material could be "safely transported" across the Ambassador "just as they have been transported across the Blue Water Bridge without serious incident for 60 years." Napoleon says the cargo could be accompanied by "protective escort vehicles." Proposals for the bridge to handle Hazmat have come up in the past and have been roundly opposed by Windsor officials. The same is true here. "We're opposed to transport of hazardous goods over the Ambassador Bridge," Windsor Fire Chief Stephen Laforet said. He said "if there was a spill there's no active containment measures that we're aware of." Also, the mishap would occur in proximity to the university and residential areas "so where would the products go if there was a spill?" Laforet said "tremendous heat" could be generated and damage the bridge structure. Gregg Ward, who operates the Windsor-Detroit truck ferry which specializes in hazardous cargo, said to change the Hazmat route restrictions, the bridge "needs to follow the established federal guidelines which include independent risk assessments, consultation with governments and the public on both sides of the bridge, and more. Anything less is not acceptable."
"Rash of vandalism" afflicts public art
WindsorOntarioNews.com October 1 2020
There has been a "rash of vandalism" in Windsor's renowned riverside Sculpture Garden and elswehere, resulting in the city's first ever insurance claim for public art. According to a city council committee report, while the public generally has been "very respectful" of the city's more than 100 pieces of sculptures, monuments and memorials, "Unfortunately in the second quarter of 2020" vandals struck. On March 3 city staff noticed the tail removed from the horse of the bronze sculpture of artist William McElchran's Business Man on a Horse. The sculpture has been removed from the park and a cast of a new tail from a replica statue will be re-attached. Less than week later staff saw that the head of the sculpture Tiger by Louis Odette, a "one of a kind piece," had also been removed. It can't be repaired so the round sculpture will be de-accessioned, or removed, from the city's art collection. Also, during the spring three bronze plates were removed "by persons unknown." Again, the insurance company was contacted - police reports have also been filed - and replacements ordered costing $2300 plus tax. Finally, the Windsor125 mural (photo above) – by artist Christy Litster celebrating the city's 125th birthday and installed on July 1, 2017 - on a transformer encasement wall located between the downtown aquatic centre and Windsor art gallery - "was vandalized with two panels of the mural being removed. The cost to recut, print and install the missing pieces is $750 plus tax. As these amounts are less than the insurance deductible of $5000 the city will eat the cost. The panels have been ordered and should be re-installed this year. While other vandalized works are being repaired the sculpture Tiger - built with the body of a steel marine ball and painted to represent a tiger with two bronze feet and head - cannot be repaired and the metal will be sold for scrap.
Photo: City of Windsor
Covid doesn't slow Assumption renos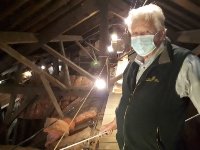 WindsorOntarioNews.com Sept. 20 2020
Renovations at Windsor's venerable Assumption Church have continued throughout the pandemic as work on the 175-year-old building continues into the second stage. The first stage saw exterior work with the roof replaced, asbestos removal and a new heating system. This stage is seeing plaster and painting repairs. There are three interior sections. One is where current work is underway – the east wall and ceiling. The second and third will be the west wall and centre aisle. The east wall is now shrouded in mammoth white plastic. Some pews have been removed and a priceless pulpit has been wrapped for protection. A several level scaffold is within the plastic wrap from floor to ceiling. The contactor is Windsor's Pupatello & Sons Ltd. Work on the walls and ceilings are approached from underneath the ceiling and above it from the attic. Precarious catwalks and single boards with a rope as a handrail take workers over the numerous vaulted ceilings. There, insulation is removed and decayed plaster is sucked-up by industrial vacuums. These expose the lathes attached to the joists. An epoxy like liquid is then sprayed on the lathes, with a worker below the ceiling wiping away any that seeps through. This will make the plaster adhere for the future. In between the vaulted ceilings, in the attic, are deep crevices – black holes descending dozens of feet and from where rubble must also be cleared. Paul Mullins (photo above), the area lawyer donating his time to oversee the restoration and multi-year fundraising effort – which will eventually cost up to $20 million – expects the east wall work to be completed by year end. Each of the three sections will cost $1.25 million and there are funds enough to pay for the current work and start on the next phase. "Its all dependent on funding," he said. While some big donors have come on board of late he's seeking others. "We had a million dollars from the diocese and we've got half a million dollars from the Toldo Foundation and we're hoping for some other contributions in that same range. I'm working on it," he smiled. As well, he hopes the federal government will provide aid from Covid-19 stimulus funding. Donations can be made through the church's website and through Canada Helps. The church has a flexible agreement with the contractor so that work is scheduled only when funds are available. After interior work is completed exterior masonry, a sacristy rebuild and restoration of stained glass windows will be done. The church hopes the work will wrap before 2028, the tricentennial of the founding of the parish as a Jesuit mission for Huron Indians.
Local health unit named in first major Covid-19 lawsuit against various governments and health authorities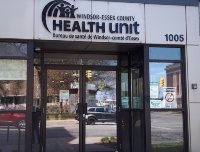 WindsorOntarioNews.com Sept. 2 2020
The Windsor-Essex County Heath Unit is one of only two regional health units named in a lawsuit brought against several Canadian authorities over their handling of the Covid-19 pandemic. The other health unit is Wellington-Dufferin Guelph Public Health. Why Windsor-Essex? "Because, at the time of the issuing of the statement of claim, they were the only two jurisdictions that had imposed a masking ordinance through their public health officer," Toronto lawyer Rocco Galati, who brought the suit, told WON.com. The local health unit issued its masking order June 18. The lawsuit also names the Prime Minister of Canada, Ontario Premier and individual health officials starting with Dr. Theresa Tam, Canada's Chief Public Health Officer and Dr. David Williams, Ontario's top health chief. The claim, filed with the Ontario Superior Court of Justice, accuses authorities of violating various principles of law and Charter of Rights in enacting wide measures during the continuing coronavirus lockdown. These include mandating the wearing of masks, social distancing rules, self-isolation and the "arbitrary and unjustified closure of businesses," the closure of schools, parks and playgrounds. Also affected have been access to medical and dental facilities, and aid for special needs children, as well as places of worship, which were ordered closed. The suit claims the lockdown provisions were not scientifically of medically proven, "pose physical and psychological harm" and are "extreme, unwarranted and unjustified." The suit seeks $1 million in general damages and $10 million in punitive damages. There are several plaintiffs including a child mental health therapist who has had her work cut in half, and restrictions "have made it impossible to find childcare" for her four children. Another plaintiff is someone who refused to wear a face mask and challenged social distancing rules, contending there is no science behind them and they're interpreted haphazardly. A third plaintiff, a new mother, confined in her home since March, says the lockdown "has been traumatizing and psychologically and socially unhealthy."
Daycares, open most of the summer, have generated one case of Covid-19
WindsorOntarioNews.com August 24 2020
While parents and teachers worry about the re-opening of public schools this September daycares in Windsor-Essex have been open most of the summer, and there has been one case of Covid transmission. "There was a single COVID-19 outbreak at a daycare centre," Windsor Essex County Health Unit spokesman Michael Janisse said. The unit did not disclose the daycare "because there was no risk of exposure to the public." Meanwhile, daycares and early child learning centers have been operating unabated at "80-90 per cent" capacity, said Debbie Cercone, executive director of housing and children's services for City of Windsor. The department oversees child-care facilities in both Windsor and Essex County. There are 60 operators for 150 sites plus 29 early years learning, both public and private. Facilities are relegated to having 15 people – kids and adults – in one "cohort" and there could be several cohorts within a facility. The cohorts can be separate rooms or separated by minimum 8 ft. barrier "to ensure that it will always be 12 inches taller than the tallest person in the facility," according to the Ontario ministry which sets guidelines. Daycares support kids up to 12 and those with special needs to age 13. Asked if any facilities have had to close, Cercone said, "We don't make that decision to close but we haven't had any issues that would affect any child-care programs' capacity at this point in time." While cohorts can be any ratio up to 15, for infants the radio is three infants to one adult and for toddlers five to one. Cercone said the reason facilities opened earlier in summer – approved by provincial and public health authorities - was to help parents get back to work or studies. "I would say that generally child-care is a support to families who are employed and is a support for any families who wish to pursue education," she said. Physical distancing within cohorts should be "at least" two metres "where possible." Adds the ministry: "Recognizing that physical distancing is difficult with small children and infants, additional suggestions include: planning activities that do not involve shared objects or toys; when possible, moving activities outside to allow for more space; and avoiding singing activities indoors."
Photo: Wikipedia
AC flights expected to resume Sept. 8 at Windsor airport
WindsorOntarioNews.com August 13 2020
The first commercial flight in and out of Windsor airport should commence September 8. This after the airport has been closed since early April as airlines cancelled flights due to the coronavirus pandemic which saw travel – especially public transportation – almost eliminated. "We are praying to see our first commercial flight start back up on Sept. 8," airport operations manager Steve Tuffin said. "Air Canada says they're going to come back here Sept. 8 one flight per day." City officials had lobbied for flights by the two main airlines serving the airport – Air Canada and Porter – to return to the airport more quickly but that did not take place. But there had been an expectation that Sept. 8 would be the time Air Canada would resume flights. While the airport has been dormant for more than four months Tuffin said it has allowed maintenance staff do get work done more expeditiously. "Since we don't have to close runways to do it we were able to stay out there much longer until the job was completely done. So jobs that would normally take us three or four weeks to do we were able to do within a week," he said. That included repainting lines and number on runways and things like fixing ceiling cracks. Tuffin said the arrival of one flight daily "is a start. "We haven't had one here since April 1, it was the most cruel April 1st joke ever," he said. (See also LOCAL TOURIST: YQG won't have to extend runways for safety reasons)
Photo: Wikimedia
WE Charity involvement in local school boards has been limited
WindsorOntarioNews.com August 5 2020
Outside some field trips and participatory activities that's the extent of WE Charity involvement in local school boards. That compares to considerable involvement in other boards in Ontario. "Other than some of our students going on field trips to attend WE Day events, we have no formal relationship with the charity," Windsor-Essex Catholic District School Board spokesman Stephen Fields said. "We have had some schools participate in regional events over the years," said the Greater Essex County District School Board's Scott Scantlebury. Ontario's education minister last week said the government is dropping a longstanding association with the scandal ridden WE Charity, implicated in a conflict of interest controversy with Canadian Prime Minister Justin Trudeau. But while the province has ended its relationship, multiple Ontario school boards have not. "The Ministry of Education's relationship with WE is ending. I am encouraging school boards across the province to halt all contracts and investigate existing contracts," Education Minister Stephen Lecce told the Toronto Sun. The minister can't order the boards to quit their WE Charity relationships but he can encourage them to do so. The Sun reported the Toronto district board is now reviewing its association with the charity. WE Charity, which promotes humanitarianism and international development among young people, including trips to Third World countries to rebuild communities, also has an extensive domestic program in Canadian schools. It in fact has relationships with more than 7000 schools – 3200 in Ontario. Its involvement ranges from mental health counselling to curriculum development. It created a student guide Take Action: A Guide to Active Citizenship. Says its website, this "offered hands-on leadership workshops in schools, professional development training programs for educators, and celebrated and recognized the service actions of young people at WE Day events."
Long lines, frustration, greet re-opening of Service Ontario office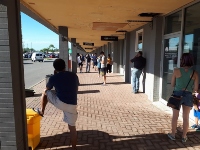 WindsorOntarioNews.com July 21 2020
And you thought it was frustrating normally trying to get license stickers renewed. After Service Ontario offices re-opened July 13 lines continue to remain long at the Windsor Dorwin Plaza location, with people waiting as long as two hours to get in. On Monday morning by 8.30 there were about 100 people in line - socially distancing – waiting for the office to open at 9 am. Some had been there two or three times before and given up because of the waits. Randy Carroll said it was his fourth time and "each time was an hour" but he got there earlier Monday so "hopefully I'm going to get in." Sam Eaton of Amherstburg said his local town office, plus ones in Harrow and Essex - privately owned – remain closed. "I've been here since they've been back open probably three times trying to get in," he said. "One time I waited three hours in line and then the next time I ended up getting in in about four hours and now I'm back here hopefully waiting (won't be) that long." It was the third time Ryan Massad, recently arrived from Montreal as a new Windsor resident, has had to wait. "The first time we were told we couldn't be here in the first couple of days of getting to the province. Then we came to the line a little bit later and it was just too far back in the line and then we decided to come a little bit earlier today," he said. Dave Brunelle of Windsor said he arrived at 7 am - two hours early – "to make sure" he gets in. He's a tow truck driveer on call 24 hours so "when I come here for 7 I've only slept for like a half hour to an hour then I've got to go back to work by 9." Wanda Borre of Harrow waited two and a half hours Friday but "unfortunately" had to leave before she got in because of a sore back. She was among the first 10 people Monday in line. "I came this morning between quarter after 7 and 7.20 and just been waiting. And so I'm glad there's only about five or six people ahead of me today." Harry Malhi, spokesman for Service Ontario, reminded that the "vast majority" of visits to Service Ontario physically are unnecessary right now. "They are either available online or have had their validation period extended," he said. This validation period has been extended for health cards, drivers licenses and licence plate stickers, among others. Additionally, more than 40 of the most common transactions are available online," he said. As for certain offices being closed, these "privately run businesses and may have chosen to temporarily close or reduce hours in order to ensure they comply with health and safety obligations to staff and customers."
Windsor law firm launches class action against Bell Mobility
WindsorOntarioNews.com July 3 2020
A Windsor law firm has launched a class action lawsuit against Bell Mobility over how it handled customer information for advertising purposes. Sutts Sasso Strosberg along with Charney Lawyers of Toronto are representing as many as five million Bell Mobility and Virgin Mobile customers in the $750 million suit against the cell phone operator, owned by BCE, the country's second largest telecom. The class action refers to practices by the companies related to obtaining personal browsing information and using that to sell to third parties to launch targeted ads without sufficiently obtaining customers' permission. This took place under the so-called Relevant Ads Program (RAP) between November 2013 and April 2015 and affects current and former Bell customers. "The information included web sites accessed from mobile devices and the corresponding customers' postal code, gender, age range, credit status and payment patterns," Sutts Strosberg says. In the court statement of claim it's alleged customers "were not given the option to properly consent to the use of their information for the program and the defendant did not adequately disclose the nature of the information they were using for the RAP." For example, customers would have had to opt out rather than opt in. So questionable was the practice that the Privacy Commissioner of Canada investigated and issued a report stating the company had violated the Personal Information Protection and Electronic Documents Act, or Canada's privacy law. Following the report's release Bell ended the RAP and said it would delete "all existing customer profiles related to the program. Furthermore, Bell has said that if it launches a similar program in the future, it would do so using express opt-in consent." But the legal action seeks to appoint an expert "to oversee and confirm the destruction of the personal information." Sutts's lawyer David Robins told WON.com, "This class action is important to deter the use of consumers' personal information without their informed consent and to hold companies, such as Bell Mobility, accountable for any breach of privacy and resulting inappropriate use of personal information." [UPDATE July 6: Nathan Gibson of Bell responds: "This notice is a only a procedural step in this type of class action, and no judgement has taken place. In fact, we agreed with the Privacy Commissioner's findings and the Relevant Advertising Program proposed in 2013 was never launched and no customer information was ever collected."]
Photo: Sutts Strosberg
Up to $750,000/6 months for violating C-19 self-quarantines
WindsorOntarioNews.com June 24 2020
Canadians who don't self-quarantine after arriving back in the country could face fines as high as $750,000 and or up to six months in jail. Further, if a person coming back into Canada "causes a risk of imminent death or serious bodily harm" to another person while "willfully or recklessly" disregarding regulations they could face a fine of up to $1 million or up to three years imprisonment or both. The penalties are spelled out under the federal Quarantine Act. Canadians or permanent residents are among the few groups still allowed into the country while the border is closed for non-essential travel. When they arrive they are asked by Customs if they feel ill and are told to "isolate for 14 days if you have symptoms of COVID-19 or quarantine (self-isolate) for 14 days if you do not have symptoms," according to federal protocols. It's unclear if any travellers have been charged or fined under the act and WON.com is still awaiting for a response from Health Canada. But a lawyer with the Justice Centre for Constitutional Freedoms, which has been fighting numerous government edicts on constitutional or human rights grounds during the Covid-19 crisis, called the penalties "draconian." Lisa Bildy said the provisions could be challenged as a violation of Section 12 of the Charter of Rights and Freedoms, protecting against cruel and unusual punishment. "There also seems to be little distinction between what the government describes as 'isolating' and 'quarantining,' Bildy said. "One applies when you show symptoms, and one when you have no symptoms. Both require you to stay in your home and not leave for 14 days, but if you have symptoms you're also expected to stay away from others in the household." Bildy added that as more is learned about the disease, "including the fact that it has a much lower fatality rate than previously feared," her centre hopes the government "would reassess the need to keep asymptomatic people in mandatory quarantine for 14 days." [UPDATE June 30: See Health Canada's response in NEWS BACKGROUNDER.]
Canucks expected to take part in 'TRUMPtilla' down Detroit River
WindsorOntarioNews.com June 12 2020
Windsorites are expected to take part in a flotilla honoring US President Donald Trump Saturday, according to organizers of the event, the first of its kind in Michigan and perhaps outside of Florida. The "TRUMPtilla" gets underway in Anchor Bay near New Baltimore, Michigan. 1000 boats and 5000 people are expected to take part, said Matt Seely of the Michigan Conservative Coalition. The boats will proceed down the river almost 40 miles (65 km) to the Ambassador Bridge. There will also be a land convoy simultaneously along the American lake shore to downtown Detroit. Seely said the event has attracted the attention of Canadians who indicated they would join from the Windsor Yacht Club. He said Canadians responded to the event's Facebook page. "Someone said, 'Yeah, can we join from Windsor Yacht Club?' And there was a dialogue about that." But Seely said he has "no idea who the people are." WON.com also could not reach any would-be participants. Windsor Yacht Club Commodore George McMahon said he didn't know anything about the event or Canadian participation in it. "That's the first I've heard about it," he said. But McMahon said he would check and call back "if it's true or not." Whether Canadians participate or not the flotilla should be highly visible from the Windsor shore. That's because the boaters, festooned with Trump flags and honking and playing music, will have to use the east side of Belle Isle because some boats are too large to pass under the Belle Isle bridge. The flotilla will be supported by police marine patrols and stay in US waters. Seely said the event is simply to celebrate the president's 74th birthday which coincides with US Flag Day. While Trump's birthday is actually Sunday the flotilla will be held Saturday. Seely said boats will be joining the procession perhaps from as many as 27 marinas along the way. Seely said the event is not a response to the recent rioting and social turmoil across the US in the wake of Minneapolis resident George Floyd's death by police but simply to celebrate the president and the beginning of summer. "It's just basically a reason for people to get out on the water to and begin their summer during a very very sad moment in history for everybody (Covid-19)," he said. "We've all been locked up in our homes for a long time in Michigan and we thought it would just be a great thing to get out on the water and celebrate the president's birthday.
Covid-19 test? Almost a breeze
By Ron Stang, Publisher, WindsorOntarioNews.com June 5 2020
Another beautiful morning, just right for a Covid-19 test. I'm about 35 minutes early before the 10 am start of what's scheduled to be a 10 am – 4 pm community testing, conducted by the Windsor Essex County Health Unit (WECHU). Already there are two lines of vehicles, perhaps 20 cars in each line, ahead of me. A young man, dressed casually, wearing a mask, first walks up besides the cars and greets motorists while handing out small pocket size cards which remind of Covid-19 symptoms and how to contact the health unit if experiencing any. There's also an online address to check your results in 5-7 days. If the test is positive, I will be phoned. About 10 minutes later a woman, more professional medically dressed in PPE, walks up to the car with a clipboard. "Have you been experiencing any symptoms?" she asks. "Absolutely not," I reply. Then she asks for my OHIP health card. I hold it up and she writes the down the number as well as my address from my driver's license and asks for my phone number. I ask if she's from the health unit. "I'm a medical student," she says. There's some volunteer medical students just taking the information down and the rest are all health unit nurses or paramedics." She tells me that when I pull up further a nurse or EMS paramedic will perform a nasopharyngeal swab. That's for a sample of secretions from the uppermost part of the throat behind the nose. I then advance a couple of car lengths. Two staff are taking swabs from both me and the person in the car ahead of me as well as from people in cars in the adjacent lane. I'm met by a very congenial woman, a nurse-practitioner, who holds a long swab. She first tries to obtain a sample from my right nostril. The swab apparently can't go up far enough so she tries my left nostril and the swab is successful. It only took a matter of seconds. The procedure has been described as uncomfortable but I was expecting it to be more uncomfortable than it was. I ask about this. The tester tells me it depends on the person, their physiology and how tight the nasal passage might be. She then politely tells me the test is all done. "You're good to go, have a nice day!" The whole process, from arrival to finish, took almost exactly an hour. Community or "random" testing will obtain results from as many as 2400 city and county residents…..Why is the health unit doing the tests? It says testing "provides better quality data for analysis, planning and intervention." Given that testing every person at one point in time isn't possible, "a random sample of our community will provide the WECHU with enough information to make predictions and identify potential trends."
More than 2300 surgeries delayed during Covid-19 crisis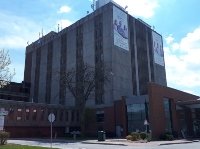 WindsorOntarioNews.com May 28 2020
More than 2300 surgeries now have to be rescheduled at local hospitals because elective surgeries had been cancelled during the Covid-19 crisis. Windsor Regional Hospital announced March 18 that "non-urgent" services were to "pause" so the hospital could reorient to treat Covid-19 patients. The hospital took the action following a ministry of health directive. The procedures include elective surgeries and diagnostic scans. The hospital yesterday announced surgeries would resume June 1 but with a methodical ramping-up balancing surgeries with monitoring new Covid-19 cases and overall patient health. "This will take time - the most urgent ones hopefully soon," spokesman Steve Erwin said. "Clinical teams and surgeons will determine priority." As of today, there were 950 confirmed Covid cases in Windsor-Essex and 63 deaths. There were 16 hospitalized and one person in ICU. Meanwhile the Covid crisis "did have an impact" on visits to the emergency room, Erwin said. In March 2019 there were 293 visits but this March there were 199 visits - a 32 per cent drop. In April 2019 there were 294 visits but this April, 154 visits - a 48 per cent drop. The hospital today implored people to come for ER visits. Both regionally and nationwide, the public has been reluctant to attend any hospital for fear of contracting coronavirus. But in a statement the WRH stresses emergencies are safe environments including having enhanced cleaning and staff wearing PPE. "There are too many cases where patients have come to the ED much later than they should have; people who may have had a stroke or heart attack," said Dr. David Ng, Emergency Department physician and Erie St. Clair lead for Emergency Services. "If you are very ill or have an emergency health issue, please seek care at the ED and don't wait." Erie Shores Health Care in Leamington also put out a similar statement.
Several condo-style buildings could be coming to downtown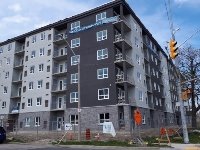 WindsorOntarioNews.com May 22 2020
Downtown Windsor could be on the edge of a long-awaited residential boom which could dramatically change the dynamics of the city's core. Developer Rob Piroli, close to completing his $45 million 152-unit West Bridge Place condo-style apartments at Crawford and Wyandotte, is actively looking at new sites in the central part of the city for future major multi-unit condo style residences. Planners and downtown observers have long said that lack of residential development is the missing piece for significant downtown revitalization as more residents will spur retail and hospitality growth. Piroli's company, Piroli Group Developments, took a risk in developing an almost two decades old 3.5 acre empty lot and began construction in June 2019 of West Bridge Place. He expects 60 per cent rentals by move-in date in August. Piroli's previous condo-style apartments have been two six-storey towers, Seacliff Heights, in Leamington. Piroli relied on the city's rollout of development tax incentives to get the Windsor project going. "I think the City of Windsor is doing a great job with its redevelopment program in the downtown core," he told WON.com. Piroli said he'd be "looking" at another core location but not until he's at least rented West Bridge Place to 60-70 percent. He said rentals are moving faster than expected from a demographic mainly defined as retired baby boomers with good pensions who don't want the hassles of condo ownership but like condo amenities. He said so successful has West Bridge Place been that "we're looking to invest again in Windsor and possibly for more than one more probably maybe even three or four (buildings)." West Bridge Place is six stories and future buildings could likely be the same. "That was a big parcel, (it's) not easy to find three and a half acre parcels in the downtown core. But there are other parcels. You know, if it's a couple acres then maybe we can get a hundred units on it, so it might be … smaller but still a good size," he said. Besides high-income pensioners Piroli is targeting foreign students who tend to have larger incomes. "I think it's going to be a decent mix," he said of pensioners and higher income students. Meanwhile, Piroli is embarking on two 121-unit condo style buildings in Chatham.
25 hospitalizations, 4 in ICU as Covid-19 flattens since April 15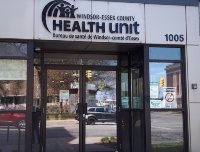 WindsorOntarioNews.com May 13 2020
For almost a month, with the exception of three dates, all new daily Covid-19 cases have been under 20, suggesting a major flattening of coronavirus infections in Windsor and Essex County. As of today, there have been a total of 745 confirmed Covid-19 cases in Windsor and Essex County since March 20. Twenty-five people are shown as hospitalized and an additional four patients in intensive care. That's according to Windsor Essex County Health Unit statistics. The "status" of cases shows that of the others who have contracted the virus, 212 are self-isolating, 300 have been resolved (recovered), 142 are unknown (still pending an investigation and/or data that is not known about a case) and 62 have died. Overnight 13 new cases were reported which continues a flattening of cases since April 15 when there were 59 cases, the most for any single day since stats began being compiled March 20, when there was only one - the first - case. Since April 15 only three days have shown cases of 20 or higher (April 20 – 20; April 21 – 24; May 11 – 21). In terms of demographics, the most cases – 148 – have been among people aged 80 years and over, the next highest – 125 – among people aged 20 to 29 years, and the third highest – 115 – among people aged 50 to 59.
Park and street bench use? It depends on the municipality
WindsorOntarioNews.com May 5 2020
During the pandemic shutdown, municipalities have variously both closed parks and rec facilities and encouraged people to get outdoors and use amenities like trails. But what are their rules regarding street and park benches, which might be necessary for people – often elderly – to use to rest? There are different rules or guidelines for different municipalities. In Windsor, sitting on benches is not banned. "We have encouraged people to get out and exercise, while keeping proper social distancing, as it is good for one's health," Chief Administrative Officer (CAO) Onorio Colucci says. "Therefore, we think that if somebody needs to use benches during their walks, that is acceptable and low risk." He said the city "would only enforce" social distancing if people using the benches weren't practicing that. The same is true for Tecumseh and Lasalle. "Walking and taking in fresh air and the beauty of spring is important to maintaining physical and mental health," Tecumseh CAO Margaret Misek-Evans says. "Should people need to sit and rest whilst on their walk, they may access a bench for that purpose," That's providing the bench isn't used for gathering and that people practice distancing. "Under these use provisions, the town would not see this as a contravention of the Provincial Order." Amherstburg has a different interpretation. An official did not respond to requests for comment. But the town's benches have clearly attached to them signs saying "Closed." The signs don't make specific reference to benches but the message is clear. Rather, they say, "By Provincial Order under the Emergency Management & Civil Protection Act All Outdoor Recreational Amenities Are Closed" – and lists items like play structures and gazebos/structures - as part of a "Covid-19 Safety Warning." In Essex, town trails and sidewalks are open but benches have signs "recommending" not to use, said CAO Chris Nepszy. That's because of difficulty in social distancing nor are benches able to be cleaned. "Although not part of the provincial order we moved in this direction as a best practice to ensure the virus is not passed by touching a public surface that is not disinfected." And Leamington CAO Peter Neufeld said using benches is prevented because "the province is more concerned about the touching of the bench." Neufeld said there is no ban as such but "we don't want people sitting on them either." There are no signs. "If one of my bylaw officers saw (people seated) they would be asked to continue moving along." The Town of Kingsville also did not respond. The City of Ottawa in a wide-ranging FAQ says the reasons it closed benches was because they can attract more than one person and can be contaminated as they're not cleaned. "This means the Covid-19 virus can present on any surface – metal, wood or plastic. In fact, the virus can live on surfaces for not just hours, but days. This includes park benches, play equipment and picnic tables."
Closure of five Essex County weeklies came as shock - editor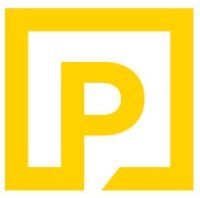 WindsorOntarioNews.com April 30 2020
The announced closure this week of five community newspapers in Essex County took one of those paper's editors completely off guard. Nelson Santos, editor of the Kingsville Reporter, said the Tuesday announcement by corporate owner Postmedia "came out pretty quickly" and was "a surprise" to him, having been at the paper 29 years and operating the paper pretty consistently until the Covid-19 crisis. The closure will see four office staff and three writers also lose work. Santos received a letter from the owner Tuesday, and news broke later that day about the shutdowns. Postmedia's five weeklies here joins two others in central and eastern Ontario that will close though maintain a web presence. Postmedia also is closing weeklies in Manitoba. Santos said that since Covid-19 advertising had been down, losing the equivalent of two revenue pages, which directly influenced the corporation's decision. "The affected publications are not financially sustainable and these closures will be permanent," wrote president and CEO Andrew MacLeod to staff. "The impact to advertising revenues, both print and digital has been very significant." The publications, which will see their last issues next week, beside the Reporter, are Tilbury Times, Lasalle Post, Lakeshore News, and Tecumseh Shoreline Week. Postmedia's decision comes more than a month after a major Atlantic Canada publisher, Saltwire Network, shuttered 35 weeklies but only temporarily. Santos couldn't put a figure on the local paper's losses. "I can't speak to the numbers specifically it's not my department in terms of numbers like dollars. That's controlled by our sales reps and a manager out of Windsor." Santos, who has been editor 20 years and mayor of Kingsville 17 years, said Postmedia has owned the Reporter eight years. The Windsor Star is also a Postmedia newspaper but not part of the same group, Windsor Essex County Publishing. There are other publications in the area that could take up the news slack. Santos said one, The Southpoint Sun, "over the last year have been certainly expanding their coverage area to include parts of Kingsville in their news." (UPDATE May 1: A spokeswoman for Postmedia did not respond to a request for comment.)
No nursing homes have upped pay during Covid-19 -- union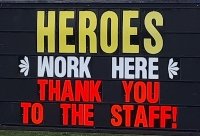 WindsorOntarioNews.com April 22 2020
Despite Ontario long term care homes being at the epicentre of the Covid-19 epidemic, none of the people who run the homes have agreed to pay workers additional wages. It's of a piece for the industry generally, according to the union that represents 2500 of such Ontario workers. "We haven't had any long-term care owner who has done a compensation increase yet," said United Food and Commercial Workers (UFCW) Union spokesman Tim Deelstra. He said the union has been talking "for a number of years" for more compensation with the provincial government and employers for "a significant increase" in wages "because workers there are substantially underpaid." While the UFCW has advocated for a $2 an hour increase for members in the grocery and food processing sectors during the health crisis – and has largely succeeded – the amount of increase for nursing home staff would be "much larger." Deelstra said many of these people work part time and are "paid not far off the minimum wage." The union request has been reinforced during Covid-19 – at a time when nursing home residents' testing positive and deaths have skyrocketed – but "we haven't had much traction," Deelstra said. Almost half the deaths have taken place in such homes. However, Deelstra said the province has indicated it's working with the feds "for some kind of top up" in pay. No details yet except it would apply to people making less than $2500 per month. The union has also called for universal testing for staff and residents "which has really started happening basically as of today." As for new government orders for employees to work only in one home or another these orders "are not universal," Deelstra said. A temp agency can still send workers "from home to home to home." Other workers have had "an economic impact" with no compensation or an order of increased hours. This differs from British Columbia which had nursing home staff become government employees for six months and work full time and with pay increased. WON.com has asked the Ontario Long Term Care Association, which represents owners, for comment.
Are local parliamentarians donating April salary increases?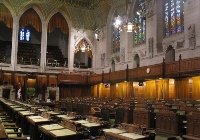 WindsorOntarioNews.com April 7 2020
In the midst of the hardships borne by hundreds of thousands of Canadians who have lost employment due to the coronavirus outbreak, WON.com thought it would contact Windsor area Members of Parliament to find out whether they would follow their party leaders' examples and donate an April 1 pay increase to charity. We heard back from two of them. The MPs had a 2.1 per cent salary increase (pre-scheduled) which will increase their base pay to $182,656. So, the two per cent increase amounts to $3,750. Liberal Prime Minister Justin Trudeau is donating his increase to non-profit organizations in his riding. Conservative Opposition Leader Andrew Sheer is donating his increase to a charity in his Regina riding supporting people affected by COVID-19. And NDP Leader Jagmeet Singh is increasing donations he normally makes to local organizations. Now, how are Windsor-Essex MPs donating their increases? Essex Conservative MP Chris Lewis: "As always I will give back to my community. I always have. At this time, more than ever, it is vital that we come together and donate, as we are able, to the many organizations across Essex. Rest assured, as in the past and on many fronts, I remain focused on making donations to those most in need. I encourage others to do the same." Windsor-Tecumseh Liberal MP Irek Kusmierczyk, also Parliamentary Secretary to the Minister of Employment, Workforce Development and Diversity Inclusion, through assistant Manvir Shokar: "Irek donated his entire pay increase to the Hotel Dieu Grace Hospital Foundation, the Windsor Regional Hospital Foundation, the Downtown Mission and the United Way/Centraide Windsor-Essex County." Longest serving area MP (first elected in 2002) the NDP's Brian Masse of Windsor West, did not respond, despite two emails and a follow up phone call. Salaries paid to MPs increase on April 1 each year, a figure based on the average increase negotiated by major bargaining units in the private sector.
Photo: Wikipedia
Michigan governor Whitmer wants more Canadian nurses
WindsorOntarioNews.com April 1 2020
While the area's medical officer of health and local federal politicians have been lobbying for even tighter border restrictions Michigan's governor Gretchen Whitmer this week signed an executive order which would ease recruitment of more Canadian nurses to work in the severely coronavirus-afflicted state. The order would also ease registration for certified nurse aides and grant renewal of some lapsed health care licenses. All to bolster much-needed medical staff to attend the climbing ranks of the besieged state's coronavirus patients. Up to now Wayne County, which surrounds the City of Detroit, has had the fourth highest number of COVID-19 deaths in the US. As of today, Michigan's COVID-19 cases jumped more than 1700 over the previous day to a total of 9334 and there have been 337 deaths, an addition of 78 over the day before. Hundreds of Canadian health workers cross the bridge and tunnel daily to work in Detroit hospitals. They're considered an essential service and therefore have been allowed to cross. That's despite the border officially being closed as of March 21 to regular traffic to prevent spread of the highly contagious disease. Meanwhile, as of today, there have been 92 Windsor-area cases and the region recorded its first death, a man in his 80s who had recently travelled to Michigan and had underlying health conditions. Medical Officer of Health Dr. Wajid Ahmed said 70 per cent of all area COVID-19 cases are people who have traveled and one-third are health-care workers who are employed in Michigan.
Despite listings, Cineplex's theatres definitely not open
WindsorOntarioNews.com March 24 2020
People who have been huddling in their homes over the past several days to protect their health due to the coronavirus outbreak may have been a little surprised to see that a couple of Windsor movie theatres were still open. As of today, The Windsor Star was still advertising showtimes at Cineplex's Devonshire and Silver City cinemas. This despite the City of Windsor declaring a state of emergency last Friday which effectively shut down Devonshire Mall, where one of the Cineplex theatres is located. Businesses at stand alone "pads" were unaffected by the closures. That could have meant that Silver City, as a stand-alone complex in a south Windsor big box retail site, remained open. But, no, that theatre, as part of the nationwide Cineplex chain, was also closed by the theatre chain March 16. The next day the province imposed a state of emergency and banned operation of public facilities such as theatres, cinemas and concert venues, as well as bars and restaurants. But today in The Windsor Star's entertainment section the movies at those theatres were still being advertised, along with their weekly showtimes for Friday March 20 through Thursday March 26. Cineplex's director of exhibition marketing Avery Ironside was stunned when told of the still running ads. "Our theatres are indeed currently closed due to the coronavirus situation, and no advertising should be running." He suggested the ads kept being placed due to "an automatic feed" that "didn't stop" and they will be "pulled ASAP." On March 16 Cineplex announced the temporary cinema closures through to April 2 when re-openings will be "reassessed." This announcement reflected the rapidly evolving pandemic crisis. Just four days earlier the chain said it was keeping theatres open but "taking all appropriate measures to ensure our venues are safe and that we have existing plans and training protocols in place to ensure they stay that way." This included enhanced cleaning and asking patrons not feeling well to refrain from visiting the cinemas.
As many as 50 to join 150 at airport maintenance hangar
WindsorOntarioNews.com March 5 2020
The City of Windsor-owned maintenance hangar at Windsor airport will likely see substantial employment growth over the next year. This comes as the US-based company that does aircraft maintenance there, AAR Aircraft Services, expects to see major new work at its main Canadian maintenance facility in Trois-Rivières, Quebec after completion of Air Canada's merger with charter airline Transat, A. T. The work will be so substantial an overflow amount will come to Windsor, said AAR officials. Brian Loomer, AAR's regional VP and GM, told WON.com, "without doubt it will definitely have a positive impact on Windsor." He said as many as 50 additional full-time jobs would be added to the almost 150 full-timers currently at the hangar, which the city built for $23 million and now leases to AAR. AAR took over maintenance from former tenant Premier Aviation more than two years ago. Air Canada last month announced the new maintenance contract which would see AAR undertake maintenance, repair and overhaul (MRO) airframe work on Air Canada and Transat aircraft. Currently AAR in Windsor does maintenance on Air Canada and Republic Airways aircraft's Airbus and Embraer models. The 144,000 sq. ft. hangar is big enough to fit four Airbus A320s and a couple of smaller Embraer aircraft inside "very comfortably," Loomer said. He added business at the facility has steadily been increasing. AAR recruits staff from Transport Canada-accredited colleges. Saint Clair College in Windsor does not have such accreditation. AAR employs three trades all called Aircraft Maintenance Engineers with designations M for Mechanic, S for Structures and E for Avionics (electronics). The work is mostly heavy maintenance as aircraft go through their life cycles but also lighter modifications. Staff work two shifts seven days a week.
Photo: AAR Aircraft Services
Air Canada to eliminate its Windsor to Montreal flight
WindsorOntarioNews.com Feb. 27 2020
Air Canada is axing its direct Windsor to Montreal flight effective June 30. The airline published notices today in both Windsor and Montreal daily newspapers advising of the cancellation. The year round service was operated by Air Canada Express Carrier Jazz Aviation LP. Air Canada media relations said the cancellation was simply because the flight lacked sufficient traffic. "Air Canada cancelled this route due to low demand," the office said in response to a WON.com query. "In fact, passengers prefer our Windsor-Toronto route. We offer customers several flights a day and passengers also have more connection options via Toronto hub." The flight will not affect Windsor airport personnel. "The suspension of this flight did not result in any job losses," the airline's office said. "Airport employees continue to work the Windsor-Toronto flight. But airplane crew will operate out of other centres with the airline saying "they will be redeployed on other itineraries." The flight was served by Dash H turbo prop and small jet aircraft. Lina Williams, spokeswoman for the Windsor Essex Economic Development Corp., said "we don't want to see the reduction of service in the region" and redirected questions to Windsor airport. The flight typically leaves at 11 am and arrives in Montreal at 12.40 pm. The return flight to Windsor is in mid afternoon.
[For more on this story go to the LOCAL TOURIST page]
Company applies for demo permit to construct controversial Kingsville complex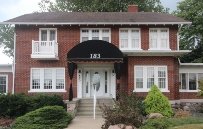 WindsorOntarioNews.com Feb. 13 2020
The developer of a planned controversial residential complex in Kingsville has applied for a demolition permit for 183 Main Street East, an older home that has generated significant community interest by citizens who want to save it. Kingsville council just this week voted unanimously to keep the house on its heritage interest list, not as a designated or registered heritage property as certain media misreported. This means the developer is still free to demolish the property subject to council moving to designate, which would require "scoring" the house for its heritage value and a subsequent council vote. It has 60 days to do this. "We're confused by the heritage committee's recommendation to leave the home on the interest list," Christian LeFave, president of Brotto Family Holdings, told WON.com. "If the home has the historical significance in which they have indicated, the heritage committee should be scoring the home and recommending to council that the home be placed on the designated heritage list therefore designating the home as an historical home." Meanwhile, responding to community concerns about such issues as the height and historical design of the two apartment buildings, the company will be back before the town's planning advisory committee in March with several tweaks to the original design. The buildings will be four floors instead of six and have a "Victorian Style" that replaces a modern look. One concern sparking the overall controversy was that the existing 183 Main St. E. home is similar in style to adjacent 171 Main St. E. which has heritage designation and is known as the Bon Jasperson house. But a heritage impact report prepared for the company found that "most of the designated elements of the Bon Jasperson Home are interior elements and that proposed development and home are separated by approximately 60 ft." More than 2,000 residents have signed a petition against the zoning change to allow the apartments. LeFave said the heritage committee report to council this week was "just words" about the existing house's significance. "They've never scored the house, they didn't even provide … substantiated any of their comment." He thinks the committee didn't score "because they feel possibly that it may not meet the requirement." Kingsville Mayor Nelson Santos said this week's council vote was "simply to maintain the integrity of our process and procedure" for historically significant properties. He said the demolition request now provides "an opportunity" for the town to decide whether to score the house and possibly designate. Should that happen LeFave said he will appeal to the Local Planning Appeal Tribunal. "We are confident in our position and in our proposal and we will continue to move it forward by any means necessary."
Photo: comfree.com