Refinery to process tar sands oil (con't)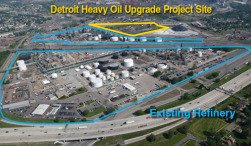 Brophy says refineries generally are among the worst polluters, releasing "millions of pounds" of carcinogens, respiratory, neurological and reproductive toxins.
"So any kind of major increase in industrial production there, particularly.....from a refinery, is a contributing issue, a health issue, for certain."
Marathon's project web site says it is investing more than $270 million in pollution control technology and some $275 million in "clean fuels" technology as part of the project.
The company says the refinery currently operates at 40 per cent of allowable EPA pollutants limits.
It says it will "continue to operate within the allowable limits once the expansion is complete" and will have "fewer actual emissions in 2011 once the expansion is completed than it did in 2004, even though the facility's refining capacity will be increased."
But Brophy said government regulations on refinery pollutants are very weak.
"The tolerated levels are not safe levels," he said.
Brophy, who has worked almost two decades in the Sarnia and Windsor areas, said that, "If the public really knew the extent of the types of exposures that come out of these plants I think there would be a lot of eyebrows raised if not voices."
He added that oil companies "have had their way in terms of lack of regulatory controls."
He said the level of pollutants will increase from the refinery because of the expansion and because it is refining tar sands oil, one of the "dirtiest" sources of crude.
WindsorOntarioNews.com