---
Highway traffic cameras (con't)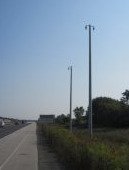 They're along E.C. Row Expressway from Malden to Banwell roads.
You can find them along Dougall Parkway through to Ouellette Ave. heading downtown to the tunnel.
And there are some on Tecumseh Rd.
The first batch of 18 cost $1.5 million including fibre optic cable and other equipment such as banks of monitors at the city's traffic department, Windsor police and fire departments.
The money to pay for them came from the Let's Get Windsor Essex Moving strategy $300 million border infrastructure fund.
The fund has also paid for projects like the pedestrian walkway over Huron Church Rd. and the Walker Rd. and Howard Ave. railway overpasses.
Wolf didn't have a cost figure for the remaining 23 cameras because those came out of contracts from the provincial transportation ministry.
More cameras are to be installed.
These ones likely will be located along Wyandotte Street W. – between the bridge and the tunnel - and Tecumseh Rd. E.
The cameras aren't for surveillance even though police have access to them.
Wolf said they are to monitor the flow of traffic.
If traffic becomes congested in one area the "pan tilt zoom" cameras allow a wide and close-up field of vision so that city traffic crews – and police and fire if need be – can respond.
"It's just like if you have a camcorder," Wolf said. "You can turn it around and look in any direction. You can zoom in on somebody, you can zoom out."
The city department can use the traffic information to change messages on electronic highway boards, for example, warning motorists of congestion ahead.
Police and fire can respond in cases of emergencies.
"Police could use the cameras around the tunnel entrance to determine whether they need to deploy officers for traffic control or a road shut down," Wolf said.
"If there's an incident some place they can use it for the same reason, to deploy officers if there's a road that needs to be closed and they need to detour traffic. They can use that to assist them."
Wolf says there have been inquiries from the public about whether people can get access to the camera images.
They're not available now.
If they become available in the future they would be on the MTO's Compass web site which allows monitoring of numerous highway cameras in the province.
WindsorOntarioNews.com