Huge drop in tunnel traffic (con't)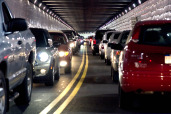 That's almost a 17 per cent decline from last year's car traffic, 8.5 per cent less for trucks and almost 8 per cent fewer buses.
Tunnel company CEO Neal Belitsky said traffic "decreased with only a minor decrease in market share" and the tunnel remains the third busiest car crossing among the various border crossings surveyed.
Work on a $7 million renovation of the tunnel's U.S. plaza begins this month.
Meanwhile the Ambassador Bridge has seen an increase in traffic.
Car traffic at the bridge is up 35,680 vehicles over last year.
Truck traffic is ahead a whopping 66,383 units and buses and miscellaneous traffic up 117.
That's a total of 102,180 vehicles or a 10.92 per cent increase.
None of the other 11 border crossings saw such a steep decline in traffic as the tunnel, the closest being the Whirlpool Rapids Bridge connecting Canada and the U.S. at Niagara Falls, having 13.53 per cent less traffic.
The Seaway International Bridge between Cornwall and Massena, New York, was down 49,274 vehicles or just over 13 per cent.
That bridge was a focus of a dispute last year by natives from the nearby Akwesasne reserve, which it also serves.
Sarnia's Blue Water Bridge also had a traffic increase.
It has had an increase of 45,393 total vehicles or almost 8 per cent over the same period last year.
Trucks were up just over 17 per cent and car traffic up 3.4 per cent.
The Ambassador Bridge had the sharpest increase, by direct numbers, of any border crossing.
Photo by Kim Kozlowski
WindsorOntarioNews.com