"Hundreds" of Windsor blocks in the dark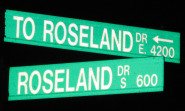 This block – which extends as far south as Roseland Dr. S. – not only has no night illumination but it doesn't have sidewalks either. The neighbourhood is otherwise well kept and solidly middle class with homes dating back to the 1950s.
Roseland E. is far from the only street without lights and sidewalks. Other blocks in the area don't have them or have fewer than what normally might be expected in a residential area.
But these are only a few pockets among "hundreds" in Windsor that are in a similar situation.
The reason, according to city hall, is because the streets in these areas were formerly part of municipalities that were annexed to the city, dating back as long ago as the 1960s.
The city, for example, annexed parts of the former municipalities of Sandwich East, Sandwich South and Sandwich West townships. It also annexed the towns of Ojibway and Riverside – all in 1966.
The city's acting manager of right-of-way Tony Ruffolo says it was because "municipalities had their own standards for developments and streetlights were not necessarily required at the time."
Nor are they required now although new subdivisions must have streetlights as well as sidewalks on at least one side of the street. Collector roads have to have walks on both sides.
Roseland isn't the only underserviced area. Ruffolo said there are streets and blocks "all over" Windsor with a minimum of streetlights. Another example is South Cameron, south of Tecumseh Rd. "There's hundreds," he said.
But that doesn't mean streetlights and walks can't be installed if residents want them. The thing is, up to now, people in these areas just haven't requested them.
Any resident can contact the city and ask for a petition to be undertaken to determine if residents along a block want the amenities.
Drew Dilkens, councillor for Ward One, said even the area he lives in has numerous blocks without or with few streetlights.
"It's sort of prevalent through a lot of South Windsor, my street included where there's no streetlights, no sidewalks," he said. "You just go down the list off of Norfolk, in order, and they're all pretty much the same."
Dilkens said the petition process is extremely easy. He said a resident applies to city hall and the city actually handles the petition.
"It's not like you have to go door to door," he said. "They send it out and the residents send it right back to the city. It doesn't put the requesting residents in a bad position with their neighbours. It's very, sort of, private."
If a majority want the streetlights the city would draw up the plans, the city picks up a portion of the costs and "there's a charge back to the residents. They can add it to their taxes over a decade."
Ruffolo said that "each abutting property owner would be assessed for their proportionate share of the costs" which vary depending on the project's size, the particular neighbourhood, and the ease or difficulty extending services to those streets.
Dilkens said residents have never raised this as an issue "in a coordinated way."
He also said the city doesn't face additional legal liability because of the absence of lights and sidewalks.
"You can't be held responsible for something that, you know, you assume you have the process whereby residents can make the changes."
He said the opposite is likely true - "that once the sidewalks go in then the city incurs the legal responsibility to maintain those sidewalks and that's where our claims come from."
WindsorOntarioNews.com