Labourers' protest non-union U.S. firm (continued)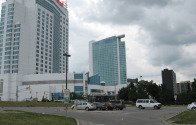 The city has shortlisted four companies that have expertise in tunnelling work connected to the football field size project (photo shows site), being built mostly with federal stimulus money.
The basin is designed to prevent the spillage of untreated sewer water into the Detroit River from the city's aged combined sewage and storm water pipes.
Part of the project requires the construction of a new interceptor sewer between Ouellette Ave. and Devonshire Rd.
According to Labourers International Union Local 625 business manager Rob Petroni one of the companies that has pre-qualified for the project is Oregon-based James W. Fowler Co.
Petroni said the union wants to raise awareness about the issue and will appear at city council and launch a media campaign this month.
He said the company would bring workers from the United States to work on a project paid for with public stimulus funds – "it's taxpayers' money, it's that infrastructure money, right?"
The three other companies – all from Ontario - that have qualified are C & M McNally Engineering Corp. from Burlington, Dibco Underground Ltd. from Bolton, and McNally Construction Inc. from Hamilton.
Petroni says the Ontario companies are all unionized. He said his union will be "bringing awareness" and "putting pressure" on the city not to hire the American firm.
Calls to James W. Fowler Co. went unreturned.
The company's website makes no reference to tunnelling projects it has done in Canada but lists four on the west coast of the United States. It apparently does work in Michigan.
Petroni said his union could easily unionize the workers just as it does other Canadian non-union companies that have come to work on local projects.
But any certification would apply to workers only on the firm's next project, not the current one.
He said the chances of an American company returning are slim to none.
"And then they go back to (Oregon) and they never come back to Ontario again," he said. "It doesn't help anybody here."
The city's RTB project manager Greg St. Louis said the four companies were chosen because they have specific expertise in drilling tunnels for five-foot diameter pipe.
By the end of January drawings should be complete and then the companies will be asked to bid.
"Whoever is the low tender wins," he said.
Construction of the $20-$25 million interceptor (part of the $60 million overall RTB cost) should begin in March.
WindsorOntarioNews.com