New owner must conform to Huron Church green gateway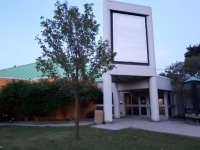 Giffen tried to put the buyer in contact with WON.com but that party did not respond.
"We can't disclose their information without their consent," Giffen said.
Giffen said he didn't know what kind of plans the buyer might have for the modern but in recent years dormant facility.
"Obviously within a little while it's going to sprout up and you'll know," he said.
But Giffen did say the buyer must conform with the City of Windsor's master plan for a green border gateway along Huron Church, which has been years in development.
(The pedestrian bridge opposite Assumption high school is one piece of it.)
"It does fall into their green district zoning.
And I think there's a plan for longer term to landscape the corridor," he said.
In fact, meeting those standards was the reason Infrastructure Ontario, which owned the property, pulled it off the market after first advertising its sale in 2013.
It was relisted this spring through CBRE, which passed on WON.com's requests to Infrastructure Ontario.
"There was some discussion with the city, right?" Giffen said.
"So you have conversations where obviously a province wanting to fit into the municipality's vision, so there was some discussion I think about how to fit into that long term view of the city."
Jan Wilson, Windsor's director of parks, whose department oversees the green gateway, did not respond to several requests for comment. 
WindsorOntarioNews.com