Funky Walker Power Building still very much for sale (con't)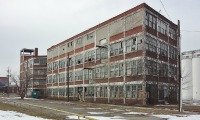 The four storey building, often dubbed the Peabody Building - because it was next door to the former antiquated Peabody Bridge and a building by the same name – is owned by Phil Howe and is priced at $750,000.
Structurally "it's a very very strong warehouse," Broad said.
The realtor had s structural engineering report done on it several years ago and he now wants that updated.
The engineer at the time told him "that's just a fortress."
The building was used to power the sprawling Hiram Walker distillery and it opened more than 100 years ago.
"It is not deemed a heritage building as of yet but is on the list to become a heritage building or to be considered to be a heritage building," Broad said.
There is 60.000 sq. ft. 
But for years the building provided a funky space for artists until the City of Windsor fire department cited violations forcing the artisans out.
Howe, who has owned the building since 1975, said that one night in 2005 "a whole raft of (fire) inspectors" descended on the building, going over it with a fine tooth comb.
He said they "picked apart all the infrastructure, all the partitions that were put up, and the wiring that was done by the tenants, so there became a whole load of work orders and (the chief inspector) was determined he was going to close the building."
Howe said he found that strange because for 30 years "there never was a fire or a serious accident" there.
That same year Howe said he was made an offer by a well-known local developer to create 41 lofts.
Howe said the developer applied for parking on the west side and had agreement with city administration but never got final approval from city council.
Meanwhile the property immediately south of the building – an open field – is also for sale, and has been for years.
It would make an ideal combination with the Walker Power Building should someone be so ambitious to develop it, local business association coordinator Joan Charette said.
"Ideally we would have loved to have seen the Windsor Power plant be purchased and renovated into something that was maybe top floor residential and an urban market on the main floor," she said. 
"And then (the open land) that could have been the parking for it on the corner."  
Charette said the field has been used for a neighbourhood festival.
According to Howe, that property is empty now but used to house facilities to put travelling railway crews from the nearby passenger train station up for the night.
The 2.43 acre field is owned by Albamor Construction & Engineering of Windsor, the same folks who own the spiffy nearby Club Lofts, a converted former Hiram Walker whisky warehouse.
Their realtor is Vince Mancina, who says the land is priced at $1,999,000.
Mancina also represents Club Lofts, and said more than 30 units remain for sale, priced from $230,000 to more than $400,000.
(Photo by Jim Cagney)
WindsorOntarioNews.com