Timberland demonstrates that
townhomes can also be high end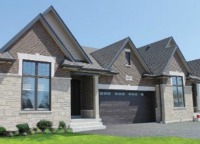 But Timberland's decision to build duplexes and triplexes while maintaining high custom quality is designed to serve a market previously not well identified.
These would be people who are downgrading, often younger Baby Boomers or people in their early 50s, who wants a smaller residence but with high end details.
Timberland owner Gino Piccioni said up to now the townhome or duplex market has often been described as simply entry-level or for retirees.
"But the problem with that is – for some reason when people downsize footage, either builders, developers or whoever they may be, they seem to downplay amenities," he said.
And size.
Timberland's units are about 1850 sq. ft. "all two bedrooms so living space is significant," he said.
The Villas are all ranch style and can include finished basements, depending on price.
Prices start at $509,000 and some have sold for as high as $650,000.
The development is located at Huron Church and Cousineau in LaSalle.
The exteriors are similar but the interiors vary widely "as we custom designed to the buyers," Piccioni said.
The exterior "would be very similar" to what one would see in one of Timberland's detached homes - all brick, with James Hardie siding and limestone details.
The younger empty nester market may have been the primary target.
"We've been surprised to get even younger people whose children are a little older, and they're just planning ahead," Piccioni said.
"They're getting a good dollar for their house … and they're saying instead of doing this five years from now, do it now."
WindsorOntarioNews.com