---
---
Synagogue needs $100,000 in emergency roof repairs (con't)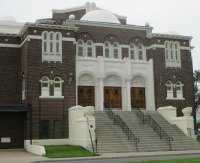 It's the peaked roof part that's most in need of repair, synagogue president Brian Lazarus said.
"This past winter, with the amount of snow and freezing and thawing we had, it got to the point where there was some major interior damage done."
Some ceiling tiles and interior plaster inside the building has been damaged.
Lazarus is well known in the Windsor business community as former co-owner of All-Risks Insurance; he retired last year.
Roofers and engineers inspected the roof and found new shingles were required and the caulking around the domes had to be redone.
"All the old caulking has to be taken out around the domes, resealed, and a new pitch roof put on," he said.
The fundraising campaign has reached a national audience after a former Windsorite and member of the synagogue, now living in Toronto, placed an advertisement in the Canadian Jewish News, asking for donations.
Lazarus pointed to the ongoing saga across town of Assumption Church, which closed last year after the Catholic Diocese of London was unable to raise sufficient funds to repair the historic building, more than 150 years old.
$10 million is required for Assumption's renovation.
"I don't want this to turn into another Assumption Church," he said.
"If you nip it in the bud and you catch it quick enough and you stop patching and do it right you can save it."
WindsorOntarioNews.com