St Anne Arms adds an urban feel to downtown Tecumseh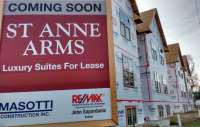 John Sapardanis of Re/Max Preferred Realty describes the project as a "quaint little complex."
The two-story, walk-ups, have an "old fashioned style design" on the outside but contemporary looks inside, Sapardanis said.

The two-bedroom apartments are open concept and have nine-foot ceilings and feature ensuite laundry as well as their own forced air furnaces and central air conditioning.

The buildings are still under construction and "getting through the drywall stage," the realtor said, with completion likely in late August or early September.

The buildings occupy a half acre and are built on the site of a former single-family home.

Another feature of St. Anne Arms is that the urban-style project "will complement" the town's Community Improvement Plan, designed to increase pedestrian traffic between Lesperance Rd. and the Windsor boundary.

"They're looking to get a lot of that pedestrian traffic back through there, so I think it will be a good fit in that core," the realtor said.

Rentals will probably start at $1400 per month plus utilities.

Sapardanis said so far interest in the complex has come mainly from local people.

"A lot of people who attended the St Anne's Church that are affiliated or associated with (the church) are interested as well," he said.

"But having that close proximity to the EC Row Expressway really helps out."

How to describe the overall look, which seems to defy easy classification?
"I don't know what you could actually classify it as, but it will definitely be something that has its own flavor," Sapardanis said.
The realtor said the buildings are "apartment suites…this has just been tailored to fit the town look and feel, maybe give it a little more of an older fashioned style design with a modern touch on the interior."

Have some units been pre-rented?

At this point the realtor is taking reservations where prospective renters can fill out an application, and those people will be called first once apartment inspections get underway.

Masotti Construction is the developer and constructor while Sapardanis assembled the property and worked with the town on the zoning, and he and his wife are handling the reservations.

He agrees the project breaks from a pattern of housing in Tecumseh.

"I've been selling houses and actually reside in Tecumseh myself for the last 20 years and I really haven't come across anything similar to this.

"There are some bigger condo projects on Manning Road, that's where they actually purchase the units (but) not from a rental perspective the way this is here."

WindsorOntarioNews.com