---
---
Solar panels not much of a stigma anymore (con't)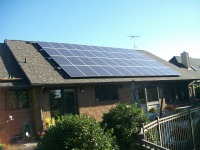 Sean Moore, the man behind the business, says people just find that installing solar panels is a great investment.
A set of panels costs about $35,000.
The average annual rate of return is about 14 per cent.
"That's what you're making over 40 years," he said, noting understatedly, that "traditional investments aren't paying a lot."
His website had an odometer what customers have received in earnings since installing their units – at last count $32,805,217.
That's after the provincial Independent Electricity System Operator (IESO), formerly the Ontario Power Authority, significantly reduced payments.
"They paid a very high above board rate for their renewable electricity," he said.
"It was 80.2 cents per kw/h, and now its 29.4."
Moore said panels are "suitable for every different home on the market" and weigh about three pounds per square foot.
"In fact I've never had a structure fall yet."
As for aesthetic or curb appeal, Moore admits that at first not everyone was crazy about their look.
"In the beginning, yeah, we saw that," he said.
"You'd think you'd had a sale and then the wife just didn't like the way it looked because it was facing the road."
But now that the solar industry has "more or less permeated the public consciousness" there are very few if any who object.
"Nobody cares about the curb appeal any more."
Asked about homes' resale value, Moore replied, "In most of our customers' cases where they have a microFIT (name of IESO earnings program,) they're getting paid between $500 and $800 a month for their system. 
So if you're going to buy a home you can either buy the home without – it doesn't come with a cheque – or you can buy the home which comes with the cheque."
Norm Langlois, president of the Windsor Essex County Association of Realtors, said no study has been done on resale value.
"Maybe it's time that we do, that would come out of the Ontario realtors (association)," he said.
"I've heard the claims and I've seen peoples' reaction, some people, and everybody seems delighted that they can wind up with a lower cost energy," he said.
Langlois can't think of any bylaws or restrictions against solar panels.
"You know you can put an antenna on your roof so I imagine a solar panel on your roof, its not affecting anything," he said.
WindsorOntarioNews.com