City's most prestigious business address using signs to market itself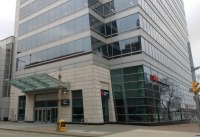 The city itself has had to lease space, leading to controversy, over the almost 20 years the building has now been in existence.
(The tower originally was supposed to be 34 floors and was constructed after the city demolished the Norwich Block, one of the most historic commercial blocks in Windsor.)
Last month city council approved a request to install two ground signs at the corners of Ouellette Ave. and Riverside Dr., and Ouellette Ave. and Pitt St.
The signs spell out a "tenant directory." 
According to a city council report the signs are to "help in the efforts to attract tenants to the building as well as give current tenants a presence at street level."
The report says there is a significant need for the signage.
It says the lack of it "is severely affecting" the building owner's "ability to get tenants for large or small spaces."
As for the signs' design they're described as appropriate for the prestigious building, "aesthetically superior" including elements of stone, granite, glass, polished steel and high quality finishes.
The signs also include "public amenity elements" such as a planter and bench which will not only provide pedestrian seating but "softening the vast amount if hardscape that is found at this corner."
This planter and bench is for the Ouellette and Pitt corner only because "the corner of Riverside Dr. and Ouellette experiences a higher volume of vehicular traffic (and) minimize the mass that could cause potential line of sight interruptions," the report says.
The signs are 12 ft. high and are located on private property.
Windsor's Archon Architects did the signs' design and company principal Settimo Vilardi, in a letter to council, said they are "appropriately scaled" for pedestrians and vehicles alike.
The building is mainly owned by Toronto-based Europro.
Europro originally was agreeable to an interview but then changed its mind and no reason was given.
In 2016 the Windsor Family Credit Union, through its new real estate arm WFCU Real Estate, took a 25 per cent ownership in the building.
WindsorOntarioNews.com