---
---
Nor-Built stresses accessible townhomes (con't)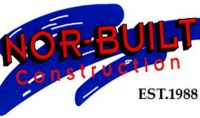 That means homes with no steps and largely built on one level except where customers request two floors.
"We will customize them to put roll in showers and for an individual who has mobility needs," he said.
"But most of these are all just roll in."
Bolger started the company 26 years ago and just completed the closing this week of the last property in Amherstburg's Golf View subdivision off Middle Side Road.
"We just wrapped up Golf View. Yesterday we closed our last unit in there. So we're actually sold out there in townhomes," he said.
Altogether the company has built close to 400 homes across Windsor and Essex County.
Accessible townhomes are Nor-Built's stock in trade but its portfolio shows a wide assortment of other styles.
Bolger said accessible housing isn't just for the aged.
"Even when people are a little bit younger we tell them 'you know if you do it like this now you don't have to ever move, your parents can come visit all the time.'"
Bolger said the concept is a "great seller."
He thought accessible homes were a natural because his daughter is in a wheelchair.
"That's how I started doing this years and years ago."
Typically two bedroom, two bathroom townhomes price at about $220,000 but the company has built a wide assortment of homes at lower and higher price points.
The Golf View subdivision may have 38 townhomes but now is building single family homes.
"We're just doing them as the need arises," Bolger said. "Mostly we do ranches but we'll do whatever somebody wants."
Nor-Built has just opened a new development right in the heart of Amhersburg's old town on Forhan Street behind Sobeys.
That street was started years ago by another developer, wasn't finished, and Nor-Built saw an opportunity to build more accessible semi-detached homes within downtown walking distance.
As a company Nor-Built also stands out for how it names its house styles.
The company names them after the original buyers.
So there is The Benson, The DiBartolomeo, The Pare, The Blais, The Bondy and The Bondy 2, and yes even non-person but site specific The Golfview.
"Basically each one of those was custom designed for that person," he said.
"So whoever was the first one we designed it for we named it after them."
The Bondy, for example, was named after one local Bondy family and The Bondy 2 after another, a well-known town businessman.
It's a cute idea.
"Yeah, some of the people kind of got a kick out of it," he said.
"We actually asked them first and nobody seemed to have a problem with it."
WindsorOntarioNews.com