Latest Kingsville condo complex has panoramic views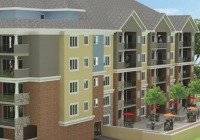 "There's nothing like it in Windsor-Essex County," Century 21's John Krauss, said.
Over half the units have already been pre-sold, with price points ranging from the high $270s to high $370s.
There are four suite styles, ranging in combined interior and exterior (balcony) space of between 1290 to 1386.6 sq. ft.
Petretta Construction of Oldcastle is constructing the complex, and the building's design was done by Windsor's Architectural Design Associates (ADA).
All units have two bedrooms and two baths, ensuite bathrooms, granite countertops and stainless steel appliances.
The fact Kingsville is attracting such growth (earlier, the giant Kings Villa Condos on the town's east side was proposed and still waiting approval) speaks for the kind of town the southern county community appears to be turning into.
A prime Lake Erie location, a walkable and "vibrant" downtown, Krauss said, numerous quality restaurants, and the fact the town is in the middle of Essex County's wine country, seem to be keys in quickly transforming Kingsville into perhaps the county's most desirable community.
Krauss said his project is attracting people from Toronto who have been priced out of Niagara-on-the-Lake, also smack in the middle of the Niagara wine region.
"So when they call here it lines right up with it, it's more southerly, it's on Lake Erie, it's in the heart of wine country, so you're within about a 15-minute drive of over 20 wineries." 
Other amenities include a championship golf course, big box retail in Kingsville and Leamington and proximity to Windsor-Detroit.
"Here's the other thing too," Krauss added. 
Kingsville has among the lowest tax rates in the county. 
"There's us and Lakeshore – we're pretty much neck and neck as being the lowest," he said.
Because of the building's scale and its surrounding neighbourhood, the building's design had to at first be reworked.
"There were some initial things from our first drawing which got massaged," Krauss said.
"So it's been a bit of a process but everything falls within the guidelines."
The town gave Lakeside Park Place Condominiums approval this week.
WindsorOntarioNews.com