Major condo-retail complex proposed for Kingsville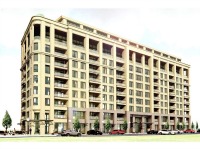 The building is on the north side of Main Street, almost across from the Pelee Island Winery and adjacent to a new commercial plaza that was built in recent years.
The property, at 342 Main Street, has a 17,000-sq. ft. footprint, and would have commercial units on the first floor, and then condos on the remaining eight, topped by a rooftop floor dedicated to recreation and relaxation facilities.
Designed by Windsor architectural firm Baird AE, Moavro agreed the complex would be something of a blockbuster, "and I think it will be something the town will be very proud of.
"There's going to be definitely lots of curb appeal," Moavro said.
There are few high-rise buildings outside of Windsor in Essex County though nearby Leamington has a couple that are 13 stories, he said.
Altogether Kings' Villa would have 90 residential units including one and two bedrooms and two storey penthouse lofts on the top floor.
On the very top of the building there would be a gym, indoor pool, indoor-outdoor track, along with barbecue and dining facilities where residents could entertain.
The top floor will also have a sun bathing area on the south side, with "excellent views of the lake," Moavro said.
"It's not far from the lake where the building is and there's really no obstruction in front of it." 
Four to eight commercial units are slated for the ground floor.
The accompanying architectural rendering shows a mostly finished building with a "heritage" look, Moavro said, but the final design is still to be tweaked.
Moavro said the high rise would be a great home for empty nesters and would have immediate access to grocery, a drug store, fast food, and other stores including a LCBO.
"I think it will fit nicely, it's going to be a definite attraction," he said.
Price wise, a two-bedroom condo would start between $300,000-$350,000.
While there would be above and underground parking residents without vehicles would still find the building easy to live in.
"We're going to be promoting more of walking community where you really don't need a car, you can wheel chair it to just about anything from this location," Moavro said.
Moavro likes to refer to the site, including the adjacent retail area, as Kingsville's "new downtown."
The site is zoned commercial and Moavro is applying for a mixed commercial-residential designation.
The developer has amended his plan to include a second entrance off Jasperson Dr.
(Jan. 20: Clarification and update: The original story stated the property would take up six acres. In fact two acres would be used for the building, four acres would be set aside for possible future development. Asked if that could mean a second building, Moavro said: "It really depends on the town. I think the site could handle a second building if the market permits.)
It's really the best spot in Kingsville for high density residential with minimal impact on traffic and services.
Moavro has developed property previously but not residential, and he owns Cartel Marketing, a logistics and marketing business serving the Leamington area produce industry.
Town planning manager Robert Brown said the town is "still reviewing" the application.
He said there remain concerns about traffic flow to and from Main Street, and about the building's scale.
"It's a significant addition to Kingsville as a whole," he said.
"Whether it causes a significant alteration of the character of Kingsville or not we're still wrestling with that one, I think." 
But Brown said the complex would offer several advantages.
"All communities are encouraged at the provincial level to have walkable communities and when you have high rise developments like this close by to a great deal of commercial amenities it goes a long way towards encouraging that," he said.
The building would also be linked to the traditional downtown, a 15-minute walk away, by a sidewalk.
WindsorOntarioNews.com