City's heritage designation ads cost thousands  of dollars (con't)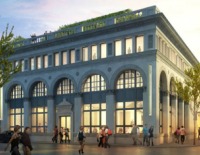 Together the cost of the two types of notices came to $3360.62. The notices are required under the Ontario Heritage Act.
In the case of the "intention to designate" they inform that the public has 30 days in which to object. 
According to the provincial law, the ads must be published in a newspaper of "general circulation" in the local municipality.
The totals above are based on the following information.
Don Nantais of the city's finance department said a 4 by 4 inch "intention to designate" ad in the Star costs $637 plus HST.
The by-law ad costs "about" $426 plus tax.
"Windsor runs about 4 such ads (designation + bylaw = 1 event) in a typical year. Some years less, some years a little more," he said.
The "intention to designate" ads specifically are for the Rigg-Shanfield House on Victoria Ave., the Cunningham Sheet Metal building on Kildare Rd., the Imperial Bank of Commerce on Wyandotte St. E. at Lincoln, and for the oldest sections of the Windsor Star building on Ferry St. downtown, now part of the University of Windsor.
The notice of designation ad is for the Jasperson-Appel house at 224 Sunset Ave. in the University of Windsor main district.
The designation is long in the making, dating back to a request in the 1990s. It was described as "a picturesque red brick, two-storey building with Tudoresque Arts and Crafts detail," according to former city heritage planner Evelyn McLean.
She was testifying at an Ontario Conservation Review Board hearing in July 1996. 
WindsorOntarioNews.com