GTA prices here? Yes, but mostly not (con't)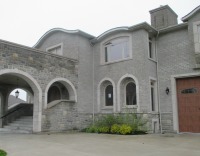 After all, Windsor-Essex is supposed to have some of the lowest priced real estate in the country.
And while the market has ramped up of late, the local real estate industry has continued to tout the fact we have considerably lower prices than most other geographic areas.
And the industry still makes a direct pitch to lure buyers from the pricier GTA and other markets to Windsor-Essex, amenities including favourable climate, great local restaurants, and big city attractions across the river.
For years the industry has packaged the local market as the "100 Mile Peninsula."
So what's with these high prices, all advertised in last week's Windsor Star supplement of Real Estate Listings?
A rough count of the listings found there were 38 homes priced at more than $500,000. 
There were 28 properties priced at more than $400,000.
To be sure, there were numerous properties priced below those amounts and many listed for under $200,000, maintaining our region's reputation for economical real estate alive.
But the higher prices might also make someone wonder if our market, in certain areas, is creeping into GTA territory.
Other examples of eye-popping prices are recently-announced condo developments.
In Amherstburg, the Echo Riverside Condominiums, advertised condos starting at $484,000.
And the Queen Charlotte Residences have advertised unfinished units starting in the low $500,000's.
Norm Langlois, president of the Essex County Association of Relators, acknowledged there indeed are pricier houses in Windsor-Essex.
But, he said, these tend to be larger houses often in select neighbourhoods and have considerable amenities such as construction materials and finishes.
"You've got properties that are being sold that are higher and they're unique, maybe a larger lot in a really nice neighbourhood," he said.
"There are neighbourhoods that will demand that kind of dollar."
Otherwise, he said, there are many houses "that have been priced the same as they have been all the way along. They're not jumping all over the map" despite a slow rise in overall prices due to a hotter market fuelled in part by pent-up demand.
By contrast to the very pricey neighbourhoods there are other at the very low end.
"We have other areas, we have giant areas (where houses) aren't over 100 grand," he said. 
WindsorOntarioNews.com