---
Would tax holiday work better than waiving development fees? (con't)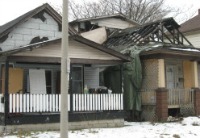 For example, could the city not have gone steps further and issued tax holidays – i.e., no property taxes on new properties for a period of several years.
Perhaps nice in theory but in Ontario there is no mechanism to do so. 
"Theoretically there is an ability to set area specific tax rates, however this is used primarily in those cases where there are vastly different services for different areas (i.e., as a result of amalgamations with differentiation of major services between rural vs urban areas)," said city treasurer Joe Mancina.
"Clearly this is not the case in this instance."
James Buttivant, spokesman for the Ontario Ministry of Finance, says municipalities "must apply the same tax rate on all properties within a property class (e.g., residential), unless there are municipal services that are only applicable to designated areas."
The rationale is because governments are prevented from "directly or indirectly" assisting "private business enterprise," also known as "bonusing."
But Buttivant said there are other tools.
Under a Community Improvement Plan or Community Improvement Project Area, grants are permitted for environmental site assessment, remediation and rehabilitation, or for energy efficient buildings.
These are known as Tax Increment Equivalent Grants (TIEGs), "based on the incremental value (increase) of municipal property taxes as a result of an improvement or redevelopment of the property," Buttivant said.
However, for multi-residential units, the city "may set a lower tax rate" on such newly-constructed buildings "than otherwise would have applied to those properties."
In the report calling for development free waivers, the city's consultant, N. Barry Lyon Consultants Ltd. Of Toronto - which did not respond to a request for an interview – stated other incentives include municipal investment loans, where the city lends money to offset construction costs, a practice used by the city of Hamilton.
There's also what's known as the Property Tax Deferral to Occupancy. 
"Compared to other parts of Ontario, developments in Windsor take a long time to sell," the consultant said.
"Slow sales leads to a longer development timeline and increases the associated carrying costs."
But the program would be "complicated to implement" apart from other programs like brownfield remediation or heritage retention under the Provincial Land Tax Act.
The consultant says the city could also itself acquire properties "through joint venture developments."
WindsorOntarioNews.com