Developer laments lack of hi-rise construction skills (con't)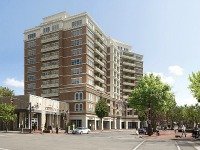 "We thought about developing much more but it's too hard to get some competent workers here in the area," he said.
Boutin, who started the Everlast Group in 1975, said it's "almost impossible" to find competent workers, and is a reason his company is hesitant about, say, moving into the Windsor market.
For the Chatham project (pictured), believed the largest ever in the city's core and which has the potential to transform downtown and draw outsiders to live in a pleasurable small city environment on VIA Rail's main line, Boutin had to largely recruit outsiders.
"We tried to teach some people but it just doesn't work," he said.
"We're very disappointed. That's the only thing that we are disappointed (about) the area is we cannot find competent workers for hi-rise."
He realizes there are many skilled labourers in the manufacturing and construction sector but they don't have the abilities, including safety competence, for hi-rise construction.
"They may be good for houses, low-rise, factories…but not for hi rise," he said.
For The Boardwalk, a $50 million, 117-unit condominium which fronts on the city's main street and backs on to the Thames River - and which will be completed in December 2015 - he drew some workers from Windsor but more from London and towards the GTA.
Boutin is talking "any" type of skills - from carpentry to concrete.
The general labour pool is "lagging on their competence and they're lagging on safety," he said.
He said there are college graduates but that's not the same as job experience.
"They (learned) only at school, they don't have the experience on the site, it's two different animals," he said.
Boutin suggests this is ironic because Windsor is ideal for hi-rise condo construction due to the spectacular riverfront.
"You've got plenty of places to go up," he said.
"In Windsor you've got that nice river you've got that waterfront and all that."
But Windsor tends to be a town where housing construction is lateral, based on single family homes in suburban sprawl, which to Boutin is sacrilege.
Growing up on a farm in Quebec Boutin said farmland is precious and should not be further encroached on.
He called the soil in southwestern Ontario "the best farmland in Canada."
"I'm so sorry that they're wasting all that nice land," he said.
WindsorOntarioNews.com