New Ouellette arts centre was former K of C headquarters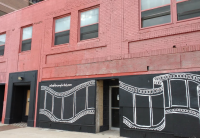 It was all part of a two-story complex built in the 1920s to be the headquarters for the Knights of Columbus.
Amanda Gellman, the arts centre's chair and fundraising campaign head, said her organization will be fully renovating the building.
"We're going to be renovating the entire building but we're going to be stripping the façade and bring it back to what it looked like in the 1940s," she said.
The centre will be unlike anything currently in the city and perhaps in Canada.
Gellman said concepts were studied as far away as Vancouver, California and New York.
"We put together the best of everything that we found to create this centre," she said.
The facility will be designed to attract artists of all sorts – from filmmakers to musicians to stand-up comics.
In fact, the goal is to have regular live entertainers on a stage in a street level restaurant.
The entire building is 28,000 sq. ft.
In preliminary work of converting the building crews removed a drop ceiling and found the original scalloped ceiling above.
"When we removed the dropped ceiling we didn't expect to find this beautiful ceiling and the floor was completely covered with tile and carpeting," Gellman said.
"So once we removed all that we found this beautiful room."
Before her organization's purchase the building had been vacant.
Gellman said the swimming pool will be converted to small theatre and the bowling alley to music studios and editing suites.
"I don't think it's been used since 1930-40," she said of the pool.
And the bowling alley - "most people don't even know it's in there."
Gellman said access to the arts centre will be from both the Ouellette and Pelissier streets.
She said renovations will start in 2019 after the City of Windsor completes major streetscaping on that section of Ouellette next year.
That streetscaping dovetails nicely with the arts centre's plans, Gellman said.
The city plans to create "flexspace" where restaurants, for example, can set up patios without obstructing the pedestrian sidewalk.
WindsorOntarioNews.com