Palace Cinemas (continued)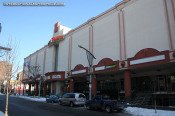 Woodall said there is no truth to rumours that the fourplex may close.
Woodall said that his contract with distributors prevents screening non-mainstream films such as independent or art house movies.
"We're controlled fairly tightly by the major distributors to what we can and can't show," he said.
Nevertheless, he said, there still is room for independent screenings.
He said he has hired a "new younger manager" and that person is looking at additional marketing opportunities.
These could include asking groups such as student associations to set up a film night for a fundraising activity.
It would allow a non-commercial film to be shown and the admission charged would go to the charitable group.
Woodall said this could be a film "not yet on DVD release but is out of print, out of first run, and let them sell the tickets to it as a fundraiser. Just cover the costs of our staff to show it."
The theatre, in turn, could generate food concession revenue.
And bringing clientele to the Palace would "raise awareness of the opportunities downtown."
WindsorOntarioNews.com