Ouellette Ave. "sea of gray" criticized (continued)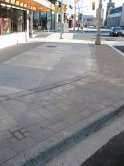 "The board's position is that they're not really thrilled about it at all," DWBIA executive director Chris Edwards says.
"They find that there's just a lot of concrete, not a lot of green."
The project encompasses Ouellette Ave between Pitt Street and Wyandotte Street.
According to city centre revitalization manager Jim Yanchula the overall gray look was intentional.
He said the purpose of the project was to "reduce the clutter" of the previous downtown look and "address the general deterioration of the 1980's-era" streetscaping with its high maintenance costs.
"It's very clean, it's all cleaned-up," Edwards agreed. "But we don't see a lot of 'wow' out there."
He said the feedback is that "people just don't notice a difference and that's not really what you want when you spend the kind of money that we spent on it."
---
So what do you think about Ouellette Ave's new look? Click here for more pictures and to have your say!
---
Yanchula said the gray look or "palette" is meant to be "neutral" so that individual storefronts "stand out colourfully in it."
He said "good recent examples of this working as intended" are The Manchester Pub, Chanoso's/Oishii restaurants and the new TD Bank, still under construction.
He said there are actually three neutral versions, all designed "so that the DWBIA could add cheap and cheerful seasonal colour in the form of planting, banners, and decorative lighting to change it up and keep it looking 'fresh.'"
Edwards said that "Jim Yanchula's theory is that the storefronts become the palatte for the streetscape. But it doesn't seem to."
He said the DWBIA is looking at doing some street art. But, he said, now the association has to come up with tens of thousands of dollars in more money to dress up the look.
"On top of the money that we spent to partner in streetscaping we have to also now contribute more money to brighten the street up," he said.
He said the twinkling lights visible at night have really helped. Otherwise "it would look really really stark."
Edwards said this is money the BIA would have preferred not to have spent.
"All things being equal now we'd rather spend our money in trying to encourage businesses to move into the core," he said. "But we engaged this thing five years ago (2005) – like, the streetscaping was the priority of this board."
The project was designed by Toronto-based Envision with Dillon Consulting. EnVision has done a number of Windsor projects such as the area around Caesars Windsor, the Civic Precinct and the Park St. "Gateway to Canada."
DWBIA members dislike the "sea of gray" look so much that they're spending a quarter of a million dollars for enhancements to separate work at Maiden Lane and Pelissier.
"So above and beyond our contribution of about $460,000 for Maiden Lane and Pelissier we're putting in another quarter million to enhance it because we don't want the concrete look anymore," Edwards said.
He said that instead of gray concrete there will be a "copper palatte" as well as "changing the poles, the lights and the furniture."
WindsorOntarioNews.com