Winter cycling a (cool) breeze (con't)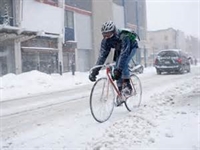 "Also, mitts rather than gloves."
For a bike's mechanics a little extra caution is also necessary.
"You also need to keep your chain lubricated or things start to seize up," he said.
Temperature is one factor but what about road conditions?
Waters said that "generally speaking, provided (streets) have been plowed, winter riding is really enjoyable and safe."
But this harsh winter has provided a few hiccups, though he and others he knows are taking it in stride.
"This year there have been a few days when it feels a bit sketchy - say a half dozen days over the course of the whole winter."
Waters, who teaches law at the University of Windsor, commutes by bike throughout the year using the city's riverfront trail.
"You just build the commute into your daily life - it would feel strange for me to drive (by car) to work now." 
In fact, "normally an easy winter cycle is one of Windsor's comparative advantages."
Ambassador Bicycles shop owner Rob Parent also cycles throughout the winter.
Admittedly, he says, the going is tough with snow builds up.
But he contrasts Windsor with other cities, like Madison, Wi., that are very bike friendly.
"They will clear their bicycle traffic (paths) before they do their roadways - sometimes they're cleaner just to keep the cyclists off the road," he said.
Parent says there's also often less road space in winter because "you went from a small shoulder to no shoulder."
But, he said, experienced cyclists "don't really have an issue.
"There are ways you can equip your bike for the snow."
Like studded tires and chains.
"There's actually a trend called a fat bike – they're built for riding in the snow, that have a big fat wide tire," Parent said.
"That's very popular."
Photo: www.active.com
www.WindsorOntarioNews.com