---
Parkway construction will result in re-creation of natural environments (con't)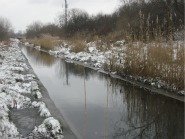 Turkey Creek in Windsor flows into the Grand Marais Drain, which is noticeable by its "trapezoidal" cement basin.
Turkey Creek downstream runs through LaSalle and into the Detroit River.
But on the downstream side crews will be tearing up that concrete trough and re-creating the natural conditions that were once there.
Some 900 metres of concrete will be removed in stages, according to Mark Ruthven, senior biologist for AMEC, an infrastructure and environmental design company contracted by the Parkway consortium.
"What we plan to do is remove this concrete channel," he said.
The concrete will be razed and a natural stream "will meander" from side to side within an already-defined wider flood plain, he said.
This will create alternating shallow and deeper areas and "provide habitat diversity so you can increase the value of that habitat to a variety of species of fish."
This will also integrate the so-called riparian areas on either side of the creek – where trees and shrubs grow – to more naturally connect to the waterway.
Ruthven estimated the concrete base is about a third of a metre thick.
Crews will get rid of it in segments.
"You'd bypass the flow so you're not releasing sediment to the downstream fisheries habitat, (then) remove that section of concrete," Ruthven said.
"You'd excavate out your new meander plan, stabilize it, and then release the water ... and build another section."
He said "natural design" principles are also being used for work on the Wolfe-Cahill and Lennon drains, also along the Parkway project.
For example, the Lennon Drain will "mimic a natural channel," Parkway documents say.
This will also create a pond that will provide a large permanent fish habitat with deepwater pools and shallow areas near the shore.
Fish will be able to spawn, feed and rear.
The Wolfe-Cahill Drain will be similarly realigned as a natural channel providing different water depths and fish habitats.
WindsorOntarioNews.com