Almost impossible to destroy Invasive Phragmites (con't)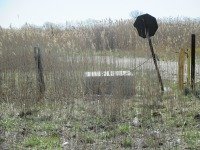 But there's little that's being done to fight them other than a few very focused herbicide treatments in a few local conservation areas.
Mainly it's because there's no widespread solution to rid river banks and woodlots of the plant.
Tim Byrne, Essex Regional Conservation Authority's watershed management director, says since Phragmites is a close cousin to field corn and Kentucky bluegrass (most people's lawns) spraying it might also affect those plants.
"So some of the things scientists and others are trying to figure out is what is it that separates (Phragmites) from other things," he said.
"Is there something very specific that will attack it or through chemical treatment will only impact it and not something else?"
Back in the 1990s Purple Loosestrife, another invasive, was a major concern.
But the insect known as the beer beetle attacked it and killed most of the Loosestrife off.
No such luck with Phragmities.
Controlled burns won't work.
"That's the worst thing you can do," Byrne said.
That forces the plant's rhizomes – underground plant stems that send out shoots – to propagate.
"You'll see within a week's time it'll spring up with twice the number of stems," he said.
Ploughing Phragmites under has the same effect.
But, if you own a woodlot, you can cut it down to your heart's content for aesthetic purposes but just expect it to grow back up again.
ERCA is conducting some controlled management.
At Ruscom Shores Conservation Area crews burned it off and then applied Roundup.
"And we were successful but the problem is you then have to have active management of it and when you apply, say, Roundup, you kill everything else," Byrne said.
The best solution is applying a wick applicator to each individual Phragmite stem, making sure the sponge doesn't touch any other plants.
But even that's not a guaranteed kill off.
"It's like fighting Canadian Thistle, Canadian Thistle is everywhere," he said.
"Farmers spray it and they spray it every year in wheat fields and soybeans and corn (fields)," he said.
Using wick applicators is also highly labor-intensive and therefore expensive.
So, let's hope the people in the white coats can come up with a solution, and soon.
WindsorOntarioNews.com