Lambton group claiming victory against invasive Phragmites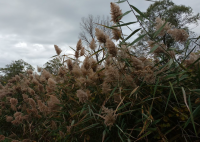 But a group of people just north of here, in Lambton County, has decided to fight the good fight, and they've started to make headway.
The Lambton Shores Phragmites Community Group has now enlisted an army of volunteers and local conversation and municipal authorities - backed by tens of thousands of dollars in grant money – to begin eradicating the species, which can grow in massively thick clumps or stands two metres high.
"We just felt so passionate" to fight this, Nancy Vidler, the group's chair said. "Instead of throwing up our hands in frustration." 
They started attacking the "monster grass" in 2008 in the Port Franks Beach area, just south of Pinery Provincial Park.
Local property owners first pitched in to fight the grass, which creates dead zones by choking out other plant life and even animal habitat.
The initial success inspired other communities along Lake Huron such as in Grand Bend and Ipperwash.
"We helped these other communities get going," Vidler said.
The group also had to get Ministry of Environment exemption to use chemical herbicide Roundup.
"I can't even imagine years ago that I would have done that (advocating chemical use)," Vidler said.
"But, when you see the damage and the negative impact that this has done our biodiversity and our special areas declared provincially significant and globally rare - the wildlife, the birds." 
Spraying equipment has included Argo Sprayers, which look like an elaborate ATV, and even helicopters to hover low and spray down on the reed.
The chemicals seep down to the rhizome root system – where the plant spreads rapidly - killing it off.
Then the reeds are chopped own, compressed and set afire in a controlled burn.
At Port Franks, 98 per cent of Phragmites was cleared in the first year.
But the battle isn't over, and each subsequent year vigilance or "touch up" is needed to kill off remaining or emerging plants, Vidler said.
Vidler says a team effort among various agencies is important because of the contiguous nature of the reed, connecting alongside roadways, streams and wetlands.
Her group has the backing by not only Lambton County Council but the St. Clair Region Conservation Authority, the province, and even a federal wetlands conservation fund, which gave it $200,000 over three years to attack a large 156-acre site.
WindsorOntarioNews.com