Despite drop in hunters Pelee Hunt still generates revenue (con't)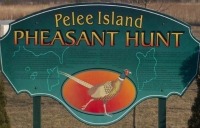 "Well, I've been here 20 years and they've never been sold out as long as I've been here," Pelee Island Mayor Rick Masse said.
Why the drop in interest?
"I would say the majority of it is hunters are getting older and the younger generation are not coming in behind them as rapidly as they were in the past," Masse said.
"Obviously we took a big hit with the cross border issues and most of the hunters are starting to get older and they're unable to do it now."
But hunters still seem to come from as many places as they always have - this year from 18 American states, four provinces, and even a few from Mexico. 
It all translates into big cash for the municipality.
Licences account for as much as $300,000 in revenue for the township with spinoff activity - such as lodging and food - bringing in as much as "half a million to $600,000," said Masse.
As many as 13,500 pheasants are released for the hunt although in past years it's been as high as 20,000.
The young pheasants are brought to the island at six or seven weeks of age from various distributors in southwestern Ontario, and from there are raised at the Pelee Island Pheasant Farm, run by the municipality.
Asked if there's never been any controversy over the hunt, such as protests by animal rights activists, Masse said no.
Will the hunt continue long into the future?
"We take a look at it every year and we make a decision," he said.
"There is no short term decision to stop the hunt.
"It's been a tradition in our community since the 1930s and I would expect it to continue," he said.
WindsorOntarioNews.com