St Clair College MediaPlex's exterior living walls (con't)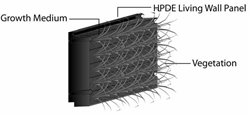 The better known living wall in our community is in the University of Windsor's new medical education building, and is much larger than either of the Saint Clair walls.

But the Saint Clair walls are unique because of their exterior locations and the fact they add greenery to the remaining parts of the building that still had basic beige brick, even after the building was modernized complete with its distinctive "MediaPlex" logo.

It was a first for architect Dan Amicone's firm, Architecttura Inc., which handled the building conversion.

And now that Amicone's firm has developed a green thumb, it plans to design a few more living walls.

The design is basically metal frames which accommodate rows of cells of planting medium.

"It's basically blocks of growing medium that goes into this structure that's secured to the wall," he said.

The lower wall is 10' across and 17' high and the upper wall is 13' across and 6' high.

Each panel is 12"x 12" and holds 10 plants in its cells.

At the top of the panel is a chamber that collects water from an irrigation line, and passes water from one cell to a lower cell.

The garden originally was developed by a Toronto firm.

But an early problem occurred because the firm thought the growing season in Windsor-Essex was warmer than it is.

"We do get snow in southern Ontario," Saint Clair groundskeeper Shannon Arnold laughed.

So some of the more delicate original plants died and had to be replaced.

This year the walls were subcontracted to LaSalle's Garlatti Landscaping.

Landscaping staff "open" the walls – including turning on irrigation – in April, then they do two summer maintenance visits, and close the walls in late autumn.

The soilless media is a mix of peat, vermiculite and coconut fibers.

Most of the plants are varieties of sedum but there are some yellow annual marigolds to pop the colour.

And yes occasionally weeds do sprout.

"Oh yeah, seeds float in the air, birds poop seeds," Arnold says.

Does Saint Clair have more such walls in its future?

There's nothing on the drawing board yet.
 But, says Arnold, "we're trying to go as green as possible around here."
WindsorOntarioNews.com