---
ERCA getting into seasonal accommodations (con't)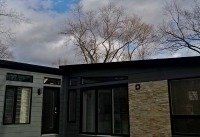 "This will be the first unit that we've ever initialized like this with the intent of short term stays," ERCA conservation services director Kevin Money says.
The cottage is still being built but will be available by spring or summer.
It will be on the site of a former cottage and will be set well back from the public recreation area though still having beach access.
"What's really special about it is the privacy," Money says.
"You've got nobody around you, most other cottages in Windsor-Essex on the waterfront you're kind of sandwiched in between two other houses."
The cottage is under 1000 square feet, will have a master and two smaller bedrooms, living area, full kitchen with stainless steel appliances, and indoor-outdoor fireplace.
There will also be an outside deck, barbecue and fire pit.
"Ultimately what we want to do is try and accomplish a really nice outdoor space associated with it but if you have poor weather and in the evening, you'll have a very nice indoor space as well," Money says.
"It will have all the amenities that you'd want at home."
Whether ERCA builds more cottages will depend on the success of this one.
"Before we make any further investment we'd have to try this out for a few years and just see what it's like and what kind of profit margins are made on something like this and how it all works out for us and the logistics of it as it relates to all the other services that we provide at Holiday Beach."
And because of its large recreation status Holiday Beach would be the only conservation area that could handle more cottages.
Money says the purpose of the cottage is also to provide a new revenue stream to ERCA.
"Although there's tax funding associated with the conservation authority, we always look to try to find ways of self-generating revenue."
Based on the accommodation market the cottage will rent for about $200 a night and $1100 a week during prime season.
WindsorOntarioNews.com