Native plant gardens is a first for a Canadian mall (con't)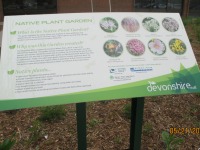 "The idea was to lower our carbon footprint by doing away with grass, lawn cutting and watering," Darrel Lauzon, the mall's operations manager, said.
"And going back to the native Essex County plants that are originally semi-arid to start with."
There is signage explaining the plants and one garden actually has a bench where people can sit with a 15-amp plug-in so people can charge their cell phones and laptops.
The gardens are located in front of the BM0 and the TD Canada Trust entrances.
Shoppers can stop by to admire the plants or even rest.
"You can act sit in the middle of the gardens, enjoy lunch, and look at the surroundings," Lauzon said.
The mall has plans for more sites but it will depend on how Devonshire evolves.
"Things are very fluid, so as things come up, sometimes plans shift, they change at the mall, but our plans are to continue to expand," Lauzon said.
The mall's gardens have got the seal of approval from the Essex Region Conservation Authority (ERCA) and Recycling Council of Ontario.
Mall staff have worked with folks from the Detroit River Canadian Cleanup (the mall is on the river's watershed).
Some of the garden's success stories have been watching Black Swallowtail butterflies breed in the garden.
Seeds from mature plants have also been gathered for plantings for Herb Gray Parkway landscaping.
And "we are the largest single patch in a commercial institution (having) Michigan lilies," which often need five years to bloom but here took only two, Lauzon said.
The very existence of a Carolinian garden means seeds can be transported by birds and wildlife, which in turn will grow similar plants, adding to the region's native footprint.
WindsorOntarioNews.com