Detroit River water levels not reflective of river itself (con't)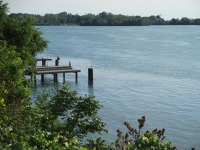 "The Detroit River, like the St. Marys, St. Clair, and Niagara, are often referred to as 'connecting channels,'" said Anne Clites, physical scientist with the Great Lakes Environmental Research Laboratory in Ann Arbor, part of the US National Oceanic and Atmospheric Administration (NOAA).
That's because "they don't really act like typical rivers that have a distinct watershed and only that," she said.
Instead, the 45 km long Detroit River is more or less only a funnel connecting one large water body with another, in this case the Upper Great Lakes with the Lower Great Lakes.
So the water level we see isn't reflective of the Detroit River but about the lakes north of us.
"Since these rivers connect the largest surface freshwater system together, they are also impacted by the current state of water levels and flows in upstream lakes and rivers," Clites said.
And, among other things, those northern water bodies haven't experienced the lack of rain that our region has.
The current drought in the Windsor-Detroit area "has only been impacting us since this spring," she said.
"And parts of the Great Lakes basin, including much of the Lake Superior basin, is not experiencing drought conditions."
A NOAA chart dating back to 1998 shows the higher water levels starting in 2014, especially in Lake Superior but also in Lakes Michigan and Huron.
And since that water flows down to us we're seeing the higher levels.
"You can easily see that as the water supply has increased, the river flow has increased," Clites said. 
So don't be befuddled by the apparent contradiction between our weather and the Detroit River's abundance.
Though Clites agreed, "The increase on the Detroit River looks especially dramatic."
WindsorOntarioNews.com