Generous grants for restoring your rural property (con't)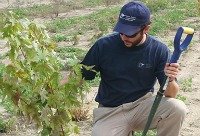 ERCA biologist Kathryn Arthur, who oversees the program, said grants of 75 per cent are available if the property to be restored is one to 4.99 acres.
If it's five acres or more the grant is 90 per cent.
Arthur said a couple of dozen landowners this year have already applied to have restoration done on what are now open fields or unused farm lands totalling as many as 150 acres.
The program is ideal for people who may have moved to the country, bought what was a small farm, but don't intend to do any farming.
"They want to see the beautiful natural area behind their house with the deer and the birds and maybe some trails," she said.
Arthur said ERCA works with landowners through all phases of the program.
Landowners are encouraged to apply in the fall because assessments can be done before winter, plans drawn up specific to the site, and then planting begun in the spring.
In drawing up plans, "We look at soil conditions and moisture levels, sun, shade – all the conditions of the site - and sometimes there's natural habitat right next door that kind of gives us a very good clue of what historically was there," Arthur said.
Before planting can begin the typical clay soil of the county usually needs to have a "fall plow" to loosen it, she said.
Planting trees (roughly 700 seedlings an acre), wildflowers or prairie grass can cost as much as $1500 per acre, so the property owner saves considerable money by getting a grant.
Each seedling, for example, costs just over one dollar.
In the spring ERCA sends a crew with a tractor-driven tree planter as well as hand planters to plant in tight areas.
The grant also pays for ongoing site maintenance.
"Basically we want to keep the weedy growth and competition away from the little tree seedlings," Arthur said.
The landlord is responsible for mowing the site a few times a season after herbicide applications are applied by ERCA the first two seasons.
After the initial spring planting ERCA returns in the fall to inspect the site, the goal being to keep alive 70 per cent of the original planting.
"If we have to we'll go back the following spring and we'll bump it up and infill it," she said.
Those signing on to the program likely will be gratified to know they're adding, acre by acre, to the region's natural ground cover, which currently stands at 8.5 per cent.
WindsorOntarioNews.com