---
Amherstburg to Essex Cypher Systems Greenway is set for a Spring opening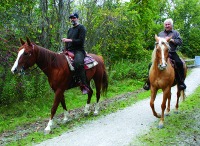 The 26 kilometres start – or end – in the urban core of Essex.
Not so for Amherstburg, although it gets mostly to the urban centre.
In Amherstburg the trail will end at Thomas Road, which has a bike lane painted on it but ends at Alma St., where there is no bike lane.
Cyclists could also use Texas Rd.'s new bike lane but that ends at County Rd. 20 or Front Rd. North, where there are no bike lanes and which in about one kilometres to the urban core.
Meanwhile, the route intersects with the Chrysler Canada Greenway – which runs 42 kms from Oldcastle outside Windsor to Ruthven adjacent to Kingsville – at McGregor.
Cyber Systems is the trail's relatively new name and might be confusing to those who have been following efforts over the years to create the county's second longest trail.
It was originally known as the Essex – Amherstburg Greenway.
The trail was originally a rail line and the former owner CN donated back in 2003 "because of the success" of the Chrysler Canada Greenway, according to the Essex Region Conservation Authority (ERCA).
The trail actually got its start back in 2007, when one kilometre was built connecting in Essex to Sadler's Pond Park.
Meanwhile, one $1 million has been raised through the Essex Region Conservation Foundation's Trail On! campaign.
"Cconstruction is currently being finalized and we will be celebrating this grand opening of the trail this spring," ERCA spokeswoman Danielle Breault Stuebing says.  
"For now, though, as construction is finishing up, the trail remains closed to ensure safety."
As for the attractions along the route, Breault Stuebing says there are "many wonderful experiences to be had."
These include, within the town of Essex near Sadler's Pond, "all of the wonderful shop sand eateries."
Otherwise the rural trail is differentiated by a variety of landscapes.
"In some areas, you pass through Carolinian forests and see beautiful examples of the flora and fauna that are unique to this region," she says.
"There are some stunning vistas over bridges that are incredibly beautiful.
"As people travel along the Greenways, they will see our rural and agricultural landscapes that make our region so very special."
No date yet on when the grand opening will be held.
WindsorOntarioNews.com