Households should see $500 natural gas bill drop (continued)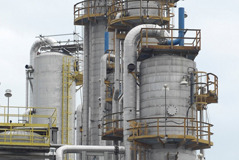 The price of gas "declined fairly significantly in 2009," Union Gas spokeswoman Andrea Stass said. Prices, she said, "are at their lowest level in about 10 years."
A major reason is the discovery of plentiful gas in shale deposits in western North America.
Some estimates put the amount of natural gas deposits in the U.S. alone lasting anywhere from 90 to 120 years.
Stass said the price of natural gas has recently been running at 11 cents per cubic metre compared to 31 cents a year ago. "So it's about a third of the cost."
Stass said another factor in bringing the price down has been that the recession has resulted in less demand for fuel.
"Those two things combined have caused the market price of gas to decline."
She said it's hard to estimate how much people are saving each month "but what I do know is that, if you compare it to last year it's about $500 over the course of a year."
She said this would also depend on customers' patters of energy use, their house temperatures and how energy efficient their homes are.
Union Gas passes on the straight market price – whether it's higher or lower – to consumers, "at what we buy it for, so no mark up," she said.
The company instead makes its money on distribution and storage costs within Ontario.
"It's on those last two things – storing the gas and delivering it to your home – on which we earn an income," Stass said.
Those rates are regulated as is the company's rate of return by the Ontario Energy Board.
When usage goes down it also affects the company's income, Stass said.
Union Gas is owned by Spectra Energy Co. of Houston, Texas.
Stass said some people may be unaware of the price decrease because they are on equal billing plans.
Those plans are based on the price of gas from the previous year. But she said the company would provide a credit when it reviews bills in August.
She said the company occasionally does earlier reviews if there are major price fluctuations "and we will adjust their payment down or up depending on what the price of gas is actually doing."
Stass said about half of Union Gas' customers are on the equal billing plan.
About 95 per cent of households in communities in Windsor-Essex that have access to gas choose natural gas rather than electricity or heating oil.
Consumers Association of Canada spokesman Mel Fruitman said any price drop is "welcome of course" calling the year over year gas price decline "significant."
But, he said, it "brings us in many ways back to the question of should you sign into long term contracts or not because it depends at any time on what's being offered."
He added that "anybody who signed up for a long term contract a couple of years ago is probably kicking themselves now unfortunately."
But Fruitman said the price decline should offset to some extent the fact natural gas in July will become subject to the new Harmonized Sales Tax (HST).
Whereas currently the GST is charged on natural gas the provincial sales tax is not.
WindsorOntarioNews.com