Mettawas' Majanna's traditional products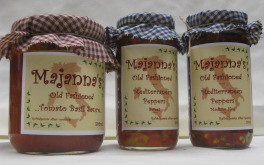 "They're named after my grandmother," Anthony, who is also the restaurant's chef, says. "She's who I got my passion for cooking from."
The Del Broccos make a tomato basil sauce, two salad dressings (red wine vinaigrette and raspberry vinaigrette), three flavours of wine jelly (chardonnay and habanero peppers, cabernet and cranberry, and rose blush wine), hot and sweet Mediterranean peppers in olive oil brine, and BBQ sauce.
The couple also make up gift baskets.
Several of the products are sold at Colonial Coffee's retail store in Windsor and at the Pelee Island Winery in Kingsville.
But all of them are sold at the restaurant at 165 Lansdowne Ave. (the converted train station) itself.
The Del Broccos have limited their production and sale of the items because of time constraints. They also have to run the restaurant after all.
"It's still really small scale," Anthony says. "I haven't really mass produced it."
They also want to keep the price low. Some retailers may substantially mark up products making them more difficult to sell.
All the Majanna's products retail at the restaurant for under $10 each.
WindsorOntarioNews.com