Seasonal schedule change resulted in erroneous WestJet ticket (con't)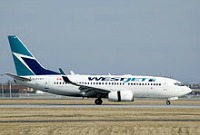 He was able to rebook for another flight - this time to Calgary on WestJet, at a slight increase in price.
But when departure day, April 29th rolled around, and checking earlier in the afternoon online the status of the 4 pm direct flight to the Alberta city, he was alarmed to find no flight listed.
He quickly went online and began a chat with a WestJet customer service agent, who told him he should take the matter up with the company through which he booked the ticket, Air Miles.
That he did, and found a very responsive customer service agent by the name of Veronica, who, over about three hours, went back and forth between her company and WestJet trying to find the source of the problem.
Veronica said Air Miles could find no update from WestJet that the flight had been cancelled or changed.
And when she inquired to a WestJet representative she could not get a definitive answer about the erroneous booking.
Nevertheless, since Air Miles had booked the flight, her company took responsibility and rebooked Stang on a later flight departing Windsor 8 pm, this time on Air Canada via Toronto, with the connecting flight to Calgary leaving Pearson Intl. at 10.55 pm, for arrival at 1.09 AM Calgary time.
What caused such a false booking, despite being issued a reservation number as well as the flight number itself?
(Stang's return flight on May 6 was valid since WestJet had now begun its summer season schedule to Windsor the first week of May.)
WestJet spokesman Robert Palmer said the error had to do with a change in scheduling.
"In early December, we extended our winter schedule (November to April) by one week," he said.
"Since that Calgary-Windsor route is a seasonal route that operates only in the summer, any flights that were due to operate in that one-week period were cancelled."
Palmer said it's normal practice for his airline to contact "any affected guests" who booked directly "and work with them to schedule their flights."
Because the booking was so far in advance it's "usually a very quick and simple process because there are so few guests involved," most booking relatively much closer to departure dates.
The same goes when passengers book through a third party such as travel agencies or Air Miles.
"However, in this specific instance, it appears we did not contact Air Miles," he said.
"We do not know why this did not happen, but clearly it is our mistake and we accept full responsibility.
"The long and short of it is that we messed up and we apologize."
Palmer said the error has been brought to the relevant personnel and the airline is "examining our processes to ensure that this mistake is not made again in the future."
WindsorOntarioNews.com