Union Station reconstruction will last almost another two years (con't)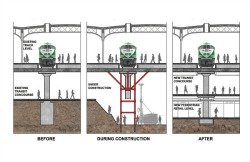 All work is supposed to be completed by early 2018 but the station continues to be a rabbit's warren of makeshift plywood tunnels and vast areas – particularly the lower level retail section – being completely closed.
"We appreciate their patience while we work to improve the station," City of Toronto spokeswoman Natasha Hinds Fitzsimmins, said.
The long time work, and traveller inconvenience, speaks to the uniqueness of "one of the most complicated" projects in the country, she said.
That's because it's "wedged" into a highly congested part of downtown Toronto and construction is taking place while the station remains open to regularly scheduled commuter and intercity trains.
It's called the "Dig Down."
Digging down several metres will create two new transit concourses and a new, lower-level pedestrian retail concourse.
This involves the replacement of 447 concrete columns, 185 which directly support train tracks.
The city says column replacement on this scale is almost unique, only done in special cases and hardly ever on buildings that remain fully operational.
Meanwhile, nearly 45 truckloads — between 600 and 900 tonnes — of excavated material, is being removed from the construction site nightly.
The reconstruction will "double the station's capacity," said Fitzsimmins.
Still, weary and hungry travellers may wonder where they can buy a coffee or sandwich, or pick up a magazine, since the former lower level retail area is closed.
One of the newly-opened sections, GO York Concourse, just west of the Via concourse, has three food and beverage outlets, "with three more expected to open in the coming weeks; a kiosk in the York Street Promenade and one in the Great Hall," said Fitzsimmins.
There are four coffee retailers (McCafe, Starbucks, Pilot and Tim Horton's) currently open, and International News is scheduled to open in June in the GO York concourse.
As more of the station opens, there will be a mix of retailers "including quick service restaurants, casual and fine dining restaurants, a fresh market, and other food, beverage and service vendors," she said.
Meanwhile there is a system of temporary wayfinding signs to help get travellers through the mess.
And just in time for summer – to alleviate some of the pain – the Union Summer Market will open in front of the station.
It will feature than 20 different food and drink vendors, a licensed area, and live music and entertainment
WindsorOntarioNews.com