Provincial campaign targets texting culprits (con't)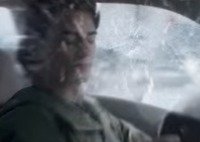 Cassady had consumed alcohol, was travelling at high speed, and admitted to texting.
Some jurisdictions, such as U. S. states, for years have had highly visible anti-texting campaigns, such as warning signs and rest areas in part designated for texting.
In Ontario, the government in June launched "its largest ever" anti-texting campaign, says MTO spokesman Bob Nichols.
Named "It happens fast…put down the phone," the TV, radio, cinema and social media campaign – and largely targeted to millennials -included a stark video (screenshot above) showing a crash and immediate aftermath in hospital for a man who'd taken his eyes off the road to check his phone.
"The objective is to change driving behavior and make distracted driving socially unacceptable," Nichols said.
In Windsor, Justice Thomas Heeney, who sentenced Cassady, called distracted driving "the new impaired driving."
The OPP says 69 people died last year in accidents where distracted driving played a part and there is a related injury every 30 minutes.
While not noticeable in southwestern Ontario Nichols said the province has also installed "Text Stops" signs along Highway 401 and Highway 400 at Port Hope, King City, Cambridge North and Woodstock.
It's also included messages on overhead electronic signs advising of dollar values and demerit points associated with fines for texting while driving.
Nichols said the province is also working with more than 150 provincial and regional community groups "to develop and implement a wide range of road safety public education initiatives, including those focused on the risks and consequences of driving while distracted."
WindsorOntarioNews.com