Highway 2 reborn in C-K as Tecumseh Parkway (con't)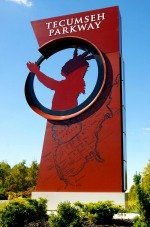 The route is now marked by 11 historical points of interest where "you can pull off and there is signage there to read the history at each one."
Before heading out you may want to check the parkway's map on the municipality's website.
The entire Tecumseh Parkway runs 123.1 km or 77 miles, "three hours in length if you drive it stem to stern," Peters said.
The route also connects to other picturesque drives west in Essex County and east of Chatham-Kent, part of the Cruise the Coast southwestern Ontario trail system.
For example, the parkway connects west to the Ride the Windsor Essex Peninsula and east to Ontario's Garden route through Middlesex County.
The parkway is also the first official recognition of the path along which Tecumseh and the British, chased by the Americans, withdrew up the Thames River during the War of 1812.
"It follows the retreat up the Thames, part of the dramatic events of the international Battle of the Thames and the death of Tecumseh," Peters said.
It ended in the Battle of the Thames and Tecumseh's death, as well as the burning of the Moravian missionary village of Fairfield.
The tour includes a stop at the Tecumseh Monument commemorating Tecumseh as a figure of national importance. 
Besides a nice drive and a day out, and a chance to catch up on your history, the tour is significant because it tells of how Midwest North America would eventually be settled and the future of the First Nations.
WindsorOntarioNews.com