Ontario - slowly -introducing centreline rumble strips (con't)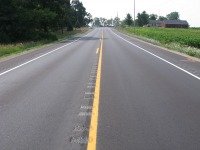 But they still haven't entirely prevented cross-median crashes, as a current lobby campaign to install cement barriers attests.
All well and good for four lane highways.
But what about two lanes, which could even be more prone to head on collisions?
Increasingly North American jurisdictions are adding strips to centrelines, something Ontario is introducing as well.
According to MTO spokesman Bob Nichols the province in 2010 began to install the strips on rural highways "where there is a history of head-on collisions."
Since then some 50 km of strips have been ground into highways, all of which are in northeastern Ontario.
"No strips in southwestern Ontario yet," Nichols said.
Then MTO says there are pros and cons to the strips.
The strips alert fatigued drivers when they're drifting out of lane, can reduce head on collisions, and are relatively inexpensive.
On the negative side they're not terribly effective when roads are snow covered, cutting into the asphalt "may reduce pavement durability," and vibration and noise might distract drivers when trying to pass or even shift over to make room for cyclists.
"In some cases rumble strips can even result in noise complaints from nearby residents," the ministry says.
Centreline rumble strip installation is more advanced in some U.S. states.
In Wisconsin, for example, the state began installing them in 2010 on about 500 miles, some located on the centre line or just outside the line.
More miles are added each year and when roads get major repaving, said WisDOT standards development engineer Patrick Fleming.
WisDOT research shows shoulder rumbles reduce fatality and injury crashes by 29 percent and center line rumbles reduce head on and sideswipe crashes by 44 percent and total crashes by 9 percent.
"The biggest reduction of course is cross centreline crashes but even with just centreline rumbles there is a reduction of other off road crashes," Fleming said. 
The strips are not particularly expensive or disruptive to install.
For example, a truck or tractor pulls an asymmetrical drum, 24 inches in diameter, with teeth to create an uneven surface, similar to "milling."
What's been the reaction from the Wisconsin public?
"We've heard from a number of folks including state and county patrols that it is very useful, very effective, and absolutely fantastic especially in somewhat undesirable weather conditions, whether that's rain or light snow where you can't see the centreline," he said.
But negatives also include the effect strips can have throwing motorcycles off balance, nor are they good on narrow truck routes.
Wider load trucks "would tend to use the shoulder and if we had a rumble out there then they would straddle that rumble…..that's not enough space for them to ride on," Fleming said.
As a result WisDOT has changed its paving policy to widen shoulders from three to five feet.
WindsorOntarioNews.com