London, not Windsor, opting for red light cameras (con't)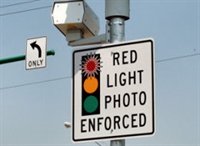 London will put the devices into 10 intersections for a total cost of $500,000.
But this won't take place until 2017.
London issued more than 800 tickets to drivers running red lights in 2013.
The cameras are triggered when a vehicle enters the intersection on a red signal.
Two images are taken and if they both show a clear red light violation an infraction notice is issued to the owner – who may not have been the driver – of the vehicle.
The city hall reports says RLCs can reduce frequency of the most severe angle collisions by as much as 25 per cent.
But they also "result in an increase in the number of rear-end collisions by an estimated 15 per cent," which cause less severe injuries.
A U.S. study found that in 14 cities fatalities dropped 35 per cent between 2004–2008.
It says the cameras have a "strong deterrent effect" in general if the sites are well-known, such as  publicized by advance warning signs.
But the City of Windsor has no plans for such cameras.
John Wolf, traffic operations manager, said provincial legislation doesn't allow Windsor to adopt them.
"We are not doing anything with red light cameras nor are we planning on using them," he said.
"The provincial legislation does not allow us to use them either."
In London, however, the city is joining with other Ontario municipalities to develop a new round of Request for Proposals for an RLC vendor.
The London council report says joining the group "does not preclude" London from opting out in the future.
The province runs the program and it's administered through the Toronto police department.
RLCs were introduced in Ontario in 2000 and six municipalities operate more than 170 sites.
These are Toronto, Hamilton, Ottawa, Peel, Waterloo and Halton regions.
York region is also joining the program and has pinpointed 20 RLC sites. 
The current RLC contract for those municipalities expires at the end of 2016.   
WindsorOntarioNews