'Pure Michigan' re-investment stats questioned (con't)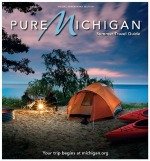 Using a complex mathematical formula to isolate specific returns on investment for tourism businesses like hotels, recreation and arts and entertainment, the think tank found that for every $100 spent the ROI was a measly two cents.
"Our statistical model is like an algebra problem," study co-author Michael LaFaive told WON.com. 
"Remember y=mx+b from high school? That is an approach we take in trying to isolate the impact of state tourism spending on industries most likely to benefit from tourism (lodging, recreation, arts and entertainment industries), except our approach is much more complicated."
The Pure Michigan TV ads depict images of the state's pristine beauty, or in radio ads conjure in listeners' minds those images.
The campaign has been around for 10 years and the state, as of 2016, had spent $261 million.
The campaign has been described as "beloved."
But, says the Mackinac Center, the money could be put to better use for improved roads and infrastructure.
Yet, the Michigan Economic Development Corporation, the state body that oversees the campaign, says Pure Michigan generates $7.67 for every dollar spent.
"We stand by the economic impact and ROI data in the Longwoods Study and are confident in its methodology and results," spokeswoman Kathleen Achtenberg said this week.
"The Pure Michigan campaign has proven time and again to be a strong investment for the state."
Interestingly, the Michigan figures rely on a Canadian research company, Longwoods International in Toronto.
Longwoods' CEO Bill Siegel disputed the Mackinac Center's criticism.
He told the Lansing State Journal the Mackinac study doesn't account for factors like the economy and poor weather, which can impact travel.
"What we're dealing with here is not research, it's polemics," Siegel said. "It's ideological research."
Longwoods won't disclose its methodology, calling it proprietary.
The Mackinac Center has called on the state of Michigan to have a third party independently analyse the research or shut down the campaign altogether.
This week state representative Henry Yanez introduced an amendment to eliminate the entire $34 million appropriation for Pure Michigan but was defeated by a voice vote.
WindsorOntarioNews.com